NFL Nation:

Final Word 2012 Week 3
September, 21, 2012
9/21/12
1:30
PM ET
»
NFC Final Word
:
East
|
West
|
North
|
South
»
AFC
:
East
|
West
|
North
|
South
Five nuggets of knowledge about Week 3:
Seymour meets Roethlisberger again:
The last time the Raiders and Steelers met -- a 35-3 Pittsburgh home win in November 2010 --
Richard Seymour
earned a $25,000 fine for socking
Ben Roethlisberger
. After a Pittsburgh touchdown, Roethlisberger started celebrating and appeared to say something to Seymour. The defensive lineman turned and popped the quarterback in the face with his open right hand. Seymour was ejected, and the NFL later hit him in the wallet. It will be fun to see whether Roethlisberger steers clear of Seymour after the Steelers score.
A familiar foe for Manning:
There will not be a team on the Denver Broncos' schedule this season that
Peyton Manning
will be more prepared to face than the
Houston Texans
, which visit Denver on Sunday. Manning used to play the Texans twice a year as a member of the
Indianapolis Colts
in the AFC South. Yes, the Texans' defense has changed some since Manning last played in 2010, but he still has a good feel for it, which will help Sunday.
Rivers is painting inside the numbers:
The
Atlanta Falcons
will surely try to snuff out the middle of the field Sunday at San Diego. Because right now,
Philip Rivers
owns it. According to ESPN Stats & Information, the San Diego quarterback has completed 30 of 34 (88.2 percent) attempts inside the field numbers this season. All four of his touchdown passes have come between the numbers.
[+] Enlarge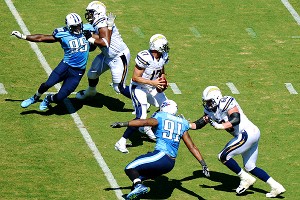 Jake Roth/US PresswirePhilip Rivers has hit 30 of 34 attempts and all four of his TDs between the numbers this season.
What will give in the Big Easy?
Both the
Kansas City Chiefs
and
New Orleans Saints
go into Sunday's game in New Orleans a disappointing 0-2. A big reason why is that their defenses have betrayed them. The teams are tied for last in the NFL in scoring defense, both allowing 75 points through two games. It's the most points the Saints have allowed through their first two games since 1985; it's more familiar territory for the Chiefs, which allowed 89 points through two games last season.
McGahee is a 100-yard star:
Denver running back
Willis McGahee
has been one of the steadiest running backs in the league in his 10-year career. Sunday, he could become the NFL's active leader in 100-yard rushing games. He had 113 yards at Atlanta on Monday, his 31st career 100-yard game -- tying him with San Francisco's
Frank Gore
and St. Louis'
Steven Jackson
for the most 100-yard games for active players.
September, 21, 2012
9/21/12
1:30
PM ET
»
NFC Final Word
:
East
|
West
|
North
|
South
»
AFC
:
East
|
West
|
North
|
South
Five nuggets of knowledge about Week 3:
Playing to their strengths:
The
Arizona Cardinals
went into this season feeling as though their defense, special teams and rushing attack could carry them as long as the team reduced turnovers at quarterback. The ground game has yet to get going for Arizona, but the rest of the formula has helped the Cardinals reach 2-0. Quarterback
Kevin Kolb
has yet to throw an interception, and he is taking fewer chances down the field. His passes have traveled 5.9 yards past the line of scrimmage on average, the lowest figure in the league this season. That number is well below the NFL average (8.2) and the 7.9-yard average for Kolb last season. Getting more aggressive carries risks. Philadelphia has held opposing quarterbacks to a 6.7 out of 100 Total QBR, the second-lowest figure in the NFL.
[+] Enlarge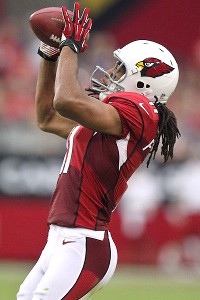 AP Photo/Paul ConnorsLarry Fitzgerald has eight TDs in four games against the Eagles.
Something has to give:
The Cardinals have won nine of their past 11 games, tied with New England, San Francisco and Green Bay for the best regular-season record during that span. That includes a 7-1 record for the Cardinals in their past eight games, tied with the Patriots for best in the league. Arizona's Week 3 opponent, Philadelphia, has won its past six regular-season games, the longest active streak. But with the Eagles suffering nine turnovers this season and Arizona failing to exceed 20 points in either game, these 2-0 teams are sliding under the radar a bit. A breakout game from
Larry Fitzgerald
(five receptions this season) could restore some offensive identity to Arizona. Fitzgerald has averaged 114 yards per game against the Eagles, the most for any player with at least four games against Philadelphia. He has 26 catches for 456 yards and eight touchdowns in four matchups.
Early bird special:
Western teams have long complained about too many road games kicking off at 10 a.m. PT. The
San Francisco 49ers
have
done their share
of the complaining, but with a victory at Minnesota in an early kickoff Sunday, the 49ers can run their record to 6-0 under coach Jim Harbaugh when kicking off at 10 a.m. PT. None of the other Western teams -- Arizona, San Diego, Oakland or Seattle -- has approached such a run in recent years. The 49ers had gone 2-9 in their previous 11 games kicking off that early. They were 7-27 in early kickoffs under Mike Nolan and Mike Singletary. The best teams can win just about any time and anywhere. The 49ers, 15-3 under Harbaugh, have become one of those teams.
Turning a corner:
The
St. Louis Rams
need a victory at Chicago to exceed a .500 winning percentage for the first time since the 2006 team stood 4-3 after Week 7. Quarterback
Sam Bradford
has been a key to St. Louis' increased competitiveness. He has arguably outplayed
Matthew Stafford
and
Robert Griffin III
in the Rams' first two games. Can he outplay the Bears'
Jay Cutler
? That seems like a reasonable expectation after Cutler threw four picks and took seven sacks against Green Bay. Both teams' top running backs have injury concerns, putting even more of the focus on the quarterbacks. Bradford completed all nine of his third-down passes against Washington last week. He'll face a Bears defense that held
Andrew Luck
and
Aaron Rodgers
to a combined 5 of 14 passing with one pick and four sacks on third down. Luck went 1-for-7 and threw the interception.
Roughing up receivers:
Seattle cornerback
Brandon Browner
led the NFL in penalties last season with 19. That included six for pass interference, four for defensive holding, four personal fouls and three for illegal contact. Browner continues to play an aggressive brand of cornerback. At 6-foot-4, he must put his size to use. Through two games this season, Browner has drawn only one penalty -- defensive holding in the season opener at Arizona. Being able to play aggressively against the Packers' smaller receivers could be a key for Seattle against Green Bay on Monday night.
ESPN Stats & Information contributed to this piece.
September, 21, 2012
9/21/12
1:30
PM ET
»
NFC Final Word
:
East
|
West
|
North
|
South
»
AFC
:
East
|
West
|
North
|
South
Five nuggets of knowledge about Week 3:
[+] Enlarge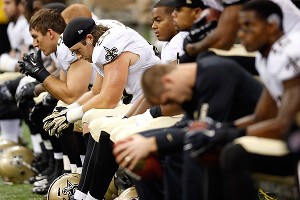 Chris Graythen/Getty ImagesThe Saints are off to their worst start since 2007, when they lost four games to begin the season.
Playing the percentages:
The odds already are in favor of the
Atlanta Falcons
making the playoffs and against the
New Orleans Saints
not reaching the postseason. The Falcons have a chance to start 3-0. Since 1990, 75.7 percent of the teams to start 3-0 have gone to the playoffs. If the Saints lose to Kansas City, they'll be 0-3. In the same time span, only 2.7 percent of the teams to start 0-3 have reached the postseason.
Saints predictable:
In recent years, there's been a lot of talk about how unpredictable the New Orleans offense was. That might have changed this year and defenses might have an idea what's coming, just by looking at who's in the backfield. According to ESPN Stats & Information, running back
Darren Sproles
doesn't have a rushing attempt this season. The Saints have passed on 74 of the 77 plays Sproles has been on the field. On the flip side, the Saints have passed on only six of the 29 plays
Mark Ingram
has been on the field.
Romo's domination:
Dallas'
Tony Romo
has played better against the Buccaneers than perhaps any other opponent. In his three career games against Tampa Bay, Romo has thrown for 11 touchdowns with no interceptions while completing 70.9 percent of his passes. Dallas has won all three of those games.
Ugly streaks:
The Bucs have lost eight straight road games, tying them for the second-longest active streak in the league (the Colts lead with nine straight road losses). The Bucs also have lost their last eight non-division games, the longest active streak in the NFL.
Perception changing:
There's a perception that Atlanta's
Matt Ryan
struggles on the road, particularly in outdoor games. There might have been some truth to that earlier in Ryan's career, but things are changing. Including the postseason, Ryan has not thrown an interception in any of his last four road games. In his last three regular-season road games, Ryan is 2-1 with eight touchdown passes, no interceptions and a 65.3 completion percentage.
September, 21, 2012
9/21/12
1:30
PM ET
»
NFC Final Word
:
East
|
West
|
North
|
South
»
AFC
:
East
|
West
|
North
|
South
Here are five nuggets of knowledge about Week 3:
Hitting the ground running:
The AFC East has three players in the top five of rushing after two weeks.
Buffalo Bills
tailback
C.J. Spiller
(292 yards),
Miami Dolphins
tailback
Reggie Bush
(241) and
New England Patriots
tailback
Stevan Ridley
(196) are No. 1, No. 2 and No. 5 in rushing, respectively. The AFC East is running the football extremely well and not doing it with household names. It remains to be seen if this trend will continue for an entire season. But look for each of these three teams to ride their hot hands for now.
[+] Enlarge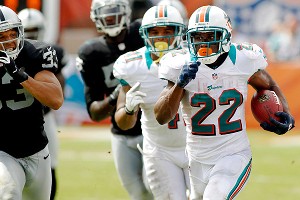 Robert Mayer/US PRESSWIREReggie Bush is one of three ACF East players ranked in the NFL's top 5 in rushing yards.
Protecting Brady:
While everyone is focusing on the injury to tight end
Aaron Hernandez
(ankle), New England's biggest concern may be its shaky pass protection. Tom Brady has been sacked five times in two games. He is on pace to take 40 sacks this season, which would be the highest total for Brady since 2001. Brady, 35, is only getting older. He needs to take fewer hits later in his career, not more.
House of horrors:
The Jets return to the site of last year's implosion at Sun Life Stadium. New York completely fell apart in the regular-season finale last year and is 2-4 against the Dolphins under head coach Rex Ryan. New York must play much better against its AFC East rival. Jets quarterback
Mark Sanchez
also is 2-4 against Miami and needs to play big to avoid a two-game losing streak.
Play-action is key:
Dolphins rookie quarterback
Ryan Tannehill
has thrived off play-action passing this season. According to ESPN Stats & Information, Tannehill has the highest completion percentage (88.9) and QBR (99.6) in the NFL off play-action fakes. Tannehill has completed 8-of-9 play-action passes this season for 129 yards. It's working because Bush is second in the NFL in rushing. Defenses must respect Miami's running game, and that puts less pressure and pass rush on Tannehill.
Must-win for Bills:
I usually don't like to throw around the term "must-win." But when you consider the team and the upcoming schedule, the Bills (1-1) must win Sunday's game against the winless
Cleveland Browns
(0-2). Buffalo's next three games are against the New England Patriots,
San Francisco 49ers
and
Arizona Cardinals
, who have a combined record of 5-1. It's very possible that the Bills could lose two or three of those games. That is why it's important for Buffalo to pad its record against the struggling Browns on the road. These are the kind of games Buffalo must win if the team is going to be a legit playoff contender.
September, 21, 2012
9/21/12
1:30
PM ET
»
NFC Final Word
:
East
|
West
|
North
|
South
»
AFC
:
East
|
West
|
North
|
South
Five nuggets of knowledge about Week 3:
[+] Enlarge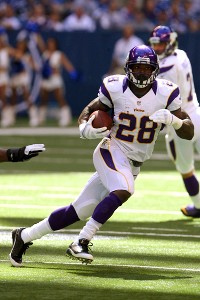 Brian Spurlock/US PresswireMinnesota will surely welcome any red zone production from Adrian Peterson against Arizona on Sunday.
Running aground:
The
Minnesota Vikings
' punchless offense is going to have a tough time functioning against the
San Francisco 49ers
' physical, fast and sure-tackling defense. Receiver/running back
Percy Harvin
has been
the NFL's best open-field runner
over the season's first two weeks, but it will be quite an achievement if he can run through the 49ers' group. Tailback
Adrian Peterson
noted
the 49ers haven't yet played a team as committed to the running game
as the Vikings are, but history suggests he will struggle as well. He has totaled 88 yards on 33 carries in two career games against the 49ers. One of those carries was a 35-yard run. So on the other 32 carries, Peterson has managed 53 yards against them.
Bad combination:
Pulling off an upset of this magnitude would no doubt require a number of forced turnovers. But the odds are against the Vikings rattling 49ers quarterback
Alex Smith
, who hasn't thrown an interception in nine games, including the playoffs. In two games this season, in fact, he has only had one pass broken up by a defender, according to ESPN Stats & Information. (His rate of having 1.8 percent of attempts broken up is the NFL's lowest.) Smith is playing exceptionally smart, and the Vikings have failed exceptionally over a long stretch to be opportunistic. They have only
two interceptions in their past 13 games
.
Cutler's next game:
The
Chicago Bears
have spent the past eight days
answering questions
about quarterback
Jay Cutler
's performance and behavior. Cutler, of course, threw four interceptions and took seven sacks in a Sept. 13 loss to the
Green Bay Packers
. It was the fourth four-interception game of Cutler's career with the Bears. But as they prepared for Sunday's game against the
St. Louis Rams
, the Bears could be comforted in knowing that Cutler typically has rebounded well from the previous three instances. The Bears are 2-1 in games after Cutler throws four interceptions, and Cutler has thrown five touchdowns and one interception in those games.
Titans 'defense:'
Detroit Lions
quarterback
Matthew Stafford
has
conceded
that "I don't think as an offense we've hit our stride yet." The
Tennessee Titans
provide an opportunity for the Lions to straighten themselves out. The Titans' first two opponents this season have scored 34 and 38 points, respectively. The Lions are 11-1 since the start of last season when they score at least 20 points and 0-6 when they fall below that threshold. I think I'll take the over, especially considering the Lions will add a new element to their offense
with the regular-season debut
of tailback
Mikel Leshoure
.
Monday looms:
We'll have more on the Packers-Seahawks game over the weekend and on Monday. So consider this a special "First Word." For now, we should at least put on the record how different the Seahawks are at home. Since CenturyLink Field opened in 2002, the Seahawks have a 65.5 winning percentage and a point differential of plus-787 points, the second-highest total in the NFL. Opponents have also committed a league-high 143 false starts in the stadium. On the road over the same span, the Seahawks have won 36 percent of their games. That litany is not meant to discount the Packers' chances of winning. In fact, they won their most recent game in Seattle, in 2008. It's just a warning that the Seahawks should always be considered a formidable opponent at home.
September, 21, 2012
9/21/12
1:30
PM ET
»
NFC Final Word
:
East
|
West
|
North
|
South
»
AFC
:
East
|
West
|
North
|
South
Five nuggets of knowledge about Week 3:
This hard land:
The
Dallas Cowboys
host the
Tampa Bay Buccaneers
on Sunday, and historically that is good news for Dallas. The Cowboys are 10-3 all-time against the Bucs, which is their second-best record all-time against any opponent. (They're 8-1 against the
Carolina Panthers
). They have been especially tough against Tampa Bay at home, going 7-1 against the Bucs in Texas, and winning by an average of 8.4 points per game. Cowboys quarterback
Tony Romo
is 3-0 with a 70.9 completion percentage, 11 touchdowns and no interceptions in his career against Tampa Bay. Of course, all of those stats were compiled back when you could take the end-of-game kneel-down for granted against the Bucs. All that stuff is out the window now that they bring that Rutgers-style grit and toughness to the final seconds.
[+] Enlarge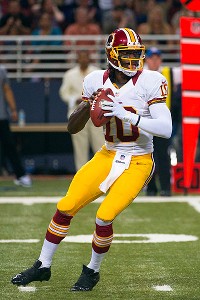 Photo by Scott Rovak/US PresswireEarly stats point to a potentially big game for Redskins QB Robert Griffin III against the Bengals.
Open all night:
The
Cincinnati Bengals
have been one of the worst pass defenses in the league so far this season, ranking 29th through the first two weeks in completion percentage (71.0) and passing yards allowed per game (308.5), and 30th in passing first downs allowed (31).
Washington Redskins
rookie quarterback
Robert Griffin III
, who will face that Bengals defense in his home debut, has a completion percentage of 70.9, which ranks fourth in the NFL so far this season. The Redskins might throw the ball some, is the basic point I'm trying to get across here. A couple of potentially mitigating factors include: (1) The likely absence of top Redskins wide receiver
Pierre Garcon
for a second straight game with a foot injury, (2) the possible return of Bengals pass-rusher
Carlos Dunlap
from injury in time for this game, and (3) the quirky fact that the Bengals are 7-1 in their past eight games against non-AFC North opponents. Yeah, it's nice to get a break from playing the Steelers and the Ravens all the time.
I'm on fire:
Not only are the
Philadelphia Eagles
and the
Arizona Cardinals
two of only six undefeated NFL teams after two weeks, they are (if you overlook the little matter that there was a 2012 postseason) two of the league's hottest teams. The Eagles' six-game winning streak dating to last season is the longest current winning streak in the league. And the Cardinals are 7-1 since Week 12 of last season, which is tied with the Patriots for the best record in the league over that time. The last time the Eagles won seven games in a row was when they started the 2004 season 7-0.
Tougher than the rest:
You have to admire the grit that Cowboys tight end
Jason Witten
has shown coming back from his preseason spleen laceration to play in the team's first two games, but he doesn't look like himself. According to ESPN Stats & Information's "Next Level" numbers, Witten has dropped four of the 13 passes that have been thrown to him this season. He dropped four passes all of last season, and no more than three in any of the three seasons prior to that. Witten seems to be taking some time to round into form, but the Cowboys' passing offense could use his formerly reliable hands.
Born to run:
As impressive as the Cardinals' defense has been this season, they rank in the middle of the pack against the run. Seattle's
Marshawn Lynch
(85 yards on 21 carries) and New England's
Stevan Ridley
(71 yards on 17 carries) each had some degree of success running the ball against the Cardinals in the first two weeks, though neither was spectacular. Philadelphia's
LeSean McCoy
got 20 carries in the opener and 25 last week against Baltimore, marking just the second time in his career he's had 20 or more carries in consecutive games. The Eagles are 9-1 all-time when McCoy gets at least 20 carries. I think it's fair to say they should make this a priority.
September, 21, 2012
9/21/12
1:30
PM ET
»
NFC Final Word
:
East
|
West
|
North
|
South
»
AFC
:
East
|
West
|
North
|
South
Five nuggets of knowledge about Week 3:
Bay Area blues
: The Steelers fly cross-country to play Oakland, which is not
Ben Roethlisberger
's favorite part of the country. He is winless in his two trips to the San Francisco Bay Area, throwing a total of seven interceptions. He was picked off three times and failed to lead a touchdown drive in last season's 20-3 loss at San Francisco. That doesn't compare to the nightmare he endured in Oakland six years ago. Roethlisberger threw four interceptions against the Raiders and watched two of them get returned for touchdowns. It didn't help that he got sacked five times a week after he had a reported concussion.
[+] Enlarge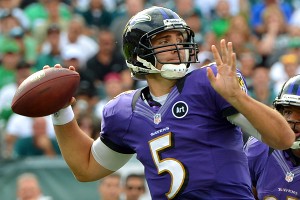 Jeffrey G. Pittenger/US PresswireJoe Flacco has performed exceptionally well in the week following losses the past two seasons.
Rebound Raven
: Losses bring out the best in Baltimore quarterback
Joe Flacco
. In games after a defeat the last two seasons, Flacco has averaged 271.8 yards passing with 16 touchdowns and three interceptions. Three of Flacco's eight career 300-yard passing games have come a week after a loss. The last time he lost consecutive games was October 2009. Flacco, who faces the Patriots on Sunday night, is looking to bounce back from one of his worst halves. Last Sunday, he was 8 of 25 for 140 yards after halftime in a loss at Philadelphia.
Drought for Browns
: Cleveland has dropped its last eight games, which is by far the longest active losing streak in the NFL, according to ESPN Stats & Information. The second-longest streak is just three games (Raiders). The last time the Browns won was 306 days ago, when they beat the Jaguars. It's not as though Cleveland has been blown out during this rough stretch. The Browns' last five losses have been by a total of 21 points, an average margin of defeat of 4.2 points. This marks the longest losing streak for the Browns since they dropped 10 straight from Week 12 of 2008 through Week 4 of 2009.
Less pressure for Dalton
: Don't expect Bengals quarterback
Andy Dalton
to feel sorry for the Redskins losing pass-rusher
Brian Orakpo
for the season. Dalton has struggled mightily this year when under duress. He has been sacked 10 times and has completed 3 of 10 passes this season when under pressure, according to Pro Football Focus. It should be a safer pocket for Dalton at Washington on Sunday. Orakpo's 28.5 sacks in his first three seasons are a Redskins record.
Rev up the run game
: The Steelers are disappointed that their running game ranks 30th in the NFL. They should be disturbed if it can't get back on track at Oakland. The Raiders allowed a league-worst 5.1 yards per carry last season and gave up 263 yards rushing (and four rushing touchdowns) at Miami last Sunday. It's unknown whether
Rashard Mendenhall
(knee) will play his first game of the season Sunday, but Pittsburgh could use his help. The Steelers' backups,
Isaac Redman
and
Jonathan Dwyer
, haven't filled the void. According to ESPN Stats & Information, Pittsburgh's running backs are averaging an NFL-low 0.7 yards before contact.
September, 21, 2012
9/21/12
1:29
PM ET
»
NFC Final Word
:
East
|
West
|
North
|
South
»
AFC
:
East
|
West
|
North
|
South
Five nuggets of knowledge about Week 3:
Defending Manning:
As quarterback of the Colts,
Peyton Manning
owned the Texans. He's with a different franchise now, so that past success doesn't mean a lot, and he has not played against the Texans with Wade Phillips as their defensive coordinator. (Here's
how he has done
against Phillips-coached defenses.) Against Houston, ESPN Stats and Info tells us Manning is 16-2 with 42 touchdowns against eight interceptions. Since the 1970 merger, Manning's 16-2 record is the third-best by any starting quarterback against a single team, with a minimum of 15 games played against that team.
Ben Roethlisberger
against the Browns and
Tom Brady
against the Bills are better. More of note on Manning: He has not been great bouncing back from three-interception games, with an 8-7 record and 26 TDs versus 23 picks. He has not been great in the middle of the field so far, so he could really look to test the Texans' second outside cornerback,
Kareem Jackson
.
[+] Enlarge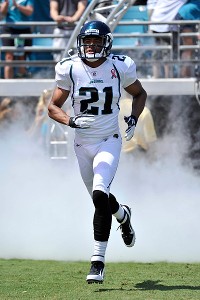 Fernando Medina/US PesswirerJacksonville's Derek Cox could cause headaches for Colts quarterback Andrew Luck.
Better coverage:
Derek Cox
is the Jaguars' best guy in coverage, but he has been out so far with a hamstring injury from the preseason. It looks like he could return in at least a limited role. Jacksonville needs him. After three picks in Week 1 against the Bears, Indy's rookie quarterback
Andrew Luck
didn't throw one against the Vikings. He has done well to establish connections with
Reggie Wayne
and
Donnie Avery
. Cox could help mess with that, while alleviating some pressure on the other cornerbacks who would face less pressure in big situations. Cox healthy and contributing can be a difference-maker for the pass defense.
Interior space:
The Texans don't necessarily have to run well between the tackles to win, but it certainly helps their offense. ESPN Stats and Info says that with a change at right guard and right tackle from last season, Houston isn't finding the interior space it did last season. The Broncos are allowing 2.8 yards per rush between the tackles this season, the fifth-best defense of that area in the NFL. The Texans are down 1.2 yards per rush, and nearly 1 yard after contact per rush on runs between the tackles so far this season. And in 2011 they had 11 runs of 20 yards or better in the middle of the field. So far this season they have none.
Pushed around:
There are all kinds of stats and analysis floating around about how much penetration the Patriots and Chargers got from their defensive fronts in their routs of the Titans. Tennessee's offensive line is clearly having issues, particularly with run-blocking. And it will be hard to solve those against a tough Detroit front built around
Ndamukong Suh
. "We are what we are, and we're doing a good job in the pass-pro and the protection," offensive coordinator Chris Palmer said. "Everybody has a trait that is either a strength or a weakness. You try to play to those strengths." That's as close as anyone not named
Chris Johnson
has come to talking about the offensive line as an issue.
Also:
If the Titans stick with their preoccupation with minimizing big plays,
Calvin Johnson
will catch passes in front of them and then run over, through or around them … A touchdown for
Maurice Jones-Drew
would be the 63rd of his career, and move him ahead of Fred Taylor for the franchise's all-time lead … A touchdown for Wayne would pull him into a tie for third in Colts' history. Edgerrin James is third with 75, and will have his name added to the team's ring of honor in a pregame ceremony … Of the six 2-0 teams in the NFL, the Texans have beaten the teams who were worst in 2011. While the 49ers beat two teams that were a combined 25-7 in 2011, Houston's two wins have come against teams that were 11-21.
NFL SCOREBOARD
Sunday, 2/2
WEEKLY LEADERS