NFL Nation:

Final Word 2012 Week 6
October, 12, 2012
10/12/12
1:38
PM ET
»
NFC Final Word
:
East
|
West
|
North
|
South
»
AFC
:
East
|
West
|
North
|
South
Five nuggets of knowledge about Week 6 (remember, the Panthers and Saints are on their bye week):
Odds-on favorite:
With a 5-0 start, the Falcons are well on their way to the playoffs. Thirty-eight teams have started 5-0 since the NFL went to its current playoff format in 1990, according to ESPN Stats & Information. Of those teams, 34 have reached the postseason, with 25 winning at least one playoff game. Sixteen of those teams have reached the Super Bowl and eight of them have won it. We'll give you an update on the history of 6-0 teams next week if the Falcons beat the Raiders on Sunday.
[+] Enlarge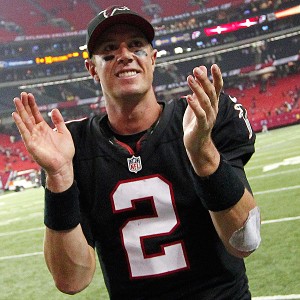 AP Photo/John BazemoreFalcons quarterback Matt Ryan is set to face a Raiders defense that has been burned by opposing quarterbacks recently.
Aiming for the trifecta:
The Oakland defense has given up three or more touchdown passes to the past two quarterbacks it has faced (
Peyton Manning
and
Ben Roethlisberger
). That obviously is good news for Atlanta's
Matt Ryan
. In his five-year career, the Falcons are 14-0 when Ryan has thrown for three or more touchdowns. In NFL history, only Daryle Lamonica (19-0) has won more games without a loss when throwing for three or more touchdowns.
Rain on the parade:
Speaking of Ryan, he's having a wonderful season and deserves to be in any MVP conversation. But there is one unflattering little streak going on right now. Ryan has thrown an interception in his past three games. That's tied for the second-longest streak of his career. The longest came in 2009, when he was intercepted in six straight games.
AFC history isn't pretty:
Although the Chiefs may be struggling, the fact that the Buccaneers are playing an AFC opponent is not very encouraging. Over the past 10 years, the Bucs are tied with the Redskins for fewest wins against AFC opponents. The Bucs are 11-25 against the AFC in that span.
Something has to give:
Tampa Bay's run defense has been a bright spot so far. The Bucs are allowing 73.8 rushing yards per game, which ranks as the fourth-lowest average in the NFL. But Kansas City's
Jamaal Charles
is averaging 110.2 yards per game.
October, 12, 2012
10/12/12
1:30
PM ET
»
NFC Final Word
:
East
|
West
|
North
|
South
»
AFC
:
East
|
West
|
North
|
South
Five nuggets of knowledge about Week 6:
Gonzo's last AFC West hurrah:
Former Kansas City and current Atlanta tight end
Tony Gonzalez
has said he likely will retire after the season. Fittingly, he gets to face the AFC West this season -- and he has been tremendous for the 5-0 Falcons. In Week 5, they will look to sweep the AFC West when Oakland visits the Georgia Dome. Gonzalez has scored a touchdown against each AFC West opponent so far; in total, he has 21 catches for 214 yards and three touchdowns against the conference. Let's see what he goes for against Oakland.
Chiefs can't hold onto the ball:
Kansas City enters its game at Tampa Bay with an NFL-leading 19 turnovers in five games. The Chiefs are 1-4 for a lot of reasons, but averaging nearly four turnovers game is a crisis. It is the most turnovers through five games since the 1997
New Orleans Saints
, who had 21 turnovers, according to ESPN Stats & Information.
[+] Enlarge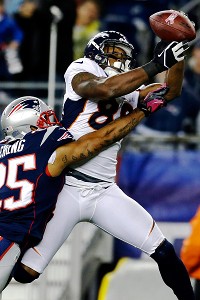 AP Photo/Elise AmendolaPeyton Manning seemed to establish a deep connection with receiver Demaryius Thomas (88) against New England.
Manning and Thomas clicking:
Demaryius Thomas
is becoming
Peyton Manning
's favorite deep target. According to ESPN Stats & Information, Manning threw passes of 15 yards or more nine times at New England in Week 5. He connected five times, all of them with Thomas, for 154 yards. Watch for Denver to try to build upon that relationship Monday night at San Diego.
Palmer is not connecting deep:
One of the reasons Oakland traded for
Carson Palmer
last year was the deep ball. However, he is not succeeding in that area this season. According to ESPN Stats & Information, Palmer is 1-of-14 (7.1 percent) on throws more than 20 yards downfield this season. It the lowest completion percentage in the NFL. One reason Palmer's percentage is so low is Oakland has had big injury problems at receiver. Perhaps the deep connection will come with better health for Oakland.
Rivers having trouble against Denver's blitz:
The Broncos have a strong pass rush and likely will show it against the Chargers. According to ESPN Stats & Information, quarterback
Philip Rivers
completed 46.9 percent of his throws last season when the Broncos sent five or more pass-rushers. The Broncos' defense have the fifth-best completion percentage using such pressure this season (52.2). The problem for Rivers is that he has taken a step back against the blitz. He has thrown no touchdowns and has been intercepted three times against extra pressure this season. He excelled in the area in 2009, when he threw 15 touchdown passes and was intercepted just four times.
October, 12, 2012
10/12/12
1:30
PM ET
»
NFC Final Word
:
East
|
West
|
North
|
South
»
AFC
:
East
|
West
|
North
|
South
Five nuggets of knowledge about Week 6:
Tough sledding:
The
Detroit Lions
have had two weeks to prepare for a tough matchup against the
Philadelphia Eagles
, knowing they'll need a victory to avoid starting the season with an unmanageable 1-4 record. This game appeared tough even before the Lions' slow start, and it will take by far the Lions' best performance of the season to pull it off. The Lions are 1-5 on the road since running off a six-game winning streak away from Ford Field, and they've won in the city of Philadelphia only once (1986) since 1965. The expected return of safety
Louis Delmas
, whose playmaking
helped the Lions force
34 turnovers last season, provides some optimism. So does the Eagles' recent history of self-inflicted mistakes. As a result of 14 turnovers, their offense is averaging only 16 points per game, the second-worst mark in the NFL.
Adjustments expected:
It will be fascinating to see what, if any, offensive adjustments coach Jim Schwartz and offensive coordinator Scott Linehan came up with during the bye week to counter the near-exclusive zone coverages their downfield passing game has faced this season.
As we noted Thursday
, the Eagles play more man-to-man coverage than most teams but they have still had the best downfield defense in the NFL. Will the Lions change the type of routes and passing plays they use? Will they find a more effective way to run the ball against pass-oriented schemes? Or did they spend the bye working on better execution rather than schematic changes?
[+] Enlarge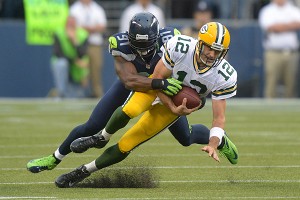 Kirby Lee/Image of Sport/US PresswireA commitment to running the ball could help the Packers take some heat off of QB Aaron Rodgers.
Protecting Aaron Rodgers:
The root of
our week-long discussion
of the
Green Bay Packers
' play-calling/running game is the 21 sacks Rodgers has taken in five games.
As we discussed
, since the start of the 2010 season, the Packers have lost 10 of the 12 games in which they failed to run the ball on at least 30 percent of their snaps. They are 29-3 in all other games, a testament to the importance of forcing defenses to at least consider the possibility of regular running plays. It will be especially important Sunday night against the
Houston Texans
, who have one of the NFL's top pass rushes. The Texans have recorded one sack for every 9.1 dropbacks this season when using their standard pass rush, the best mark in the NFL. The Packers, meanwhile, are giving up one sack for every 11.9 dropbacks against standard pass rushes, the second-worst mark in the league. The Packers can help their offensive line by establishing a commitment to the more-than-occasional running play early Sunday night, even if those plays aren't overly effective given the loss of tailback
Cedric Benson
. Sometimes, quantity of running plays is just as important as quality.
Early stages:
The Packers, of course, will find it more difficult to run if they fall behind against a Texans team that has outscored opponents 93-28 in the first half of this season. That's an NFL-high margin of 65 points; the next-best team has a 39-point margin in the first half. The Packers have been slow starters for most of this season and have a total of 14 first-quarter points. (They've scored 48 points in the second quarter.) In the end, however, the Packers probably don't want to find out what would happen if they fall behind and shift to a pass-only mode against the Texans' pass rush.
Peterson's revenge:
Minnesota Vikings
tailback
Adrian Peterson
told reporters that
he won't hold a grudge Sunday
when he returns to FedEx Field, the site of his 2011 knee injury. But longtime observers of Peterson's competitive personality might not buy that sentiment. In 2007, Peterson sprained his knee and missed two games after Green Bay cornerback
Al Harris
hit him low. In his return to Lambeau Field in 2008, Peterson obviously and aggressively
steamrolled Harris on the first play of the Vikings' second possession
. After the Packers' 24-19 victory in that game, Peterson said: " No grudges. But I definitely wanted to come out and, if I had the opportunity, put a little boom on Harris."
DeJon Gomes
, the
Washington Redskins
safety whose hit caused the 2011 injury, should consider himself warned.
October, 12, 2012
10/12/12
1:30
PM ET
»
NFC Final Word
:
East
|
West
|
North
|
South
»
AFC
:
East
|
West
|
North
|
South
Five nuggets of knowledge about Week 6:
Dolphins face Jeff Fisher:
The
Miami Dolphins
were very close to landing Jeff Fisher as their next head coach. Upon returning to the NFL, Fisher narrowed his choices to the Dolphins and
St. Louis Rams
. Fisher eventually picked the Rams, and now his team will travel to Miami to face the Dolphins for the first time. This is a chance for Miami (2-3) and rookie head coach Joe Philbin to beat Fisher, who believed St. Louis (3-2) was a better job. Fisher said the Dolphins made the right choice in Philbin, who is proving to be solid in his first five games.
[+] Enlarge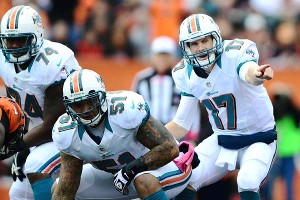 Andrew Weber/US PresswireDolphins QB Ryan Tannehill will need plenty of protection at the line in Miami's game vs. St. Louis.
Protecting Tannehill:
The Rams are coming off a season-high nine sacks last week in a win over the
Arizona Cardinals
. Pass protection will be important for the Dolphins if they are to hold off the Rams. Miami rookie quarterback
Ryan Tannehill
continues to improve and has been sacked nine times all season. The Rams will bring a lot of pressure, and Miami's offensive line needs to hold up. Tannehill has been prone to rookie mistakes under pressure. He has six interceptions in five games.
Little guy, big target:
New England Patriots
Pro Bowl receiver
Wes Welker
jabbed head coach Bill Belichick this week after catching a season-high 13 receptions for 104 yards and a touchdown. Welker was not a big part of the offense at the start of the season, but his targets have skyrocketed in the last few weeks. He has been targeted 36 times in the last three games. That has put his total targets up to 50 for the season, which is tied with Dolphins receiver
Brian Hartline
for seventh in the NFL, according to ESPN Stats & Information. The injury to Patriots tight end
Aaron Hernandez
contributed to Welker's becoming a big part of New England's offense again. But Welker has stepped up when his number has been called.
Jets grounded and pounded:
The
New York Jets
have scored only one touchdown in the last eight quarters. It's hard for New York to win with that kind of production from the offense and quarterback
Mark Sanchez
. The Jets aren't clicking on the ground or through the air. New York is ranked 28th in total offense and averaging just 12.5 points in its last four games. The good news is that starting tight end
Dustin Keller
and rookie receiver
Stephen Hill
are both expected to return from hamstring injuries in Sunday's matchup with the
Indianapolis Colts
.
Fitzpatrick's missing deep ball:
The
Buffalo Bills
' offense is getting very predictable and easy to defend, in part because quarterback
Ryan Fitzpatrick
is struggling with the deep ball. According to ESPN Stats & Information, Fitzpatrick is one of the NFL's worst deep-ball passers. He is just 4-of-15 (26.7 percent) on passes more than 20 yards, which ranks 27th in the league. Three of Fitzpatrick's interceptions have also come attempting to throw the deep ball. He passed for a season-low 126 yards in last week's 45-3 loss to the
San Francisco 49ers
. If opponents do not respect the deep pass, it is difficult to get the passing game going underneath.
October, 12, 2012
10/12/12
1:30
PM ET
»
NFC Final Word
:
East
|
West
|
North
|
South
»
AFC
:
East
|
West
|
North
|
South
Five nuggets of knowledge about Week 6:
Y'all ain't got no Honey Nut?
History says things will be tough for the
Dallas Cowboys
on Sunday in Baltimore. The Ravens are 3-0 all time against the Cowboys and have outscored them 57-10 the past two times the teams met in Baltimore. The Ravens have won 13 straight and 21 of their past 22 at home. It's
a tough place to win
, and the Cowboys need a win to avoid dropping to 2-3. Only 20.6 percent of teams starting 2-3 have made the postseason under the current format. Working in the Cowboys' favor is that they are 16-7 after their bye weeks since 1990, which is the fourth-best such record in the league. Besides, they may as well be playing tough teams now. After all, how do you expect to run with the wolves at night when you spend all day sparring with puppies?
Something may not have to give.
The
Detroit Lions
have forced only three turnovers in their first four games, which is tied for the lowest total in the NFL. The
Philadelphia Eagles
, as you may have heard, have turned over the ball 14 times, which is the second-highest total in the league. The Eagles were able to play an entire home game against the Giants two weeks ago without turning over the ball, and the Lions would appear to offer an opportunity to repeat that performance.
[+] Enlarge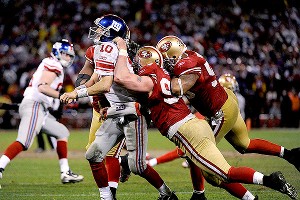 Thearon W. Henderson/Getty ImagesThe 49ers will certainly be looking to put more pressure on Giants QB Eli Manning on Sunday.
Eli must avoid the rush.
The
San Francisco 49ers
will be coming for
New York Giants
quarterback
Eli Manning
on Sunday. San Francisco has one of the best defensive fronts in the league, and last year they sacked Manning seven times. Six of those sacks, ESPN Stats & Information informs me, came on plays on which the Niners sent five or more pass-rushers. However, when the Niners sent five or more and did not sack Manning, he was 16-for-21 for 185 yards and two touchdowns.
Moving up the list.
With his next victory, Giants coach Tom Coughlin will pass Bill Parcells for second place on the all-time Giants coaching victories list with 78. (He'll still be way behind Steve Owen, who racked up 153 wins from 1930-53, but I see little reason to believe Coughlin won't want to hang around and try to pass Owen, too.). Coughlin is also tied with Rams (and former Titans) coach Jeff Fisher for 18th place on the all-time NFL coaching wins list with 145.
Big-play guys.
Washington Redskins
rookie running back
Alfred Morris
isn't known for his breakaway speed, but he's having success in the Redskins' zone-blocking scheme this year. He has 17 run plays on which he's gained at least 10 yards, the most such plays in the league according to ESPN Stats & Info. The Vikings obviously have a great running back in
Adrian Peterson
, but the Redskins will have to contend with an unusual threat in wide receiver
Percy Harvin
, whose 22 receptions at or behind the line of scrimmage this year are 12 more than the next-highest receiver. Harvin has gained a league-best 319 yards after the catch this year, and the Redskins' linebackers are going to have to be at their most disciplined if they hope to contain Harvin in the short passing game.
October, 12, 2012
10/12/12
1:30
PM ET
»
NFC Final Word
:
East
|
West
|
North
|
South
»
AFC
:
East
|
West
|
North
|
South
Five nuggets of knowledge about Week 6:
Home sweet home
: The Ravens are among the best teams in the NFL, sporting a 4-1 record. But no team is better than Baltimore at home. The Ravens' 13-game winning streak (14 if you include playoffs) is tops in the league and no other team has more than eight in a row. According to ESPN Stats & Information, Baltimore is averaging 11 more points at home than on the road and has a plus-13 turnover differential (28 takeaways and 15 giveaways). Ravens quarterback
Joe Flacco
has 18 touchdowns and nine interceptions during the streak at M&T Bank Stadium. Dallas has lost six of its past 10 road games.
Tale of two streaks
: It's common knowledge now that the Browns have lost 11 consecutive games, the longest active streak in NFL and one that ties the longest losing streak in team history. Cleveland also has dropped 12 straight games in the AFC North. The Browns' last division win came Oct. 3, 2010, against Cincinnati at home. The Browns are looking to end those streaks Sunday against the Bengals at home. Rookie running back
Trent Richardson
needs to be a big factor for Cleveland. He has scored a rushing touchdown in four straight games. His 303 yards rushing is the second-most by a Browns rookie in the team's first five games in the Super Bowl era (Kevin Mack had 356 in 1985). Richardson totaled 145 yards and two touchdowns last month against the Bengals.
[+] Enlarge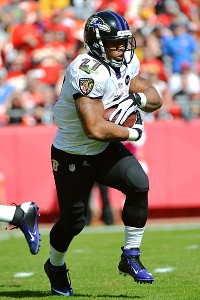 AP Photo/G. Newman LowranceRay Rice has struggled in games after breaking 100 yards rushing; he had 102 in Week 5.
No encore for Rice
: Ravens running back
Ray Rice
is coming off his 15th career 100-yard running game. The Cowboys are allowing 108 yards rushing per game, which puts their run defense in the middle of the league. So Rice is going to have a productive game, right? Not necessarily. In the 14 previous games immediately after running for 100 yards, Rice has just one 100-yd game and three rushing touchdowns. His rushing average is 61.9 yards.
Not respecting the run
: Not establishing the run has hurt the Bengals' passing game. Not only has Cincinnati quarterback
Andy Dalton
failed to produce a single 30-yard pass play on play-action, but he's been sacked about once every seven dropbacks when using play-action. Look for Cincinnati to set up the pass with the run against the Browns, who gave up 243 yards rushing to the Giants on Sunday. Bengals running back
BenJarvus Green-Ellis
gained 75 yards on 21 carries against Cleveland last month, a pedestrian 3.6-yard average.
Going deep against Big D
: The Ravens have a much more explosive offense than last year. Baltimore had 57 plays of at least 20 yards in 2011, which ranked 22nd in the NFL, according to ESPN Stats & Information. The Ravens have already produced 30 such plays this year, which leads the league. Much of the credit goes to Flacco. He is the only NFL quarterback whose average pass is traveling more than 10 yards downfield (10.5). It will be a challenge to stretch the field against Dallas. The Cowboys have allowed 12 passes over 20 yards this season, which is tied for the seventh-fewest in the league.
October, 12, 2012
10/12/12
1:30
PM ET
»
NFC Final Word
:
East
|
West
|
North
|
South
»
AFC
:
East
|
West
|
North
|
South
Five nuggets of knowledge about Week 6:
All about third down.
The
San Francisco 49ers
offense took considerable criticism after converting just once on 13 third-down plays against the
New York Giants
in the NFC Championship Game. The 49ers defense deserves some third-down scrutiny heading into the rematch at Candlestick Park. The 2011 49ers held the Giants to 4.6 yards per play with no touchdowns on first and second downs during the teams' regular-season game last season. Everything changed on third down. The Giants averaged 8.8 yards per third-down play against the 49ers. They gained 127 yards and scored two touchdowns on 10 third-down pass attempts against the 49ers' nickel defense, without taking a sack. The 49ers were much better getting third-down pressure in the playoff rematch, but the Giants still averaged 7.2 yards per pass attempt with seven first downs on third-down plays against the 49ers' nickel defense.
Letting Welker catch it.
The Seahawks' matchup against Patriots receiver
Wes Welker
will be a difficult one. The key, coach Pete Carroll has said, will be for Seattle to limit the damage once Welker inevitably gets the ball in his hands. This is probably an underrated aspect of the Seahawks' league-leading defense. Seattle is allowing 4.09 yards after the catch per reception. That ranks second in the NFL behind Minnesota (3.9) and just ahead of Green Bay (4.12). The figure for Seattle was 4.9 last season and 5.8 in 2010. Welker averages 6.4 YAC/reception, a significant figure given how many passes he catches (NFL-high 30 over the last three games, with 6.5 YAC/reception on those catches). The Seahawks have allowed 3.6 YAC/reception against wide receivers lined up in the slot, where Welker lines up most of the time. That figure ranks 12th in the NFL (the range is 1.9 to 8.1, with 4.5 as average).
[+] Enlarge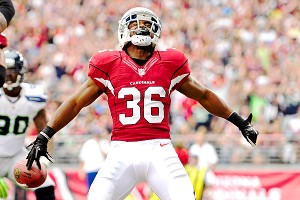 Matt Kartozian/US PresswireLaRod Stephens-Howling may now get more carries in Arizona with Beanie Wells and Ryan Williams injured.
Behold the Hyphen.
LaRod Stephens-Howling
's return from a hip injury comes at the right time for Arizona. Fellow running backs
Beanie Wells
and
Ryan Williams
are out. Stephens-Howling has been a utility player for Arizona, not an every-down back, because he lacks the size needed to run on early downs, week after week. Desperate times call for desperate measures, however, and that could mean leaning on Stephens-Howling a little more regularly. The 5-foot-7, 180-pounder set career highs with 21 carries and 92 yards during a victory over Seattle in Week 17 last season. Four of his longest runs that day -- 39, 8, 8 and 7 yards -- came on first down with no more than two wide receivers on the field. Can Stephens-Howling,
William Powell
and
Alfonso Smith
help the NFL's worst rushing offense (2.7 yards per carry) exploit Buffalo's league-worst rushing defense (5.7 yards per carry allowed)?
First-and-Long.
The
Miami Dolphins
made left tackle
Jake Long
the first player chosen in the 2008 NFL draft. The
St. Louis Rams
took defensive end
Chris Long
with the second pick. Both players will be on the field at the same time when the Rams visit the Dolphins, but they'll be matching up against younger players. Jake Long faces 2011 Rams first-rounder
Robert Quinn
, who is coming off a three-sack game and has already exceeded his total for last season. Chris Long faces Dolphins right tackle
Jonathan Martin
, a second-round choice this year. Both Longs should like their chances in these matchups. If Quinn's speed can factor in the pass rush, perhaps St. Louis can force Dolphins quarterback
Ryan Tannehill
into mistakes.
Readying the stat sheet.
Last week, the 49ers had a 300-yard passer, 100-yard rusher and two 100-yard receivers for the first time since 1961. Meanwhile, the Giants became the first NFL team since 1960 to have one player rush for at least 200 yards (
Ahmad Bradshaw
) while another player caught three touchdown passes (
Victor Cruz
). There is more. The 49ers have won each of their last two games by 30-plus points, the first time since 1961 they've accomplished the feat (they have never done it three games in a row). The Giants have set a franchise record for any four-game stretch with 1,877 yards against Tampa Bay, Carolina, Philadelphia and Cleveland.
Note: ESPN Stats & Information contributed to this item.
October, 12, 2012
10/12/12
1:30
PM ET
»
NFC Final Word
:
East
|
West
|
North
|
South
»
AFC
:
East
|
West
|
North
|
South
Five nuggets of knowledge about Week 6:
Excellent scrambling:
Per ESPN Stats and Info --
Andrew Luck
has scrambled for a first down nine times this season, most in the NFL. His running abilities are extraordinary, and it's a huge factor for a team that doesn't rush particularly well with running backs. This week at the Jets, rookie
Vick Ballard
will work as the lead back because
Donald Brown
is recovering from knee surgery. It's hardly all running for Luck. He has thrown three touchdowns in the last two minutes of the second or fourth quarter this season, tied for most in the NFL.
[+] Enlarge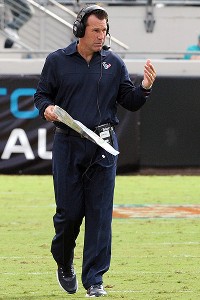 Al Messerschmidt/Getty ImagesGary Kubiak and the Texans will try to stay perfect on Sunday against Green Bay.
Texans' forecast:
Under the current playoff format (since 1990), 38 teams have started 5-0, not including this year. Thirty-four of those teams made the postseason, 25 won at least one playoff game, and 16 reached the Super Bowl. Eight of them claimed the Lombardi Trophy. The Texans are hoping after Sunday night we'll be updating these numbers for teams that started 6-0.
Slowing Rodgers:
Green Bay is the second team to have a losing record through five games the season after winning 15 or more games, joining the 1999 Vikings. A year after leading the league with 35 points per game, they are averaging just 22.4, which ranks 18th.
Aaron Rodgers
and the offense will face a Texans defense that has held opposing quarterbacks to a QBR of just 11.6, easily the best in the NFL.
Age and beauty:
Reggie Wayne
leads the NFL with 126.5 receiving yards per game and nine receptions per game this season. No player Wayne's age (he'll be 34 in November) or older has ever had more than 91 receiving yards per game in a season. Wayne will see a lot of Jets cornerback
Antonio Cromartie
. Cromartie played great last week for New York against Houston's
Andre Johnson
. Wayne has been targeted 28 times when lining up on the left side of the formation, and 28 times when lining up on the right side of the formation this season. In his last two seasons with
Peyton Manning
(2009-10), 82.9 percent of Wayne's targets came after lining up on the left side of the formation.
Also:
The Colts have lost nine straight road games, tied for the second-longest active road losing streak. … Rodgers has lost three straight road starts for the first time since 2008, and he's been sacked 17 times combined in those games. … The Colts are 11-3 in 14 road games against the Jets dating to 1989. …The Titans get a weekend off after their upset of the Steelers, and could have
Jake Locker
back under center on Oct. 21 in Buffalo. …The Jaguars have a bye and return to action in Week 7 at Oakland, with a trip to Green Bay the week after that.

NFL SCOREBOARD
Thursday, 9/4
Sunday, 9/7
Monday, 9/8