NFL Nation:

Final Word AFC 2010 Week 11
November, 19, 2010
11/19/10
4:00
PM ET
»
NFC Final Word
:
East
|
West
|
North
|
South
»
AFC
:
East
|
West
|
North
|
South
Five nuggets of knowledge about Week 11:
Getting hot:
The
Cleveland Browns
have another tough test on the road Sunday against the
Jacksonville Jaguars
(5-4), which marks another important point in Cleveland's season. The Browns (3-6) have a chance to get hot in the second half of the season as the soft part of their schedule approaches. After Jacksonville, the Browns face four straight opponents that currently have losing records. Cleveland has been competitive in nearly every game this season. But it's now or never for the Browns to start getting wins, pad their record and get closer to .500.
[+] Enlarge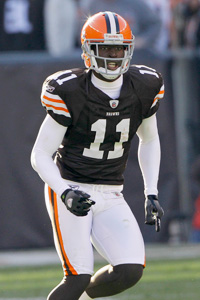 AP Photo/Amy SancettaMohamed Massaquoi and Cleveland's receivers have made little impact this season.
Disappearing act:
But to go on a winning streak, the Browns need to get more production from their receivers. Former second-round picks
Mohamed Massaquoi
and
Brian Robiskie
have been huge disappointments in their second season. The pair has combined for only 24 receptions for 262 yards in nine games. Cleveland's leading receivers are tight end
Ben Watson
(36 catches) and running back
Peyton Hillis
(34 catches), both of whom have more catches than Robiskie and Massaquoi combined. Cleveland might want to consider using athletic backup tight end
Evan Moore
more frequently in the offense. Wide receiver is a major position of need for the Browns next offseason.
Strength versus strength:
The
Pittsburgh Steelers
were picked apart by quarterback
Tom Brady
and the
New England Patriots
last week, but they get a much better matchup Sunday against the
Oakland Raiders
. The Raiders (5-4) have won three straight, but they did it running the football. Oakland is second in the NFL in rushing and goes against the league's No. 1 run defense in Pittsburgh. The Steelers have struggled mightily against the pass this season. But Oakland only throws for 198.8 yards per game. Establishing the run will be crucial for the Raiders.
The streak:
Although it sounds odd, the
Cincinnati Bengals
haven't beaten the
Buffalo Bills
in 22 years. The Bills will try to improve to 10-0 in that span against the Bengals, who have an NFL-high six-game losing streak. The Bengals need this game to avoid further embarrassment in what already has been an ugly season.
The game will be blacked out in Cincinnati
because of poor ticket sales. With the teams a combined 3-15, there wasn't enough interest in this game. It also marks the end of a 57-game sellout streak for the Bengals.
Taking advantage:
The
Baltimore Ravens
are struggling in the secondary, but that probably will stop against the banged-up
Carolina Panthers
. After facing a several top quarterbacks this season such as Brady and
Matt Ryan
, Baltimore gets NFL journeyman
Brian St. Pierre
, who has thrown only five passes in eight NFL seasons. St. Pierre was picked up off the street by the Panthers after injuries to starter
Matt Moore
(shoulder) and rookie
Jimmy Clausen
(concussion). The Ravens also have had the luxury of 10 days to prepare, making Baltimore a huge favorite.
November, 19, 2010
11/19/10
4:00
PM ET
»
NFC Final Word
:
East
|
West
|
North
|
South
»
AFC
:
East
|
West
|
North
|
South
Five nuggets of knowledge about Week 11:
And then will there be three?
If the
San Diego Chargers
beat Denver on Monday night, they will improve to 5-5. Oakland and Kansas City are both 5-4 heading into this weekend's games. If the Chargers win, it will mark the first time there have been three teams in the AFC West with .500 or better records this late in the season since 2006. That season ended with both San Diego and Kansas City going to the playoffs. The late season hasn't been too exciting in the AFC West in recent years, but that may be changing.
Can the Raiders run to a win?
The Raiders are ranked No. 2 in the NFL on the ground, averaging 162.2 yards a game rushing. They will be facing Pittsburgh on the road. The Steelers, the longtime gold standard of NFL run defense, are ranked No. 1 against the run. The Steelers allow 63.2 yards per game on the ground. The No. 2 ranked run defense is giving up 82.3 yards per game. Still, Gary Horton of Scouts Inc. likes the way Oakland runs the ball and likes its chances in any game. This is a taste of Horton's observations of Oakland's run attack: "The more you watch their run game, the more you like it. They have some unusual alignments in their power run game." If Oakland can get to the Steelers on the ground, perhaps it can come away with a huge win and continue to show it is a legitimate playoff threat.
[+] Enlarge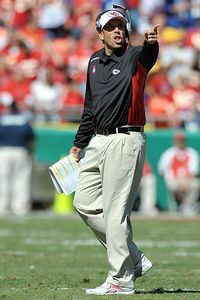 John Rieger/US PresswireKansas City coach Todd Haley returns to Arizona to face his old team for the first time Sunday.
Reunion time in Kansas City:
Don't expect there to be another postgame coaching controversy this week. Second-year Kansas City coach Todd Haley is meeting the
Arizona Cardinals
for the first time since the Chiefs hired the Cardinals' offensive coordinator as their head coach in 2009. Haley's last game with the Cardinals on the field was a near-miss against Pittsburgh in the Super Bowl. The Chiefs should have a nice advantage because Haley knows Arizona's offense so well. But, of course, the Cardinals know all of Haley's tricks too.
Will sparks fly in San Diego?
Both times the Broncos and Chargers met last year, there was a pregame incident. In San Diego on a Monday night, nearly the entire Denver team invaded San Diego's side of the field during warm-ups and many Denver players stared taunting the Chargers. A pushing-and-shoving match ensued. The next month in Denver, San Diego linebacker
Shaun Phillips
and Denver coach Josh McDaniels exchanged words with Phillips ending up apologizing the next week. What will happen this year? Maybe McDaniels and San Diego coach Norv Turner won't shake hands at the end of the game. Just kidding.
Chargers start key home stretch:
Many league observers believe the Chargers are about to make another late-season run. The Chargers have come back to win the AFC West title the past three years by ending the season with winning streaks of six, four and 11 games. San Diego has won its past two games. The Chargers are set up to make a run with four of their next five games being at home. The Chargers play all three AFC West foes at home during the stretch. If San Diego is going to make another run, this is the time to do it.
November, 19, 2010
11/19/10
4:00
PM ET
»
NFC Final Word
:
East
|
West
|
North
|
South
»
AFC
:
East
|
West
|
North
|
South
Five nuggets of knowledge about Week 11:
[+] Enlarge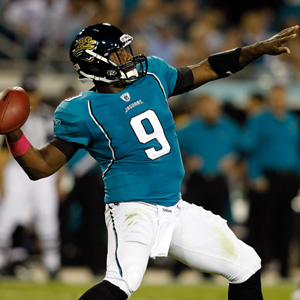 J. Meric/Getty ImagesIn the past two games, David Garrard has completed 66.2 percent of passes thrown over 10 yards.
Look long:
I've been critical of Jaguars QB
David Garrard
's ability to see receivers downfield and connect with them. But in his past two games he has been ridiculously good on balls thrown over 10 yards. (Yes, that includes the batted Hail Mary that won the Houston game.) In two games since returning from a concussion, ESPN Stats & Information says Garrard has hit on 66.2 percent of such throws for a 20.5 yards per attempt average, three touchdowns and no interceptions and a 149.3 passer rating. The Browns will certainly be conscious of that, which may mean there is a little more room underneath for a guy like
Maurice Jones-Drew
.
More men on Manning:
Since Colts tight end
Dallas Clark
was lost for the season with a wrist injury, defenses have been blitzing
Peyton Manning
more. The thinking is that Clark was an excellent safety blanket and outlet for Manning to find against extra rushers, but that he's got less reliable options in those situations now. In the past three games, he has seen five or more rushers 37.7 percent of the time (as compared to 21.9 percent before). In those situations, he has completed only 54.2 percent of his passes, posted a passer rating of 66.5 and been sacked four times. Will Patriots coach Bill Belichick find a way to have a similar effect?
Careful with Cooley:
The Titans have struggled against tight ends recently, getting lit up by San Diego's
Antonio Gates
and Miami's
Anthony Fasano
in recent weeks.
Jason Witten
and
Kevin Boss
also have had big games against them. Jeff Fisher has said it's mostly on the linebackers. Well, they need to do better against Washington's dangerous
Chris Cooley
, a guy who can do some damage after the catch. There can't be communication issues about who's on him when and where, or he can tear them up.
Force Foster:
The Jets are fifth against the run and 14th against the pass, but that doesn't mean the Texans should minimize
Arian Foster
. Offenses with a good back against good run defenses shouldn't presume he won't be able to gain yards. I think the Texans would be well served to show some attitude here. When they lost their opener to the Jets last season, New York players suggested the Texans were a finesse team that couldn't slug it out toe-to-toe. Forcing the issue early with Foster would go a long way in this game toward showing the hosts that's no longer the case. Trouble is, it may still be.
Force fumbles:
If the Patriots happen to be losing late and trying to muster a late drive, they should be hyper-aware of
Dwight Freeney
. In the Colts' past two wins, he has had a strip sack late in the fourth quarter to get Indianapolis the ball back. Even as offensive linemen and quarterbacks know what's coming, Freeney is able to dig down and make a giant play to help secure a win. Second-year tackle
Sebastian Vollmer
is 6-foot-8, 315 pounds. Will there be a critical moment when the 6-1, 268 Freeney speeds, or spins, around him?
November, 19, 2010
11/19/10
4:00
PM ET
»
NFC Final Word
:
East
|
West
|
North
|
South
»
AFC
:
East
|
West
|
North
|
South
Five nuggets of knowledge about Week 11:
[+] Enlarge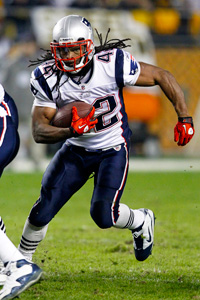 AP Photo/Gene J. PuskarBenJarvus Green-Ellis has an enviable matchup against the Colts' 29th-ranked rush defense.
BenJarvus Green-Ellis can steal the spotlight Sunday in Gillette Stadium.
With so much focus on the quarterbacks in Sunday's blockbuster between the Colts and Patriots, the player who could make biggest impact is Green-Ellis. The Colts rank 29th in run defense, allowing 133.2 yards a game and are tied for last in average per carry at a robust 5.0 yards. The Colts also play a conservative 4-3 defense. While they collect sacks, they blitz less than any other NFL team. Green-Ellis must come off the field at times because he's a liability at picking up the blitz, giving
Danny Woodhead
more snaps. That shouldn't be as much of an issue this week. The last time Green-Ellis faced a 4-3 defense, he ran 17 times for 112 yards and two touchdowns against the Vikings -- and the Patriots didn't have Pro Bowl left guard
Logan Mankins
then.
The Dolphins should put Chad Henne on injured reserve.
Let's face it: The Dolphins are long shots to make the playoffs. They're 5-5, in third place in the AFC East, are at a serious disadvantage with wild-card tiebreakers and keep sustaining injuries, especially on the offensive line. The only reason to get Henne back on the field is if they were to have a legitimate chance to make a run and can be sure he can stay upright. Tyler Thigpen, a quarterback known for his mobility, was sacked six times Thursday night by the Bears, who went into Week 11 ranked 30th in sacks per pass play. There's no sense in risking further damage to Henne's knee for such little reward.
Where has Jets tight end Dustin Keller gone?
Keller was torrid out of the gates -- and looked an awful lot like
Antonio Gates
-- with 19 receptions for 254 yards and five touchdowns through the first four games. Since then, he has caught four passes once and has zero touchdowns. Keller's downturn coincides with the return of receiver
Santonio Holmes
' from a four-game suspension, but Jets offensive coordinator Brian Schottenheimer should be able to get Keller more involved than he has been.
Leodis McKelvin better not guard Terrell Owens on Sunday.
A tweet from Bills cornerback
Drayton Florence
to Bengals receiver
Chad Ochocinco
professed
Florence will line up against Owens, while McKelvin will take Ochocinco
. Bills fans should hope Florence isn't fibbing. Some of my most vivid memories from Buffalo's 2009 training camp were of Owens scalding McKelvin. That was with
Trent Edwards
at quarterback, not
Carson Palmer
. It got to the point you felt bad for the young cornerback as Owens simply toyed with him on routes in 11-on-11 drills.
Cameron Wake is the NFL's best pass-rusher on passing downs.
ESPN Stats & Information delivered a neat item about the Dolphins' outside linebacker. Wake has recorded an NFL-best 8.5 sacks with five or more defensive backs on the field (i.e., obvious passing downs).
Clay Matthews
has eight such sacks.
Brian Orakpo
is third with 7.5 sacks. What better time for a pass-rusher to come through than when the opponent needs to throw?

NFL SCOREBOARD
Thursday, 8/14
Friday, 8/15
Saturday, 8/16
Sunday, 8/17
Monday, 8/18
WEEKLY LEADERS