NFL Nation:

Final Word AFC 2010 Week 13
December, 3, 2010
12/03/10
4:00
PM ET
»
NFC Final Word
:
East
|
West
|
North
|
South
»
AFC
:
East
|
West
|
North
|
South
Five nuggets of knowledge about Week 13:
[+] Enlarge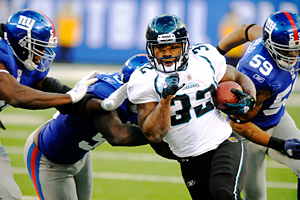 AP Photo/Henny Ray AbramsMaurice Jones-Drew has been blowing past defenses designed to contain him.
No matter the numbers:
Maurice Jones-Drew
has run well this season when teams have loaded up to try to stop him, according to ESPN Stats & Information. When opposing defenses expect run and bring more defenders into the box than the offense has blockers, Jones-Drew still produces. He has 37 carries under such circumstances and his 4.7 yards per carry average is tied for the third-best in the league. Since the beginning of 2008, only
Thomas Jones
(18) has more rushing touchdowns against the loaded box than Jones-Drew (15).
Three more TDs:
Dallas has not played in Indianapolis since Nov. 17, 2002, when the Colts beat them 20-3. It will be only the third Cowboys-Colts clash of the
Peyton Manning
era and he's 2-0 against Dallas. Manning already has an NFL-record 12 seasons with at least 25 touchdown passes. He needs three more TDs to make it 13. In his last two games -- losses to New England and San Diego -- Manning has thrown six touchdown passes but also seven interceptions.
Score more:
The Titans were faring great in the scoring department before their four-game losing streak. Now, over the past month, they've scored 25, 17, 16 and 0, a total of 58 points. That's less than half the point production from the four games before that (121). The Titans need some lengthy drives and big plays. They've talked over and over about the coverage WR
Randy Moss
is drawing. But his previous teams found a way to get him 948 catches against difficult coverages and it's time for the Titans to figure out how. Without Moss, they scored 30 in Jacksonville on Oct. 18.
Beat up:
Yes, the Jaguars are playing far better than they were when the Titans beat them up in the first game. The biggest difference heading into the rematch could be the health of the Titans' defensive line. Tennessee's pass pressure has dropped off and the group is dealing with injuries.
Sen'Derrick Marks
is probably out and
Jason Babin
,
Dave Ball
,
Jason Jones
and
Tony Brown
are all on the injury report. I expect more time for
David Garrard
and more room for Jones-Drew.
Run wary:
The Colts might have
Gary Brackett
back at middle linebacker, and they could use him. Under interim coach Jason Garrett, the Cowboys have shown more determination to run the ball. The undersized, undermanned Colts can certainly be run on. They've given up 136.9 yards a game and 4.9 yards a carry this season.
December, 3, 2010
12/03/10
4:00
PM ET
»
NFC Final Word
:
East
|
West
|
North
|
South
»
AFC
:
East
|
West
|
North
|
South
Here are five nuggets of knowledge about Week 13:
[+] Enlarge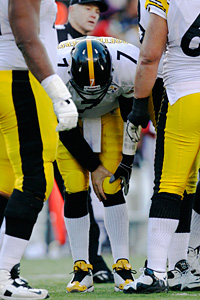 AP Photo/David DupreyThe Ravens will be sure to test Ben Roethlisberger's injured foot Sunday.
Footgate:
Does
Pittsburgh Steelers
quarterback
Ben Roethlisberger
have
a broken foot or is it sprained
? Either way, we will find out how badly injured Roethlisberger is in Sunday's prime-time showdown with the
Baltimore Ravens
. The Pittsburgh Post-Gazette reported Roethlisberger broke a bone in his foot against the
Buffalo Bills
. The report was quickly refuted by the team, which said it's simply "an aggravation of an old injury where scar tissue is present." There often seems to be a shroud of mystery surrounding the extent of Roethlisberger's injuries. But look for the Ravens to test his mobility with first place in the AFC North hanging in the balance.
Boldin's numbers:
Ravens receiver
Anquan Boldin
's numbers have dipped in the past month, as teams have put more emphasis on stopping the three-time Pro Bowl receiver. He has only 13 receptions in the past four games, but Boldin said he's not concern with numbers because the Ravens are 8-3. Baltimore acquired Boldin in an offseason trade with the
Arizona Cardinals
, and his presence has opened things up for teammates
Derrick Mason
,
Todd Heap
and
T.J. Houshmandzadeh
to make more big plays the past few weeks. Steelers defensive coordinator Dick LeBeau usually takes away an opponent's best option, which means Boldin could see plenty of coverage again.
Interior concerns:
An area where the Ravens have a huge advantage over Pittsburgh is on the defensive line. Buffalo's defensive line, and particularly
Kyle Williams
, gave the Steelers a lot of problems last week. Roethlisberger was sacked five times against the Bills, including the hit that twisted his foot. The Ravens have
Haloti Ngata
,
Terrell Suggs
and waves of defensive linemen to throw at Pittsburgh's struggling and banged-up offensive line. If Baltimore wins this matchup, it will go a long way toward slowing Pittsburgh's offense.
Passing attack:
Can the
Cincinnati Bengals
defend the passing game of the
New Orleans Saints
? Entering the season, Cincinnati's pass defense was the strength of the team. But injuries at safety and cornerback have made this an unexpected area of concern. New Orleans is third in the NFL in passing with a variety of weapons and a dynamic quarterback in
Drew Brees
. The Saints are the type of team Cincinnati doesn't want to face right now. It also doesn't help that New Orleans is on a four-game winning streak.
Delhomme gets another nod:
Cleveland Browns
quarterback
Jake Delhomme
will be the starter for the second straight week against the
Miami Dolphins
. Cleveland's revolving door at quarterback has been a big topic of discussion all season. It's questionable whether Delhomme -- who has one touchdown, six interceptions and a 54.2 passer rating -- has earned another start. But Browns coach Eric Mangini remains confident in the veteran, who is making $7 million this season. Rookie quarterback
Colt McCoy
(ankle) is hurting, but backup
Seneca Wallace
is healthy and has put up much better numbers (88.5 passer rating) in his four starts.
December, 3, 2010
12/03/10
4:00
PM ET
»
NFC Final Word
:
East
|
West
|
North
|
South
»
AFC
:
East
|
West
|
North
|
South
Five nuggets of information about Week 13:
Will they shake hands?
All eyes will be on midfield after Denver's visit to Kansas City on Sunday no matter the outcome of the game. Everyone will be looking to see if Kansas City coach Todd Haley shakes the hand of Denver coach Josh McDaniels. A firestorm started in Week 10 when Haley refused to shake hands with McDaniels after Denver crushed the Chiefs 49-29. Haley apologized the next day but neither he nor McDaniels shed light on what the issue was. The Broncos played hard until the end and I'm sure that had something to do with Haley's disgust. This week, both coaches have downplayed the significance of the incident. I would be surprised if there was another incident after Sunday's rematch.
[+] Enlarge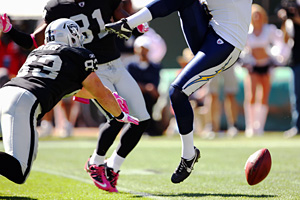 Ezra Shaw/Getty ImagesThe struggling Raiders may have to rely on their special teams if they want to beat the Chargers.
The Raiders need to get their block on again:
In the past two games, San Diego's special teams have actually been good after struggling in various areas in the first nine games. The Chargers' biggest problem on special teams had been in punt protection. San Diego has had five punts blocked this season, including two against Oakland. The Raiders took a 9-0 lead on two blocked punts in the first five minutes of their 35-27 win over the Chargers in Week 5. With the Chargers surging and the Raiders struggling, Oakland will need big plays from its special teams to pull off the season sweep.
Denver needs to stop the Chiefs on the ground:
Kansas City has the best ground game in the NFL -- averaging 174.3 yards per game and coming off a win at Seattle in which it rushed for 270 yards. In contrast, when the Chiefs lost at Denver, Kansas City managed only 51 rushing yards. A big reason why was because the Chiefs fell behind 35-0 in the second quarter. The Chiefs have to establish the ground game early and wear down the Broncos. Denver has allowed 100 points in the past three games.
How long will Norv's speech pay dividends?
San Diego coach Norv Turner
sparked his struggling team at halftime
of an Oct. 31 game against Tennessee. The Chargers were losing and on the verge of falling to 2-6. However, the normally stoic Turner let loose with an emotional speech at halftime, telling his players it was time to get going. His players listened. The Chargers came back to win the game and they have not lost since. San Diego is 6-5 and riding a four-game win streak. The Chargers have made a habit of getting hot late in the past three seasons, but this year's hot streak is, in part, due to their coach's speech.
Chargers can keep their bags unpacked for a while
: The Chargers can't ask for anything more. They trail the 7-4 Chiefs by one game in the AFC West as they head into December play. We all know how good San Diego is. The Chargers have won eight straight games in November and are unbeaten in 19 December games since
Philip Rivers
took over as the starting quarterback in 2006. The Chargers enter the month with three straight home games against the Raiders, Chiefs and 49ers in an 11-day stretch.
December, 3, 2010
12/03/10
4:00
PM ET
»
NFC Final Word
:
East
|
West
|
North
|
South
»
AFC
:
East
|
West
|
North
|
South
Five nuggets of knowledge about Week 13:
[+] Enlarge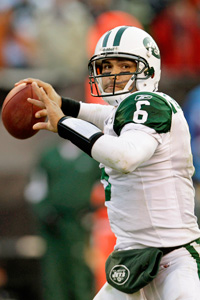 AP Photo/Tony DejakMark Sanchez likes to throw deep, but the Patriots have been more vulnerable on shorter routes.
When it comes to drawing up a passing strategy to win Monday night, the New York Jets would be wise to keep it short and simple.
Mark Sanchez
likes to throw deep. Only five quarterbacks have thrown more passes 21 yards or deeper than Sanchez has. But ESPN Stats & Information notes the
New England Patriots
' pass defense has been suspect on throws shorter than 15 yards. Opponents are posting a 98.9 passer rating, ranking the Patriots 27th in the league. But on passes 15 yards or longer the Patriots rank 12th in allowing a 74.4 passer rating. Patriots rookie cornerback
Devin McCourty
has a league-high five interceptions on throws that travel at least 15 yards.
With so many injuries, the Buffalo Bills might not be able to hang tough for long.
The Bills have been remarkable in their competitiveness over the past two months. The Bills looked putrid through their first five games, so I explored
what would happen if they played a UFL team
. Since then, they are 2-4, with all of their losses by a field goal and three of them coming in overtime. But the Bills' iffy defense suffered two more casualties this week. Starting right defensive end
Dwan Edwards
and starting linebacker
Reggie Torbor
were placed on season-ending injured reserve, giving less experienced players more responsibilities. They must contain some serious offensive firepower Sunday in the Metrodome.
Miami Dolphins receiver Brandon Marshall has been the year's most disappointing acquisition.
Marshall on Thursday spoke of his restlessness and bemoaned his lack of production. He said, "I've been too boring this year" and asked reporters for help in coming up with ways to show his emotions without drawing penalties -- as he has his previous two games before missing last week with a hamstring injury. "Say something. Spark some controversy. It's too calm." Marshall has one touchdown reception. Bills undrafted rookie
Donald Jones
has that many.
Steve Johnson has taken over the lead in drops, but Wes Welker is right behind him.
Johnson's awful afternoon against the
Pittsburgh Steelers
placed him atop the drop list ESPN Stats & Information tracks throughout the season. He now has nine on 99 targets. But there are established receivers high on the chart. Welker is tied for second with seven drops on 90 targets. Jets tight end
Dustin Keller
has six on 70 targets. Marshall has five drops on 95 targets. Patriots tight end
Aaron Hernandez
has five on 50 targets.
Lee Evans
of the Bills and
Jerricho Cotchery
of the Jets have four drops apiece. Only the
Detroit Lions
and
Indianapolis Colts
have dropped more passes as a team than the Patriots with 27. The Jets, Bills and Dolphins rank ninth, 11th and 12th, respectively. That's a lot of drops for one division.
Indianapolis is not New England's hottest rival.
In our Double Coverage debate this week
, AFC North blogger James Walker and I argued which rivalry was better, the Jets and Patriots or the
Baltimore Ravens
and Pittsburgh Steelers. One of Walker's main planks was the Jets aren't the Patriots' biggest rivals and proclaimed the Colts were. Here's what ESPN analyst and former Patriots linebacker
Tedy Bruschi
had to say:
"Throughout my career, with all the rivalries -- Steelers, Colts, Jets --
I always felt it more coming from the coaches during Jets week
. That's all the way back to Bill Parcells' years, when Al Groh was here, the whole drama of [Bill] Belichick being the 'HC of the NYJ' for one day and when Eric Mangini was here. You could feel the tension and motivation that coaches had to win this game when it was against the Jets. This may go back to when the coaches had ties. They coached you harder. When they were in front of you in defensive meetings, there was urgency in their voices. You knew it was Jets week and the coaches would lead the way. Colts, Steelers, we knew, and we really wanted to establish ourselves as the tough guys in the league against them. But this, against the Jets, was more of an organization versus another organization, and we really felt that."