NFL Nation:

Final Word AFC 2010 Week 14
December, 10, 2010
12/10/10
4:00
PM ET
»
NFC Final Word
:
East
|
West
|
North
|
South
»
AFC
:
East
|
West
|
North
|
South
Five nuggets of knowledge about Week 14:
Elements shouldn't be an issue this time around:
It is supposed to be a brilliant day in San Diego for the biggest game of the AFC West season to date. The forecast calls for a sunny day with the temperature expected to be between 75-80 degrees. Yes, perfect weather for a game in which the 8-4 Chiefs can move to the doorstep of the division title and the 6-6 Chargers must win to have any chance of keeping their four-year division championship streak alive. The conditions should be much different than when these teams played in Kansas City in Week 1. The Chiefs won the Monday Night Monsoon game, 21-14. Kansas City was able to adjust to the rain and the Chargers were clearly affected. It should be an even playing field this time.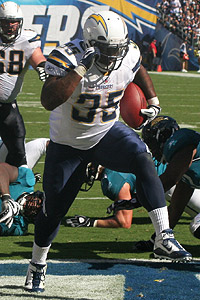 Icon SMIMike Tolbert has been the Chargers' go-to running back inside the 3-yard line, scoring seven touchdowns on 12 carries from that distance.
Better than the last time:
The Raiders are 6-6 and still in the playoff race as they head to Jacksonville. The team has made progress and continues to climb out of a seven-year funk. Three years ago, Oakland played in a late-season game in Jacksonville. It was the first extensive playing experience for rookie quarterback
JaMarcus Russell
. The game was highly anticipated in Oakland because Russell was the No. 1 overall pick, but he was awful in a 49-11 defeat. He completed 30 percent of his passes and had a passer's rating of 17.4. It never really got much better for Russell, who was finally cut by the Raiders in May.
Draft-pick bowl:
The first game of what will likely be the four-game Eric Studesville era is a winnable game for the 3-9 Broncos at Arizona. But is it worth it? According to ESPN Stats & Information, the Cardinals (3-9) are on pace to have the No. 5 overall draft pick. Denver -- which fired second-year coach Josh McDaniels on Monday -- is on pace to have the No. 6 pick. Thus, the winner of the game will be on pace for a worse draft pick. Of course, both teams will want to win to make this miserable season a little less, well, miserable. But in the end, a better draft pick means more drafting power in April.
Tolbert is a go-to player at the goal line:
If the Chargers get to the goal line, the Chiefs will likely know the play, especially if it's a run. According to ESPN Stats & Information, Chargers' running back
Mike Tolbert
is tied for the NFL lead with 12 carries inside the opponents' 3-yard line. He has scored seven touchdowns in those situations, second behind NFL leading rusher
Arian Foster
of Houston. The bowling-ball shaped Tolbert is a perfect goal-line threat because it usually takes multiple defenders to bring him down.
Raiders are traditionalists:
According to ESPN Stats & Information, the Raiders lead the NFL in traditional two-running back, two-receiver and one tight-end sets. The Raiders have run 286 plays out of that basic set. The Jets are No. 2 in the league with 10 fewer plays than Oakland. The Raiders have been average using the set. They have gained 1,446 yards, which is far from the league lead. But it seems like Oakland's offense is evolving as their receivers and tight end
Zach Miller
close in on regaining their health. Offensive coordinator Hue Jackson called a very strong game Sunday against San Diego, and it seems like the unit may get more creative in the final quarter of the season.
December, 10, 2010
12/10/10
4:00
PM ET
»
NFC Final Word
:
East
|
West
|
North
|
South
»
AFC
:
East
|
West
|
North
|
South
Here are five nuggets of knowledge about Week 14:
Must-win Mangini:
Sunday starts a must-win stretch for
Cleveland Browns
head coach Eric Mangini. The Browns have played solidly recently, going 4-2 in their past six games. But at 5-7, Mangini must continue to pad his record to increase his job security. The good news for Cleveland is it has two of the NFL's worst teams coming up in the
Buffalo Bills
(2-10) and
Cincinnati Bengals
(2-10). The bad news is both games are on the road and Mangini likely cannot drop either contest. Cleveland will finish its season as big underdogs against the
Baltimore Ravens
(8-4) and
Pittsburgh Steelers
(9-3). Therefore, seven wins or more will
make for a tough decision
by Browns president Mike Holmgren.
[+] Enlarge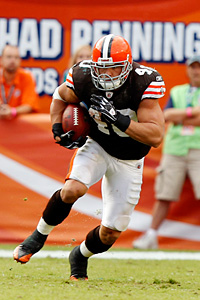 AP Photo/Wilfredo LeeCleveland's Peyton Hillis is closing on his first 1,000-yard season.
Hillis for 1,000:
Browns tailback
Peyton Hillis
has a very good chance to eclipse 1,000 yards rushing for the first time in his career this weekend. Hillis has 962 rushing yards, and Buffalo has the league's worst run defense (170.9 rushing yards per game). It's a good matchup for the Browns, so expect them to pound the ball with Hillis. Bad weather in Buffalo also could be a factor.
Avoiding a letdown:
The Steelers and Ravens played another
brutal and emotional game
last week, adding to their heated rivalry. Now both teams must avoid a hangover. The Steelers (9-3) host the struggling Bengals on Sunday. Pittsburgh, which is banged up at quarterback, tight end and the offensive line, is 6-2 in the regular season since 2006 after playing the Ravens. Baltimore, trying to bounce back after the tough loss to the Steelers, will play Monday against the
Houston Texans
(5-7), who are well-rested with 11 days to prepare. Baltimore is 4-4 since 2006 after playing Pittsburgh the week prior.
Dunlap gaining steam:
Keep an eye on Bengals second-round pick
Carlos Dunlap
, who is starting to turn the corner. The rookie defensive end has 4.5 sacks in the past five games and has added a much-needed boost to Cincinnati's abysmal rush. The recent hot streak was enough for Dunlap to take the team lead in sacks this season. Safety
Chris Crocker
, who was
put on injured reserve Nov. 22
with a knee injury, remains second on the team with two sacks. Dunlap was a first-round talent who entered the draft with questions about his motivation and motor. The Bengals are finally getting Dunlap to play hard more consistently.
Big game for T.O.?
Bengals receiver
Terrell Owens
is having a great season, and he could be in for another big game against the Steelers. In the Nov. 8 game against Pittsburgh, he caught 10 passes for 141 yards and two touchdowns. Steelers defensive coordinator
Dick LeBeau traditionally prefers to
take away
Chad Ochocinco
, which provides single coverage on other Bengals. In the first meeting, Owens got the best of Pittsburgh defensive backs in one-on-one matchups. If Pittsburgh keeps the same strategy, cornerbacks
Ike Taylor
and
Bryant McFadden
must play much better against Owens.
December, 10, 2010
12/10/10
4:00
PM ET
»
NFC Final Word
:
East
|
West
|
North
|
South
»
AFC
:
East
|
West
|
North
|
South
Five nuggets of knowledge about Week 14:
Keyed by run defense:
The personnel in their secondary is the Jaguars' primary defensive concern. But the Jaguars' past three losses -- to Tennessee, Kansas City and the Giants -- have been to teams that run the ball better than they throw it. Oakland fits that mold for sure. Jacksonville's run defense has been a key as it has won four out of five. The interior guys,
Terrance Knighton
and
Tyson Alualu
, have a swagger and don't believe a back can find any yards up the middle. That may mean a quiet day for
Michael Bush
. But what about
Darren McFadden
?
[+] Enlarge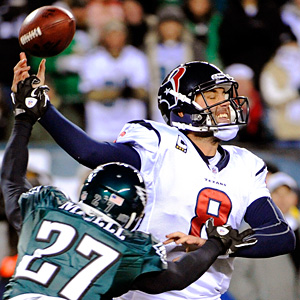 AP Photo/Miles KennedyMatt Schaub is far less effective when facing pressure from the secondary.
Pick up the DB:
If the Ravens can collapse the pocket around
Matt Schaub
the way they did against Pittsburgh a week ago, they're sure to get him off his spot. But blitzing with front seven guys hasn't produced giant results, according to ESPN Stats and Info. Schaub's passer rating drops from 95.7 to. 81.9 when a defense brings at least five pass rushers, but he's taken 13 sacks each against standard rushes and blitzes. If the Ravens want to really affect his production, they might send a defensive back after him. His passer rating dips to 72.1 against pressure out of the secondary.
A donut in his game:
David Garrard
is faring well on short stuff and long stuff, but not so much on stuff in the middle. Balls that travel 10 yards or less in the air have produced a 99.4 passer rating, and balls of 21 yards or more a 90.8 rating. But on balls that carry from 11 to 20 yards, his rating is 57.5. Jacksonville will want to pound it with
Maurice Jones-Drew
and simply supplement him with Garrard throws. Let's see what's available to him against the Raiders' defense, which ranks ninth against the pass.
Okoye playing better:
The Texans are in need of an additonal defensive tackle no matter what. But just when I started to think
Amobi Okoye
's future was completely up in the air, he's been playing better. He was disruptive in the Texans' games against Tennessee and Philadelphia, and it would be nice to see the 2007 first-rounder maintain that level of play through the final four games of the regular season. If he does it Monday night, Joe Flacco may get to know him.
Enjoying a break:
The Colts beat the Titans in Nashville on Thursday night. Both teams are enjoying a restful weekend that could give them a bit of an advantage next week. The Colts are home for a key game against the Jaguars, and wouldn't mind an Oakland win and the Raiders doing their best to beat up Jacksonville. The Titans will have a long rest while Houston will have a short one after a Monday night game in advance of its trip to Tennessee.
December, 10, 2010
12/10/10
4:00
PM ET
»
NFC Final Word
:
East
|
West
|
North
|
South
»
AFC
:
East
|
West
|
North
|
South
Five nuggets of knowledge about Week 14: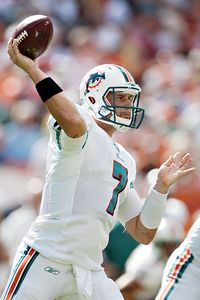 Jonathan Brownfield/US PresswireChad Henne gets another chance to prove he's Miami's QB of the future.
Mark Sanchez and Chad Henne will try to pull out of their tailspins against each other.
One of the more popular topics on the AFC East blog over the past 10 months or so is whether Sanchez or Henne has the brighter future. Readers have been zealous in their stances. But it's safe to say we expected to know a heck of a lot more about these quarterbacks by Week 14. Yet here we are with as many questions as ever about a pair of second-year starters as they prepare to square off Sunday at New Meadowlands Stadium. Both are coming off three-interception defeats and trying to regain a semblance of homestretch momentum. Sanchez is in a more appealing situation. His team is 9-3 and can clinch a playoff berth with a victory against the Dolphins (and a couple other things happening). Henne's team is on the verge of elimination from the postseason race and he has been benched already this year. We might know more about these erratic lads by Sunday evening, but there's also a chance -- with the way they've been playing lately -- the winning team comes through despite its quarterback.
Don't be surprised if the Patriots deliver a letdown game.
ESPN analyst Herm Edwards is known as an excitable guy. He was just as passionate a head coach as he was a player. Nobody ever could accuse him of not giving his all. But even Edwards recognizes a team can't maintain fevered emotion without an occasional dip, which is what he expects from the Patriots this week. The Patriots have been playing with an acute intensity. In the fourth quarter of Monday night's blowout victory against the Jets, running back Fred Tayor entered the game for mop-up duty, and
Tom Brady
screamed:
"C'mon, Freddy, take it to the [expletive] house!"
But that energy is bound to wane, and this week's game against the Bears at Soldier Field offers a confluence of banana peels. The Patriots are coming off a short week after beating a division rival. They're on the road against an NFC team that plays on an atrocious field. And, as ESPN.com columnist Ross Tucker wrote this week, the
rookie wall is looming large for a lot of important contributors
. If the Patriots can leave Chicago with a victory, then it will be an admirably gritty effort.
The weather at Ralph Wilson Stadium should be fitting for the Browns and Bills.
A nasty storm is headed for the Great Lakes on Sunday. Arctic air. ... Snow turning to rain turning to ice turning to misery. ... Wind gusts. ... Should be a hoot. But this Bills-Browns series has been nothing but ugly lately anyway. Last year's 6-3 Browns victory ranks as the worst game I've witnessed. Browns quarterback
Derek Anderson
completed two of 17 passes -- and won. In 2008, the Bills committed four turnovers and lost on a field goal with 1:39 left. Three years ago, the Browns won 8-0 in a Cleveland blizzard. Sunday should be Chan Gailey's first game with Buffalo in its infamous wintery conditions. "I don't know that I'd say I look forward to it, but I know it's going to happen," Gailey said. "You've got to choose to make it a home-field advantage. You can gripe and complain, or you can get excited about the opportunity."
Jason Taylor has something to prove down the stretch.
Taylor goes into Sunday's game against his former team as the Jets' leader with four sacks. But he hasn't recorded any in his past three games and has just two in his past nine games. Jets coach
Rex Ryan accepted blame for their failure to deploy Taylor
more often against the Patriots on Monday night. That admission, plus going up against his old mates, could mean an inspired performance. ESPNNewYork.com's Rich Cimini reported Taylor's 2011 salary is dependent on his sack output. If he doesn't register seven sacks, then his $750,000 guarantee for next year is voided. If Taylor can hit double-digits, then his guaranteed salary will rise to $1.25 million. If he gets to 12 sacks, then Taylor's salary will jump to $2 million. So Taylor better get cracking. One of his sacks this year was against the Dolphins in Week 3. On a semi-related note, Dolphins outside linebacker
Cameron Wake
leads the NFL with 12 sacks.
The best rivalry debate can't be settled by one weekend.
I woke up Tuesday morning to see James Walker declaring "Checkmate" for our debate last week --
which rivalry was better, the Ravens-Steelers or the Jets-Patriots
-- because of what happened in their Week 13 games. What our Lionel Hutz of the AFC North obviously doesn't understand, apparently in addition to the premise of last week's debate, is what happens inside one weekend doesn't make a rivalry. In fact, it can be argued Monday night's 45-3 verdict adds another layer to the Jets-Patriots series because the team that won so handily in the rematch lost by two touchdowns just two months earlier. In 2006, the Ravens beat the Steelers by a combined score of 58-7. In their first meeting the next year, the Steelers won by 29 points. Did those blowouts end that rivalry or enhance it? These division foes will continue to play twice a year and perhaps in the playoffs. Since he declared "Checkmate," maybe somebody should inform Walker his king's exposed.