NFL Nation:

Final Word AFC 2010 Week 2
September, 17, 2010
9/17/10
3:39
PM ET
»
NFC Final Word
:
East
|
West
|
North
|
South
»
AFC
:
East
|
West
|
North
|
South
Five nuggets of knowledge about Week 2:
[+] Enlarge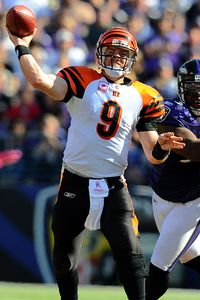 James Lang/US PresswireCarson Palmer needs to continue his success against Baltimore to avoid an 0-2 start for the Bengals.
Cincinnati Bengals quarterback Carson Palmer needs to shine once again against the Baltimore Ravens.
With the exception of
Peyton Manning
, no quarterback has given Baltimore's defense more trouble than Palmer the past several years. Palmer is
8-3 in 11 career starts
against Baltimore, which includes a two-game sweep of the Ravens last year. He has thrown for 2,730 yards, 14 touchdowns and nine interceptions against Baltimore in 11 games. Cincinnati receivers
Chad Ochocinco
,
Terrell Owens
,
Jordan Shipley
and tight end
Jermaine Gresham
will be a stern test for the Ravens' secondary, which
held up well in Week 1
against the
New York Jets
.
The Bengals, who have playoff aspirations, do not want to fall to 0-2 in the competitive AFC North.
Last year, nine teams started 0-2 and none made the playoffs. Since the playoff format extended to 12 teams in 1990, only 13 percent of teams with 0-2 starts have made the postseason. Cincinnati has a seven-game winning streak against AFC North opponents dating to 2008. The Bengals' last division loss was to Baltimore on Nov. 30, 2008.
Can Baltimore's defense continue its dominance on third down?
The Ravens were lights out last week, holding the Jets to 1-for-11 on third-down conversions. Dominating third down helped the Ravens control the tempo and kept their offense on the field. The Bengals were much better than New York on third down offensively last week, converting 8-of-15 against the
New England Patriots
.
Is Seneca Wallace ready?
The
Cleveland Browns
' backup quarterback
is the favorite
to make his first career start Sunday against the
Kansas City Chiefs
. Although he hasn't been ruled out as of Friday, Browns starter
Jake Delhomme
(ankle) missed all of practice this week with an ankle injury. Wallace was a part-time starter with the
Seattle Seahawks
and went 5-9. Despite the different strengths of the QBs, Cleveland says it doesn't have to change its offense much under Wallace, who is more mobile in the pocket.
Who is Pittsburgh Steelers offensive tackle Jonathan Scott?
For better or for worse, the
Tennessee Titans
are about to find out. Following last week's ankle injury to
Max Starks
, Scott is expected to start Sunday at left tackle, which is an important role to protect inexperienced quarterback
Dennis Dixon
. Scott, 27, has 14 career starts and is a favorite of new Steelers offensive line coach Sean Kugler, who helped bring the offensive tackle over from the
Buffalo Bills
. Scott filled in fairly well last week after Starks was hurt against the
Atlanta Falcons
.
September, 17, 2010
9/17/10
3:39
PM ET
»
NFC Final Word
:
East
|
West
|
North
|
South
»
AFC
:
East
|
West
|
North
|
South
Five nuggets of knowledge about Week 2:
[+] Enlarge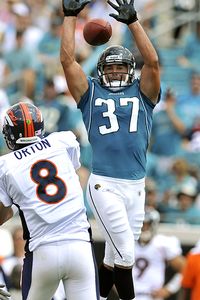 AP Photo/Stephen MortonSean Considine will have to defend against a San Diego team looking for redemption.
Picking it up:
Lost in the Colts' pass protection struggles last week was the play of
Joseph Addai
, who showed what a versatile force and well-rounded player he is. He ran well on his rare chances and I thought he was great in pass protection. Still, I'd like to see the Colts sacrifice three-wide once in a while in order to get
Brody Eldridge
into the game to help in this area too.
Charlie Johnson
is already dealing with a bad foot,
Jeff Saturday
recently had knee surgery and
Ryan Diem
(neck) is on the injury report too. Will Indy do anything different from what it did when Houston constantly hurried and hit
Peyton Manning
?
Friendships and familiarity:
I think too much gets made of mentor-versus-mentee games such as Mike Shanahan against Gary Kubiak. When it's over and they shake hands, one will say congratulations and the other will graciously accept. What's a lot more interesting to me is how
Matt Schaub
reads and works against Jim Haslett's creative 3-4 and how well
Arian Foster
can follow up his big opening game. He's not the only one who needs to follow up his Week 1 effort. Let's also see that pass rush force
Donovan McNabb
operate faster than he would like.
Patience is the key:
Chris Johnson
and
Vince Young
often talk of playing patiently and awaiting the right play or situation to come. The Titans' offense will benefit from that approach against the Steelers. The openings against the defense may not show themselves frequently, but Tennessee has to jump into them when it has the chance. The Titans can't afford to make mistakes while waiting for opportunities, especially with
Troy Polamalu
lurking, eager to hit Johnson and get his hands on Young's throws.
Safety conscious:
The Chargers will be determined to get on track after an opening-week loss to Kansas City. I expect they'll have plenty of stuff drawn up for
Philip Rivers
that allows him to test the Jacksonville safeties:
Sean Considine
and either
Anthony Smith
, who's hurt, or
Courtney Greene
. It's a soft spot in the Jaguars' defense, and the best way to cover for it is by rushing the quarterback, the way Jacksonville did last week.
Open the screen door:
Aaron Schatz tells us
that the Texans averaged a league-leading 9.0 yards on screen passes last year, and the Redskins gave up 8.5 yards per screen pass, the third most in the league. Washington had better hope its switch to a 3-4 scheme has fixed that problem. If the Texans really want to test that out,
Steve Slaton
could have a bigger role in this game. They love him as a pass-catcher, especially on third downs.
September, 17, 2010
9/17/10
3:38
PM ET
»
NFC Final Word
:
East
|
West
|
North
|
South
»
AFC
:
East
|
West
|
North
|
South
Five nuggets of knowledge about Week 2:
[+] Enlarge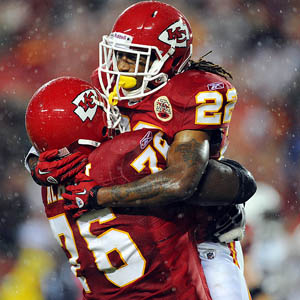 John Rieger/US PresswireHow will Dexter McCluster and the other Kansas City rookies fare in Cleveland after impressive debuts?
The Chiefs' rookies:
The talk of the AFC West this week is the Chiefs' rookie class. What will they do Sunday at Cleveland? Second-round pick
Dexter McCluster
returned a punt for a 94-yard touchdown against San Diego. It was a team record. Fellow second-round pick
Javier Arenas
had two big returns himself. Their third-round pick, tight end
Tony Moeaki
, caught a touchdown pass and first-round pick
Eric Berry
played solidly, even though he was had by superstar tight end
Antonio Gates
a couple of times. This group has the makings of being special and if the Chiefs are a legitimate team, these rookies will have something to do with it.
Can Rivers bounce back?
The impact of
Vincent Jackson
's absence from San Diego's 21-14 loss at Kansas City has been debated this week. There's no question that quarterback
Philip Rivers
would have wanted Jackson on the field, especially when Gates, the primary target, was double- or triple-teamed. The San Diego tight end was bottled up in the final series of the game when the Chargers' comeback drive died at the Kansas City 6-yard line with 30 seconds remaining. But let's wait to judge until the Chargers don't have to play in a downpour and until Rivers proves he can't win without Jackson. If the trend continues Sunday against Jacksonville, we can start the talk. But just I don't see it happening.
Asomugha on the move:
Lost in a 25-point loss at Tennessee was Oakland star cornerback
Nnamdi Asomugha
's movement around the field. The Raiders have been toying with the idea and they finally did it last week. Asomugha shifted depending on the situation and even spent a couple of plays at safety. Asomugha said he enjoyed the freedom and is looking forward to doing it the rest of the season. Gary Horton of Scouts Inc. said this tactic will make Asomugha and the Raiders more dangerous. It's a terrific way of getting more out of the special Asomugha. Expect the Raiders to try to confuse and exploit young St. Louis quarterback
Sam Bradford
by moving around Asomugha on Sunday.
Will Tebow get another chance?
Denver has been criticized for is decision to use rookie quarterback
Tim Tebow
during drives in special packages with starter
Kyle Orton
on the field. Many observers feel their use of Tebow at Jacksonville was forced. Tebow ran the ball twice for two yards. Still, Denver coach Josh McDaniels and Orton both said that the starter's rhythm was not affected by Tebow's presence and McDaniels will use Tebow on Sunday against Seattle if he feels the time is right. Horton has said he thinks Tebow can be effective in a Wildcat-type role because he is adept at taking snaps and because he is so big and strong. It didn't work at Jacksonville, but I don't expect McDaniels to be deterred.
The Cassel-Haley watch:
Kansas City coach Todd Haley has said he doesn't want people to think he and quarterback
Matt Cassel
have a poor relationship because they've had some animated sideline talks. It isn't the first time Haley has had animated sideline chats. Haley is tough on Cassel, but both the coach and the quarterback appear genuine when they talk about each other. Haley supported Cassel after he threw for only 68 yards in a driving rainstorm against San Diego. He said Cassel did enough to lead the Chiefs to a win. It will be interesting to see how Cassel progresses Sunday at Cleveland.
September, 17, 2010
9/17/10
3:38
PM ET
»
NFC Final Word
:
East
|
West
|
North
|
South
»
AFC
:
East
|
West
|
North
|
South
Five nuggets of knowledge about Week 2:
As frustratingly sloppy as the Jets were Monday night, they're not that bad.
All sorts of atrocities were committed in their season debut. The defense was flagged and the offense gagged.
Mark Sanchez
had the kind of passing stats you'd expect to see in a Pop Warner game. But let's not write them off so fast. The Jets lost by one point to a team many people consider a championship contender. The Jets' run defense shut down one of the NFL's most talented backfields. There were reasons to retain some optimism.
[+] Enlarge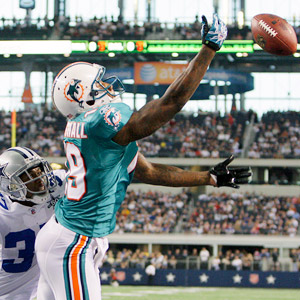 AP Photo/LM OteroBrandon Marshall doesn't appear to be comfortable in the Dolphins' offense yet.
The New England Patriots' offensive line made a magnificent first impression.
What was that left guard's name? Logan Somethingorother? All right, so the Patriots still could use
Logan Mankins
. But they did just fine without him against a respected defense. The
Cincinnati Bengals
didn't record a sack and hit
Tom Brady
only twice. The Patriots also ran for 5.1 yards a carry. What's that running back's name? Laurence Somethingorother?
Chad Henne and Brandon Marshall haven't shown that desired chemistry yet.
I understand Marshall missed every offseason team workout because of hip surgery, but he and Henne have had all of training camp, a full exhibition schedule and a regular-season game to find a connection. Marshall has had problems with drops for weeks. Something's missing, and if they don't start hooking up on a consistently effective basis, you can bet frustrations will start to set in. Sunday's game at the Metrodome would be a really fine time to start.
The Buffalo Bills must rely more on their running backs and tight ends.
The Bills had the ball for a measly 23:07 against the Dolphins on opening day. Shame on the Bills for not doing a better job of utilizing one of their few strengths, the backfield trio of
C.J. Spiller
,
Fred Jackson
and
Marshawn Lynch
. They combined for 14 carries. That should change Sunday against the
Green Bay Packers
at Lambeau Field. Also look for
Trent Edwards
to throw his first pass of the season to a tight end.
David Martin
, a former Packer, should contribute.
The last thing the Jets were supposed to be worried about was their pass defense.
The Jets have problems in their vaunted secondary, though those problems may be short-term.
Darrelle Revis
, perhaps still trying to get in shape after his prolonged holdout, has a hamstring injury. He's about to face
Randy Moss
, who seems to have a chip on his shoulder, by the way. Prized offseason acquisition
Antonio Cromartie
and first-round draft choice
Kyle Wilson
walked off the field Monday night with speed knots. Free-agent safety
Brodney Pool
has been hobbled by an ankle injury. And this crew needs to stifle Brady.