NFL Nation:

Final Word AFC 2010 Week 6
October, 15, 2010
10/15/10
4:00
PM ET
»
NFC Final Word
:
East
|
West
|
North
|
South
»
AFC
:
East
|
West
|
North
|
South
Five nuggets of knowledge entering Week 6
:
[+] Enlarge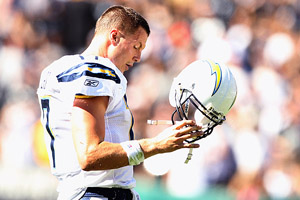 Ezra Shaw/Getty ImagesPhilip Rivers and the Chargers pulled off a dramatic turnaround in 2009 after starting the season poorly. Can they do it again?
Can the Chiefs pass the Texans' test?
The way to beat the
Houston Texans
this season is through the air. Houston has by far the worst pass defense in the NFL. It is allowing 329.6 passing yards a game and opposing teams throw on the Texans all day long. The problem is, the Chiefs have the No. 27 pass offense in the NFL and average 158 yards in the air. Kansas City uses the pass as a complement to its fine run offense, which is ranked third in the league. But Chiefs coach Todd Haley will have to unleash quarterback
Matt Cassel
this week. If the Texans are going to give you the pass, you must take it.
Can the Chargers rebound again?
For the fourth time in as many seasons under coach Norv Turner, the
San Diego Chargers
have started with a 2-3 record. The past three seasons, San Diego has rebounded and won the AFC West. In 2007, San Diego won its final six games of the season after starting 5-5. In 2008, San Diego won its final four games after starting 4-8. Last season, the Chargers won their final 11 games of the season. The Chargers have 11 games remaining. Are they ready to go on another run? This team is good, but it's terrible on special teams and sloppy on offense. The Chargers are 0-3 on the road as they head to St. Louis on Sunday. Perhaps this will be the beginning of another streak.
Can the Raiders make a run?
According to ESPN Stats & Information, Oakland has the second longest current streak in the NFL without winning back-to-back games. It has been 21 games since Oakland won two games in a row. Detroit owns the longest streak at 45. It too can break its streak this weekend. Really, the 2-3 Raiders have a chance to get well. The upcoming schedule is manageable. Oakland plays at 0-5 San Francisco on Sunday, then plays at 2-3 Denver and hosts 2-2 Seattle. If the Raiders are going to get right, it will be in the next three games.
Broncos know Mark Sanchez:
In the days before the 2009 draft, Josh McDaniels and the Broncos considered taking a run at USC quarterback Mark Sanchez. Denver officials even flew to Southern California to stage a private workout with Sanchez. Yet, Denver never had a chance to take Sanchez because the Jets moved up to get him at No. 5. Denver will have to deal with Sanchez and the Jets' offense Sunday when they play host to New York.
Shaky times in San Francisco:
One the biggest national memories of the devastating 6.9 magnitude Loma Prieta earthquake in the Bay Area 1989 was the scene at Candlestick Park. Game 3 of the Bay Bridge World Series between the San Francisco Giants and Oakland Athletics was about to start. It was a chilling scene as the old stadium rocked. Now, 21 years to the day, the
San Francisco 49ers
will play host to the
Oakland Raiders
in the same stadium. Eerie, huh? All that will be missing is Al Michaels in the broadcast booth.
October, 15, 2010
10/15/10
4:00
PM ET
»
NFC Final Word
:
East
|
West
|
North
|
South
»
AFC
:
East
|
West
|
North
|
South
Five nuggets of knowledge about Week 6:
Return rewards:
The Jaguars spent a sixth-round pick on Southern Illinois running back
Deji Karim
. The Titans spent a seventh-round pick on Montana receiver
Marc Mariani
. A week ago they were both big factors as kick returners in wins. A "Monday Night Football" matchup between the AFC South rivals could well produce a close game in which a big return at the right time flips field position and makes a big difference. Either of these guys can produce it.
[+] Enlarge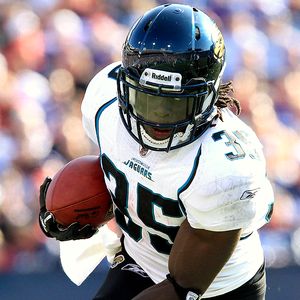 Kevin Hoffman/US PresswireDeji Karim had four returns for 145 yards last week, including a 51-yarder.
Mr. Manning goes to Washington:
The Redskins are one of three teams
Peyton Manning
has not beaten on the road, along with Dallas and Green Bay. To lead the Colts to a victory over the Redskins, he probably will need to continue to show major patience.
Brian Orakpo
is the Redskins' primary pass-rush threat, but they've not been a great pass pressure team otherwise. Leaning heavily on numbers and discipline in coverage helped the Chiefs slow the Colts. Washington might try more of the same.
Around the edge:
Think of the backs we'll see on "Monday Night Football" and you'd figure
Chris Johnson
as the outside guy and
Maurice Jones-Drew
as the inside runner. But both can do both. Football Outsiders' Aaron Schatz says to beware of MJD
on the outside
in this one, because the Titans are getting gashed by outside runs this year. They've given up 7.3 yards per carry on runs around left end, and 75 yards on only six carries around right end (12.5 yards per carry). The Titans ask their corners to do a lot to funnel that stuff back inside.
Improved protection:
Rashad Butler
got pushed around some by Giants defensive end
Osi Umenyiora
in a deflating loss last week. Houston's backup left tackle, playing for the suspended
Duane Brown
, needs to do better and may need more help against Kansas City's emerging pass-rush force,
Tamba Hali
. The outside linebacker created some problems a week ago against the Colts in Indianapolis. Butler will need to be decisive and aggressive to keep Hali away from
Matt Schaub
.
Young vs. Jacksonville:
North Florida has never understood any
Vince Young
hype. That's because, despite the fact the Titans are 4-2 in games Young has started against the Jaguars, he has posted some bad numbers. He has completed 57 percent of his passes with four touchdowns, eight interceptions, a 58.7 passer rating and 10 sacks.
David Garrard
has been better but hardly great against Tennessee with 11 touchdowns against 11 picks and a 73.8 passer rating.
October, 15, 2010
10/15/10
4:00
PM ET
»
NFC Final Word
:
East
|
West
|
North
|
South
»
AFC
:
East
|
West
|
North
|
South
Five nuggets of knowledge about Week 6:
[+] Enlarge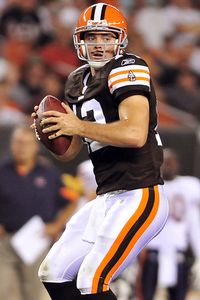 Jason Miller/US PresswireColt McCoy makes his rookie debut against a Steelers team that's ranked fourth in the league in total defense.
Rookie magic?
Cleveland Browns
rookie quarterback
Colt McCoy
will face a
stiff test
in his NFL debut Sunday against the
Pittsburgh Steelers
. The Steelers are fourth in total defense and very aggressive, forcing three turnovers per game. But rookie quarterbacks in McCoy's class have had success this year. For example,
Sam Bradford
of the
St. Louis Rams
already has two wins under his belt, and last week
Max Hall
of the
Arizona Cardinals
upset the defending Super Bowl champion
New Orleans Saints
in his NFL debut. McCoy will try to follow in those footsteps and pull off an upset against the Steelers, the No. 1 team in
ESPN.com's Power Rankings.
"I'm proud to say that Sam and I are close, I know Max a little bit," McCoy said this week. "It's awesome to see a rookie quarterback go out there and do good things because the NFL is tough. It doesn't matter who you are playing, everybody is good. We are playing the best of the best, the best there is, so you have got to understand that. Obviously to see those guys do it, that will give you a little bit of confidence going out there."
Cleveland's Wildcat:
The Browns will try to take the pressure off McCoy in his first start by mixing in the Wildcat offense with
Josh Cribbs
. Cleveland hasn't used the formation much this season, but it was very successful in the Browns' previous meeting against Pittsburgh last December. Cribbs led the Browns with 87 rushing yards on eight carries from the Wildcat formation to lead them to a 13-6 upset victory. The Steelers struggled against the formation and have to prove they can stop it. Whether it's on offense or in the return game, Cribbs has performed well against Pittsburgh.
Protecting Ben Roethlisberger:
The last time these two teams played, the Browns also threw the kitchen sink at Pittsburgh and recorded eight sacks. The Steelers were in a late-season funk and the offense was baffled by the Browns. This year offensive line play has been much improved. But blocking for Roethlisberger, who is coming off a four-game suspension, is much different from blocking for
Charlie Batch
. Roethlisberger holds the ball longer than most quarterbacks and improvises to make big plays. Sometimes that can lead to sacks. Pittsburgh's offensive line will have to hold its blocks a little longer with Roethlisberger under center.
Budding rivalry:
Although the two teams are in different divisions, there is a growing rivalry between the
New England Patriots
and
Baltimore Ravens
. This is the fourth time the two have played since 2007 and a 33-14 playoff romp by the Ravens over the Patriots last January certainly adds intensity and a revenge factor to Sunday's game. The teams are a combined 7-2 and firmly in the AFC playoff picture.
Ball control:
Will Baltimore be able to run the ball and control the line of scrimmage against the Patriots again? In last year's playoff win, the Ravens were too physical for New England and ran the football 52 times for 234 yards. The Patriots' defense had to hear all offseason how it was manhandled by Baltimore. Rest assured, the Ravens still believe they're the more physical team and will try to establish that Sunday. Baltimore, led by Pro Bowl tailback
Ray Rice
, rushed for 233 yards in last week's win over the
Denver Broncos
.
October, 15, 2010
10/15/10
4:00
PM ET
»
NFC Final Word
:
East
|
West
|
North
|
South
»
AFC
:
East
|
West
|
North
|
South
Five nuggets of knowledge about Week 6:

[+] Enlarge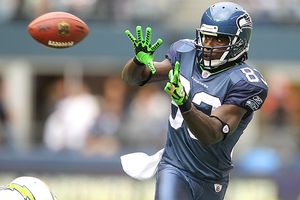 Otto Greule Jr/Getty ImagesReceiver Deion Branch has rejoined the Patriots after catching 13 passes with Seattle this season.
Don't expect a huge statistical impact from Deion Branch
. The Patriots traded for him to help fill the void left by
Randy Moss
, but there are three reasons you shouldn't expect big contributions right away: 1) Branch isn't the same type of player Moss is; 2) Moss wasn't being used as we'd come to expect anymore; 3) Branch might be sharing snaps with
Brandon Tate
until Branch gets comfortable with the playbook. The Patriots have established their offense this year with multiple tight ends and don't spread out three-plus receivers anymore. Moss caught only nine passes for New England before the trade. Expect
Tom Brady
to lean heavily on slot receiver
Wes Welker
, his tight ends and a revitalized ground game with
BenJarvus Green-Ellis
, who has been running the way Patriots fans wished
Laurence Maroney
would.
The Dolphins can barge back into the division title discussion with a victory at Lambeau Field.
Sunday's game against the Packers is a pivotal one. Either the Dolphins will be spiraling with a third straight loss, or they'll be undefeated on the road with another upset victory against an NFC foe many considered a preseason Super Bowl contender. With quarterback
Aaron Rodgers
expected to be properly healed from last week's concussion, the Dolphins aren't supposed to win. But the Packers are banged up enough to remove confidence from any prediction.
The Jets don't need to win this Sunday, but a victory would put them in a dominant position.
I'm not saying the Jets can afford to take a week off, but Sunday's game against the Broncos at Invesco Field is one of the least important in terms of the standings. If the Jets happen to drop this one, fans shouldn't get too worked up. The Jets have gotten off to a 4-1 start. They're undefeated within the division, have a winning record at home and away. Had you offered all of that plus a 4-2 record at the break to Rex Ryan before the season started, I'm sure he would have taken it. Sunday's game wouldn't even factor into the tie-breaking procedures until the fourth step, because the Broncos aren't a common opponent within the AFC East.
We'll find out Sunday if the Patriots' defense is up to snuff.
The Ravens are a running juggernaut that can throw a little. They also lead the NFL in third-down conversions. They will be a rugged test for the Patriots' worrisome defense, which has been forgotten about recently. In that Week 4 obliteration of the Dolphins in Sun Life Stadium, the Patriots' defense and special teams enjoyed a rollicking night. They returned a blocked field goal for a touchdown, blocked a punt and intercepted four passes, taking one back for a score. Then the focus shifted to the offense when the Patriots traded Moss and acquired Branch in separate deals during their bye week. The Patriots can't count on 21 points from their special teams every week to gloss over their defensive inadequacies. They rank 29th in total defense, 20th in run defense and 28th in pass defense.
The Bills have four days to turn some players into draft picks.
There's little optimism surrounding the Bills at the moment. They're 0-4 and on their bye week. Five of their next seven games are against teams that either lead their divisions or won them last year. The Steelers are one of the exceptions, and they happen to be considered elite this year. The Bills won't play another game in Ralph Wilson Stadium until Nov. 14 because their next home game takes place in Toronto. So what's the next event Bills fans should be watching out for? The trade deadline is at 4 p.m. Tuesday. Maybe they'll unload some players.