NFL Nation:

Final Word AFC 2011 Week 2
September, 16, 2011
9/16/11
1:30
PM ET
»
NFC Final Word
:
East
|
West
|
North
|
South
»
AFC
:
East
|
West
|
North
|
South
Five nuggets of knowledge about Week 2:
[+] Enlarge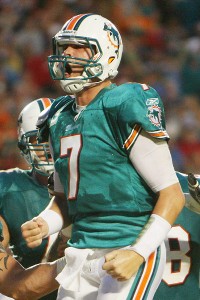 Robert Mayer/US PresswireChad Henne had arguably the best performance of his career against the Patriots Monday, throwing for 416 yards.
All eyes on Henne:
Few quarterbacks have received more heat this offseason than
Miami Dolphins
quarterback
Chad Henne
. But the fourth-year player had the
best outing of his career
in Week 1. Henne threw for 416 yards and had three total touchdowns (two passing, one running) against the
New England Patriots
. But was it a fluke or will Henne keep that momentum going Sunday against the
Houston Texans
? This is a make-or-break year for Henne. He needs to continue to play well to erase doubts from his previous three seasons.
Last shot for a while at home:
Miami's struggles at home
are well documented
. The team is 1-8 in its previous nine games at Sun Life stadium dating to last season. But Miami could be in trouble if it drops back-to-back home games to start this season. Miami will hit the road for three straight games following Sunday's matchup against Houston. The Dolphins were road warriors (6-2) in 2010. But winning six road games two years in a row is very difficult. Miami will play at Cleveland (Sept. 25), at San Diego (Oct. 2) and at the
New York Jets
(Oct. 17) after a bye week.
Stacking the box:
On paper, the offense of the
Jacksonville Jaguars
(1-0) appears to be a favorable matchup for the New York Jets' defense. Look for the Jets' game plan to be simple: Stack the box against the run and see if Jaguars quarterback
Luke McCown
can beat them. Jacksonville ran the ball 47 times last week to protect its journeyman quarterback. Most likely that approach wouldn't get very far against the Jets' front seven. McCown needs a good game to beat New York.
Another RB test for Bills:
There are plenty of great matchups to watch in Week 2 in the AFC East. But one I'm really looking forward to is the run defense of the
Buffalo Bills
(1-0) versus
Oakland Raiders
(1-0) tailback
Darren McFadden
. The Bills held
Kansas City Chiefs
Pro Bowl tailback
Jamaal Charles
to 56 yards rushing last week. McFadden is coming off a 150-yard rushing performance in a win over the
Denver Broncos
. Winning this battle should go a long way toward determining which team stays undefeated.
The new guy at center:
New England Patriots veteran center
Dan Koppen
reportedly will miss eight to 10 weeks
with a fractured fibula
. This puts
Dan Connolly
, who filled in at guard last season, in the middle at center against the
San Diego Chargers
(1-0). New England ran a lot of no-huddle and quick-huddle on offense last week. That requires a lot from the center, who has to work with the quarterback to make the proper adjustments at the line of scrimmage. Patriots quarterback
Tom Brady
had great chemistry with Koppen. That will be hard for Connolly to replicate.
September, 16, 2011
9/16/11
1:30
PM ET
»
NFC Final Word
:
East
|
West
|
North
|
South
»
AFC
:
East
|
West
|
North
|
South
Five nuggets of knowledge about Week 2:
1. Brady is no McNabb:
I hope the San Diego Chargers enjoyed their defensive romp against the pass in Week 1, when
Donovan McNabb
completed only 7 passes for 39 yards. The party is over. San Diego's pass defense needs to ramp it up against New England and
Tom Brady
. He threw for 517 yards at Miami in Week 1. The Chargers won't be able to simply pin back their ears and try to stop the run. This week, they must stop the pass first.
[+] Enlarge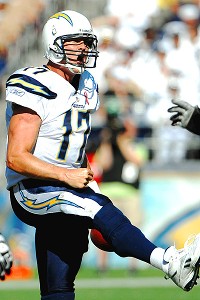 AP Photo/Denis PoroyPhilip Rivers passed for 335 yards and two touchdowns in Week 1 against Minnesota.
2. Attack New England's DBs:
The good news for San Diego, though, is that
Philip Rivers
is no
Chad Henne
. The Miami quarterback shredded the New England secondary, which has been in flux this season, for 416 yards on Monday night. That has to entice the Chargers. It all starts with the pass in San Diego's offense. Seeing a lesser quarterback than Rivers succeed against New England will certainly give the Chargers confidence going into the game.
3. Stop Suh:
Kansas City center
Casey Wiegmann
has the fourth-longest active starting streak in the NFL. He has started 160 straight games. This week is no time for him to take a break. Wiegmann, the anchor of the Chiefs' offensive line, will be in charge of finding a way to stop Lions' star defensive tackle
Ndamukong Suh
. In just his second year, Suh is considered one of the best all-around defensive players in the NFL. The Chiefs' offensive line had its troubles against Buffalo last week in a 34-point loss. It will be up to Wiegmann to find a way to keep Suh from disrupting the Chiefs' entire offensive scheme.
4. Oakland needs energy boost:
We should find out early Sunday if the
Oakland Raiders
have a chance to start the season 2-0. It's been a short, hard week for the Raiders. They played in a game at Denver on Monday night that ended after midnight and arrived home in the wee California hours. Then, they practice at 10 a.m. PT during the week to adjust to the East Coast start time on Sunday. The Raiders are flying cross-country Friday to get settled in Western New York. That is a lot of air travel in a short time for an NFL team. If the Raiders come out sluggish, in what should be an energetic home opener for the Bills after their big win against the Chiefs, we'll know why.
5.Can the John Fox way get rolling against Bengals?
The John Fox era didn't begin in Denver the way he wanted. Fox wants to cram the ball down opponent's throats, and he wants to stop the run on defense. Neither happened against Oakland. The Broncos had just 39 yards rushing and allowed 190 yards on the ground. It may not get easier in Week 2, either. Cincinnati did well running the ball and stopping the run in its win over the Browns. The Bengals ran for 139 yards, which was the ninth best in the NFL. On defense, the Bengals allowed 83 yards rushing, which was 14th best. Those are solid numbers. Somehow, Fox has to find a way to play his way, or he could be danger of going 0-2 in his first two games in Denver.
September, 16, 2011
9/16/11
1:30
PM ET
»
NFC Final Word
:
East
|
West
|
North
|
South
»
AFC
:
East
|
West
|
North
|
South
Five nuggets of knowledge about Week 2:
[+] Enlarge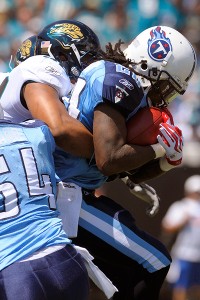 AP Photo/Phelan M. EbenhackThe Jaguars limited Titans running back Chris Johnson to 24 yards rushing in Week 1.
A focus on Chris Johnson:
The Titans are semi-desperate to get their star running back going. But Mike Munchak has emphasized this week that they can't force it. It's hard to be patient waiting for the big play, but they can't call 10 rush plays in a row for him. The Titans need to show some creativity on offense, and maybe turn themselves inside-out with some passes to set up the run.
Matt Hasselbeck
said they need to be in third-and-manageable to get off to a better start and to get the sort of possession they need to find an offensive flow. One good omen for Johnson: ESPN Stats & Info says he's been very effective against 3-4 defenses, averaging about six yards per carry running outside against them.
Can the Colts rush?
The Browns can neutralize Indianapolis' pass rush by jumping ahead and
riding Peyton Hillis
. But when
Colt McCoy
is looking to throw, the matchups on
Dwight Freeney
and
Robert Mathis
will be compelling. Freeney is a speed guy, and if
Joe Thomas
has any weakness, it might come against a guy like that. (See Pete Prisco on the matchup
here
.)
Tony Pashos
is out, so Mathis will go against some sort of rotation of backups
Oniel Cousins
and
Artis Hicks
. Mathis came out of the opener with a neck issue, but he should have a big advantage here.
Big plays in Jaguars-Jets:
The Jaguars are not necessarily a big-play team in the passing game, and if they aren't going to find big plays they have to be sure not to give them up, either. Stats & Info says
Plaxico Burress
was the only Jets receiver to be targeted more than twice on throws of 15 yards or more in the air in Week 1. Last season, the Jaguars allowed the most completions and yards per attempt on throws of at least 15 yards. The offensive line will have to sort through constant blitzes to allow
Luke McCown
to find people, and we could see
Cecil Shorts
get some big opportunities along with
Mike Thomas
.
Reggie Bush and the run:
The Texans are 5-0 against the Dolphins but the average margin of victory has been just three points. Houston may be more ready to face Miami than usual after spending a lot of camp time working against its own 3-4 defense. Reggie Bush was on the field more than any starting running back in the league, and Miami will try to spread the Texans out and create space for Bush to make plays. A big, early lead was the Texans' best run defense in the win against the Colts. But they were run on in the preseason, and we'll see Sunday if things have tightened up or if there is still a run defense concern.
Replenished D-line:
The Titans' revamped defense was a disappointment in the Week 1 loss at Jacksonville. Why might it be better this week? Because two guys who didn't play against the Jaguars --
Jason Jones
and
Derrick Morgan
-- will be in the mix. They should be the team's top defensive ends. Baltimore's tackles, the resurrected
Bryant McKinnie
and
Michael Oher
, started strong against the Steelers. Can the Titans young rushers find some cracks?
September, 16, 2011
9/16/11
1:30
PM ET
»
NFC Final Word
:
East
|
West
|
North
|
South
»
AFC
:
East
|
West
|
North
|
South
Five nuggets of knowledge about Week 2:
[+] Enlarge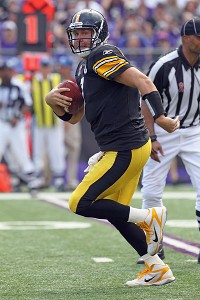 Mitch Stringer/US PresswireAll eyes will be on Ben Roethlisberger and the Steelers to see how they respond to their Week 1 loss against Baltimore.
Early gut check for Steelers:
Everyone wants to see how Pittsburgh responds after taking its worst beating ever from Baltimore. The Steelers said all week that there is no panic in the locker room, and you tend to believe them because they return 21 of 22 starters from a team that played in the Super Bowl. But the heat will be turned up if the Steelers fail to put away the rebuilding Seahawks and go through the motions in their home opener. The critics say Pittsburgh looked slow and old against the Ravens. This is Pittsburgh's chance to respond.
Ravens' biggest concern:
An emotional hangover from last Sunday would spell trouble for the Ravens against
Chris Johnson
, who is a threat to score on any play. After getting nine carries last game, the Titans running back thinks he could get as many as 25 touches Sunday, which would present a challenge for the Ravens. Three years ago against the Ravens, Johnson had 100 yards from scrimmage before leaving with an ankle injury. Baltimore's linebackers are tough and physical but lack great speed. Tracking Johnson sideline-to-sideline is a huge task.
Avoid slow start:
Every team wants to start fast. But it's essential for the Browns and
Colt McCoy
. Playing catchup with the Colts means defensive ends
Dwight Freeney
and
Robert Mathis
begin to tee off. The big worry is Mathis, even though he's been limited in practice this week with a neck injury. With
Tony Pashos
out with an ankle injury, Cleveland will rotate
Artis Hicks
and
Oniel Cousins
at right tackle, where they'll line up against Mathis. That's the biggest mismatch of the game.
Give the ball to Benson:
Bengals running back
Cedric Benson
is looking for 100-yard rushing games in consecutive weeks for the first time since the end of the 2008 season. That should be a primary goal for Cincinnati against a banged-up Broncos defense. Denver could be without two starters (defensive end
Elvis Dumervil
and weakside linebacker
D.J. Williams
) along with a couple of backups (defensive tackle
Marcus Thomas
and nose tackle
Ty Warren
). It seems like a no-brainer to commit to a ground-and-pound game against the Broncos, who allowed 190 yards rushing against Oakland on Monday.
Steelers' target:
The bull's-eye is squarely on Seattle quarterback
Tarvaris Jackson
. The Steelers should be revved up after managing one sack in the season opener and now facing a ragged Seattle offensive line. The Seahawks' blocking is so shaky that even a mobile quarterback like Jackson got sacked five times Sunday. It should be big days for
James Harrison
and
LaMarr Woodley
.

NFL SCOREBOARD
Thursday, 8/21
Friday, 8/22
Saturday, 8/23
Sunday, 8/24
WEEKLY LEADERS