NFL Nation:

Final Word: Cowboys-Vikings
January, 15, 2010
1/15/10
1:00
PM ET
By
Matt Mosley
| ESPN.com
AFC
:
Jets-Chargers
:
Graham
|
Williamson
»
Colts-Ravens
:
Kuharsky
|
Walker
NFC
:
Cowboys-Vikings
:
Mosley
|
Seifert
»
Saints-Cardinals
:
Yasinskas
|
Sando
Three nuggets of knowledge about Sunday's divisional playoff game between the Dallas Cowboys (12-5) and Minnesota Vikings (12-4).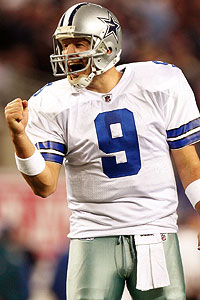 Ronald Martinez/Getty ImagesTony Romo's career QB rating of 95.9 shows he can play at an elite level.
1. Bring the noise:
It's hard to imagine the Metrodome being louder than the Saturday night in New Orleans, where the Cowboys gained confidence with a win over the previously unbeaten Saints in Week 15. But that Viking horn going off every 30 seconds or so can start to play tricks with your mind. It's well-known that Cowboys left tackle
Flozell Adams
has some hearing loss, which contributed to his six false start penalties this season. Dallas has done an excellent job of getting off to quick starts during its four-game winning streak and that will be imperative against the Vikings on Sunday. The last thing the Cowboys want is to fall behind early and let this crowd get carried away. That's why I think it's important for Dallas to establish the running game early on. The Cowboys' enormous offensive line feeds off the running game. If the Cowboys have some early success on the ground, you'll see players such as
Andre Gurode
and
Leonard Davis
begin to gain confidence against the Vikings' talented front four.
2. Romo vs. his boyhood idol:
I know that
Tony Romo
is trying to downplay the whole boyhood idol theme, but don't let him fool you. Growing up in Burlington, Wis., he tried to copy
Brett Favre
's every move. And when he first got into the NFL, he would wear his jacket on the sideline just like Favre (a cape) and position his chinstrap the exact same way as No. 4. It's no coincidence that he ended up with a similar style to Favre's. The Vikings are hoping they can take an early lead and force Romo to put too much pressure on himself. Romo's played better than Favre down the stretch, and I don't expect for his game to fade now. The Cowboys like the matchup they have with
Miles Austin
against
Antoine Winfield
, who's been banged up. I heard Chris Mortensen talking about it on the ESPN affiliate (103.3 FM) in Dallas on Thursday. He doesn't think Winfield is himself because of a bum foot, and he believes the Cowboys can exploit that matchup. Winfield's still a scrappy player, but he's not the guy he was three years ago -- or even three months ago, for that matter. If the Cowboys' offensive line can give Romo time, I think he can light up this secondary.
3. The Vikings' offensive tackles will have their hands full with the Cowboys' outside linebackers:
Wade Phillips has been doing a nice job of moving
DeMarcus Ware
and
Anthony Spencer
around. You'll even see them line up next to each other occasionally. It's important for the Vikings to communicate against this defense. I don't think
Bryant McKinnie
's prepared for what he's about to face with Ware. I guess
Julius Peppers
gave him a little preview, but Ware's even more relentless. Vikings coach Brad Childress must neutralize the Cowboys' pass rush by dumping off the ball to his tailbacks or fullbacks. Favre doesn't need a ton of time in the pocket, but you can't have him running for his life. The last time he faced a Phillips defense in the regular season, he was knocked out of the game after throwing two interceptions. Fortunately for Favre, Nate "The Mayor" Jones from Rutgers is no longer with the Cowboys. That's the man who sent him to the locker room on a corner blitz. This game should have it all, and the NFC East blog will be at the Metrodome to bring you every moment. Thanks for spending a little time with us this afternoon.
January, 15, 2010
1/15/10
1:00
PM ET
AFC
:
Jets-Chargers
:
Graham
|
Williamson
»
Colts-Ravens
:
Kuharsky
|
Walker
NFC
:
Cowboys-Vikings
:
Mosley
|
Seifert
»
Saints-Cardinals
:
Yasinskas
|
Sando
Three nuggets of knowledge about Sunday's divisional playoff game between the Dallas Cowboys (12-5) and Minnesota Vikings (12-4).
[+] Enlarge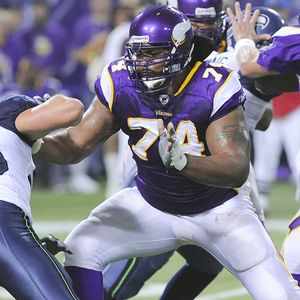 AP Photo/Jim MoneBryant McKinnie can prove he deserves to go to the Pro Bowl with a strong performance Sunday.
1. We'll find out if Minnesota left tackle Bryant McKinnie is worthy of his Pro Bowl status.
McKinnie started this season well but struggled against good pass-rushers in the second half. Sunday, he will face one great pass-rusher in
DeMarcus Ware
and another really good one in
Anthony Spencer
. McKinnie admittedly was hobbled by several minor injuries in December, but he's had two weeks to get his body right. The Vikings will help him when they can with chips and protection slides, but it will have to be on a limited basis. Rookie right tackle
Phil Loadholt
will need help as well. A Pro Bowl left tackle should be trusted to protect a quarterback at all times, even from elite pass-rushers. The Vikings gave McKinnie a $48.5 million contract in 2006 for games just like this one.
2. The nation has spent this week discussing the Ware-Spencer dynamic, and for good reason.
According to ESPN Stats & Information, the Cowboys had the third-most sacks (27) this season when lining up in their base defense (four or fewer pass-rushers). Any guesses as to which team ranked No. 1 on that list? That's right. The Vikings had 32 sacks when only rushing four men. The Cowboys aren't the only team that has at times dominated offensive lines this season. All-Pros
Jared Allen
(14.5 sacks) and
Kevin Williams
(6 sacks) could make a huge impact on this game as well. I'm guessing that Allen knows that Dallas left tackle
Flozell Adams
, an excellent blocker, has also been called for six false start penalties this year. Allen will do everything he can to capitalize on that dynamic. On the other hand, Dallas is well-equipped to handle aggressive fronts. According to ESPN Stats & Information, the Cowboys called more draw plays (105) than any other NFL team. They also ranked first with 547 yards on those plays.
3. But if they can't get pressure on Cowboys quarterback Tony Romo, the Vikings will be in trouble.
Their tackling has been substandard since two key players suffered significant injuries, and the Cowboys have at least one player -- receiver
Miles Austin
-- who will capitalize if given the opportunity. The loss of middle linebacker
E.J. Henderson
has made an impact, as has the foot injury of cornerback
Antoine Winfield
. Although Winfield has returned to the field, he clearly isn't at full capacity. Normally one of the NFL's best tacklers, he hasn't always been in good position since returning. Austin led NFL receivers by gaining an average of 7.3 yards after the catch this season. Austin will eat up a poor tackling team.