NFL Nation:

Final Word NFC 2010 Week 11
November, 19, 2010
11/19/10
4:03
PM ET
»
NFC Final Word
:
East
|
West
|
North
|
South
»
AFC
:
East
|
West
|
North
|
South
Five nuggets of knowledge about Week 11:
About that Rams defense.
The
St. Louis Rams
are tied for the NFL lead in sacks.
James Hall
has 7.5.
Chris Long
has five in his past four games. The 65-yard pass the Rams allowed against San Francisco in Week 10 marked only the second time all season the team has allowed a pass play of 40-plus yards. But the Rams did allow eight pass plays of at least 20 yards against the 49ers after allowing 23 in their first eight games. It's something to keep in mind with
Roddy White
and the
Atlanta Falcons
visiting the Edward Jones Dome.
[+] Enlarge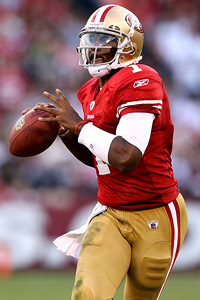 Ezra Shaw/Getty ImagesTroy Smith hasn't had a turnover in two starts for the 49ers.
Troy Smith and turnovers.
Matt Williamson's
forecast
for an impressive 49ers' victory against Tampa Bay makes sense on some levels. The 49ers'
Frank Gore
should find room to run against a Bucs defense that has allowed more than 200 yards rushing twice, plus 161 to the Rams and 149 to Cincinnati. Much depends upon whether 49ers quarterback Troy Smith can avoid turnovers for a third consecutive game. The Bucs' defense has gone without a pick in three of its past four games. Tampa Bay had four against Arizona in Week 9 and 10 in its first five games.
Russell Okung's return in perspective.
The
Seattle Seahawks
have been
more effective
with their left tackle, Okung, in the lineup. Okung's blocking in the red zone could give
Marshawn Lynch
a better chance. Still, the Seahawks' game at New Orleans might be tough even with an in-his-prime
Walter Jones
manning the position. The Saints have held their past six opponents beneath 280 yards. They have held their past three opponents to six conversions in 33 third-down chances and one touchdown on eight possessions in the red zone. Seattle has only six touchdowns in its past 25 red zone possessions.
Mike Williams' sense of history.
The Seahawks' leading receiver hadn't received a franchise history lesson from team officials before tipping his cap to Hall of Famer Steve Largent following a recent performance. Williams has 35 catches in his past five games, one short of Largent's top five-game stretch. Twelve catches against the Saints would give Williams 37 in his past five despite one- and two-catch games along the way.
Cris Carter
was
the last NFL player
to catch at least 12 passes against the Saints, in 1995.
Searching for a Cardinals pulse.
Arizona has lost four consecutive games heading into its matchup with Kansas City at Arrowhead Stadium. What's at stake? Cue the video.
November, 19, 2010
11/19/10
4:00
PM ET
»
NFC Final Word
:
East
|
West
|
North
|
South
»
AFC
:
East
|
West
|
North
|
South
Five nuggets of knowledge about Week 11:
[+] Enlarge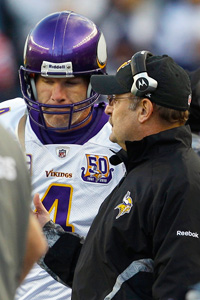 AP Photo/Stephan SavoiaThe Packers have a chance to make life more miserable for Vikings QB Brett Favre and coach Brad Childress.
Put 'em away:
I can't help but think the
Green Bay Packers
are viewing Sunday's game at the Metrodome as a symbolic opportunity to vanquish the team, player and perhaps the coach that has cast a shadow over them during the past two years. The
Minnesota Vikings
have won the NFC North in both seasons since quarterback
Brett Favre
's 2008 departure. Favre single-handedly knocked the Packers out of contention last season with two signature performances against them. But the rivalry between these two franchises goes beyond Favre. The Packers would love to bury the Vikings in their home stadium, and if a by-product is getting their second opposing coach fired in as many games, then so be it. As we
discussed earlier this week
, Vikings owner Zygi Wilf isn't eager to fire coach Brad Childress. But the Packers can dream, right?
Packer time:
Yes, this is traditionally the time when coach Mike McCarthy's teams start churning out victories. In 2006, the Packers went 7-4 after their bye. In 2007, they were 8-2, and last season they were 9-3 after it. (The 2008 season is the exception, when the Packers slumped to 2-7 after their bye.) Whether or not they are motivated to bury the Vikings, the Packers need to win in order to keep pace with the 7-3
Chicago Bears
. Through the purple haze, I can only assume they saw this quote from Bears coach Lovie Smith after Thursday night's victory against the
Miami Dolphins
: "We wanted to put the pressure on that second-place team behind us."
Getting after it:
The Packers blitzed Favre on 43.3 percent of his dropbacks in the teams' Week 7 meeting, causing two of his three interceptions and resulting in a 37.8 passer rating. I'll be curious to see whether the Packers feel obligated to pressure him at the same rate, or if they sit back and allow Favre's less reliable arm to create its own mistakes. ESPN Stats & Information has tracked each of Favre's 16 interceptions this season, grading eight of them as underthrown. I realize an underthrown pass can be in the eye of the observer, especially when a quarterback might intentionally be throwing a back-shoulder pass. But anecdotally, I think we can agree that Favre's accuracy hasn't been as good this season. Elbow tendinitis and soreness in his right shoulder have assuredly played a part. Pass rush is still the best way to force Favre into making mistakes, but the point is that he has made plenty on his own this season.
Two forces:
The Packers have caused 19 turnovers this season, tying for the fifth-best mark in the NFL. The Vikings have committed 23, the league's fourth-worst mark. Moreover, the Packers lead the league with 80 points scored off of turnovers. Those numbers and rankings have built up over 11 weeks, so it would be reasonable to expect more of the same Sunday at the Metrodome. If that's the case, it's hard to imagine a Vikings win. Their three victories this season have all come at home, but they were against the
Detroit Lions
(2-7),
Dallas Cowboys
(2-7) and
Arizona Cardinals
(3-6).
Something's gotta give:
The Detroit Lions have lost 25 consecutive road games. The Dallas Cowboys haven't won at home all season. Per their typical luck, the Lions might be catching the Cowboys about two weeks too late. Interim coach Jason Garrett appears to have breathed some life into this talented but underachieving outfit, and if he wants to earn the permanent job, he'll need to start winning some home games at owner Jerry Jones' debt-ridden palace. The Lions won in Dallas the last time they played there -- a 39-31 victory in Week 17 of the 2006 season. But tellingly, they've only won twice away from Ford Field since then.
November, 19, 2010
11/19/10
4:00
PM ET
»
NFC Final Word
:
East
|
West
|
North
|
South
»
AFC
:
East
|
West
|
North
|
South
Five nuggets of knowledge about Week 11:
Williams fallout:
Despite his arrest for allegedly driving under the influence, Tampa Bay receiver
Mike Williams
will play at San Francisco. Coach Raheem Morris isn't happy that the rookie put himself in a situation like this. Morris is a players' coach, but also can be very firm. I'm guessing Morris and Williams already had a lengthy conversation and Morris made it clear to Williams that the player "owes one'' to the coach and his teammates and that things like this won't be tolerated in the future.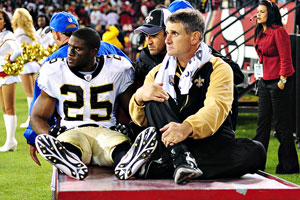 Kyle Terada/US PresswireReggie Bush is poised to finally return from the leg injury that has sidelined him for weeks.
Bush's return:
All indications are that New Orleans running back
Reggie Bush
will make his return from a broken leg when the Saints play the Seahawks. Although there's no question a healthy Bush would provide a boost for the offense down the stretch, I wouldn't count on seeing too much of him right away. With a quick turnaround for the Thanksgiving game at Dallas, I think the New Orleans coaches will limit how much time Bush spends on the field.
Balance of power:
You can make an argument that the New Orleans defense is playing better overall than it has at any point since Sean Payton took over. I'd even say the defense has carried this team somewhat this season. But the mini-slump (and that's a relative phrase) that has slowed
Drew Brees
and this offense for much of the season can't go on forever. Brees is too good not to explode at some point, and I think that's going to happen soon.
Trap game:
Coming off an emotional win against Baltimore and looking ahead to a big game next week with Green Bay, Sunday's game with St. Louis looks like a classic trap for the Falcons. Much has been made of how the Falcons win at home and struggle on the road. There's some truth to that. But it should be noted that going into St. Louis is not anything like going into Pittsburgh or Philadelphia. Because the Baltimore game was on a Thursday night, coach Mike Smith has had extra time to talk to his team, and you can bet he's warned them not to fall into this trap.
Wildcat time:
I've scoffed all year at Carolina fans' repeated suggestions that rookie receiver
Armanti Edwards
should get some time at quarterback in the Wildcat package. But I'm changing my thinking now. With
Brian St. Pierre
starting at quarterback and just about all the running backs hurt, what do the Panthers have to lose by putting Edwards back there for at least a few plays? But, then again, as long as John Fox is coaching the Panthers, I doubt we'll see anything that even borders on creative.
November, 19, 2010
11/19/10
4:00
PM ET
By
Matt Mosley
| ESPN.com
»
NFC Final Word
:
East
|
West
|
North
|
South
»
AFC
:
East
|
West
|
North
|
South
Five nuggets of knowledge about Week 11.
The Giants will try to stop the hottest quarterback in the NFL.
As
New York Giants
defensive end
Justin Tuck
told SI.com on Thursday, there's no easy answer for slowing down
Michael Vick
. But you can't do what the Redskins did against Vick, which was stay back and let him survey the field without a pass rush. I'm still shocked that Jim Haslett decided to take that approach. Giants defensive coordinator Perry Fewell is excited about his game plan, which will probably bring pressure from all over the field. Don't be surprised to see
Deon Grant
and
Antrel Rolle
coming on some safety blitzes. The Giants want to force the issue early in this game. But there's a good chance Vick will burn them if they get too aggressive.
[+] Enlarge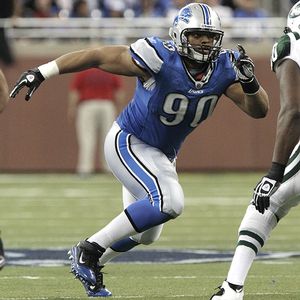 AP Photo/Carlos OsorioThe Cowboys' offensive linemen will have their hands full trying to contain Ndamukong Suh.
Jason Garrett has immense respect for Lions rookie Ndamukong Suh.
Lions head coach Jim Schwartz and defensive coordinator Gunther Cunningham have a great weapon in Suh. They've even been experimenting with moving Suh to the outside in an attempt to confuse offensive linemen. Center
Andre Gurode
and right guard
Leonard Davis
have to keep moving their feet against Suh because he's relentless. Look for the Cowboys to try to double-team the rookie at times. For the most part, you have to try to avoid Suh altogether. I like him for the defensive rookie of the year award.
Will Albert Haynesworth stay on his feet against his old team?
Haynesworth is in the news again for remaining on the ground during one play in Monday's embarrassing loss to the
Philadelphia Eagles
. But he's returning home to see a lot of former teammates and friends in the Nashville area. I think Haynesworth will have an excellent game, which might serve as a further indictment for how he played against Vick and the Eagles. Titans coach Jeff Fisher has great respect for Haynesworth as a player, so the Titans are going to scheme for him this week. The Skins have to be disciplined Sunday because the Titans have been known to play past the whistle. If the Skins lose their cool early, it could be a long afternoon. Tennessee players are not opposed to paying a few fines.
The Giants' offensive line could be a mess against the Eagles.
The good news for Giants fans is that coach Tom Coughlin said Friday that left tackle
Shawn Andrews
had made some progress with a back issue that has kept him out of practice for three consecutive days. If Andrews can't go, Will Beatty would have to step in to play left tackle next to either
Mitch Petrus
or
Kevin Boothe
at left guard. The Eagles love to play games at the line of scrimmage, so the Giants will have to communicate at all times up front. This could be a nightmare game for
Eli Manning
if Eagles defensive coordinator
Sean McDermott
blitzes as much as I think he will. Then again, Manning has been really good against the blitz this season.
Jon Kitna will continue to throw to his "violent" receiver.
Kitna told reporters at Valley Ranch this week that
Dez Bryant
brings a violence to his game
that he's not really used to seeing in receivers. He's obviously become Kitna's favorite target, in part because he doesn't have to be wide open to haul in passes. Here's that quote from Kitna per ESPNDallas.com's Tim MacMahon: "It's almost as if people around him are irrelevant," Kitna said. "His goal is to get to the goal line and if you just happen to be in the way, you're in the way. He's kind of like
Adrian Peterson
out there."
Now there's a pretty nice compliment for a wide receiver. I think the Cowboys will pick on Lions cornerback
Alphonso Smith
in this game. He's simply not big enough to compete for balls with Bryant and
Miles Austin
. And maybe Roy Williams will do something special against his former team.

NFL SCOREBOARD
Sunday, 12/28
WEEKLY LEADERS