NFL Nation:

Final Word NFC 2010 Week 15
December, 17, 2010
12/17/10
4:22
PM ET
»
NFC Final Word
:
East
|
West
|
North
|
South
»
AFC
:
East
|
West
|
North
|
South
Five nuggets of knowledge about Week 15.
[+] Enlarge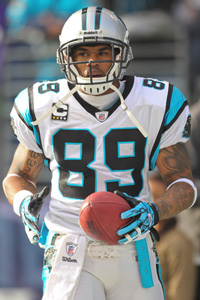 Otto Greule Jr/Getty ImagesReceiver Steve Smith may not want to stick around for the ongoing rebuilding process in Carolina.
Another farewell?
There has been all sorts of talk about John Fox coaching his last home game for the Panthers. But there also seems to be a lot of speculation from Carolina fans that this could be the last time wide receiver
Steve Smith
plays for the Panthers in Bank of America Stadium. It's a legitimate question about one of the best players in franchise history. Smith remains under contract with the team through 2012. But it is fair to wonder whether Smith might want out or whether a new coach might want to start fresh with young receivers. Does Smith want out? I think it's important to note that a guy who rarely hides his feelings has never even hinted about wanting out. However, I wouldn't blame Smith if he did ask out. He's a guy who has an outside shot at the Hall of Fame if he can put up some big numbers for a few more years. Common sense says it's going to take the Panthers some time to build, and Smith doesn't have time for that. He's also a highly competitive guy, and I seriously doubt he enjoys losing. If he goes and asks management to trade him, I think he'd get his wish pretty much out of respect. But unless or until he actually says he wants out, I don't think everyone should assume Smith wants to leave Carolina.
The Domeless Saints.
I'm looking at Sunday's weather forecast for Baltimore and it doesn't look as bad as it did a few days ago when snow was mentioned as a possibility. The latest forecast says there is only a 10-percent chance of precipitation and the temperature might be a little above freezing. This might be a good warm-up game for the Saints because they could have to go on the road to someplace like New York, Philadelphia or Chicago in the playoffs. They have that perception of being a "dome team." Might be a good time to start shedding that perception.
Turn down "The Burner."
It sounds like there is a decent chance Atlanta running back
Jason Snelling
could return to play against Seattle after sitting out the last couple of games. If he does, that's really good news for the Falcons. They've been riding starter
Michael Turner
very hard the last few weeks, and he has produced in outstanding fashion. The Falcons aren't going to do anything to dramatically cut Turner's carries because he's such an important part of the offense. But they'd love nothing more than to give a few of those carries to Snelling, who is a quality backup. At the moment, Turner has 275 carries. He's been getting around 25 carries a game recently. If you project it out at that rate, Turner's on pace for 350 carries for the regular season. That number is a little higher than the Falcons would like, especially when you consider that more carries will be coming in the playoffs. I'm thinking the Falcons would like to chop Turner's pace down to a point where he ends the regular season with somewhere around 330 carries.
Mix and match.
The
Tampa Bay Buccaneers
, who seem to have been scrambling to compensate for injuries every week in recent memory, will have to do it again. This time, the big question is how they will replace rookie defensive tackle
Gerald McCoy
. There is no singular answer to that. The Bucs haven't laid out their entire plan, but coach Raheem Morris has said the team will take a committee approach at defensive tackle. Defensive end
Michael Bennett
could slide over there and backups
Al Woods
and
Frank Okam
could get some time in what figures to be a heavy rotation. There even have been hints that nose tackle
Roy Miller
could slide over to McCoy's old spot at times.
Suh Flu outbreak.
I'm sort of glad I'm getting on a plane to Baltimore on Saturday because there could be an epidemic hitting Tampa Bay on Sunday. It's called Suh Flu, and symptoms are offensive linemen breaking out in a cold sweat at the prospect of having to block Detroit's rookie sensation
Ndamukong Suh
. He's lived up to all the hype that came with being the No. 2 overall pick in the draft. The Bucs are expected to start rookie guards
Ted Larsen
and
Derek Hardman
. They certainly will get some attempts at help from center
Jeremy Zuttah
, but I'm not sure that will be enough to stop this outbreak.
December, 17, 2010
12/17/10
4:20
PM ET
»
NFC Final Word
:
East
|
West
|
North
|
South
»
AFC
:
East
|
West
|
North
|
South
Five nuggets of knowledge about Week 15:
Taking aim at Cassel.
Matt Cassel
appears likely to start for Kansas City against St. Louis in a game with playoff implications for both teams. Cassel has 13 touchdowns and three interceptions on the road this season. The Rams have generally fared well at home against "name" quarterbacks, including MVP candidate
Philip Rivers
(77.4 rating in the Chargers' 27-20 defeat at St. Louis). Visiting quarterbacks have six touchdowns, six interceptions and a 76.0 rating against the Rams. The
Atlanta Falcons
'
Matt Ryan
(101.8) and the
Arizona Cardinals
'
Derek Anderson
(85.1) were the only ones with ratings of 80 or higher.
[+] Enlarge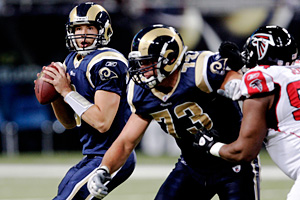 AP Photo/Tom GannamRams rookie quarterback Sam Bradford has struggled at times in the fourth quarter. He has thrown two touchdowns and seven interceptions in the final period.
Bradford's fourth-quarter push.
Cassel has seven touchdowns and no interceptions in fourth quarters this season. The Rams'
Sam Bradford
, though impressive during a fourth-quarter push against San Francisco, needs to finish stronger more consistently. He has two touchdowns and seven picks in fourth quarters, same as Carolina's
Matt Moore
. A little better luck would help Bradford. The intercepted shovel pass he threw near the goal line while leading a rally against the Falcons comes to mind. Still, Bradford's fourth-quarter rating ranks 38th among the 47 quarterbacks with at least 15 attempts.
Playoff picture not yet in focus.
The Rams and
Seattle Seahawks
, both 6-7, will earn playoff spots if they win their final three games. They play one another in Week 17, making it impossible for both to finish 9-7. Arizona could win the division at 7-9 if the Rams and Seahawks tied one another to finish 6-9-1 apiece. San Francisco could win the division at 7-9 if the Rams and Seahawks lost their next two (the 49ers visit St. Louis in Week 16). The 49ers would be 5-1 in the division under that scenario.
Seattle's defense on the run.
The matchup with
Michael Turner
and the Falcons' running game appears problematic for Seattle. The Falcons have finished with more than 30 rushing attempts six times this season, including four times on the road (topped by a 50-carry game at New Orleans). They are averaging 152.3 yards rushing per game against the NFC West this season (221 vs. Arizona, 98 vs. San Francisco and 138 vs. St. Louis). Turner has seven 100-yard rushing games overall. The Seahawks have allowed 155 yards rushing per game over their last seven games.
Returning to Carolina.
The Arizona Cardinals have set a franchise record with nine return touchdowns. The
Carolina Panthers
have allowed five return touchdowns this season. Only Cincinnati (eight), San Diego (six) and Minnesota (six) have allowed more. The Cardinals'
Adrian Wilson
might be due for one. He has watched teammate and fellow safety
Kerry Rhodes
score two return touchdowns this season. If Wilson is going to get one, where better than in his native North Carolina?
December, 17, 2010
12/17/10
4:06
PM ET
»
NFC Final Word
:
East
|
West
|
North
|
South
»
AFC
:
East
|
West
|
North
|
South
Five nuggets of knowledge about Week 15:
Shut down:
Thanks in large part to the emergence of cornerback
Tramon Williams
, the
Green Bay Packers
have played some of the NFL's best pass defense this season. They'll face their stiffest test yet Sunday night at Gillette Stadium, where
New England Patriots
quarterback
Tom Brady
will take the field as the presumptive league MVP. But if you're a Packers fan, you can take solace that your team has been the league's best at limiting passes to and down the sideline -- one of Brady's favorite places to throw. The Packers have allowed an NFL-low 46.4 completion percentage and two touchdown passes outside the numbers on the field, according to ESPN Stats & Information. This season, Brady has completed 64.5 percent of those passes for 16 touchdowns and two interceptions. That's not to say the Packers will shut him down, but at least they are equipped to squeeze the field against him.
[+] Enlarge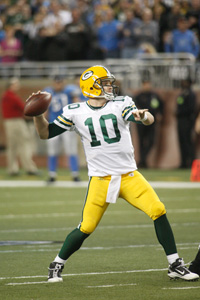 AP Photo/Duane BurlesonThe Packers are almost certain to start the inexperienced Matt Flynn at quarterback against the Patriots.
Step up:
Let's face it -- the Packers are going to need a whale of a game from backup quarterback
Matt Flynn
, who seems certain to start in place of
Aaron Rodgers
(concussion), to win Sunday. I suppose it's possible the Packers could discover their running game here in Week 15, but the chances of winning a slowed-down, low-possession game against the Patriots' offense aren't high. The Packers' offense is built through the passing game, and Flynn needs to produce and ensure that every scoring opportunity is capitalized upon. It's worth noting this statistic from ESPN Stats & Information: Flynn has thrown three red zone passes in his career. Two have been intercepted. Rodgers? He has thrown one interception in 218 red zone attempts dating to his promotion to the starting job in 2008.
Base set:
The
Minnesota Vikings
are expected to start rookie quarterback
Joe Webb
on Monday night against the
Chicago Bears
, although veteran newcomer
Patrick Ramsey
could also play. A raw passer, Webb has legitimate running skills. The Vikings almost assuredly want to de-emphasize the pass, but tailback
Adrian Peterson
was limited this week in practice by ankle and knee injuries. When Webb does drop back, the Bears are well-equipped to force him into rookie mistakes. The Bears' success in sending four or fewer pass-rushers this season -- they rank third in the NFL in yards per attempt and interceptions in those situations -- means they should be able to sit back in coverage and make plays on Webb's passes. That will also help them limit his scrambles. It could be a long night for the Vikings in that regard.
Quick change:
Monday night's game will mark the 10th relocated home game in the past 37 years in the NFL. The home teams are 3-6 in those games and have lost the past four, according to ESPN Stats & Information. The last home team that won a relocated home game was the 1994
Seattle Seahawks
, who defeated the
Pittsburgh Steelers
at nearby Husky Stadium while the Kingdome was undergoing roof repairs. I think we can say this much about TCF Bank Stadium: It will be a modest, at best, home-field advantage for the Vikings. First, they haven't played an outdoor game in Minnesota in 29 years. Second, it's been three years since they've won a December/January outdoor game, and that contest was in San Francisco. Their last December/January outdoor victory in a cold-weather site was a January 2005 playoff victory at Lambeau Field. But not since December 1999 have the Vikings won a regular-season game outdoors in December or January, a 34-17 victory over the
New York Giants
.
Getting pressure:
The
Detroit Lions
' defensive line demonstrated that it can overpower an opposing offensive line in last week's victory over the Packers. The Lions have 36 sacks this season -- tied for sixth-most in the NFL, but they'll have their hands full Sunday with
Tampa Bay Buccaneers
quarterback
Josh Freeman
. This season, Freeman has been sacked 20 times -- the ninth-fewest among qualified quarterbacks -- and ranks third among NFL quarterbacks with 301 rushing yards. That matchup will be key as the Lions try to snap their NFL-record 26-game losing streak on the road.
December, 17, 2010
12/17/10
4:06
PM ET
By
Matt Mosley
| ESPN.com
»
NFC Final Word
:
East
|
West
|
North
|
South
»
AFC
:
East
|
West
|
North
|
South
Five nuggets of knowledge about Week 15
The Giants feel really good about their game plan for Michael Vick
. A lot of teams fear Vick, but the Giants seem to relish the opportunity to play against him. Vick didn't account for a passing touchdown the last time they played, and the Giants battered him and caused him to fumble twice, losing one. Giants defensive coordinator Perry Fewell learned from that experience and he's added some new wrinkles to his approach. Look for safety
Deon Grant
to play a large role in Fewell's blitz packages. The Giants have the ability to generate pressure without the blitz, but Fewell will bring a safety or a cornerback at times. The Giants have been excellent against the run (see
Adrian Peterson
), so I think
LeSean McCoy
will have most of his success in the passing game. He has 70 receptions and the Eagles love the screen game.
[+] Enlarge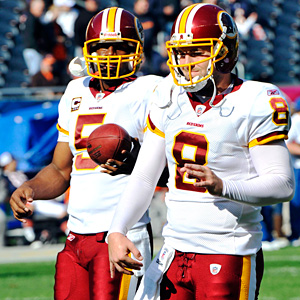 Rob Grabowski/US PresswireRedskins quarterback Donovan McNabb (left) has been benched in favor of Rex Grossman for Sunday's game against the Cowboys.
Will the Cowboys be able to slow down Rex Grossman
? The stunning news came down Friday morning that a healthy
Donovan McNabb
would once again be benched. The Cowboys have prepared for McNabb, but I don't think the prospect of facing Grossman is all that intimidating. At this point, it almost seems like the Shanahans get a kick out of shaking things up. I believe that Redskins offensive coordinator Kyle Shanahan has always been more comfortable with Grossman than McNabb. There have been reports that Kyle wanted to make this move about 13 weeks ago. Now his father will finally give him the chance. So much for that lucrative contract extension for McNabb. At this rate, it's hard to imagine his starting for the Redskins again. And while the Eagles respect McNabb too much to laugh about this, they certainly have to feel good about their decision. I sat down and watched a few plays from that loss to the Bucs. McNabb did have some awful throws that short-hopped receivers. He can normally play through those bad stretches, but the Shanahans are tired of waiting for him.
Eli Manning has to find someone he trusts on third down
. Manning has been really bad on third down this season, and a lot of that has to do with
Steve Smith
's being out with injuries. Since Smith's now been placed on injured reserve, Manning has to figure something out.
Hakeem Nicks
and
Mario Manningham
will need to concentrate more than ever because Manning can't afford any more deflections. (He's making enough mistakes on his own). This would be a good time for
Derek Hagan
to become a reliable third-down receiver. He's shown signs of being that player, but he's no Steve Smith. To me, Smith and the Eagles'
Jason Avant
are two of the best third-down receivers in the league.
Brian Orakpo loves playing against the Cowboys.
The
Washington Redskins
' outside linebacker and former University of Texas star grew up in Houston hating the Cowboys. He's the player who drew the infamous holding penalty on the Cowboys'
Alex Barron
in the season opener. As former NFL scout
Bryan Broaddus points out on ESPNDallas.com
, Orakpo does a really nice job of not allowing much of a hitting surface to offensive tackles. The Skins had the good sense to move Orakpo to the left side to face Barron last time. There's a good chance they'll do the same thing against right tackle
Marc Colombo
. Orakpo draws a lot of holding calls, and the Redskins basically count those as sacks. He causes offensive tackles to panic, and that's about the highest compliment you can pay a pass-rusher.
The Giants will try to exploit Eagles rookie middle linebacker Jamar Chaney.
With
Stewart Bradley
out for the rest of the regular season with a dislocated elbow, Chaney becomes the starter. He's a talented player, but you know that Giants offensive coordinator Kevin Gilbride will try to work him over. I think Vick will try to find tight end
Brent Celek
down the seam early in this game. He's an incredibly tough matchup for a linebacker -- especially one who doesn't have much experience. You'll be able to tell early in this game how Chaney's going to play. It's a matchup the Giants will be looking at all afternoon. And if the Eagles' linebackers don't stay in their lanes against
Brandon Jacobs
and
Ahmad Bradshaw
, they'll be in for a long day.
NFL SCOREBOARD
Sunday, 2/2
WEEKLY LEADERS