NFL Nation:

Final Word NFC 2010 Week 2
September, 17, 2010
9/17/10
3:41
PM ET
»
NFC Final Word
:
East
|
West
|
North
|
South
»
AFC
:
East
|
West
|
North
|
South
Five nuggets of knowledge about Week 2:
[+] Enlarge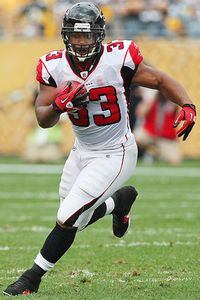 Jason Bridge/US PresswireThe pressure is building on Michael Turner & Co. to get the offense going.
The pressure is on Matt Ryan, Michael Turner and Mike Mularkey.
The
Atlanta Falcons
finally have put together a respectable defense, so that unit is no longer any easy target for blame after a loss. The offense simply did not get the job done in the season-opening loss to Pittsburgh. When you have players such as Ryan and Turner, there is no excuse for not scoring touchdowns. It's up to Mularkey, Atlanta's offensive coordinator, to put his guys in position to make big plays. He must play to Ryan's strengths a bit more and let the quarterback throw the ball downfield. He also must find a way to get Turner, who had 42 yards on 19 carries against the Steelers, going against Arizona. If Atlanta's offense doesn't show up for this game, a once-promising season is suddenly going to be in big trouble.
Lofton's rising.
The one positive I took from Atlanta's opening loss was the play of middle linebacker
Curtis Lofton
. He said he wants to be more of a leader and make some big plays this year. He showed signs of both against the Steelers. The Falcons will take big plays any way they can get them.
Strength on strength.
We'll see how often they end up going head to head, but I think the best individual matchup this week could be between Carolina wide receiver
Steve Smith
and Tampa Bay cornerback
Aqib Talib
. These are unique individuals. Both are very competitive and talkative on the field. They're also both very talented. It should make for good entertainment. Both these guys also have a history of letting their tempers get the best of them. If this matchup starts heading down a road like that, the winner will be the guy who does the better job of keeping his actions within the rules.
A very short leash.
It looks like Carolina quarterback
Matt Moore
will start against the Buccaneers. He has practiced this week after suffering a concussion in the season-opening loss to the Giants. I understand why coach John Fox is sticking with the quarterback who went through the entire offseason getting first-team work. But I don't think Fox can afford to handle this like the
Jake Delhomme
situation if Moore makes the kind of mistakes he made in the opener (three interceptions). Fox stayed with Delhomme way too long last season. The coach doesn't have the time to do that anymore. Plus, there's a legitimate alternative now: rookie
Jimmy Clausen
. Fox may be loyal to veterans and very stubborn, but there are people in the organization who have powerful opinions and were instrumental in drafting Clausen. They're not going to stay quiet if Moore continues to struggle.
Wait and hurry up.
The Saints don't play until Monday night in San Francisco. That gave New Orleans a little extra time to get healthy and rested. But the flip side is the Saints are going to face a short week after San Francisco. They'll have Atlanta coming to town, a game that could have big implications on the division race. Not to get ahead of things, but let's face it, Sean Payton is always thinking ahead. I'm pretty sure he'd like nothing more than to jump to an early lead on the 49ers, get his starters out of the game and get that plane flying back to New Orleans as quickly as possible.
September, 17, 2010
9/17/10
3:40
PM ET
»
NFC Final Word
:
East
|
West
|
North
|
South
»
AFC
:
East
|
West
|
North
|
South
Five nuggets of knowledge about Week 2:
[+] Enlarge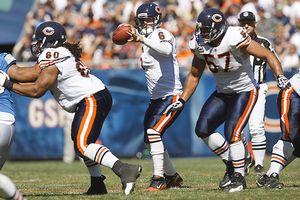 Jerry Lai/US PresswireExpect Jay Cutler and the Bears offense to test the Dallas secondary.
The Dallas Cowboys better get their nickel defense ready, because the Chicago Bears are a three-receiver offense.
That's what we expected when Mike Martz took over as offensive coordinator, and it played out in Week 1 against the
Detroit Lions
in an obvious way. Receivers
Johnny Knox
,
Devin Hester
and
Devin Aromashodu
were all in the starting lineup, and the Bears had three receivers on the field for 71.4 percent of their plays, according to ESPN's Stats & Information. In addition, they were in that set on 83.7 percent of their passes. Quarterback
Jay Cutler
averaged a strong 8.4 yards per attempt on plays when three receivers were on the field. It will be an interesting matchup because, like the
Minnesota Vikings
, the Cowboys have only
three true cornerbacks
on their active roster:
Terence Newman
,
Mike Jenkins
and
Orlando Scandrick
.
The Vikings miss receiver Sidney Rice in many ways, but none more than when quarterback Brett Favre is under pressure.
Rice was Favre's most dependable safety valve when blitzed last season, and the
Miami Dolphins
would be wise to test his ability to adjust Sunday at the Metrodome. According to ESPN's Stats & Information, Rice caught 80 percent of the passes Favre threw his way last year when facing a blitz. In the Sept. 9 season opener, the
New Orleans Saints
blitzed Favre on 13 of 28 dropbacks. Favre completed just three of those 13 passes, including 1-of-6 to receivers
Bernard Berrian
and
Percy Harvin
. The Dolphins would be silly to sit back in coverage.
Attention, Minnesota defense: Play close to the line of scrimmage, especially when the Dolphins are in the red zone.
According to ESPN's Stats & Information, Dolphins quarterback
Chad Henne
hasn't had much luck throwing into the end zone in his career. Since the start of last season, Henne has completed only 20 percent (five of 25) of those passes. It's obviously not the easiest pass to throw, and for some perspective, you should realize Favre has led the NFL over that stretch with a 53.8 completion percentage on passes into the end zone. But with Henne, you're much more likely to see a shorter pass that asks the ball carrier to zip into the end zone.
Ryan Grant's season-ending ankle injury removed a player who took at least some attention from Green Bay Packers tight end Jermichael Finley.
After his strong second half of last season, Finley entered 2010 as arguably the Packers' top offensive weapon. The Philadelphia Eagles certainly approached him that way with regular
double-teams, and occasional triple-teams
, during last Sunday's 27-20 Packers victory. The Buffalo Bills have no reason not to follow the same pattern, especially when the Packers take the field without a proven running back on their roster. I realize we're talking about running games and passing games here, but ultimately the Bills have one less player to keep track of in the Packers' offense. Grant might not have been a world-beater, but he reliably picked up yards. Will backup
Brandon Jackson
do the same? That's uncertain. If possible, Finley will be more of a marked man this Sunday.
As much as I like the Detroit Lions' defensive line, I'm not confident in the team's chances against Eagles quarterback Michael Vick.
Unless the pressure is sudden and fierce, Vick has a pretty good chance of escaping the pocket against any team. And if he does that against the Lions, Vick will be off to the races against a hobbled and unproven back seven. Even if middle linebacker
DeAndre Levy
plays, he is nowhere close to 100 percent because of a groin strain. The same goes for safety
Louis Delmas
. And the Lions still have two starters -- safety
C.C. Brown
and cornerback
Jonathan Wade
-- playing with a fractured forearm and finger, respectively. The Lions' best hope is to get to Vick before he gets out of the pocket.
September, 17, 2010
9/17/10
3:40
PM ET
»
NFC Final Word
:
East
|
West
|
North
|
South
»
AFC
:
East
|
West
|
North
|
South
Five nuggets of knowledge about Week 2:
[+] Enlarge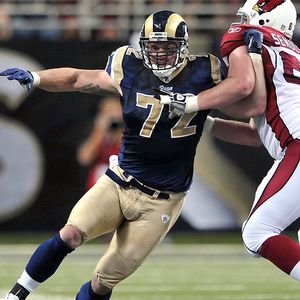 G. Newman Lowrance/Getty ImagesThe timing and venue may be right for Chris Long to have a breakout game.
Long time coming.
Chris Long
's development into a solid -- and potentially better than solid -- defensive lineman has been a process. We didn't see much from Long during
his early days
as a rookie in camp two years ago. For a while, Long seemed to struggle
living up to expectations
. Things began to change last season, when
Long had more sacks
(5) than
Terrell Suggs
,
Julian Peterson
,
Shawne Merriman
,
Albert Haynesworth
,
Richard Seymour
or
Aaron Kampman
. Long had clearly
made strides
, becoming a potential
pass-rush sleeper
for 2010.
Long asserted himself
more during training camp this summer. The Cardinals had
trouble blocking Long
in Week 1. I'm expecting Long to break through with a sack or two against the
Oakland Raiders
in Week 2. The Raiders have had issues on their offensive line. Long has downplayed his first game in Oakland, where his father began a Hall of Fame career, but the timing seems right for Long to find the quarterback.
Derek Anderson in perspective.
The
Arizona Cardinals
' trip to Atlanta marks homecomings for coach Ken Whisenhunt and defensive lineman
Darnell Dockett
. The challenge is clear. Arizona finds itself on the wrong end of another team's home opener for the second week in a row, this time against a better opponent. Quarterback Derek Anderson probably needs to show more consistent accuracy for the Cardinals to defeat the Falcons in the Georgia Dome. The rest of us could also use a little more accuracy at times. For as erratic as Anderson appeared when throwing eight consecutive incomplete passes in Week 1, his 85.1 passer rating for the game was better than eight of the 17 regular-season and postseason ratings posted by a certain now-retired Cardinals quarterback last season.
Kurt Warner
posted nine ratings between 100.8 and 154.1 last season. His ratings in the remaining eight games ranged between 44.9 and 79.2. Anderson might never play like Warner when Warner was hot. He could potentially be more consistent from game to game. At the very least, we shouldn't measure him against the very best Warner offered without giving at least some consideration to those other eight games.
The Jeremy Bates Show.
Alex Gibbs' abrupt departure as the
Seattle Seahawks
' offensive line coach one week before the season left me thinking the team's offensive line might suffer an implosion reminiscent of 2009, particularly with rookie left tackle
Russell Okung
sidelined by injury. That might still happen, but it seems less likely after Bates, the Seahawks' offensive coordinator, put together such a successful plan against the
San Francisco 49ers
in Week 1. Protection issues weren't an overriding problem. As much as the Seahawks respected and valued Gibbs, they've shrugged off his departure as if they weren't counting on him to be around that long anyway. Meanwhile, quarterback
Matt Hasselbeck
keeps crediting Bates by name when answering questions about the offense. In retrospect, Bates was the most important hire coach Pete Carroll made for his offensive staff. The early results appear promising. Bates, a coaching grinder known to sleep in the office, presumably will have a good plan for Denver, his former employer (the Broncos wanted to keep Bates after firing Mike Shanahan, but it wasn't an ideal fit for Bates once the team hired Josh McDaniels).
Sam Bradford's first career victory.
The Rams believe in Bradford, and they should. He's shown the starting job isn't too big for him. Now the Rams need to win a game with him. The Raiders aren't a particularly good team. They couldn't stop
Vince Young
from completing 76.5 percent of his passes with two touchdowns and a 142.8 rating. Like Young, Bradford benefits from having a top running back on his side.
Steven Jackson
is hungry. Coach Steve Spagnuolo and the Rams lamented missed opportunities following their 17-13 defeat against Arizona in the opener. Losing to the Raiders would count as another one.
Breaker-breaker one-Nine(r).
The 49ers' communication problems are getting lots of attention, as they should. Any team should be able to communicate plays from its coordinator to the quarterback without inducing panic. Let's not lose sight of the fact that San Francisco lost its opener because the team didn't block, tackle, throw, catch and cover well enough. I'm expecting better from the 49ers against the Super Bowl champions on Monday night. Largely the same 49ers team led the
Minnesota Vikings
and
Indianapolis Colts
on the road in the fourth quarter last season.
Vernon Davis
and
Patrick Willis
are cashing fatter checks after signing long-term extensions during the offseason. Safety
Dashon Goldson
wants one, too.
Alex Smith
is playing for his career this season. Time for those guys to produce.
September, 17, 2010
9/17/10
3:38
PM ET
By
Matt Mosley
| ESPN.com
»
NFC Final Word
:
East
|
West
|
North
|
South
»
AFC
:
East
|
West
|
North
|
South
Five nuggets of knowledge about Week 2.
[+] Enlarge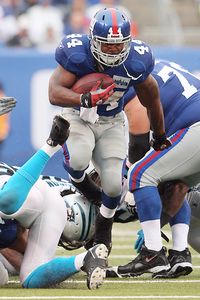 Alan Maglaque/US PresswireThe Giants will try to establish the running game with Ahmad Bradshaw against the Colts.
I know one of these notes should be about the Manning brothers
, but I'm sort of worn out with that angle. I'm eager to see whether the
Indianapolis Colts
can slow
New York Giants
running back
Ahmad Bradshaw
in this game after allowing Texans running back
Arian Foster
to thrill fantasy players across the country with 231 yards and three touchdowns. Matt Williamson of Scouts Inc. thinks the loss of
Bob Sanders
derailed the Colts' defensive game plan last Sunday, so we'll see if they do a better job against the Giants. New York center
Shaun O'Hara
continues to fight through an ankle injury and there's no guarantee he's even active for the game. The Colts are known for their speed on defense, so I'd look for them to run blitz more than last week and try to play some games at the line of scrimmage to fool the Giants.
The Dallas Cowboys will have to know where Bears defensive end Julius Peppers is at all times.
Chicago likes to move him away from where the tight end lines up, according to ESPNDallas.com's Bryan Broaddus, a former NFL scout who has studied the Bears quite a bit this week. Cowboys right tackle
Marc Colombo
will have his hands full because Peppers does an excellent job of keeping his pads low and pursuing from the backside. Quarterback
Tony Romo
must have tight end
Jason Witten
running routes, but offensive coordinator
Jason Garrett
will have to pick his spots because Colomobo will likely need some assistance. I think left tackle
Doug Free
will do fine against Peppers, who doesn't have as much power as Redskins defensive end
Brian Orakpo
. Free didn't play poorly last week, but he wasn't as sharp as some folks predicted. Also keep an eye on the Bears' other starting defensive end,
Mark Anderson
. He's a really quick player who could give the Cowboys problems in space.
Mike Shanahan vs. Gary Kubiak will be the best chess match in the division.
The Texans' head coach studied under Shanahan for years with the Broncos before finally getting his opportunity as a head coach. Kubiak turned his offense over to Kyle Shanahan and saw some huge benefits in '09. Now, Kyle is the Redskins' offensive coordinator and he knows what the Texans will be trying to accomplish. I'm eager to see how Redskins defensive coordinator Jim Haslett defends one of the best receivers in the league,
Andre Johnson
. I think he'll let
Carlos Rogers
jam Johnson near the line of scrimmage and then try to offer some help over the top. But the first order of business will be slowing Arian Foster. If the Texans' running game's working early, look for them to try to burn the Redskins with a double move off the play-action. That was something the Redskins struggled with last season because they didn't show much discipline on the back end.
After Sunday night's game, we'll know a lot more about Perry Fewell's Giants defense.
Giants general manager
Jerry Reese
and coach Tom Coughlin were determined to never repeat their mistake of entering a season too thin at safety. The arrival of
Antrel Rolle
and
Deon Grant
to go along with a healthy
Kenny Phillips
has made that a position of strength. But Colts quarterback
Peyton Manning
has victimized a lot of excellent defensive backs over the years. The Giants have spent part of the week preparing to substitute against a hurry-up offense. It will be fascinating to see how second-year linebacker
Jonathan Goff
holds up against a savvy veteran such as Peyton Manning.
We can't have a Final Word without discussing the Cowboys' offensive line situation.
I think
Kyle Kosier
and Marc Colombo will give the Cowboys a big lift against the Bears.
Montrae Holland
didn't play poorly at left guard against the Redskins, but Kosier's better on the move than him. I think you'll see
Felix Jones
get a lot more involved in the running game in Sunday's game at Cowboys Stadium. Offensive coordinator Jason Garrett took a lot of heat this week for his bone-headed decision to run a play at the end of the first half last Sunday, which resulted in a Redskins touchdown. He must have a nice bounce-back effort to help the Cowboys forget about that opening loss. The Cowboys must continue integrating
Dez Bryant
into the offense, but they can't let that process disrupt their rhythm. If you're constantly having to tell him where to line up, it just puts one more thing on Tony Romo's shoulders. We'll be watching that situation closely. The Bears have some issues in their secondary. I think Romo will have a big game.
NFL SCOREBOARD
Thursday, 12/5
Sunday, 12/8
Monday, 12/9
WEEKLY LEADERS