NFL Nation:

Final Word NFC 2010 Week 4
October, 1, 2010
10/01/10
4:16
PM ET
By
Matt Mosley
| ESPN.com
»
NFC Final Word
:
East
|
West
|
North
|
South
»
AFC
:
East
|
West
|
North
|
South
Five nuggets of knowledge about Week 4:
Why is no one talking about Artis Hicks' triumphant return to Philly?
I need to take a break from
Donovan McNabb
for at least two paragraphs, so let's take a peek at the
Washington Redskins
' offensive line. Rookie
Trent Williams
has the athleticism to slow Eagles defensive end
Trent Cole
, but he's nursing toe and knee injuries and doesn't know if he'll be ready. If
Stephon Heyer
starts at left tackle, the Redskins must help him out quite a bit. Hicks, the former Eagles reserve, starts at right guard for the Skins. He'll have to play against a defense that has produced 12 sacks, which is second in the league. Cole and
Juqua Parker
have combined for seven sacks and rookie
Brandon Graham
's becoming more comfortable each week. Redskins coach Mike Shanahan will try everything to establish the running game, but that will be difficult if Williams doesn't play. Expect to see Redskins running back
Ryan Torain
early and often Sunday. He's quicker than
Clinton Portis
and a better fit for what Shanahan's trying to accomplish now.
The Giants are glad Olsen doesn't have a twin.
Bears tight end
Greg Olsen
will play in his home state of New Jersey for the first time since high school Sunday night. A matchup nightmare for linebackers and safeties, he has 10 catches for 140 yards and two touchdowns this season. This is a game when safeties
Kenny Phillips
and
Antrel Rolle
must be technically sound. Bears offensive coordinator Mike Martz likes to run Olsen up the seam to give quarterback
Jay Cutler
a quick option off a three-step drop. If Giants linebackers take one false step, Olsen will burn them like he did the Cowboys in Week 2. Olsen's on his way to stardom. Who said Martz doesn't value tight ends?
[+] Enlarge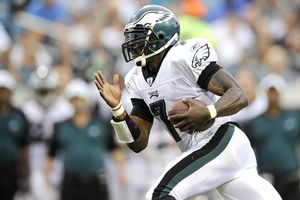 John David Mercer/US PresswireThe Redskins may try to contain Michael Vick by assigning a defensive back to shadow him.
Skins defensive coordinator Jim Haslett wants Michael Vick to scramble.
When he was the head coach for the
New Orleans Saints
, Haslett had a front-row seat to the Vick Experience. I think he will have a defensive back spying on Vick at all times. He has told his players to get their hands up earlier than usual in an attempt to disrupt Vick's rhythm. The Eagles' quarterback looked brilliant against the Lions and Jaguars, but those teams did a poor job containing him. The Redskins will try to lure Vick into throwing the ball across his body. Cornerback
DeAngelo Hall
played with Vick for several years, so he knows a lot of his tendencies. Look for outside linebacker
Brian Orakpo
to play a different style in this game. He can't race up the field. Instead, he'll hold the edge and try to force Vick the other direction. For some reason, my gut's telling me Vick will really struggle. But my gut's been wrong on occasion.
Will the Giants show an ounce of discipline against the Bears?
The
New York Giants
embarrassed themselves with five post-whistle personal fouls in last Sunday's loss to the Titans. It's no secret the Titans are a chippy team that loves to intimidate their opponents, so the Giants shouldn't have been surprised. I expect to see a smarter team show up against the Bears. But the Giants also must be disciplined before plays end.
Eli Manning
and
Ahmad Bradshaw
must take care of the ball in the red zone. No one cares that the Giants outgained the Titans by 200 yards last week. It's all about the scoreboard. I expect the Giants to make much better decisions against the Bears. And for whatever reason, I'm still not buying the Bears as a team to beat in the NFC. Cutler will make a back-breaking mistake at some point.
Donovan McNabb will put Eagles rookie safety Nate Allen to the test.
I think McNabb's poised to have a big game against the Eagles' secondary. The Lions moved the ball against them really well late in the game. Redskins offensive coordinator Kyle Shanahan will want to establish a quick tempo early in Sunday's game. If the running game is decent, McNabb will be effective in the play-action game.
Santana Moss
will line up all over the place, and Shanahan will put him in motion quite a bit. I assure you that McNabb will look to beat Allen with a double move at some point. And if Allen takes a false step, Moss will take it to the house.
October, 1, 2010
10/01/10
4:05
PM ET
»
NFC Final Word
:
East
|
West
|
North
|
South
»
AFC
:
East
|
West
|
North
|
South
Five nuggets of knowledge about Week 4:
[+] Enlarge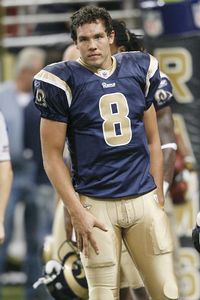 Ap Photo/ Bill NicholsThe Rams will rely on rookie quarterback Sam Bradford with running back Steven Jackson battling injuries.
Sam Bradford's team.
Steven Jackson
's injury situation puts more pressure on
St. Louis Rams
quarterback Sam Bradford heading into the team's home game against Seattle. Bradford has broad shoulders. He appears ready for the opportunity. The Rams might or might not struggle Sunday without Jackson, but Bradford has shown he's big enough to handle various situations. Jackson is 27 years old and his body has broken down in recent seasons. Bradford is clearly the future -- and increasingly the present -- in St. Louis. Consider this game against Seattle as a sneak preview if Jackson isn't able to contribute.
Cardinals' shaky standing.
The Cardinals have held or shared the NFC West lead for 31 of the past 36 regular-season weeks dating to the beginning of the 2008 season. Arizona will remain no worse than tied atop the division if the Seahawks lose in St. Louis. But if Seattle wins and the Cardinals fall in San Diego, the Cardinals will be looking up at Seattle in the standings for the first time since after Week 1 last season. And with a game against New Orleans looming on the schedule in Week 5 -- Seattle has a bye -- the Cardinals could fall further behind than they've been accustomed.
Seattle's road mentality.
The Seahawks have a 9-15 road record since 2005 in 10 a.m. PT kickoffs, including 5-0 in early games against the Rams. Coach Pete Carroll has declared such history irrelevant. He's particularly correct in this case. The Rams are better this season and the Seahawks have changed over most of their roster since winning all those games at the Edward Jones Dome. Seattle still must prove it can function away from Qwest Field. The team that winds up winning the division will probably need a couple road victories to get it done. If the Seahawks can no longer win in St. Louis, where on the road can they win?
Taking it to the house.
Arizona's
LaRod Stephens-Howling
and Seattle's
Leon Washington
returned kickoffs for touchdowns in Week 3. Stephens-Howling had one called back the previous week. He faces the San Diego coverage team Washington tore apart last week (injuries made the Chargers' coverage team even more vulnerable). Washington faces a Rams coverage team without top special-teamer
Chris Chamberlain
, who is on injured reserve. The Rams lost another top special-teams player,
Dominique Curry
, to a season-ending injury in Week 3. The Rams are allowing 26.1 yards per kickoff return, which ranks 21st in the league. The Chargers are allowing 32.6 yards per return, which ranks 31st. Return teams block better when they know their returner can take it all the way.
49ers on the precipice.
The
San Francisco 49ers
have not opened a season 0-4 since the 2004 team went 2-14. This team is much better than that one, right? Of course. I think so, anyway. But a blowout defeat against Atlanta might shake this team to its foundation. Mike Singletary's leadership has already appeared ineffective at times. The current situation appears particularly daunting. Since 2005, the 49ers are 2-22 in 10 a.m. PT kickoffs outside St. Louis and they'll have an early kickoff at the Georgia Dome. Atlanta hammered the 49ers last season and just beat New Orleans on the road a week ago. The situation appears hopeless, except for this: These 49ers played their best game of the season against the best team they faced, nearly defeating New Orleans. Time to step up, or fall off.
October, 1, 2010
10/01/10
4:04
PM ET
»
NFC Final Word
:
East
|
West
|
North
|
South
»
AFC
:
East
|
West
|
North
|
South
Five nuggets of knowledge about Week 4:
[+] Enlarge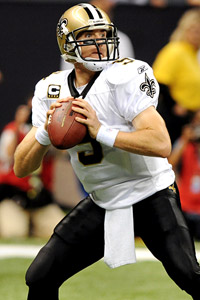 Chuck Cook/US PresswireDrew Brees and the Saints appear to finally be hitting their stride.
A calming Brees.
Walking out of the Superdome on Sunday night, strolling through the New Orleans airport Monday and reading my inbox throughout the week, I got the impression a lot of Saints fans think the sky is falling. Yes, that was a tough overtime loss to Atlanta in Week 3. But one loss does not mean things are crumbling. Exhibit A:
Drew Brees
. He's still the quarterback and that alone means the Saints still are going to win a lot.
How bad can it get?
Speaking of the Saints, the other reason fans don't need to be gloomy is because the
Carolina Panthers
are coming to town. The Panthers (0-3) have played the Saints tough, winning seven of the past 10 regular-season games. But Carolina is in free-fall. It's sad to see it come to this because John Fox has been a good coach and Carolina still has some good players. But if the Panthers don't suddenly rise up and shock the Saints, the bottom is going to fall out of their season in a hurry.
Pound the rock
. The Panthers have given us no evidence they're ready to turn things around. But if I'm Fox, I'm going to go down swinging. Other teams have been able to run on the Saints.
DeAngelo Williams
and
Jonathan Stewart
really haven't gotten on track this year. But I'd try pounding away with those two and see what happens. Besides, the only other offensive option is for
Jimmy Clausen
to try to get the ball to
Steve Smith
, who is going to draw double or triple coverage all game. Clausen was 16-for-33 for 188 yards in his first start last week, a 20-7 loss to Cincinnati.
Coming to life.
I can't help but think back to the preseason when Atlanta fans were freaking out because the Falcons really didn't make any major moves on their defensive line. Well, it's looking like that was the right move. John Abraham's showing signs of life and
Kroy Biermann
is producing.
Jonathan Babineaux
is the division's best defensive tackle, and
Peria Jerry
,
Corey Peters
and
Jamaal Anderson
are playing well. All of a sudden, Atlanta, which faces the 49ers at home Sunday, has the best defensive line in the NFC South.
The unsung heroes.
Speaking of Atlanta and lines, I once again must commend the offensive line for its performance in the win over the Saints. The Falcons don't have big names up front, but they form a very good unit that went out and beat up the Super Bowl champions. That's why I repeatedly say Atlanta offensive line coach Paul Boudreau is the best position coach in the NFC South.
October, 1, 2010
10/01/10
4:04
PM ET
»
NFC Final Word
:
East
|
West
|
North
|
South
»
AFC
:
East
|
West
|
North
|
South
Five nuggets of knowledge about Week 4:
Green Bay Packers quarterback Aaron Rodgers can set an obscure NFL record if he throws for at least 300 yards Sunday against the Detroit Lions.
Rodgers is tied for the most 300-yard games against one opponent to open a career (four). Sunday would be his fifth. In his career against the Lions, Rodgers has completed 70.3 percent of his passes for an average of 335.5 yards per game. He has 11 touchdown passes and one interception in those games. This season, the Lions' pass defense is allowing an average of 265 yards per game, ranking them No. 26 among NFL teams. I like Rodgers' chances, unless the Packers overtly try to establish their running game after
some disappointing production
over the past few weeks.
[+] Enlarge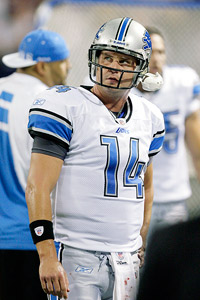 AP Photo/Andy KingThe Lions will be trying to stop their 22-game road losing streak with Shaun Hill at quarterback.
The Lions' 0-3 start has brought an avalanche of almost unbelievable marks of futility.
They have lost 40 of their past 43 games dating to 2007, the worst 43-game record in NFL history, according to STATS Inc. With a loss Sunday, the Lions can set a record for consecutive road defeats to one opponent. A loss Sunday would be their 19th consecutive in Wisconsin, not including a 1994 playoff game. It would also extend the Lions' overall road losing streak to 23 games, tying the second-longest mark in NFL history. The longest? That's right. It's the Lions' 24-game road losing streak from 2001-04. Ugh.
It's hard to imagine the Lions pulling an upset without tailback Jahvid Best in the lineup, and it's harder still to imagine Best at full strength after a turf toe injury sidelined him for most of the practice week.
A foot injury for any speed-based player must be taken seriously. But as we discussed Thursday, the Lions really need Best and his open-field running threat to combat the deep zones they're seeing. If the Packers choose to focus on receiver
Calvin Johnson
, you would think that Best, along with tight ends
Brandon Pettigrew
and
Tony Scheffler
, would have openings in the flat and intermediate areas.
The Chicago Bears are the only 3-0 team in the NFC, but they're not getting much love from the prognosticators.
Five of ESPN's 10 NFL experts
picked the
New York Giants
to win Sunday night's game at the New Meadowlands Stadium. Our friends at AccuScore found that
the Giants won 62 percent of their digital game simulations
, primarily because quarterback
Eli Manning
held down his turnovers. The Giants have played better than their 1-2 record, and it's fair to say the Bears' defense will have to force Manning into mistakes to ensure a victory. So far this season, Manning has thrown six interceptions, lost two fumbles and been sacked seven times.
Don't look now, but Bears quarterback Jay Cutler has thrown for more yards in the season's first three games (870) than any passer in team history.
He'll have an interesting matchup against the Giants' defense, the NFL's fourth-best pass defense based on total yards allowed (169.3 per game) but one that has only a modest six sacks, tied for No. 13 in the league. It's interesting to note that Cutler and the Bears will match wits against Giants defensive coordinator Perry Fewell, who spurned an offer to become defensive coordinator in Chicago this year and went to New York instead.

NFL SCOREBOARD
Thursday, 8/21
Friday, 8/22
Saturday, 8/23
Sunday, 8/24
WEEKLY LEADERS