NFL Nation:

Final Word NFC 2010 Week 5
October, 8, 2010
10/08/10
4:02
PM ET
»
NFC Final Word
:
East
|
West
|
North
|
South
»
AFC
:
East
|
West
|
North
|
South
Five nuggets of knowledge about Week 5:
[+] Enlarge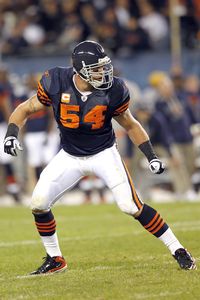 AP Photo/Paul SpinelliBrian Urlacher and the Chicago Bears defense are currently ranked No. 6 against the run.
Playing it safe.
After a week of teeth-gnashing about last Sunday night's 10-sack disaster, the Bears would be well-advised to play it safe this week on offense and rely on a defense that has played at a high level all season. Backup
Todd Collins
will replace starter
Jay Cutler
(concussion), and it's possible the Bears will shake up their offensive line for the third time in five games. Anything other than an offensive scaleback is asking for trouble against a
Carolina Panthers
team that has scored only 46 points in four games and overall ranks as the third-worst offense in the NFL. The Bears' defense figures to match up well, especially when you remember that defensive end
Julius Peppers
should be highly motivated against his former team. The quickest way to disaster would be for the Bears' offense to hand the Panthers some easy scores. Offensive coordinator Mike Martz will surely realize that point and react appropriately.
Nice spread.
Green Bay Packers
quarterback
Aaron Rodgers
provided an honest assessment
last week of his team's offense, suggesting it is best suited in a spread formation that ensured its top skill players were on the field as much as possible.
It was a reasonable nod to the Packers' ineffective run game since
Ryan Grant
's season-ending injury, and they would be smart to re-implement it Sunday against the
Washington Redskins
. Through four games, the Redskins have the second-worst pass defense in the NFL. Opponents are completing 66.4 percent of their passes for an average of 305 yards per game. The best way to ensure a victory Sunday might be to follow the plan they used two weeks ago against the
Chicago Bears
, controlling the clock with their passing game and limiting the opportunities for the Redskins to test their injury-wracked defense.
Staying the course
. The
Detroit Lions
must defeat the
St. Louis Rams
to continue along their current path of improvement. A reasonable observer can excuse three road losses to divisional foes, as well as a three-point loss to
Michael Vick
and the
Philadelphia Eagles
. And it's true that the Rams have already won two games this year and are getting surprisingly mature play from rookie quarterback
Sam Bradford
. But a team that believes it's moving in the right direction should beat this Rams team at home, and I doubt there is a soul in the Lions' organization who thinks otherwise.
Current lines have the Lions as three-point favorites
, and it's one they should -- and need -- to win.
Moss likes the big stage.
New
Minnesota Vikings
receiver
Randy Moss
didn't catch a pass in his final game with the
New England Patriots
last Monday night. But that quiet evening was an aberration relative to his usual production on "Monday Night Football." In his 16 previous Monday night games -- the equivalent of a regular season -- Moss caught 92 passes for 1,477 yards and 16 touchdowns. Among those scores were nine touchdown receptions of 25 or more yards. Knowing Moss' history in so-called "spectacle games" and his giddy return to the Vikings, it's hard to imagine him having another quiet evening this Monday night. The
New York Jets
have their choice of cornerbacks to match up with him, but Moss' determination to make an explosive first impression should not be underestimated -- no matter the competition.
The other returning receiver:
With all of the hoopla surrounding Moss this week, the return of another receiver has gone almost unnoticed. The Jets will have the services of
Santonio Holmes
for the first time this season, giving them a downfield weapon against a Vikings defense that continues to undergo personnel flux. The Vikings are limiting teams to 189 passing yards per game, the eighth-best mark in the NFL, even with multiple cornerbacks nursing injuries. This week, rookie cornerback
Chris Cook
hasn't practiced because of a knee injury that also cost him the first two games of this year. Cook worked as the Vikings' nickelback in their Sept. 26 victory over the Lions, and if he misses Monday night's game, the Vikings will once again be short-handed. You can expect the Jets to notice.
October, 8, 2010
10/08/10
4:02
PM ET
»
NFC Final Word
:
East
|
West
|
North
|
South
»
AFC
:
East
|
West
|
North
|
South
Five nuggets of knowledge about Week 5:
Dialing up pressure.
The
San Francisco 49ers
must do a better job getting pressure when they send five or more pass-rushers. Quarterbacks have completed 30 of 40 passes for 359 yards, four touchdowns and a 124.9 rating when San Francisco has brought more than four rushers. No defense has allowed a higher passer rating in those situations, according to ESPN Stats & Information.
Travis LaBoy
hit
Atlanta Falcons
quarterback
Matt Ryan
when the 49ers sent five last week, but Ryan still found
Roddy White
for a 20-yard gain. The 49ers can watch the Eagles to see how it's done. Philadelphia has held passers to a league-low 42.2 rating in those situations.
[+] Enlarge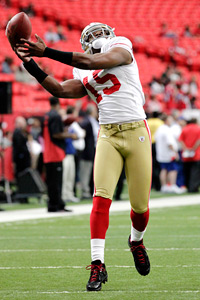 AP Photo/Dave MartinDropping passes has been an issue for Michael Crabtree and several other NFC West receivers.
Dropping the ball.
NFC West quarterbacks need all the help they can get. Surer hands would rank high on their wish lists. The division has suffered from 36 dropped passes through four weeks, more than any division. The AFC East has a slightly higher drop rate (7.1 percent to 6.6 percent), but that is little consolation. Drops could play a role in games involving NFC West teams in Week 5. The 49ers' opponent, Philadelphia, ranks tied for the league high with 13 drops, same as the Rams' opponent, Detroit. The Rams rank third with 12 drops. The Seahawks rank fifth with 10 and the Cardinals are tied for eighth with eight. NFC West wide receivers
Mark Clayton
of the Rams (3),
Michael Crabtree
of the Niners (3),
Mike Williams
of the Seahawks (3) and
Deon Butler
of the Seahawks (3) rank among the league leaders this season, according to ESPN Stats & Information.
The great outside.
Sam Bradford
plays home games indoors and he'll be in a dome against Detroit in Week 5, but the Lions should worry about him doing damage outside. Outside the pocket, that is. Bradford ranks seventh among NFL quarterbacks with a 100.7 rating on passes thrown from outside the pocket (minimum four attempts), according to ESPN Stats & Information. He has completed 15 of 24 such passes. Both figures are league highs. One potential concern for Bradford was that he might prematurely and unnecessarily bail from the pocket, where quarterbacks generally must do most of their damage. Bradford still must do better from within the pocket. He has four touchdown passes, six interceptions and a 68.2 rating from there. That figure ranks 31st in the league among players with at least 20 attempts (
Alex Smith
is 32nd and
Derek Anderson
ranks 39th, which is last).
Winning one on the road.
Arizona owns the only road victory by an NFC West team this season, and that one came against St. Louis in Week 1. The Rams have shown improvement lately, but are they good enough to win a road game against a below-average team? They did win at Detroit last season. Beating the Lions on the road Sunday would help the Rams make up for ground lost when they fell to the Cardinals at home. It would give them a 3-2 record overall and 1-1 record on the road, with a trip to Tampa Bay in two weeks. This is the sort of game the Rams should win if they're going to transition from merely competitive to contending within the division.
Beanie Wells Watch.
The last time an NFC West team tangled with the defending Super Bowl champs, San Francisco amassed more than 400 yards against New Orleans in Week 2, led by a punishing ground game. The Cardinals should try to follow a similar plan against the Saints, who allowed 344 yards rushing over a two-week period in games against Atlanta and San Francisco. Arizona has the personnel with running backs
Tim Hightower
and Beanie Wells. The latter hasn't done much this season and he spoke out about his role, a move that probably didn't help his standing with coaches. But everyone knows Wells has talent. The offense seems to perk up when he gets a chance to run the ball. One question is whether Arizona's defense can keep the Cardinals close enough to stick with the ground game. Given the quarterback situation in Arizona, however, a strong rushing attack seems imperative. The Saints allowed at least 132 yards rushing in half their 2009 regular-season games.
October, 8, 2010
10/08/10
4:01
PM ET
By
Matt Mosley
| ESPN.com
»
NFC Final Word
:
East
|
West
|
North
|
South
»
AFC
:
East
|
West
|
North
|
South
Five nuggets of knowledge about Week 5:
The Giants' sad march through the AFC South continues.
The
New York Giants
were hammered on the road in Indianapolis and then self-destructed at home against the
Tennessee Titans
. On Sunday, they'll have a chance to match up against the
Houston Texans
. The
Dallas Cowboys
exposed some flaws in the Texans' high-powered offense. Those flaws have a lot to do with an offensive line that is missing its starting left tackle. I think the Giants will try to repackage what worked for them against
Jay Cutler
last Sunday night.
Matt Schaub
doesn't hold the ball as long as Cutler, but Cowboys outside linebacker
DeMarcus Ware
showed that he can be had. The Bears didn't have a running game, which helped the Giants make them one-dimensional from the start. The Texans love to run the ball, so the first priority will be eliminating the cutback lanes for
Arian Foster
. This is a game where
Clint Sintim
and
Jonathan Goff
need to come up big. If you overpursue Foster, he'll put a 60-yard touchdown on you in a hurry.
[+] Enlarge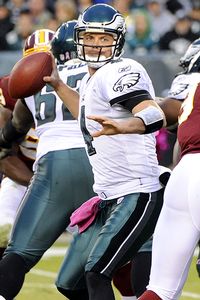 Howard Smith/US PresswireKevin Kolb will get his second chance at starting for the Eagles Sunday against the 49ers.
Mike Shanahan will unveil the Ryan Torain show against the Packers:
The Redskins must keep Packers quarterback
Aaron Rodgers
off the field Sunday as much as possible. If they can feed the ball to Torain in the power running game at least 20 times, it will lead to good things. Torain has durability issues, but you had to love how he planted
Quintin Mikell
on his back last Sunday (unless you're an Eagles fan). Torain will have to be patient against a Packers defense that likely will try to run blitz him early in the game. Having
Trent Williams
back should help the Skins run to the left side. I've really enjoyed watching him deliver some of those roll blocks on the backside that Shanahan loves. Trent Williams and
Doug Free
are playing like the two best left tackles in the division right now.
Kevin Kolb can't win this game in one series.
I know Kolb was excited about the opportunity to get a full week of practice reps as the starter this week. He performed well under similar circumstances against the Saints and Chiefs while filling in for an injured
Donovan McNabb
in 2009. This is a different feeling for him, though, because he began the season as the starter. Kolb must guard against trying to do too much early in this game. He'll certainly need to throw the ball downfield more than he did against the Redskins, but he'll have to pick his spots. Reid needs to trust in his quarterback and try to put him in good situations. Kolb's biggest strength is his accuracy, so it will be important to connect with
LeSean McCoy
(he practiced some today) and tight end
Brent Celek
early in the game to gain some confidence and rhythm.
Cowboys must gang tackle Chris Johnson.
You'll see the Cowboys leave defensive ends
Marcus Spears
and
Igor Olshansky
on the field a lot more than usual to guard against the run. Johnson's one of the most explosive runners in the game, but he's having a down season by his standards. (
Check out AFC South blogger Paul Kuharsky's breakdown of Johnson
.) The Cowboys must play under control against him and not let him bounce outside. The play of safeties
Gerald Sensabaugh
and
Alan Ball
will be really important. They can't afford to arm tackle Johnson. You must tackle him low or hold him up so that help can arrive. The Cowboys will likely have a spy assigned to
Vince Young
because he's capable of taking off on long runs. There will be a ton of Texas Longhorn fans at Cowboys Stadium, so he'll want to put on a show.
Welcome back to the division, Shawn Andrews.
Former Eagles Pro Bowl guard Andrews likely will get his first start since the 2008 season. He has played well for the Giants in brief stints this season, but now he'll have a chance to line up at left tackle. I visited with Andrews after the Titans game and he seems to have an excellent mindset. Even some of the Eagles players who were frustrated by his perceived lack of desire in Philly still talk about his remarkable talent. Andrews still wants to be one of the best linemen in the game, and he's young enough to give it a go. It all starts Sunday against the Texans.