NFL Nation:

Final Word NFC 2010 Week 7
October, 22, 2010
10/22/10
4:02
PM ET
»
NFC Final Word
:
East
|
West
|
North
|
South
»
AFC
:
East
|
West
|
North
|
South
Five nuggets of knowledge about Week 7:
[+] Enlarge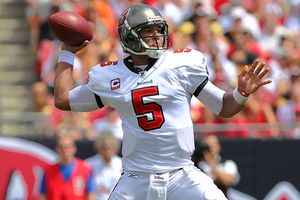 Kim Klement/US PresswireThrough five games this season, Josh Freeman has completed 59.1 percent of his passes and thrown for over 1,000 yards.
Air it out.
There's a lot of talk about Tampa Bay's struggles in the running game. It's all valid because
Cadillac Williams
hasn't been able to do much of anything. People are suggesting the Bucs should turn to undrafted rookie
LeGarrette Blount
or move
Earnest Graham
from fullback to tailback. Do you really think either of those moves is going to fix the running game? I have another suggestion: Let quarterback
Josh Freeman
throw the heck out of the ball. This kid's been pretty good so far and keeps getting better. He has a nice group of young wide receivers and a great tight end in
Kellen Winslow
. I know balance is supposed to be an important concept in an offense. But if you're not getting anything out of the running game, why bother? At least in the short term, let Freeman throw 35 or 40 times. If he does it well enough, the Bucs can gradually sneak the running game back into the offense because defenses won't be looking for it.
Stepping back?
With Cincinnati coming to town with receivers
Chad Ochocinco
and
Terrell Owens
, I'm curious to see how Atlanta's defense responds. This unit had been playing well up until last week's loss in Philadelphia. It looks like the Falcons will be without injured cornerback
Dunta Robinson
and linebacker
Sean Weatherspoon
. Remember, those were the guys the Falcons added to this defense in the offseason. Their speed and aggressiveness helped during the Falcons' four-game winning streak. Can the Falcons continue to play that way without them or do they suddenly become last year's defense again?
Breakout game.
When you think about Carolina wide receiver
Steve Smith
, you need to think a little differently because Smith is different. There's a lot of frustration in Carolina. But, in Smith's case, frustration might be a good thing. He's coming back from an ankle injury that forced him to miss one game, and the quarterback chaos limited his production before that. But Smith is one of the league's more competitive players. He's way overdue for a breakout game. Against a struggling San Francisco team, it could happen if
Matt Moore
can just get the ball into Smith's hands a few times.
Sitting pretty.
Are the Saints for real? Even though they beat up on the Bucs last week, we really don't know because we don't know how good the Bucs are. But here's what we do know: The Saints are 4-2 and have Cleveland coming into the Superdome. Even though the Saints have some injuries, there is no reason they shouldn't come out of this at 5-2. They have a Sunday night game with Pittsburgh on Oct. 31. After that, they don't play another team that presents a serious challenge until Baltimore on Dec. 19.
Count on it.
Most of you know I generally stay away from predictions. But I'm going to make one here. I'm saying New Orleans'
Marques Colston
scores his first touchdown of the season Sunday. This guy is too good to stay quiet.
October, 22, 2010
10/22/10
4:02
PM ET
»
NFC Final Word
:
East
|
West
|
North
|
South
»
AFC
:
East
|
West
|
North
|
South
Five nuggets of knowledge about Week 7:
[+] Enlarge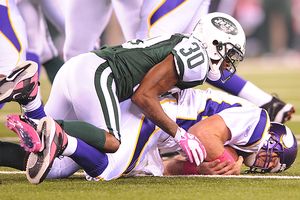 Kevin P. Coughlin/Icon SMIBrett Favre has already been sacked 13 times.
Favre vs. the blitz:
According to unofficial press box totals,
Minnesota Vikings
quarterback
Brett Favre
has taken 29 hits in five games this season, including 13 sacks. He has reacted poorly to the blitz, throwing three interceptions among 60 attempts against five or more pass-rushers, and would seem vulnerable to the kind of heavy but unpredictable pass rush that Packers defensive coordinator Dom Capers usually designs. But will Capers pull the trigger? As we noted Thursday, he blitzed on only about 30 percent of the Vikings' pass plays during two games last season. That's on par with his tendencies this season; according to ESPN Stats & Information, Capers has blitzed on about 29.3 percent of Packers opponents' pass plays. It will be interesting to see if Capers thinks he can get to Favre with a standard rush and devote maximum players to coverage, or if he gets more aggressive with the rush.
Rodgers vs. the blitz:
Packers quarterback
Aaron Rodgers
has taken nine sacks in his past two games and will be facing the team that sacked him 14 times in two games last season. Green Bay isn't expected to have veteran right tackle
Mark Tauscher
, meaning rookie
Bryan Bulaga
will face Vikings defensive end
Ray Edwards
, and
Chad Clifton
will be matched up against All-Pro
Jared Allen
. But the Vikings' pass rush hasn't been piling up nearly as many sacks this season, and Minnesota enters this game tied for the second-lowest total (six) in the NFL. Allen, who had 7.5 sacks in two games against the Packers last season, has one sack this year. Clifton didn't play in the teams' first matchup last season and has typically held his own against Allen. So we'll find out whether the Packers' pass protection has improved, or if the Vikings' has regressed, or both. Or neither. Stay tuned.
Full moon:
You know what happened the last time
Randy Moss
was in Green Bay. We'll call it "Moon over Lambeau." That 2004 playoff incident probably overshadows what has been an amazing career against the Packers. In 14 games against them from 1998 to 2004, Moss had 70 receptions for 1,313 yards and 14 touchdowns. He has three 150-plus yard games against Green Bay. More than anything, it will be interesting to see whether Favre has enough time to set up some downfield passes for Moss, or if they'll need to get it into his hands via shorter routes.
Run, Martz, run.
After all of the heat he took for abandoning the run game last weekend against the
Seattle Seahawks
, you wonder how much
Chicago Bears
offensive coordinator Mike Martz will be tempted to use it Sunday against the
Washington Redskins
. The Redskins have the NFL's second-worst pass defense. They're allowing an average of 298 yards per game, and opponents are averaging an NFL-high 43.8 attempts per game against them. If they keep up this pace, the Redskins will break the NFL record for most passing yards allowed in a season. Will Martz try to capitalize on that apparent vulnerability? Or will he recognize his offensive line's inexperience, play it safer and limit the Redskins' opportunities to rush the passer? Ah, temptation....
Gun shy.
Intuitively, it makes sense that the Bears should use the shotgun formation to give quarterback
Jay Cutler
additional separation from pass-rushers. But according to ESPN Stats & Information, the Bears have used the shotgun an NFL-low 42 times this season. Why? They've been sacked seven times in that small sample of plays, the highest rate of any NFL team, and have the league's lowest completion percentage out of the shotgun. The average NFL team is sacked once for almost 20 shotgun formations. What it means: More than the shotgun, the key to escaping a pass rush is quicker drops and moving the pocket. In this case, the shotgun might actually encourage a slower-developing play.
October, 22, 2010
10/22/10
4:01
PM ET
By
Matt Mosley
| ESPN.com
»
NFC Final Word
:
East
|
West
|
North
|
South
»
AFC
:
East
|
West
|
North
|
South
Five nuggets of knowledge about the Week 7 games.
Can Kevin Kolb stay on a roll against an opportunistic defense?
You can throw for a lot of yards against the Titans, as the Giants and Cowboys showed. But the Titans' secondary is good at keeping teams out of the end zone. They've only given up six passing touchdowns this season and they have a knack for making plays in the red zone, as Giants running back
Ahmad Bradshaw
knows all too well.
Cortland Finnegan
is one of the more underrated cornerbacks in the league, but I think
Jeremy Maclin
can get open against him. If the Titans sell out to stop Maclin, Kolb will look for
Jason Avant
and
Brent Celek
. Against a quick defensive line --
Dave Ball
and
Jason Babin
have been outstanding -- Kolb will have to unload the ball quickly.
LeSean McCoy
has emerged as a big-time threat in the passing game, so look for him to try to get in matchups with former teammate
Will Witherspoon
in space. In a hostile environment, it's imperative that the Eagles have their quick game working early. I think Avant will be open on some drag routes because the Titans' safeties will let him cross their faces. If the Eagles have one turnover or less, I think they'll win. The Titans feed off defensive takeaways. When they don't happen, this can look like a pretty ordinary team.
[+] Enlarge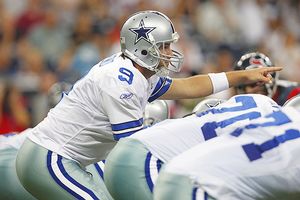 Aaron M. Sprecher/Icon SMITony Romo may lean heavily on the short-passign game to keep the Giants' defensive line at bay.
The Cowboys must be aware of Justin Tuck and Osi Umenyiora at all times.
Umenyiora has turned into the same beast we remember from '07. The Cowboys are going to have to help
Marc Colombo
against Umenyiora because of his speed and ability to get low around the edge. The former Pro Bowler has eight sacks and a staggering seven forced fumbles on the season. When
Mathias Kiwanuka
went down with a neck injury following the Titans game, Umenyiora raised his level of play significantly. And as Justin Tuck likes to point out, defensive tackle
Barry Cofield
is having a remarkable season. It's a good thing the Giants weren't able to complete that draft-day trade with him. Cowboys quarterback
Tony Romo
has great respect for the Giants' defensive line, and that's why you'll likely see a steady dose of screens again this week. I do think Romo will try to see if he can get Witten matched up against Giants middle linebacker
Jonathan Goff
early in this game. By the way,
Hakeem Nicks
(hamstring) and Tuck (ankle) missed Friday's practice,
but they're both expected to play
.
The Redskins can't fall asleep in the secondary.
You would hope the Skins have watched film of what the Giants did to the Bears three weeks ago.
Jay Cutler
was under siege from the opening snap of that game. He's really bad about holding the ball too long. If outside linebackers
Brian Orakpo
and
Lorenzo Alexander
can make Cutler uncomfortable, he's a mistake waiting to happen. This is a game where you always must be looking for the strip. The Bears killed the Cowboys by dumping the ball to
Matt Forte
and
Devin Hester
in the quick passing game. That set up a deep ball to
Johnny Knox
. The Bears don't have possession receivers, but they do have wideouts who can fly.
Kareem Moore
and
LaRon Landry
must make sure they're getting proper depth. And
DeAngelo Hall
must stop questioning his coaches long enough to have his head in the game Sunday and not give up any deep balls.
Can the Cowboys cut down on their penalties against the Giants?
Coach Wade Phillips hired officials for practice this week in an effort to identify some of the problems. The Cowboys lead the league by averaging 80.8 yards per game from penalties. They're called for nearly 10 penalties per game. The Giants were on a similar pace earlier in the season, but they've eliminated some of those mistakes. All this talk about how well the Cowboys have played from Phillips and Jerry Jones is falling on deaf ears. If they have 10 penalties against the Giants on Monday, I think they'll lose.
Eagles linebackers must be on their game against Titans RB Chris Johnson.
The Eagles were solid against
Frank Gore
and
Michael Turner
, but they realize that Johnson has a different gear. He's having a down year by his ridiculous standards, but he's still capable of going off for 170 yards and three touchdowns against pretty much any defense in the league. Defensive coordinator
Sean McDermott
has preached the importance of "gap-sound" football this week in practice.
"As soon as you think you have him stopped, he cuts it back and he hits a seam and he's off to the races," McDermott told reporters Thursday.
The Titans are the rare team that will stay with the running game if they fall behind by 10 points or so. Honestly, it's probably worse for the Eagles if
Kerry Collins
starts for
Vince Young
. With Young, you know he's only going to throw the ball about 20 times. Collins is still capable of having a big day in the passing game, though. But the Titans are smart enough never to abandon the running game.
October, 22, 2010
10/22/10
4:00
PM ET
»
NFC Final Word
:
East
|
West
|
North
|
South
»
AFC
:
East
|
West
|
North
|
South
Five nuggets of knowledge about the NFC West in Week 7:
1. Look, over here, a marquee matchup.
Three NFL games this week feature two teams with winning records. One of them, Arizona at Seattle, takes place right here in the NFC West. Don't tell anyone, though. Let's keep the focus on the truly attractive matchups. Much of the country's television audience gets Washington at Chicago in the early game, and who wouldn't want to watch teams with a combined 0-2 record against St. Louis and Seattle? Don't forget to watch New England's game against San Diego later in the day. Hey, the Chargers did keep the final score close against the Rams after falling behind 17-0 by halftime. OK, enough provincial sarcasm for one blog entry. Time to charge forward with a straighter face.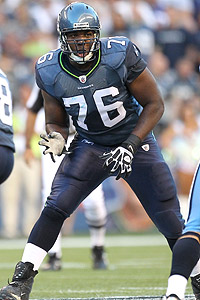 Otto Greule Jr/Getty ImagesRookie Russell Okung has solidified the left tackle position for the Seahawks.
2. The Seahawks have a left tackle.
Russell Okung
is his name. Unlike four of the left tackles Seattle either used or wanted to use last season, Okung remains employed by an NFL team. Okung's presence in the lineup against Arizona spares the Seahawks from the nightmare that befell them against the Cardinals about this time last season. Seattle's projected starting left tackle for 2009,
Walter Jones
, was unavailable and headed for retirement.
Sean Locklear
and
Brandon Frye
had taken turns manning the left tackle spot early in the season, but injuries forced
Kyle Williams
into the lineup for the Arizona game.
Calais Campbell
had 1.5 sacks for the Cardinals in that game and Seattle's offense struggled to function. The Seahawks would later use
Damion McIntosh
as their starter at the position. Jones, Frye, Williams and McIntosh are out of the league.
3. Steven Jackson, for the record.
The Rams' Pro Bowl running back needs 32 yards to pass
Eric Dickerson
as the franchise rushing leader. Seven players have rushed for at least 32 yards in a game against Week 7 opponent Tampa Bay this season: New Orleans'
Chris Ivory
(158), Cincinnati's
Cedric Benson
(144), Pittsburgh's
Rashard Mendenhall
(143), Carolina's
DeAngelo Williams
(54), Cleveland's
Jerome Harrison
(52), Carolina's
Jonathan Stewart
(43) and Cleveland's
Peyton Hillis
(41). The Steelers'
Isaac Redman
came close with 31 yards. In other words, Jackson gets the record one way or another unless he suffers an injury.
4. The 49ers' formula.
Alex Smith
has thrown a league-high nine interceptions this season, but he tossed none last week against Oakland in the 49ers' first victory of the season. Week 7 opponent Carolina lags in just about every statistical category, but the winless Panthers' defense has picked off nine passes, tied for fourth most in the league. Related note: The Rams'
Sam Bradford
has thrown eight interceptions, tied for second most in the league, and the Bucs' defense has picked off 10, one fewer pass than league-leading Atlanta has intercepted.
5. Rookie Qwest.
The Cardinals'
Max Hall
becomes the fifth rookie quarterback to start a game against Seattle at Qwest Field. The previous four --
Josh Freeman
(2009),
Matthew Stafford
(2009),
Troy Smith
(2007) and Alex Smith (2005) -- posted a 1-3 record and combined 57.7 passer rating. Freeman was most impressive, completing 16 of 26 passes for 205 yards, two touchdowns and a 95.8 rating during a 24-7 Bucs victory. Stafford tossed five picks. The two Smiths, Troy and Alex, led offenses that combined for nine points.