NFL Nation:

Final Word NFC 2011 Divisional
January, 13, 2012
1/13/12
1:31
PM ET
»
Divisional Final Word
:
Saints-49ers
|
Broncos-Patriots
|
Texans-Ravens
|
Giants-Packers
Three nuggets of knowledge about Sunday's New York Giants-Green Bay Packers divisional playoff game:
[+] Enlarge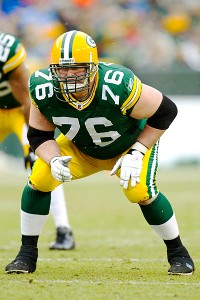 Jeff Hanisch/US PresswireChad Clifton will face one of the league's elite pass rushers in Jason Pierre-Paul.
Home-field advantage:
The playoffs will return to Lambeau Field for the first time in four seasons. The Packers are 15-3 all-time at home in the postseason. They've also won 13 consecutive regular-season games at Lambeau. Over that stretch, which began in Week 7 of last season, the Packers have outscored opponents by an average spread of 37-18 and have a +23 advantage in turnovers. The Giants have won two of their last three games at Lambeau, including the 2007 NFC Championship Game, but have won a total of three games in the state of Wisconsin since 1957. What does all of this mean? The Packers no doubt prefer playing at home over the alternative, but their opponent Sunday can draw on some relatively recent success to minimize the intimidation factor Lambeau would otherwise carry.
Key matchup:
We've spent time this week discussing the challenge facing the Packers' defense. (They are trying to become the first team in NFL history to win the Super Bowl after finishing the regular season with a defense ranked below No. 25 overall, based on total yards allowed.) We've also noted that the Packers have scored 83 points in two games against the Giants in the last 13 months. (All of our coverage is available through
this handy "Giants-Packers" link
.) But one of the most interesting subplots will be the return of Packers left tackle
Chad Clifton
to full-time duty -- just in time to face one of the NFL's top players in 2011. Giants defensive end
Jason Pierre-Paul
earned first-team All-Pro honors after compiling 16.5 sacks, including six in the Giants' final four regular-season games. Pierre-Paul is expected to start at right end, and when he takes a break or moves elsewhere, the Giants probably will use veteran pass-rusher
Osi Umenyiora
. Clifton hasn't played a full game since Week 4 because of hamstring and back injuries, and at 35 he's giving up 12 years to Pierre-Paul. But Clifton knows every veteran trick in the book, and he has traditionally fared well against elite pass-rushers, most notably
Jared Allen
. The Packers trust Clifton to figure out a way to keep the pass rush away from quarterback
Aaron Rodgers
.
Philbin factor:
After the death of Michael Philbin this week, the NFL community learned just how revered his father is by those who know him. The grief of Packers offensive coordinator Joe Philbin deeply touched the entire organization, and dealing with those emotions was an undeniable part of the team's preparation this week. Coach Mike McCarthy referred to it as a "punch in the heart" and fought back tears during a news conference Wednesday. It's too cliché to speculate whether the tragedy will help or hurt the Packers' mindset when they take the field Sunday, or if it affected their week in a tangible way. But if nothing else, we learned that Joe Philbin is deeply intertwined within the Packers' structure and success.
January, 13, 2012
1/13/12
1:30
PM ET
»
Divisional Final Word
:
Saints-49ers
|
Broncos-Patriots
|
Texans-Ravens
|
Giants-Packers
Three nuggets of knowledge about Saturday's Saints-49ers divisional game:
[+] Enlarge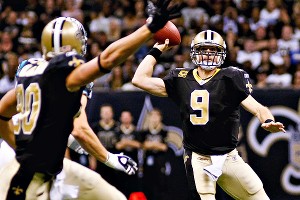 Derick E. Hingle/US PresswireNew Orleans QB Drew Brees has recorded 18 TDs and two interceptions in playoff games.
Cracking the code on Brees:
The 49ers led the NFL in turnover differential at plus-28 this season. They tied for second in interceptions with 23.
Carlos Rogers
,
Dashon Goldson
and
Tarell Brown
have combined for 16. But in Saints quarterback
Drew Brees
, the 49ers are facing the all-time record holder for consecutive postseason passes without a pick. Brees' streak is at 215 pass attempts and counting. This stat, provided by the NFL, seemed improbable. The Saints lost to Seattle in the wild-card round a year ago, after all. But the numbers are even better than the 215-attempt streak would indicate. Brees has 13 TD passes without an interception in his past five playoff games. He has 18 TDs with two INTs in eight career playoff games. Brees last threw a postseason pick during a Jan. 21, 2007 defeat at Chicago. Detroit missed a couple chances in the wild-card round.
About the contrasts in style:
The Saints' 626-yard total against the Lions last week exceeded by 41 yards the 49ers' combined yardage totals for their games against Dallas (206), Seattle in Week 1 (209) and Baltimore (170). Fortunately for the 49ers, the Saints will not have the Dallas, Seattle or Baltimore defenses on their side. The Saints allowed 18 touchdowns in 18 red zone possessions against Green Bay, Chicago, Carolina (Week 5), Tampa Bay (Week 6), Indianapolis, St. Louis and Detroit (wild-card round). Those shortcomings proved critical in defeats to the Packers, Bucs and Rams. The 49ers' red zone touchdown percentage bottomed out during a six-game stretch with only three TDs in 18 such possessions. The 49ers need to build on recent improvement in that area by featuring
Vernon Davis
and their ground game.
If it comes down to a kicker:
We've broken down
this
matchup
from
the
major
angles
. Special teams are another consideration. The 49ers have dominated in that area most of the time. Their kicker,
David Akers
, made the most of the team's red zone issues, setting a league record for field goals in a season. The 49ers battled high-scoring teams to close finishes. If it happens again, the kickers could prove decisive. We know about Akers. He was sensational amid
trying circumstances
. The Saints' kicker,
John Kasay
, has been around, too. He broke into the league with Seattle in 1991. Kasay has made a higher percentage outdoors (14 of 16) than indoors (14 of 18) this season. Those numbers correlate with Kasay's totals on grass (13 of 15) and turf (15 of 19). Kasay has made a higher percentage when the Saints were trailing (7 of 7) than when they were leading (17 of 21). He has made 4 of 6 kicks in fourth quarters, and both misses were from 50-plus yards. Kasay, 42, has made 1 of 4 tries on the road from 50-plus yards. He has attempted two kicks from 40-49 yards in tie games, missing both.
January, 13, 2012
1/13/12
1:30
PM ET
»
Divisional Final Word
:
Saints-49ers
|
Broncos-Patriots
|
Texans-Ravens
|
Giants-Packers
Three nuggets of knowledge about Saturday's Saints-49ers playoff game:
[+] Enlarge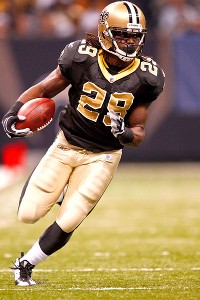 Derick E. Hingle/US PresswireThe Saints run the ball nearly 75 percent of the time when RB Chris Ivory is on the field.
The great outdoors:
There has been a lot of talk about how New Orleans' offense is built for a dome and doesn't play as well outdoors. But some numbers dispute that. According to ESPN Stats & Information, New Orleans quarterback
Drew Brees
completed 61.9 percent of his throws of 21 yards or more down field during the regular season when playing outdoors. In indoor games, Brees completed only 50 percent of his passes of 21 yards or more.
Tipping their hand:
The New Orleans offense can do damage with just about any of its skill-position players. But, in one way, the Saints are predictable. Although the Saints use running backs
Darren Sproles
,
Pierre Thomas
and
Chris Ivory
in a rotation, their roles are pretty well defined. When Sproles is on the field, the Saints have passed on 70.3 percent of their offensive plays. When Thomas has been in the game, the Saints have thrown 68.9 percent of the time. When Ivory has been on the field, the Saints have run 73.4 percent of the time.
Easy on the blitz:
New Orleans defensive coordinator Gregg Williams always has been a very aggressive coach. The Saints blitz more often than any team in the NFL. Including the playoff victory against Detroit, the Saints have sent five or more pass-rushers on 51.3 percent of opponent's dropbacks this season. That's the highest percentage in the league. Williams' goal is to force opposing quarterbacks to make mistakes. But Williams may want to re-think his philosophy when facing San Francisco's
Alex Smith
, who has excelled when facing the blitz this season. When facing five or more pass-rushers, Smith threw 10 touchdowns and just one interception.
January, 13, 2012
1/13/12
1:30
PM ET
»
Divisional Final Word
:
Saints-49ers
|
Broncos-Patriots
|
Texans-Ravens
|
Giants-Packers
Three nuggets of knowledge about Sunday's Giants-Packers divisional round game:
Run, Giants, run:
The Giants, who averaged a league-worst 89.2 rush yards per game in the regular season, ran for 172 in their wild-card round victory over the
Atlanta Falcons
. It was the first time this season that the Giants had rushed for more than 150 yards in a game. According to ESPN Stats & Information, the Giants have won their past 14 games in which they have rushed for at least 150 yards. So although the Week 13 results and the Packers' league-worst pass defense (299.8 yards allowed per game) could tempt
Eli Manning
& Co. into a shootout, the Giants' best bet may be to try to wear down the Packers' run defense, which gave up just 111.8 yards per game on the ground.
[+] Enlarge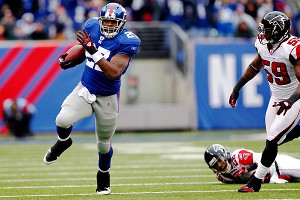 Andrew Mills/US PRESSWIREBrandon Jacobs ran for 92 of the Giants' season-best 172 yards on the ground in the wild-card round.
Vulnerable down the field:
ESPN Stats & Info also reports that the Giants gave up 24 passing touchdowns this year when using five or more defensive backs -- the most in the league while in such formations. Just more proof of why the Giants don't blitz and rely on their front four to pressure the quarterback. They need all the help they can get on the back end of the defense, and in a game like this against
Aaron Rodgers
and his array of weapons, that's more true than ever.
Good playoff omens:
The Packers this year scored 560 points, which is the second-highest single-season total in NFL history. The only team that scored more was the 2007 Patriots, who of course went undefeated until losing in the Super Bowl to the Giants. Also, Manning has three career playoff road wins (all in that 2007-08 postseason, and not counting that Super Bowl victory on a neutral field). If he wins this game, he'll tie the record for the most career playoff road wins, which is shared by Roger Staubach,
Jake Delhomme
,
Mark Sanchez
,
Joe Flacco
and Len Dawson. Flacco's playing at home this weekend, and the rest of those guys are off. Though I guess Delhomme is the Texans' backup, so if
T.J. Yates
got hurt, Delhomme could technically pick up a fifth and make this note moot. Hey, we're covering all bases here.

NFL SCOREBOARD
Thursday, 12/18
Saturday, 12/20
Sunday, 12/21
Monday, 12/22
WEEKLY LEADERS