NFL Nation:

Final Word NFC 2011 Week 6
October, 14, 2011
10/14/11
1:30
PM ET
»
NFC Final Word
:
East
|
West
|
North
|
South
»
AFC
:
East
|
West
|
North
|
South
Five nuggets of knowledge about Week 6
:
Third-down monsters:
The first-place Redskins do a variety of things well on defense. For example, they are holding opponents to a 33.3 percent conversion rate on third downs. That's the best mark in the NFL, according to ESPN Stats & Info. And not only do they hold the line in most big passing situations, they've been able to actually move opponents backwards. The Redskins have recorded a sack on 9.6 percent of opponents' passing plays this season, second in the league only to the Eagles, who are at 9.8 percent. In a lot of ways, the Redskins are the anti-Eagles -- a team that doesn't have as many big names on the roster but wins by minimizing mistakes and adhering to the basics and fundamentals. You know. Like tackling.
[+] Enlarge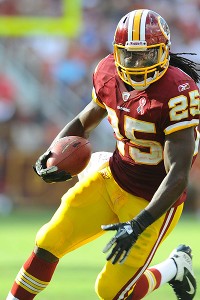 James Lang/US PresswireDon't be surprised if the Redskins use Tim Hightower and their other backs to run up the middle often against the Eagles.
Men in the middle:
How do teams run on the Eagles? Right up the gut. Our Stats & Info Group says only the Titans have had to defend more runs up the middle than have the Eagles this season, and Philly is not doing it well. The Eagles have allowed 449 yards, 6.2 yards per carry, 21 first downs and four touchdowns on runs up the middle. Each of those figures ranks them dead last in the NFL. It's still unclear whether the Redskins will use
Tim Hightower
,
Ryan Torain
or
Roy Helu
as their primary running back in this game, but whoever it is, expect him to run right at the middle of the Eagles' defense.
Screened in:
Buffalo Bills
running back
Fred Jackson
has been one of the breakout stars of this NFL season, and one place he's really sparkled is as a pass receiver in the screen game. Jackson has caught 11 balls for 152 yards on screen passes, according to ESPN Stats & Info, which leads all NFL running backs in both categories. However, he's going to face a tougher test than usual this week, as the Giants have allowed just 22 yards to running backs on screen passes this season. Giants linebackers
Michael Boley
and
Mathias Kiwanuka
are likely a big part of this, as each has the speed and instincts to make plays against running backs in space.
Full strength Boys:
This should be the first time since the early portion of the Week 1 game that the Cowboys have had top receivers
Miles Austin
and
Dez Bryant
on the field and healthy at the same time. This should, obviously, be a benefit to Dallas quarterback
Tony Romo
, as six of his seven touchdown passes this season have gone to either Austin or Bryant. Romo has a completion percentage of 57.9 when targeting Austin or Bryant, versus 67.5 when targeting other receivers. But his yards per attempt are 10.7 when throwing to those two, as opposed to 7.7 when throwing to others. Also, three of his five interceptions have come on passes intended for receivers other than Austin or Bryant.
Ryan will be tryin':
The Patriots have scored at least 30 points in 13 straight regular-season games, which is one short of the record held by the 1999-2000
St. Louis Rams
. The last team to hold New England under 30 was the
Cleveland Browns
in Week 9 of last season. The Browns' defensive coordinator at that time was Rob Ryan, who is now the Cowboys' defensive coordinator.
October, 14, 2011
10/14/11
1:30
PM ET
»
NFC Final Word
:
East
|
West
|
North
|
South
»
AFC
:
East
|
West
|
North
|
South
Five nuggets of knowledge on Week 6:
Stopping Gore:
The
San Francisco 49ers
are 18-7 when running back
Frank Gore
surpasses 100 yards. That will put the
Detroit Lions
' rush defense in the spotlight Sunday at Ford Field after a year spent discussing their offensive firepower. Lions opponents are averaging 4.8 yards per carry, tied for the eighth-highest mark in the NFL. But defensive tackle
Ndamukong Suh
, for one, isn't worried. Suh, who made a key fourth-down stop Monday night against the
Chicago Bears
, had this to say
in his blog on the Lions' website
: "The 49ers are a very conservative offense. They don't take very many risks and that's something that I think is good for us when we shut down what they want to do, which is their run game, and force them into long-yardage situations, get them behind the eight ball and having them have to come back because our offense is putting points on the board and putting points on their defense. That puts them in situations that they don't want to be in. I think that's something great for us to have, it's just a matter of us going out and executing and putting them in those tough situations."
[+] Enlarge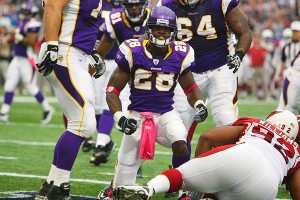 Brace Hemmelgarn/US PresswireAdrian Peterson could be in for a big day against a Bears defense that's allowing 135.8 rushing yards per game this season.
Peterson's chance:
Minnesota Vikings
tailback
Adrian Peterson
had one of the best games of his life at Soldier Field in 2007, rushing for 224 yards and three touchdowns. Peterson probably won't eclipse the 200-yard mark Sunday night against the Chicago Bears, but he has a chance for a big game nonetheless. The Bears are uncharacteristically allowing 135.8 rushing yards per game this season, the fifth-worst mark in the NFL, and a league-high 5.7 yards per carry. Peterson hasn't hit 100 yards in his past three outings against the Bears, but he appears more determined than ever to carry the Vikings' offense. The Bears have swapped out both of their starting safeties, presumably hoping that
Major Wright
and
Chris Conte
can provide better open-field tackling if Peterson breaks into the secondary. The Vikings' pass offense isn't good enough to necessitate wholesale lineup changes. But Wright, for one, didn't generate much confidence in his tackling ability during the preseason.
Slim pickins:
We've spent plenty of time discussing the Bears' presumed advantage at Soldier Field, and nowhere is it more apparent than in their recent games against the Vikings. The Bears have won nine of their last 10 home games against them, including a 2002 matchup in Champaign, Ill. The only Vikings victory over that period came in 2007, a 34-31 game that required that 224-yard rushing effort from Peterson as well as a 54-yard field goal from place-kicker
Ryan Longwell
as time expired. I suppose there are a number of possible explanations, but here's the simplest: The Vikings, who have played at least half their games indoors and on artificial turf since 1982, don't make a good adjustment to painted dirt/torn-up grass.
Field day:
ESPN's analytics team better warm up its Total Quarterback Rating computers.
Green Bay Packers
quarterback
Aaron Rodgers
is gearing up to face a
St. Louis Rams
team that has already lost its top three cornerbacks for the season. Two Packers castoffs,
Al Harris
and
Josh Gordy
, could be among the Rams' top three cornerbacks in Sunday's game. The Rams have tried to make up for their personnel deficiencies by blitzing defensive backs on an NFL-high 27.5 percent of opponents drop backs, according to ESPN Stats & Information. Good luck with that strategy against Rodgers, who is completing a league-high 80 percent of his passes against blitzes from defensive backs this season. His QBR on those plays is 96.0, also an NFL best. Sometimes the NFL offers surprises just when you think one team has another completely out-classed, but I don't know that Sunday at Lambeau Field will be one of those times.
Matthews breakout?
Everyone has a right to their own opinion about the one-sack season of Packers linebacker
Clay Matthews
. But I think we'll be able to cast a more critical eye if Matthews doesn't make an impact Sunday against the Rams' hapless pass protection. Quarterback
Sam Bradford
has been sacked 18 times, tied for the NFL high even though the Rams have played only four games. And when under duress, based on the definition of ESPN Stats & Information, Bradford has completed only four of 35 passes. A lot goes into getting a sack, but porous pass protection is a pretty good start.
October, 14, 2011
10/14/11
1:30
PM ET
»
NFC Final Word
:
East
|
West
|
North
|
South
»
AFC
:
East
|
West
|
North
|
South
Five nuggets of knowledge about Week 6:
Road trip ending:
It hasn't drawn a lot of attention, and part of that is because the opponents weren't marquee teams, but the Saints wrap up a series of three straight road games Sunday at Tampa Bay. They've won at Jacksonville and Carolina. If they can do the same against the Bucs, it will be a major accomplishment. Winning on the road is a big deal in the NFL. If the Saints can get this one, they'll be 3-1 on the road (they lost the opener at Green Bay) and they have a bunch of home games coming up.
[+] Enlarge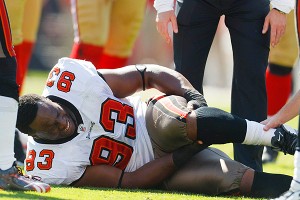 Jason O. Watson/US PresswireBucs defensive tackle Gerald McCoy, who hurt his ankle in Week 5, is expected to miss Sunday's game against New Orleans.
Next man up?
Injuries are starting to catch up to Tampa Bay. Defensive tackle
Gerald McCoy
(ankle) and running back
LeGarrette Blount
appear likely to miss Sunday's game. Tampa Bay is still in the middle of building through a youth movement, and that means this team doesn't have a lot of depth.
Frank Okam
and
Da'Quan Bowers
will rotate in McCoy's spot, but there will be a drop-off. The drop-off will be even more apparent at running back.
Earnest Graham
is a competent role player as a third-down back and fullback. But he'll be asked to take on Blount's role as the feature back, and Graham no longer has the tools to handle that job. It's hindsight, but there's no doubt the Bucs should have invested the money in the offseason to find a quality backup for Blount.
The corner is in reach
. It's become very obvious the
Carolina Panthers
are a team on the rise. They've lost a series of close games and rookie quarterback
Cam Newton
has made them very competitive. The Panthers are 1-4, but you can sense they're close to turning the corner. A win this week would be a major stride, and it's not out of the question. Atlanta is very talented, but the Falcons are struggling. If Carolina can come out of this with a win, it could be a catalyst for a strong second half of the season.
Must win?
The Falcons have been one of the league's biggest disappointments. But you look at their roster and it's not hard to imagine them snapping their slump at any time and going on a strong run that could put them in the playoffs. If that's going to happen, the Falcons need to win this game. They're 2-3. If they fall to 2-4, they might be in a hole that's too deep to escape.
Critical stretch
. The next few weeks could determine how Tampa Bay fares this season. The Bucs had an ugly 48-3 loss to San Francisco last week. They're hosting a very tough New Orleans team this week. After that, the Bucs will leave Monday for London to play a "home'' game against the Bears. They get a bye week after that, but then have to face the Saints in New Orleans. Tampa Bay is 3-2, but the Bucs haven't played consistently well and haven't had an impressive victory yet. If the Bucs can just keep their heads above water, and win a game or two in the next three, they'll be very much in the playoff picture. If they don't, they might not have a shot at the playoffs.
October, 14, 2011
10/14/11
1:30
PM ET
»
NFC Final Word
:
East
|
West
|
North
|
South
»
AFC
:
East
|
West
|
North
|
South
Five nuggets of knowledge about Week 6:
Putting Carlos Rogers to the test.
Detroit's Jim Schwartz and San Francisco's Jim Harbaugh pointed to the 49ers' front seven when asked why the team has improved in its secondary. The 49ers have had a strong front seven for years, however, so clearly something else is different. Doug Clawson of ESPN Stats & Information passes along this note: Rogers, new to the 49ers this season, leads NFL defensive backs with three picks on passes traveling more than 10 yards downfield. The 49ers allowed 10 touchdowns with six interceptions on these throws last season. The ratio is two touchdowns to seven picks this season. Let's see if the trend holds against the Lions.
Matt Stafford
is tied with
Aaron Rodgers
for the most scoring passes on these throws. He has seven, five to
Calvin Johnson
.
[+] Enlarge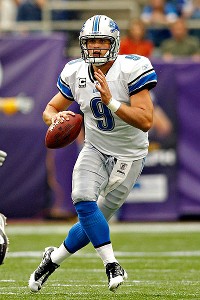 Bruce Kluckhohn/US PresswireThe Lions' Matthew Stafford, among the league's best passers on first downs, has had some trouble producing on third downs.
Attacking the Lions on third down.
Stafford has seven touchdown passes with only one interception on first down this season, matching Rodgers for the best totals in the league. The production hasn't been there on third down. Stafford has completed only 50.9 percent of his third-down passes with two touchdowns, two interceptions and weak efficiency numbers (22.3 Total QBR, 71.3 NFL passer rating). The absence of a conventional ground game could, in theory, set up more third-and-long situations. Stafford ranks among the NFL's top three in touchdowns (two) and passes gaining at least 30 yards (three) on third-and-8 or longer, but his first-down percentage on these plays (26.9) ranks only 15th.
Watch for the play-action game.
The Lions have thrown out of the shotgun formation more times than any team in the league. They also hand off from the shotgun, keeping teams honest enough for Stafford to lead the NFL in play-action passing in these three areas: completion percentage (80.0), Total QBR (97.5) and NFL passer rating (150.4). The 49ers rank fifth in completion percentage allowed against play-action (53.8), but only 28th in yards per attempt (10.5) and 31st in yards per reception (19.1). Why? The Dallas Cowboys set up their 77-yard overtime reception against the 49ers in Week 2 with a play-action fake that worked beautifully.
Mismatch of all mismatches.
The
Green Bay Packers
have scored more points in third quarters (49) than the
St. Louis Rams
have scored in all their games combined (46). Second quarters are often when teams hit their stride on offense. The Rams have only three second-quarter points all season. Green Bay has 44. Sure, the Packers have played one additional game, but that doesn't begin to account for the disparity. The Packers scored more points against Denver in Week 4 (49) than the Rams have scored this season.
Clay Matthews alert.
The Rams'
Sam Bradford
has absorbed 18 sacks through four games, putting him on pace to take 72 of them over the season. That would rank tied for second in the sack era (since 1982) with
Randall Cunningham
, three behind
David Carr
's record. The Packers' Matthews has only one sack through five games. He had 8.5 sacks at this point last season thanks to a pair of three-sack games. What's up? The Packers are using more three-man rushes.
Cullen Jenkins
is no longer around to attract attention from opposing lines. Matthews has also been dealing with a quadriceps injury. Might this be his get-well game?