NFL Nation:

Final Word NFC 2011 Week 8
October, 28, 2011
10/28/11
1:30
PM ET
»
NFC Final Word
:
East
|
West
|
North
|
South
»
AFC
:
East
|
West
|
North
|
South
Five nuggets of knowledge on Week 8, which includes byes for the Green Bay Packers and Chicago Bears:
Critical juncture:
The
Detroit Lions
have reached what might be the defining period of their season. (Too dramatic? Time will tell, I guess.) They opened 2011 displaying the explosiveness and swagger that many of us thought they possessed; their 5-0 start put them in excellent position to make a playoff run. But consecutive losses suggest the NFL has caught up to some of what they were doing, a pretty normal occurrence over the course of a season. So do the Lions have a counterpunch, both schematically and psychologically? Or are they destined to settle in as an average team? Bouncing back against the
Denver Broncos
, who are 2-4 but riding the
Tim Tebow
wave, would give us an early answer to that question.
[+] Enlarge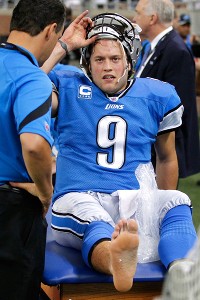 Gregory Shamus/Getty ImagesMatthew Stafford might be playing with a tender ankle, but faces a favorable matchup against the Broncos.
Straightening out Stafford:
All indications are that Lions quarterback
Matthew Stafford
will start despite an injured right ankle. Assuming he does, Stafford should face favorable conditions for rectifying his below-standard play the past two weeks. To be clear, Stafford hasn't been awful.
Total Quarterback Rating
tells us he played like a top-10 quarterback in the season's first five weeks but was essentially average in weeks 6 and 7. Broncos opponents are completing 68 percent of their passes and have a 104.2 passer rating, in both cases the second-highest total in the league. The Broncos have only three interceptions and are giving up 25.8 points per game, the fourth-worst total in the league. You hate to forecast a game based solely on past performance. So let's just say the Lions appear to have a good opportunity to right themselves Sunday in Denver.
Facing Tebow:
Sunday will mark the NFC North's first extended regular-season meeting with Tebow. We can't let that opportunity pass in Final Word, can we? Here's all you need to know about the good and bad of the Broncos' new starter. Based on video review, ESPN Stats & Information has classified 14 of his 37 passes in 2011 as either an underthrow or an overthrow. That inaccuracy percentage of 37.8 is the highest in the NFL among quarterbacks with at least 30 attempts. On the other hand, Tebow already has rushed for 96 yards this season. According to ESPN Stats & Information, 66.7 percent of those yards have come after first contact. So the Lions can expect a quarterback who has been better at running through defenders than he is throwing past them. Take that for what you will.
Avoiding history:
The debut of rookie quarterback
Christian Ponder
gave the
Minnesota Vikings
a needed injection of life and competitiveness. But at 1-6, the Vikings have matched the worst start to a season in franchise history. The only team that started 1-7 was Minnesota's first team as an expansion franchise in 1961. That group finished 3-11. These Vikings can't use the expansion excuse, but with Ponder starting in place of veteran
Donovan McNabb
, they can at least argue they are building toward a better tomorrow.
Long history:
There has been plenty of discussion about the Vikings' first game against
Carolina Panthers
quarterback
Cam Newton
, who already has seven rushing touchdowns and has proved to be an effective pocket passer as well. But it's worth nothing how thoroughly Panthers receiver
Steve Smith
has
torched the Vikings in his career
. Over a span of five games, Smith has caught 30 passes for 525 yards and three touchdowns. Smith has established a quick connection with Newton and is leading the NFL with 818 receiving yards. And as you know, the Vikings have suspended their best cornerback this season (
Chris Cook
) and aren't sure whether veteran
Antoine Winfield
(neck) will be ready for this game. Anchors aweigh.
October, 28, 2011
10/28/11
1:30
PM ET
»
NFC Final Word
:
East
|
West
|
North
|
South
»
AFC
:
East
|
West
|
North
|
South
Five nuggets of knowledge about Week 8:
Trouble getting started:
According to the ESPN Stats & Information Group, a big part of the
New York Giants
' problems running the ball this year have had to do with what happens before their running backs ever get hit. SIG's "next level" stats show that the Giants, who are averaging 3.3 yards per carry this season after averaging 4.6 yards per carry over the previous three seasons, are only gaining 1.6 yards per rush before initial contact. The league average of yards per carry before contact is 2.4, and only the
Cleveland Browns
(1.3) have a lower number in this category than the Giants do in 2011. Makes you think that maybe
Ahmad Bradshaw
's complaints about the offensive line weren't far off.
When is home not really home?:
The
Buffalo Bills
have a 3-0 record at home this season, but this week's game against the
Washington Redskins
is in Toronto. It's the fourth year in a row the Bills have played a home game in Toronto, and they're 0-3 in the games so far. This is good news for the Redskins, who have lost five straight to the Bills since beating them in Super Bowl XXVI and who haven't won in Buffalo since 1987.
[+] Enlarge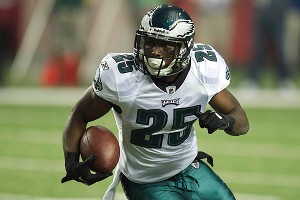 Dale Zanine/US PresswireEagles running back LeSean McCoy is off to a hot start, but faces a Dallas defense ranked No. 1 against the run.
Irresistible force, immovable object:
The
Philadelphia Eagles
rank first in the NFL with 170 rush yards per game, which SIG says would be their highest total for a season since 1950. Star running back
LeSean McCoy
ranks seventh in the league with 569 rush yards, and quarterback
Michael Vick
ranks 21st with 372. However, the
Dallas Cowboys
rank first in the NFL at stopping the run. Dallas allows just 69.7 yards per game on the ground and just 3.3 yards per carry. So it will be interesting to see which side wins out -- and especially interesting to see whether the Eagles stay committed to the run if they're not having success with it early.
Keep it safe, Tony:
Cowboys quarterback
Tony Romo
did not throw an interception last week against the Rams, breaking a streak of three straight games in which he'd thrown at least one. Since Romo became the Cowboys' starting quarterback, the team is 17-6 in games in which he does not throw an interception, and 25-19 when he throws at least one. The Eagles have intercepted seven passes in their first six games, but four of those seven came in their most recent game, two weeks ago against
Rex Grossman
and the Redskins.
Touchdown Shady:
McCoy has scored a touchdown in each of the Eagles' first six games this season. He's the first Eagle ever to do that and the first player on any NFL team to do it since 2007, when both
Plaxico Burress
and
T.J. Houshmandzadeh
did it, according to ESPN Stats & Info. The only other running backs in the past 15 years to score touchdowns in each of their team's first six games of a season were
LaDanian Tomlinson
of the Chargers in 2005,
Emmitt Smith
of the Cowboys in 1999 and
Robert Edwards
of the Patriots in 1998. Smith did them all one better, scoring in each of the Cowboys' first seven games that season.
October, 28, 2011
10/28/11
1:30
PM ET
»
NFC Final Word
:
East
|
West
|
North
|
South
»
AFC
:
East
|
West
|
North
|
South
Five nuggets of knowledge for Week 8:
Running into defensive walls:
Every NFC West team but St. Louis faces an AFC North opponent this week. And, wouldn't you know it, this is the first week since the 1970 merger when one division -- the AFC North -- features the four top defenses in fewest yards allowed (thank you, Elias Sports Bureau). Arizona faces Baltimore's top-ranked defense, allowing 272.7 yards per game. Seattle faces second-ranked Cincinnati (278.5), while San Francisco faces fourth-ranked Cleveland (291.0). How has the AFC North done it? Not without five games, including four victories, against NFC West offenses.
One reason the Rams are winless:
Teams from the NFC East and AFC North have played 14 games against the NFC West. The
St. Louis Rams
have played zero games against the NFC West. They are the only team heading into Week 8 without a division game in their rear-view mirror. That will not change until Week 9. Even at their worst, however, the Rams have often played Week 8 opponent New Orleans tough. The Saints needed a return touchdown for a 28-23 victory over the Rams in 2009, when St. Louis finished 1-15. And in 2007, when the Rams were 3-13, one of their victories was over the Saints.
[+] Enlarge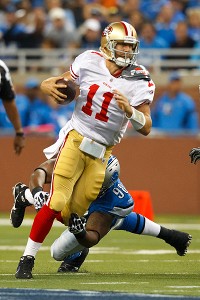 AP Photo/Rick OsentoskiWhen faced with five-plus rushers, 49ers QB Alex Smith has excelled against the pressure this season.
Fraying around the edges:
The 95-yard touchdown pass Arizona allowed to
Mike Wallace
last week followed a pattern for the Cardinals. Wallace caught the ball outside the yard-line numbers, where cornerbacks often find themselves without much help. Arizona is allowing 67.0 percent completions and 9.8 yards per attempt on passes outside the numbers, contributing to a league-worst 95.6 Total QBR on these throws, according to ESPN Stats & Information. The Ravens' offense has struggled on outside throws in recent weeks, but that could be about to change.
Alex Smith beating pressure:
The Browns have sent five or more pass-rushers on better than 46 percent of opponents' dropbacks this season, the fourth-highest rate in the league. Opposing quarterbacks have a 90.9 NFL passer rating when they get rid of the ball against Cleveland in these situations, but 12 sacks in 86 dropbacks have helped the Browns rank ninth in Total QBR allowed (34.9) when they send at least five rushers. The 49ers' Alex Smith trails only
Aaron Rodgers
and
Tom Brady
in completion percentage and NFL passer rating against five-plus rushers, but he has also taken nine sacks, dragging downs his QBR to 52.2, which ranks only 17th.
What's the Bengals' nickel worth?
Something has to give Sunday when the
Seattle Seahawks
flood the field with wide receivers against a Bengals defense that hasn't had its cornerback depth tested much. Seattle ranks 12th in pass plays featuring three or more wide receivers. The Bengals' defense leads the league in fewest yards per pass and carry when opponents use these personnel groupings. However, only four teams have faced fewer dropbacks than the Bengals against three-plus wideouts. That helps explain why
Morgan Trent
(15.5 percent of defensive snaps) and ex-Seahawk
Kelly Jennings
(7.5) are the Bengals' only backup corners to play this season. The Bengals have used three safeties, including backup
Gibril Wilson
, roughly a quarter of the time.
Pacman Jones
' expected activation as the Bengals' third corner adds another dynamic. The Seahawks need to win their matchups when
Sidney Rice
,
Mike Williams
,
Doug Baldwin
,
Ben Obomanu
and/or
Golden Tate
are on the field together. They also need better quarterback play, but that's another conversation.
October, 28, 2011
10/28/11
1:30
PM ET
»
NFC Final Word
:
East
|
West
|
North
|
South
»
AFC
:
East
|
West
|
North
|
South
Five nuggets of knowledge about Week 8 (remember, the Buccaneers and Falcons are on bye):
The Chris Weinke Bowl.
Carolina's
Cam Newton
and Minnesota's
Christian Ponder
will meet in a matchup of rookie quarterbacks, but they have more in common than that. During the lockout, Newton and Ponder worked under the tutelage of Weinke at IMG Academy in Florida. Weinke, who played for Carolina and grew up in Minnesota, obviously was doing something right. Newton's off to a great start, and Ponder has shown some positives since taking over the starting job. By the way, Newton will become the first rookie quarterback since 1967 to face two other first-round quarterbacks from the same draft class. He already faced Jacksonville's
Blaine Gabbert
.
[+] Enlarge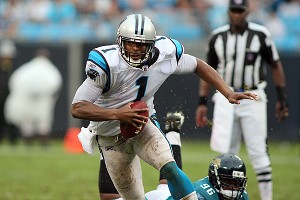 Jeremy Brevard/US PresswireCarolina's Cam Newton already has seven rushing touchdowns this season.
History in the making.
Speaking of Weinke, Newton already has passed him and
Tim Tebow
on the list for most rushing touchdowns by a rookie quarterback since the AFL-NFL merger. Weinke and Tebow each ran for six touchdowns as rookies. Newton already has seven and is tied for No. 1 with
Vince Young
. I'm thinking Young's moving to No. 2 very soon.
Going wide.
As we noted Thursday, the
New Orleans Saints
are
making great use
of running back
Darren Sproles
. They're lining Sproles up as a wide receiver quite frequently. When lined up as a receiver, Sproles has been targeted on 33 pass attempts.
Matt Forte
and
C.J. Spiller
are tied for second on the list of running backs lining up at receiver. Forte and Spiller each have been targeted nine times in those situations. When lined up at receiver, Sproles has 24 catches for 182 yards.
Chasing Brett Favre.
New Orleans quarterback
Drew Brees
is closing in on another significant milestone. Brees has thrown at least one touchdown pass in 34 consecutive games. That puts him at No. 3 in history. But Brees is getting close to Favre, who is No. 2 at 36 games. The record is 47, set by Johnny Unitas over the course of five seasons.
Running at the Rams.
The Saints are thought of as a pass-first offense. But don't be surprised if they change things up a bit this week. The Rams have one of the worst run defenses in recent history. St. Louis allowed 293 rushing yards to Dallas in Week 7. The Rams already have allowed 1,103 rushing yards this season. Since 2000, only two defenses have allowed more rushing yards in their first six games.