NFL Nation:

Final Word NFC 2012 Week 16
December, 21, 2012
12/21/12
1:49
PM ET
»
NFC Final Word
:
East
|
West
|
North
|
South
»
AFC
:
East
|
West
|
North
|
South
Five nuggets of knowledge about Week 16:
Mandatory viewing, optional running.
The
San Francisco 49ers
and
Seattle Seahawks
will be showcasing throw-first quarterbacks with the ability to beat defenses with their legs as well. The 49ers'
Colin Kaepernick
has two 50-yard runs in fourth quarters of recent games. The Seahawks'
Russell Wilson
had 92 yards rushing and three rushing touchdowns last week, but his decisions from the option attack are what have given defenses the most trouble. Wilson has averaged 8.1 yards per carry on option runs over the past three games.
Marshawn Lynch
has averaged 13.0 yards on these plays over the same span. The 49ers have faced one zone-read play all season. They allowed 35 yards to the
Buffalo Bills
'
Brad Smith
on a Wildcat play in Week 5.
[+] Enlarge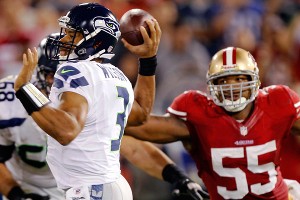 Brian Bahr/Getty Images The 49ers limited Russell Wilson to 122 yards passing and 10 yards on the ground in Seattle's Week 7 loss to San Francisco.
Blowouts nice while they last.
The Seahawks are the fourth team over the past 12 seasons to win back-to-back games by at least 33 points apiece. Their Week 16 opponent, San Francisco, accomplished the feat against Buffalo and the
New York Jets
earlier this season. Before that, only the 2005 Seahawks (Weeks 13-14) and 2002
Kansas City Chiefs
(Weeks 13-14) had posted back-to-back blowouts of that magnitude since at least 2001. Nine total points have separated the Seahawks and 49ers in their two most recent matchups. A blowout appears unlikely for either team, in other words.
Containing a hot QB.
Wilson leads the NFL in Total QBR over the past 10 weeks. The improvement he has shown against five or more pass-rushers -- 82.2 QBR score with six touchdowns and no interceptions since Week 8, compared with 23.3 QBR with no touchdowns and two interceptions previously -- might not apply Sunday.
San Francisco rarely rushes more than four defenders. The 49ers are the only team to hold Wilson below 50 percent completions when rushing four or fewer. Wilson completed 6 of 15 passes (40 percent) for 85 yards and a season-low 27.2 QBR score on those plays during Seattle's 13-6 defeat at San Francisco in Week 7. He has completed 68.1 percent with 15 touchdowns and an 85.2 QBR score on these plays against everyone else.
Give the 49ers some credit, but also note that Lynch,
Evan Moore
and
Robert Turbin
dropped passes -- two of them more than 20 yards downfield -- on three of those 15 attempts against standard pressure.
Putting clamps on Cutler.
The
Arizona Cardinals
have regularly forced opposing quarterbacks into
poor performances
.
Tom Brady
,
Matthew Stafford
and
Matt Ryan
combined for one touchdown pass, nine interceptions, seven sacks and a 20.7 QBR score when facing Arizona this season. They have 73 touchdowns, 26 interceptions and a 74.8 QBR score against everyone else.
Chicago's
Jay Cutler
is on the Cardinals' menu in Week 16. Cutler ranks 36th out of 37 qualifying quarterbacks in QBR against five-plus pass-rushers. The Cardinals send five-plus rushers 41.5 percent of the time, the second-highest rate in the league. Opponents have 10 touchdowns, nine picks, 22 sacks and a 23.8 QBR against Arizona's added pressure.
Return games in focus.
Patrick Peterson
,
Devin Hester
,
Leon Washington
and
Ted Ginn Jr.
have combined for 35 career touchdowns on kickoff and punt returns. All four are in play during Week 16 games featuring NFC West teams. Niners rookie
LaMichael James
provided a pivotal 62-yard kickoff return last week, so let's include him in this discussion as well.
Among the more established returners listed above, Washington is the only one to find the end zone on a return this season. The others are struggling. Hester's Bears rank last in kickoff return average. Ginn has muffed or nearly muffed punts recently. I'll be watching to see whether one of these returners makes a game-changing play Sunday. The 49ers rank 31st in kick coverage, so perhaps Washington will have the best shot.
As a final word to this Final Word, note that the
St. Louis Rams
head to Tampa Bay ranked
30th in field-position margin
at minus-5.8 yards. The Rams have not returned a kickoff for a touchdown since 2005. They have one punt return for a touchdown over the past five seasons (
Nick Miller
in 2011). The Buccaneers rank among the NFL's top 10 in starting field position on both sides of the ball, and in average field-position margin.
December, 21, 2012
12/21/12
1:30
PM ET
»
NFC Final Word
:
East
|
West
|
North
|
South
»
AFC
:
East
|
West
|
North
|
South
Five nuggets of knowledge about Week 16:
Oasis in desert?
The
Chicago Bears
have lost five of their past six games and probably need to win their final two in order to reach the playoffs. Otherwise, they will become the second team since 1990 -- and the fourth since 1978,
according to Cold Hard Football Facts
-- to miss the postseason after starting 7-1. Also, the Bears have not missed the playoffs after a 7-1 start since 1948. There appears to be widespread national opinion that the Cardinals won't provide the Bears much resistance; the Bears are
5.5-point favorites on the road
and
all 14 ESPN experts
picked them to win. But you wonder if that sense is based more on the way the teams played earlier this season. The Cardinals are coming off a 38-10 victory over the
Detroit Lions
, showing how they can overcome a punchless offense by causing turnovers. And despite a 5-9 record, the Cardinals have a legitimately tough defense. Check out the next nugget for details.
[+] Enlarge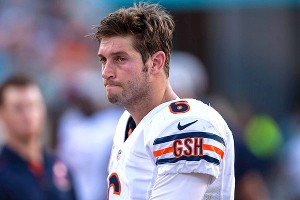 Michael DeHoog/Getty ImagesJay Cutler, who has struggled when opponents send extra pass-rushers, faces a blitz-happy Arizona defense Sunday.
Passing issues:
The Bears would be well-advised to avoid passing downs by whatever means necessary. The Cardinals have one of the NFL's most frequent and effective blitz defenses, and Bears quarterback
Jay Cutler
has struggled against extra pass-rushers all season. Cardinals defensive coordinator Ray Horton has called for at least five rushers on 41.5 percent of opposing dropbacks this season, the NFL's second-highest rate. Opposing quarterbacks have the league's second-lowest Total Quarterback Rating against the Cardinals' blitz (23.8), taking 22 sacks, throwing nine interceptions and completing only 47 percent of their passes against it. Cutler, meanwhile, has a 15.8 QBR against extra pass-rushers. He has completed only 50 percent of his passes while throwing five interceptions and taking 12 sacks. Given the state of the Bears' offensive line, it's reasonable to envision the Cardinals swarming Cutler whenever they're in passing situations.
Tough trip:
The
Minnesota Vikings
want to keep their playoff hopes in gear by defeating a
Houston Texans
team that will be playing to clinch home-field advantage throughout the playoffs. The Vikings are 0-5 on the road this season against teams that currently have winning records. Quarterback
Christian Ponder
has struggled in those games, with a combined 18.7 QBR. Tailback
Adrian Peterson
's pursuit of
Eric Dickerson
's record for rushing yards in a season will continue, and we should never underestimate the power of external factors in a player's performance. Peterson spends his offseasons in Houston and said this week he will have more than 100 family members and friends as part of his entourage at Reliant Stadium.
Brrr:
More than a foot of snow fell this week on Lambeau Field, and temperatures for Sunday's game against the
Tennessee Titans
are expected to remain under 30 degrees. The Packers clinched the NFC North last week at Soldier Field but have plenty left to play for, including a first-round bye and potentially home-field advantage throughout the playoffs. Although the Packers have struggled at home in recent playoff games, it's worth noting that quarterback
Aaron Rodgers
' career QBR is better when the temperature is below freezing (75.6) than it is when it's above (71.5). The Titans' pass defense has allowed 26 touchdown passes, tied for the fourth-most in the NFL.
Pursuing history:
Last spring, a nationally televised Week 16 game against the
Atlanta Falcons
seemed destined for huge implications. But in the Detroit Lions' lost season, there are now only two issues of note: receiver
Calvin Johnson
's pursuit of the NFL record for receiving yards in a season, and where the Lions will pick in the 2013 draft. As we've noted, Johnson needs 182 yards to break
Jerry Rice
's record of 1,812 yards
and 329 to eclipse Charley Hennigan's record for average receiving yards per game in a season
. As of this moment, the Lions stand at No. 5 in draft positioning but are within striking distance of a top-three pick. The Falcons have won four of their past five games and could clinch home-field advantage throughout the playoffs with a victory. As for Johnson's chances, the Falcons' pass defense ranks No. 17 in the NFL and is allowing 229.5 yards per game. It also has 18 interceptions, the league's fourth-best total.
(Statistics courtesy ESPN Stats & Information unless otherwise noted.)
December, 21, 2012
12/21/12
1:30
PM ET
»
NFC Final Word
:
East
|
West
|
North
|
South
»
AFC
:
East
|
West
|
North
|
South
Five nuggets of knowledge about Week 16:
[+] Enlarge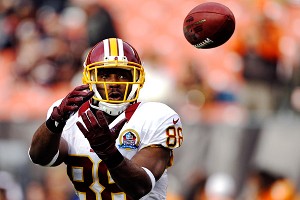 AP Photo/Mark DuncanThe Redskins are 7-1 this season when receiver Pierre Garcon plays, and score 5.3 points more.
Difference-maker.
How important has the post-bye return of wide receiver
Pierre Garcon
from a foot injury been for the
Washington Redskins
? When Garcon plays this season, Washington is 7-1, scores an average of 29.5 points per game and averages 9.7 yards per pass attempt and 286.4 passing yards per game. When Garcon has not played, Washington is 1-5 and averages 24.2 points per game, 6.7 yards per pass attempt and 209.8 passing yards per game. Garcon will be a significant challenge for a
Philadelphia Eagles
secondary that has not responded well to many challenges this year. He's averaging 7.6 yards after the catch this season, according to ESPN Stats & Information, which ranks fourth in the league among receivers with at least 30 catches.
Bookends.
A loss to Washington would be the Eagles' 11th defeat of the season. They've not lost that many since 1999, which was Andy Reid's first year as their head coach. Reid is expected to lose his job at the end of this season, and that means Sunday would be his final home game as the Eagles' coach. Reid has had good success against the Redskins in recent years, having won five of his past seven against them. But the Redskins began their current five-game winning streak with a 31-6 victory over the Eagles at home in Week 11. If they beat them badly again Sunday, it would be the first time the Redskins beat the Eagles by double digits twice in the same season since 1973.
Bucking a trend?
The
Dallas Cowboys
have lost six of their past seven games against the
New Orleans Saints
dating back to 1998. Their one victory in that stretch, however, was the Dec. 19, 2009, game in which the Cowboys went into New Orleans and beat a Saints team that was 13-0 at the time. This Saints team is ... not that Saints team. This year's Saints are 6-8 and have struggled all year on defense. Dallas is averaging 29.5 points per game over its past six games (of which it has won five) after averaging just 18.8 points per game in its first eight games of the year. The Cowboys should be able to put up points against a Saints defense that ranks 31st against the run, 31st against the pass and 32nd overall in the 32-team NFL this year.
Running it up.
The return of running back
DeMarco Murray
from his foot injury four weeks ago has obviously helped the Cowboys' run game, but it has helped the offense overall as well. According to ESPN Stats & Info, Cowboys quarterback
Tony Romo
has a 72.7 completion percentage and averages 10.5 yards per pass attempt with six touchdowns and no interceptions on play-action passes with Murray in the lineup. When Murray does not play, Romo's completion percentage on play-action drops to 63.2, his yards per attempt to 3.9, and his TD-INT ratio to 1-2. Murray scares opposing defenses to an extent that backup
Felix Jones
does not, and the offense is able to do much more when he's on the field.
Who bounces back?
The
New York Giants
lost 34-0 in Atlanta last week to fall out of first place in the NFC East. But in games following losses this year, the defending Super Bowl champs are 4-1 and averaging 37 points and 441.6 yards per game. The
Baltimore Ravens
, who fell to the Broncos last week, have lost three in a row following a 9-2 start. They have not lost four games in a row since the 2007 season, when they lost nine in a row. Baltimore also has lost its past two home games. Prior to that, it had enjoyed a 15-game winning streak at home. The Giants need the win more, since the Ravens have clinched a playoff spot and the Giants have not. But neither team is coming in particularly hot.
December, 21, 2012
12/21/12
1:30
PM ET
»
NFC Final Word
:
East
|
West
|
North
|
South
»
AFC
:
East
|
West
|
North
|
South
Five nuggets of knowledge about the Week 16 games:
[+] Enlarge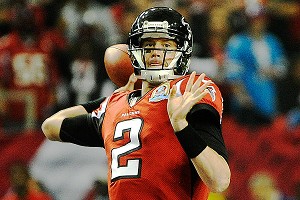 AP Photo/John AmisQuick starts have been the norm over the years for Matt Ryan and the Falcons.
It's how you start:
Starting fast, like they did with an interception and a quick touchdown last week against the Giants, has become a trademark of the
Atlanta Falcons
. Since coach
Mike Smith
and quarterback
Matt Ryan
arrived in 2008, the Falcons have scored more points (224) on their opening drive than any other team in the league.
Nickel and dime:
Look for the Falcons to keep extra defensive backs on the field for almost the entire game with Detroit. The Lions have called for a designed pass on 67.2 percent of their offensive plays, which is the highest total in the NFL. Reserve defensive backs
Robert McClain
,
Christopher Owens
and
Dominique Franks
all could see increased playing time.
Padding the resume:
New Orleans quarterback
Drew Brees
probably already has done enough to make himself a first-ballot Hall of Famer. But he can add another impressive line to his bio against the
Dallas Cowboys
. Brees needs 165 passing yards to reach 4,500. If he gets there, Brees will become the first player in NFL history with three consecutive seasons with at least 4,500 passing yards.
On a roll:
Carolina quarterback
Cam Newton
has been hot in recent weeks. In the last four games, Newton has been responsible for 12 touchdowns (passing and rushing). That's the highest total of any player in the same span. Newton also has accounted for 1,309 yards of offense in those four games, the third-highest total in the league.
Closing in on history:
The Bucs are leading the league by allowing an average of 310.6 passing yards per game. That puts them on pace to finish the season with 4,970 passing yards allowed. That would shatter the NFL record (4,796 yards, set by Green Bay last season).
NFL SCOREBOARD
Sunday, 2/2
WEEKLY LEADERS