NFL Nation:

Final Word NFC 2012 Week 5.
October, 5, 2012
10/05/12
1:30
PM ET
»
NFC Final Word
:
East
|
West
|
North
|
South
»
AFC
:
East
|
West
|
North
|
South
Five nuggets of knowledge about Week 5:
Keystone showdown:
The
Philadelphia Eagles
have won six of their last eight games against the
Pittsburgh Steelers
, though the teams have not played since a 15-6 Eagles victory in Philadelphia in Week 3 of the 2008 season. The Eagles have won just twice in six tries in Pittsburgh dating to 1968. If the Eagles win in Pittsburgh on Sunday, they'll be 4-1 for the first time since 2006. If the Steelers lose, they'll be 1-3 for the first time since 2006.
[+] Enlarge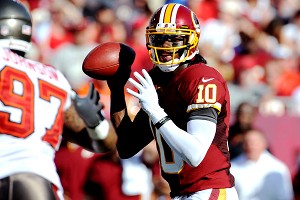 Al Messerschmidt/Getty ImagesRobert Griffin III has plenty more comebacks to complete before he catches Matt Ryan.
Sweat the short stuff?
The Eagles and the Steelers rank first and second in lowest completion percentage allowed on passes thrown 15 or more yards downfield this season, according to ESPN Stats & Information's "Next Level" numbers. Philadelphia is allowing a 28.0 completion percentage on such throws, and the Steelers are allowing 33.3 percent. But both teams have wide receivers --
DeSean Jackson
,
Jeremy Maclin
,
Mike Wallace
and
Antonio Brown
-- who are skilled at catching the ball short and making something happen afterward.
Fourth-quarter magic:
Washington Redskins
rookie quarterback
Robert Griffin
III authored the first game-winning drive of his pro career Sunday in Tampa Bay.
Atlanta Falcons
quarterback
Matt Ryan
, who's in his fifth NFL season, delivered his 17th in Atlanta's victory over Carolina. No quarterback has led more game-winning drives since the start of Ryan's 2008 rookie season. Don't turn this game off if it's close in the fourth.
Going longer later:
Those Next Level numbers from ESPN Stats & Info show us that the Redskins allow Griffin to take more shots downfield as the game goes along. His average target depth in the first quarter is 1.5 yards, third in the league. In the second quarter, that grows to 6.6, which is 21st in the league. And in the third and fourth, Griffin's average target depth is 9.4 yards, which is ninth in the league. What's odd about it is that they've only been trailing at halftime in one of their four games so far -- the loss to the Bengals in Week 3.
Bothering the QB:
The
New York Giants
probably will bring intense pressure on
Cleveland Browns
rookie quarterback
Brandon Weeden
in Sunday's game. The Giants ranked just 17th in the league in sacks through four weeks after ranking third last year, but according to ESPN Stats & Info, they are putting opposing quarterbacks under duress on 20.7 percent of drop-backs, and that figure is the fourth-best in the league. The Giants have played against
Tony Romo
,
Josh Freeman
,
Cam Newton
and
Michael Vick
, all of whom are mobile quarterbacks who can get out of the way of a pass rush, so that probably explains -- at least in part -- how they could be getting to quarterbacks but not knocking them over. Weeden is attempting 42 throws per game, so the Giants will have chances to take their shots.
October, 5, 2012
10/05/12
1:30
PM ET
»
NFC Final Word
:
East
|
West
|
North
|
South
»
AFC
:
East
|
West
|
North
|
South
Five nuggets of knowledge about Week 5:
[+] Enlarge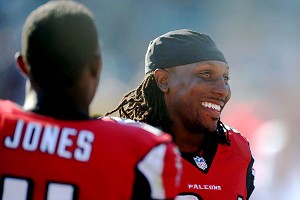 Jake Roth/US PresswireRoddy White has 27 receptions for 413 yards so far this season.
Still No. 1:
There was a lot of speculation that
Julio Jones
would surpass
Roddy White
and become
Matt Ryan
's favorite target this year. It hasn't worked out that way. Ryan has had much more success throwing to White. According to ESPN Stats & Information, Ryan has completed 73 percent of his passes to White and averages 11.2 yards per attempt. Ryan has completed 51.6 of his throws to Jones and is averaging 7.1 yards per attempt.
It's a passing league:
It took the Falcons some time to realize that, but new coordinator Dirk Koetter has Atlanta throwing the ball much more than at any other time since Ryan has been in the league. Although the Falcons have led 78.3 percent of the time this season, they have dropped back (including sacks and scrambles) on 66.1 percent of their offensive plays. Their previous highest drop-back rate in the Ryan era was 59.5 percent last season.
Ready for the pistol formation:
A week after facing Carolina with quarterback
Cam Newton
and the read-option offense, the Falcons have to be ready for Washington's
Robert Griffin III
and the pistol formation. The Redskins have used that formation on 54 plays this season, and the rest of the NFL has combined for 36 plays out of the pistol formation. The Redskins are averaging 6.6 yards out of pistol sets this season.
Mismatch time:
Seattle running back
Marshawn Lynch
has gained a league-high 199 rushing yards after contact this season. The Carolina defense has allowed a league-worst average of 2.7 yards after contact.
Win-win situation:
There's been a lot of talk this week about San Diego's decision to let
Drew Brees
walk after the 2005 season and replace him with
Philip Rivers
. You can't really call that a mistake by the Chargers. Since 2006, Brees ranks first in the NFL in passing yards, touchdown passes and pass attempts. Rivers is second in passing yards and third in touchdowns and attempts. Perhaps more importantly, Rivers ranks second in wins in that span, and Brees is fourth.
October, 5, 2012
10/05/12
1:30
PM ET
»
NFC Final Word
:
East
|
West
|
North
|
South
»
AFC
:
East
|
West
|
North
|
South
Five nuggets of knowledge about Week 5:
Seahawks' rare opportunity:
A
Seattle Seahawks
victory at Carolina would give all four NFC West teams a winning record through Week 5 for the first time since the NFL realigned into eight four-team divisions in 2002. The
Arizona Cardinals
(4-1) and
St. Louis Rams
(3-2) have already played. The
San Francisco 49ers
(3-1) will be above .500 no matter what happens against Buffalo on Sunday. NFC West teams had 10 combined victories through Week 8 last season. They already have 12 this season even before the Seahawks (2-2) and 49ers play their Week 5 games.
[+] Enlarge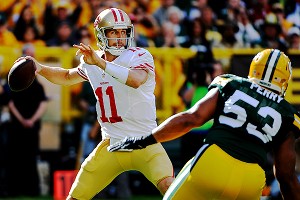 Benny Sieu/US PresswireSan Francisco's Alex Smith has proved this season that he can be a capable QB on the road.
Defending Alex Smith:
The 49ers' quarterback was generally exceptional at home last season. His Total QBR score at Candlestick Park (76.1 out of 100) was 42.3 points higher than it was on the road (29.3). That was
the largest point differential
in the NFL. The 49ers play at home Sunday for only the second time in five games this season. Despite the heavy road schedule, Smith enters this game against Buffalo with an overall QBR score 30.1 points higher than it was last season. Only three teams have realized larger gains from last season and only one, Cincinnati, has done so with the same quarterback behind center. Smith is at 66.8 on the road, 79.4 at home and 69.8 overall, which ranks eighth in the NFL. No wonder absolutely
no one
is asking when
Colin Kaepernick
might take over.
What a rush:
Quarterbacks dominate headlines. Rushing attacks could dominate remaining NFC West games for Week 5. The 49ers rank second (5.4) and the Bills fourth (5.1) in yards per rushing attempt this season. The 49ers are second on first down at 5.1 per carry (the Bills lag at 3.9). The Bills are first (7.0) and the 49ers second (6.2) on second-down rushes. Meanwhile, Seattle's
Marshawn Lynch
leads the NFL in rushing yards, not only this season but since Week 9 last season. Carolina's
Cam Newton
ranks second to
Robert Griffin
III in rushing yards by a quarterback with 167 (5.1 per carry). The Panthers rank fourth in team rushing yardage since the start of last season. Seattle and San Francisco emerged from Week 4 ranked among the NFL's top five in fewest yards per carry allowed.
Going small on defense:
The Bills run their offense primarily from personnel groupings featuring three or more wide receivers. They lead the NFL with 591 rushing yards against defenses featuring additional defensive backs. They rank fourth in yards per carry on these attempts (6.3). The 49ers are allowing only 3.4 yards per carry on 45 attempts with their nickel and dime defenses. The rest of the league allows 4.9 yards per carry on these rushes.
Russell Wilson's history:
The Seahawks' rookie quarterback had three passes intercepted during a 19-13 defeat at St. Louis last week. It was the first three-pick game of his NFL career and only the third time he's thrown more than two in 50 college games and four in the NFL. Wilson had only seven games with more than one interception during his college career. The multipick games came in bunches. There were three in a five-game span in 2009 and three in a row during the 2010 season. Wilson transferred from North Carolina State to Wisconsin for the 2011 season. He threw only four picks all season, two against Michigan State.
Note: ESPN Stats & Information contributed to this item.
October, 5, 2012
10/05/12
1:30
PM ET
»
NFC Final Word
:
East
|
West
|
North
|
South
»
AFC
:
East
|
West
|
North
|
South
Five nuggets of knowledge about Week 5:
Star tailback matchup?
There was a time when a game featuring
Adrian Peterson
and
Chris Johnson
would have spurred a week's worth of storylines on who deserves the title of the NFL's best running back. At the moment, neither Peterson nor Johnson can claim that label as the
Minnesota Vikings
and
Tennessee Titans
prepare for Sunday's matchup at the Metrodome. Johnson broke out for 141 yards in last week's loss to the
Houston Texans
, but he has totaled 40 yards in the Titans' other three games. The Vikings' rush defense (3.3 yards per carry) has been strong all season. Peterson, meanwhile, had his best performance to date last week (102 yards against the
Detroit Lions
) as he makes his way back from December knee surgery. Peterson insists he is not all the way back, and statistical analysis supports that assessment. He is averaging 1.9 yards after contact per carry this season after averaging 2.5 yards after contact in 2011, according to ESPN Stats & Information.
[+] Enlarge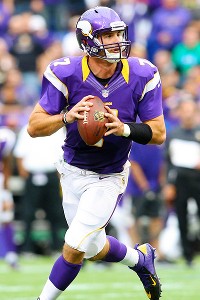 Adam Bettcher/Getty ImagesVikings QB Christian Ponder could have a big day against the Titans' lowly pass defense on Sunday.
Ponder's protection:
To this point, the Titans defense hasn't offered much evidence that it can knock Vikings quarterback
Christian Ponder
from his current bubble. Ponder is the only NFL starter without an interception, and the Titans' bottom-ranked pass defense has managed only one in four games. The Titans have only six sacks and opposing quarterbacks have an NFL-high 118.7 passer rating. It's early in the season to lock in on trends, but the Vikings' early prescription for offensive success -- safe, high-percentage plays -- doesn't appear threatened by this defense.
Hitting the road:
The
Green Bay Packers
will play the first of three consecutive road games Sunday when they visit the
Indianapolis Colts
, their first such schedule quirk since 1998. Including the postseason, the Packers have won 10 of their last 12 road games, and their .778 regular-season winning percentage on the road since the start of the 2011 season is an NFL best. Since December 2010, the Packers' two road losses have been at the
Kansas City Chiefs
and
Seattle Seahawks
, two stadiums well known to be tough on visitors. This week, on the other hand, Colts acting coach Bruce Arians
encouraged Colts fans to fight back
against Packers fans taking over Lucas Oil Stadium.
Woodson vs. Luck:
Defensive back
Charles Woodson
has played nine games against rookie quarterbacks since joining the Packers in 2006. He has
eight interceptions in those games.
Can Woodson add the Colts'
Andrew Luck
to that list? Luck has thrown four interceptions in his first three NFL games, but only one in the last two after the
Chicago Bears
got him three times in Week 1.
Stacking success:
The Bears will make the dreaded road trip after a Monday night road game, but they should still be offended to be only
a 4.5-point favorite
playing at the
Jacksonville Jaguars
-- who are 1-3 and have the NFL's worst offense and weakest pass rush. No team has averaged fewer than the Jaguars' 15.5 points per game, and the Bears' defense should have success rushing quarterback
Blaine Gabbert
, who has taken 12 sacks already this season. The Bears also have an opportunity to establish some momentum with their pass protection. The Jaguars have two sacks in four games this season. If the Bears truly turned a corner in Monday night's game against the
Dallas Cowboys
, they should win in a rout Sunday.