NFL Nation:

Final Word NFC 2012 Week 7
October, 19, 2012
10/19/12
1:30
PM ET
»
NFC Final Word
:
East
|
West
|
North
|
South
»
AFC
:
East
|
West
|
North
|
South
Five nuggets of knowledge about Week 7:
One-possession games:
The
Arizona Cardinals
have lost all six games in franchise history at the 31-year-old Metrodome, and last season's 34-10 loss there to the
Minnesota Vikings
was particularly ugly. The Cardinals haven't won in the state of Minnesota since 1977,
and we've already discussed
the apparent mismatch between the Vikings' pass rush and the Cardinals' offensive line. But if recent history can serve as a guide, this game isn't likely to be a blowout on either side. Since the start of the 2011 season, the Cardinals have had more games decided by one possession (17) than any NFL team. The Vikings are tied for second on that list with 14. The Cardinals are 11-6 in those games and the Vikings are 4-10.
[+] Enlarge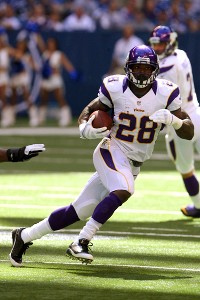 Brian Spurlock/US PresswireMinnesota will surely welcome any red zone production from Adrian Peterson against Arizona on Sunday.
Red zone issues:
The Vikings know that points will be at a premium after failing on three first-quarter opportunities to convert a red zone touchdown in last week's loss to the
Washington Redskins
. The Cardinals are the only NFL team to hold each of their opponents under 21 points this season and are on pace to set a franchise record for fewest points allowed. Vikings offensive coordinator
Bill Musgrave
acknowledged he should have involved receiver
Percy Harvin
more in those red zone trips against the Redskins, but the Vikings haven't gotten much production there from tailback
Adrian Peterson
, either. Peterson's three red zone carries against the Redskins netted two yards, and his streak of five games without a touchdown is the longest of his career. It's going to be hard for the Vikings to score consistently against the Cardinals without incorporating and getting production from Harvin or Peterson, or both. Tight end
Kyle Rudolph
(five touchdowns) is starting to attract heavy attention from opposing defenses.
The right direction:
After a slow start, the
Green Bay Packers
offense has started to hit its stride.The Packers have scored a league-high 14 touchdowns over that period, amassing a total of 97 points, and they have a touchdown on 10 of their past 11 trips to the red zone. That trend comes as quarterback
Aaron Rodgers
and the Packers get another chance to play on their preferred artificial surface Sunday at the
St. Louis Rams
. Rodgers' career passer rating indoors is 113.6, the highest in NFL history.
But shhhhhhhhh!
Don't tell them. The Packers
prefer criticism to praise.
Slow starters:
As they prepare for Monday night's game at Soldier Field, the
Detroit Lions
know one of their biggest problems this season has been slow starts. They've been outscored 67-37 in the first half of games this season, and they've only outscored opponents in the fourth quarter (73-51). Quarterback
Matthew Stafford
deserves his share of the blame. Based on video analysis, he has overthrown or underthrown 26.7 percent of his passes in the first quarter of games this season. That figure drops to 15.7 percent in the fourth quarter. The Lions should plan to avoid falling behind the Bears early at all costs. The Bears' offense
has lit up this season once staked to a lead by its strong defense
, which is allowing the fewest points per game (14.2) in the NFL.
Cutler shines late:
How good has the Bears offense been late in games? Quarterback
Jay Cutler
has an NFL-high 96.6 Total Quarterback Rating (on a scale of 1-100) in the fourth quarter this season, in part a function of opponents moving to single coverage on receiver
Brandon Marshall
while trying to play from behind. Both Lions victories this season have come on fourth-quarter comebacks. But if the Bears play like they have in their past three games, especially, any deficit the Lions face late is going to be tough to overcome.
(Statistics courtesy of ESPN Stats & Information unless otherwise noted.)
October, 19, 2012
10/19/12
1:30
PM ET
»
NFC Final Word
:
East
|
West
|
North
|
South
»
AFC
:
East
|
West
|
North
|
South
Five nuggets of knowledge about Week 7:
[+] Enlarge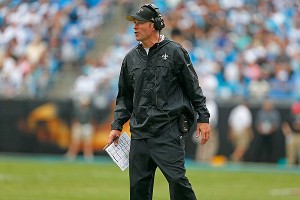 AP Photo/Bob LeveroneAaron Kromer will coach his last game as the Saints' interim head coach this week at Tampa Bay.
Kromer's last stand:
This will be the final game as interim head coach for New Orleans' Aaron Kromer. Coincidentally, Kromer spent three seasons as an assistant with the Buccaneers before joining the Saints in 2008. The Saints are 1-4 under Kromer and a win could go a long way in helping his chances of eventually landing a full-time gig as a head coach. Kromer had a good reputation around the NFL prior to this season and he's handled a difficult situation without any major problems. But adding another win can only help his resume. Assistant head coach Joe Vitt will take over the team when he returns from his suspension after Sunday's game.
Dallas domination:
The Panthers defeated the Cowboys the first time the teams ever met in the regular season. But Dallas has dominated the regular-season meetings since then, winning eight straight against the Panthers. That's the longest active streak the Cowboys have against any opponent.
Go for the goal line:
According to ESPN Stats & Information, Carolina's
Cam Newton
is one of only two starting quarterbacks that have not completed a pass in the end zone this season. All four of Newton's touchdowns have been completed before the end zone. Tennessee's
Jake Locker
is the only other quarterback that hasn't completed a pass in the end zone.
Back to being Brees?
After a rocky start, New Orleans quarterback
Drew Brees
has come on strong the last two games. In the first three games, Brees completed 54.7 percent of his passes with seven touchdowns and five interceptions while compiling a 34.8 Total QBR. In the last two games, Brees has completed 64.6 percent of his passes with seven touchdowns and one interception while posting an 83.0 Total QBR.
A positive Bucs' stat:
It's been hard to come up with a lot of positive numbers on the Bucs for the last year or so, but here's one. The Bucs have won four of their last six home games against NFC South opponents. So much has happened in the interim that it might be tough to remember that the Bucs won at home against Atlanta and New Orleans last year. But the bottom fell off after the Bucs intercepted Brees three times that day. Tampa Bay lost its final 10 games of the season to cost former coach Raheem Morris his job.
October, 19, 2012
10/19/12
1:30
PM ET
»
NFC Final Word
:
East
|
West
|
North
|
South
»
AFC
:
East
|
West
|
North
|
South
Five nuggets of knowledge about Week 7:
Wind up the pass-rushers:
Chris Long
,
Robert Quinn
,
Clay Matthews
and
Jared Allen
are pass-rushers to watch in games featuring NFC West teams Sunday. Long and Quinn have combined for 10 sacks for the
St. Louis Rams
. They'll be facing a Green Bay offense that has stabilized since allowing eight first-half sacks against Seattle. Matthews has eight sacks for the Packers and will match up against Rams left tackle
Wayne Hunter
, a backup who has missed recent practices with back trouble. Meanwhile, Minnesota has to like Allen's chances working against
Arizona Cardinals
left tackle
D'Anthony Batiste
. According to Stats LLC, Batiste ranks second only to Cardinals right tackle
Bobby Massie
in sacks allowed this season. The totals are nine for Massie and 7.5 for Batiste.
[+] Enlarge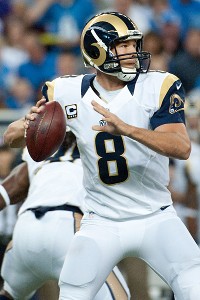 Tim Fuller/US PresswireSam Bradford and the Rams have struggled against the Packers in recent seasons.
Airing it out:
The St. Louis Rams, 3-0 at home heading into their game against Green Bay, have lost their past three to the Packers overall. Packers quarterback
Aaron Rodgers
has more touchdown passes in the past week (six) than the Rams have managed in their past four games against Green Bay dating to 2006.
Sam Bradford
topped 300 yards passing without finding the end zone during a 24-3 defeat at Lambeau Field last season.
Seeking faster start:
The Cardinals have won 11 of their past 15 games overall, but not because of the way they've started on offense. Arizona's offense has only two first-quarter touchdowns since Week 6 last season, a span of 17 games. That is tied with Jacksonville and Indianapolis for the fewest over that stretch. The Jaguars and Colts have played one fewer game apiece during that span.
Outside looking in:
Five of the six TD passes Rodgers threw last week were perimeter passes, defined as those caught outside the yard-line numbers. The Rams are allowing a league-low 4.9 yards per attempt on these throws, with two touchdowns and four interceptions. However, the Rams collected three of those perimeter picks way back in the season opener. They allowed one of those scoring passes to Miami's
Ryan Tannehill
last week. Tannehill completed six such passes while posting a 101.3 NFL passer rating on those throws.
Point taken:
The
Seattle Seahawks
and
San Francisco 49ers
combined to allow 19 points against each other Thursday night. The Rams have allowed 33 over their past three games. The Arizona Cardinals head to Minnesota as the only NFL team yet to allow more than 21 points in a 2012 game. The Vikings have scored 26 against Jacksonville, 24 against San Francisco and 30 against Tennessee in their three home games. They have allowed 20 total points in their past two at home. The Cardinals have scored 19 points over their past two games after scoring at least 20 in each of their first four.
Note: ESPN Stats & Information contributed to this entry.
October, 19, 2012
10/19/12
1:30
PM ET
»
NFC Final Word
:
East
|
West
|
North
|
South
»
AFC
:
East
|
West
|
North
|
South
Five nuggets of knowledge about Week 7:
Blasts from the past:
Yes, it's a passing league, as you hear all the time. But the
Washington Redskins
haven't got the memo. Rookie quarterback
Robert Griffin III
(379) and rookie running back
Alfred Morris
(538) have combined for 917 rushing yards in Washington's first six games. That's the highest combined rushing yardage total by two rookie teammates through six games in the Super Bowl era, according to ESPN Stats & Information. And it goes back further than this for the Redskins. Washington as a team has rushed for at least 100 yards in each of its last 12 games. The second-longest such streak in the league is two games, by the
New York Giants
and the
St. Louis Rams
. In conclusion, the Redskins like to run the ball, and for many reasons pose a different game-planning challenge than any other team the Giants have faced or will face this season.
[+] Enlarge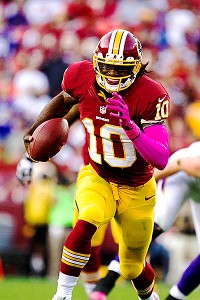 Paul Frederiksen/US PresswireWashington QB Robert Griffin III has a chance to earn a rare achievement with a win over the Giants on Sunday.
Upstart vs. champ:
If the Redskins win, Griffin would be the fourth rookie quarterback to defeat a defending Super Bowl MVP quarterback head-to-head. Really interesting list.
Colt McCoy
of the Browns beat
Drew Brees
and the Saints in 2010. Dieter Brock of the Rams beat Joe Montana and the 49ers in 1985. And of course, Kent Nix of the Steelers beat Bart Starr and the Packers in 1967. But seriously, no way you clicked on this blog today expecting a Dieter Brock note. Guy was 34 in 1985, but it was his only year in the league.
Burgundy kryptonite:
In two games against the Redskins last year (both losses), Giants quarterback
Eli Manning
threw four interceptions and no touchdowns. ESPN Stats & Information tells us that Washington is one of six teams against which Manning has thrown more interceptions than touchdowns in his career. The others are Tennessee, Minnesota, Chicago, Baltimore and Buffalo.
Giants can run, too:
Giants running back
Ahmad Bradshaw
is the only player in the league who has rushed for at least 100 yards in each of his last two games. The last Giant to rush for 100 or more in at least three games in a row was
Tiki Barber
in 2006. Bradshaw has 16 rushes of at least 10 yards so far this year, in 92 attempts. Last year, he had 16 such rushes in 171 attempts. The Giants' offensive line is a much better run-blocking unit than it was a year ago. Their average yards per rush before first contact is 2.75, which is the fifth-best figure in the league. Last year, the Giants' average yards per rush before first contact was 1.89, which was second-worst in the league.
Got to go deep:
Last year, on throws that traveled 20 or more yards downfield,
Dallas Cowboys
quarterback
Tony Romo
posted a 53.2 completion percentage, 21.6 yards per attempt, 10 touchdowns and only one interception. This year on such deep throws, Romo is 4-for-18 (22.2 percent) for 8.5 yards per attempt, one touchdown and one interception. The two bits of good news on this are that the Cowboys' offensive line looked much better last week in Baltimore and could start to give Romo more time to throw, and that Carolina's pass defense is allowing a 54.5 completion percentage on throws 20 or more yards downfield -- the second-worst such mark in the NFL.
NFL SCOREBOARD
Thursday, 9/4
Sunday, 9/7
Monday, 9/8