NFL Nation:

Final Word NFC 2012 wildcard
January, 4, 2013
Jan 4
1:30
PM ET
»
NFC Final Word
:
East
|
West
|
North
»
AFC
:
North
|
South
Five nuggets of knowledge about Saturday's Minnesota Vikings-Green Bay Packers wild-card game:
[+] Enlarge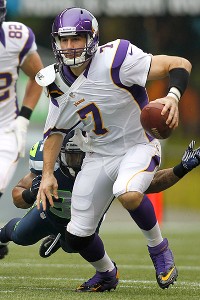 AP Photo/John FroschauerVikings QB Christian Ponder, who will make his first postseason start in temps under 40 degrees, is recovering from a sore elbow.
Frozen tundra:
You've already heard plenty of national nostalgia about playing a night game in freezing temperatures at one of the NFL's most sacred cathedrals. As much intimidation as Lambeau Field presumably exudes, it's worth noting that the Packers have
folded more frequently there than their opponents in recent history
. They are 2-4 over the past decade in home playoff games, and one of those losses was to the Vikings after the 2004 season. Packers receiver
Greg Jennings
was among those
who spoke honestly this week
about his preference for playing postseason games on the road.
Road struggles:
The Packers are 7.5-point favorites,
and all
14 ESPN analysts
picked them to win. One of the primary reasons: The perception that the Vikings, despite a four-game winning streak to end the season, are overmatched as a visiting playoff team. Quarterback
Christian Ponder
, for one, has never started a game in temperatures under 40 degrees. Saturday's high is expected to be in the mid-20s. Packers quarterback
Aaron Rodgers
, on the other hand, has 14 career starts -- and an NFL-high 75.1 Total Quarterback Rating -- in games below freezing. The Vikings' extended history reveals they have struggled in road playoff games since moving indoors in 1982. Over that 31-season span, they have won only four road playoff games (in 14 opportunities).
Slowing Peterson:
Vikings tailback
Adrian Peterson
rushed for 230 yards after contact in two games against the Packers this season, illustrating the Packers'
inability to tackle him over an extended period
.
Pro Football Focus
debited the Packers a combined 10 missed tackles on his 55 carries against them. The Packers have mostly been hurt when Peterson has bounced runs outside the tackles, accounting for 205 of his total yards on just 15 such carries, and they have suggested that better gap integrity could limit those occasions. But they might have to find a way to win despite Peterson. Of the six previous players to rush for 2,000 yards in a season, only one won a playoff game (in four opportunities). In 1998, the
Denver Broncos
'
Terrell Davis
rushed for 468 yards in three playoff victories on the way to winning Super Bowl XXXIII.
Ponder's issues:
Ponder solidified his status as the Vikings' 2013 starter with a strong finish to the regular season, but there is some understandable skepticism about his potential for succeeding Saturday night. He has been
limited this week by a sore right elbow
and, of more relevance, will be making his first playoff start at the same site where he has had two of his worst performances. In two games at Lambeau, Ponder has completed 47.4 percent of his passes with almost no downfield success. In those games, he has completed just three passes that traveled 15 yards or more past the line of scrimmage (in 14 attempts).
Close game?
The teams' two regular-season games were decided by a total of 12 points. Does anyone have the advantage if Saturday night's game is close? The Packers are 1-3 in games decided by three points or fewer this season and 6-14 all-time under coach Mike McCarthy. This season, the Vikings are 2-1 in such games. The Vikings have a Pro Bowl kicker in rookie
Blair Walsh
, who nailed all 10 of his 50-plus yard field goals this season, while Packers place-kicker
Mason Crosby
has been shaky during the second half of the season. All three of Walsh's misses this season came on the road, including his only career attempt at Lambeau.
(Statistics courtesy ESPN Stats & Information unless otherwise noted.)
January, 4, 2013
Jan 4
1:30
PM ET
»
NFC Final Word
:
East
|
West
|
North
»
AFC
:
North
|
South
Five nuggets of knowledge about Sunday's Seahawks-Redskins wild-card playoff game at FedEx Field:
[+] Enlarge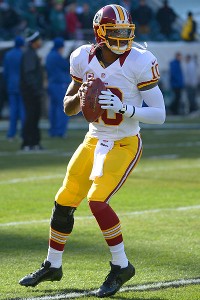 Jonathan Newton/Getty ImagesRobert Griffin III is one of six rookie or second-year quarterbacks starting in the playoffs this season.
Fresh faces:
Robert Griffin III
of the
Washington Redskins
and
Russell Wilson
of the
Seattle Seahawks
are two of the three rookie quarterbacks starting for teams in this year's playoffs. It's the first season in history that as many as three of the NFL's playoff teams had rookie starters at quarterback. (
Andrew Luck
of Indianapolis is the other.) And when you add in second-year quarterbacks
Christian Ponder
of Minnesota,
Colin Kaepernick
of San Francisco and
Andy Dalton
of Cincinnati (who started a playoff game last year as a rookie), that means six of the 12 playoff teams are starting first- or second-year players at quarterback. The folks at ESPN Stats & Information report that that's a record. The 2000 playoffs featured four first- or second-year quarterbacks:
Donovan McNabb
of the Eagles,
Daunte Culpepper
of the Vikings,
Aaron Brooks
of the Saints and
Shaun King
of the Buccaneers.
Home cooking:
The Seahawks were 8-0 at home this season and just 3-5 on the road, so it's a good thing for the Redskins that they get to play this game at home. Home teams went 4-0 in this round of the playoffs last season, though at least two road teams won games in the wild-card round in each of the four seasons before last year. The Redskins are 13-3 all-time in home playoff games. The Seahawks are 1-8 all-time in road playoff games and have lost eight in a row dating to 1983.
To blitz or not to blitz?
ESPN Stats & Info tells us that 12 of the Redskins' 21 interceptions this year have come on plays on which they rushed five or more defenders. Wilson has not thrown an interception against that kind of pressure since Week 7 against the 49ers. Wilson saw an extra pass-rusher on 69.1 percent of his drop backs this year, but he showed drastic improvement against blitz pressure as the season went along. In his first eight games, in which the Seahawks were 4-4, Wilson had a 50.0 completion percentage, 5.2 yards per attempt, no touchdowns and two interceptions against five or more pass-rushers. In his past eight games, in which the Seahawks were 7-1, Wilson had a 67.9 completion percentage, 9.2 yards per attempt, eight touchdowns and no interceptions against such pressure. So the Redskins will have to be judicious and creative with their blitzes, because they can't assume blitzing in and of itself will rattle Wilson.
The running backs:
Washington's
Alfred Morris
and Seattle's
Marshawn Lynch
finished second and third in the NFL in rushing yards this year, behind the inhuman
Adrian Peterson
. Morris had 55 rush plays that gained at least 10 yards, which was second only to Peterson's 61 and the third-highest single-season total since 2001. He rushed for 200 yards and three touchdowns in Sunday's division-clinching victory over Dallas. Lynch has four straight games with at least 100 rushing yards and has reached 100 in eight of his past 10. His 16 games with at least 100 rush yards are the most in the NFL over the past two seasons. No other team in the NFL called a higher percentage of run plays this season than did these two. Seattle called designed runs on 49.8 percent of it offensive snaps this year and Washington called them on 47.9 percent.
Disparity:
The Redskins finished 28th in the league in total defense. The Seahawks finished fourth. That would seem to indicate something of a mismatch. What the Redskins are hanging their hopes on is the fact that last season's Super Bowl teams ranked 27th and 31st in total defense during the 2011 regular season, so it's not crazy to think you can give up a ton of yards in the regular season and then win playoff games.
January, 4, 2013
Jan 4
11:44
AM ET
»
NFC Final Word
:
East
|
West
|
North
»
AFC
:
North
|
South
Five nuggets of knowledge about the Seattle Seahawks' wild-card playoff game against the Washington Redskins on Sunday at FedEx Field:
Rookie showcase.
Washington's
Robert Griffin III
(102.4) and Seattle's
Russell Wilson
(100.0) are the only qualifying quarterbacks in NFL history to finish their rookie seasons with NFL passer ratings in triple digits. They also are the first full-time rookie starting quarterbacks to face one another in an NFL playoff game. Houston's
T.J. Yates
was a replacement for
Matt Schaub
when he went against fellow rookie
Andy Dalton
in the playoffs last season.
Wilson and Griffin aren't alone among rookies playing prominent roles for their teams. The Redskins, led by Griffin and 1,600-yard rusher
Alfred Morris
, have a league-high 46 touchdowns passing, rushing or receiving from their rookies this season. The Seahawks and
Indianapolis Colts
are tied for second with 30 apiece.
Seattle also got 12 sacks from its rookies.
Bruce Irvin
had eight of them. Middle linebacker
Bobby Wagner
finished his rookie season with 140 tackles, three interceptions and two sacks as an every-down player.
[+] Enlarge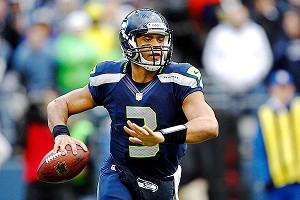 Joe Nicholson/USA TODAY SportsSeattle quarterback Russell Wilson has shown steady improvement when facing heavy defensive pressure this season.
Picking their spots.
Seahawks offensive coordinator Darrell Bevell said he counted nine all-out blitzes for Washington against Dallas in Week 17.
The Redskins collected a league-high 12 interceptions while blitzing during the regular season. Wilson, after struggling against pressure early in the season, has eight touchdown passes with no picks against five or more pass-rushers since Week 8. He has hit on six deep passes against five-plus rushers over that period, third most in the NFL. Deep passes are those traveling more than 20 yards past the line of scrimmage before the reception.
Wilson has eight overall touchdown passes on these deep throws, tied for second most in the NFL. He has thrown none of them on the road, however. His completion rate on these throws drops from 53.3 percent at home (16-of-30) to 28.6 percent on the road (8-of-28).
Pictures of health.
The Seahawks enter the playoffs with zero starters on injured reserve unless you count guard
James Carpenter
as a player Seattle was counting on. Nickel pass-rusher
Jason Jones
and nickel cornerback
Walter Thurmond
are the most prominent Seahawks on IR. The Redskins' IR list features starters
Adam Carriker
,
Brian Orakpo
,
Fred Davis
,
Jammal Brown
and
Brandon Meriweather
. Also, nickel cornerback
Cedric Griffin
missed four games to a suspension and is returning.
Watch that play fake.
The Seahawks have increasingly used play-action to great effect from the shotgun formation. Wilson has completed 14 of 15 such passes over the past five games. Both defenses must be wary. Griffin's average target depth jumps by a league-high 5 yards on play-action throws. His Total QBR score is a 13th-ranked 58.4 without play-action. It jumps to 86.8, fourth best in the league, when using the tactic. Seattle's defense ranks 24th in QBR allowed (74.4) against play-action. Washington's defense ranks third (46.9) by this measure.
Cornerback playmaking.
Griffin, Wilson, Morris and
Marshawn Lynch
will command most of our attention as the most productive offensive players for each team.
There should be some outstanding battles in the secondaries as well. Seahawks cornerback
Richard Sherman
is one of four players over the past 10 seasons with at least eight interceptions and three forced fumbles in one season (
Charles Woodson
and
Ed Reed
are two others to do it).
Sherman and fellow corner
Brandon Browner
tick off opposing receivers with their aggressive, sometimes against-the-rules tactics. The Redskins haven't gotten many calls along those lines. They made only seven first downs this season via penalties for illegal contact, defensive pass interference or defensive holding this season. That is half the NFL average and second fewest in the NFL behind Cleveland (six).
ESPN Stats & Information contributed to this item.
NFL SCOREBOARD
Thursday, 12/5
Sunday, 12/8
Monday, 12/9
WEEKLY LEADERS