September, 26, 2012
9/26/12
2:25
PM ET
The NFL came down hard on New England Patriots coach Bill Belichick on Wednesday.
Belichick was fined
$50,000 for what the league deemed "impermissible physical contact with an official."
Although I'm probably in the minority, I think this fine was excessive. Washington Redskins offensive coordinator Kyle Shanahan verbally berated an official and received a $25,000 fine. Is what Belichick did worth twice the penalty?
Belichick's arm grab of replacement official Esteban Garza took all of one second. It was actually a pretty weak attempt, as Garza quickly pulled his arm away from Belichick and continued with his jog into the tunnel. Belichick said he only wanted an explanation of whether the Baltimore Ravens' game-winning field goal was reviewable.
The biggest issue is respect. Would Belichick have grabbed a real NFL official in the same way he did the substitute? Probably not. The lack of respect probably had a lot to do with the amount of the fine. But verbally bashing an official showed a similar lack for authority. Shanahan, Denver Broncos coach John Fox ($30,000) and defensive coordinator Jack Del Rio ($25,000) were all guilty of that this week.
Belichick deserved to be fined. I just don't think he deserved twice the fine of Shanahan and Del Rio. A $35,000-$40,000 fine would have sufficed.
Overall, the biggest lesson to be learned is the expected return of NFL refs will raise the respect level between coaches and officials.
June, 12, 2012
6/12/12
12:00
PM ET
I have gone over the
good and bad
of the
Miami Dolphins
signing of colorful receiver
Chad Ochocinco
to a one-year contact Monday. But one thing I haven't touched on is Ochocinco's personality -- or lack thereof in 2011.
Here is some personal background: I've covered Ochocinco in some capacity since 2004. The
Cincinnati Bengals
were my first NFL beat eight years ago when Ochocinco was growing with quarterback
Carson Palmer
and entering his prime. I eventually switched to the
Cleveland Browns
but kept close tabs on the Bengals, who were in-state rivals and played twice a year. I also covered Ochocinco last year with the Patriots.
[+] Enlarge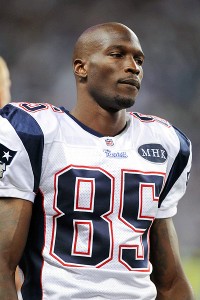 Mike Carter/US PresswireChad Ochocinco finished with just 15 catches in one season with the Patriots.
I've seen Ochocinco up close at his best (Bengals) and at his worst (Patriots). And I firmly believe he's is one of those players who must be a free spirit and let his personality show to be at his best.
The "Patriot Way" obviously doesn't work for Ochocinco. It's hard for him to stay quiet, and if he does, you're taking away his edge that's made him successful in his career. Ochocinco also can be a freelancer on the field, which is something Palmer worked through in Cincinnati. But quarterback
Tom Brady
and coach Bill Belichick were not going to let that fly in New England.
But how will things work in Miami?
Will the Dolphins let "Ocho be Ocho" in the first year under head coach Joe Philbin? Miami is trying to establish a new program, and Ochocinco saying and doing zany things could make for a circus atmosphere. It was that way in Cincinnati when Ochocinco would guarantee victories, change his last name and get fined four creative touchdown celebrations. But Bengals coach Marvin Lewis found the right balance and got the best out of him on Sundays. He is not a bad teammate. Ochocinco is just different and has much more personality than most people.
If Ochocinco is told to shut up, like he was in New England, Miami probably won't get the best of what he has left. Philbin might have a hard time figuring that balance out in his first year. It's not an easy task for any head coach, let alone a rookie.
Personally, I don't think Ochocinco is washed up. Sure, he's no longer in his Pro Bowl prime. But Ochocinco is better than the 15 receptions he had last season.
The key will be if the Dolphins are able handle Ochocinco's free spirit -- on the field and in the locker room.
December, 4, 2011
12/04/11
4:27
PM ET
MIAMI -- Here are some initial thoughts on the
Miami Dolphins
' dominant
34-14
victory over the
Oakland Raiders
:


What it means:
Miami won its fourth game in five tries and continues to relish its role of spoiler. The Dolphins improved to 4-8 and will have their third consecutive non-winning season. But they continue to share their misery by beating other teams late in the season. This was Miami's most complete and impressive performance of the year. The Dolphins took advantage of their 10 days of preparation and looked very sharp offensively and defensively. It also came against an Oakland team (7-5) that is leading the AFC West.
Defense continues to dominate:
The light has come on for Miami's defense. The group has been one of the league's better units for the past month. The Dolphins baffled and battered Oakland's offense Sunday. Miami held Oakland to just 14 points, which were scored in garbage time, and sacked Raiders quarterback
Carson Palmer
two times. Miami was the NFL's sixth-rated unit in 2010, but started slow this season during its 0-7 start. The group is finally rounding back to its expected form.
Bush continues to thrive:
Dolphins starting running back
Reggie Bush
continues to have his most successful season running the football. Bush rushed for 100 yards on 22 carries. By the fourth quarter, Dolphins fans were chanting "Reggie! Reggie!"
Seymour Watch:
A fine could be forthcoming for Raiders defensive tackle
Richard Seymour
.
He was ejected
in the third quarter after a half-hearted attempt to punch Miami guard
Richie Incognito
. Seymour has a reputation for questionable play and the refs wasted no time ejecting him. This was the second ejection in as many seasons for the former Pro Bowl player. Seymour also was ejected last season for a shot to the face of
Pittsburgh Steelers
quarterback
Ben Roethlisberger
after the whistle.
What's next:
The Dolphins will play their second consecutive home game next week when the
Philadelphia Eagles
(4-8) come to town. Miami is looking to win its fourth consecutive game at home.
December, 4, 2011
12/04/11
3:28
PM ET
Frustration continues to mount for the
Oakland Raiders
. Oakland defensive tackle
Richard Seymour
was ejected in the third quarter of Sunday's game against the
Miami Dolphins
.
Seymour and Dolphins guard
Richie Incognito
were jawing most of the game. The Dolphins are thrashing Oakland, 34-0. And, in a moment of frustration, Seymour put his hand in the face of Incognito and officials threw him out.
It was called a "punch" by officials, but that is debatable. If anything, it was a weak attempt at a punch. But Seymour has a reputation for questionable play, and that likely played a factor.
Last season, Seymour was ejected for hitting
Pittsburgh Steelers
quarterback
Ben Roethlisberger
after the play. Expect the league to look into this ejection by Seymour and determine if he deserves a fine.
November, 29, 2011
11/29/11
1:00
PM ET
»
NFC Stock Watch
:
East
|
West
|
North
|
South
»
AFC
:
East
|
West
|
North
|
South
FALLING
1. Steve Johnson, Buffalo Bills wide receiver:
Johnson (eight receptions, 75 yards) had success against
New York Jets
Pro Bowl cornerback
Darrelle Revis
. But his antics and dropped passes were crucial in Buffalo's 28-24 defeat. Johnson got a 15-yard penalty for his controversial touchdown celebration mocking Jets receiver
Plaxico Burress
' accidental shooting. That helped the Jets score a touchdown before halftime in a close game. Johnson also dropped a potential score and failed to make a tough catch in the end zone on Buffalo's final drive. Johnson apologized to his team after the game. He made an even smarter move Monday when he apologized to Burress. Still, the NFL is expected to fine Johnson.
2. Bills' defense:
Buffalo gave up four touchdown passes to Jets quarterback
Mark Sanchez
and allowed 6.0 yards per carry. The Bills didn't generate any pass rush. They had zero sacks against the Jets, who often struggle with pass protection. Buffalo needs to take a hard look at this group in the offseason and find ways to improve. The Bills do not do anything particularly well defensively.
3. Darrelle Revis, Jets cornerback:
It wasn't a typical shutdown game for Revis. Johnson made some tough catches and gave Revis more trouble than any receiver I've seen this season. Most of the plays were not for big gains, and the Jets said afterwards that the game plan was to keep everything in front of them. It's kind of odd that a receiver catching for 75 yards on Revis is considered a bad game. But that's how high his standards are.
[+] Enlarge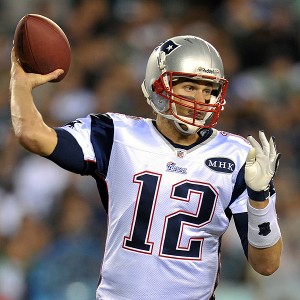 Drew Hallowell/Philadelphia Eagles/Getty ImagesTom Brady and the Patriots have scored at least 34 points per game during their current three-game winning streak.
RISING
1.Tom Brady, New England Patriots quarterback:
It looks like "Tom Terrific" is back. Brady has been in elite form lately, including this past Sunday's masterful performance in a 38-20 win over the
Philadelphia Eagles
. Brady threw for 361 yards and three touchdowns. He had the second-highest Total Quarterback Rating in Week 12. With a cupcake schedule, expect Brady to continue to boost his numbers on his way to the playoffs.
2. Mark Sanchez, Jets quarterback:
Say what you want about Sanchez, but he comes through in the big moments. There was no bigger moment this season than New York's 82-yard drive that kept the team's playoff hopes alive. Sanchez was 7-for-9 for 65 yards on that drive and made two huge throws to Burress and
Santonio Holmes
. But Sanchez needs to be more consistent in the first three quarters.
3. Matt Moore, Miami Dolphins quarterback:
Moore completes the quarterback sweep this week. I don't think Moore is the long-term solution in Miami. But he's at least making me consider the concept. He's had a string of good performances, including a season-high 288 yards and a touchdown in a 20-19 loss to the
Dallas Cowboys
on Thanksgiving. Moore, who is under contract next year, might at least get a chance to compete with the Dolphins next year depending on whom the team and new coach bring in.
January, 11, 2011
1/11/11
2:21
PM ET
PITTSBURGH -- Steelers quarterback
Ben Roethlisberger
shrugged Tuesday at recent comments made by
Baltimore Ravens
coach John Harbaugh.

Harbaugh

Roethlisberger
When Harbaugh was asked this week about Roethlisberger playing with a broken nose in the teams' previous meeting on Dec. 5,
Harbaugh responded
: "He's a tough guy. He had the broken nose. I was glad we broke his nose and then I was very impressed that he played through it. Obviously, you can throw very effectively with a broken nose -- he proved that."
It sounded like Harbaugh was complimenting Roethlisberger for his toughness. But some ran with the "glad we broke his nose" part of the quote.
In the Steelers' locker room Tuesday, Roethlisberger said he knows Harbaugh and wasn't bothered by the comments. Like Roethlisberger, Harbaugh is a Miami (Ohio) alum.
"I think it was taken out of context, if you ask me," Roethlisberger said. "I know Coach Harbaugh. He's a Miami guy and us Miami guys stick together; there's so few of us. Actually, on the field before every game we talk to each other and ask how everything is going. So I don't think it was intended maliciously at all."
November, 5, 2010
11/05/10
10:49
AM ET
Troy Polamalu is not a big talker. But when the Pittsburgh Steelers' do-it-all safety speaks it's usually with a purpose, as Polamalu is one of the NFL's most thoughtful players.
Furthermore, Polamalu's suggestion this week of adding a governing body to regulate fines is one of the most intelligent ideas I've heard all year.

Polamalu
Many will highlight Polamalu "ripping" NFL commissioner Roger Goodell by saying he has too much power. But Polamalu didn't take a jab without offering a solution, which should be the focal point.
"There needs to be some type of separation of power, like our government," Polamalu said. "I don't think it should be based totally on what two or three people may say that are totally away from the game. It should be some of the players that are currently playing."
There's a select few that impact the lives of many in the NFL. That's not how democracy works in America. Why should it be different for America's most popular sport?
Polamalu was sticking up for Steelers teammate James Harrison, who was fined another $20,000 for his hit on New Orleans Saints quarterback Drew Brees. Harrison has been fined a total of $100,000 this year, proving it's much cheaper to play offense in the NFL.
The league is handing out excessive fines this season because a small, yet powerful group -- led by Goodell and NFL vice president Ray Anderson -- decided as much for more than 1,600 players.
Will Goodell relent some of that power by creating an independent governing body to monitor fines in the future? I don't see it. But it doesn't mean Polamalu's idea isn't a good one.
October, 22, 2010
10/22/10
5:04
PM ET
»
NFC Final Word
:
East
|
West
|
North
|
South
»
AFC
:
East
|
West
|
North
|
South
Five nuggets of knowledge about Week 7: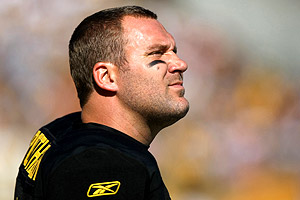 Jason Bridge/US PresswireSteelers QB Ben Roethlisberger will get his first exposure to a road crowd this season in Miami.
Ben Roethlisberger hits the road:
The
Pittsburgh Steelers
' franchise quarterback, coming off a four-game suspension for violating the NFL's personal conduct policy,
made his 2010 debut
in Week 6 in the comfort of his home stadium. Roethlisberger described the ovation he received from Steeler Nation at Heinz Field as "amazing." But he will get the opposite treatment on the road, starting Sunday against the
Miami Dolphins
. Will Roethlisberger get heckled and, if so, how will he handle it? Will it affect his play? Roethlisberger has to hear the criticism for an extended period, because the Steelers will be away from home the next three weeks and don't return to Heinz Field until Nov. 14 against the
New England Patriots
.
Upset linebacker:
Steelers Pro Bowl linebacker
James Harrison
was so disgruntled by his $75,000 fine this week that he was excused from practice Wednesday and briefly contemplated retirement. Now he's back and vows
not to change
his aggressive playing style despite increased scrutiny by the NFL on big hits. We will see how much or how little Harrison adjusts Sunday against Miami. Any big hit the league deems illegal could cost him a lot of money, as the NFL already set the bar for Harrison this week at $75,000. Or he could be suspended. The Week 6 big hits by Harrison gave
Cleveland Browns
receivers
Josh Cribbs
and
Mohamed Massaquoi
concussions.
Bye-week blues:
For many teams, the bye week is an opportunity to regroup and then play their best football. But that hasn't been the case recently for the
Cincinnati Bengals
. During the Marvin Lewis era, Cincinnati is only 2-4-1 in games following the bye. The Bengals have several issues that need to be addressed heading into Sunday's important game against the
Atlanta Falcons
. Cincinnati cannot afford to
fall to 2-4
in a deep AFC.
Quarterback dilemma:
Browns rookie quarterback
Colt McCoy
will get his
second career start Sunday
, against the
New Orleans Saints
. Coming off a relatively good debut against Pittsburgh, McCoy could make it tough on Browns coach Eric Mangini with another good performance. The plan was not to play the third-round pick at all this season. But a pair of severe ankle sprains to
Jake Delhomme
and
Seneca Wallace
forced McCoy into action last week. If McCoy pulls off the major upset and beats the Saints, the job is his. Otherwise, the Browns will have to evaluate their quarterback situation during the bye.
Finish strong:
The
Baltimore Ravens
are
disappointed in their
overtime loss to the New England Patriots. But the Ravens have a golden opportunity to head into the bye week 5-2 with a win Sunday against the lowly
Buffalo Bills
(0-5). There is some pressure at home on Baltimore, as it cannot have a letdown against arguably the NFL's worst team. There is already conversation this week of whether
the Bills could beat an UFL team
, which is embarrassing, but also could inspire Buffalo to bring its best effort at M&T Bank Stadium.
October, 21, 2010
10/21/10
9:43
AM ET

The retirement talk lasted all but one day for
Pittsburgh Steelers
Pro Bowl linebacker
James Harrison
. According to ESPN's Adam Schefter, Harrison was back at the
team's practice facility
in Pittsburgh Thursday morning.
Harrison was excused from practice Wednesday and said he was mulling retirement after a $75,000 fine for his hit on
Cleveland Browns
receiver
Mohamed Massaquoi
. Harrison was both confused and upset by the fine. But as the
AFC North blog predicted
, cooler heads eventually prevailed.
The Steelers (4-1) will play the
Miami Dolphins
(3-2) on Sunday.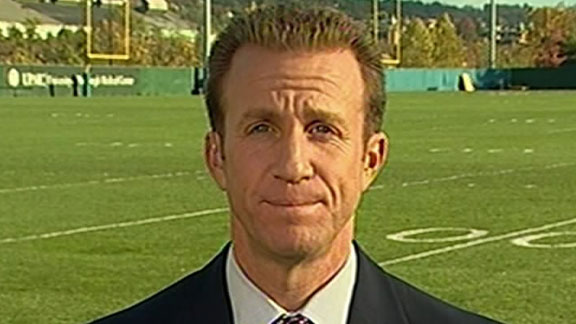 October, 20, 2010
10/20/10
2:41
PM ET
For those who haven't been around
James Harrison
, just know that he's a very serious person. There are no frills with the
Pittsburgh Steelers
Pro Bowl linebacker. Harrison says what he means and he means what he says.
[+] Enlarge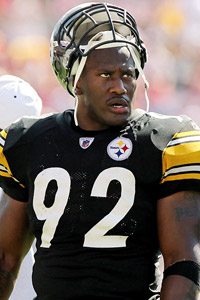 Kim Klement/US PresswireAccording to his agent, James Harrison is contemplating retirement.
That is why when Harrison states
he's mulling retirement
following a $75,000 fine for his recent hit on
Cleveland Browns
receiver
Mohamed Massaquoi
, it should not be easily dismissed. Harrison, obviously confused and distraught by the fine and where the NFL is heading, was excused from practice Wednesday as the Steelers prepare for the
Miami Dolphins
.
But would the former defensive player of the year really walk away from the game? There are several reasons why we believe Harrison will return to Pittsburgh.
For starters, Harrison, is in the second year of a six-year, $51.75 million contract. So he would leave a ton of money on the table by quitting so early into his new deal. Secondly, the Steelers (4-1) have great chemistry and are a close-knit group competing for a Super Bowl title. Once Harrison has time to vent and clear his head, there's a good chance teammates would get into Harrison's ear and convince him not to walk out on his team.
Although it's too early to speculate, the Steelers would have options in the event Harrison didn't return.
The most likely option would be to move the dynamic and athletic
Lawrence Timmons
into Harrison's spot at outside linebacker and start veteran
Larry Foote
inside. That would put Pittsburgh's best four remaining linebackers on the field. Another option would be to take a look at rookie outside linebacker
Jason Worilds
, who has played mostly special teams this year.
Harrison is flustered and angry right now. But we believe eventually the linebacker will go back to what he does best: playing football.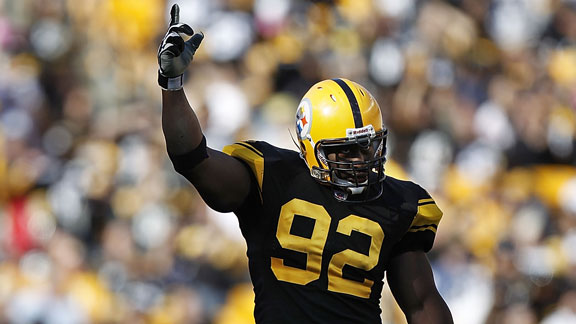 October, 6, 2010
10/06/10
1:12
PM ET
Cleveland Browns
safety
T.J. Ward
was
fined $15,000
for his hit on
Cincinnati Bengals
receiver
Jordan Shipley
, the Associated Press reported Wednesday. Ward knocked Shipley out of the game with a concussion after an incomplete pass in the end zone.
Receiver
Terrell Owens
was among the Bengals who lashed out at Ward after the game by saying it was a cheap shot. Cleveland responded by denying that Ward, a rookie second-round pick, is a dirty player.
The Browns (1-3) beat the Bengals for their first win of the season,
23-20
.
April, 16, 2010
4/16/10
11:06
AM ET

The bad news continues for the
Pittsburgh Steelers
.
One day after the team announced quarterback
Ben Roethlisberger
will
be disciplined
this season,
ESPN's Adam Schefter reports
a fine also could be next for the franchise. Schefter estimates the penalty could be in the range of $200,000 following off-field issues with Roethlisberger and former Steelers receiver
Santonio Holmes
.
Holmes was traded to the
New York Jets
this week for a fifth-round pick, while Roethlisberger awaits a decision on a suspension.

NFL SCOREBOARD
Thursday, 9/18
Sunday, 9/21
Monday, 9/22
WEEKLY LEADERS