NFL Nation:

flipper anderson
October, 27, 2013
10/27/13
7:55
PM ET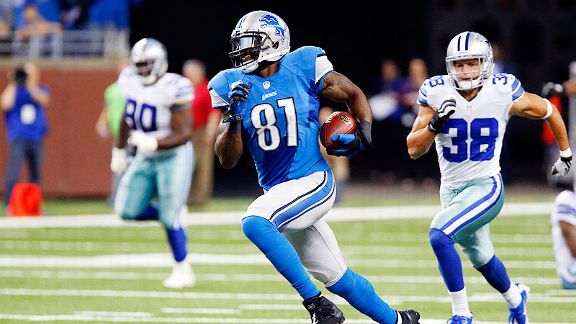 AP Photo/Duane BurlesonCalvin Johnson's 329 receiving yards left Dallas behind and his teammates reaching for superlatives.
DETROIT --
Calvin Johnson
opened the door to the side of the interview room Sunday afternoon, but there was one problem. He entered too soon.
Johnson smiled, turned around and left. He would, for the first time all day, wait his turn.
His quarterback,
Matthew Stafford
, was still talking, explaining how the
Detroit Lions
came from behind Sunday to beat the
Dallas Cowboys
31-30
, how it was his decision to dive across the end zone after a fake spike and about how his receiver is more humble than he is talented. Because after a while, adjectives cease to work describing Calvin Johnson.
How else can you explain what he did Sunday, catching 14 of the 16 passes Stafford threw to him for a team-record 329 yards -- the most yards in a regulation game in NFL history and second only to Flipper Anderson's 336 yards in an overtime win in 1989?
"I've literally never seen anything like that before in my life,"" Lions running back
Reggie Bush
said. "He's the greatest receiver in the history of the National Football League."
And the Lions needed him to be that great in order to win Sunday, to come back from 10 points down with 6:45 left to win on their final offensive play. Johnson caught slants and turned one into an 87-yard reception. He leaped between two Cowboys defenders to catch a 54-yard pass to start a touchdown drive.
Then there were all the other plays in between.
"It's crazy," Johnson said.
Perhaps crazier was how Dallas played Johnson. He said he saw a lot of single coverage. Single coverage on Johnson is almost like not covering him at all.
That would explain why Cowboys owner Jerry Jones, after he watched his team get shredded, said simply, "We could not cover Calvin Johnson."
No one could Sunday. Not even close. Johnson left teammates shaking their heads in amazement. They see it all the time, every day. Center
Dominic Raiola
said after the game he thought he had seen everything with Johnson, anything he could possibly do.
He then admitted he was wrong.
Much was made last week about Dallas receiver
Dez Bryant
saying he could do whatever Johnson could do. On and off the field, Johnson turned it into a nonissue; he said he heard about Bryant's boast only when Bryant texted him to explain things. Then Johnson went out and had one of the best days ever for a wide receiver, while Bryant scored two touchdowns on three catches and got into heated conversations on the sideline with
Tony Romo
and
Jason Witten
.
The thing that endears Johnson the most to his teammates is what Stafford was talking about just before Johnson walked in and then out of his quarterback's news conference. That humble nature. The fact that perhaps the best wide receiver in the history of the game isn't a diva.
He doesn't throw tantrums. He doesn't complain about not seeing the ball. He goes out and makes plays, ones that defy explanation, and all he wants is to win in a city that hasn't seen much of it over the history of the franchise.
Remember, he was part of the Detroit team that went winless in 2008. He saw the lows. To fans, he remained a permanent high point, someone they could latch on to as theirs, as one of the best in the game, much like they did with Barry Sanders during his career.
Now, Johnson is part of a winner, of a team that can come back to pull out a victory down six points with 62 seconds and 80 yards to go. Even his celebration of Stafford's fake spike signal and touchdown dive with 12 seconds left was understated.
He looked at the refs, raised his arms.
"The only thing that went through my mind is that we won the game," Johnson said. "I was happy he did it."
Then he'll get asked about his play, about himself, and he shrugs it off. He'll talk about single coverage and turnovers and his team and its ability to come back.
His teammates, though, will do the lauding.
"I have not ever seen anything like that," receiver
Kris Durham
said. "As a receiver, you're like, yeah, 100 yards would be a great day. I can't tell you what 300 would do. That's probably more receiving yards than I've got on the season. So that tells you something right there."
Durham's close. He has 310 receiving yards, far fewer than Johnson's NFL-leading 821 yards -- and that's with missing a game to rest his ailing knee. But yes, on Sunday, Johnson had 19 more yards in one game than Durham has had all season.
The deep ball helped. Half of Johnson's catches were for 20 yards or more, according to ESPN Stats & Information. He's done that three times in his career now. No other receiver has done it even once since the beginning of the 2001 season.
And there really is no other parallel.
"Amazing," Raiola said. "Nothing more you have to say about him."
There might be one thing even more amazing than what he did Sunday, how he played against Dallas. It might also be the scariest part of all of it.
He might not even be fully recovered from his leg injury yet.
"Just wait," Detroit coach Jim Schwartz said. "Until he's 100 percent."
For the rest of the NFL, that might be the worst news of all.
June, 14, 2011
6/14/11
10:41
AM ET
I'll leave it to the psychologists to analyze what it is that makes the Football Outsiders guys so obsessive about disappointment. Me, I'm getting a huge kick out of their series. Today's entry (an Insider piece, so just call me and I'll give you my password) is on the
10 most disappointing playoff teams
-- a list of teams that had great regular seasons only to come up short in the postseason. And the NFC East is all over the list.
Caution: Painful memories ahead.
Coming in at No. 9 is the 1989 New York Giants, who went 12-4 in the regular season and lost to Flipper Anderson and the Rams in overtime in the divisional round of the playoffs:
"They had already won one Super Bowl and would eventually win another. They were facing a Rams squad led by Jim Everett, who was legendary for his inability to take a hit. The stage was set for a typical Giants win: lots of sacks and lots of handoffs. Taylor did get to Everett twice, but those were the Giants' only sacks, and the team's grinding offense ground to a halt when Simms completed just three passes to his wide receivers. Everett threw for 314 yards, hitting Flipper Anderson for a 30-yard touchdown in overtime for a victory that completely flipped the script of late-1980s football."
Next up, at No. 7, is a trio of Buddy Ryan-coached Philadelphia Eagles teams. The FO guys lumped the 1988, '89 and '90 Eagles together into one big disappointment. Philly went a combined 31-17 over those three seasons but couldn't make it past the divisional round of the playoffs. Included in here is the "Fog Bowl" loss to the Bears and a couple of wild-card-round beatdowns by the Rams and Redskins in the years that followed it:
"The 1988 Fog Bowl was certainly a disappointment to anyone who tuned in on television and hoped to see the action, but it wasn't a crippling loss for the Eagles, a young team that played well against an established powerhouse. The other two losses, though, set the pattern that doomed Ryan and the Eagles. The Rams used a three-man rush and eight-man zone defense to keep Cunningham from scrambling, so the baffled passer spent the game throwing short passes for minimal gains to his backs. Redskins coach Joe Gibbs knew how to handle Ryan's blitzes, dialing up a mixture of screen passes and max-protect bombs that made a great defense look silly. Combine No. 9 and No. 7 on this list, and you have a new definition of 'disappointment': losing to Jim Everett in the playoffs."
Telling you. Bitter guys, those Football Outsiders.
And finally, at No. 3 on the list ... who else but the 2007 Dallas Cowboys, who started 12-1, finished 12-4, went to Cabo with Tony Romo on the bye week and lost to the Super Bowl-bound Giants at home in the divisional round?
"The Cowboys actually held 14-7 and 17-14 leads in the playoff game, but after Brandon Jacobs scored a 1-yard touchdown near the start of the fourth quarter, the Cowboys' offense collapsed in a heap of ugly sacks and sloppy penalties. Lesson learned: Cabo is a great place for players to visit in early February, not early January."
I don't know about you guys, but I can't wait to see what kind of pain and ugliness the FO guys will be dredging up for us next week. I guess the best thing we can say about this week's series is that at least Giants and Redskins fans can remember how much fun it was to be on the right side of a couple of these letdowns. One man's horrible disappointment is another man's retroactive gloating opportunity. Or something like that.

NFL SCOREBOARD
Sunday, 2/2
WEEKLY LEADERS