NFL Nation:

Frank Cignetti
August, 31, 2013
8/31/13
2:30
PM ET
There's not a player in the NFL who doesn't look forward to the end of the preseason and the start of the real thing. This year, there might not be a player looking forward to it more than Rams quarterback
Sam Bradford
.
"I'm really excited," Bradford said. "I think it will be nice to actually get into an actual game week with a game plan, talk to 'Schotty' [offensive coordinator Brian Schottenheimer] obviously this weekend and early next week and figure out exactly what we want to do."
For each of his three previous training camps and subsequent regular seasons, Bradford has found himself trying to play catch-up. He'd had three offensive coordinators in as many seasons and three systems to learn along with them.
[+] Enlarge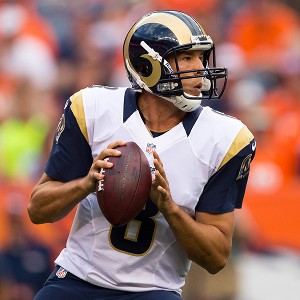 Justin Edmonds/Getty ImagesQuarterback Sam Bradford hopes his preseason success continues in the regular season.
This year, though, Bradford was noticeably more comfortable and relaxed during camp. He was more decisive on the practice field and openly embraced the leadership role vacated by former running back
Steven Jackson
.
As he enters his second season with Schottenheimer, Bradford is comfortable enough that he not only knows the offense but has spent time in practice teaching the details to the many young skill position players surrounding him.
Rams coach Jeff Fisher, Schottenheimer and quarterbacks coach Frank Cignetti have taken notice, planning to involve Bradford more in weekly game planning sessions.
"As you mature in the system, I think it's easier from a quarterback standpoint to say, 'Hey, I like this' as opposed to, 'I am not real sure about that,'" Fisher said. "As he goes through the week, he can experiment with some things. If he's comfortable, we'll take it into the game; if not, then we'll take it out. We want him to be comfortable with everything we're doing."
On the field, the Rams didn't spend much time in the preseason games revealing much of their offensive personality. There are, however, a few takeaways that can come from the exhibition season that might provide some clues as to how the Rams and Bradford are attempting to evolve offensively.
As ESPN Insider Mike Sando wrote recently, Bradford played 64 snaps in three preseason games, which ranks 23rd among projected starters. Normally, Fisher prefers to play his starters some in the fourth preseason game, but he was happy enough with Bradford's performance in his playing time that he opted to err on the side of caution.
"I thought he had a good preseason," Fisher said. "He's got a great understanding of what we're doing, he's done some really good things on the practice field and so he's ready to go."
Although the Rams kept things simple offensively throughout the preseason, Bradford's comfort level is perhaps best viewed through the scope of his attempts to get the ball down the field.
In his first three seasons, Bradford finished 30th (5.95), 32nd (6.06) and 26th (6.72) in yards per attempt. Hence the Rams' attempt to surround him with more speed at receiver and tight end.
This preseason, Bradford tied for second among projected starters in yards per attempt at 10.2. That spike yielded a quarterback rating of 114.1, which ranked fourth among projected starters.
It's important to remember that the sample size is small and Bradford's numbers are certainly bolstered by a couple of deep strikes to wideout
Chris Givens
. What will happen in the regular season remains to be seen, but there are certainly signs that the offense is indeed moving in the direction of one that will be more aggressive and take more chances.
Of course, anything that happened in preseason is already wiped away and only now will we know whether there will be a correlation.
"The preseason is tough in the fact that you pretty much run everything that you have," Bradford said. "There's not really a game plan. There's a call sheet, but we don't really sit down and talk. So, it will be nice to actually get into a game week and know exactly what's going to be on the call sheet and what our plan of attack is."
February, 19, 2013
2/19/13
11:00
AM ET
In eight seasons with the
San Francisco 49ers
,
Alex Smith
has played for three head coaches, seven offensive coordinators and six quarterbacks coaches (seven if you count Pep Hamilton, who helped Jim Hostler coach the position in 2006).
These many associations would seem to increase exponentially the number of likely landing spots for Smith as a free agent or trade candidate this offseason.
A closer look suggests that might not be the case.
Smith's connections with former head coaches Mike Nolan and Mike Singletary would actually deter reunions. Neither would be in position to push for landing Smith, anyway. Nolan's
Atlanta Falcons
don't need a quarterback.
Former 49ers offensive coordinator Norv Turner could potentially need a quarterback in Cleveland. The team's other former Smith-era coordinators wouldn't be in position to help. Mike McCarthy's
Green Bay Packers
are obviously set at the position. Mike Martz is a color commentator for Fox. Hostler coaches wide receivers for the
Joe Flacco
-led
Baltimore Ravens
. Jimmy Raye worked last season as a senior offensive assistant with Tampa Bay. Michael Johnson was out of the NFL.
Hostler and Johnson were also among the Smith-era quarterbacks coaches in San Francisco. Another, Frank Cignetti, coaches the position for the
Sam Bradford
-led
St. Louis Rams
. Another, Ted Tollner, is no longer coaching. Another, Jason Michael, coaches tight ends for the
Philip Rivers
-led
San Diego Chargers
. Hamilton, meanwhile, is offensive coordinator for the
Andrew Luck
-led
Indianapolis Colts
.
Even a run through former position coaches for the 49ers' receivers, tight ends and offensive line turns up more dead ends than fresh leads. Former tight ends coach Pete Hoener coaches the position for the
Cam Newton
-led
Carolina Panthers
. Former line coach Chris Foerster coaches the position for the
Robert Griffin III
-led
Washington Redskins
. Another former line coach, George Warhop, is with Turner in Cleveland.
The 49ers' longtime former receivers coach, Jerry Sullivan, coaches the same position for Jacksonville. New Jaguars coach Gus Bradley would be familiar with Smith from his days coordinating the
Seattle Seahawks
' defense. But Jacksonville would make much greater sense as a landing spot for Smith if the 49ers' current offensive coordinator, Greg Roman, had become the Jaguars' head coach. That had been the expectation until the 49ers' deep playoff run complicated efforts to hire Roman.
There still could be a market for Smith, of course. But in a league built on connections and relationships, it's tough to find many likely to influence where Smith winds up next season. That is partly because the 49ers have kept together their current staff under head coach Jim Harbaugh. The coaches most closely associated with Smith's recent revival remain under contract to the team. That was great for Smith when he was starting, but it won't help him find his next job.
May, 17, 2012
5/17/12
7:06
PM ET
SeattleAztec from San Diego
asks whether
Matt Flynn
might be the "most developed" quarterback in the NFC West after learning from Mike McCarthy in Green Bay.
"
Alex Smith
and
Sam Bradford
seem to be the least developed with having multiple offensive coordinators and no great vets to learn behind," he writes. "
Kevin Kolb
had a good upbringing in Philadelphia and Arizona has shown an ability to handle QBs, but Flynn had the benefit of learning in the Green Bay system. Learning behind
Aaron Rodgers
and Mike McCarthy will give him an advantage, assuming he wins the starting job. Thoughts?"
Mike Sando:
Flynn's background with McCarthy and the Packers appealed to the Seahawks. McCarthy, with nothing more than a compensatory draft choice to gain from advocating for Flynn in free agency, gave glowing reviews in conversations with the Seahawks. Those conversations appear more credible based on Seahawks general manager John Schneider's long association and friendship with McCarthy.
"We really respect the job that they've done with their offense and their quarterbacking and Matt is a beneficiary of that, so therefore we are also," Seahawks coach Pete Carroll said after signing Flynn in March. "His process to learn as Aaron Rodgers has learned has really been helpful to him. There are a lot of similarities in their style of movement and decision-making, play and conscience that I think helps us."
That doesn't necessarily mean Flynn will be the "most developed" quarterback in the division. A few thoughts on what the other NFC West quarterbacks have going for them:
Smith (49ers): Jim Harbaugh should know the position better than any head coach in the division. Smith has more experience than any quarterback in the division. Harbaugh and Smith meshed well last season. Offensive coordinator Greg Roman and quarterbacks coach Geep Chryst round out what looks like a solid support group. Smith has finally had time this offseason to work on his mechanics. He's getting a second season in the offense. Spending one season with McCarthy and a second with Norv Turner probably counts for something, too, despite the passage of time.
Kolb (Cardinals): Kolb did not practice with the Cardinals until 38 days before the 2011 opener. That made it tough for Kolb to learn a new system and settle into the role. Injuries derailed Kolb once he finally did get experience in the system. The Cardinals fired quarterbacks coach Chris Miller and promoted receivers coach John McNulty to the position. Arizona valued McNulty enough to block Tampa Bay from pursuing him as its offensive coordinator. The team's new receivers coach, Frank Reich, was an NFL quarterback for 14 seasons. What does it all mean? It's a little early to tell.
Bradford (Rams): New coordinator Brian Schottenheimer was with Mark Sanchez previously. One line of thinking says Schottenheimer led Sanchez as far as Sanchez could go, then took the fall when Sanchez failed to carry more of the offensive load. Another line of thinking says Schottenheimer couldn't get Sanchez past a certain point. Bradford is on his third coordinator in as many seasons. The Rams went through 2011 without a quarterbacks coach. The new quarterbacks coach, Frank Cignetti, coached the 49ers' Smith under coordinator Jim Hostler in 2007. That was one of the worst offensive seasons in 49ers history. Hostler took the blame. It's tough to fault Cignetti in that context, but also tough to offer a strong endorsement without seeing results.
Circling back to the original question, we could make a case that Flynn should be the most developed quarterback in the division.
Other factors go into success, of course. Bradford and Smith were No. 1 overall choices, indicating that teams thought they were more talented than Flynn, a seventh-rounder who drew moderate interest in free agency this offseason. And if the Seahawks were convinced Flynn were the answer, they would have had less reason to use a third-round choice for a quarterback after signing Flynn.
I do think Flynn's background with the Packers was crucial for the Seahawks. Schneider's first-hand knowledge of
Green Bay's quarterback training techniques
was a factor.