August, 21, 2011
8/21/11
10:33
PM ET
Thoughts from the Jets 27-7 preseason win over the Cincinnati Bengals.

WHAT IT MEANS:
Rebounding from a so-so performance last week, the
New York Jets
improved in all phases and defeated the helpless Cincinnati Bengals on a rainy Sunday night at New Meadowlands Stadium.
Plaxico Burress
was the star, but this was more than a one-man show. Midway through the preseason, the Jets (1-1) have to feel good about themselves. And there appeared to be no major injuries.
LIKE OLD TIMES:
Burress made his Jets debut and gave the rain-soaked fans what they wanted -- a moment to talk about. The moment came with 51 seconds left in the second quarter, when he made an over-the-shoulder, 26-yard touchdown catch. With his back to
Mark Sanchez
, Burress threw his 6-foot-5 body into a dive, securing the high, arching pass as he skidded across the wet turf.
With that one play, Burress announced his return to football. After nearly two years in prison, he was back, demonstrating the kind of athleticism you wouldn't expect from a 34-year-old receiver that spent that much time in the big house. It came against a backup cornerback named
Fred Bennett
, but that didn't matter. It was all about body control, hand-eye coordination and sticky hands.
Burress played 30 of 32 plays in the first half, finishing with three catches for 66 yards. Translation: A smashing debut.
SANCHEZ ROCKS:
After an efficient but largely non-descript performance last week, Sanchez (12-for-20, 173 yards, two TDs) delivered some big plays in the passing game. The protection was better this week, thanks to the return of All-Pro center
Nick Mangold
. He led the offense to two touchdowns (drives of 16 and 99 yards) and a field goal in seven possessions, wrapping up the night with a 10-play, 99-yard touchdown drive.
Until then, the Sanchez-led offense was like the weather -- blah. In fact, the Jets started 0-for-6 on third down. The turning point was a 43-yard pass to a wide-open
Dustin Keller
, providing good field position after being backed up at their 1. From there, Sanchez hit Keller on a third-down catch, setting up the Burress highlight-film catch.
WIDE-OPEN OFFENSE:
For the second straight week, the Jets relied heavily on a three-receiver attack. In fact, they used their "11" personnel package (3 WRs, 1 TE, 1RB) on 19 of 32 plays in the first half. With
Derrick Mason
(knee) sitting out, they used Burress,
Santonio Holmes
(16-yard TD) and rookie
Jeremy Kerley
in three-wide packages.
NO GROUND AND POUND:
By placing an emphasis on the passing attack -- a necessity, given the new parts -- the running game was out of sync.
LaDainian Tomlinson
got the start with
Shonn Greene
(foot) out of the lineup, and the 32-year-old looked a bit sluggish. He rushed for 16 yards on nine carries. Tomlinson got a lot of work, appearing in 31 of 32 plays in the first half.
Joe McKnight
and
Bilal Powell
didn't see significant time until the second half.
OPPORTUNISTIC D:
The Jets roughed up the offensively challenged Bengals, intercepting three passes --
Eric Smith
,
Jim Leonhard
and
Brashton Satele
. The three turnovers set up 17 points for the Jets, and that was pretty much the story of the game. Keep in mind, the Bengals no longer have Carson (I Wanna Retire) Palmer at quarterback. They started rookie
Andy Dalton
and replaced him with journeyman
Bruce Gradkowski
.
WELCOME MAYBIN:
Bills castoff
Aaron Maybin
, the 11th overall pick in the 2009 draft, made his presence felt in his Jets debut. After only three days of practice with the team, Maybin recorded a strip sack on Bengals third-string QB
Jordan Palmer
. Hey, that might have been enough to grab a spot on the 53-man roster.
October, 14, 2010
10/14/10
3:08
PM ET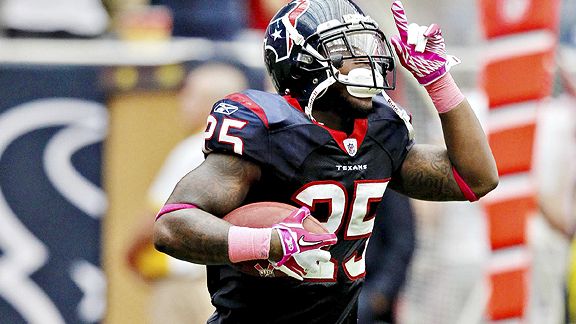 Derick E. Hingle/US PresswireFirst-round draft pick Kareem Jackson hasn't gotten off to the start the Texans had hoped for.
The secondary has to cover better. The pass rush has to help by hurrying quarterbacks more often or getting them off rhythm.
Certainly the personnel deserves a lion's share of blame for what's wrong with the
Houston Texans
so far.
The players are the ones who compose the league's 32nd-ranked pass defense, after all. They are the one's giving up an average of 329.6 passing yards a game and 8.34 yards per pass attempt. They are the ones quarterbacks are tossing it over and between while mounting a gaudy combined passer rating of 104.0.
Still, they aren't the only culprits here.
Coach Gary Kubiak and general manager Rick Smith crafted this roster. When they trimmed it on cut day, they decided the Kiddie Corners -- starters
Kareem Jackson
and
Glover Quin
, nickel guy
Brice McCain
and backup
Sherrick McManis
-- would suffice.
The formula, however, counted on a few things that haven't happened yet:
Quick and steady growth by the corners.

An improved pass rush that would force quarterbacks to hurry.

A high-scoring offense that would mean it was OK if the opponent could mount yards and points.
After two weeks, I thought it was
too early to worry
. Now, however, the team still doesn't get a check-mark on any of those.
This leaves a stand-up guy like Quin saying: "If you can't stop it, they're going to continue to do it. That gives us a chance to make a bunch of plays in the pass game and put on film and show the league you can't just sit there and throw the ball on us. But it's going to take more than one game to stop the pass until we weather the storm and get out of it."
Let's circle back and take on those three issues one at a time.
1) The corners are struggling, with first-rounder Jackson topping the list. It seems the Texans are asking a lot of him awfully soon. Maybe it hardens him quickly and we see a growth spurt.
In the meantime, however, when they want to scale him back as they did Sunday in the home blowout at the hands of the Giants, the alternative is to use McCain as the second corner, with McManis, a fifth-round rookie, in the nickel package.
I had no problem with the team admitting
Fred Bennett
and
Jacques Reeves
were no longer useful and letting them go. But at some point after they decided to let
Dunta Robinson
walk (he wasn't worth the money) and they failed to land
Leigh Bodden
(he may have used them to secure a deal in New England), they needed to add a veteran with the potential to be a useful reserve who can at least calm panic and be average.
Who? I don't know. But players like
Walt Harris
,
Ellis Hobbs
,
Lito Sheppard
and
Benny Sapp
changed teams and have roles where they are.
Rod Hood
might have been the same sort of guy had he not gotten hurt.
One of them or someone else could have provided more than
Karl Paymah
, the current veteran on the bench who's still learning the system. You need a guy who can fill in if the kids need a break and can be a resource to them -- though Quin said talking to a veteran isn't such a huge help, that young guys simply need to learn through experience.
Barring injuries, I think it's an architectural mistake when a team doesn't have a reasonable mix of youth and experience at a position group. This qualifies as that.
Smith disagrees.
"I can't tell you that I have ever really sat down and said, 'Gosh, we've got all young guys in this group, we need a veteran,'" he said. "Because if all the young guys are playing well, you don't need a veteran. It's difficult to look at it that way. ..."
"When you make a decision to go young, particularly in the secondary, you do that with the full awareness that there are going to be some growing pains. We certainly are experiencing some of those. But you do that because you are betting on the upside. And you know once you learn those lessons and get through some of those tough experiences you're going to have a group of players that is capable of playing together for a while at a high level. I believe they'll answer the call and we'll play good defense."
Players want to prove that Smith and Kubiak did the right thing, Quin said.
[+] Enlarge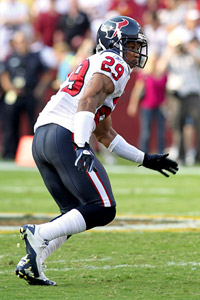 Jeff Fishbein/Icon SMIGlover Quin is still searching for his first career interception.
"Those guys see something or saw something that they felt like, 'We're going to go in this direction and it's going to be good for us,'" Quin said. "So I don't feel like just because we started off the season and we're last, this was a bad decision. We've got to play better and make it a great decision. They stuck their necks out for us, now we have to go out and perform for them."
2) The rush got only one addition of note, tackle
Earl Mitchell
, a third-round pick.
Connor Barwin
, a rush-specialist end, was lost for the season with an injury suffered opening day, which hurt as he was in line to be the most improved player on the team.
But the Kubiak-Smith duo doesn't appear to have done enough here either, expecting patience would pay off with growth that we simply haven't seen.
They hope
Mark Anderson
or
Adewale Ogunleye
can catch on to what they are doing and ultimately help replace Barwin. A second rushing force to go with
Mario Williams
is crucial, and a better rush would offer a lot of relief to the defensive backs.
The Texans have faced very good quarterbacks so far.
Still, according to ESPN Stats & Information, they have thrown 147 passes against the Texans when they've rushed just four defenders, completing 111 of them for a 75.5 percentage and 1,352 yards. Those are the highest number in the league in each of those categories.
With a four-man rush, the Texans have given up eight touchdowns, a 110.1 passer rating and recorded only four sacks.
For context: The
Tennessee Titans
have faced 10 fewer pass attempts against their standard pressure and have 10 more sacks than Houston in those situations.
"I think Mario Williams has been great," said Matt Williamson of Scouts Inc. "Fulfilling all of his vast and amazing potential. But the rest of the crew is letting him and their terrible pass defense down."
3) It was reasonable to expect that the Texans, who felt they'd made great strides in balancing out the offense and running in the red zone, would improve from 10th in scoring a year ago. Overly reliant on the pass, the 2009 Texans averaged just more than 24 points a game.
Matt Schaub
's got enough on his plate with his own struggles, which include
an adjustment
to coordinator Rick Dennison and a balky ankle for
Andre Johnson
.
Now as the leader of the offense, he sees his counterparts slinging the ball all over the field and has to be feeling more pressure than he should to get some crooked numbers on his side of the scoreboard.
With no major personnel change, the team's gotten a touch less than that while allowing nearly a touchdown more a game. It's hit 30 points in three wins.
But in two hard-to-swallow blowouts, the Texans' offense struggled. It didn't get a touchdown against Dallas until under two minutes were left. It didn't find the end zone against the Giants until the third quarter.
"We've hit a couple of rough patches, but that's expected," Smith said. "I've got total confidence in our guys and that we'll make plays and continue to play good on offense."
Houston's been outscored 78-40 in the first half. The offense can do more to keep the Texans in a tough game.
March, 24, 2010
3/24/10
8:22
AM ET
Gary Kubiak's like most of us: With
Dunta Robinson
gone, he doesn't know how to stack the cornerbacks remaining on his roster.
Glover Quin
's earned a starting spot, but ideally he'd be a No. 2 guy. Kubiak was asked at the owners meetings who would line up opposite Quin right now.
"I don't know," he said. "There would be a lot of guys lining up there right now. You've got Jacques [Reeves]; you've got [Brice] McCain; we still think [Antwaun] Molden has a chance to be a fine player. We've been disappointed. He has not stayed on the field. But we do like him a lot. It's an open book right now. They'll all battle. We'll see. To say who's one, two or three, I don't think any of us know that."
Kubiak didn't mention
Fred Bennett
there. I don't know if that was on purpose or just an incomplete list, but he was asked a follow-up about Bennett and whether his fourth year will be a do-or-die season for him.
"I don't want to say do or die," Kubiak said. "I don't want to say that. Fred's been so up and down. He's been to the brink where he looks like he's ready to be a starter in this league and he goes the other way. It's time for some consistency out of Fred. He's at a point in his career where he's going to have to play like a starter and be more of a contributor to this football team or it's going to be tough. I don't think anybody knows that more than Fred. He can't be staring at more of an opportunity than he's ever stared out, so we'll see how he handles it."
There is no doubt the Texans bring in a corner in the draft, probably early.
March, 23, 2010
3/23/10
8:53
AM ET
We'll get some good stuff Tuesday morning out of Orlando, where AFC South coaches are having breakfast with reporters at the owners meetings. I'll be monitoring what comes out through some of my colleagues who are there.
The first thing of note I've seen was this from Adam Schefter
via Twitter
:
"Colts coach Jim Caldwell is thinking about playing some four WR sets with Reggie Wayne, Pierre Garcon, Austin Collie and Anthony Gonzalez."
As if three wides and
Dallas Clark
isn't enough of a problem.
I automatically started thinking of secondary depth in the division and how it would stack up against that. Nobody in the league has the kind of corner and secondary depth needed to stand up to that personnel grouping with
Peyton Manning
at the controls.
The Texans and Titans are definitely in the market for a cornerback, and safety is also in play. The Jaguars likely take a defensive back or two as well in the draft.
Teams could obviously use an additional safety in the sort of dime scenarios this could force. Here's our take on the depth at defensive back for each of the Colts' division opponents:

Houston
Nickel: Glover Quin, Jacques Reeves, Brice McCain.

Dime candidates: Cornerbacks Fred Bennett, Antwaun Molden; Safeties Dominique Barber, Troy Nolan.

Assessment: Contemplating this secondary against the Colts' four-wide lineup is scary right now. Throw Clark in as the fifth skill player and I don't know how Houston holds up. Corner and free safety are big draft needs.


Jacksonville
Nickel: Rashean Mathis, Derek Cox, Tyron Brackenridge.

Dime candidates: Corners William Middleton, Kennard Cox, Michael Coe; whichever safety isn't already playing out of Reggie Nelson, Anthony Smith, Sean Considine.

Assessment: Top three are pretty solid, but safety really needs to be sorted out and could have a new piece.


Tennessee
Nickel: Cortland Finnegan, Ryan Mouton, Vincent Fuller.

Dime candidates: Corners Rod Hood and Jason McCourty; safety Donnie Nickey.

Assessment: I am giving the nod as the second starting corner to Mouton right now based on hearing the team is high on him. A draft pick needs to compete for that spot. Overall depth is unproven.
March, 5, 2010
3/05/10
6:42
PM ET
Dunta Robinson
was a sometimes great, usually good player for the
Houston Texans
. He'll probably be a good player for the
Atlanta Falcons
, who've agreed in principle with him on a six-year deal according to John Clayton.
Robinson didn't handle last season's franchise tag well, he wasn't worth a second year of franchise money and it was clear they couldn't find common ground.
But remember, when he suffered a horrible right knee injury in the middle of 2007 and missed to the middle of 2008, the team struggled to fill his spot. It needs to do better filling in for him now.
I know the Texans like
Glover Quin
, but a one-year sample size isn't sufficient for me to tab him a solution.
Quin,
Jacques Reeves
,
Brice McCain
,
Fred Bennett
and
Antwaun Molden
amount to an insufficient pool of cornerbacks considering they'll need three, probably four, and considering free safety remains an unsettled spot that also needs addressing.
Does that group bring any swagger? Robinson was a tone setter. I'm not sure they've got one now, and I consider it an important ingredient that's now part of the team's shopping list.
August, 21, 2009
8/21/09
1:05
PM ET
| | |
| --- | --- |
| | |
| | Bob Levey/Getty Images |
| | Linebacker DeMeco Ryans and the Texans defense have a new attitude. |
Posted by ESPN.com's Paul Kuharsky
HOUSTON -- React or act?
Give a group of guys who've spent a lot of time doing the former to do the latter and you'll be greeted with glee.
That's the Houston Texans' defense's feelings for first-year coordinator Frank Bush, promoted by Gary Kubiak to replace Richard Smith.
"His leadership and the way he comes off to the players, it's a different feeling," middle linebacker
DeMeco Ryans
said. "It's a different attitude, a different mentality which carries over to the guys and our attitude. We're a lot more physical team. I don't want to say we were too passive.
"I think we had guys thinking too much, we had so many checks and this and that. It was too much, you're thinking so much to where you can't just line up and go tee off on someone. Now we can just line up and get it, there isn't so much too it. It's simplified to where we don't have all the checks."
The primary word being used for the team's new approach is "aggressive," and that's not a term that characterized them too often with Smith at the controls. The mild mannered Bush has the defense excited and determined not to let the Texans be known exclusively as an offensive team.
While Matt Schaub, Andre Johnson, Steve Slaton and Owen Daniels will go a long way towards determining if the Texans can build on consecutive 8-8 seasons and make the playoffs, Mario Williams, Ryans and linebacker Brian Cushing, a first-round pick, bring a good dose of star power to the defense.
Fantasy Football: 32 Questions

Is Matt Shaub a No. 1 fantasy QB? ESPN.com fantasy expert Brendan Roberts answers that question. Story

"They are getting tougher and tougher to go against every day," offensive coordinator Kyle Shanahan said. "They've improved themselves with a bunch of players, they've been rushing the passer better and they are making it tough on us."
To graduate to being a playoff team, the Texans have to reverse some trends. They'll need to play better early so they aren't left to fight so hard to get back to .500. They need to fare better within the division, finding ways to finish off their primary rivals when they have the chance.
They expect the Titans and Colts to be strong again. The Texans will likely have to chase one or both of those teams down.
Anything less than double digit wins and a playoff berth won't be considered a success.
Key questions
1. Can the offense fix turnover and red-zone issues?
The Texans ranked third in total offense last year, but it didn't mean as much as it should have because they were 17th in points per game. The two big themes heading into the 2009 season are cutting turnovers and getting better production once they get inside the 20.
They were minus-10 in takeaways/giveaways last year, third worst in the NFL. They scored touchdowns on just 45.9 percent of their red zone possessions.
"I think if we can make those two adjustments, we can win at least two more games," Shanahan said. "If we can do that I think we will be a playoff team. We were a good offense last year statistically. But that was the first thing I talked about on the first day of OTAs this year, that doesn't mean anything. The top three offenses in the league last year were New Orleans, Denver and us. None of us made the playoffs. Moving the ball does not matter unless you move it across that goal line."
2. Do they have enough in the secondary?
Their top cornerback, Dunta Robinson, has not been with the team because he's upset about getting slapped with a franchise tag, but he will ultimately sign it and play for a guarantee of nearly $10 million.
Jacques Reeves will miss the start of the season with a fractured fibula, which means Fred Bennett will get some time as the second starter. Rookie Glover Quin is currently the nickel and they like his physical play.
But the safeties and the defensive backfield depth are question marks, even if the defensive front gets more of a pa
ss rush and forces the ball out quicker. Can they get steady enough play from Eugene Wilson and second-year man Dominique Barber, the presumptive starters at safety on opening day against the Jets?
| | |
| --- | --- |
| | |
| | Defensive end Mario Williams |
| | Defensive end Mario Williams accounted for 12 of the Texans' 25 sacks last season. |
3. Does Williams have enough pass rush help?
The Texans had just 25 sacks in 2008, fewest in the division. And Williams accounted for 12 of them. Houston made moves intended to get pressure from elsewhere -- first by signing free agent defensive lineman Antonio Smith, then by drafting Cushing and defensive end Connor Barwin with their first two picks. New defensive line coach Bill Kollar is a fiery type who preaches pocket penetration and may just be the team's biggest addition.
An effective rush from the front can help take a lot of pressure off the secondary, which ranks as the team's weak link.
Market watch
Ideally, Jacoby Jones would be in line to replace Kevin Walter as the No. 2 receiver in a year if the team doesn't or can't re-sign Walter. But Jones lacks maturity and consistency and his job security could be in jeopardy. The team is looking at kickoff return man Andre Davis, a better receiver, as a punt return possibility. If Davis succeeds there, Jones could be expendable.
Jones can be very good, but he can also put the ball on the ground too much as a punt returner. And Kubiak is not a fan of specialists. He wants football players who can fill multiple roles. That describes Davis, who can cover kicks as well as return them in addition to catching passes. It may not cover Jones much longer.
Newcomer to watch
Smith wasn't regarded as any sort of premier pass rusher when he hit free agency. But he's a versatile lineman who is very good with his hands. If things go the way the Texans hope, he can be an early down end and a third down tackle, having a positive influence and taking on a leadership role for youngsters Williams,
Amobi Okoye
and Barwin.
"He's a kid that can move from outside to inside, he's a big man that's a real good athlete," said Bush, who also worked with him in Arizona. "He's a 285-pound guy with good knee bend. He's extremely tough, has no problem playing over a center, guard or tackle. He takes a lot of pride in his performance and he came up through the ranks the hard way, he honed his craft and made himself what he is.
"That whole sense of a guy that came from virtually nothing to what he is right now kind of helps our team. Other guys can see it and aspire to be that way."
Observation deck
Antwaun Molden got hurt in his rookie season when the team wanted to bring him along slowly. He's a physical cornerback who could provide some great insurance or become a real alternative now if he's needed. ... Dan Orlovsky hasn't looked very good, but the team knows it will take him a while to be comfortable in the system and are convinced with coaching he can be a quality No. 2 quarterback for them. Even before a hamstring injury Rex Grossman wasn't going to challenge him for the backup quarterback job. ... Ryan Moats is like Slaton style-wise and Arian Foster is Chris Brown-like. But the undrafted rookie back may have missed his chance with a preseason injury and a too-slow return. Brown's ability to stay healthy will be a big question for the offense. ... While he's a popular fall guy with media and fans, defensive tackle Travis Johnson, who's missed camp so far recovering from hernia surgery, generally does what the team asks, taking up blockers. That it's a contract year won't hurt his motivation either. ... Undrafted free agent John Busing hits and plays good special teams, which may give him a shot at a roster spot that has belonged to Nick Ferguson or Brandon Harrison. ... The team also likes undrafted defensive end Tim Jamison, but will there be room for him? ... Frank Okam is big, quick and smart and he's been a pet project for coaches. When Kubiak complimented his offseason, Okam knew it meant something, "because it's difficult for an Aggie to give a Longhorn a compliment." ... Rookie tight end James Casey can play fullback, line up wide or throw. That's versatility that makes him Houston's Wildcat candidate. ... Want an undrafted possibility on offense? If Jones is out, there could be room for receiver Darnell Jenkins.
August, 19, 2009
8/19/09
10:41
PM ET
Posted by ESPN.com's Paul Kuharsky
HOUSTON -- Lightning in the area forced the Texans and Saints inside for their second practice Wednesday. Bummer, I thought. It'll be cramped in there and we'll see them do far less.
But in terms of focus and watchability, it was actually better than the morning.
Outside of some special teams work, both teams drove the ball from just over midfield against the defenses for much of the practice. There was also a section of alternating possessions where the offenses tried to string together longer drives, at least some of which were 2-minute drills.
Some highlights and thoughts:
May, 21, 2009
5/21/09
12:30
PM ET
| | |
| --- | --- |
| | |
| | Getty Images |
| | While the Texans made some expensive offseason additions to their defense, they did not add any high-profile competition for Nick Ferguson and Eugene Wilson, their presumed starters at safety. |
Posted by ESPN.com's Paul Kuharsky
Defensive upgrades were to be the theme of the offseason for the Houston Texans.
They grabbed defensive lineman Antonio Smith with a big-dollar free-agent contract. They drafted linebacker Brian Cushing with the No. 15 pick overall.
But outside of adding fourth- and sixth-round cornerbacks and a seventh-round safety/special-teamer in the draft, the Texans didn't add anyone of note to their secondary.
What does that say?
Either the Texans liked what they had enough to believe it will work better with an upgraded front seven, or they didn't like the options in free agency or the high value spots in the draft. Perhaps both.
"We have some quality guys back there, that if things are going correctly, they can contribute and make plays for us," said defensive coordinator Frank Bush, who took over as defensive coordinator for Richard Smith, whom Gary Kubiak let go. "Of course it's all tied together. Hopefully the front seven can do some things that are going to ease some of the pressures on the back end."
Bush said his veteran safeties are smart, contentious and understand the system and that the younger guys at the position are following suit.
Had there been a "gotta have him" first-round safety, he could have landed in Houston. There wasn't, so at organized team activities (OTAs) this week the Texans have lined up with Nick Ferguson at strong safety and Eugene Wilson at free safety on the first-team defense, with Brandon Harrison and Dominique Barber behind them.
The résumé lines for the four, with assessments from Bush:
Ferguson has played nine seasons with the Jets, Denver and Houston. Last year he was considered a nice addition for depth and to assist in further establishing the culture coach Gary Kubiak and general manager Rick Smith wanted to grow.

Bush: "Nick's a very tough kid. He hits a ton, he studies a tremendous amount. He's got real good zone coverage awareness. He might have a little bit of problem with some man-coverage things, but all in all, he's solid."

Wilson has 12 interceptions in five seasons playing both corner and safety. He was a second-rounder, 36th overall, for New England in 2003 and was part of two Super Bowl-winning teams. He signed as a free agent in Tampa Bay last year and didn't stick before finding a home in Houston. He started the last nine games of 2008 at free safety.

Bush: "He's been playing safety, but he played corner in college. He's more athletic, more of a coverage safety, more in the middle of the field, a ball hawk. He's a willing tackler. He will come down in the box and lay some wood on you when he has to. But he's really comfortable ball-hawking, breaking on the ball and making plays on the ball."

Harrison was a fifth-round pick by the Texans out of Stanford in 2007 but missed his rookie year with an injury. He played in 15 games, starting six last season.

Bush: "Harrison is a Stanford kid, so of course he's smart. He's a big, physical presence. He's probably over 220 pounds, a kid that can strike you, runs well and moves real well for a big guy. His biggest deal is to keep getting quality reps and more experience. A big kid like that, you probably want him closer to the box. He's got almost linebacker size, but he's capable of playing in the middle of the field."

Barber was presumed by many to be heading for the starting strong safety spot opposite Wilson this year, and still could be. At 6-foot, 218, he's thick and can thump if he's finding his way to the right spots.

Bush: "He actually played some nickel-type linebacker for us last year. He's another kid you like towards the box. But he has a tremendous understanding of the game -- his dad played, his brother played -- he really understands football. We're able to put him in the middle of the field and he can help guys get lined up and do things that way. He's got a lot of football savvy."

Troy Nolan, the seventh-rounder out of Arizona State has nice ball skills, but will have his initial opportunities on special teams.
If things pan out as the Texans envision, the club will get improved pla
y from the group of holdovers, boosted by a pass rush that will consistently force quarterbacks to make quicker decisions. If they don't, the spotlight will very likely chase the safeties and feel more like a searchlight.
It seems they have three candidates to be the in-the-box kind of guy. But they could have set things up better for competition at free safety, where I will be interested to see how Wilson can do.
"It's going to be on the DBs to cover so that the front seven can work and get those sacks," Barber said. "We know the front seven is going to get that push and it's going to come down to us making that play on the ball."
| | |
| --- | --- |
| | |
| | Aaron M. Sprecher/Icon SMI |
| | New coordinator Frank Bush is looking for more discipline and accountability from his defense. |
During this offseason work, the safeties have an additional chance to prove themselves as leaders. Cornerback Dunta Robinson will re-emerge eventually, either after signing the franchise tender that upset him or with a long-term contract. Without him around, Jacques Reeves -- a popular target of fans -- and Fred Bennett are the frontline corners.
Part of the appeal of fourth-round defensive back Glover Quin out of New Mexico was his versatility, but Bush said Quin is working with the corners for now along with sixth-rounder Brice McCain out of Utah.
The expectations Bush has for the safeties and defensive backfield are in line with the message for the whole defense, he said.
"More than anything, more discipline, being more consciously aware and accountable for their techniques and the things that we ask them to do," he said. "We're going to be sticklers for the details and by doing so make those kids more prepared to do the same things over and over and over again and get the same looks instead of , I won't say just ad-libbing it, but instead of having different techniques. We want the same things over and over and over again, so it becomes habit."
Barber said new defensive backs coach David Gibbs has streamlined a big piece of the safeties' lives.
"He's helped simplify a lot of the calls for the safeties and it makes all of the adjustments easier," Barber said. "And in three days of practice, you can tell we are flying around and have made a lot of progress already."
When Houston played its best defense last season, it was when coaches became less cautious and more aggressive. That was a big theme for Kubiak as he made the change from Smith to Bush, and players have universally talked about how they prefer the mindset.
Does a safety in that line of thinking have to be less afraid of giving up a big play?
"It's a controlled caution, I guess you would say," Bush said. "We will always try to give them the different techniques and the pointers to help them out in those situations. When we feel like we need to be aggressive, we're going to always give them some tools to protect themselves. Football is aggressive. If we can just play to those principles, we should be fine."
March, 20, 2009
3/20/09
2:35
PM ET
Posted by ESPN.com's Paul Kuharsky
Often times mock drafters or fans (or mock drafter fans) who aren't fully aware of a team's depth chart will connect the easiest dots.
The Titans, for example, lost Albert Haynesworth, therefore a lot of people presume they automatically need a replacement defensive tackle and put them down for one at No. 30.
| | |
| --- | --- |
| | |
| | Mitchell Layton/Getty Images |
| | Just because the Titans lost Albert Haynesworth through free agency doesn't mean they are dead-set on a replacement in the first round. |
Except that the Titans drafted Jason Jones in the second round last year and he was impressive as a rookie, with five sacks in 13 games. They signed free agent Jovan Haye, a favorite of defensive line coach Jim Washburn. They like starter Tony Brown very much, and they like Kevin Vickerson as their biggest body -- enough so that he got a contract extension during the 2008 season.
The Titans may well be in best-player-available mode and if Evander Hood is there at their spot and they see him as a great value they could take him.
But it's hardly a foregone conclusion.
Similarly, I believe it's a mistake to cross left tackle off the list of potential picks for Jacksonville just because they signed free agent Tra Thomas. They still need a long-term solution, and if the best tackle at No. 8 is a better value to them than what's left at receiver, defensive tackle or cornerback -- or if they aren't taking a quarterback or trading the pick to someone who wants one -- they may well take a potential offensive line anchor.
The Scouts Inc. needs board looks pretty good to me, so I'd keep an eye on that. It gets adjusted based on any new developments.
Meanwhile, here's an up-to-date rundown of the primary needs, in my view, for the teams of the AFC South:

HOUSTON TEXANS

Defensive tackle: Amobi Okoye needs some help inside to be the player the Texans envisioned, and an effective tackle who demands attention will help the continued push to upgrade the line and produce more consistent pass pressure.
Defensive back: There is evidence that Jacques Reeves wasn't as bad as portrayed last year as the corner opposite Dunta Robinson once Robinson returned from injury. But competition for the second and third spots would be good to add with Reeves and Fred Bennett. And none of the top three safeties are overwhelming -- Eugene Wilson at free and Dominique Barber at strong are the starters, with Nick Ferguson as depth. The Texans should add the best overall defensive back they can find, maybe a couple.
Outside linebacker: The Texans can use a bigger, more rugged outside 'backer who can rush the quarterback and drop into coverage.
Running back: Steve Slaton was a godsend in the third round last year. Now the Texans need to find a bigger guy to take some of the carries and serve as a heavier changeup.

INDIANAPOLIS COLTS
Defensive tackle: The Colts lost the big bodies in the middle of their line, space-eating run-stuffers Quinn Pitcock and Ed Johnson, right at the start of last season and they need to spend to get quality replacements.
Receiver: Anthony Gonzalez can become a full-time guy with Marvin Harrison gone, and he or Reggie Wayne can kick into the slot in the often featured three-wide sets. Still, a third quality wideout is a necessity, and it won't be a surprise if Bill Polian uses No. 27 to address the position.
Outside linebackers: This group needs to be replenished as two guys who've seen significant time in the last two seasons, Freddy Keiaho and Tyjuan Hagler, appear out of the picture. But the Colts restock their linebackers often through the draft and with undrafted rookies.
Running back: Was Joseph Addai banged up and suffering behind an injured line, or is he not going to be able to carry the load? The Colts like Mike Hart, who's coming off a bad injury. But they haven't re-signed Dominic Rhodes and need more.

JACKSONVILLE JAGUARS
Receiver: A perpetual need. They are down Reggie Williams, a free agent they have no interest in, and Matt Jones, who was cut after a new round of trouble. To get a true read on David Garrard, he needs real weapons on the outside.
Defensive tackle: GM Gene Smith has talked a lot about building from the inside-out and the Jaguars thrived when John Henderson and Marcus Stroud gave th
em an identity. Their plans to replace Stroud after a trade failed, and they need a better partner for Henderson that will help toughen them and could be a good influence on him.
Cornerback: Brian Williams can play opposite Rashean Mathis or he can play safety. Free-agent safety addition Sean Considine is an X factor here. But even if he's in the lineup and the Jaguars have their two starting corners, they need nickel candidates and depth badly.
Left tackle: As mentioned above, the addition of Thomas does not mean the Jaguars are done addressing this spot. Garrard needs not only better weapons but better protection and the offense is built around running back Maurice Jones-Drew, who needs consistent long-term blocking.

TENNESSEE TITANS

Receiver: They hope for big things from free-agent addition Nate Washington, but considering how long they've lacked a dynamic weapon outside, they can't have enough candidates for the role. A legitimate big-play threat can help create things for Chris Johnson, the running back who's the centerpiece of the offense.
Cornerback: Beyond starters Cortland Finnegan and Nick Harper and nickel Vincent Fuller, the Titans have only unproven Cary Williams. The expectation is the Titans will draft a corner who would be in line to replace Harper in 2010 and they need the depth now after losing Eric King and Chris Carr in free agency.
Outside linebacker: Stalwart Keith Bulluck is heading into a contract year and should the Titans have trouble holding on to him or decide not to, they could use an heir in place and it's unclear if Stanford Keglar can be that guy. Better depth and a player who could be a big special-teamer will be nice to have in 2009.
Offensive tackle: Daniel Loper was a versatile swing guy who backed up both Michael Roos and David Stewart and could move inside to play guard. He went to Detroit as a free agent. Maybe Mike Otto is the new third tackle, but a versatile lineman is a need for depth.
December, 14, 2008
12/14/08
1:21
PM ET
Posted by ESPN.com's Paul Kuharsky
HOUSTON -- The Texans have turnover issues, the Titans don't.
Tennessee didn't flinch when Kerry Collins threw an interception in the end zone to Fred Bennett ending the game's opening possession.
And it's not surprising how the Texans answered: On the first offensive play from scrimmage, Matt Schaub got flushed left, sacked and stripped from behind by Jevon Kearse. Albert Haynesworth recovered and six plays later the Titans had a 26-yard field goal from Rob Bironas and a 3-0 lead.
That about uses up Schaub's turnover allowance for the day.
September, 5, 2008
9/05/08
4:37
PM ET
Posted by ESPN.com's Paul Kuharsky
Jacksonville at Tennessee, 1 p.m. ET


In the wake of Richard Collier's shooting, the Jaguars are likely to be in an all-or-nothing state. Are they drained from hospital visits and sleepless nights considering whether their teammate would survive the night? Or do they rally on his behalf, calling on a reserve to help provide some good news for him and the city? I think we'll have a feeling for which way the Jags go in the first five minutes of the game.
Never mind the players for a moment. Many of us are expecting another low scoring, defensive battle like last year's 13-10 Tennessee win at Jacksonville on opening day. But it could amount to a coming out party for two offensive coaches. Dirk Koetter, the Jags second-year offensive coordinator, now has a better handle on what he's got and a better comfort level calling an NFL game. The Titans Mike Heimerdinger is back for a second term in the same post. Neither coordinator was showing much in the preseason. Now we'll see some of the plays they rate as their favorites. That should make a big difference, shouldn't it?
While it's a huge game, it seems to me the Titans are the team that can better handle losing it. Jeff Fisher's teams have a history of starting slow, and have often managed to dig out of it. The Titans couldn't get anything going offensively with their first team in the preseason, so it won't be a surprise if they don't move the ball effectively. Jacksonville, meanwhile, is a popular pick to catch or pass Indianapolis. They seemed to be gradually ramping up in the preseason. How will they handle a loss after a month of listening to all the big expectations? Maybe better than I imagine. They did, after all, lose their opener to Tennessee last season in Jacksonville and recover just fine.
It's been a football lifetime since Gregg Williams was the defensive coordinator for the Oilers/Titans, so it's hard to imagine such a thing would carry over. But it's still worth a mention: while his defenses beat some very good quarterbacks, they also tended to go after young and unproven guys and see it backfire. Remember Ryan Leaf? With Young's questionable decision-making and ability to dodge a rusher, is it better to send extra people at him or to complicate coverages and await mistakes? Six of his 30 regular season interceptions have landed in the arms of Jaguars' defenders.
Houston at Pittsburgh, 1 p.m. ET


Steelers receiver Santonio Holmes averaged a ridiculous 18.1 yards per catch last year. For the Texans to cap that, they need to find a consistent pass rush and they need cornerback Fred Bennett to prove he can stick with Holmes. I'd also expect the Steelers to get a third wide receiver on the field in order to put Houston in nickel to get chances to test DeMarcus Faggins.
Against a 3-4, Houston's offensive line is likely to need to cut more linebackers as part of Alex Gibbs' zone blocking scheme. It's one thing to take down bigger linemen, another to get to the second level and deal with more athletic players.
Indications to this point are that the Texans may feel the need to pass to set up the run instead of vice versa. Either way, we find out if a couple skill position players like Steve Slaton and Kevin Walter can be factors or get cancelled out once the games begin to count.
The Texans won in Pittsburgh in 2002 despite gaining only 47 yards of total offense. The Texans forced five turnovers, returning three for touchdowns.
Chicago at Indianapolis, 8:15 p.m. ET


The Peyton Manning questions are twofold: How does he do on a left knee that kept him out of the entire preseason after he had an infected bursa sac removed from it on July 14? And how does he do without his center, Jeff Saturday? Will Saturday's replacement, probably Jamey Richard, work to adjust things at the line of scrimmage the way Saturday did? Will another lineman? Will Manning take on even more responsibility? Look for Manning to get rid of the ball even faster than usual with Marvin Harrison, Reggie Wayne, Anthony Gonzalez, Dallas Clark and Joseph Addai looking to break a tackle and get yards after the catch. The Colts aren't going to ask Manning to stand in very long with three new offensive linemen working against a defensive front that includes Adewale Ogunleye, Tommie Harris, Brian Urlacher and Lance Briggs. Harris will surely work to make it a long night for the likely center Jamey Richard.
Lucas Oil Stadium makes its regular season debut on national television Sunday night. Will the crowd be able to influence a game the way it did at the RCA Dome? It's a much more difficult task with all the additional square footage under the roof, be it open or closed.
Kick coverage is always a Colts' issue. Will they kick to Devin Hester as they did to open the Super Bowl two years ago? Can Courtney Roby (kicks) and Keiwan Ratliff (punts) help the offense out with some field position on returns?
Spotlight issues, obviously: Manning's knee, Dwight Freeney's foot, Bo Sanders' shoulder
August, 8, 2008
8/08/08
2:48
PM ET
Posted by ESPN.com's Paul Kuharsky

HOUSTON -- Prevailing wisdom is that the Texans' defense will be pretty good up front -- where Mario Williams, Amobi Okoye and DeMeco Ryans work -- and pretty iffy in the back.
Cornerback Dunta Robinson won't return from his injury until October or so, which leaves questions at cornerback. And the starting safeties right now, C.C. Brown at strong and Will Demps at free, are not the fastest duo.
If the rush isn't constant, some early quarterbacks Houston faces -- Ben Roethlisberger, David Garrard and Peyton Manning in the first five weeks -- could pick the Texans apart.
"It's a challenge for us, definitely people think the secondary is a weakness, but that's what preseason is for," said Demps, who joined the team after last season had started. "This is my first offseason and training camp with these guys and I see a big change...
"Until [Robinson] gets back we have to hold it down."
The Texans emphasized speed-and-size combinations at cornerback in the offseason, bringing in veteran Jacques Reeves from Dallas (just 5-foot-11, but 192 pounds) and drafting Antwaan Molden (6-foot-1, 198). The Texans believe they are asking Reeves to do things better suited to him and that Molden is quickly grasping the NFL game though his college experience came at Eastern Kentucky. As a rookie in 2007, Fred Bennett led the team in interceptions with three in 13 games and eight starts.
"I don't think it's as bad as people think it is... I'm real happy with them right now," defensive coordinator Richard Smith said of his secondary. "We certainly miss Robinson, not having him is a very negative things for us... [But] I'm excited about the back end. I think we're pretty solid at safety. It's not that we've got great speed at the position, but we've got a lot of competition going on there."
I'll be watching the group Saturday night at Reliant Stadium to see how much it gives up to Jay Cutler and the Broncos.

August, 1, 2008
8/01/08
9:11
AM ET
Posted by ESPN.com's Paul Kuharsky
Morning distraction: My background noise at the Jacksonville Marriott, Good Morning America, just informed me there is a workout pill that's replaced exercise for mice. Sign me up for the human trial. Also, a big undercover investigation revealed some smoothies are more fattening than you think. Shocker.
OK, while we anticipate the Jaguars' scrimmage Friday night, and hope the rain will be gone by then, we move on to our Good Morning AFC South look around the league.
Houston Texans
Indianapolis Colts
Jacksonville Jaguars
Vito Stellino talks with Fred Taylor, who went to the Super Bowl last year. Taylor doesn't think he will do it again if the Jaguars aren't playing in the game.
Tanya Ganguli writes that Jaguars rookie cornerback Brian Witherspoon claims he ran a 4.19 in college. Who was working that stopwatch?
The Times-Union says John Henderson was a little testy Thursday night. I saw for myself -- when he gets hot, he stays hot.
Tennessee Titans
Jim Wyatt says receiver Justin McCareins prefers Nashville or the Midwest to New York. And Mike Heimerdinger says McCareins isn't tensing up before practice any more.
Terry McCormick figured out that new Titans receiver Chris Davis and the receiving Chris Davis who was already on the roster actually played together as 8-year-olds on the Lakewood Junior Spartans in St. Petersburg, Fla.
Gary Estwick looks at rookie defensive lineman Jason Jones' learning curve on interior handiwork.