February, 4, 2012
2/04/12
6:59
PM ET
We spent plenty of time in recent days discussing
the tough road for wide receivers
making the Pro Football Hall of Fame. In the process, we ignored where the selection committee has turned its attention: pass-rushers.
Not a single receiver made the last cut to five modern-day finalists in Saturday's balloting in Indianapolis. But former Minnesota Vikings defensive end Chris Doleman became the third consecutive NFC North pass-rusher
to earn enshrinement
, following Richard Dent in 2011 and John Randle in 2010. Former Minnesota Vikings receiver Cris Carter once again failed to make the cut, a victim of the perceived value between pass-rushers and wide receivers.
[+] Enlarge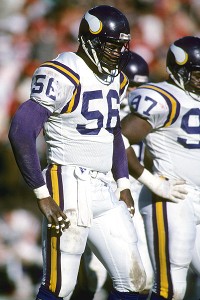 AP Photo/NFL PhotosNot only was Chris Doleman a sack specialist, but the former Vikings star is also among the NFL career leaders in fumble recoveries.
At least one pass-rusher has won election in each of the past five years. Bruce Smith and Derrick Thomas were part of the 2009 class, and Fred Dean was in the class of 2008.
Doleman's 150.5 career sacks rank third in NFL history, behind Smith (200), Reggie White (198) and Kevin Greene (160). Smith and White are both in Canton, and as of Saturday, eight of the 10 players with the highest career sack totals have or will be enshrined. Greene and the recently retired Jason Taylor (139.5) are the only players who have been left out.
(More on Greene, who didn't even make the cut from 15 finalists to 10, in the coming days.)
I don't want to take anything away from Doleman, who was a pass-rushing force for an extended period in the NFL. His two best seasons -- 21 sacks in 1989 and 15 sacks in 1998 -- came nine years apart. Doleman was part of four teams that finished the season with the NFL's top-ranked defense, recovered the seventh-most fumbles (24) in league history and was an eight-time Pro Bowler.
But with the exception of Greene, it's clear that sack totals are among the most reliable tickets to the Hall of Fame. Minutes after Doleman's election was announced, longtime Twin Cities sports analyst Patrick Reusse (also a colleague of mine at ESPN 1500)
tweeted
: "Apparently, it's all about sacks, since in his absolute prime, Doleman was 2nd best D-lineman on his team, behind Keith Millard."
To me, the definition of a Hall of Fame player is that he was one of the best of his era. Doleman was named to the NFL's 1990's All-Decade team, along with three other defensive ends. Was he one of the best players of that generation? He was if you accept that pass rushing is as important as the voting committee considers it.
But enough of that. I'm not going to diminish Doleman's big day by questioning his credentials. There is little doubt he was a great player for a long time in this league.
Yes, the beauty of the annual Hall of Fame announcement is that it produces as much debate afterwards as it did beforehand. Chris Doleman is a Hall of Fame player because the voting committee places premium value on his particular skill set. (Again, Greene appears to be the lone exception to that rule.)
Cris Carter isn't in the Hall of Fame because the voting committee doesn't value his position and corresponding statistics nearly as much. There are still only 21 receivers in Canton, the lowest total of any position other than tight end and kicking specialist. That's the deal -- no more and no less.
February, 5, 2011
2/05/11
9:04
PM ET
DALLAS -- Saturday was old hat for
Richard Dent
. For six of the past seven years, he sat idle while the Pro Football Hall of Fame selection committee passed on his candidacy. He passed through the expected phases of disappointment: From anger to frustration to confusion to tranquility.
[+] Enlarge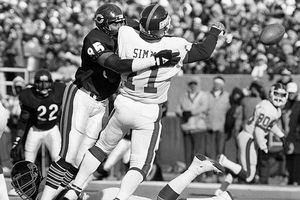 Jonathan Daniel/Getty ImagesOver 13 years, Richard Dent recorded 137.5 sacks and forced 37 fumbles.
It seemed hard to believe that any man of Dent's generational impact would be excluded indefinitely from the game's highest individual honor. So Dent jetted off to Las Vegas for a weekend of golf. What the heck? If it happened this year, great. If not, well, Vegas is nice this time of year.
Dent's patience was rewarded Saturday when he finally received his invitation. Coincidentally, it came 25 years after he was named the MVP of Super Bowl XX.
"I'm just so thankful," Dent said. "My daughter Mary called me and everything was happening just at that time, and I kind of went into tears. ... It's very appreciated and I'm very happy. It's been a long time coming."
Indeed, Dent was one of the most dangerous pass rushers of his era, beginning with the
Chicago Bears
in 1983 and finishing with the
Philadelphia Eagles
in 1997. He was part of two Super Bowl champions, retiring with the NFL's third-highest sack total (137.5) and the second-most forced fumbles by a defensive lineman (37) at the time.
Hall of Fame quarterback
Steve Young
, who worked as part of the NFL Network crew that announced Saturday's elections, suggested Dent transformed the game as one of the first ultra-athletic defensive ends who were just as comfortable rushing the passer as they were reaching up for an interception or poking the ball loose from the quarterback.
"I got a sense of that from watching [former
New York Giants
linebacker
Lawrence Taylor
]," Dent said. "He was the only other guy that was quick enough that he could decide whether to hit the guy or take the ball from him. If you're in it for yourself, you just care about sacks. But I kind of thought like him, that taking the ball away was the best thing because it got you off the field and getting turnovers."
In his most memorable game, Dent forced two fumbles and was credited with 1.5 sacks in the Bears' 46-10 Super Bowl XX victory over the
New England Patriots
. He is one of three defensive linemen in history to win MVP honors in the Super Bowl.
"You can get sacks," he said, "but if you want to take your game to the next level, it's all about turnovers."
Hall voters first tapped several other pass rushers from Dent's era, including Fred Dean,
Bruce Smith
and
John Randle
. The voting committee works in mysterious ways, but there was little doubt it would eventually happen for Dent. This was his year.
Note:
Dent is the 27th Bears players to be elected to the Hall of Fame, the highest number among NFL franchises.
February, 4, 2011
2/04/11
10:57
AM ET
DALLAS -- The Pro Football Hall of Fame voting committee will gather here Saturday morning to determine the class of 2011. Three players with significant NFC North ties are finalists: Receiver
Cris Carter
, defensive end
Richard Dent
and defensive end
Chris Doleman
.
Handicapping their chances for enshrinement requires the acknowledgment that two other finalists, cornerback
Deion Sanders
and running back
Marshall Faulk
, are widely considered to be locks for election. That leaves 13 men competing for three spots, and a tremendous campaign is under way to push NFL Films founder Ed Sabol into one of those positions.
Regardless of the politics involved, let's stay in our lane (for now) and consider our neck of the woods. The announcement is scheduled for Saturday at 7 p.m. ET.

Carter
Cris Carter
Key qualification:
When he retired after the 2002 season, he ranked second on the NFL's all-time list of receptions (1,101) and touchdowns (130).
Working against him:
Receivers historically have a tougher time than at other positions. There are currently 21 receivers in the Hall of Fame, fewer than running backs (27), quarterbacks (23), offensive linemen (35) and defensive linemen (28). I refuse to believe that Carter's at-times caustic personality has impacted anyone's view of his on-field performance. But you never know for sure. Carter also will be competing with fellow receiver
Tim Brown
on this ballot.

Dent
Richard Dent
Key qualification:
When he retired after the 1995 season, his 137.5 sacks ranked third all-time in the NFL, thanks in part to a run of five consecutive seasons with 10 or more sacks.
Working against him:
There is nothing from a statistical standpoint to argue for Dent's continued exclusion. But for whatever reason, he has been passed over by other 100-sack players like Fred Dean,
Bruce Smith
and
John Randle
in recent years. This year, he is competing against two others in Doleman and
Charles Haley
. Sometimes players get lost in the maze. In the end, you hope that voters decide Dent has waited long enough.

Doleman
Chris Doleman
Key qualification:
You might not realize it, but Doleman's 150 career sacks rank fourth all-time in the NFL. Only Smith,
Reggie White
and
Kevin Greene
had more.
Working against him:
He's competing with two other high-sack players in Dent and Haley who have more ballot tenure. Also, Greene's exclusion demonstrates that voters don't always reward sack totals in a vacuum.
February, 3, 2011
2/03/11
9:54
AM ET
FORT WORTH, Texas -- The most optimistic NFC West blogger could not have scripted a better morning during Super Bowl week.
Catching up with
St. Louis Rams
quarterback
Sam Bradford
had been the goal, and I was quite pleased to find him at ESPN's Super Bowl headquarters.
The NFC West happiness meter shot past "quite pleased" and into "beyond ecstatic" range upon learning that a couple of other guys with roots in the division --
Joe Montana
and
Jerry Rice
-- would also be dropping by Thursday morning.
Bradford shed light on his plans for the offseason and said he would try to organize informal practices in the case of a lockout. He also reflected on the Rams' season, specifically their play-calling against Seattle in Week 17.
Rice, promoting his work with the NFL's "
Take it to the House
" program, discussed whether
Aaron Rodgers
was about to pull a
Steve Young
with a breakout Super Bowl performance after replacing a legend. We also discussed the current 49ers, something I'll expand upon later Thursday.
Montana offered a few thoughts on former teammate
Charles Haley
, a finalist for the Pro Football Hall of Fame. He held up Haley and Fred Dean as the best pure pass-rushers he played with on the 49ers.
I'll break out a separate item on Bradford. Rice's comments will play into a piece on the state of the 49ers. I spoke less formally with Montana.
February, 1, 2009
2/01/09
1:27
PM ET
Posted by ESPN.com's Kevin Seifert
One NFC North alumnus (guard Randall McDaniel) got into the Pro Football Hall of Fame on Saturday while another (receiver Cris Carter) absorbed a significant snub. Here's another disappointment that didn't get quite as much attention on Sunday: Defensive end Richard Dent, who was turned away for the fifth consecutive year.
Dent finished his career with 137.5 sacks, which at the time ranked third in NFL history. He made it past the first round of cuts Saturday, an advance that Brad Biggs of the Chicago Sun-Times considers an important milestone. But Dent, in an interview with David Haugh of the Chicago Tribune, seemed to take the news pretty hard.
"I don't feel much at all," Dent said. "I'm just numb to the situation. I really don't have much to say."
Dent has lost out to four other pass-rushers in the past two years: Fred Dean, Andre Tippett, Bruce Smith and Derrick Thomas.
Continuing around the NFC North on Super Bowl Sunday:
Minnesota has approached Fox Sports reporter Jay Glazer for help in getting quarterback Tarvaris Jackson involved in a mixed martial arts program. But Jackson doesn't seem too interested. Asked by Sean Jensen of the St. Paul Pioneer Press, Jackson said: "Nah. I'm not planning on it."
Detroit was focusing its personnel search on former Jacksonville executive James "Shack" Harris late last week, and now it seems likely that Harris is the Lions' choice. Nicholas J. Cotsonika of the Detroit Free Press confirms the hire.
Former Lions offensive lineman Mike Utley, paralyzed during a 1991 game, was a guest of Pittsburgh executive Kevin Colbert at the Steelers' practice Saturday. Colbert worked for the Lions front office earlier in his career.

January, 31, 2009
1/31/09
5:51
PM ET
Posted by ESPN.com's Bill Williamson
Saturday, Kansas City outside linebacker Derrick Thomas became the ninth person who spent the majority of his career in the AFC West to be elected into the Pro Football Hall of Fame this decade.
Here is a look at those who preceded him this decade:
Howie Long, defensive line, Oakland Raiders (2000)

Comment: Many people around the league thought he was overrated but Long played an important role in the Raiders' history.
Dave Casper, tight end, Oakland Raiders (2002)

Comment: "The Ghost" was one of the great tight ends of his era and one of the Raiders' legends of the 1970s.
Marcus Allen, running back, Oakland Raiders and Kansas City Chiefs (2003)

Comment: A falling out with owner Al Davis ended Allen's time as a Raider. He finished his career with the hated Chiefs, which still angers many Raiders' fans.
Hank Stram, coach, Kansas City Chiefs (2003)

Comment: He'll always be remembered for roaming the sidelines in Kansas City.
John Elway, quarterback, Denver Broncos (2004)

Comment: The Broncos' first taste of the Hall of Fame came with much style.
John Madden, coach, Oakland Raiders (2006)

Comment: Many thought that Madden's election was long overdue.
Fred Dean, defensive lineman, San Diego Chargers (2008)

Comment: He won a Super Bowl with San Francisco, but Dean was a star with the Chargers early in his career.
Gary Zimmerman, tackle, Denver Broncos (2008)
Comment: Zimmerman spent the first half of his career with the Vikings but he considers himself only as a Bronco. Denver owner Pat Bowlen was his presenter at the induction ceremony.
January, 31, 2009
1/31/09
3:46
PM ET
Posted by ESPN.com's Bill Williamson
Kansas City is smiling Saturday afternoon.
Derrick Thomas is a Pro Football Hall of Famer.
| | |
| --- | --- |
| | |
| | Jonathan Daniel /Allsport |
| | Derrick Thomas collected 126.5 sacks in his NFL career, good for 11th on the all-time list. |
The late Kansas City outside linebacker was one of six players elected into the Pro Football Hall of Fame Saturday. Thomas died in February 2000 at the age of 33 following complications from an auto accident. He was still an active player at the time of his death.
He was the only new Hall of Famer to spend the majority of his career in the AFC West. Denver tight end Shannon Sharpe, who was a finalist in his first year of eligibility, did not get elected. This week, Sharpe said Thomas was the best outside linebacker he ever faced.

Many believe Thomas' election was long overdue.
Thomas, who is the 10th member of the Chiefs to be elected into the Hall, was arguably the most feared pass-rusher in the NFL during the 1990s. He had 126.5 sacks in his NFL career, which is 11th on the all-time list and is a Chiefs record. He also holds club records for career safeties (3), forced fumbles (45) and fumble recoveries (19).
Chiefs chairman Clark Hunt and some members of the Thomas family represented the late linebacker in Tampa on Saturday.
"This is an exciting day for Chiefs fans across the country and an exciting day for our family," Hunt said in a press release put out by the team.
"Derrick Thomas was a cornerstone of the modern era of the Chiefs, and one of the most feared pass-rushers of his generation. We are thrilled with his selection to the Pro Football Hall of Fame Class of 2009. His outstanding statistics and play on the field made him deserving of pro football's highest individual honor, but -- just as importantly -- he was a hall of famer in the Kansas City community. Derrick's legacy of community involvement is among the finest for any player in Chiefs history, and he will be remembered for contributions like the Third and Long Foundation and his work to help others long after his induction ceremony."
January, 30, 2009
1/30/09
12:57
PM ET
| | |
| --- | --- |
| | |
| | Scott Boehm/Getty Images |
| | Gaining admittance into the NFL Hall of Fame would be even sweeter for ex-Broncos tight end Shannon Sharpe (right) if former Chiefs adversary Derrick Thomas (left) was voted in as well. |
Posted by ESPN.com's Bill Williamson
There are many reasons why Shannon Sharpe wants to be voted into the Pro Football Hall of Fame on Saturday in his first time on the ballot.
One of those reasons is Derrick Thomas.
Sharpe and Thomas had several memorable battles in the 1990s as AFC West enemies with the Denver Broncos and Kansas City Chiefs. As a tight end, Sharpe worked against Thomas, an outside linebacker, several times. In a famous "Monday Night Football" clash, Sharpe goaded Thomas into losing his cool, resulting in the superstar pass rusher being suspended for a game after three personal fouls. Sharpe was fined for his actions in the game.
More than 10 years after the most famous battle the two had against each other, Sharpe couldn't think of a more fitting player to go into the Canton, Ohio museum with than his former adversary. Thomas died in 2000 at the age of 33 after complications from injuries sustained in an auto accident.
"All of the years I've ever played in the NFL, I don't think I faced a better, tougher, more dominating outside linebacker than Derrick Thomas," Sharpe said this week. "It would be an honor to go into the Pro Football Hall of Fame with him."
Saturday, Sharpe and Thomas' family will find out if the two AFC West legends will become NFL immortals. The two are among 17 finalists for induction. The voting results will be announced Saturday.
"Yes, I hope we both get in," Sharpe said. "It would be very important for my family to see me get in and I'm sure it would be very important to Derrick's family as well. This would be a nice final honor for such a great player who meant so much to the Chiefs."
The Hall of Fame voting can be very unpredictable. Even though Sharpe is remembered as one of the best receiving tight ends ever to play in the NFL and as a game-changing player, he might not be a certain first-time selection. Some voters might lump Sharpe in with other receivers and he could be subject to a logjam. Cris Carter and Andre Reed might get the majority of the votes going to receivers.
Even though many believe Sharpe, who won two Super Bowls with Denver and another while with Baltimore, should be a no-questions-asked first-ballot inductee, he is not sizing himself for the yellow Hall Of Fame jacket quite yet. Last year, he saw Carter not get in on his first chance. Sharpe winced every time his friend and Denver teammate Gary Zimmerman got overlooked. Zimmerman, who retired after the 1997 season, finally was elected last year despite being known as one of the premier left tackles of his era.
"I hope the voters look at my numbers and they can look at it as a tight end or as a receiver, whatever they like, and I want them to look at the teams I played on and the way I played," Sharpe said. "All I know is I put everything I could into my career and I can't put anymore into it. All I can do is what I've done. Hopefully, it is enough."
Thomas has been a finalist before and with Harry Carson and Fred Dean getting in recently, many think Thomas' time could be now.
Thomas certainly has Hall Of Fame worthy numbers.
He was a nine-time Pro Bowl player and a member of the NFL's 1990s All-Decade team. He had an NFL record seven sacks in a game and a league-standard 45 career forced fumbles. He also registered 126.5 career sacks.
Thomas was arguably the most feared pass rusher of the 1990s.
"Derrick was a player that could dominate a game," said Denver Hall of Fame quarterback John Elway in a quote provided from the Chiefs' public relations staff.

"His explosive talents were so great that he could dictate to an offense pass and run blocking schemes as well as the plays that were called. He was such an impact player that you always had to know where he was on the field. His career statistics more than speak to his exceptional career as not only as a pass rusher but also as an overall defensive player."
Added Buffalo Hall Of Fame quarterback Jim Kelly (also provided by the Chiefs): ""Throughout my professional career I played against many Hall of Famers. Derrick Thomas definitely fits that mold. His quickness, his intensity and his love for the game was matched by only a few players. We actually game planned for No. 58. I needed to know where he was lined up at all times, as did my offensive line. Not many teams would actually game plan around one player, but the Buffalo Bills certainly did every time we faced him."
Sharpe was also a player opposing teams game planned for. Saturday, Sharpe hopes his and Thomas' impact on the game will be recognized.
"The best thing about the Hall Of Fame is you can't be voted out of it," Sharpe said. "You are not a reigning Hall Of Famer like you are a reigning Super Bowl champion. You are a Hall Of Famer for forever .... That would be pretty special."
December, 4, 2008
12/04/08
10:28
AM ET
Posted by ESPN.com's Mike Sando

Paola Boivin of the Arizona Republic says the Cardinals have yet to dispel negative perceptions despite a 7-5 record and imminent division title.
Kent Somers of the Arizona Republic says the Cardinals made their punting change with East Coast weather in mind. Field position could be key when the Cardinals visit the Patriots in Week 16 or if they face a road game in the playoffs.
Also from Somers: The Cardinals are trying not to focus on the big picture.
Bob Young of the Arizona Republic would rather see the Cardinals claim a division title by beating the Rams than by having the 49ers lose.
Mike Tulumello of the East Valley Tribune says the Cardinals are hoping to jump-start their pass rush against the Rams, who allowed zero sacks in Week 13.
Also from Tulumello: Neil Rackers adjusts to a new holder on field goals and extra points.

John Morgan of Field Gulls thought Seahawks rookie Lawrence Jackson showed signs of improvement against the Cowboys. I would love to know how many times Jackson maintains run containment to his side. Seems like not enough.
Danny O'Neil of the Seattle Times counters perceptions about Patriots coach Bill Belichick. I've always thought Belichick needed better questions more than he needed better answers.
Also from O'Neil: Mike Holmgren says the Seahawks' decision to name Jim Mora the next head coach hasn't affected performance on the field, even though Holmgren would have preferred the arrangement to have remained a private matter.
Frank Hughes of Seahawks Insider disputes Deon Grant's contention that reporters took the Seattle safety's postgame comments out of context. Grant seemingly criticized defensive coordinator John Marshall after the 34-9 defeat at Dallas.
Clare Farnsworth of the Seattle Post-Intelligencer says the NFL's 30th-ranked defense "got defensive" about what Grant meant by his comments.
Jose Romero of the Seattle Times says Seahawks center Chris Spencer lost feeling in his toes thanks to a herniated disk.

Daniel Brown of the San Jose Mercury News says 49ers safety Mark Roman is looking for his first interception in two years.
Kevin Lynch of Niner Insider says 49ers coach Mike Singletary has improved his approach since a rough first week on the job.
Gwen Knapp of the San Francisco Chronicle says Frank Gore deserves better than what the 49ers have to offer.
John Crumpacker of the San Francisco Chronicle polled 49ers players on gun ownership. Ten said they owned guns. Six declined to answer. Twenty-seven said they did not own a firearm.
Also from Crumpacker: The 49ers plan to honor Fred Dean at halftime Sunday.
Matt Barrows of the Sacramento Bee says 49ers cornerback Nate Clements is playing with a broken thumb. The injury could limit Clements' availability as a return specialist while complicating efforts to play press coverage.

Jim Thomas of the St. Louis Post-Dispatch says the Cardinals can clinch a home playoff game for the first time since the Truman Administration. Thomas: "For many St. Louis football fans over the age of 35, this could be a tough day. Our old team, with our old quarterback, winning our division."
Bernie Miklasz of the St. Louis Post-Dispatch calls Rams running back Steven Jackson "235 pounds of paradox" while saying there isn't a more complex athlete in St. Louis. Since Jackson became a starter, the Rams are 21-33 when he plays and 1-10 when he does not play. They average an additional 59 yards rushing per game when Jackson plays.
Steve Korte of the Belleville News-Democrat says the Rams hope to move veteran Chris Draft into the starting lineup at middle linebacker. Usual starter Will Witherspoon is hurting. Rookie David Vobora got the start in Week 13. Also, coach Jim Haslett says he has never owned guns, but cornerback Ron Bartell does pack a firearm.
August, 2, 2008
8/02/08
10:56
PM ET
Posted by ESPN.com's James Walker
| | |
| --- | --- |
| | |
| | AP Photo/Mark Duncan |
| | Andre Tippett acknowledges fans as he is introduced at the Pro Football Hall of Fame Saturday in Canton, Ohio. |
CANTON, Ohio -- Saturday obviously was a celebrated day for the Washington Redskins, but there were several highlights from today's other 2008 Hall of Fame inductees.
Here were the notables:
"We had two Hall of Fame quarterbacks in our division in Jim Kelly and Dan Marino, and he completely changed the passing attack of those two teams," Kraft said. "Once [Tippett] joined the joined the team, the New England Patriots improved dramatically."
"Because I know there's a wager waged somewhere [that I would]," Dean said.
"Growing up, I was resentful and angry at other families around us because they seemed fully intact," Thomas said. "I'd often lay awake at night wondering why our family had to be different.
"But I came to the stark realization that the good Lord wanted us to be reared and raised under the guiding hands of my grandfathered, who in his own right was a giant of a man."
August, 2, 2008
8/02/08
10:10
PM ET
| | |
| --- | --- |
| | |
| | Kirby Lee/Image of Sport-US PRESSWIRE |
| | Darrell Green, Emmitt Thomas, Art Monk, Gary Zimmerman, Andre Tippett and Fred Dean pose with their busts at the Pro Football Hall of Fame enshrinement at Fawcett Stadium. |
Posted by ESPN.com's James Walker
CANTON, Ohio -- Darrell Green summed up the 2008 Hall of Fame commencements best on Saturday.
"It's a Redskins day, baby!" Green said.
The sea of burgundy and gold jerseys filled Fawcett Stadium in anticipation of Green and former Washington Redskins teammate Art Monk into the Hall of Fame. Both received lengthy standing ovations before and after their speeches.
Jared Green, Darrell's son, estimated that "95 percent" of the announced crowd of 16,654 were Redskins fans, and his rough guess was pretty close.
There were a wealth of Green jerseys, a wealth of Monk jerseys, and a good mix of jerseys from current Washington players that will take the field Sunday in its preseason debut against the Indianapolis Colts.
Green and Monk didn't disappoint. The pair were never as flashy as their contemporaries but were winners in every sense of the word. Similar to their playing careers, Monk and Green were very consistent in delivering quality speeches.
There were many similarities Saturday.
Both Green and Monk had their sons eloquently introduce them. Both speeches were enlightening and charismatic. Both shared their experience with those that helped them.
And both players went into the Hall as proud Redskins.
"I will always be known as a Redskin," Monk said. "That's right."
Added Green, "To the Redskins faithful, our fans, I share this day with all of you."
Green was the only first-ballot Hall of Famer in the 2008 class. His case was undeniable after 20 stellar seasons, most of which he was the league's fastest man and one of the NFL's best cornerbacks.
But Monk's case was debated over the past several years. His candidacy was rebuked seven times by the Hall of Fame committee, despite Monk statistically ranking among the very best at his position.
Monk had 940 career catches for 12,721 yards. His reception total is right now more than any receiver currently enshrined in Canton. But Monk only was a first-team All-Pro one time, in addition to his three Pro Bowls.
Monk also was never accommodating with the media during his 16-year career, which likely had a hand in his delayed entrance.
Fellow Hall of Famer Paul Warfield, also one of the greatest receivers of all time, believes Monk's case should've never been up for debate.
"Art Monk has had a stellar career," Warfield said. "I saw Art perhaps two weeks ago at an event and congratulated him. It's well deserved. He was statistically a leader until his marks were broken, and he should have been in a long time ago.
"I told Art, 'It doesn't matter, because now you're here.' And that's the most important thing. He deserved to be here and now he's a part of this very prestigious fraternity."
Monk briefly addressed his situation during his commencement speech.
"Now standing next to them, as one of them, is truly an honor,'' Monk said. "Getting here didn't come without consequences. But through it all I'm here with a greater appreciation for something that not every player was able to achieve."
But finally being inducted had to be worth it for Monk, who received the longest-standing ovation of the night.
Redskins fans chanted "Eighty-one!" and "Thank you Monk!" as he smiled and soaked it all in. One sign read "A work of Art" to describe Monk's career as he smiled and enjoyed the elongated appreciation from Redskins fans.
Monk never imagined that football would take him this far, but it did. Saturday, Monk said, was the icing on the cake.
"From the time I picked up a football, I loved this game," Monk said. "It's all I wanted to do."
Overall, this was a day when being long in the tooth was celebrated.
Longevity is the most elusive feat in the National Football League, yet it is the rare common thread that binds the 2008 Pro Football Hall of Fame class together this weekend.
Green, Monk, Gary Zimmerman, Andre Tippett, Emmitt Thomas and Fred Dean combined for an astounding 84 years of NFL experience.
But it was the 36 years played by a pair of Redskins that brought a majority of today's onlookers to Canton, a city rich in football history.
"The Redskin Nation sticks together," Green said.
They sure do.
August, 2, 2008
8/02/08
1:10
PM ET
Posted by ESPN.com's Mike Sando
Daniel Brown of the San Jose Mercury News addresses a Pro Football Prospectus report casting doubt on Nate Clements' contributions to the 49ers' secondary. The report shows Clements allowing more touchdowns and first downs, more yards in coverage and more yards after the catch than other cornerbacks. But there's no mention of the most important variable: playing time. New Orleans' Jason David is also ranked high on these lists, but I did some digging and found out that might not mean much. Clements played more than 1,100 snaps last season. David played about 750 snaps last season. Big difference.
Frank Hughes of the Tacoma News Tribune has an interesting note about the coach-to-player headsets being made available for the defense. Seattle's Lofa Tatupu and Brian Russell are logical candidates to wear them, but neither wants to use the devices. That could leave Deon Grant as the Seahawks' defensive communicator.
Clare Farnsworth of the Seattle Post-Intelligencer checks in with Seattle's Jordan Kent, one of several young receivers trying to make an impact in the Seahawks' scrimmage at Qwest Field today. Kent, an accomplished track athlete with the height to play basketball, has broken the habit of leaving his feet every time he catches the ball.
Kent Somers of the Arizona Republic says the Cardinals need more from nose tackle Alan Branch, a second-round choice in 2007. "In the coaches' estimation, Branch needs to lose weight and practice at a high level more consistently." That's not what you want to hear. Worse, 34-year-old Bryan Robinson is working with the starters while No. 1 nose tackle Gabe Watson recovers from a knee injury.
Steve Korte of the Belleville News Democrat says the Rams' Brett Romberg and Richie Incognito remain great friends even as they compete to be the starting center. Incognito could end up playing right guard if Romberg wins the center battle. Incognito: "I don't want to be jumping around, where the last second I'm playing guard. If they want me to play center, leave me at center." Not necessarily how it works.
Jim Thomas of the St. Louis Post-Dispatch provides context for the Rams' scrimmage, scheduled for 10:50 a.m. ET this morning at Concordia University. I'm looking forward to watching Chris Long today, but apparently we shouldn't be surprised if a brawl breaks out and team president Jay Zygmunt tries to break it up.
Bill Coats of the St. Louis Post-Dispatch checks in with former Steelers fullback Dan Kreider, who is trying to earn a roster spot with the Rams. The best Kreider quote from the story begins this way: "Running routes isn't one of my great abilities." The Rams did not sign Kreider to fully explore Al Saunders' route tree, in other words. Also from Coats: Rams receiver Torry Holt still isn't happy about losing Isaac Bruce, but he is moving on.
The San Francisco Chronicle's QB update chart is worth a look today. And you thought the 49ers' quarterback race was down to Alex Smith and Shaun Hill. The more we hear from 49ers camp, the more we should consider J.T. Sullivan as a viable option. O'Sullivan knows the Mike Martz system, and it's clear the organization isn't going out of its way to push Smith.
Tom FitzGerald of the San Francisco Chronicle assesses Dashon Goldson's performance in 49ers camp. My impression after visiting 49ers camp: Goldson will become the starter at some point this season, even if Mark Roman holds onto the job in the short term. Also from Fitzgerald: Tight end Delanie Walker isn't happy about changes to the forceout rule.
Jose Romero of the Seattle Times says middle linebacker Lofa Tatupu might not play in the Seahawks' scrimmage today. That would be a loss for fans, who haven't been able to watch practices while the Seahawks wait to begin using their new facility Aug. 18. The old facility isn't big enough to accommodate fans. Scrimmages are for backups. Coaches don't want to take risks with banged-up starters. Also from Romero: He singles out Matt Hasselbeck's red-zone touchdown pass to Leonard Weaver as one of the Seahawks' offensive plays of the day. Weaver's strong camp is exactly what the Seahawks needed to see from him. Seattle relies more heavily on a traditional fullback than most teams.
Matt Maiocco of the Santa Rosa Press-Democrat recalls Fred Dean's incredible impact on the 49ers in 1981. Dean, set to be enshrined in the Pro Football Hall of Fame, sacked Cowboys quarterback Danny White three times in Dean's first game with the 49ers. The team won a Super Bowl for the first time later that season. Also from Maiocco: Alex Smith doesn't have much to say about O'Sullivan's increased reps in practice.
ESPN.com's Chris Conetzkey writes about Dean through the eyes of former teammate Dwaine Board and former opponent Mike Kenn. Kenn offers high praise: "He had this move where he could get a guy moving upfield with an inside one-arm rip on the edge, and he was basically able to reach back around and convert it into a club and basically throw people off the field. Reggie White developed the same type of move to rush from the left side, but Fred Dean was the first to utilize it. Those are the only two players that I saw that actually had the ability to make that work."
Darren Urban of azcardinals.com quotes Cardinals quarterback Matt Leinart as saying he had "no clue" a year ago. Leinart says he's much more confident this summer. More than a couple of coaches and personnel people I've spoken with around the league think Leinart will develop into a good quarterback. I can see why some fans want Kurt Warner, but I think the organization owes it to itself to figure out whether Leinart can lead the offense effectively without
being as careless with the football as Warner tends to be.
August, 1, 2008
8/01/08
1:33
PM ET
GREEN BAY, Wis. -- Here at Green Bay Packers training camp, coaches and players alike are hoping they are nearing the end of the Brett Favre saga.
"Everyone wants this resolved," coach Mike McCarthy said Friday after morning practice.
So does the NFL -- and soon.
This weekend, six former players -- Fred Dean, Darrell Green, Art Monk, Emmitt Thomas, Andre Tippett and Gary Zimmerman -- will be enshrined in the Pro Football Hall of Fame in Canton, Ohio. Although training camps have been open for two weeks in some cases, the Hall of Fame festivities represent the ceremonial opening to the NFL year. The league celebrates each man's contribution to the game and then kicks off the preseason with the annual Hall of Fame game.
No one wants an ugly modern-day dispute overshadowing one of the NFL's most revered traditions. That's why Favre is under a bit of pressure either to accept the Packers' offer to remain retired, thereby lifting the story from national headlines, or table the issue until after this weekend's ceremonies.
Commissioner Roger Goodell has yet to act on Favre's reinstatement request, apparently hoping Favre and the Packers would resolve the problem on their own. But even if no resolution occurs Friday, there are some who hope Goodell will continue to delay.
Either way, the NFL's goal is to have all eyes on Canton this weekend.
NFL SCOREBOARD
Thursday, 10/23
Sunday, 10/26
Monday, 10/27