January, 22, 2013
1/22/13
7:05
PM ET
In an interview with a Kansas City radio station,
Chiefs free-agent left tackle
Branden Albert
said he does not know what the team's plans are for him, but he wants to stay in Kansas City.
And as expected, Albert said he has no interest in moving to guard. He is staying at left tackle and he will be paid well for it whether it is from the Chiefs or elsewhere.
In other AFC West news:
The Chargers hired former Carolina receivers coach Fred Graves for the same job and they are hiring former Buffalo offensive line coach Joe D'Alessandris for the same position.
U-T San Diego reports the Chargers will keep running backs coach Ollie Wilson. Most of the defensive staff has been kept by new coach Mike McCoy, but he is bringing in many of his own coaches on the offensive side of the ball.
Charlie Joiner has retired from the NFL. He was in the NFL for a total of 44 years, including 21 with the Chargers. He played for San Diego for 11 years. He had two coaching stints in San Diego, including one for the past five years. His contract expired after the season.
January, 8, 2013
1/08/13
6:50
PM ET
When owner Jerry Richardson decided to let Ron Rivera stay as coach of the Carolina Panthers on Saturday, you pretty much knew there would be some other movement.

After going 7-9, Rivera had to convince Richardson he had some changes in mind that would help turn things around.

Well, some of those changes came on Tuesday. The Panthers announced they have fired running backs coach John Settle, receivers coach Fred Graves and linebackers coach Warren Belin.

"These were tough decisions because each of these coaches has played an instrumental role on our staff over the last two seasons," Rivera said. "However, I have decided to go in a different direction at these positions."
August, 4, 2011
8/04/11
12:15
PM ET
Alan Lowry, Steve Walters, Ray Sherman and Fred Graves are all good coaches. But Titans receivers under them have been an issue since the team moved to Tennessee.
Did those guys underachieve as coaches, have insufficient talent, or both? And are expectations of receivers unreasonable in a run-based offense?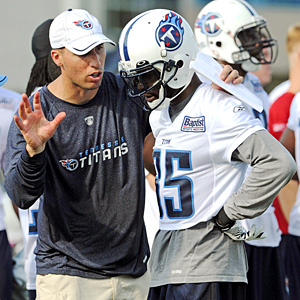 Don McPeak/US PRESSWIREDave Ragone is a former quarterback who has never coached receivers before.
All that is up for debate.
But new receivers coach Dave Ragone, a former quarterback who's never coached receivers before, looks to be breathing a different sort of life into his guys so far. He's far younger and more energetic than the four coaches who preceded him, and he's showing a creative flair in coaching his guys. After one practice, receivers wrapped their arms around the goal post support, catching balls on the other side of it. Clever.
I think such change is very healthy. But I got excited when Graves arrived and had his guys catching bricks too, so my enthusiasm may be momentary.
Ragone also brings a cannon of a left arm.
"He's got a Jugs machine tied to his arm," second-year wideout
Marc Mariani
told
The City Paper's David Boclair
. "He takes pride in that. He thinks he can out-throw us and break our facemask or whatever."
Balls are on receivers quick in practice periods when the coach is throwing, and they have to react quickly and show good hands. On the first day of practice he drilled a ball on the first throw of a period right off
Nate Washington
's facemask. Washington had to wipe it off before getting back in line.
Boclair accurately notes a major difference from receiver work during the Jeff Fisher regime:
"Seemingly every catch is accompanied by a whack from some sort of pad. Many throws are preceded by multiple cuts around a cone or a peak from behind a tackling dummy. Often, there's little time to find the ball and react to it.

"'More than anything else, I hope what we do in those drills translates [to game situations] and helps them when they're actually running their routes,' Ragone said. 'If they can't see how it works and how it can help them, then it's not going to be worth it to them.

'That's more my goal … explaining why it makes sense.'"
I'll revisit the idea of a quarterback coaching receivers after I visit with both Ragone and
Frank Reich
of the Colts.
For now, Ragone is definitely a guy to watch.
January, 31, 2011
1/31/11
5:59
PM ET
When Ray Sherman left the
Tennessee Titans
staff, he was viewed as a coach with a bit of wanderlust: He always thought the next job he got would be better, and might position him for the big step to a head coaching job.
Sherman was on Jeff Fisher's staff in 2005 and 2006, hardly a monumental time for receivers with the team. He was on the Oilers' staff in 1988 and 1989 as well. So Bud Adams knows him from two stints.
Now he's a candidate for the Titans' head coaching vacancy (somehow Adam Schefter tweeted that Chris Mortensen is reporting it).
Sherman interviewed with the Cowboys, fulfilling their requirement under the Rooney Rule to discuss a head coaching vacancy with at least one minority. Skeptics will say he's a token interview in Nashville, particularly if Mike Munchak is hired quickly as Fisher's replacement. Munchak interviewed Monday.
John Wooten is chairman of the Fritz Pollard Alliance, an organization that works with the NFL promoting diversity among front office executives, coaches and scouts.
He said he spoke with Titans general manager Mike Reinfeldt Monday to let him know of the group's "ready list." Sherman is one of seven remaining minorities the group promotes as ready to be head coaches. Three others from the earlier version of the list – Leslie Frazier, Ron Rivera and Hue Jackson – have attained head coaching jobs.
Wooten said he'd love to see Giants defensive coordinator Perry Fewell and Packers assistant head coach/inside linebackers coach Winston Moss get a look from the Titans. Moss cannot interview until after the Packers play in Super Bowl XLV Sunday.
I know Jim Wyatt's conversation with Bud Adams that
I cited in this morning's RTC entry
indicated the owner sees things happening quickly. Maybe they will.
But general manager Mike Reinfeldt and senior executive vice president and general counsel Steve Underwood are sorting out the pool and doing the interviewing.
They are deliberate guys who emphasized Friday that they would take as long as they need to. That makes me think we learn the new coach later rather than sooner.
Of course, this franchise has not been in this position for some time, its lead by an eccentric owner and anything can happen.
As for minority presence: of the four assistants that are gone from Fisher's 2010 staff, running backs coach Craig Johnson and receivers coach Fred Graves, are African American.
Now only two of the 14 assistants who are under contract to the team are minorities -- secondary coach Marcus Robertson and defensive assistant/quality control coach Rayna Stewart.
Whoever the new head coach is, he will have to consider diversity as he pieces together his staff.
November, 26, 2010
11/26/10
3:43
PM ET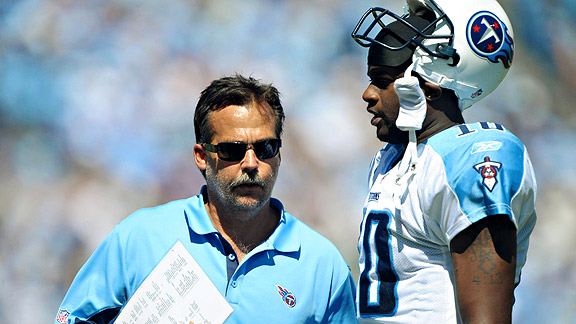 Kirby Lee/US PresswireFor Bud Adams, the choice won't be as simple as picking Vince Young or Jeff Fisher.
NASHVILLE, Tenn. -- The
Vince Young
-Jeff Fisher showdown and its spillover has many observers thinking Bud Adams will ultimately have to choose one or the other.
But the math in the equation is off, and this is not a simple, one-against-one situation.
If the love-struck Adams chooses his favorite quarterback, he's not only going to lose Fisher,
he's going to lose all, or most, of Fisher's staff
.
While Adams would be making a poor choice, even he'd have to admit that Young at his best isn't going to do much to offset the loss of some excellent assistant coaches.
All but one Titans assistant coach is working with an expiring contract, according to a Titans source. Fisher's contract runs through 2011.
In a typical scenario, Fisher would get an extension and then line up his assistants with deals of the same length.
"We are in the process of extending contracts for the entire staff," Fisher said after practice Friday. "I don't comment on negotiations other than to say we're in the process."
But there has been no word on any talks about a new deal for Fisher, and now it's a safe bet there will not be one before the Young issues are resolved. If they come to fruition, those staff extensions could be for only one season.
And the uncertain labor situation gives Adams the potential to hold off on anything new until after things are settled between the league and the players, in case he has to withstand a lockout.
Whenever it comes around, the staff issue is more significant now given the battle between Fisher and Young and Adams' comments to The Tennessean saying he expects the two to find a way
to co-exist
next season.
I think we're past the point where that's a possibility and Adams is going to have to make a choice. Hopefully it's a well-reasoned one.
[+] Enlarge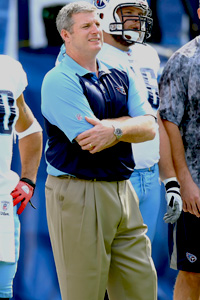 AP Photo/Kevin TerrellThe Titans' solid pass protection and good run blocking are due to efforts by coach Mike Munchak.
Pick Young, and you probably sacrifice
Mike Munchak
.
Munchak is one of eight members of the Houston Oilers/
Tennessee Titans
franchise in the Pro Football Hall of Fame. He's a steady teacher who recognizes talent and has consistently groomed quality guys. The Titans have regularly had good pass protection and solid run blocking in large part because of Munchak's exhaustive work.
Pick Young, and you probably sacrifice Jim Washburn.
The Titans' defense is tied for second in the NFL with 30 sacks. They've come from players Washburn has rebuilt such as
Jason Babin
,
Dave Ball
and
Tony Brown
or guys he encouraged the front office to draft, such as
Jason Jones
. A large number of franchises in the league would love to add a high-energy defensive line coach who can get production from such reclamation projects and draft picks.
Those two are key coaches on a staff that's widely regarded around the league as one of the best. A staff Fisher has been able to shape and hold onto because of his stability and the loyalty he shows -- occasionally to a fault.
His staff also includes offensive coordinator Mike Heimerdinger, who has been mentioned as a candidate for head-coaching jobs and once interviewed with San Francisco for its top post; defensive coordinator Chuck Cecil; veteran linebackers coach Dave McGinnis, who has been head coach of two teams; defensive backs coach Marcus Robertson, who had an excellent career as a safety for the franchise; special teams coach Alan Lowry, who scripted the Music City Miracle; strength and conditioning coach Steve Watterson; receivers coach Fred Graves; tight ends coach John Zernhelt; running backs coach Craig Johnson; and quarterback coach Dowell Loggains.
They are not all irreplaceable superstars, of course. And with expiring contracts, some of them could be moving on even if Fisher is firmly in place.
Washburn is a Nashville fixture who appreciates the second-chance Fisher gave him in 1999. But if he becomes a coaching free agent, perhaps a team with a bad defensive line would make him an offer too good to refuse.
Still, the chances he stays in Tennessee are far higher if Fisher is in the big office. I'd be willing to bet the same would be true for all the assistants.
If Adams chooses to stick with Young and Fisher negotiates out of his contract, or if another team strikes a deal to give the Titans picks to get Fisher out of his last year, I predict all the assistants would be totally turned off by Adams' choice.
Some might have to stay if they could to ensure themselves of a job. But given any sort of choice, I believe they'd be unlikely to sign new deals with Tennessee to work under Fisher' replacement.
More likely, these assistants would rejoin Fisher with a new team if he is able to move on for 2011. If not, they would find jobs elsewhere. The older guys might ponder retirement or take a year off with assurances from Fisher that they'd have a job with him once he re-enters the league.
The top in-house candidate to replace Fisher with the Titans would have to be Heimerdinger, and I believe his loyalty to Fisher would mean he wouldn't even allow his representative to talk to Adams about the post.
Even Fisher's harshest critics have to appreciate assistants like Munchak and Washburn and acknowledge they'd be difficult to replace. (You can make a case against Fisher, sure. But in a head-to-head against Young there is no way not to choose the coach.)
If Adams makes his move against Fisher, Fisher could have solidarity from his staff of 16.
If Young is the one shown the door, he'd be walking through it alone.
November, 10, 2010
11/10/10
5:33
PM ET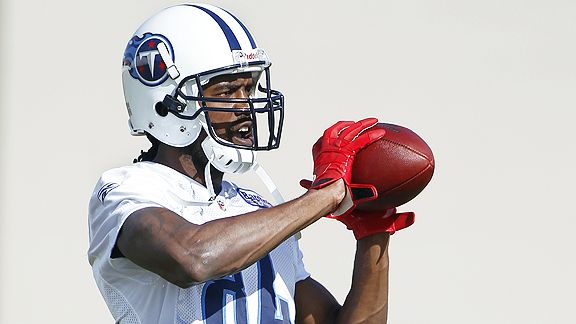 AP Photo/Mark HumphreyThe effort Randy Moss puts into being a team player will be closely watched in Nashville.
NASHVILLE, Tenn. -- Will he always try?
Will
Randy Moss
, Tennessee Titan, bust it at the line of scrimmage and run every play? As much as he bristled at the question -- I was fortunate enough to ask one of four he fielded in his first meeting with the Tennessee media Wednesday after practice -- it's not an unfair one based on his history.
Moss has not always given maximum effort. The Titans are expecting that he will.
"He's caught passes for 15,000 yards, so he knows about playing the game," Titans general manager Mike Reinfeldt said. "I think [the effort question] becomes kind of a product of your environment, not to speak of where he's been and whatever. But if you watch our practices, our guys practice hard, and I think that's a contagious thing. I think we're optimistic that that happens."
And if it doesn't, what does it tell a young team with young receivers like
Kenny Britt
,
Damian Williams
and
Lavelle Hawkins
?
"That's a fair question," Reinfeldt said. "I think the good thing is we have enough young guys that are so strong, that really work hard and with passion, I don't think that impacts that at all. I'd be disappointed if we saw it, yeah."
The Titans playfully sent rookie safety
Robert Johnson
onto the practice field in a Moss jersey before the new addition came out himself. Jeff Fisher smiled about it fooling cameramen and photographers briefly and said he thought Johnson did a nice imitation, though he wore the wrong color gloves.
Before the Titans' biggest media crowd in memory, Moss stood against a team banner and talked for 3 minutes, 4 seconds, opening by telling his family "your baby brother, your baby boy is good."
"I've been through a lot the last couple weeks, but like I've said, I've got these broad shoulders. I can carry a lot of weight," he said.
I asked, "What can this team expect from you effort-wise, snap to snap?"
Moss: "What do you expect from me, effort-wise?"

Me: "Well other people…"

Moss: "I didn't say other people. What do you expect from me, effort-wise?"

Me: "I don't know what to expect."

Moss: "Well, I don't know what to expect either. Next question."
(I should have done better there.)
Fisher and quarterback
Kerry Collins
, who played with Moss in Oakland in 2005, both talked about how lack of effort from the receiver is a misconception.
Fisher immediately turned to the play against New England where Moss, then with the Vikings, didn't really go after a ball on what was a pass interference penalty in his favor.
But that's not what Fisher was being asked about and when pressed, he admitted as much.
Question: There have been times when Moss has jogged off the line of scrimmage, have there not?

"Yeah, there's been times when that's happened. I wasn't there. I don't know what the scenario was, I don't know what the play call was, I don't know what the formation was, whether he was primary or not or didn't get a check. So I can't comment. The only thing I can comment on is the way he's going to play here."

Question: If he's not primary here, you're still expecting him to run hard off the line of scrimmage, yeah?

"He could be primary here at any time with our quarterback and his legs."

Question: So he's expected to run?

"Yes, he is."

Question: What if he doesn't?

"I'm not going to deal in hypothetical. I don't have any issues with what he's done right now. We're trying to get him ready to play and get him involved in this offense. And he understands we have a running back that can, literally, come out any place on the run plays. He understands that and is ready to be a part of that."
Said Collins: "I never worry about what you're going to get from Randy Moss. … Never once did I ever question whether he was going to give me everything he had. I expect that here. I know what kind of guy he is, what kind of pro he is, so there is no doubt in my mind what we are going to get from him."
Hey, I hope for the Titans' sake that no effort issues arise.
But if one does, it will set an awfully bad example for a young team that's coached to play hard, all the time, and for the rest of the receivers who are expected to block, a lot, when the ball isn't coming to them.
Let's set aside, please, the concept that the not-always-playing-hard line of questioning is some sort of media creation. The media didn't create the tape we've seen of snaps where he has hardly bolted off the line of scrimmage. The media didn't make him say, "I'll play when I want to play." And the media didn't put words in the mouths of people like
Brett Favre
.
"Did he hustle on every play?" Favre asked last week after Moss was released by the Vikings. "I don't know if Randy has ever hustled on every play. That's just Randy. But he knows what his value is. He figures, 'Heck, two guys follow me everywhere I go.' [Jets cornerback Antonio] Cromartie did a great job against him, challenged him one-on-one, but eventually we got a big one. That's why teams don't do that.
"They may watch and say, 'He's jogging, jogging, jogging.' Boom, 70-yard touchdown. That one definitely got us a spark that night."
Britt is out with a hamstring injury and it could be a good while before he gets back on the field. He said jogging off the line of scrimmage can't work.
"Oh no, not here," he said. "Especially in our running game. We want to sprint off the ball as much as we can. That's how the defense can't tell if it's a run or a pass. When you start jogging off the ball they can tell it's a run or what we are going to do on our offense."
Might he see Moss jog off the line here?
"I hope not," Britt said. "We've got rules for that. We might get a little fine for jogging on the backside or not finishing. Twenty bucks. For a dropped ball or anything like that, everybody gets treated the same."
That's one place where equal treatment might not be a good thing. I seriously doubt a $20 bill is going to dissuade Moss from doing his own thing if he wants to.
Fisher and the Titans have a setup in which Moss can succeed. But the coach also has set himself up for a lot of criticism if Moss doesn't pan out. The coach has said he sees "no risk" in the addition and promised Moss won't receive special treatment.
"Randy's going to play hard." Fisher said Monday. "Yeah, he's going to look around and watch everybody play and play hard. There is not going to be a double-standard here for anybody, there never is. If players aren't playing hard, they're corrected -- constructively corrected."
Who wouldn't like to see receivers coach Fred Graves, offensive coordinator Mike Heimerdinger or Fisher himself constructively correct a receiver who's heading for the Hall of Fame, who has just come from time with two Hall of Fame quarterbacks and who a friend and former teammate,
Cris Carter
, said struggles with male authority?
To hear Moss tell it, none of them will have an issue.
"I look forward to just coming out here and just helping this team," he said. "Do whatever I can and whatever my role is, is what I am going to do. Hopefully, I fit into Coach Fisher's team and hopefully I'm going to go out here and make some plays to keep winning."
Cortland Finnegan
is thrilled to have Moss on his team. But he'll also advise the rest of the receivers to listen to their coaches and not necessarily look to another player as a model.
"The young players realize they have a job at stake too and they're going to have to do things the way that they are coached to do," Finnegan said. "And I know that Randy will, too."
October, 29, 2010
10/29/10
3:35
PM ET
Wide receiver
Kenny Britt
won't face any further disciplinary action from coach Jeff Fisher at this point for his involvement in a Nashville bar fight last week. So a week after he posted the best receiving day in the NFL this year, he'll start and run routes for
Vince Young
, who worked as the starter all week and is expected to be back from knee and ankle injuries suffered Oct. 18.
Gary Horton of Scouts Inc. considered Britt this week and said the Titans receiver's attention to detail has helped him become a much bigger threat.
[+] Enlarge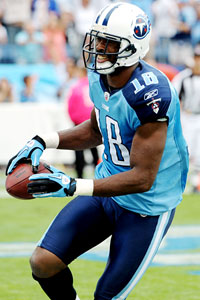 Jim Brown/US PresswireKenny Britt had a breakout game in Week 7, catching seven passes for 225 yards and three TDs.
"He has made some subtle changes that don't tip defenders off and let DBs jump those routes," Horton said. "For example he would either raise up or look down just before he would make his cut and it gave the DB a chance to close on the ball … Now he doesn't give the break away and show any tendencies."
I took that to Titans receivers coach Fred Graves, who said he doesn't think that's been an issue for Britt.
"It's not about him getting lower or higher," Graves said. "It's all about the steps that he takes. If you watch him run what we call a deep over, a dig route, he gets in and out of that -- boom. On a comeback, he's taking a step and then he's crossing over and that's delaying him getting out of his route.
"We always tell them, the way you slow down to get in and out of your breaks is to drop your hips and get your shoulders down."
But all the Titans' receivers and receivers in general run some routes better than others, Graves said.
Nate Washington
is an artist on a comeback but he struggles to stop and get started again on a double move.
Justin Gage
runs skinny posts that are hard to follow, but has a harder time elsewhere.
Larry Fitzgerald
doesn't run very good stop routes or pivot routes.
"They've all got good routes, bad routes, in between routes," Graves said. "… It's only Kenny's second year.
Jerry Rice
probably didn't get good at some routes until his third or fourth year."

NFL SCOREBOARD
Thursday, 9/18
Sunday, 9/21
Monday, 9/22
WEEKLY LEADERS