April, 26, 2013
4/26/13
1:04
AM ET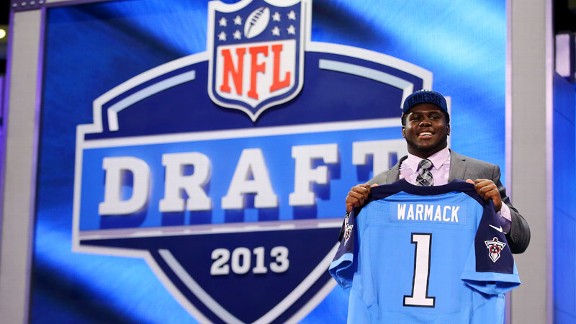 Al Bello/Getty ImagesIt's been 30 years since the Titans franchise drafted a guard in the first round.
NASHVILLE, Tenn. -- The last two guards drafted by the
Tennessee Titans
franchise, Hall of Famers Mike Munchak and Bruce Matthews, just oversaw the selection of another.
Alabama's
Chance Warmack
is so football-focused, he only got his license last year. He's so strong, the Titans said he moved SEC defensive linemen like no one else. He's so in love with the idea of playing for these two coaches, he didn't hold a private workout for anyone else.
I've known Munchak and Matthews since 1996. I can't recall ever seeing the two low-key, business-like football men beam quite so brightly. The glow they gave off at the news conference at Titans headquarters after making the 10th pick made me believe it when they said there was no question he was their man early on -- something virtually every coach stated Thursday night.
A few days after Alabama's pro day, Munchak and Matthews got Warmack on the field with Alabama tackle
D.J. Fluker
in Tuscaloosa. The coaches put the prospects through a difficult 90-minute workout that helped transform Matthews into a believer.
"Really for me, I go in very skeptical on linemen that I've heard about," Matthews said. "Because typically they're a product of the team they play on. Alabama having such a great tradition and on such a hit streak, you kind of think they've got a bunch of other guys on the team pumping him up.
"I went in very skeptical, wanting to shoot him down at every turn. And really I think what sold me on him was every time I was with him, I got excited about the opportunity to watch him play and coach him. He has the demeanor and the mindset and he plays the style that we are looking for."
Warmack spoke in advance of the draft about Tennessee being a dream destination. He's from Atlanta and went to Alabama. In addition to playing in the Southeast, he craved the coaching the Titans could offer, considering he'd never played for a coach who'd actually played offensive line before.
"They put me through the wringer," he said, recounting the private workout. "I felt like I put everything into what I did and throughout my visit we had a great time going over plays and I felt like we hit it off pretty well."
The franchise hasn't drafted a first-round guard since Matthews in 1983, ninth overall, and Munchak in 1982, eighth overall. Years later, they presented each other into the Pro Football Hall of Fame.
As a long-time offensive line coach, Munchak frequently develops mid-round picks into capable players. He was promoted to head coach in 2011 and hired Matthews, his closest friend, to take over his old job.
Fifth-rounder
Benji Olson
and third-rounder
Zach Piller
were the starting guards on the Titans Super Bowl team in 1999. Free agents like
Kevin Mawae
,
Fred Miller
,
Jake Scott
have been splashed in, but homegrown and developed guys were far more frequent pieces.
None came in the first round since
Brad Hopkins
in 1993, and only 1996 bust
Jason Layman
and current left tackle
Michael Roos
were drafted as high as the second round.
Investing through the draft has proven insufficient recently.
Leroy Harris
and
Eugene Amano
were counted on to develop into reliable pieces and didn't do enough.
The Titans thought they could make it through last season. They added
Steve Hutchinson
, the well-credentialed veteran guard. He didn't bring much and then got hurt, like virtually every other lineman on the team.
General manager Ruston Webster and Munchak huddled after the season and decided it was time. When free agency opened, they landed top available guard, Buffalo's
Andy Levitre
, with a six-year, $46.8 million contract.
Now they drafted Warmack. He will shift from his college position on the left to the right and be a fixture on the more powerful side of the line.
"To me, he is the complete package," Munchak said. "He loves the game; he has a passion for it. Spending time with Bruce and I, he loved hearing the stories of linemen of the past, talking about the history of the game. For a young guy, that's rare, that he's interested in those types of things. Obviously, we all hit it off pretty well …
"I think he wanted to be a Titan the whole time and he didn't hide his feelings on that."
Warmack said he weighs 325 pounds and anticipates playing at 325 or 330.
Tim Ruskell scouts the Southeast for the Titans and said the sort of power he saw from Warmack is rare in the NFL. He saw Hutchinson up close in Seattle where he was dominant at the start of his career. The way Warmack plays will mean the Titans can do anything they want behind him.
"He can explode with his hips and he can get in and get movement versus bigger people," Ruskell said. "He played against so many good defensive linemen that were strong and stout. We didn't see a lot of guys moving those guys. But when you watch Chance, he was able to get movement, he was able to seal run lanes -- that kind of power. It's the power to anchor, it's the power to explode and get movement versus bigger people.
"… It just sets him apart from the normal offensive linemen that you tend to look at. That is what got our attention and then it is aggression, the aggression and the want-to and to sustain and finish the block. Coaches always talk finish. This guy has finish. It is a big thing that seems simple, but it is a big deal. When you see it and the combination of what he has, I think it is a rare trait."
June, 29, 2010
6/29/10
11:15
AM ET
Notable players:
LG
Bruce Matthews
, QB Steve McNair, RB
Eddie George
, DE
Jevon Kearse
, CB
Samari Rolle
, WR
Derrick Mason
, S
Blaine Bishop
, TE
Frank Wycheck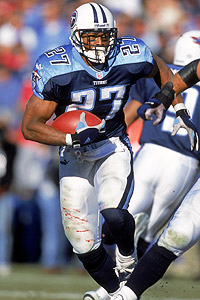 Scott Halleran/Getty ImagesEddie George rushed for 1,509 yards and 14 touchdowns in 2000. He also caught 50 passes for 453 yards and two scores.
Analysis:
While the Titans were transformed by reaching the franchise's first Super Bowl during an improbable run in 1999, most insiders -- and this observer -- believe the follow-up team was better.
Fred Miller
wasn't as good as
Jon Runyan
at right tackle, but
Randall Godfrey
was a significant upgrade over
Barron Wortham
at middle linebacker. The defense allowed 133 fewer regular-season points than the year before. The addition of offensive coordinator Mike Heimerdinger also qualified as an improvement. These Titans weren't discovering they were good, they knew they were good, rolling to a 13-3 season.
An opening-night loss at Buffalo was a grudge match over the Music City Miracle, but Tennessee responded with an eight-game winning streak. The Titans won in a variety of ways. They beat the Giants 28-14 and the Steelers 9-7, adapting to what a certain Sunday may have demanded.
They also lost close games to Baltimore and at Jacksonville. The total margin of their three losses was seven points.
With the NFL's best record and as the No. 1 seed, the Titans felt primed to return to the Super Bowl and win it. But they were undone by the rival Ravens, who upset the Titans in Nashville with big defensive and special-teams performances that sparked a run to a championship. Jeff Fisher says the 2000 Titans are the best team he's coached, which made the loss to the Ravens all the harder to swallow.
Most impressive win:
The Giants were ranked as the NFC's best team in 2000, and the Titans beat them by two touchdowns on Oct. 1.
Research room:
While it was the Ravens' year, and they are regarded as an all-time defense, it was the Titans who finished the year as the NFL's No. 1-rated defense.
Honorable mentions:
1993:
This edition of the Houston Oilers, which had two Hall of Fame offensive linemen in
Mike Munchak
and Matthews and a Hall of Fame quarterback in
Warren Moon
, rattled off 11 consecutive wins to conclude the regular season and finished 12-4. But they lost their first playoff game to Kansas City.
1961:
The Houston Oilers were 10-3-1 and won their second AFL championship in a row with 13 players who were in the AFL All-Star Game.
1999:
The Music City Miracle came to define a gritty, prepared, never-say-die team. They won their first playoff game thanks to the last-second trick play and came a yard short of forcing overtime on the final play of the franchise's lone Super Bowl appearance.
August, 29, 2009
8/29/09
12:20
PM ET
Posted by ESPN.com's Mike Sando
The 49ers confirmed tackle Marvel Smith's retirement Saturday morning. What now?
Adam Snyder is still the starter on the right side. That was not going to change even if Smith tried to continue playing despite back trouble.
Depth is the problem and this situation was predictable, even likely, given what we knew about Smith's health and how the 49ers' neglected to draft a tackle or sign a younger veteran in free agency (as someone suggested they should).
None of this will matter much if Snyder returns from his knee injury to start most of the games. The 49ers could then try to develop Alex Boone and/or target a tackle in the draft. Their thinking in drafting Michael Crabtree with the 10th overall selection hasn't worked out as anticipated so far, but I think the reasoning was sound and No. 10 was too early to select one of the remaining tackles. Right tackle is not a premium position.
The chart might look familiar. It's the same one I ran when the Seahawks found out Walter Jones needed another surgery.
Some have asked why I suggested former Eagles tackle Jon Runyan as a possibility for the 49ers without mentioning the Seahawks as a logical destination as well. Runyan is strictly a right tackle. Seattle has two players able to start at right tackle (Sean Locklear and Ray Willis) but only one player (Locklear) able to start at left tackle. Adding Runyan would not improve the Seahawks' depth at left tackle, which is their position of need while Jones is unavailable.
The 49ers need a right tackle for insurance. Runyan is coming off knee surgery. He might not be ready right away. The 49ers do not need him right away. They need insurance. I have no idea if Runyan would even consider moving across the country. But when I think of tough, physical tackles in the 49ers' mold, Runyan comes to mind.
July, 9, 2009
7/09/09
11:13
PM ET
Posted by ESPN.com's Paul Kuharsky
| | |
| --- | --- |
| | |
| | AP Photo/George Walker IV, Pool |
| | Former Titans players, including Brad Hopkins, top left, and Benji Olson, top right, served as pallbearers at the memorial service. |
WHITES CREEK, Tenn. -- For all who watched Steve McNair assisted off the field during his 13 seasons as an NFL quarterback, the conclusion of his memorial service was especially tough to digest.
Pallbearers who played with him surrounded his casket, lifted it and carried it out of Mount Zion Baptist Church, surely hoping they were also transporting at least a degree of the pain shared by the family, the franchise, the city and the league.
"That was tough, to carry his casket out," Eddie George said. "Right after they said those kind words, they said the eulogy, reality set back in again, that he has to go to his final resting place. Knowing that's Steve's remains, that's his shell in that casket, that's not Steve, and I'm not going to remember him in that capacity. This is a part of the process, this is closure for us, for me. Now the healing can begin, and I don't know how long it will take."
| | |
| --- | --- |
| | |
| | AP Photo/George Walker IV, Pool |
| | Ravens wide receiver Derrick Mason takes part in a memorial service for Steve McNair. |
In his eulogy at the conclusion of a service that included impressive versions of "Press On" and "God is Able," Bishop Joseph W. Walker III called McNair "a humanitarian, a philanthropist, a supreme athlete, a motivator, an entrepreneur." In citing the biblical instruction that one without sin cast the first stone, Walker said it was "time to have a stone-dropping service."
During the memorial, Jeff Fisher told a story of McNair considering giving up the game in 2000 after suffering a sternum injury and conveyed the condolences of a high-ranking military official he met just last week while visiting troops in the Persian Gulf.
Later, the Titans coach said he was sure even more of McNair's old teammates wanted to attend but could not. Fisher said that he might soon take McNair's sons fishing.
Asked about watching George, Samari Rolle, Zach Piller, Kevin Long, Frank Wycheck, Brad Hopkins, Benji Olson, Kevin Carter and Vince Young lift McNair's coffin and walk it out the door, Fisher said he couldn't put words to his thoughts.
"I can't describe that, no," he said.
Plenty of others leaving the church felt the same way.
Count me among them.
***
An add to the previous entry, which included a list of many of the most notable players in attendance. I later spotted several others, including Keith Bulluck, Bo Scaife, Young, Fred Miller, Drew Bennett and Kenny Holmes.
September, 1, 2008
9/01/08
8:33
AM ET
Posted by ESPN.com's Kevin Seifert
Sometimes a player's best attribute is his name. If you're a Detroit Lions fan, and you hear that your team is working out running back Rudi Johnson -- one of the AFC's top running backs in recent years -- you naturally are going to get excited. It makes you feel like your team is serious about winning and that it won't sit pat if it believes there is a way to improve.
As recently as 2006, Rudi Johnson was a 1,300-yard runner. And even though injuries dropped his production considerably last season, he still sounds like an improvement over Tatum Bell as the primary backup to rookie Kevin Smith.
In reality, Johnson is an almost completely unknown quantity. A hamstring injury sidelined him for much of this summer, and he reportedly entered training camp at least 10 pounds heavier than the Cincinnati Bengals wanted him. He did not play in the preseason and, let's face it, at 28 -- and with 1,441 career carries -- Johnson is statistically past his prime in running back terms.
The good thing is Johnson would not be asked to carry the full load for the Lions. Smith is expected to start, and whether Bell remains with the team, the Lions also claimed a promising rookie in Marcus Thomas over the weekend.
From this vantage point, signing Johnson seems to be a low-risk, potentially high-reward move for the Lions. They are serious about running the ball this season, and if he is healthy enough to play -- something the Lions will find out Monday during a workout and physical -- Johnson could contribute to their success while mentoring Smith. Lions fans could probably live with that.
Elsewhere around the NFC North on this last day of summer (in our book):
August, 8, 2008
8/08/08
10:20
AM ET
Posted by ESPN.com's Kevin Seifert
The Chicago Bears weren't ready to pull the plug on rookie left tackle Chris Williams after doctors repaired a herniated disc in his back Thursday, but they seemed more hopeful than confident.
Williams, who also had back trouble during his college career at Vanderbilt, hasn't practiced since the Bears' first day of training camp, a development that stalled the team's plans to revamp its offensive line. While it's possible doctors could clear Williams to play at some point during the season, the Bears will have to decide if it's worth carrying him on their active roster until that point -- and if he would be well-suited by returning after missing essentially all of training camp and probably a good portion of the regular season as well.
"We have to wait and see probably for a few weeks and see how the rehab is," general manager Jerry Angelo said, according to the Chicago Sun-Times.
In the meantime, the Bears have some tough decisions to make along the offensive line. Veteran John St. Clair has been filling in for Williams, but the Sun-Times reported the team could ultimately move right tackle John Tait back to the left side and signing veteran Fred Miller to play right tackle. In that scenario, St. Clair would compete for the starting left guard job.
Those are not the kind of decisions the Bears wanted to be making during the first week of the preseason.
Around the division after a bit of a late start for us Friday morning. (Call it a Favreover).