February, 10, 2014
Feb 10
2:30
PM ET
MINNEAPOLIS -- Now that the
Minnesota Vikings
have finally announced their coaching staff for the 2014 season, we can take a look at the list of assistants and see what trends emerge with the group new coach Mike Zimmer has put together. And as it turns out, it won't take quite as long to peruse the list as it did with predecessor Leslie Frazier's staff.

The Vikings currently have just 17 coordinators and assistants on their staff, down from the 20 they carried last season under Frazier. As
ESPN.com Packers reporter Rob Demovsky pointed out this morning
, that makes the Vikings' staff the smallest in the division and one of the smallest in the NFL.
That's not to say a leaner staff is good or bad -- it's simply a different way of doing business -- but it does offer some insight into how Zimmer might conduct business. In Cincinnati last season, he had five position coaches under him while he was the Bengals' defensive coordinator (former Vikings defensive coordinator Alan Williams had six).
It could also help Zimmer that he has offensive and defensive coordinators in Norv Turner and George Edwards who have done those jobs before. Frazier, on the other hand, was working with first-time coordinators Bill Musgrave and Alan Williams, who both seemed to struggle at times in Minnesota. Turner also has 13 seasons of NFL head coaching experience on his resume.
"We already talked a little bit about things. Scheduling, how we did things," Turner said. "He's an extremely experienced coach. He's been with some outstanding people. I'm sure he has strong opinions of how he wants to do things and if there's something he wants to lean on me, I'll give him my opinion."
It's always possible the Vikings could add another coach or two, but assuming the staff is set for now, here are some factoids about each group:
The 17 coordinators and assistants on Zimmer's staff have a combined 278 years of coaching experience, for an average of 16.35 years per coach. Five coaches -- Turner, Edwards, special teams coordinator Mike Priefer, defensive backs coach Jerry Gray and offensive line coach Jeff Davidson -- have at least been coordinators for other teams before joining Zimmer's staff.
Frazier's 2013 staff had 336 years of experience across 20 coaches, or an average of 16.8 years per coach. Three coaches -- Priefer, Davidson and assistant linebackers coach Mike Singletary -- had at least been coordinators before coming to the Vikings. A fourth, assistant linebackers coach Fred Pagac, was the Vikings' defensive coordinator in 2010-11 until Frazier demoted him to assistant linebackers coach.
January, 19, 2012
1/19/12
4:15
PM ET
A few thoughts after listening in on conference calls with
Minnesota Vikings
coach Leslie Frazier and his new defensive coordinator, Alan Williams:
Frazier said Williams will bring some "new energy" and "fresh ideas" to the defense, but it's clear the Vikings aren't changing the fundamental approach they have taken for the past six seasons. Williams and Frazier are both former assistants to Tony Dungy, who popularized the Tampa-2 scheme the Vikings now use. "We are going to keep a lot of the same principles in place," Frazier said. "… I did think a little bit about some other options that were available, but after evaluating our season and looking at our history on defense, we didn't want to get too far away from the things that have let us be successful here in the past." At this point, it would be a stunner if the Vikings shift to a 3-4, as they reportedly were contemplating.
Williams has never been a defensive coordinator, and Frazier will take more of a hands-on approach to the defense -- at least initially -- while Williams grows into the role. Frazier stopped short of saying who would call the defensive signals in Week 1, but he made clear he doesn't want to be a head coach/defensive coordinator. "Some guys can do that," Frazier said. "I don't think I can. But I do want to be involved early."
In a situation that is unusual, to say the least, Frazier said that former defensive coordinator Fred Pagac has agreed to return to coach linebackers along with current linebackers coach Mike Singletary. Frazier was not specific about roles or titles, but said that both Pagac and Singletary would be a part of daily linebacker meetings. I couldn't begin to explain how that will work. The Vikings are a 4-3 defense, but in nickel they play only two linebackers. Do they need two full-time veteran coaches? Asked how they would split duties, Frazier cited the need for someone to focus on sub packages.
Frazier used the Chicago Bears' 2010 defensive shuffle two years ago as a reference point, when coordinator Bob Babich was returned to his role as linebackers coach and defensive line coach Rod Marinelli took over for Babich as coordinator. "I've seen it work before in Chicago," Frazier said. "Between Babich, Rod and [coach Lovie Smith], they made it work. As long as you have the right people, it can work. … After sitting down and talking with the guys about what I was thinking and hearing their feedback, that assured me it could work."
The Bears analogy doesn't totally work. If Pagac is in the Babich role, moving from coordinator back to linebackers coach, then how does that account for Singletary? I have to assume Pagac is the primary linebackers coach, with Singletary serving in some kind of less-defined role that allows him to remain on staff as a trusted adviser to Frazier, a longtime friend.
As presumed, defensive backs coach Joe Woods will remain in his current role. Except for a few quality control assignments, the Vikings' defensive staff is now set.
January, 19, 2012
1/19/12
1:25
PM ET
Just to keep you updated, the Minnesota Vikings have made it official: Former Indianapolis Colts defensive backs coach Alan Williams is their new defensive coordinator and Brendan Daly will take over as their defensive line coach.

A news release made no mention of former coordinator Fred Pagac,
who reportedly will share duties
as linebackers coach with Mike Singletary, who will also be a special assistant to the head coach. I'll withhold most comments until later Thursday, when we should hear from coach Leslie Frazier.
In general, however, I would view these moves as more of a re-shuffling than a shakeup considering the familiarity of all involved. Frazier and Williams worked together on the Colts' staff in 2005 and 2006, and both are devoted to former Colts coach Tony Dungy's Tampa-2 defense. Williams was once part of a Tampa Bay Buccaneers staff that included Dungy as the head coach and former Vikings defensive coordinator Mike Tomlin as the defensive backs coach.
Daly was the Vikings' assistant defensive line coach from 2006-08, the final two years under Frazier. He replaced Karl Dunbar, who was fired. It is presumed that defensive backs coach Joe Woods will return in his current role. More to come.
January, 16, 2012
1/16/12
10:15
AM ET

At some point, presumably soon, the
Minnesota Vikings
will wrap up what has already been a two-week review of their defensive coaching staff and determine a direction for 2012. To this point, however, we have a better idea of who won't be a part of it than who will.
The latest domino to drop is coordinator Fred Pagac, whom
the St. Paul Pioneer Press
reported was fired Friday. The Vikings offered Pagac a job as their linebackers coach, however, a demotion that calls into question the status of current assistant head coach/linebackers Mike Singletary.
NFL teams occasionally make courtesy offers to fired coordinators, fully expecting them to be turned down. But even if that was the case with Pagac, the Vikings couldn't have done it without already having made a decision on Singletary. As we discussed Monday, it wouldn't be surprising to hear that Singletary has been fired or that he has been promoted to defensive coordinator. The fact that both possibilities are legitimately on the table provides powerful commentary on the state of the coaching staff at the moment.
At least two outside candidates who interviewed for the coordinator job have signed on elsewhere. Raheem Morris joined the
Washington Redskins
as their defensive backs coach, and Mel Tucker remained in his job as the
Jacksonville Jaguars
' defensive coordinator.
Tom Pelissero of 1500ESPN.com
has reported that current
Philadelphia Eagles
defensive coordinator Juan Castillo could emerge as a candidate as well.
The Vikings will coach the North team at the Senior Bowl, where the festivities begin a week from Monday. Stay tuned.
January, 7, 2012
1/07/12
1:56
PM ET
NEW ORLEANS -- I'm feeling what
Detroit Lions
defensive end
Cliff Avril
tweeted
a few minutes ago: "Hating waitin around all day... Ready to go do work." Time speeds up for no one, or something like that, so while the minutes creep by, let's take a look at two other NFC North stories percolating on this fine Saturday afternoon.
The
Kansas City Chiefs
are expected to name Romeo Crennel their permanent head coach, according to
ESPN's Adam Schefter
.
Green Bay Packers
offensive coordinator Joe Philbin had also interviewed for the job. Philbin is believed to still be a candidate for the
Miami Dolphins
' opening.
Meanwhile, there has been plenty of discussion about the state of the
Minnesota Vikings
' defensive coaching staff since former
Tampa Bay Buccaneers
coach Raheem Morris
interviewed for an unspecified job Friday
. Defensive line coach Karl Dunbar
has confirmed that he won't return
, but the Vikings have made no announcements about the fate of defensive coordinator Fred Pagac.
The Vikings followed a similar tack last season, interviewing several offensive coordinator candidates while leaving the future of incumbent Darrell Bevell unaddressed, at least publicly. It's not clear whether Morris interviewed for the Vikings' defensive coordinator job or an assistant head coach/defensive backs job; ESPN's Chris Mortensen reported only that it would be a "high-profile" assignment. But let's just say it's not a good sign for any sitting coordinator to have high-profile candidates interviewing for "high-profile" jobs.
If Morris joins the Vikings, his arrival would provide another argument against shifting to a 3-4 scheme, as the team reportedly is mulling. Morris spent the past 10 seasons with Tampa Bay, where the "Tampa 2" framework the Vikings currently use was originally developed. Would you hire, or even consider, a 4-3 specialist at the start of a shift to the 3-4?
Back in a bit.
January, 1, 2012
1/01/12
7:37
PM ET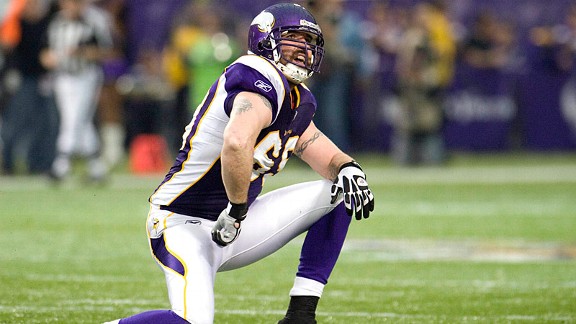 Marilyn Indahl/US PresswireJared Allen's 3.5 sacks Sunday left him one shy of breaking the NFL single-season record.
MINNEAPOLIS -- Maybe it's a good thing that
Jared Allen
fell one sack short Sunday of setting the NFL record for sacks in a season. Asked what he would have done after breaking
Michael Strahan
's record of 22.5, Allen laughed and offered a nearly -- nearly -- preposterous scenario that would have made for a new level of in-game pandemonium.
"I probably would have thrown my helmet into the crowd," Allen said, "jumped up, ran up, kissed my wife and my baby in the suite, walked into the locker room and quit. No, I might have done some turf angels. Probably would have cried. [The
Chicago Bears
] probably would have gotten a first down -- a 15-yard penalty on me. I probably would have taken my shoulder pads off. So probably a good thing I didn't get it, right?"
Ha. Allen injected some drama into an otherwise droll Week 17 game, sacking Bears quarterback
Josh McCown
3.5 times to finish the 2011 season with 22 sacks. That allowed him to surpass former Vikings record-holder
Chris Doleman
(21), whom the Vikings brought to the Metrodome for the occasion, and tie Mark Gastineau for the second-most in a 16-game season.
When
we first started "AllenWatch"
in October, I had my doubts that Allen or any other member of the Vikings could challenge the record. Sundays'
17-13 loss
left the Vikings with a 3-13 record. Rarely did the Vikings have opponents in must-pass situations, limiting the opportunities for pass rushers like Allen.
I'm not sure whether Allen himself thought it possible; he said Sunday that his goal was to get 17 sacks so he could eclipse 100 for his career. He said that finishing with 22 was like "being the runner-up at the prom" but added: "I know it's possible now. I know it's possible. I'm going to work my butt off this offseason to try to help my team get back to the playoffs and to try to get that sack title."
The Bears started Sunday's game by regularly chipping and double-teaming the Vikings' edge rushers, according to Allen. But Vikings defensive coordinator Fred Pagac -- in perhaps his last game with the team -- called some blitz combinations that committed the Bears' extra blockers to the inside.
"So I got some one-on-ones on the edge there," said Allen, who collected sack No. 22 by beating left tackle
J'Marcus Webb
with 4 minutes, 46 seconds remaining in the third quarter.
"I told him he had 20 minutes to get one sack," defensive tackle
Kevin Williams
said. "But they changed it up after that."
Indeed, according to Williams, Allen and others, the Bears regularly devoted two tight ends to help Webb the rest of the way. Allen got nowhere close to sack No. 23. The Bears weren't going to give him the record, as some would suggest
Green Bay Packers
quarterback Brett Favre did for Strahan in 2001.
Allen
said last week
that "a sack is a sack is a sack" and that Favre's "slip" didn't diminish Strahan's accomplishment. Had Favre not "fallen," Allen would have walked away from Sunday's game with a share of the record once held by Gastineau.
"It doesn't bother me at all," he said. "Just being in the same breath as Strahan, and Gastineau and Doleman. … Man."
September, 6, 2011
9/06/11
11:31
AM ET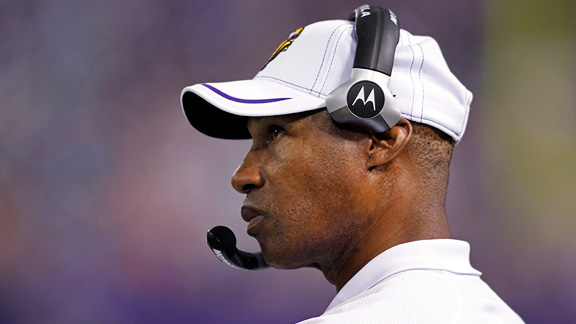 Bruce Kluckhohn/US PresswireLeslie Frazier is 16-22 with a playoff loss as Minnesota's coach.
Midway through the 1984 season, the
Chicago Bears
were preparing for a game against the Los Angeles Raiders. During practice one day, defensive coordinator Buddy Ryan pulled aside cornerback Leslie Frazier.
"He starts telling me all about Cliff Branch," Frazier recalled recently. "He's telling me how he is an old guy and how I should play him and what I needed to do and all of that. But I watch tape, too, and I look at it and see this guy can still play."
So Frazier marched to Ryan's office and told him the Bears needed a different game plan for Branch, who at the time was 36 and one year away from retirement. "If that's the way you feel," Ryan responded, "go right ahead."
Frazier left Ryan's office proud, motivated and with an indelible impression that helped steer his post-playing career.
"I was like, 'Man, I've got to make this work,'" Frazier said. "He's empowering me in this way and trusting me to do it this way. He thinks I've studied enough and prepared enough to handle [Branch]. Because if I don't, it affects not only me but the entire defense and the entire team. I've always thought about that. Those players, they are the ones that have go play. Why not listen sometimes?
"We had a system that everybody in America thought was a great system, the 46, blah, blah, blah. In that system, Buddy Ryan would let us make suggestions, let us tweak things and do things. And to me that was his genius."
Branch didn't have a catch in the Bears' 17-6 victory that afternoon. More important for us, 27 years later, Frazier has brought a similar mentality to his new role as the
Minnesota Vikings
' head coach. He hired offensive coordinator Bill Musgrave to tailor a new scheme around the Vikings' existing players, demanding that he seek input from veterans and maximize the strengths of skill players. Musgrave, in turn, has gone so far as to ask quarterbacks to nominate plays to run in preseason games.
Defensive coordinator Fred Pagac has followed suit in the role Frazier held for the previous four seasons, an important turn of events for a veteran-laden team that isn't likely to allow on-high direction to go unchallenged.
"Buddy's ego wasn't so big that he would say, 'Get out of my office we're just going to run the 46 this week, 60 downs,'" Frazier said. "He'd listen and if it made sense, he'd say, 'OK maybe we could give that a try.' Now as a player, you're like, 'Wow, I'm going to try to make this work, because he listened to me, and then you would go down to the locker room and sell it to your teammates.'"
Frazier's approach is hardly revolutionary and is, in fact, practiced to a degree in most NFL cities. But it's notable in Minnesota for its departure from the rigid and structured program of former coach Brad Childress, who held strongly to his personal convictions -- especially as it related to offense -- and left veteran players complaining about a lack of flexibility and input.
[+] Enlarge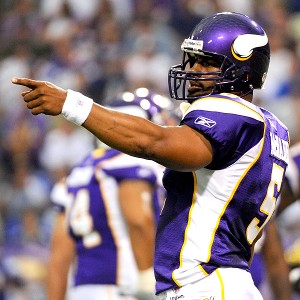 Hannah Foslien/Getty ImagesDonovan McNabb has been afforded freedom that didn't exist under the previous regime.
Childress' motivation was understandable; he had been hired with a mandate to clean up what owner Zygi Wilf believed was an undisciplined organization. Sometimes the inmates must be returned to the asylum with no questions asked. But from a schematic standpoint, scores of Vikings players were rendered robotic after finding Childress unwilling to make adjustments they had seen and used in other versions of the West Coast offense.
Musgrave, meanwhile, uses terminology derived from the offense developed by former
New York Giants
and
Pittsburgh Steelers
offensive coordinator Ron Erhardt. But the specific plays and formations will be dictated by his evaluation of the Vikings' in-house talent and supplemented by recommendations from players.
Case in point: Musgrave's first conversation with quarterback
Donovan McNabb
this summer.
"I told him from the get-go that we have a system that we intend to teach to him, the quarterbacks and all the players," Musgrave said. "But it's really his system. It's Donovan's system. So if something happens here ... that he would like to tweak -- maybe call something differently in the huddle, at the line of scrimmage, maybe want to teach differently -- [we want him] to definitely come and talk to us about it because we're open-minded about it. We like to tailor-make or customize our system to fit our players."
Many NFL coaches seek input from key players. On Wednesday, I'll tell you more about the way
Green Bay Packers
coach Mike McCarthy works with quarterback
Aaron Rodgers
. But trust me when I tell you it's a relative culture change in Minnesota.
"The thing about it," McNabb said, "is that when you have guys that can make plays, you try to find ways to create plays for them. Bill is going to do that, and he's done a great job with that out here. "
Before each preseason game this summer, in fact, Musgrave gave his quarterbacks a working version of his play-calling sheet. The sheet was divided into roughly nine situational categories. According to rookie
Christian Ponder
, each quarterback was asked to rank his favorite and second-favorite play in each category.
Musgrave would then update the sheet with numerical notations to remind him during the game which quarterback liked which play.
"So we choose what we want to do and those are the things we're going to run when we get in there," Ponder said. "It's great that we have input."
It's worth noting there is a difference between preseason and regular-season game planning. I'm not sure if McNabb will choose all the plays he runs this season.
There is also a distinction between seeking input and running a democracy. Frazier plans the former but has no intention of broaching the latter. As the Vikings' defensive coordinator, he listened often to suggestions from cornerback
Antoine Winfield
, defensive end
Jared Allen
and others -- to a point.
"There were times when I might not agree and I had to make the final decision," Frazier said. "Other times I would say, 'You know what, maybe they've got something. Maybe we'll try that.' With a
Percy Harvin
or an
Adrian Peterson
, if you just say, 'This is the system, what you're saying may work but it doesn't fit in our system,' man, it gets kind of tough sometimes.
"You need a system, but not to the point where it will impede certain players on the team just because they might struggle with this particular system. You don't want to see one of your players go somewhere else and thrive and then ask, 'Why couldn't they do this in Minnesota?'"
Not even Buddy Ryan was proud enough to let that happen. Good for Leslie Frazier. And good for the Vikings. And open mind always is preferable to the alternative.
January, 20, 2011
1/20/11
3:44
PM ET
The
Minnesota Vikings
' 2011 home stadium
remains in doubt
, but their plans for the draft are not. In reviewing comments Thursday from coach Leslie Frazier and new offensive coordinator Bill Musgrave, it seems clear they intend to draft a quarterback who could jump in as a near-immediate starter when the season begins.
The Vikings hold the No. 12 overall pick, and
as we noted Wednesday
, early mock drafts suggest anywhere from two to four quarterbacks could already be off the board by that point. But past decisions have put the Vikings in an unenviable position this spring: They have little choice but to force a pick. The only question is whether the rookie will be ready to play right away or if the Vikings will also have to acquire a veteran option.
"I guess it depends on that young guy," Frazier said. "Ideally, you'd like to find the Matt Ryans of the world, the Joe Flaccos of the world and ride with one of those guys. But it doesn't always happen that way. We just kind of have to see where things fall. If we find someone like that, you'd like to build around him. That really gives you a chance for the long term. But as I mentioned it doesn't always happen that way. If we have to go with a veteran guy while we're developing that young guy, I'm not opposed to that either. But ideally, find a young guy, build around him and know you're going to have him for that next nine or 10 years as your starting quarterback. But those guys are sometimes hard to find."
Said Musgrave: "Ideally, you would like to find a young guy that has a bunch of promise and potential and you would hand him the keys and let him make his mistakes and learn and but also know that he would be there for you in the long term. That's ideal. I believe that will be one of our goals to identify any candidates that can fit that role but at the same time be ready to find some other fellows that may have some experience, that can come in and be effective and also have some upside to them as well."
Frazier announced most of the additions he has made to the coaching staff Thursday, acknowledging Musgrave along with Mike Priefer (special teams), Fred Pagac (defensive coordinator), Jeff Davidson (offensive line), Craig Johnson (quarterbacks) and Mike Singletary (linebackers). Holdovers will include George Stewart (receivers), Jimmie Johnson (tight ends), Karl Dunbar (defensive line) and Joe Woods (defensive backs).
Where that staff is working on game days next season is anyone's guess. Ted Mondale, the new chairman of the Metropolitan Sports Facilities Commission, said Thursday it could take up to six months to replace the damaged roof of the Metrodome, if engineers determine a total replacement is necessary. That timetable could threaten the Vikings' preseason schedule if a lockout doesn't do the trick first.
As
we've noted before
, the Vikings have already questioned whether they will be able to play next season in the Metrodome. It's possible they'll move to TCF Bank Stadium, at least for 2011, while awaiting approval for a new stadium to replace the Metrodome. Stay tuned.
January, 19, 2011
1/19/11
5:59
PM ET
Leslie Frazier's background as a defensive coach makes the
Minnesota Vikings
' offensive coordinator perhaps the most important assistant on his staff. Wednesday, it appeared Frazier had decided on
Bill Musgrave
for the job.
ESPN's Chris Mortensen
reported that Musgrave, who spent the past five seasons with the
Atlanta Falcons
, has agreed to terms on a contract. He was also pursued by the
Cleveland Browns
, but he'll almost certainly have more latitude over the Vikings than he would have had under offensive-minded team president Mike Holmgren and coach Pat Shurmur.
Musgrave has had two stints as an NFL coordinator and one in college. During stops with the
Carolina Panthers
(2000), the University of Virginia (2001-02) and
Jacksonville Jaguars
(2003-04), Musgrave used elements of the West Coast scheme. (He
resigned from the Panthers position
after four games.) But he has since worked in other philosophies while in Atlanta, and I'm guessing that breadth of experience appealed to Frazier -- who has said he wants his offensive scheme melded around personnel rather than the other way around.
As of this moment, the Vikings haven't acknowledged any movement on their coaching staff. But Musgrave will replace Darrell Bevell, who on Tuesday was interviewing for the
Seattle Seahawks
' offensive coordinator job. Special teams coordinator Brian Murphy has been hired by the Carolina Panthers and is expected to be replaced by Mike Priefer.
Defensively, Frazier is expected to promoted linebackers coach Fred Pagac to defensive coordinator. One reason for that belief is that Mike Singletary has already announced on ESPN 1000 in Chicago that he will be the Vikings' linebackers coach in 2011.
(
Update:
The Vikings have
posted a press release
on their web site announcing the Pagac, Priefer and Singletary moves.)
If you're interested, here are some numbers on the three NFL teams Musgrave has been the offensive coordinator for:
2000 Carolina Panthers: No. 20 in yards, No. 21 in points*
2003 Jacksonville Jaguars: No. 12 in yards, No. 25 in points
2004 Jacksonville Jaguars: No. 21 in yards, No. 29 in points
*Resigned after four games
January, 6, 2011
1/06/11
8:13
PM ET
Perhaps by now you've heard that the
Minnesota Vikings
have scheduled two significant interviews for new coach Leslie Frazier's staff. Both candidates were head coaches in the NFL last season.

McDaniels

Singletary
Josh McDaniels will interview on Friday, presumably for offensive coordinator, according to
ESPN's Ed Werder
. And Mike Singletary will speak with Frazier about becoming the Vikings' linebackers coach, according to ESPN's John Clayton.
We'll start with McDaniels. The Vikings haven't fired current offensive coordinator Darrell Bevell, but Frazier has been non-committal about his future and recently let three other offensive assistants go. Frazier and McDaniels share the same agent, Bob LaMonte, but to my knowledge have no other professional connection.
In all sincerity, this would be an outstanding hire if Frazier can pull it off. McDaniels, who will turn 35 in April, most assuredly bombed as the
Denver Broncos
' head coach over the past two seasons. But before that, he was an outstanding offensive coordinator and play-caller for the
New England Patriots
, one who presided over the Patriots' record-setting 2007 season and also navigated the loss of quarterback
Tom Brady
in 2008.
Frazier's background as a defensive-minded coach would give McDaniels significant latitude to develop a scheme around the Vikings' personnel. He would probably have the opportunity to develop a young quarterback, given the Vikings current lack of depth, and might also be interested in taking
Kyle Orton
off the Broncos' hands as a short-term starter in Minnesota.
Let's not get too far ahead of ourselves, however. For now, all we know is that McDaniels is Frazier's first known interview for the job. I will tell you this: The Vikings will have to pay McDaniels significantly more than they did Bevell in order to make this hire.
Meanwhile, Singletary and Frazier were teammates on the early 1980's
Chicago Bears
and have remained close friends. Former linebackers coach Fred Pagac is expected to be promoted to defensive coordinator, opening up that position for Singletary, who could also get an assistant head coach title.
Stay tuned.
November, 23, 2010
11/23/10
11:50
AM ET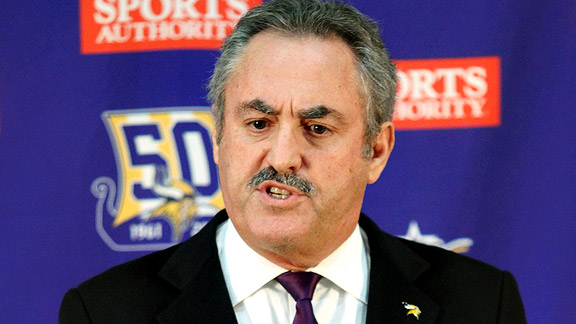 AP Photo/Andy KingOwner Zygi Wilf missed an opportunity Monday to lay out a vision of the Vikings' future.
After the Minnesota Vikings' 31-3 loss to the Green Bay Packers, and the subsequent firing of coach Brad Childress, here are three issues that merit further examination:
1. I'll be fascinated to see the extent to which the Vikings' offense changes with offensive coordinator Darrell Bevell presumably in complete control. Bevell has been associated with Childress since his days as a college quarterback at Wisconsin, but I've always suspected he subordinated some of his own ideas to mesh with Childress' rigid version of the West Coast offense.
The scheme opened up a bit in 2007, when Bevell took over the play calling. But anyone who watched the sidelines carefully knew that Childress was still heavily involved in play selection.
Obviously, the next six games will be an opportunity for interim coach Leslie Frazier to prove he is a viable head-coaching candidate. But on a different level, Bevell now has an opportunity to separate himself from the pocks of Childress' scheme and establish his own voice as an NFL coordinator for the first time. Frazier figures to have some input, but his career-long devotion to defense suggests he'll give Bevell more latitude than ever.
I'm curious to see how, and if, Bevell uses it.
2. Frazier and new defensive coordinator Fred Pagac have their hands full with a secondary that played a significant role in Childress' firing. For reasons I can't explain, the Packers are really the only opponent this season to take full advantage of mismatches against cornerbacks
Asher Allen
and
Chris Cook
. The Packers completed four passes of more than 20 yards on sideline routes, leading to the sideline bickering that indicated Childress had lost control of the team. (The
Dallas Cowboys
, among other teams,
should have done the same
.)
There isn't much from a personnel standpoint the Vikings can do at this point. But schematically or otherwise, the Vikings need to do more to protect both players. "People are going to try to attack our young corners going forward and we know that," Frazier said. "We'll have to adjust some things based on that."
3. Lost in the coaching change is this nugget of news: Right guard
Anthony Herrera
will miss the rest of the season because of a torn anterior cruciate ligament. Backup
Ryan Cook
struggled in Herrera's spot on Sunday, and you wonder if the team will turn to rookie
Chris DeGeare
this week against the
Washington Redskins
. Herrera is a hard-nosed bull who doesn't get much attention until he is replaced by an inferior player.
And here is one issue I don't get:
In a number of off-the-cuff conversations with owner Zygi Wilf over the years, I've found him to be articulate, passionate and smart. So I have no idea why he freezes up during press conferences. But after five years of owning the team, I think it's fair to expect a better articulation of his vision for the franchise -- and for him to provide at least a partial explanation for his actions and inactions.
Wilf's performance during Monday's announcement of Frazier's ascendance should be disappointing to anyone who wanted insight into the move or hoped to hear some accountability taken for the chaos of the past few months. Wilf spoke exclusively from prepared remarks, shuffling papers to find prewritten answers to anticipated questions. I think he literally skipped a line when addressing Childress' departure, because this is exactly what he said at one point: "It's often difficult to articulate one reason why change is needed. But obviously want to know is important to great a strong positive and successful rest of the season. We wish he and his family only the best."
Look, not everyone is a dynamic public speaker. We should remember that Wilf originally joined this ownership group intending to be a silent minority partner. He assumed the managing partner role only when lead investor Reggie Fowler encountered financial difficulty. And to be clear, I want no part of the snickering that went on during Monday's news conference. There will be no cheap shots here.
What I'll say is this: If I'm a Vikings employee, fan or sponsor on such a dramatic day, I want to hear more from the chief executive than a few minutes of clichés and garble. I want to hear something that tells me there is a plan for the near and long-term future, and for it to be articulated in a way that gives me confidence it can be executed.
I think Wilf and his partners have been the best owners this franchise has ever had. But I can't understand why he hasn't worked to get better at publicly representing it. Communicating a message is a learned skill, and this is a man with vast resources. If he wanted to, Wilf could hire presidential speechwriters and take private lessons from Tony Robbins.
I'm guessing Wilf doesn't consider it important enough to devote the time it would take to improve. If that's the case, he's mistaken. Whether he wants to or not, he ultimately sets the public perception of this franchise. If the owner doesn't communicate in public effectively, how can he expect a message to be heard?
January, 6, 2009
1/06/09
1:00
PM ET
Posted by ESPN.com's Kevin Seifert
Six coaches are out in Green Bay, including the defensive coordinator. The Chicago Bears have paraded a long-time coaching friend through their facility. The Lions are looking for someone to lift them from the NFL's defensive dungeon. Minnesota will be searching for its eighth new coordinator in 11 years if their current defensive leader moves on.
It's clear that we Black and Bluers are in for a defensive overhaul in 2009. The Packers and Lions will each have new defensive coordinators, and possibly new schemes as well. The Bears desperately want former Lions coach Rod Marinelli to join their defensive staff as a trusted advisor, possibly as their new coordinator. And the Vikings could lose defensive coordinator Leslie Frazier, who will interview for at least two head coaching jobs this week.
Altering the makeup of a coaching staff is an annual rite of the NFL offseason, but this year's intensity is unusual for one division -- especially when only one team has fired its head coach. But 2008 was an especially dreary year for three of your NFC North defenses, and so it's not surprising to learn that no one is standing pat.
October, 16, 2008
10/16/08
7:54
AM ET
Posted by ESPN.com's Kevin Seifert
Linebacker Napoleon Harris returned to Minnesota in a late-night transaction Wednesday and should be in uniform for practice Thursday, the second ex-Vikings linebacker to sign with the team this week. Sean Jensen of the St. Paul Pioneer Press and Judd Zulgad of the Star Tribune have details.
Harris and Dontarrious Thomas have re-fortified the team's depth after injuries to E.J. Henderson (toes) and David Herron (ankle, head). (This summer, backup Heath Farwell was lost for the season because of a knee injury). It also wouldn't be surprising if either Harris or Thomas starts at middle linebacker Sunday at Chicago; the Vikings' other option there is special teams player Vinny Ciurciu.
Harris was originally scheduled to visit Detroit first after Kansas City released him Tuesday, but the Vikings represent a better option on many levels. Harris' best seasons in the NFL have come under Vikings linebacker coach Fred Pagac, who also coached Harris in Oakland, and his best NFL season came in 2006 when the Vikings moved him to middle linebacker.
Minnesota officials opted not to re-sign him during the offseason, instead sliding Henderson to the middle. But Harris knows the Vikings' defense well enough that he can be more than an emergency pickup. The Chiefs obviously were down on Harris, deactivating him for every game this season, but the Vikings can't afford to be picky right now at one of the most important defensive positions.
Continuing around the NFC North:

NFL SCOREBOARD
Thursday, 9/4
Sunday, 9/7
Monday, 9/8