NFL Nation:

free agency 10
February, 28, 2010
2/28/10
3:54
PM ET
A few things to remember about Cardinals safety
Antrel Rolle
as he prepares to finally
hit the market
when, as expected, Arizona declines to pay a $4 million roster bonus:
Rolle's contract will essentially be terminated with one season remaining once the Cardinals decline to pay the bonus this week;
Rolle will then be subject to waivers, according to an NFL general manager I consulted during Super Bowl week;
Rolle will be able to sign with another team once he clears waivers;
Rolle will not qualify as an unrestricted free agent, an important distinction for a few reasons: teams that lose UFAs can qualify for compensatory draft choices a year later; Final Eight teams can become eligible to sign UFAs from other teams with less restrictions; and UFAs with Rolle's level of experience would revert to restricted free agents in an uncapped year;
The free-agent market could be severely depressed this offseason, so it's unclear how much Rolle might command once he clears waivers.
I have not seen the language in Rolle's contract, but I asked him about it after the Pro Bowl in Miami and this is
what he said
: "Something has to be done by March 1 or else I become a free agent. Everything is going to take care of itself. It has to."
I'm about to board a connecting flight in Chicago. Enjoy your Sunday.
February, 28, 2010
2/28/10
10:45
AM ET
Michael writes via Facebook:
Is there any chance that Arizona retains
Antrel Rolle
and possibly moves him back to corner?
Bryant McFadden
is below average at best, and
Greg Toler
is a work in progress. Having playmakers like
Dominique Rodgers-Cromartie
and Rolle couldn't hurt, could it?
Rolle
Mike Sando:
Changing positions once is hard enough. The Cardinals have invested quite a bit of time in getting Rolle acclimated to safety. And they made that move because Rolle wasn't the answer at cornerback. Moving him back to corner would necessitate another transition, and for what? I think it would weaken the free safety position while failing to provide the desired upgrade at corner.
The concept is instructive for another reason, however. The contract Rolle signed as a rookie assumed he would play cornerback, not safety. The compensation he is scheduled to earn in 2010 -- a $4 million roster bonus and $8.1 million in salary -- appears prohibitive for a safety with his credentials (two pretty good seasons, including one in which he made a Pro Bowl appearance as an alternate).
Elite corners earn about $9.5 million (based on the value for franchise players at the position). If Rolle were a top corner, the Cardinals might have an easier time justifying that $12 million compensation total if a long-term deal eluded them. They did just pay $9.678 million to linebacker
Karlos Dansby
. But with Rolle at safety, that $12 million would nearly double the $6.455 million average for elite safeties, as defined by the franchise player value.
February, 25, 2010
2/25/10
11:19
AM ET
INDIANAPOLIS -- 49ers general manager Scot McCloughan offered another reason for teams to
avoid lavish spending in free agency
absent a salary cap.
McCloughan, speaking at the NFL combine, said he would be reluctant to upset the team's salary structure through overspending.
I had a chance to follow up with McCloughan after his scheduled media appearance and that was one little tidbit I wanted to pass along.
February, 18, 2010
2/18/10
11:16
PM ET
The NFL's list
of projected unrestricted free agents for 2010 included one column showing agents and another showing starts.
This made it easy to see which agents had the most projected UFA clients, and how many starts those clients averaged in 2009.
The result is the chart below. Drew Rosenhaus has more than 100 clients across the league, more than any agent. The NFL lists 15 of them on its projected UFA list, including
Terrell Owens
and three NFC West players (Randy McMicahel,
Anthony Becht
and
Olindo Mare
).
Agents Peter Schaffer and Brian Mackler are next on the list with seven projected UFA clients apiece, but no agent with at least four players listed can match Tony Agnone for players with lots of 2009 starts. Agnone's list features 16-game starters
Casey Rabach
,
Kyle Vanden Bosch
and
Bobbie Williams
, plus seven-game starter
Michael Gaines
.
The NFL has no agents listed for
Phillip Daniels
,
Tully Banta-Cain
,
Leigh Bodden
,
Mike Furrey
,
Damion Cook
,
Tank Johnson
and
Matt Ware
.
Jeff Feagles
,
Jeff Zgonina
,
Daunte Culpepper
,
Paul Spicer
,
Clinton Hart
and
Vernon Fox
are listed as representing themselves.
February, 18, 2010
2/18/10
12:35
PM ET
The NFL-provided list
of projected unrestricted free agents included a column showing how many games each player started last season.
Getting the information into a spreadsheet allowed me to break down those figures by team, position and starts.
The chart shows projected UFAs with at least nine starts last season, by position.
The Cardinals are tied for the league lead with five: nose tackle
Bryan Robinson
, linebacker
Chike Okeafor
, linebacker
Karlos Dansby
, left tackle
Mike Gandy
and tight end
Anthony Becht
.
Take away 15-game starter
Kurt Warner
, who retired, and it's clear this offseason could be very disruptive for the Cardinals. The team could also lose free safety
Antrel Rolle
, whose contract includes a $4 million roster bonus and $8.1 million salary.
Another key role player,
Bertrand Berry
, is retiring.
The Rams had four players make the list, but all four are older players nearing the ends of their careers (
Leonard Little
,
James Hall
,
Paris Lenon
and
Randy McMichael
).
February, 17, 2010
2/17/10
4:08
PM ET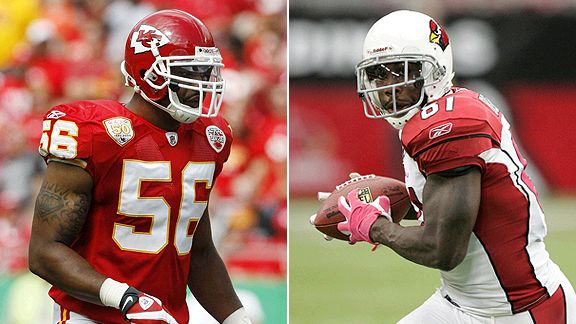 Icon SMIA deal sending Arizona wide receiver Anquan Boldin, right, to Kansas City for linebacker Derrick Johnson would benefit both teams.
The trade conversation
initiated Tuesday picked up momentum quickly and hasn't slowed.
"
Deion Branch
to Kansas City for
Glenn Dorsey
," youthcraze suggested.
"
Anquan Boldin
to Miami for picks and/or
Joey Porter
," Primeau1203 wrote.
"
Brandon Jones
and a third-round pick to Cleveland for
Joshua Cribbs
and a fourth-round pick," daddyleek125 wrote in offering one of three suggestions for the 49ers.
"I'm in St. Louis," killah2 wrote, "and we don't have many blockbuster players to offer. Given our No. 1 draft slot and the possibility of drafting Ndamukong Suh or Gerald McCoy, my first thought is to offer
Adam Carriker
. ... Given that the St. Louis receiving corps was basically the Philadelphia practice squad, I'd look for a team who could offer a wide receiver."
The trade market has a chance to be much more interesting than usual this offseason as teams head into the March 5 signing period without a salary cap in place. In past years, cap considerations restricted trades in general and player-for-player trades in particular, especially those involving prominent players.
Take away the cap, however, and the cap considerations disappear. With players needing six accrued seasons instead of four to become unrestricted free agents, the UFA market will be weak, leaving trades as an even more appealing avenue for player acquisition.
That is my thinking, anyway. No one is quite sure how things might play out.
"The truth of the matter is that with the uncertainty of the uncapped year and possible work stoppage ahead [in 2011], I am not sure we will see much movement at all in the way of trades," miked2300 wrote.
Now that we've allowed for the possibilities, let's indulge the original concept: singling out one reasonably conceived trade to benefit each NFC West team, with an emphasis on player-for-player trades, not just trades involving players for draft choices.
February, 16, 2010
2/16/10
1:00
PM ET
»
AFC Free Agency
:
East
|
West
|
North
|
South
»
NFC
:
East
|
West
|
North
|
South
An early look at the free-agent situation in the NFC West.
Note:
These projected lists reflect notable unrestricted free agents for each team. The NFL will not issue an official list of free agents until the signing period begins March 5.
Arizona Cardinals
[+] Enlarge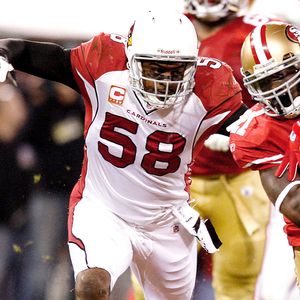 Tony Medina/Icon SMIKarlos Dansby has led the Cardinals in tackles in each of the past two seasons.
Unrestricted free agents:
LB
Karlos Dansby
, LT
Mike Gandy
, OLB
Chike Okeafor
, K
Neil Rackers
, NT
Bryan Robinson
, WR
Sean Morey
, TE
Anthony Becht
, DE
Bertrand Berry
, LT
Jeremy Bridges
, CB
Ralph Brown
, FB
Dan Kreider
, QB
Brian St. Pierre
, S
Matt Ware
, LB
Monty Beisel
.
Key figures:
The more than $17.7 million Arizona has paid to Dansby over the past two seasons should suffice as a parting gift if, as expected, the linebacker leaves in free agency. Dansby could be leading an exodus. Okeafor turns 34 in March and could be on his way out. Berry announced his retirement. Morey has had concussion problems. Gandy's return probably depends on whether he's willing to stay for less than the $5 million he earned last season. Safety
Antrel Rolle
does not appear on the list, but he would hit the market when free agency begins if the Cardinals decline to pay a $4 million roster bonus.
San Francisco 49ers
Unrestricted free agents:
WR
Arnaz Battle
, CB
Dre' Bly
, NT
Aubrayo Franklin
, CB
Walt Harris
, RT
Tony Pashos
, FS
Mark Roman
, LT
Barry Sims
, LB
Jeff Ulbrich
, LB
Matt Wilhelm
, CB
Keith Smith
.
Key figures:
The 49ers have been proactive in re-signing their own players. That explains why relatively few big names appear on this list. The franchise tag appears well suited for Franklin, the only marquee UFA on the 49ers' list this offseason. Tagging Franklin at the $7 million franchise rate makes sense heading into labor uncertainty. Why spend lavishly on a long-term deal? Franklin has played at a high level consistently for only one season, and a lockout could keep him off the field in 2011. Re-signing Sims for depth would make sense. Ulbrich, meanwhile, has retired and joined the Seahawks' coaching staff.
Seattle Seahawks
Unrestricted free agents:
DE
Cory Redding
, CB
Ken Lucas
, K
Olindo Mare
, LB
D.D. Lewis
, FB
Justin Griffith
, LT
Damion McIntosh
, SS
Lawyer Milloy
, LS
Kevin Houser
, LS
Jeff Robinson
.
Key figures:
New coach Pete Carroll is on the record saying he likes what he's seen from Redding. Mare is coming off an outstanding season. Lucas has the size Seattle's new leadership wants in its cornerbacks. Milloy played for Carroll in New England. There isn't much more to say about this relatively nondescript group, and it's unclear how much the new regime will value these UFAs. Unrestricted free agency isn't the only road out of Seattle this offseason. The team will probably part with a few established players who haven't lived up to their salaries because of injuries and other factors.
Patrick Kerney
and
Deion Branch
come to mind.
St. Louis Rams
Unrestricted free agents:
DE
Leonard Little
, DE
James Hall
, LB
Paris Lenon
, QB
Kyle Boller
, S
Clinton Hart
, LS
Chris Massey
, TE
Randy McMichael
.
Key figures:
Boller, 28, is the only player on the Rams' list younger than 30. Franchise player
Oshiomogho Atogwe
and starting tackle
Alex Barron
become only restricted free agents under rules governing the uncapped year, explaining their absence from the Rams' UFA list. It's unclear how seriously Little and Hall figure into the team's plans for 2010.
Chris Long
's emergence late last season should make it easier for the team to move on without them, but the aging defensive ends did combine for 27 starts and 11 sacks last season.
NFL SCOREBOARD
Thursday, 11/20
Sunday, 11/23
Monday, 11/24
WEEKLY LEADERS