NFL Nation:

Free-agency review
July, 31, 2014
Jul 31
4:59
PM ET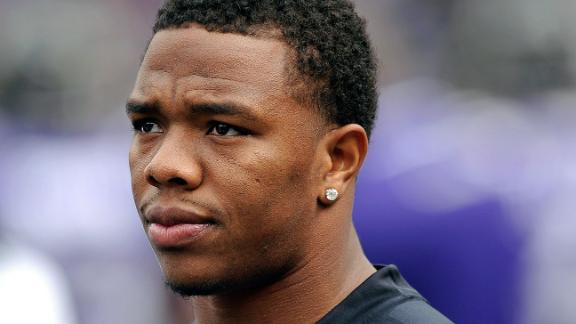 OWINGS MILLS, Md. -- In stark contrast to
Ray Rice
's awkward news conference in May, the
Baltimore Ravens
running back showed Thursday that he finally understood the weight of his actions from the alleged altercation with his then-fiancée in February.
He delivered the correct message, one the NFL failed to do last week with the two-game suspension, by not only apologizing to his wife, Janay Palmer, but also expressing a desire to become an advocate for domestic-violence causes.
Rice was compelling in his contrition, calling it the biggest mistake of his life. He stood in front of the microphone alone, without his wife standing by his side, and took full responsibility for the incident. Perhaps more importantly, Rice actually said the words "domestic violence," which weren't heard in his statement two months ago.
"My actions were inexcusable," Rice said. "That's something I have to live with the rest of my life."
Before anyone pats Rice on the back, this is what he should have said the first time when he broke his silence in May. Instead, Rice nervously fumbled through notes on his phone and apologized to team officials and his sponsors. That debacle of a news conference came across as damage control to his image.
His 17-minute news conference Thursday hit the right tones. He apologized to all women affected by domestic violence. He accepted the blame for losing the respect of fans. Rice came across as genuinely sorry.
"I let my wife down, I let my daughter down, I let my wife's parents down, I let the whole Baltimore community down," Rice said.
Rice's biggest misstep was not talking about what happened in the elevator. He was asked twice about it and declined to answer both times. His stance against domestic violence would have resonated stronger if he had explained his transgressions.
"I'll be honest: Like I said, I own my actions," Rice said. "I just don't want to keep reliving the incident. It doesn't bring any good to me. I'm just trying to move forward from it. I don't condone it. I take full responsibility for my actions. What happened that night is something that I'm going to pay for the rest of my life."
The only way Rice can move forward from this incident and show he's truly sincere is through his actions. It's not by his words. It's not by a hefty donation, which is merely a gesture. It's by proving this will remain a "one-time incident" and by supporting domestic-violence causes.
Thursday represented a small step forward for Rice. But it was an important one.
March, 18, 2014
Mar 18
9:00
AM ET
Boldin
Most significant signing:
Receiver
Anquan Boldin
. Fans may not like it when a team's most significant move is keeping one of its current players, but imagine if Boldin had walked. In his first season with the 49ers, Boldin became a critical part of the offense. Receiver was one of the team's biggest need areas. Re-signing Boldin helps keep this offense dangerous. The team's plan was to try to keep its best players, and Boldin was the top priority. That alone makes free agency a success.
Most significant loss:
Cornerback
Tarell Brown
. I think safety
Donte Whitner
is a better player than Brown. But unlike Whitner, the 49ers have yet to replace Brown, who signed a one-year, $3.5 million contract with the crosstown
Oakland Raiders
. Brown is a solid player. His departure leaves a hole at the position.
Biggest surprise:
The signing of former Indianapolis safety
Antoine Bethea
. About four hours before the start of free agency, word filtered out that Whitner was going to agree to a deal with his hometown
Cleveland Browns
. Shortly after free agency officially began, the 49ers had a deal done with Bethea. It was surprising in both swiftness and quality. The thought was that if Whitner were to leave, the 49ers would have to scramble to find a replacement. But Bethea is a comparable player to Whitner and a good fit for the defense.
What's next?
The 49ers are concentrating on adding players at cornerback and receiver. They took some looks at both spots in recent days, but nothing materialized. There are some pieces remaining on the market at both spots, but fit and price could be issues. The 49ers are fully expected to use early-round picks to address both positions in the draft.
March, 18, 2014
Mar 18
9:00
AM ET
A week in, here's a quick review of the free-agency period for the
Detroit Lions
:
Tate
Most significant signing:
Considering that Detroit has mostly signed depth or re-signed its own free agents, the obvious choice is receiver
Golden Tate
. The former Seattle Seahawk will complement
Calvin Johnson
and should take pressure and attention off of the Lions' top receiver. He can also spread the field, has elite hands and can block extremely well for a 5-foot-10 receiver. He plays taller than he is and should be a good addition to Detroit.
Most significant loss:
Defensive end
Willie Young
was a productive player who often became overlooked because of the star power in the middle (
Ndamukong Suh
,
Nick Fairley
) and the emergence of Ziggy Ansah at the other end. But Young is a long, rangy end who was good against the run and showed improvement. That he went to one of Detroit's top rivals, Chicago, adds to the significance because the Lions will see him at least twice a year.
Biggest surprise:
That the Lions didn't make a bigger play earlier in the safety market. Like receiver on offense, safety is Detroit's biggest need on defense after the release of
Louis Delmas
. The team looked like it was interested in
Chris Clemons
and had reportedly expressed interest in
T.J. Ward
, but so far the only safety the team has brought in is
James Ihedigbo
. While Ihedigbo could fill a need if he signs, Detroit could have tried to make a bigger play here considering the market and the need. Unless the Lions draft one.
What's next:
Solving the backup quarterback issue. The Lions need to have a veteran behind
Matthew Stafford
, and
Kellen Moore
just is not going to be a viable option there right now. Detroit, be it through re-signing
Shaun Hill
or signing someone like
Luke McCown
or
Ryan Fitzpatrick
, has to have a player with
some
experience ready to come in if Stafford were to get hurt. Detroit has too many other pieces to let that be an actual issue.