December, 19, 2013
Dec 19
10:00
AM ET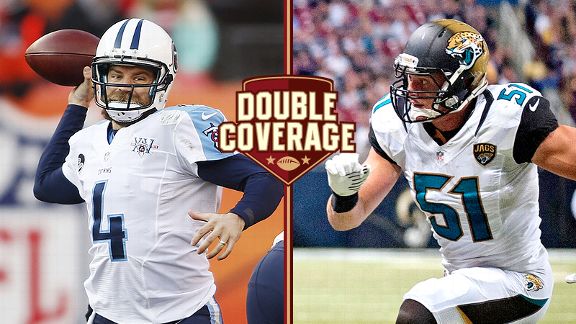 USA Today SportsPaul Posluszny and the Jags are aiming for a season sweep of Ryan Fitzpatrick and Tennessee.
JACKSONVILLE, Fla. -- Maybe
Delanie Walker
shouldn't feel so bad now.
The Titans tight end said he was embarrassed after the Jaguars won 29-27 in Nashville on Nov. 10 to pick up their first victory. Since then, the Jaguars are 3-2 with victories over Houston (twice) and Cleveland. The Titans are 1-4 with a victory over Oakland.
There seems to be much more stability in Jacksonville, too, because of the uncertain status surrounding Tennessee coach Mike Munchak.
Jaguars reporter Michael DiRocco and Titans reporter Paul Kuharsky break down Sunday's matchup at EverBank Field.
DiRocco
: Some Titans players were pretty vocal about being embarrassed due to becoming the first team to lose to the Jaguars. Is that something that still stings, and how have they rebounded from that loss?
Kuharsky
: It definitely left a mark. They are only 1-4 since then. It kind of set a bar for how bad they can be and re-established their propensity to lose to teams that are really struggling. The Jaguars are on an upswing since that game, and the Titans are on a downward spiral. If Tennessee losses to the Jaguars again, the Titans will be in line to finish in third place in an awful division, which is well short of their goals and expectations. The Titans are a better team than they were last year. But losing closer isn't a really big difference in the really big picture.
Let's turn that around. How has life changed for the Jaguars since that Nov. 10 breakthrough?
DiRocco
: I could go into a lot of stats that show how much better the Jaguars are playing, but that's not what's really important. The past six games have been more about the validation of the process, establishing the foundation of the franchise's rebuild, and confidence in the new regime. Coach Gus Bradley never wavered from the plan that he and general manager David Caldwell established. His message stayed the same throughout the eight-game losing streak to start the season: trust in the process, work hard, and focus on improving and not victories, and the victories will eventually come. Because that has happened, the players appear to have completely bought into what Bradley and Caldwell want to do, and there's a confidence in the locker room that the franchise is headed in the right direction.
We talked about
Jake Locker
the last time these teams met, but that was before he suffered a season-ending injury to his foot. How does that change the Titans' outlook on him and are they in the market for a quarterback in the offseason, too?
Kuharsky
: Locker is certain to be on the 2014 Titans. His fourth year isn't that costly and it's guaranteed. But they can't execute a spring option for his fifth year that would line him up for over $13 million. A lot of his fate depends on whether Munchak is back as the head coach. It's possible they go forward with Locker,
Ryan Fitzpatrick
and just-signed
Tyler Wilson
as their quarterbacks. It's also possible they'd draft a new guy, and depending on how high of a pick he could land in competition to start. I think it's less likely they chase a free agent like
Jay Cutler
if he comes free, but they have to assess all the possibilities. How can they completely commit to Locker based on his injury history?
One side effect of the Jaguars' surge is they aren't going to be in position to draft the first quarterback taken. What's your sense of what Bradley and Caldwell want in a quarterback and do you expect one to arrive in the first round?
DiRocco
: Offensive coordinator Jedd Fisch said something interesting last week. He said he wants his QB to scramble around, take off running to get yards and take some chances throwing the football. To me, that sounds like a pretty accurate description of Johnny Manziel. I'm not sure how that reconciles with the ideas of his bosses. Bradley comes from Seattle, which has the mobile
Russell Wilson
. Caldwell comes from Atlanta, which has the considerably less mobile
Matt Ryan
. My sense is that Bradley and Caldwell probably lean more toward the Wilson end of the spectrum. People think that eliminates Teddy Bridgewater, but that's not the case. He's not a runner but he can run if needed. If he's around, I'd expect them to take him. If not, then I would still expect them to go quarterback. It's their most glaring need.
You mentioned Munchak's job status. What's your take on whether he will be back next season -- and should he be?
Kuharsky
: He's shepherded improvement, but his team lacks an ability to finish. He's 0-4 in the worst division in football, 1-9 in the past two years. His teams have lost to the previously winless Jags in 2013 and the previously winless Colts in 2011. He's 4-18 against teams with winning records when the Titans played them and 2-19 against teams that finished the season with a winning record. To me, three years is a sufficient sample size to know what you've got and those numbers are the most telling thing on his resume. Keep him and they deal with all the limitations connected to a lame duck coach. I don't know what Tommy Smith, the head of the new ownership, will do. But the fan base overwhelmingly wants change, if that's worth anything. People still pay for tickets because they've got investments in personal seat licenses they do not want to throw away. But a lot of people are staying home on Sundays now.
Cecil Shorts
is done and
Maurice Jones-Drew
is uncertain. How can the Jaguars threaten on offense without their two best weapons?
DiRocco
: They were able to put up 20 points and post their second-highest yardage total of the season, including a season-high 159 rushing, in last Sunday's loss to Buffalo. Running back
Jordan Todman
stepped up big time and ran for 109 yards (Jones-Drew cracked 100 only once in the first 13 games) and tight end
Marcedes Lewis
was more involved in the passing game than in previous weeks (four catches for 54 yards and a touchdown). But I'm not sure that is sustainable. Teams will certainly concentrate on stopping Lewis and make quarterback
Chad Henne
move the ball with three receivers who have a combined 75 career catches. Todman doesn't scare anyone, either. The Jaguars will have to be creative on offense (they've run gadget plays the past three weeks) and capitalize on every opportunity they get.
July, 25, 2011
7/25/11
3:29
PM ET
»
NFC
:
East
|
West
|
North
|
South
»
AFC
:
East
|
West
|
North
|
South
»
Unrestricted FAs
A look at the free-agent priorities for each AFC North team:
Baltimore Ravens

1. Sign guard Marshal Yanda:
The Ravens are already struggling on the offensive line, and losing Yanda at right guard would be a big blow. Baltimore doesn't have quality backups behind Yanda, and the right tackle spot is wide open as well. Yanda will not come cheap. He is versatile and played guard and tackle for the Ravens, which will help his stock on the open market.
2. Find a pass-rusher:
Baltimore has many strengths on defense, but
rushing the passer isn't one of them
. The Ravens registered just 27 sacks last regular season. Pass-rushing help most likely will be needed at outside linebacker in Baltimore's hybrid defense. The problem is that teams do not let go of players who can get to the quarterback, so it's a very thin crop this year. If the Ravens can just get a player who can add six-to-eight sacks to the pile to help Pro Bowl linebacker/defensive end
Terrell Suggs
, that would help tremendously.
3. Extend defensive lineman Haloti Ngata's contract:
Make no mistake, this is the top priority for the Ravens this summer. But the reason this is listed third is that the Ravens put the franchise tag on Ngata before the lockout, which buys them time to get to these negotiations once a fast and furious free agency is complete. Hundreds of players without contracts will be signed in a matter of days. So the Ravens need to focus on those players first before they are left behind. Ngata will get his money before the regular season -- and plenty of it.
Top five free agents:
G Marshal Yanda, S
Dawan Landry
, OT Jared Gaither, CB
Josh Wilson
, FB
Le'Ron McClain
Cincinnati Bengals

1. Determine the futures of RB Cedric Benson and CB Johnathan Joseph:
The Bengals have two important starters set to hit the open market in Benson and Joseph. Benson was expected to be a big part of the Cincinnati's new West Coast offense until his recent arrest for alleged assault put his future with the team in question. First year offensive coordinator Jay Gruden wants to implement a power running game, which fits Benson's style. But if Benson is facing a suspension to start the season, it would make more sense for Cincinnati to spend money on a player who can help them for all 16 games. With Joseph, the Bengals didn't seem interested in paying the cornerback market value, which can range between $8-$10 million per season. The new collective bargaining agreement may include mandatory spending to the salary cap, which will force Cincinnati to spend big in free agency. If that's the case, Joseph becomes a much better possibility to return.
2. Find a veteran quarterback:
Franchise quarterback
Carson Palmer
said he's not returning. So the Bengals must find a veteran free agent at the position. Cincinnati would be
skating on very thin ice
if it went into the season with rookie
Andy Dalton
as starting QB and
Jordan Palmer
and
Dan LeFevour
as backups. The trio has zero NFL starts. Don't expect the Bengals to search for an expensive, big-name starter. Most likely the team will get a career backup with some starting experience to support Dalton. A couple of names to consider are
Bruce Gradkowski
and
Jim Sorgi
.
3. Make roster cuts:
The Bengals have plenty of cap room, so they don't have to slash salaries right away. But there are several players on the chopping block whose production no longer matches their big contracts. Receiver
Chad Ochocinco
, 33, is making $6.5 million and is coming off his second poor season in three years. The Bengals are also getting younger at the position and drafted
A.J. Green
as his replacement. Defensive linemen
Robert Geathers
and
Antwan Odom
have high salaries in 2011, but have been plagued by injuries and poor production. Look for Cincinnati to cut at least one of these players, because second-year defensive end
Carlos Dunlap
looks poised to take over a starting role permanently.
Top five free agents:
CB Joseph, RB Benson, LB
Dhani Jones
, WR
Terrell Owens
(injured), RB/FB
Brian Leonard
Cleveland Browns

1. Sign a defensive end:
The Browns will have a very young defensive line, probably including rookie starters Phil Taylor, a first-round pick, and
Jabaal Sheard
, a second-rounder. Therefore, it's important that Cleveland adds experience up front to relieve some of the pressure. Two very good free agents who can help are
Ray Edwards
and
Charles Johnson
. Both have starting experience and ability to get to the quarterback.
2. Find a starting safety:
The Browns have two good, young pieces in the secondary in cornerback
Joe Haden
and safety
T.J. Ward
. But they're missing another safety to help fill out the back end.
Abram Elam
, a favorite of former Browns head coach Eric Mangini, has been average. Now that Pat Shurmur has taken over, don't expect Elam to return. Fortunately for Cleveland, safety is one of the
deeper positions in free agency
. Quality candidates include
Quintin Mikell
,
Donte Whitner
and
Eric Weddle
.
3. Cut QB Jake Delhomme:
The Browns are on
the hook for $5.4 million
if they keep Delhomme this season. Cleveland likes his leadership in the locker room, but he's too expensive for a third-string quarterback. The Browns made their choice for backup quarterback before the lockout when they signed
Seneca Wallace
to a three-year extension. Wallace knows the West Coast offense better than anyone on the team, and the Browns believed that knowledge was more valuable behind second-year quarterback
Colt McCoy
.
Top five free agents:
FB
Lawrence Vickers
, LB
Matt Roth
, S Elam, CB
Eric Wright
, DL
Robaire Smith
Pittsburgh Steelers

1. Make roster cuts:
The Steelers are expected to be
well over the cap
when the final numbers are determined. So their first priority will be to free up space to sign free agents and draft picks. Some solutions could include cutting veteran tackle
Flozell Adams
($5 million) and receiver
Antwaan Randle El
($2 million). Restructuring the contract of defensive end
Aaron Smith
is another possibility. The Steelers must free up money first before they make other tough calls.
2. Sign a starting corner
: This could mean re-signing
Ike Taylor
or signing a player from outside the organization (
Carlos Rogers
or
Richard Marshall
). But it's important for the Steelers to land a starting-caliber corner in free agency. Pittsburgh's secondary struggled against good quarterbacks last season. Teams will continue to attack Pittsburgh through the air until the team proves it can slow multiple-receiver sets. To do this, the Steelers must have at least three solid corners.
Bryant McFadden
is the only corner under contract with starting experience.
3. Sign a kicker:
No one cares about kickers until you need one in an important spot. The Steelers are in the market for a kicker after cutting
Jeff Reed
last season.
Shaun Suisham
filled in last season and did a decent job, but he's also a free agent. Kicking in Heinz Field can be tough, especially late in the season when inclement weather and soggy field conditions play major roles. Pittsburgh must make sure its new kicker can handle it.
Top five free agents:
CB Taylor, OL
Willie Colon
, CB
William Gay
, RB
Mewelde Moore
, DL
Chris Hoke

NFL SCOREBOARD
Sunday, 12/22
Monday, 12/23