NFL Nation:

Frenchy Fuqua
May, 18, 2011
5/18/11
1:00
PM ET
Examining the most crucial event in the history of every team in the division.
Fly into the city of Pittsburgh, and there is no doubt what is the most memorable moment in Steelers' history.
Inside Pittsburgh International Airport there is a life-sized statue of Hall of Fame running back Franco Harris' "Immaculate Reception." Harris caught a deflection off teammate Frenchy Fuqua late in a 1972 AFC divisional playoff game to score the winning touchdown in a 13-7 victory over the
Oakland Raiders
.
Msdmr writes:
"[Pittsburgh] had only been to playoffs twice at that point. It got them out of the doormat category, gave them tangible proof that they could win."
Krankor
watched the "Immaculate Reception" live on television nearly four decades ago: "I was a kid at the time, about 10 years old. What I remember most clearly was that, after the play, the delay while the officials decided what to call was unprecedented. I'd never seen anything like it, before or since."
Not everyone is impressed by the memorable play, especially those outside of Steeler Nation.
Washed_up_ball_player writes:
"Funny how the No. 1 selection, the 'Immaculate Reception,' is just a lucky play where the football gods smiled down on the Steelers. That sounds like the definition of the Steelers to me."
The "Immaculate Reception" led the way with 34 percent of the 40,000-plus votes as of 3 p.m. ET Tuesday, edging Pittsburgh's 1974 draft (31 percent) that included four Hall of Famers in linebacker Jack Lambert, center Mike Webster and receivers Lynn Swann and John Stallworth. The Steelers' 1974 draft is often considered the greatest in NFL history. We may never see four Hall of Famers drafted by one team in the same year again.
Former Steelers Hall of Fame coach Chuck Noll also had his share of supporters. Noll's hiring in 1969 received a solid 26 percent of the vote. Noll coached Pittsburgh to four Super Bowl wins in the 1970s before retiring in 1991. He started an impressive run of only three head coaches -- Noll, Bill Cowher and Mike Tomlin -- running the Steelers since 1969.
Jebei_espn also writes:
"The Steelers were always bad before they hired Chuck Noll and have been consistently good since then. Noll turned the franchise around and with great support from the Rooney family they started a great tradition that continues to this day."
RAVENS: First draft was huge
Speaking of impressive draft classes, the
Baltimore Ravens
had one of their own during their inaugural season in 1996.
The Ravens landed two future Hall of Famers in the first round. Baltimore selected left tackle
Jonathan Ogden
with the No. 4 overall pick and middle linebacker
Ray Lewis
at No. 26 overall, which received an impressive 54 percent of the vote as of Tuesday afternoon. Both players were longtime stalwarts on offense and defense, and Lewis, 36, still leads the Ravens entering his 16th season.
DaReel2008
summed it up best by writing: "Drafting Lewis and Ogden was our defining moment, and the others mentioned -- even the Super Bowl -- aren't even close. Ray Lewis and Jonathan Ogden are two of the best players to ever play their positions. They not only helped carry the Ravens to a Super Bowl, but made us a perennial contender for most of the last 12 years. Our team prides itself on its character and its toughness, both of which are embodied by these two players, who will be in the HOF upon their first year of eligibility."
The Ravens also got a nice sleeper in the fifth round of the 1996 draft by getting receiver and return specialist
Jermaine Lewis
. He was the first of many gems Baltimore's front office was able to discover in the middle and late rounds.
Baltimore's Super Bowl XXV victory over the
New York Giants
following the 2000 season came in second place with 40 percent of the vote. It remains the Ravens' only Super Bowl victory.
Clifford from Baltimore
makes a good case for Super Bowl XXV when he writes: "It solidified the identity of the franchise. The Ravens were a good defensive football team for two years or so before their Super Bowl run, but winning a championship with defense effectively defined the entire culture of the team as a whole."
BROWNS: Hard luck adds to Cleveland curse
Now we get to the downtrodden segment of our "Flash Points" series. After more than 50,000 votes -- the highest total in the AFC North -- "The Fumble" and "The Drive" led the way among Browns fans with 37 percent.
Cleveland's championship drought in pro sports is at 47 years and counting. The Browns' teams of the late 1980s were solid and had a chance to break that streak. But Hall of Fame quarterback
John Elway
and the
Denver Broncos
broke Cleveland's heart in back-to-back years with a pair of late-minute victories.
Denver and Cleveland met in the AFC title game one year later, and
Earnest Byner
's late fumble on the 3-yard line thwarted a chance for the Browns to tie the score in regulation. Following a late safety, Denver held on to win 38-33.
Daffy87 writes:
"I would lean towards 'The Fumble' and 'The Drive' since that's the first thing that comes to people's minds when they bring up the Browns. Anytime anything bad or strange happens in a game, announcers roll the film."
I interviewed Byner
a few years ago to discuss his fumble. The play serves as a cruel reality, because Byner had a solid career, rushing for 8,261 yards, but he will be most remembered for one bad play.
"To be honest, it helped me be a better man and a better person," said Byner, who now is an assistant coach with the
Jacksonville Jaguars
. "Going through something like that really gives you perspective that life is not over when you have something tragic happen or something that definitely challenges you."
Both Denver teams lost in the Super Bowl. Cleveland fans can always wonder if those Browns teams would have been a better representative for the AFC and perhaps won at least one championship following the 1986 or 1987 season.
BENGALS: Downhill since Montana
The
Cincinnati Bengals
have had some highs and lows in their history. But an overwhelming 49 percent of Bengals fans chose
Joe Montana
's late, game-winning drive to lead the
San Francisco 49ers
over the Bengals in Super Bowl XXIII as Cincinnati's biggest turning point.
GreatestBengalsFanOfAllTime writes:
"The last-minute loss to the 49ers defines the Bengals, forever and always. Many fans like to say it was the
Mike Brown
era, but the truth is, the Bengals weren't exactly legends under Paul Brown, either. The last-minute loss to the 49ers accurately sums up the entire history of Bengaldom in one simple phrase: 'So close, yet so far.'"
Trailing 16-13, the 49ers needed to drive 92 yards in the final three minutes to win the Super Bowl. Montana got in rhythm and connected with receiver
John Taylor
with 34 seconds left to win the game, 20-16. It was the last Super Bowl appearance for the Bengals, who in turn have struggled mightily for the past two decades.
Bengals owner Mike Brown taking over the franchise was a distant second with 27 percent. Brown's father, Hall of Famer Paul Brown, starting the franchise in 1968 was third with 13 percent, and drafting left tackle Anthony Munoz in 1980 was fourth with eight percent.
July, 27, 2010
7/27/10
6:42
PM ET
When somebody dies, it's polite to say something nice.
Out of respect, even the reviled are generally granted dispensation when they pass away. A particularly horrible decline elicits extra mercy.
But not when it's Jack Tatum, and not when the man being asked is Steve Grogan.
"I just can't do it," Grogan coldly said Tuesday afternoon.
[+] Enlarge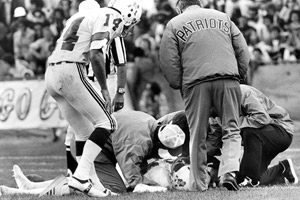 Ron Riesterer/The Sporting News/ZUMA PressDarryl Stingley, above, never recovered from a collision with Jack Tatum in Aug. 1978, remaining in a wheelchair for the remainder of his life.
Tatum, a safety who embodied the
Oakland Raiders
mystique and was called "The Assassin" for his brutal hits,
died of a heart attack at 61
. Tatum dealt with a series of problems related to diabetes in recent years. His right leg and all the toes on his left foot were amputated.
That he lived his final years in such condition was sad to some, tragically poetic to others.
Tatum's most infamous collision occurred when he paralyzed
New England Patriots
receiver Darryl Stingley in a 1978 preseason game. Stingley was 55 when he died three years ago from pneumonia complicated by his paralysis.
"I'm sorry because there was a life lost today," said Darryl Stingley's son, Derek, who was 7 when his father stopped walking. "Jack Tatum had a family. He was somebody's father, somebody's brother, somebody's cousin or uncle. I truly am sad because of that.
"But at the same time that life put my father in a situation that he couldn't feed himself when he wanted to."
Derek Stingley saw a report of Tatum's death on ESPN's news crawl and immediately called his grandmother, Hilda Stingley.
"This brings back all those memories," Derek Stingley said. "I've just been almost in a daze today."
On that fateful night in 1978, Grogan threw to Darryl Stingley on a crossing route in a meaningless game. The ball sailed incomplete. Tatum blasted him head-on anyway. Darryl Stingley didn't get up.
The hit was considered legal at the time, the kind of vicious shot Tatum delivered on a regular basis. No flag was thrown. The NFL didn't discipline Tatum. That Darryl Stingley suffered two broken vertebrae and was paralyzed from the chest down was considered bad luck.
"I've seen the hit over and over," said Derek Stingley, president of the
Darryl Stingley Youth Foundation
, which his father founded. "Tatum was just giving him a hard hit. That was in the cosmos. That was in the stars that day."
What happened in the days, weeks and years after the hit was what Grogan -- and much of the Patriots family -- deemed unforgivable.
"I have a hard time trying to find something nice to say," Grogan said about Tatum. "That bothers me because I'm not like that normally. You may talk to guys that played with him, and they might tell you he was greatest teammate in the world and everybody loved him.
"The circumstance that we were involved with, just the way he handled it, that will never come out of any of our mouths or minds."
Tatum never spoke to Darryl Stingley after the injury -- although he did suggest a televised reconciliation to coincide with the release of a book. Tatum wrote three of them: "They Call Me Assassin" in 1979, "They Still Call Me Assassin" in 1989 and "Final Confessions of NFL Assassin Jack Tatum" in 1996.
"When something like that happens and you can't apologize for it, go out and write a book to make money and try to get famous off the incident, that's just not right," Grogan said. "I thought he handled it very poorly."
In a 2003 Boston Globe story,
Darryl Stingley said he still would welcome a visit or a call from Tatum
-- without a commercial agenda.
"If he called me today, I'd answer," Darryl Stingley said. "If he came to my house, I'd open my door to him. All I ever wanted was for him to acknowledge me as a human being. I just wanted to hear from him if he felt sorry or not. It's not like I'm unreachable. But it's not a phone call I'll be waiting for anymore."
Darryl Stingley also claimed he harbored no hate for Tatum.
"It's hard to articulate," he said. "It was a test of my faith. The entire story. In who, and how much, do you believe, Darryl? In my heart and in my mind I forgave Jack Tatum a long time ago."
Tatum's legacy was forever tainted by his callousness. ESPN's John Clayton wrote a remembrance of Tatum and noted the behavior toward Darryl Stingley
likely prevented Tatum from garnering consideration
for the Pro Football Hall of Fame.
Tatum was a three-time Pro Bowler. He was involved in several memorable hits, knocking off
Minnesota Vikings
receiver Sammy White's helmet in Super Bowl XI and laying out Frenchy Fuqua to ricochet the ball Franco Harris turned into the Immaculate Reception.
The NFL Network ranked Tatum the sixth-most fearsome tackler in league history, but the program never mentioned his hit on Darryl Stingley.
"He had close to 30 years to apologize," Derek Stingley said. "If that created a burden for him to live with, that's his own doing. There were plenty of opportunities.
"This is a reminder to put things to the side and let bygones be bygones. I wish they had that opportunity to close that chapter in their lives, but it never happened."
July, 27, 2010
7/27/10
4:16
PM ET
Jack Tatum's playing style was true to his nickname. He was "The Assassin.''
I was lucky enough to cut my teeth covering the NFL during the 1970s in Pittsburgh. Back then, no matchup was more anticipated than Pittsburgh Steelers-Oakland Raiders. Part of the reason was Tatum, who made sure receivers venturing into the middle of the field did so at their own risk.
[+] Enlarge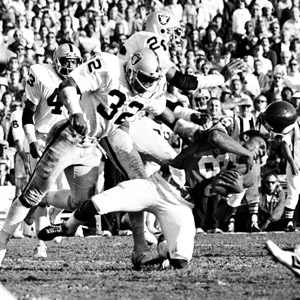 AP Photo/Richard DrewJack Tatum (32), who came from an era of hard running and harder hits, died Tuesday.
What is forgotten is how physical the game was in the 1970s. That was the age of great defense, hard running and harder hits. Situation substitution wasn't part of 1970s football. Cornerbacks were allowed to mug receivers at the line of scrimmage or downfield.
And safeties? Well, the words safety and receiver simply didn't match up in those days. Tatum,
who died Tuesday at 61
, played the position like a linebacker. He hit like no other safety in football.
It was probably fitting that one of his notable hits came against the Steelers. I remember sitting in the auxiliary press box at Three Rivers Stadium during the 1972 playoffs. The Raiders were about to squeak out a come-from-behind victory over an upstart Steelers team. In the final seconds, Terry Bradshaw fired a prayer of a pass toward Frenchy Fuqua.
Tatum saw the ball and Fuqua, so naturally you knew a collision was coming. Tatum's hit caused the ball to fly backward into the hands of running back Franco Harris. The "Ultimate Hit" led to the "Immaculate Reception" as Harris caught the ball just before it hit the ground and scored the winning touchdown.
After Tatum's career was over, I saw him at a celebrity flag football game during a Super Bowl. He led a chorus of former Raiders players who blasted eventual Hall of Fame receiver Lynn Swann of the Steelers for not being tough enough. Tatum and the Raiders made Swann a target back in those days.
What's a shame is the Darryl Stingley incident during a preseason game in 1978. Tatum delivered his usual "Assassin-style" hit, but Stingley never walked again. Tatum didn't show compassion for Stingley, opening the door for plenty of criticism.
Tatum's style might have been outlawed in this new age of football. Research continues into the long-term damage the game inflicts on players. Had he played in the 21st century, Tatum might have had to donate his salary to charity because the league office would be fining him every week.
Is Tatum a Hall of Famer? Well, I am surprised he has not received more attention from voters. The Stingley incident is a huge factor there, so don't count on him making it.