NFL Nation:

Gailey hired 10
January, 19, 2010
1/19/10
6:17
PM ET
ORCHARD PARK, N.Y. -- One of the biggest knocks against Dick Jauron is that he's too much of a player's coach, too lax with his policies, too trusting that his guys will take care of their business without much oversight.
There will be a different atmosphere in the
Buffalo Bills
' locker room for 2010.
[+] Enlarge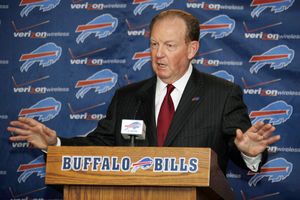 AP Photo/ David DupreyAt a news conference announcing his hiring, Chan Gailey said he believed in toughness, discipline, organization and character.
The Bills on Tuesday afternoon introduced Chan Gailey as their next head coach. Players better be on their toes.
"He's all about creating an environment conducive to winning," said ESPN analyst Herm Edwards, who hired Gailey to be his offensive coordinator for the
Kansas City Chiefs
in 2008. "He doesn't care if you make $4 million a year or if you're a rookie. He's going to tell you, 'This is what you got to do to help this football team win.'
"You know when he comes in, guys are not going to get along with him, and there are guys he's going to get rid of."
Bill Cowher is a huge fan of Gailey's from their time with the
Pittsburgh Steelers
. Gailey was the offensive coordinator in 1996 and 1997 before becoming
Dallas Cowboys
head coach.
According to ESPN's Adam Schefter, Cowher recommended Gailey for the job while the Bills were pursuing Cowher.
"I think the one thing you'll see is he's very passionate," Cowher said. "He's an unbelievable competitor. Chan's a guy that will leave no stone unturned. He will not accept mediocrity. And I think that's the thing, being around him ... I always thought I was a competitive guy, but he may be more competitive than I am. And I'll tell you, he's a very driven coach and, like I said, very thorough. I just think he's a great fit for the organization."
Gailey spoke about his philosophies in turning around a franchise that hasn't reached the playoffs in a decade.
"I believe you have to be fundamentally sound. I think you have to teach fundamentals. I worked for a guy way back when I first started coaching, he had a great saying, and the saying was plays are more fun than fundamentals, but fundamentals are more important than plays. ... What wins the majority of the time is blocking and tackling and throwing and catching and kicking. That's what wins games. So I believe in fundamentals and teaching fundamentals and being fundamentally sound.
"I believe in toughness and discipline. This is a tough game for tough people. This is a disciplined game as well. You can't just go out there and be a tough guy and run around wildly. You've got to be disciplined. But you can't be so disciplined that you play under control. You've got to have some toughness to you. So that's a fine line. You've got to talk about those two terms in the same breath.
"I believe in organization, removing the gray area as much as you possibly can. ... Once everybody has their role defined, once everybody has exactly what they're trying to get done explained to them perfectly, then there's accountability -- for everybody, from the top to the bottom for everybody that's involved in winning football games.
"Last but not least, I believe in character. I believe we're going to try to get our guys to understand how important it is to do things the right way both on and off the field. It's for the good of the team, and it's for the longevity of their careers."
Yes,
Marshawn Lynch
. We're looking at you.
January, 19, 2010
1/19/10
4:32
PM ET
By
Matt Mosley
| ESPN.com
Pardon me if I was a little startled by the news Monday that the
Buffalo Bills
were going to hire Chan Gailey as their next head coach
. What, was Bruce Coslet not available?
[+] Enlarge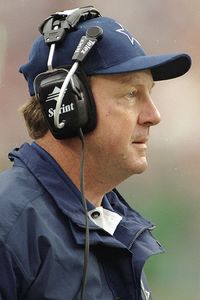 Getty ImagesGailey led the Cowboys to the playoffs in both seasons he served as the head coach.
It appears that the Bills swung for the fences -- and then settled for a weak grounder to short. To label this an uninspiring hire is an injustice to the uninspiring men who preceded Gailey in Buffalo. One of those men, Wade Phillips, just led the Cowboys to their second division title in three seasons.
Gailey took over a star-studded (if aging) Cowboys team coming off a 6-10 season and led them to the playoffs in 1998 and 1999. Owner Jerry Jones was so impressed with Gailey's 18-14 record that he fired him after a playoff loss to the Vikings and replaced him with Dave Campo. No one really likes to say this in polite company, but quarterback Troy Aikman clashed with Gailey and wanted him gone. And Jones didn't hesitate in pulling the trigger. Here's what
Jones said at the time
:
"This decision I had to make is about football,'' Jones said in Jan. 2000. ''It wasn't about egos. Chan Gailey, relative to when he accepted this job, burned the midnight oil. He worked hard, he was diligent, he was honest. He did everything I imagined."
And it turns out that Jones was still thinking about the Gailey firing when he decided to retain Wade Phillips following the '08 season's December-January collapse. Something about continuity. Here's what Jones said about his decision to fire Gailey earlier this month:
"The most unfair that I've ever been in anything in sports and maybe in other parts was dismissing Chan after two years,"
Jones said
. "That wasn't right. ... That is one thing I look at today in my mirror and say you just weren't as fair as you needed to be there to the team, the fans and certainly to Chan to make that change after two years."
So there you have it. The lesson Jones learned from the Gailey firing is one of the main reasons Phillips is still around. That and the fact that Jones hates the idea of coaches sitting at home while he pays them $3 million. And by the way, Gailey was making $500,000 per year as the head coach of the Cowboys when he was fired in 2000.
The club's offensive coordinator, Jason Garrett, makes roughly $3 million per year now. For any Bills fans who may stumble onto this blog, Gailey is a remarkably nice man. He has no business being a head coach in this league, but I can pretty much assure you that he won't be accused of striking an assistant coach at any point in the near future.
If I'm someone like Leslie Frazier, this hire really ticks me off. Some of these assistants have worked their tails off to position themselves for a head-coaching opportunity. And they're passed over for a man who flamed out in Dallas a decade ago.
January, 19, 2010
1/19/10
3:29
PM ET
ORCHARD PARK, N.Y. --
Buffalo Bills
general manager Buddy Nix got ornery while defending the club's search for a head coach and the decision to hire Chan Gailey.
At Tuesday afternoon's introductory news conference, Nix explained how Gailey fit the criteria: head coaching experience, an offensive mind with a track record of developing quarterbacks and character.
Nix then stiffarmed criticism of the hire after a two-month hunt that
included several rejections along the way
.
"I want you to know, with all due respect, I don't care," Nix said. "It don't bother me. I mean, everybody's got an opinion. You guys got a job to do, and I'm trying not to make it difficult.
"But my job is to get us the best guy to help us win games. And we found that guy. This guy met more of the criteria that I ever hoped we'd find. This guy's won everywhere he's been."
As much as Nix tried to make it seem like he was the natural selection, Gailey acknowledged he wasn't first choice for what Rochester Democrat & Chronicle columnist Leo Roth called "the Siberia of the NFL."
"I can't speak for other folks," Gailey replied, "but, shoot, you look at the history of the Buffalo Bills, and I've come in that stadium enough times to know about the fans of the Bills Nation. Who wouldn't want to come here?
"Maybe some guys had some personal reasons they didn't want to come here. Great! I'm glad because I get to come here."
Neither Bills owner Ralph Wilson nor chief executive officer Russ Brandon attended the news conference. That left Nix to address all the snubs. Nix claimed 80 percent of the reports were inaccurate but refused to go on the record about who specifically did or did not decline interview requests or reported offers.
Gailey has waited 11 years to become an NFL head coach again. He guided the
Dallas Cowboys
in 1998 and 1999. Only Art Shell and Joe Gibbs waited longer -- a dozen years apiece -- in between head-coaching gigs since 1980.
Gailey didn't coach in 2009.
Kansas City Chiefs
rookie head coach Todd Haley fired him as offensive coordinator right before the season started.
"I can't say anything to change anybody's mind," Gailey said. "All I can do is go try and help us win football games. If we win football games, everybody's mind will be changed, right? That's what'll happen.
"I will say this, there's been a lot of sixth- and seventh-round draft choices that have become Pro Bowlers. It's what you do with the opportunity when you get it."
Gailey clearly was referring to himself as that late-round draft pick, essentially embracing his status as a perceived underdog.
He's back in the NFL and in charge of his own team, one of only 32 in the world.
"I'm trying not to exaggerate, but we got 15 calls a day, begging for an interview and wanting this job," Nix said. "I could've hired 35 or 40 the first week. And you would be shocked at some of the names.
"Trust me, it's a good job. Don't ever think you can't fill coaching jobs even if they're bad. Oakland gets a lot of calls."

NFL SCOREBOARD
Thursday, 8/21
Friday, 8/22
Saturday, 8/23
Sunday, 8/24
WEEKLY LEADERS