August, 9, 2012
8/09/12
1:44
PM ET
The
New Orleans Saints
don't play until Thursday night, so you'd think things would be quiet on their front this afternoon. Well, think again.

The bounty program the NFL says the Saints ran for three years continues to overshadow the team and what's happening on the field. Hall of Fame running back Gale Sayers became the latest to rip on the Saints.
"Those fools should never get a chance to play or coach in the game again. Never!" Sayers said in
an interview
with Comcast SportsNet Chicago's Inside Look. "How can you do that? I have never had anyone say, 'I'm going to break your arm.'
"They should never go out and play this game again, go out and coach this game again."
Those obviously are some very strong words. Sayers isn't the first former player to speak out about what the Saints allegedly did and he probably won't be the last. But the former Chicago running back might be the most prominent of the former players to criticize the Saints and he did it emphatically.
When it was mentioned that some people think the players and coaches involved should go to jail, Sayers got emotional and strongly agreed.
October, 4, 2011
10/04/11
1:12
PM ET
»
NFC Stock Watch
:
East
|
West
|
North
|
South
»
AFC
:
East
|
West
|
North
|
South
FALLING
1. Bernard Berrian, Minnesota Vikings receiver:
Berrian took to Twitter on Sunday to note that he has been "open" for the past four years. I don't really care that one of his antagonists was a Minnesota state representative, one who happens to be a co-author of owner Zygi Wilf's stadium financing bill. No matter who he was speaking to, Berrian was wrong to imply that getting open means he has been doing his job. There are multiple reasons why he has been so unproductive in recent years, and they include some factors (like quarterback accuracy) that are beyond Berrian's control. I'll have more on this topic later in the week, but for now understand that Vikings quarterbacks have targeted him on 67 passes over the past 20 games. Berrian has caught 30 of them. Berrian would be well-advised to evaluate what he does, or doesn't do, to fight for the ball before drawing attention to his production.
2. Insanity in Chicago:
We've hammered
Chicago Bears
offensive coordinator Mike Martz pretty well in recent weeks for his play calling. So we should note that the Bears came to their senses in several ways last Sunday. First, they swapped receivers
Roy Williams
and
Johnny Knox
, returning Knox to his starting role. While Knox has his own issues to work through, Williams needed to be held accountable for his lack of productivity. Second, Martz called only 19 passes compared to 30 running plays. The reality is the Bears aren't in position to generate a ton of scoring on their own. Martz smartly and safely capitalized on the boost he got from the Bears' defense (one touchdown) and special teams (one touchdown, another set up and a blocked field goal).
3. Remi Ayodele, Minnesota Vikings defensive tackle:
The Vikings' new nose tackle has started four games and doesn't have a single tackle. Nose tackles don't typically pile up tackles, and Ayodele's top job is to occupy multiple blockers. But you would think a nose tackle would fall on a running back at some point during a four-game stretch. Ayodele doesn't play in the nickel, and according to Pro Football Focus, he has been on the field for only 76 of the Vikings' 259 defensive snaps. That in itself is an indictment of his contribution so far. But still ….
RISING
[+] Enlarge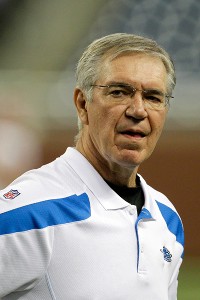 AP Photo/Carlos OsorioGunther Cunningham has adapted his defensive game plan, blitzing less and allowing his back seven to drop back and make plays.
1. Gunther Cunningham, Detroit Lions defensive coordinator:
I have no idea how long Cunningham is planning to coach. He's 65 and has been coaching for 42 years. But it's nice to see him having success as his career inevitably moves into its twilight. Lost in the publicity of the Lions' offensive explosion has been a defense that Cunningham has smartly tweaked to fit his personnel. When he arrived in 2009, Cunningham estimated he would blitz on 40 percent of his defensive snaps. Now armed with one of the NFL's best defensive lines, Cunningham almost never blitzes and instead allows his back seven to drop into coverage and make plays. All three of the Lions' interceptions Sunday of
Dallas Cowboys
quarterback
Tony Romo
came against a standard four-man rush. Overall, Cunningham blitzed on 10.9 percent of the Cowboys' offensive snaps. Good coaches never get old. They adapt.
2. Jordy Nelson, Green Bay Packers receiver:
In his past 10 games, dating back to last season and including playoffs, Nelson has caught 42 passes for 741 yards and six touchdowns. He has effectively emerged as the Packers' No. 2 receiver, regardless of who starts, and absolutely earned the three-year contract extension he signed over the weekend. The Packers' top draft pick in 2008, Nelson is yet another example of a homegrown talent who worked his way through the Packers' in-house minor leagues to become a top contributor.
3. Matt Forte, Bears tailback:
There are three players in Bears history to surpass 200 rushing yards in a game. One is Gale Sayers. One is Walter Payton. The other is Forte, who finished with 205 yards Sunday against the
Carolina Panthers
. Through four games, Forte has been the Bears' best player. He is obviously their rushing leader, but he also has more than twice as many receptions as his next-closest teammate. Overall, Forte has touched the ball on 37.7 percent of the Bears' snaps and has accounted for more than half of their total yards. Rarely do you see a player in a contract year make a better case for himself.
September, 26, 2010
9/26/10
11:03
PM ET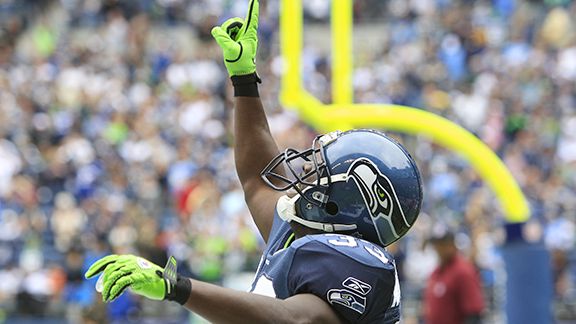 AP Photo/Elaine ThompsonLeon Washington's two kickoff returns for touchdowns was the difference in the game.
SEATTLE --
Leon Washington
is back. So is the "12th Man" at Qwest Field.
The
Seattle Seahawks
are back, too -- not all the way or even most of the way, but enough of the way to win home games and contend for the NFC West title in a flawed division that nonetheless went 3-1 Sunday.
The hard part after the Seahawks'
27-20 victory
over the
San Diego Chargers
was finding players in the winning locker room with enough roster tenure to remember what it was like the last time this team was good enough to make its crowd a decisive factor.
Quarterback
Matt Hasselbeck
remembers. He was there when Seattle was going 7-1 at home in 2007 and 8-0 there in 2005. Those teams were better, but this team doesn't need to be as good.
"For years we have dominated at home and people hated to come up here," Hasselbeck said after Washington's two return touchdowns helped deliver Seattle's second victory in three games this season. "Because we weren't a very good team for two years, we sort of lost that. It's going to be real important to get that back."
It might be back already.
The Seahawks have beaten two division favorites in two home games thus far in 2010. The
San Francisco 49ers
fell first, committing delay penalties and generally imploding on offense amid the noise. The Chargers succumbed Sunday, their offense jumping early and failing to beat the play clock in critical situations.
"I heard all kinds of glowing comments about what it's like to play here," first-year Seahawks coach Pete Carroll said. "Then I was surprised on the first time out against the Niners. This game goes beyond expectation."
[+] Enlarge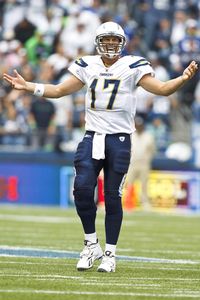 Jason O. Watson/US PresswirePhilip Rivers and the San Diego Chargers were plagued by delay of game penalties.
Chargers quarterback
Philip Rivers
takes
more delay penalties
than any quarterback in the league. The one he took on third-and-10 from the Seattle 12-yard line with 21 seconds left diminished the Chargers' chances. San Diego's previous drive ended with a fourth-and-15 incomplete pass after officials flagged right tackle
Jeromey Clary
and left tackle
Brandyn Dombrowski
for a false-start penalties on consecutive plays.
"That is good to see," said Seahawks safety
Jordan Babineaux
, who has been with the team since 2004.
Babineaux didn't need his Southern Arkansas University education to do the math.
"You sweep home, you could split on the road and that is a 12-4 season," he said. "That's a good year. The biggest challenge for us now is playing the way we play at home on the road. We have to."
Not necessarily. Not in this division.
The preseason favorite 49ers are 0-3 heading into a Week 4 game against Atlanta, their third road trip in four games this season. The
Arizona Cardinals
are tied with Seattle atop the division, but they barely beat St. Louis and Oakland in getting to 2-1. And in listening to the Cardinals-Raiders broadcast Sunday, there were times when fans supporting the Raiders seemed to make the most noise.
Hasselbeck complained of seeing Chargers jerseys in the stands Sunday.
"Our fans are still amazing," he said. "It's probably that stupid ticket-exchange commercial."
If San Diego fans made any noise of consequence, I couldn't hear it. While Hasselbeck's voice resonated during his postgame news conference, Rivers sounded hoarse.
"Most of the screaming is in the huddle and at the line of scrimmage because it's' definitely loud," he said. "It's like most road games."
Like most road games, times two. Seattle opponents had committed 96 false-start penalties at Qwest Field since 2005. Minnesota's Metrodome was second at 86, followed by stadiums in Tennessee (78) and Chicago (70).
Babineaux was at least partly right when he said the Seahawks need to figure out a way to win on the road. Beating the 1-2
St. Louis Rams
at the Edward Jones Dome in Week 4 would give Seattle one of the precious road victories it might need to post a winning season for the first time since 2007.
Crowds cannot win games by themselves. The home crowd matters again in Seattle because the Seahawks have improved almost across the board. Their draft-day trade with the
New York Jets
for Washington paid for itself, and then some, when Washington returned kickoffs 101 and 99 yards against the Chargers. He nearly had another return touchdown, but he slipped while trying to elude the last defender.
Washington's team-record two kickoff returns for touchdowns were the difference. Those returns left Seattle's defense on the field and the Chargers finished with 518 yards, but with rookie safety
Earl Thomas
picking off two passes, including one at the Seattle 5 with 6 seconds remaining, it felt like old times at Qwest Field.
"When you have a returner that has faith in the guys in front of him, he can hit it hard and fast and like I did in New York," Washington said.
A player from another NFL team asked Hasselbeck about Washington during the week.
"I talked about how great he's been and how we love him and he's going to break out here," Hasselbeck said. "I don't think anyone imagined that it could have been like that."
Washington now has six kickoff returns for touchdowns during his career, tied for second in league history with Ollie Matson, Gale Sayers,
Travis Williams
,
Mel Gray
and
Dante Hall
. Only
Josh Cribbs
has more, with eight. Washington's 101- and 99-yarders rank first and second in Seahawks history.
Seattle turned over its roster more than any team during the 2010 offseason.
The changes produced questions. We're starting to get some answers.
The Seahawks' special-teams units are hitting harder than they have in my memory covering the team (since 1998). That reflects improved personnel. Rookie fifth-round choice
Kam Chancellor
forced a fumble during a Chargers return. Rookie seventh-rounder
Dexter Davis
recovered. Rookie second-rounder
Golden Tate
, chosen 60th overall with a pick acquired from San Diego, had a 31-yard punt return and caught all four passes thrown his way.
Most improbably to me, the Seahawks are playing well enough on their offensive line to give Hasselbeck a chance -- even with rookie first-round left tackle
Russell Okung
sidelined by injury for the first three games.
The offense remains in its formative stages, sometimes appearing lost. But Seattle was very close to scoring at least two more touchdowns. The Chargers forced
Deion Branch
to fumble at the 1 after a 41-yard gain. The Seahawks inexplicably let the game clock expire after driving to the San Diego 2 right before halftime.
"I'm not going to overlook that," Carroll said of how close Seattle came to a first-half rout.
There can be no more overlooking the Seahawks at Qwest, either. Their remaining home opponents -- Arizona, the
New York Giants
, Kansas City, Carolina, Atlanta and St. Louis -- will have a hard time winning here.
That's what we've learned about Seattle in the first three weeks.
July, 5, 2010
7/05/10
12:00
PM ET
A weeklong look at current or former players or coaches with Hall of Fame potential in the division.
Chicago Bears:
Brian Urlacher
, middle linebacker
Claim to fame:
Since joining the Bears in 2000, Urlacher has made six Pro Bowl teams and been named an All-Pro four times. He was the NFL's Defensive Rookie of the Year in 2000 and Defensive Player of the Year in 2005.
[+] Enlarge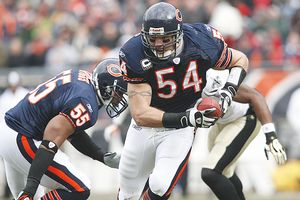 Tom Fluegge/US PresswireExtraordinarily athletic for a linebacker, Brian Urlacher has recorded 17 interceptions and 37.5 sacks in his career.
Case for enshrinement:
Urlacher was the best player on a defense that dominated the league during the middle years of this decade, one that overcame the Bears' offensive woes and led them to the Super Bowl in 2006. As a middle linebacker in the Tampa 2 scheme, Urlacher carried as much responsibility as any defensive player in the game -- calling defensive signals, chasing down ball carriers and covering the deep middle of the field during pass plays.
In that role, Urlacher has been an athletic playmaker unmatched in his prime, notching 17 interceptions and 37.5 sacks, while getting downfield faster than any linebacker in the game.
Case against enshrinement:
Injuries have slowed Urlacher in the past three seasons and he might not have compiled enough Canton-caliber seasons before that point. Detractors also could suggest he benefited disproportionately from the play of defensive tackles
Tommie Harris
and
Tank Johnson
, who kept blockers away from Urlacher more often than not. Hall Of Fame voters haven't been kind to even the best of Bears defenders. Mike Singletary and Dan Hampton are the only Chicago defensive stars from the 1985 Super Bowl team in Canton. Their teammate Richard Dent is now a six-time finalist for Hall of Fame induction but still is waiting for his official invite.
Parting shot:
As we noted last fall
, Urlacher might not stand as the best linebacker of his era.
Ray Lewis
,
Junior Seau
and
Derrick Brooks
might have something to say about that.
Detroit Lions:
Billy Sims, running back
Claim to fame:
He was a dominant runner during the early 1980s. Sims became the Lions' all-time leading rusher even though a knee injury ended his career after 4 1/2 years. (
Barry Sanders
later overtook him.) Sims was a three-time Pro Bowl player, still ranks as the Lions' No. 2 rusher, and has the second-most rushing touchdowns in team history.
Case for enshrinement:
It's obviously a long shot, but it's important to remember how brightly Sims' star shined during his brief career. He rushed for 153 yards in his first NFL game, led the league with 16 touchdowns as a rookie and finished his career with 5,106 yards in 60 career games.
His career ended midway through the 1984 season, at a time when he was averaging a career-high 5.3 yards per rush. There is precedent for acknowledging Hall-worthy careers cut short by injuries. Did you know that Chicago Bears Hall of Fame running back Gale Sayers, forced to retire at age 28, gained fewer career rushing yards (4,956) than Sims in more games (68)?
Case against enshrinement:
Sayers was a special case who was also a dangerous return man. In reality, it's difficult for voters to consider a running back who ranks No. 106 on the NFL's all-time rushing list. But Sims was one of the NFL's top players during the time he spent in the game.
Parting shot:
Sims' impact on the team also should be considered. The Lions were 2-14 the year before he was drafted. In 1980, they improved to 9-7. By 1983, they were division champions.
Green Bay Packers:
Jerry Kramer, guard
[+] Enlarge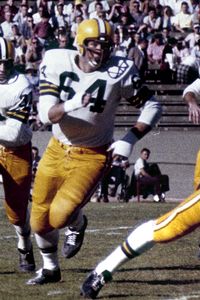 David Boss/US PresswireThe Packers won three NFL Championships and two Super Bowls during Jerry Kramer's career.
Claim to fame:
During an 11-season career from 1958-68, Kramer was a five-time All-Pro. He was named to the NFL's All-Decade Team for the 1960s and was the only guard selected for the NFL's 50th Anniversary team. Every other player on that team has been enshrined in the Hall of Fame.
Case for enshrinement:
As with most successful offensive linemen, most of Kramer's contributions came in a team context.
During his tenure, the Packers rushed for 21,637 yards -- the second-highest total among all NFL teams over that period. Kramer's blocking was one of the reasons fullback Jim Taylor posted five consecutive 1,000-yard seasons. Over that stretch, Taylor rushed for more yards than anyone but Cleveland's Jim Brown. Overall, the Packers made the playoffs eight times in Kramer's career and won three NFL Championships and two Super Bowls.
Case against enshrinement:
Guard isn't usually a highly valued position. In the history of the game, only 11 players who were primarily guards have made the Hall of Fame.
Voters could also be split on the source of the Packers' running success, from Vince Lombardi's coaching to the individual talents of Taylor and running back Paul Hornung.
Parting shot:
Kramer made one of the most famous blocks in history, clearing the way for Bart Starr's quarterback sneak to win the 1967 "Ice Bowl" game.
Minnesota Vikings:
Jim Marshall, defensive end
Claim to fame:
Marshall set a then-NFL record by playing in 282 consecutive games, of which he started 270. He played in two Pro Bowls, four Super Bowls and recovered an NFL-record 29 fumbles.
Case for enshrinement:
If "answering the bell" is one of the main prerequisites for NFL players, then Jim Marshall is one of the greatest of all time. Although some of the stories have been embellished a bit over time, suffice it to say that Marshall battled through enormous pain and legitimate injuries to play for so long and at such a high level.
A punter (
Jeff Feagles
) and a quarterback (
Brett Favre
) have since surpassed his record, but it's doubtful a defensive lineman ever will approach it. It would take 17 seasons of starting 16 games to do it. (Or 15 years if the NFL moves to an 18-game season.)
The longevity mark sometimes overshadows Marshall's skills as a pass-rusher. Although sacks weren't an official statistic then, the Vikings credit him with 127 -- only three fewer than teammate and Hall of Fame tackle Alan Page and 13 more than newly elected tackle
John Randle
.
Case against enshrinement:
Like it or not, one of those 29 fumble recoveries always will haunt Marshall's candidacy. In 1964, he picked up a fumble against San Francisco and ran 66 yards in the wrong direction for what was ruled a safety.
Parting shot:
Another factor that might not be fair but is worth considering: Two members of the Purple People Eaters, Page and Eller, are already in the Hall of Fame. Would voters agree that 75 percent of one defensive line should be enshrined?
May, 6, 2010
5/06/10
3:01
PM ET
I'm a little late to this party, but maybe it's because I've never understood the ruckus resonating from Gale Sayers'
recent comments
about the state of Chicago's franchise. From what I've seen of his banquet speech in Omaha, Neb., the "criticism" was reasonable and in most cases defensible.
Here's the key quote based on The Associated Press' account:
"Cutler hasn't done the job. [Linebacker Brian] Urlacher, I don't know how good he's going to be coming back. He's 33 years old. They need a couple wide receivers, a couple defensive backs. They haven't done a good job. If Lovie [Smith] doesn't do it this year, I think he's gone. He had a good team the Super Bowl year. Nothing came together for him the last couple years."
Contrast that statement to
those we heard last year
from former Minnesota quarterback Fran Tarkenton, who came off as a bit crazed and mostly out of touch in criticizing the Vikings' pursuit of quarterback
Brett Favre
. Among other things, Tarkenton proved to be about 25 years late on the realization that NFL players don't have the same loyalties to their original teams as players of his generation did.
In Sayers' case, I'm sure the Bears would prefer not to have a Hall of Fame alumnus pointing out their potential pitfalls in public. But let's look at what Sayers said on face value:
Cutler hasn't done the job. We only have one year to go on, but no one could argue that Cutler did the job the Bears were expecting last year. You could interpret the statement to suggest Sayers doesn't expect much improvement, which would be unfair. But that reading would be an inference at best.
[Linebacker Brian] Urlacher, I don't know how good he's going to be coming back. He's 33 years old. Frankly, it's refreshing to hear someone with football credibility say this in public. We haven't seen the "real" Brian Urlacher for at least two seasons. Last year's wrist injury shouldn't have long-term impact, but it's wrong to assume Urlacher will be the same player he was in 2006 simply because he has recovered from it. Be it bad luck or a trend, there is an undeniable pattern of physical breakdown over the past few years.
They need a couple wide receivers, a couple defensive backs. They haven't done a good job. This is more of an opinion, but one that is reasonably held. The Bears like their receiving corps, and it might prove to be more than adequate to make Mike Martz's offense run. But it's a projection, and projections are always fair game for questioning. The same is true at defensive back, where I presume Sayers was referring to the unsettled nature of the safety position.
If Lovie doesn't do it this year, I think he's gone. He had a good team the Super Bowl year. Nothing came together for him the last couple years. Again, what is there to argue here? Smith's now-or-never status has seemed cemented for months, ever since team president Ted Phillips said this in January: "We don't feel that we have to put up with another losing year."
(I even agreed with what Sayers said about silly comparisons between him and New Orleans running back
Reggie Bush
: "You can't compare that, because he gets hurt too much. He's a fine young man. He's a little light. He's not a player who's going to carry 25 times a game. He'll get five carries, catch three passes and run back a couple punts.")
I wouldn't blame the Bears if they are stung by Sayers' comments. He is a big part of their history and someone I'm sure they would prefer to be promoting the team rather than questioning its direction. But as they say, sometimes the truth hurts.
February, 25, 2010
2/25/10
3:16
PM ET
INDIANAPOLIS -- Cardinals owner Bill Bidwill is raking in the awards this offseason.

Earlier in the week, Sports Faith International made him one of four inductees to the Sports Faith Hall of Fame, joining Brian Piccolo, Gale Sayers, Dominoes Pizza founder and former Detroit Tigers owner Tom Monaghan and John Gagliardi, college football's all-time leader in coaching victories.

Bidwill was named Thursday as winner of the Fritz Pollard Alliance's Paul "Tank" Younger Award for promoting "diversity and equality of job opportunity in the coaching, front office and scouting staffs" of NFL teams.

Past winners include Dan Rooney, Rick Smith, Ozzie Newsome, James Harris, Bill Walsh, Tony Dungy, Frank Gilliam and Bobby Mitchell.

"When you look back over the years, going back to his time in St. Louis, Mr. Bidwill has a long history of hiring minorities to administrative and authoritative positions," Fritz Pollard Alliance chairman John Wooten said in a news release. "He has really helped level the playing field and that is what this award is all about."

The Fritz Pollard Alliance plans to present the award to Bidwill at the NFL combine Friday.
June, 12, 2009
6/12/09
11:56
AM ET
| | |
| --- | --- |
| | |
| | Crystal LoGiudice/US Presswire |
| | Versatile running back Reggie Bush may be ahead of his time. |
Posted by ESPN.com's Pat Yasinskas
METAIRIE, La. -- As obvious as it is, do not take the easy way out and compare Reggie Bush to Deuce McAllister.
They are not the same guy.
If you still want to compare Bush to someone, stay in the Gulf Coast region, but switch sports. Think basketball. Think Pete Maravich.
Think about guys who were, depending how you look at it, either on the cutting edge or ahead of their times. About 40 years and a sport apart, Bush and Maravich might have a lot more in common than you think.
I picked up a copy of Mark Kriegel's fine book "Pistol: The Life of Pete Maravich'' in the Tampa airport before I flew to New Orleans for Saints minicamp last week. I was somewhat intrigued because I have some vague memories of Maravich playing in the NBA in the mid-1970s when I first became interested in sports. I kind of recalled that Maravich had been a pretty good player at Louisiana State.
Kriegel filled me in on the rest and it was a lot. The short version of it is that, back in the late 1960s, Maravich introduced basketball to a region that only had known football. Maravich made passes behind his back, dribbled between his legs and averaged around 45 points in his college career. He set himself up for a high draft selection and a contract that seemed absurd at the time. Although Maravich had a very good NBA career (including a stint with the New Orleans Jazz), the tragic undertone of the book is that he was born 10 or 15 years too soon.
The suggestion is, had Maravich played in the NBA in the glory days of Magic Johnson, Larry Bird and Michael Jordan, his talents might have been fully appreciated because they would have fit the time frame. Instead, Maravich never quite lived up to the hype and expectations that followed him out of college.
That's where Bush comes in. When he came out of USC as the No. 2 overall pick in 2006, the natural assumption was that Bush would run for 1,500 yards a season because that's what great running backs are supposed to do. Instead, Bush has run for 1,550 yards -- in three seasons.
But let's not go calling Bush a "bust" because he hasn't run for 1,500 yards a season. There's still time for him to be a whole lot more.
"I think the direction where the NFL is headed toward, you don't see those type of running backs anymore,'' Bush said between minicamp practices Saturday. "You see guys splitting time. Guys who are able to play running back and multiple positions. I think those days of the one-running back system are over.''
Think about it a bit and look around the NFL. The days of the Saints giving the ball to McAllister up the gut 25 or 30 times a game are over in New Orleans. They may be over in a lot of places. Look at Carolina's "Double Trouble'' with DeAngelo Williams and Jonathan Stewart or Tennessee's "Smash and Dash'' with LenDale White and Chris Johnson.
Maybe Bush is right. Maybe this is a turning point in the NFL, a time when running backs don't have to fit the profile of Earl Campbell or Jerome Bettis.
"I hear it debated about because I think the framework of how people try to fix the position and we don't have to worry about that,'' Saints coach Sean Payton said. "Since he's been here, we've changed a lot in how we move the football. The most important thing is, are we scoring points and are we moving the football? If the answer is yes to that and he's a big part of that, then all that other stuff will sort itself out.''
There are some people who will say Bush isn't a true running back and can't run between the tackles. Let's get this out of the way now because Bush resents that.
"I can run the ball between the tackles,'' Bush said. "Anybody can run the ball between the tackles. I don't feel like that is going to make me or break me. I don't feel like running the ball between the tackles is going to win us the Super Bowl or help me win the MVP. It's being versatile, being able to run the ball between the tackles, outside the tackles, returning punts, catching the ball out of the backfield and catching the ball down the field. That's what I do. That's who I am.''
Maybe, just maybe, Bush realizes who he is before the rest of the world. He's right about the versatility thing. Think about it -- there have been running backs who could catch the ball out of the backfield (LaDainian Tomlinson and Marshall Faulk for example) and running backs who could return punts (Gale Sayers).
But has there ever been a running back who could line up at receiver and beat just about any cornerback in the league, who could return two punts (almost three in one half against Minnesota last year) and run inside and outside the tackles?
Go ahead and say Bush is less than a running back. I say he's more than a running back.
Give him a full and healthy season. Bush missed six games last year and four in 2007 because of injury. As a rookie, he sat a lot because of McAllister.
"(The coaches) know I can run the ball between the tackles,'' Bush said. "That's not a question. It's just a matter of me staying healthy. I think that's more of the question.''
Give him a full season of Pierre Thomas sharing the duties at running back. Give him a full season with quarterback Drew Brees. Give him a full season with Payton, who just might be the most progressive offensive mind in the league. And give him a season where the New Orleans' defense gets off the field every now and then.
Let it all come together and let Bush be Bush. Maybe then Bush can avoid the same fate as Maravich. Maybe Bush isn't too late or too early. Maybe Bush has arrived at just the right time to redefine the game.

NFL SCOREBOARD
Sunday, 12/22
Monday, 12/23