NFL Nation:

Garrett Celek
July, 18, 2014
Jul 18
11:00
AM ET
Examining the
San Francisco 49ers
' roster:
QUARTERBACKS (2)
Because of heavy competition elsewhere, the 49ers will likely only carry two quarterbacks. They finished last season that way. The competition will be to see if undrafted rookie
Kory Faulkner
can take
McLeod Bethel-Thompson
's spot on the practice squad.
RUNNING BACKS (5)
The fact that the 49ers drafted Hyde in the second round and Lattimore is healthy means some tough decisions will have to be made. Hunter is too valuable to let go. That means 2012 second-round pick
LaMichael James
will have difficulty making the roster.
WIDE RECEIVERS (6)
The 49ers are so much deeper here this year than last. That means they will likely have to keep six receivers. Lloyd may look good and Patton has too much potential to give up on. That means it could be tough for
Kassim Osgood
to make it even though he is a special teams cog.
TIGHT ENDS (3)
If Davis ends his holdout, I can't see the 49ers keeping more than three tight ends because of the glut at receiver. Unless
Garrett Celek
has a big camp, he may be in trouble. Carrier intrigues the 49ers because of his size and speed.
OFFENSIVE LINE (8)
Assuming Boone ends his holdout, this is a pretty nice group of eight players. It's improved from last year. A solid veteran like
Adam Snyder
and a promising youngster like
Ryan Seymour
will have trouble making the team.
DEFENSIVE LINE (9)
This is another power spot. It's deep. Players like Jerod-Eddie and Dial are too valuable to cut. Ramsey has looked good and I have a hunch the 49ers may like him too much to expose him to the waiver wire. That means
Demarcus Dobbs
could be in trouble.
LINEBACKERS (7)
Most teams carry six linebackers but the 49ers are stacked here, especially with
NaVorro Bowman
out for about half the season. Because fifth-round pick Lynch is promising he should make the roster.
Dan Skuta
is an excellent player, but there might not be any room for him. I could see him being one of those later-summer Trent Baalke trade specials because he has value.
CORNERBACKS (5)
This unit is in flux, but I see Johnson making it. Don't be surprised if there is some in-camp jockeying as the 49ers look for the best mix.
SAFETIES (5)
Ward, the 49ers' first-round pick, will play nickel cornerback as a rookie, but projects long term as a safety. Ventrone and Spillman should stick because they are great on special teams.
Craig Dahl
could be in trouble.
SPECIALISTS (3):
This group is set and it's excellent.
January, 17, 2014
Jan 17
6:00
PM ET
PHILADELPHIA – It makes for interesting discussion -- Manning vs. Brady, Kaepernick vs. Wilson -- but if you really want to know who will win Sunday's championship games, count the former Eagles.
Baseball has that thing about ex-Cubs never winning the World Series. The NFL playoffs, at least this offseason, have the Eagles jinx.
[+] Enlarge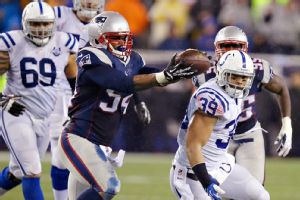 AP Photo/Stephan SavoiaWhat's a sure way to predict who won't advance in the playoffs? Just count the number of former Eagles -- such as the Colts' Stanley Havili (39) -- on the rosters.
It's simple enough. Whichever team has the most significant connection to the Eagles will lose. The formula has worked for six of the seven postseason games for which it was applicable.
Start with the first round. The Eagles obviously have the most significant Eagles connection of all. They lost to the Saints. Kansas City, coached by former Eagles head coach Andy Reid, lost to Indianapolis.
San Franscisco/Green Bay really is a push. Neither team has an ex-Eagle on its roster. But each has the brother of a current Eagle: San Francisco's
Garrett Celek
and Green Bay's
Clay Matthews
. The ex-Eagles jinx did not apply here.
The exception was San Diego's victory over Cincinnati. The Chargers have a handful of ex-Eagles, including tackle
King Dunlap
and running back
Ronnie Brown
. Apparently, the ex-Eagles jinx isn't as powerful as the
Andy Dalton
jinx.
In the second round, the jinx was a perfect four-for-four. Carolina, with ex-Eagles assistants Ron Rivera and
Sean McDermott
coaching a defense with
Quintin Mikell
at safety, lost at home to the Eagles-free 49ers. The Chargers' ex-Eagles caught up to them in a loss to Denver (
Dominique Rodgers-Cromartie
notwithstanding).
The Saints/Seahawks game was another close one. The Saints have
Brodrick Bunkley
, the Seahawks have
Chris Clemons
. Bunkley was a first-round pick and spent more time in Philadelphia. The Saints lost.
It was ex-Eagle
Stanley Havili
who bobbled a pass into the arms of a defender in the Colts' loss to New England. As if he needed to prove his genius one more time, Patriots coach Bill Belichick kept his only former Eagle,
Isaac Sopoaga
, on the inactive list.
If Belichick does the same Sunday, the Patriots will have the edge over the Rodgers-Cromartie laden Broncos.
In the NFC, the 49ers remain Eagles-free. Clemons, who spent two seasons in Philadelphia, puts the jinx squarely on the Seahawks.
If form holds, then, the 49ers will face the Patriots in the Super Bowl, and the outcome may depend on whether Sopoaga plays.
Preposterous, you say? About as preposterous as a franchise failing to win a single Super Bowl in the 48-year history of the game.
December, 8, 2013
12/08/13
3:30
PM ET
SANTA CLARA, Calif. -- As expected, standout left tackle
Joe Staley
is active and slated to start for the
San Francisco 49ers
against the
Seattle Seahawks
on Sunday.
Staley
Staley sprained his right knee early against the Rams last week and he did not return. It was initially believed Staley would miss a couple of games. But Staley practiced Thursday and Friday and said Friday he would play.
Left guard
Mike Iupati
is out again, however. It's the third straight game he'll miss due to a sprained knee.
Adam Snyder
continues to play in his place.
Rookie receiver
Quinton Patton
continues to be inactive. He hasn't played since he broke his foot in Week 4. Patton is now healthy, but with the 49ers' veteran receivers all healthy, there is no room for Patton.
Tight end
Garrett Celek
is healthy after missing a few games with a hamstring injury, but he remains inactive.
Derek Carrier
, promoted from the practice squad last month, has apparently bypassed him on the depth chart.
November, 21, 2013
11/21/13
9:25
PM ET
SANTA CLARA, Calif. – Wide receiver
Michael Crabtree
practiced Thursday as the
San Francisco 49ers
began to work in earnest ahead of Monday night's game at Washington.
Crabtree
It is not out of the question that Crabtree is activated in time for Monday's game, but it appears to be a long shot. Crabtree, who tore his Achilles in May, must be activated by Tuesday or be shelved for the rest of the season. The 49ers plan on activating Crabtree, even though he may not be ready to play right away.
By all accounts, Crabtree is making strides, but the team doesn't not want to rush him to the field. The 49ers want him at full strength for the final few weeks of the season.
Meanwhile, there were no big practice surprises Thursday. Guard
Mike Iupati
(knee sprain), cornerback
Tarell Brown
(ribs), defensive tackle
Ray McDonald
(ankle) and tight end
Garrett Celek
(hamstring) did not practice. They are all not expected to play Monday.
Quarterback
Colin Kaepernick
appeared on the injury list with an undisclosed back issue, but he practiced fully. It is not expected to be a problem.
Meanwhile, coach Jim Harbaugh said rookie receiver
Quinton Patton
should be returning to practice soon and is expected to play again this season. He's been out since Week 4 with a broken foot.
November, 17, 2013
11/17/13
3:30
PM ET
NEW ORLEANS -- As expected, star tight end
Vernon Davis
and standout rookie safety
Eric Reid
have been cleared to play Sunday at New Orleans.
Both players suffered concussions last week against Carolina. They both quickly recovered and showed strong progress through the week.
The 49ers need both players. Davis has been the catalyst to the offense. Reid has been outstanding all season and he will be needed against the pass-happy Saints.
Meanwhile,
Demarcus Dobbs
will start for defensive tackle
Ray McDonald
, who is out with a high left ankle sprain. Dobbs will rotate with
Tony Jerod-Eddie
.
Rookie defensive tackle
Tank Carradine
is inactive. He has been on the 53-man roster for two games but he hasn't played yet. As expected, tight end
Derek Carrier
is active. He was promoted from the practice squad Sunday. Tight end
Garrett Celek
is out with a hamstring injury. Carrier will play in some alignments.
November, 15, 2013
11/15/13
6:00
PM ET
SANTA CLARA, Calif. -- A final decision will likely be made Sunday, but it appears the
San Francisco 49ers
will have star tight end
Vernon Davis
and standout rookie safety
Eric Reid
on Sunday in New Orleans.
Both players had to leave last week's game against Carolina with concussions. But they are symptom-free, and barring a setback will play Sunday. They had a contact test Friday.
Davis
Both will be greatly needed. Davis has made the 49ers' offense go this season, and Reid will be needed against the pass-happy Saints.
The 49ers will, though, be without defensive tackle Ryan McDonald. He's been ruled out with a high ankle injury. It's been expected he'd miss the game all week.
Tony Jerod-Eddie
-- who has played well this season -- will start for McDonald.
Receiver
Mario Manningham
is listed as questionable with a knee injury. He was limited in practice all week, but offensive coordinator Greg Roman said Thursday that Manningham is fine. He made his season debut last week. He had been out since December with a knee injury.
Fellow receiver
Michael Crabtree
practiced Friday after not practicing the past two days. But he did a lot of work both days, coach Jim Harbaugh said. Crabtree is on pace to be activated to the 53-man roster by Nov. 26. He suffered a torn Achilles in May.
Harbaugh said running back Marcus Lattimore will begin practicing next week. He is not expected to play until next season. Lattimore is a fourth-round pick who suffered a major knee injury at South Carolina last fall.
Tight end
Garrett Celek
is doubtful with a hamstring injury. The 49ers have an open roster spot. There is a good chance they promote tight end Derek Carrier from the practice squad Saturday. If so, it wouldn't a be shock if Carrier is active, because the 49ers will want three tight ends.
November, 11, 2013
11/11/13
4:40
PM ET
SANTA CLARA, Calif. --
San Francisco 49ers
coach Jim Harbaugh didn't offer much in the form of updates Monday on the concussions suffered by star tight end
Vernon Davis
and standout rookie safety
Eric Reid
in a 10-9 home loss to Carolina on Sunday.

Harbaugh did say the thought of adding a tight end to the roster for Sunday's game at New Orleans is an "option." In addition to Davis, backup tight end
Garrett Celek
left the game in the first quarter with a hamstring injury. It is likely he will be out longer than Davis, even if Davis can't play at New Orleans.
The first option the 49ers look at could be Derek Carrier, who is on the team's practice squad. The highly athletic Carrier is on his third NFL practice squad since entering the league in 2012. He has no NFL game experience.
Both Davis and Reid will go through the NFL's concussion protocol before being able to play. Reid's situation is complicated because this is his second concussion of the season. He suffered one in Week 2 against Seattle, so his return could be delayed some.
Craig Dahl
finished the game for Reid.
Meanwhile, asked Monday if receiver
Michael Crabtree
could be activated this week, Harbaugh said, "We'll see." Crabtree began to practice last week. He must be activated by Nov. 26. Playing Sunday at New Orleans would be considered a long shot.
However, Harbaugh said he anticipates rookie linebacker
Nick Moody
will be activated this week. So, if the 49ers activate Moody and add a tight end, two players will have to be removed from the roster. It will be interesting to see what the 49ers do with special- teamer
Kassim Osgood
, who is on his second stint with the 49ers this season. He was inactive Sunday, and the special-teams coverage units appeared to miss him.
April, 15, 2013
4/15/13
2:33
PM ET
Abhi from Los Angeles
questions perceptions that the
San Francisco 49ers
have a significant need at tight end.
"Last year, I was surprised that Garrett Celek was the last 49er to make the roster," he writes. "Is it reasonable that they were looking to groom him as a Delanie Walker replacement? Why does everyone think the 49ers need to draft a tight end very high (like with one of the first three picks)?"
Sando:
I'm all for questioning perceptions. We've recently questioned conventional wisdom regarding the
Arizona Cardinals
' offensive line, the
St. Louis Rams
' situation at receiver and how much quarterbacks in San Francisco and Seattle
rely on their legs
.
I do think drafting another tight end would make sense for the 49ers. However, we should not assume San Francisco is locked into playing offense the way the team played offense when Walker was part of the mix. The coaching staff has shown an ability and even an eagerness to evolve and play to strengths.
The 49ers could have kept Walker if they thought they had to have him. The franchise tag was available to them at a one-year cost of $6.066 million. The 49ers let Walker leave and later acquired receiver
Anquan Boldin
at a cost of $6 million in salary for 2013.
We should expect the 49ers' offense to continue its evolution as the team builds around quarterback
Colin Kaepernick
. Receiver
Michael Crabtree
flourished when Kaepernick took over. Boldin will presumably command a significant number of targets. So will Vernon Davis.
Walker's versatility was highly unusual. It's unreasonable to think Celek or any other player would provide similar versatility. The 49ers are going to be different without Walker -- even if they draft another tight end.
December, 23, 2012
12/23/12
11:46
PM ET
SEATTLE -- Thoughts on the
Seattle Seahawks
' 42-13
victory
over the
San Francisco 49ers
at CenturyLink Field in Week 16:
What it means:
The Seahawks improved their record to 10-5 and secured a playoff berth while establishing themselves as arguably the hottest team in the NFL. Their quarterback,
Russell Wilson
, strengthened his credentials as a candidate for offensive rookie of the year. The 49ers can still claim the NFC West title with a home victory over Arizona in Week 17, but securing a first-round bye appears less likely. That could be a concern for San Francisco given injuries affecting key players
Justin Smith
(elbow),
Vernon Davis
(concussion) and
Mario Manningham
(knee).


Playoff picture:
Green Bay can secure the second seed in the NFC and a first-round playoff bye with a victory over Minnesota in Week 17. Seattle appears likely to become the fifth seed, but if the Seahawks beat St. Louis and the 49ers lose at home to the Cardinals, the Seahawks would get a home game as the third seed. I'll post the official scenarios once I get them. Check out
ESPN's Playoff Machine
for potential outcomes.
What I liked:
Seattle's physical play on both sides of the ball and on special teams stood out from the beginning. Guard
J.R. Sweezy
, a surprise starter at right guard, took out Pro Bowl linebacker
Patrick Willis
at the knees to help spring
Marshawn Lynch
's 24-yard touchdown run. Left tackle
Russell Okung
drove back the 49ers'
Aldon Smith
to spring Lynch on another run. Safety
Kam Chancellor
put big hits on Davis,
Bruce Miller
and
Frank Gore
to set the tone. And when
Red Bryant
blocked a
David Akers
field-goal try to set up
Richard Sherman
's fumble return for a touchdown, the Seahawks were on their way.
Seattle receivers
Doug Baldwin
and
Sidney Rice
made difficult catches in this game. That was a huge change from when the 49ers claimed a 13-6 victory over the Seahawks in Week 7. That was one of the main reasons Seattle jumped to an early lead.
For San Francisco, Willis' acrobatic interception of a pass out of
Robert Turbin
's hands gave the 49ers a chance to stem the Seahawks' momentum.
The 49ers also did a good job maintaining their pass coverage down the field when Wilson scrambled to buy time. Wilson took sacks for a short loss and gained small amounts in situations in which lesser defenses have allowed the quarterback to complete passes down the field. Wilson's serpentine scramble for a 6-yard gain was impressive, but Seattle still had to punt on the next play. That was a victory for the 49ers' defense.
Michael Crabtree
beat Sherman for a 35-yard gain early in the third quarter.
What I didn't like:
Officials called a couple 15-yard penalties on plays that appeared to be big hits, not dirty ones. Chancellor's big hit for Seattle knocked Davis from the game. Officials flagged Chancellor, but nothing about the hit appeared outside the rules. Later, officials flagged the 49ers'
Chris Culliver
for hitting Baldwin while safety
Dashon Goldson
was putting a WWE-style body slam on the wideout. This play appeared consistent with what we've come to expect when these teams battle it out.
Later in the game, the 49res lost Manningham after Seahawks linebacker
Leroy Hill
hit Manningham low. Years ago, that type of hit might have sparked a brawl. But with current rules discouraging players from hitting high, that type of play could become more common.
The 49ers have proven they can win in hostile environments. Victories at Green Bay, New Orleans and New England provide all the evidence anyone should need. Still, there have been some game-management issues that could be concerning. Fumbled snaps were the issue at New England. This week, the 49ers wasted timeouts and took delay penalties while trying to operate amid deafening noise. Some of those issues are understandable, but the 49ers should expect better on that front.
San Francisco, despite having rushed for 175 yards against Seattle in the previous meeting, went three-and-out with three passes on its first drive. Rainy conditions seemed to make this an ideal time to test a Seattle defense that had allowed a league-worst 5.3 yards per carry from Week 7 through Week 15. The score was out of hand before the 49ers had a chance to establish anything on the ground. Of course, having Gore cough up the football when Chancellor took him down hard might have suggested this was going to be a tough night for the 49ers regardless.
QB comparison:
Wilson, ranked second in NFL passer rating and first in Total QBR since Week 6, continued his recent run of efficient play. His four scoring passes more than offset the one pick he threw on a pass off his receiver's hands. Kaepernick struggled with crowd noise and wasn't as accurate or sharp as he had been recently. He threw a pick in the end zone and was fortunate Seattle could not hold onto another pass thrown into coverage. Wilson was much more purposeful than Kaepernick in the way he moved to buy time and avoid sacks.
Third-down domination:
The Seahawks converted 11 of 12 times (92 percent) on third down against the 49ers. They scored four touchdowns on four possessions in the red zone. Seattle's defense held the 49ers to 3-of-11 (27 percent) on third down and one touchdown on four red zone possessions.
Stuck on 19.5:
Aldon Smith still needs 3.5 sacks to break
Michael Strahan
's single-season record since 1982, when sacks became an official stat. Smith went without a sack against the Seahawks, leaving him at 19.5 for the season. He faces an Arizona defense that has improved its pass protection despite allowing three sacks to Chicago's
Julius Peppers
on Sunday.
Lynch does it again:
Lynch topped 100 yards rushing for his third consecutive game against the 49ers.
Another block:
Bryant's blocked field goal was his fourth over the past two seasons. He has also blocked an extra-point attempt during that time.
Davis concussed:
The 49ers announced with 10:19 remaining in the second quarter that Davis would not return to the game. Davis plays nearly all the offensive snaps when healthy. He hasn't been a big factor as a receiver lately, but they valued him for his blocking and for the attention he drew as a big receiver with speed.
Garrett Celek
took snaps in the two-tight-end sets once Davis departed.
Brown shaken up:
The 49ers lost starting cornerback
Tarell Brown
to injury with 9:17 remaining in the second quarter. Brown was injured while Wilson scrambled for a short gain. He was down on the ground for several minutes as trainers tended to him. Medical staff helped Brown off the field. Brown was able to return a short time later.
Ironman streak ends:
49ers defensive end Justin Smith was named inactive with an elbow injury, ending his streak of starts at 185 regular-season games. That was the longest active streak for a defensive lineman in the NFL.
Ricky Jean Francois
started in place of Smith at right defensive end.
What's next:
The 49ers are home against Arizona. The Seahawks are home against St. Louis.
November, 11, 2012
11/11/12
12:40
PM ET
SAN FRANCISCO -- Greetings from Candlestick Park, site of the
St. Louis Rams
' first NFC West road game under coach Jeff Fisher.
I've been going through ESPN's playing-time data with an eye toward trends affecting NFC West skill players.
The chart shows players getting the most additional playing time over the past three weeks.
Rams receiver Austin Pettis played 23 percent of the offensive snaps when he was active during the first six weeks of the season. He has played 60.5 percent when active over the past three weeks. The difference between those figures -- plus-37.5 -- represented the largest gain for an NFC West skill player.
The method is imperfect because it doesn't account for games when players were not active and did not play at all. But that was an acceptable trade-off in light of the alternative, which would have required explaining why each player was not active.
Pettis' playing time figures to take a hit if
Danny Amendola
returns to the Rams, as he is expected to do Sunday.
Arizona's LaRod Stephens-Howling ranks second on our list. His playing time will take a hit once
Beanie Wells
returns from injury. That could happen Nov. 25.
Niners fullback Bruce Miller appears on the list. The 49ers have recommitted to their core personnel groupings in recent weeks. That probably explains his rise.
Arizona tight end Rob Housler is getting more time. That was expected in his second season. Having
Todd Heap
on the injured list has also contributed. Teammate Michael Floyd, the Cardinals' first-round draft choice in 2012, figures to see even more playing time based on his improved play and
Early Doucet
's struggles.
At the other end, Arizona's
William Powell
, San Francisco's
Colin Kaepernick
, St. Louis'
Steven Jackson
, the 49ers'
Garrett Celek
and Seattle's
Doug Baldwin
have seen the largest declines in playing time based on our methodology. All dropped between 11.2 and 23.7 percentage points.
August, 11, 2012
8/11/12
12:24
AM ET
Looking back upon three things discussed
here
before the 49ers'
17-6 exhibition victory
Friday at home against Minnesota:


1. Pass protection.
No real concerns here. I listed this subject first in our preview only because quarterbacks
Alex Smith
and
Colin Kaepernick
took a pounding from the blitz-happy
New Orleans Saints
in the 2011 exhibition opener. In this game, Smith completed all three attempts for 16 yards and a touchdown to
Brett Swain
. He was not sacked. The running game dominated. Pass protection benefited from the balance. The 49ers' offense was exponentially better in this game than in their opener a year ago.
2. New life at running back.
With starter
Frank Gore
sitting out, the 49ers got runs of at least 11 yards from
Brandon Jacobs
,
Kendall Hunter
,
LaMichael James
and even fullback
Rock Cartwright
. Jacobs was effective in short-yardage situations, including a fourth-and-1 during the opening drive to a touchdown. Fullback
Bruce Miller
did a good job clearing holes in two-back groupings. New right guard
Alex Boone
caught my attention with aggressive blocking in the run game. The 49ers got exactly what they wanted from their backup runners in this game. San Francisco finished with 42 carries for 260 yards.
3. Backup QB race.
Kaepernick dazzled with a 78-yard touchdown run on a designed keeper out of the no-huddle offense. That play showed why the 49ers will probably design a few special plays for Kaepernick even as Smith remains the starter. It showed why Kaepernick has a chance to become a dynamic running quarterback. It showed why the 49ers' offense will likely change fundamentally if Kaepernick is the quarterback. Kaepernick completed 5 of 9 passes for 40 yards. He found rookie
A.J. Jenkins
for a 15-yard gain. Kaepernick appeared late in delivering another pass. Kaepernick's presumed competition for the No. 2 job,
Josh Johnson
, took over late. He completed 2 of 4 passes for 30 yards.
Scott Tolzien
got into the game before Johnson. He completed 10 of 13 passes for 84 yards and a pick. On one play, Tolzien stood firm in the pocket and drove the ball to tight end
Garrett Celek
over the middle.