NFL Nation:

Gartrell Johnson
September, 2, 2011
9/02/11
4:47
PM ET
The
Atlanta Falcons
just announced some roster moves and there are no major surprises.

There is, however, one big name with one big salary. That's defensive end
Chauncey Davis
. As expected, his $3.75 million cap figure and the signing of
Ray Edwards
made Davis expendable. The Falcons will clear up the entire $3.75 million in salary-cap space.
There were a couple of other veterans released -- defensive tackle
Trey Lewis
and linebacker
Coy Wire
. The release of Lewis is a sign the Falcons firmly believe the
Peria Jerry
's knee is now healthy. If there's anyone in the Bank of America Stadium offices reading this, please go tell Marty Hurney that Lewis has been released. He's better than any defensive tackle the Panthers have at the moment.
Wire's release is a sign the Falcons are happy with some younger linebackers who can give them more speed on special teams.
The Falcons also waived tight end
Marquez Branson
, fullback
Lucas Cox
, center
Paul Fenaroli
, safety
Matt Hansen
, wide receiver
Brandyn Harvey
, running back
Gartrell Johnson
, defensive end
Tom McCarthy
, cornerback
Kamaal McIlwain
, center
Ryan McMahon
, safety
Rafael Priest
, defensive end
Kiante Tripp
, safety
Suaesi Tuimaunei
and linebacker
Bear Woods
. The team also reached an injury settlement with wide receiver
Andy Strickland
.
December, 5, 2010
12/05/10
3:20
PM ET
November, 21, 2010
11/21/10
3:26
PM ET
October, 17, 2010
10/17/10
11:50
AM ET
PHILADELPHIA -- I just got the list of inactives for the Falcons.
On the plus side, defensive end
John Abraham
will play. On the minus side, linebacker
Sean Weatherspoon
will not.
Having Abraham should be a big boost for the Falcons, because he'll have a favorable matchup with tackle
King Dunlap
, who is playing for an injured
Jason Peters
. While Weatherspoon's absence takes away a bit of speed from the Atlanta defense, there's not a huge drop off because the Falcons will turn to
Stephen Nicholas
, a former starter.
The rest of the inactives for the Falcons are cornerback
Dominique Franks
, running back
Gartrell Johnson
, offensive tackle
Garrett Reynolds
, guard
Mike Johnson
, defensive end
Lawrence Sidbury
and defensive tackle
Trey Lewis
.
John Parker Wilson
is the third quarterback.
October, 3, 2010
10/03/10
12:20
PM ET
September, 26, 2010
9/26/10
11:43
AM ET
August, 1, 2010
8/01/10
8:12
PM ET
By
Matt Mosley
| ESPN.com
ALBANY, N.Y. -- It only took about 10 minutes to realize that the 2010
New York Giants
training camp will have a completely different feel. New defensive coordinator Perry Fewell has been hailed for his enthusiasm, and he quickly lived up to his billing by leading his unit in a spirited game of "hot potato" with the football.
The single-elimination tournament forced players to launch the ball back and forth at each other, and the last two standing were safety
Sha'reff Rashad
and defensive end
Mathias Kiwanuka
. Fewell declared Rashad the winner because Kiwanuka threw the ball over his head. But the main thing was that every defender was shouting and laughing, which didn't bring back memories of the regrettable Bill Sheridan era.
[+] Enlarge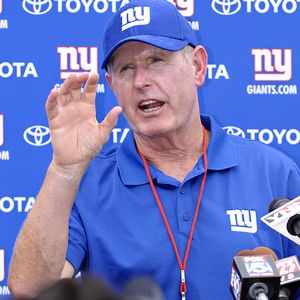 AP Photo/Hans PenninkCan Tom Coughlin right the ship before the it's too late?
"I hear that screeching," Coach Tom Coughlin said of Fewell's voice. "He's got good energy, great personality. Lively persona, energy in the classroom, energy on the field. The players had the spring with him, so they had an opportunity to get to know a little bit about how he coaches and how he approaches things. His enthusiasm is a good thing."
It appears Fewell will bring a lot more energy to the table, but general manager Jerry Reese said after practice that the players would ultimately have to be the ones to deliver.
"Bill Sheridan gets thrown under the bus," said Reese, who was sipping on Pedialyte to battle a stomach virus. "I don't care if Vince Lombardi's calling the plays, you have to go out and execute the plays."
The "hot potato" drill was the high point of the afternoon, because the rest of practice was pretty much a jog-through. But I still jotted down some observations for those of you who are still reading this entry:
I'm sure Coughlin loved watching cornerback Aaron Ross make some nice adjustments to the ball in interception drills. Ross spent most of last season's training camp nursing a hamstring injury, but he was one of the quickest players on the field in Sunday's practice. When he did drop an interception, he picked up the ball and spiked it into the ground. He just looked more intense then some of his teammates, and I think that has something to do with him missing so much time last season. And maybe the fact that he wants to play cornerback, not safety.
Defensive tackle Chris Canty appears to be in excellent condition and that's why he was singled out by Coughlin after practice. Coughlin used a different phrase to describe running back Gartrell Johnson's conditioning: "Rigor mortis." Needless to say, he was not impressed with how Johnson performed on his conditioning test.
Reese doesn't think rookies Jason Pierre-Paul and Linval Joseph need to be babied early in camp. He told us that both players will be thrown into the defensive line rotation from the start, and that he expects immediate results. I'll keep a close eye on those guys during Monday's sessions. They were mostly involved with the scout team Sunday.
[+] Enlarge

AP Photo/Hans PenninkGiants general manager Jerry Reese expects immediate results from first-round pick Jason Pierre-Paul, right.

I'm hesitant to tell you that Ramses Barden is once again off to a quick start. I sort of went overboard on Barden after watching him in camp last year, and then he couldn't get on the field during the season. He's now catching everything with his hands instead of his body and everything seems smooth. Reese said Barden can be a "difference maker" this season.
For a man who had ACL surgery about seven months ago, I thought 33-year-old Keith Bulluck looked pretty quick in drills. The Giants will bring him along slowly, but I do think middle linebacker is his job to lose. It had to be strange for him to start a training camp with another team after a decade with the Titans. When the horn blew to go to the next drill, you could tell that Bulluck was a little unsure what to do. But he's a highly intelligent player who will catch on quickly.
Some of my beat-writing buddies were so busy tweeting about how poorly rookie punter Matt Dodge was hitting the ball that they might have missed two consecutive 55-yard bombs with excellent hangtime.
Hakeem Nicks is so far down the road compared to last year at this time that it's silly. He does a nice job of staying low when he comes out of his breaks. Sort of reminds me of Terry Glenn in his younger days. Glenn was an excellent route runner when he first got to the Cowboys in 2003. Tony Romo used to marvel at how Glenn consistently got open against some of the top cornerbacks in the league. Nicks looks like he's run about 800 of those quick hooks this offseason.
Eli Manning hit Derek Hagan on a fly pattern down the right sideline. Manning actually threw a duck, but the ball reached its intended target. Manning's also on the Barden bandwagon: "Well he had a really good spring. Last year he didn't get a whole lot of playing time, when he did get in he made some things happen," Manning said before Sunday's practice. "But he had a really good spring, he's a smart guy, he understands the offense and what's going on, especially for a guy who hasn't had much playing experience. So it'll be good to get him in the preseason games and other games and see how he does. But he's a big target with big hands and he's excited about what he can do and how he can help improve our offense."
I think tight end Travis Beckum will be one of the breakout players from this camp. Reese and Coughlin have both bragged on him, and he's already displaying a lot more confidence. He's a big target with some speed. If Beckum can take the next step, he and Boss could be an effective duo.
Mario Manningham had his ups and downs last season, but on Sunday, he caught everything thrown his way. I like how all the Giants receivers are snatching the ball out of the air instead of letting it get into their bodies.
Cornerback Terrell Thomas might emerge as one of the better cover guys in the division. He had a solid season in '09 and he appeared to be closing fast on everything thrown in his direction Sunday. After Mike Jenkins and perhaps Asante Samuel, I think you have to think about putting Thomas in there. He has so much confidence right now.
For the Giants, this camp is going to be about reclaiming their identity as a physical football team. I heard that from almost everyone Sunday. And a lot of that starts with the running game. New York had to lean heavily on the passing game in '09 because the run wasn't working. The Giants made some changes in the offseason, but a lot of these guys were around for the embarrassment of '09. They're not going to dwell on that .500 season, but it's a decent point of reference. I also like the fact that none of the players and coaches are trying to pin everything on injuries in '09. Some of it had to do with the Giants flat-out stinking, and that's being acknowledged.
Some of you guys want to know how the offensive linemen look. I'll take a long look at those guys tomorrow. Let's hope Coughlin lets them bang around a little bit in the morning. Not much meat on the bone in Sunday's practice.
June, 24, 2010
6/24/10
1:00
PM ET
By
Matt Mosley
| ESPN.com
»
NFC On the Radar
:
East
|
West
|
North
|
South
»
AFC
:
East
|
West
|
North
|
South
A player, coach or issue that should be on your radar as training camp approaches.
The NFC East teams have an embarrassment of riches at certain positions. The Eagles, Cowboys and Giants are remarkably deep at wide receiver and some of the league's elite pass-rushers reside here. But running back is sort of a mixed bag, so let's compare the different rotations in the Beast in this week's edition of "On the radar," which is now syndicated in more than 37 countries and East Texas.
[+] Enlarge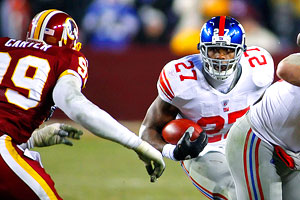 Geoff Burke/US PresswireThe Giants are hoping Brandon Jacobs can return to his form from 2008.
In Washington, Mike Shanahan must be hoping for a magic time machine, preferably one that returns his backs to the '06 season.
Clinton Portis
,
Larry Johnson
and
Willie Parker
were at the top of their games four seasons ago, but they've been in steady decline since. Actually, Portis had an excellent first half of the season in '08 before trailing off because of injuries. I think the Redskins have the weakest group of the four teams. There's not a home-run threat in that bunch, which makes life easier on opponents.
I think the Cowboys will have the best unit if
Marion Barber
and his leaner frame can stave off injuries. He's looked a lot quicker in practice sessions this offseason and there's a chance he regains his '07 form, which led to a lucrative contract extension.
Felix Jones
is the biggest home-run threat in the division because of his speed and quickness. Offensive linemen don't have to hold their blocks as long when Jones is in the backfield. And with
Tashard Choice
as the third back, the Cowboys could have something similar to what the Giants featured during their Super Bowl season ('07).
I have the Giants and Eagles neck and neck at running back.
Ahmad Bradshaw
's going to be the X factor because he has the potential to be a dominant back. But there are questions about his durability after watching him hobble around in protective boots last season. If Bradshaw's truly 100 percent, he's capable of being the best running back in the division. Seriously. I think some of us have forgotten those carries during the Giants' playoff run.
Brandon Jacobs
will have a hard time holding on to his starting spot, but he's a proud enough player that he might find a way. He was too tentative last season. He gave the Giants their offensive identity in '07 and '08. Like Barber, he needs to somehow regain that form. I think
Gartrell Johnson
has a good shot to be the third running back. It just seems like
Andre Brown
has fallen too far behind in his developmental process following a ruptured Achilles tendon in last year's training camp. You don't hear about a lot of backs making full recoveries from that particular injury.
With the Eagles, I'm anxious to see how
LeSean McCoy
handles the feature role. He's obviously started games in the league, but he had
Brian Westbrook
around to point him in the right direction. McCoy needs to become more consistent catching the ball. If he's able to do that, he has the potential to be a Westbrook-type player. I watched
Mike Bell
a couple of weeks ago and he's a little quicker than I remembered. I think he could be one of the most underrated pickups of the offseason. And we all know what
Leonard Weaver
can do from the fullback spot.
With a new quarterback in place, the running game will be more important than ever for the Eagles. Now we'll see if Andy Reid changes his approach. I have my doubts.
August, 30, 2009
8/30/09
11:51
AM ET
Posted by ESPN.com's Bill Williamson
Thoughts from the Chargers' 27-24 defeat at Atlanta:
The Chargers' offense was clicking. San Diego converted 7 of 8 third-down situations. Quarterback Philip Rivers was fantastic, as was receiver Vincent Jackson. This team is ready to go.
The Chargers allowed just one sack Saturday night. Last week against Arizona, Rivers was sacked four times.
The Chargers also improved in their kick coverage.
The Louis Vasquez-Kynan Forney battle continued at guard and may continue for a few more weeks.
Rookie running back Gartrell Johnson displayed his downhill running ability with a 42-yard gain.
Top pick Larry English made his preseason debut and displayed his famous motor. He is going to be able to help this team early.
Veteran running back Michael Bennett scored on a 48-yard touchdown catch. Bennett is valuable and he should make the team.
August, 4, 2009
8/04/09
1:00
PM ET
| | |
| --- | --- |
| | |
| | Robert Benson/US Presswire |
| | The return of linebacker Shawne Merriman should bolster the San Diego defense. |
Posted by ESPN.com's Bill Williamson
SAN DIEGO -- Philip Rivers admits the San Diego Chargers may have embraced Super Bowl talk in recent years.
The Chargers have been sexy preseason Super Bowl picks the past few years. While they have won three straight AFC West crowns, they haven't been able to get past the AFC Championship Game. Last season, San Diego's year ended in the divisional playoffs after a gallant effort in Pittsburgh.
This year, the Chargers are not really interested in participating in any Super Bowl talk.
"There's nothing to talk about," said Rivers. "We've done all that talking. Now, it's just time to go out week to week and prove it."
This is how linebacker Shawne Merriman puts it: "Nobody is going through their lockers looking for the Super Bowl rings they are going to give us. We're not worried about it. All we are really looking at [is] Week 1. And then, we'll go from there. It's a new attitude. We're just going week to week."
San Diego coach Norv Turner says the attitude is a byproduct of the team knowing that it is good and in its prime. Still, after having to scramble late in the season the past two years to make the postseason, Turner said many on the team are trying not to look ahead.
Fantasy Football: 32 Questions

Tristan H. Cockcroft addresses the issue of whether Darren Sproles will elevate to flex-play status in 2009. Story

"We can play with anybody, they all know that," Turner said. "This year it's just about taking it one step at a time and not getting ahead of ourselves."
Key questions
1. Will Merriman be healthy?
The Chargers were lost on defense much of last season without Merriman. His worth to the defense was dramatically on display when Merriman missed all but one game because of a knee injury.
| | |
| --- | --- |
| | |
| | Stan Liu/US Presswire |
| | Injuries have slowed LaDainian Tomlinson the past two seasons. |
Merriman, who led the NFL with 39.5 sacks in his first three NFL seasons, is also good in coverage and is an enforcer who sets the tone for the defense. In defensive coordinator Ron Rivera's system, Merriman should be a terror.
By all accounts, Merriman is ready to play. He will be brought along slowly in camp and in the preseason, but he's expected to be at full-go for the Chargers' opening game Sept. 14 at Oakland. If Merriman can stay healthy, San Diego's defense should be much improved.
2. Does LaDainian Tomlinson have anything left?
Tomlinson nearly didn't return this season but the two sides agreed on a restructured contract.
Tomlinson has some things going against him. He just turned 30, which, frankly, is quite old for an NFL running back. He has dealt with injuries toward the end of the past two seasons and he had his least productive season of his eight-year NFL career in 2008.
Can he still produce at a high level? The Chargers believe if Tomlinson can stay healthy he should be fine. The San Diego offensive line is healthy going into this season, which wasn't the case last season, and there's reserve Darren Sproles to ease Tomlinson's load.
3. Can San Diego start fast?
This was a big question last season and the Chargers couldn't figure it out, so it remains. Look, San Diego is significantly better than its competition in the AFC West. If it can start fast, it can run away from the rest of the division.
Rivers admitted that fighting back from a bad start has worn out the Chargers the past two years. In 2007, San Diego was 5-5 before finishing 11-5. Last season, San Diego became the only team in NFL history to start 4-8 and make the playoffs. The Chargers hope their late-season heroics will be supplemented by better early-season play.
Market watch
This is an interesting time in San Diego. The Chargers have a veteran roster, but they are also mixing in some youngsters. The Chargers feel good about their rookie class. There are several rookies who are expected to make immediate contributions.
| | |
| --- | --- |
| | |
| | Jody Gomez/US Presswire |
| | Larry English is expected to play a large role in the Chargers' defense. |
San Diego came to this realization after the rookies performed so well in the offseason. If they continue to make progress during the rest of camp, San Diego could have as many as three rookie starters.
Top pick Larry English will essentially be a starter, although he may not be in every base package. Yet, the pass-rusher from Northern Illinois will be a major part of the defense. Third-round pick Louis Vasquez, is in a fight for a starting job at guard, and sixth-round pick Kevin Ellison has a chance to start at safety as well. Defensive lineman Vaughn Martin (fourth round) and power running back Gartrell Johnson (fourth round) also have a chance to make an impact as the Chargers slowly infuse their roster with younger talent.
Newcomer to watch
The Chargers have rarely been big players in free agency under general manager A.J. Smith. He'd prefer to build through the draft and he has done a fine job of it. But there is a free agent of note this season: linebacker Kevin Burnett.
The former Dallas role player has a chance to start at one of the Chargers' two inside linebacker spots in the 3-4 defense. Burnett is very strong in pass coverage and the Chargers believe he will improve a pass defense that was susceptible last season. Burnett has to beat out veteran Tim Dobbins, but the Chargers believe Burnett will be an impact player.
Observation deck
Veteran defensive tackle Jamal Williams is performing well in camp and is healthy. The Chargers expect him to be dominant this season. ... The Chargers are expecting good things from cornerbacks Antonio Cromartie and Quentin Jammer. Jammer was good last season, but Cromartie struggled. He was dealing with a hip injury. He has been strong so far. ... San Diego is very comfortable with having defensive end Jacques Cesaire start in place of Igor Olshansky, who signed with Dallas in the offseason. Cesaire is experienced and Olshansky didn't have a good season last year, so San Diego doesn't think there is a downgrade. ... San Diego is excited about using outside linebacker Shaun Phillips as a roamer in packages where both Merriman and English are on the field. ... Second-year fullback Jacob Hester got stronger in the offseason and looks primed to make strides.
May, 1, 2009
5/01/09
9:02
PM ET
Posted by ESPN.com's Bill Williamson

SAN DIEGO -- Veteran running back LaDainian Tomlinson was tutoring rookie Gartrell Johnson often in the morning session. Johnson asked Tomlinson questions after several plays.
The stout Johnson, from Colorado State, was drafted by San Diego in the fourth round. He will give the Chargers a power running presence.
Malcolm Floyd was not at the mandatory camp. He is a restricted free agent who has not signed his tender. Because Floyd, a reserve receiver, doesn't have much choice, expect him to eventually sign and report.
Quarterback Philip Rivers said first-round pick Larry English, a pass rushing linebacker, looked good in practice. English said his locker is next to Shawne Merriman's locker.
There is no update on a potential contract extension for Rivers. He is signed through this season.
Defensive end Vaughn Martin was closely watched by the media Friday. He looked fast and he is clearly big and strong. He was a surprise fourth-round choice of Western Ontario. He is raw, but he is an interesting project.
Posted by ESPN.com's Bill Williamson
The draft grades are in. Predictably, none of the AFC West teams received an abundance of outstanding grades. The draft was marked by many reaches for AFC West teams, but still there were some good things that came out of each team's class.

San Diego: B-
The Chargers' draft was quietly productive. They may have taken pass-rusher Larry English a tad too early at No. 16 but he is a fine player who should make a fast impact. Guard Louis Vasquez has a chance to start right away if the third-rounder from Texas Tech has a good training camp. Guard Tyronne Green, (fourth round), running back Gartrell Johnson (fifth) and safety Kevin Ellison (sixth) all could help down the road. It was nothing fancy, but it was a solid draft by the three-time defending division champions.

Kansas City: C+
All of those who expected Kansas City general manager Scott Pioli to make a huge splash may have been disappointed. There wasn't any wild wheeling and dealing. Much like in free agency, Kansas City was conservative in the draft. Tyson Jackson, the No. 3 overall pick, is a good player who should help. Third-round pick Alex Magee is a defensive tackle who can help. Helping the draft out immensely was the fact that the Chiefs secured Matt Cassel and linebacker Mike Vrabel for their second-round pick.

Denver: C
The Broncos did some very good things in the draft. They got some outstanding players in the form of running back Knowshon Moreno, defensive end/linebacker Robert Ayers and cornerback Alphonso Smith. All three should make big impacts. Still, there are some negatives about this draft that can't be overlooked. Denver added just one front-seven defender in its ten-pick draft despite having a very weak group there, especially on the defensive line. Denver gave up its first-round pick next year to take Smith at No. 37, which was a steep price.

Oakland: D
This draft could eventually turn into an "A" grade or it could be remembered as one of the worst drafts in recent memory. Right now, it's a "D" because the Raiders didn't use the draft board as well as they could have. First-round pick Darrius Heyward-Bey and second-round pick Mike Mitchell were reaches. They both have good potential but they both could have been taken later. Also, Oakland didn't address tackle, its greatest need. Oakland did get a good value in receiver Louis Murphy in the fourth round.
April, 23, 2009
4/23/09
5:52
PM ET
Posted by ESPN.com's Paul Kuharsky
There will be picks on Saturday and Sunday that prompt brows furrowed into question marks on the faces of fans of the four teams of the AFC South.
So in advance of this weekend's draft, the AFC South Blog is here to warn you: Don't be surprised when the Colts look to cornerback; don't be shocked when the Titans turn to a tight end and/or a defensive end. Should the Texans invest a reasonably high pick in a receiver or the Jaguars dip again in to the pool of defensive ends, they won't be making redundant roster choices.
They'll be thinking more about 2010 than about 2009.
We've discussed the current needs of all four teams a lot in the build-up to the draft. But teams obviously have to look further ahead than that. They can't count on the CBA expiring and the rules of free agency changing. Because if a new labor deal is struck and free agency continues to operate in the fashion we are used to -- with players who've logged at least four years and have expired contracts hitting the free market -- teams have to be prepared to lose people, and they need to have replacements ready.
Some of those potential replacements are already lined up, of course, working as backups. But others must be targeted.
"You're not just drafting for this year, you're drafting for future years too," Titans general manager Mike Reinfeldt said. "You have to have the vision of what they might be in two or three years. ... You're always building depth on your team and you're getting, especially in the later-round guys, traits that can be developed."
Here is a look at the issues teams may be facing in terms of departing free agents in 2010 with some suggestions, courtesy of Scouts. Inc.'s Matt Williamson, on mid- and late-round picks who could fill the holes.
NFL SCOREBOARD
Thursday, 9/4
Sunday, 9/7
Monday, 9/8