NFL Nation:

Gary Anderson
May, 23, 2012
5/23/12
4:11
PM ET
OWINGS MILLS, Md. --
Billy Cundiff
is trying to do what Scott Norwood and Gary Anderson failed to do -- remain confident after a monumental missed kick.
Cundiff said his confidence is "as high as it's ever been" four months removed from hooking a last-minute, 32-yard field goal that would've tied the AFC Championship Game in New England. NFL history says that will be tough to do.
After Norwood missed a 47-yarder that would've won the Super Bowl in January 1991, he struggled with a career-worst 62.1 success rate the next season and was out of football in 1992. After Anderson missed a game-clinching, 38-yard field goal in the fourth quarter of the 1998 NFC Championship Game, he hit a career-low 63.3 percent of his field goals the next season.
[+] Enlarge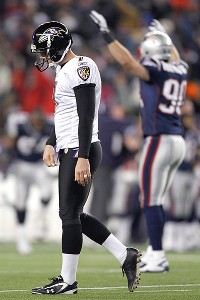 AP Photo/Winslow TownsonBaltimore's Billy Cundiff had made 11 straight field goals before missing a late, 32-yard attempt that would have sent last season's AFC title game to OT.
So, why is Cundiff so confident? He points out two facts: that was his only miss in the playoffs for the Ravens (he had hit his previous 11 field goals) and he had been perfect in the fourth quarter all season (6-for-6 in the regular season).
"The situation was pretty unique," Cundiff said of the miss that sailed wide right with 11 seconds remaining. "I will learn what I can from it and keep my confidence high."
Cundiff hasn't had to hide or wear any disguises when he goes out in public in Baltimore. In fact, he was stopped by a cashier at Fresh Market Tuesday night who, instead of blaming him, suggested the coach should've called a timeout before the miss.
"[The response has] actually been really positive, to be perfectly honest with you," Cundiff said. "What's in the past is in the past. If you don't win the Super Bowl in this league, what you do really doesn't matter for the most part. You can take your stats and compare it against other people. If you're not helping your team win the big one, everybody is back to the drawing board the next year."
Cundiff's fall has been a dramatic one. He signed a five-year, $14.7 million contract after being a Pro Bowl kicker in 2010. He had connected on a career-best 26 field goals and set a team record with 44 touchbacks that season. Then, last season, he struggled with 10 missed field goals, all of which came on the road.
What topped off a season to forget was the miss in the AFC Championship Game, a kick that would've sent the game into overtime.
Cundiff said he didn't seek out Norwood or Anderson for advice.
"I wasn't looking for consoling. I wasn't looking for counseling," he said. "For me, it was one of those things where you meet it head on and move on."
Cundiff acknowledged he did receive help from a sports psychologist that he's seen since 2007, when he was out of the league.
"He's not there as a shrink. He's not there to analyze my emotions," Cundiff said. "He was one of the guys who was a big influence on me when I was out of football. We were constantly going on what I could improve on. When I got back into football, I was more mentally strong and that carried into the last couple of seasons. What happened in New England is what happened in New England. You move on and it doesn't change any of my preparation."
Cundiff added, "If anything, it shows I've got the confidence to keep going. I'm standing here. The team doesn't have [any other kicker] here. The team believes in me. The coach has been really positive with me throughout the whole offseason. Now, it's just a matter of continuing to get better."
August, 30, 2011
8/30/11
8:53
PM ET
John Kasay
is 41, which is one of the major reasons the
Carolina Panthers
released the kicker last month. But as Kasay met with the New Orleans media after signing with the Saints on Tuesday, he said he feels like he still can be productive.
"I am not as young as I use to be,'' Kasay said. "I am not fooling anybody with that but there have been a handful of guys who have done very well playing into their 40's. Morten Anderson,
John Carney
,
Gary Anderson
,
Matt Stover
,
Jason Hanson
. It's a privilege to be able to play and to do the same thing I was doing as a kid."
Kasay said he had continued working out, even though he wasn't sure he would get another chance to kick in the league. That changed quickly after New Orleans kicker
Garrett Hartley
suffered a hip injury in Sunday night's preseason game.
"This came together obviously very quickly based on what happened to Garrett,'' Kasay said. "That's just the nature of the league. I am married. I have four children and school started last week. I was back-to-school-night last night. That's how fast life changes."
Coach Sean Payton wouldn't go into specifics about the severity of Hartley's injury and it's unclear if the Saints think they'll be going with Kasay for the long term or only the short term. Payton said familiarity with Kasay is one reason the Saints chose him.
"With his experience, we know the player a little bit more than some of the others because he's been in our division,'' Payton said. "He's consistent. He's a veteran player and we just started getting some work with him today. Really the adjustment is in the hold because he's a left-footed kicker."
Punter
Thomas Morstead
and backup quarterback
Chase Daniel
worked as holders with Kasay in Tuesday's practice.
"That's a good question,'' Payton said when asked who will hold. "I think we'll go with the holder that is most apt at doing it. Both of them, Chase right now and Thomas Morstead, are getting comfortable doing that and working through the kinks."
May, 17, 2011
5/17/11
12:30
PM ET
Examining the most crucial event in the history of every team in the division.
The most important moment in
Green Bay Packers
history was nearly scuttled by an unlikely source. Shortly after Vince Lombardi accepted the Packers' job as head coach/general manager in 1959, his wife was "distraught," according to historian David Maraniss.
Marie Lombardi approached
New York Giants
owner Wellington Mara, who owned Lombardi's contract as a Giants assistant coach. As Maraniss writes in "
When Pride Still Mattered
," Marie begged Mara to block her husband's move.
[+] Enlarge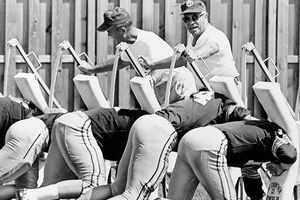 AP PhotoCoach Vince Lombardi (upper right) led the Packers to five championship wins in seven seasons.
Mara declined, knowing Vince was ready to be a head coach. Marie stood by her husband. And the rest, as they say, is Packers history.
Lombardi's arrival in Green Bay was your overwhelming choice
as the Packers' Flash Point
, and it received a higher percentage of votes (69 percent) than any individual event offered in last week's series of polls. Lombardi won his first NFL title in 1961 and collected four more before giving up the job in 1967, building an unmatched legend and painting the franchise in gold mystique for generations to come.
Some of you made impassioned arguments for Curly Lambeau's push to sell stock and make the franchise a non-profit organization in 1923, a short-term fundraising effort that embedded a structure still in operation today. "How can it not be Curly?" wrote
mallow420
. "If Curly doesn't save the Packers then there's no Packers to hire Lombardi."
Hadessniper
allowed that "Lambeau making the Packers public is more important for the Packers, as without that there is simply no way Green Bay keeps a team." But, wrote hadessniper, "Lombardi is probably more important for the NFL as a whole. The NFL was gaining popularity, but Lombardi gave the game a legend. Without Lombardi the NFL wouldn't be what it is today."
Timarquardt
was more direct: "Get back to me when someone else wins five championships in seven years. That's Lombardi's legacy and with all due credit to Curly, he did it when there was a bunch of good teams. Curly saved the franchise, obviously important, but without those Lombardi years the team never would have had the following through the dark years of the '70s and '80s to be successful."
What's fascinating to me is that Lambeau actually wanted Lombardi's job in 1959, a decade after an internal power struggle led to Lambeau's ouster. As Maraniss recounts, Lambeau flew to Green Bay during the interview process and launched a campaign to capture at least the general manager position that Lombardi ultimately filled. Dominic Olejniczak, president of the Packers board of directors, resisted the urge to hire him despite heavy public support.
The Flash Point mandate was less clear for the NFC North's other three teams. Let's sort through them in alphabetical order:
BEARS: A hero of 1985
About half of you
voted for the arrival
of defensive coordinator Buddy Ryan, the architect of the 46 defense that led the Bears to a championship in 1985.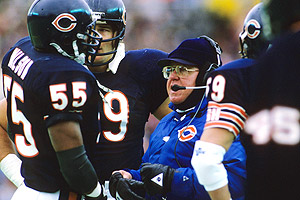 Ronald C. Modra/Sports Imagery/Getty ImagesBuddy Ryan's 46 defense formed the identity of the 1985 Super Bowl-winning Bears team.
Lewie21982
was livid and wrote: "Who are these people voting?? Are you just idiot baby boomers, hippies, or the '80s mullet crowd??? I was born in the '80s and clearly know the decision of drafting Red Grange or instituting the T-Formation was the most significant thing the Bears have ever done. The Bears have nine championships and eight of them were before Buddy Ryan, Mike Ditka, or the 46 defense ever came around!!"
I hear ya, Lewie21982. Red Grange made the Bears an early heavy hitter in pro football, and George Halas' schematic innovations led to the golden age in franchise history -- four world titles in seven years between 1940-46. But I understand where the baby boomers, hippies and mulleteers were going.
The 1985 Bears were the best team in franchise history and one of the most dominant of the NFL's post-merger era. With all due respect to Ditka and running back Walter Payton, Ryan's 46 defense was the biggest reason. It's impossible for a single moment to spawn something so impactful, and I heard a suggestion for ex-general manager Jim Finks acquiring many of that team's stars. But without Buddy Ryan, the 46 defense doesn't exist and the 1985 Bears as they were known never come to be.
LIONS: Forgetting yesteryear
The
Detroit Lions
' Flash Point vote
got more action
than any team in the division, garnering more than 53,000 votes. On that, we can agree.
[+] Enlarge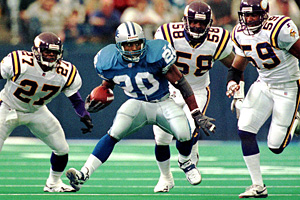 JEFF KOWALSKY/AFP/Getty ImagesBarry Sanders had a Hall of Fame career but couldn't get the Lions a championship.
But did the decision to draft running back
Barry Sanders
have more impact than any other event in franchise history? About 60 percent of you thought so, although the comments reflected a wider disparity.
I'm not on board, and neither was
j_sleik83
. We agree that quarterback Bobby Layne brought the Lions what Sanders never did. J_sleik83: "Bobby Layne in combination with the Hall of Fame defensive backfield the Lions had during the entirety of the '50s IS their defining era. Barry Sanders didn't lead them to the promised land, Layne did."
I mean no disrespect to Sanders, who forged a Hall of Fame career on some otherwise undermanned teams. But with Layne behind center, the Lions won NFL titles in 1952 and 1953. He contributed to a third in 1957, and upon his subsequent departure, Layne placed a (possibly apocryphal) 50-year curse on the franchise. (For that reason,
DWargs
thought trading Layne away is the defining moment in franchise history: "Haven't gotten close to a championship since.")
Several of you pointed to the ownership of the Ford family as the primary reason for that dubious run. Regardless, I understand that Lions history is defined more by failure than success. But on an otherwise desultory landscape, the Lions once had a brilliant run. Bobby Layne was the single biggest reason why.
VIKINGS: Varied opinions
I did either an excellent or terrible job of
choosing options
for the
Minnesota Vikings
' Flash Point: All four possibilities received between 19 and 32 percent of the vote. Assembling the "Purple People Eaters" had the highest percentage, but its total was hardly a mandate among the 38,000 or so votes cast.
[+] Enlarge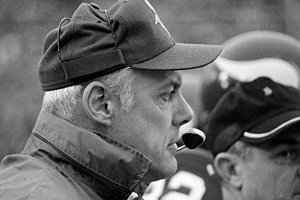 AP Photo/Jack ThornellBud Grant won 152 games as coach over 18 seasons.
Scanning the comments, it was clear that you agreed on only one thing: A Vikings Flash Point needed to reflect a long history of dysfunction.
Even looking beyond the obvious,
Ymacdaddy
offered this litany: "Herschel Walker, Metrodome [collapse], Gary Anderson, Dimitrius Underwood, too many in huddle, big-game chokers, etc. How about Darrin Nelson before Marcus Allen?"
The 1989 Walker trade, in which the Vikings ultimately gave up five players and six draft choices, received multiple mentions. So did Gary Anderson's shocking field goal miss in the 1998 NFC Championship Game.
BuckeyeVikes80
is "still reeling from that 12 years later."
Dbatten1
noted
Dallas Cowboys
quarterback Roger Staubach's Hail Mary pass to Drew "Push" Pearson in the 1975 playoffs.
TampaPacMan
's moment was the final play of the 2003 season, when the Vikings lost the NFC North title and a playoff berth by giving up an improbable touchdown to
Arizona Cardinals
receiver Nathan Poole. It was "the signature moment in a franchise history littered with failures!" wrote TampaPacMan.
If it were up to me, Bud Grant's arrival would rank as the most significant moment in Vikings history. Many of us would agree that Grant has made the single-biggest impact in this franchise's 50 years. But what do I know? I just work here.
September, 27, 2010
9/27/10
6:55
PM ET
George Blanda was
Brett Favre
without the waffling.
Blanda, the quintessential old-school NFL player, played until he was a month shy of his 49th birthday as a kicker. He played quarterback well into his 40s. He won games quarterbacking and kicking on the same day and had a wonderful run in the 1970s for the Raiders.
Blanda, who played a staggering 26 years of professional football, died Monday at age 83.
One of the all-time ironmen in the history of sports, he was a close friend of Oakland owner Al Davis, who is two years younger than Blanda.
There will never be a player like Blanda in the NFL again. We're watching Favre hold on at age 40 now. Add eight more years and that was Blanda.
Blanda, who started playing in the NFL in 1949, joined the Raiders at the age of 38 and was an effective backup quarterback (who came in and saved the Raiders more than once) and kicker.
On ESPN's SportsCenter on Monday, Mike Ditka remembered his old friend as an all-time competitor who hated losing, even if it was "pitching pennies."
My one experience with Blanda certainly backs up that reputation.
In 2000, while I was covering the
Minnesota Vikings
, I contacted Blanda, who was 73 at the time. Vikings kicker Gary Anderson was just about to pass Blanda as the NFL's all-time leading scorer. When the record fell, the old record holder is often sought out to bring perspective. Usually, the old record holder is supportive of his record being broken.
Not old George. He wanted nothing to do with it. In fact, he was pretty salty about it. As Ditka said Monday, Blanda was ultra-competitive even well after his retirement. He hated to lose.
July, 8, 2010
7/08/10
12:00
PM ET
A weeklong look at current or former players or coaches with Hall of Fame potential in the division.
Buffalo Bills:
Steve Tasker
, special teams.
Claim to fame:
Tasker perhaps is the greatest special-teams ace in NFL history. He was a notable weapon on Buffalo's four consecutive AFC championship teams in the 1990s.
Case for enshrinement:
Tasker was so dominant in his role, the NFL changed its Pro Bowl rules to include special-teamers on rosters. He went to seven Pro Bowls, putting him in select company, and was named the MVP in 1993. He has been a semifinalist on the Hall of Fame ballot four times. The NFL Network named him the
ninth-best player -- of any position -- not in the Hall of Fame
.
Tasker blocked seven punts and made 204 special-teams tackles. He forced seven fumbles and recovered six. He returned kickoffs, punts and held on extra points and field goals. As a receiver, he caught 51 passes for 779 yards and nine touchdowns.
Case against enshrinement:
Special-teamers just don't get enshrined. Kicker Jan Stenerud is the only pure special-teamer with a bust. Legendary punter Ray Guy isn't in. No return specialist has been honored, either.
The common retort to that is one of the silliest sayings in football: Special teams are one-third of the game. Sorry, but that's not true. If each team plays a perfect defensive game and forces the opponent to go three-and-out on every possession, then special teams are needed once every four plays. And if football people truly believed special teams were that integral to the game, they would draft special teamers rather than fill out those units with offensive and defensive reserves.
Parting shot:
I'd like to see more special-teamers recognized in Canton. But unless there's a substantial change in selection philosophies, Tasker won't make it into the Hall of Fame.
Miami Dolphins:
Jake Scott, safety.
[+] Enlarge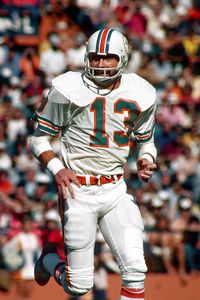 Malcolm Emmons/US PresswireMiami's Jake Scott was the MVP of Super Bowl VII.
Claim to fame:
Scott was among the greatest safeties and most dangerous punt returners of the 1970s. He was voted MVP of Super Bowl VII, when the Dolphins closed out their undefeated season.
Case for enshrinement:
Scott is one of the most overlooked players in NFL history. His career was relatively short, but it burned brightly. For five years in a row, starting with his second season, Scott went to the Pro Bowl and was named first- or second-team All-Pro.
Despite playing only nine NFL seasons, Scott recorded 49 interceptions, a total that ranked 18th all time when he retired. Hall of Fame safety Ken Houston played 14 seasons and finished with the same total. Scott still holds the Dolphins record with 35 interceptions. He added 14 more in three seasons with the
Washington Redskins
. Scott recovered 13 fumbles in his career.
He also was a slick punt returner. He holds Miami career records in returns and yardage and ranks third in average.
Case against enshrinement:
There's a stigma that comes with playing on the No-Name Defense. Only one player from that great unit, linebacker Nick Buoniconti, is in the Hall of Fame, and his cause certainly was helped by previous work with the Boston Patriots and by remaining in public view as a broadcaster.
Scott, meanwhile, became a recluse. He moved to Hawaii and for a time avoided attention at all costs. He reportedly declined the chance to be inducted into the College Football Hall of Fame because he wouldn't commit to attending the ceremony.
Also working against Scott, who never has made the cut to 15 modern-day finalists, is the dearth of safeties enshrined in Canton. Only seven have been inducted.
Parting shot:
Scott didn't play long enough to get traditional consideration. His best hope would be through the senior committee.
New England Patriots:
Adam Vinatieri
, kicker.
Claim to fame:
If Vinatieri is not the greatest clutch kicker in NFL history, then he's in a short conversation. He won the Patriots' first two Super Bowls with field goals in the final seconds.
Case for enshrinement:
Vinatieri has kicked for six Super Bowl teams, played in five Super Bowls and won four rings -- three with the Patriots and one with the
Indianapolis Colts
. He directly delivered a pair of Lombardi Trophies for the Patriots. He kicked a 48-yarder as time expired to win Super Bowl XXXVI and a 41-yarder with four seconds left to win Super Bowl XXXVIII.
In blizzard conditions at the end of the infamous Tuck Rule game, Vinatieri kicked a 45-yard field goal with 1:39 left in regulation to force overtime and then won it with a 23-yard field goal.
Vinatieri has been an All-Pro twice. He has kicked a record-tying five field goals in a postseason game twice and owns multiple playoff and Super Bowl records. He has scored the most points for a kicker (34) in Super Bowl history and converted the most field goals (seven) and extra points (13). His 177 postseason points rank first.
Case against enshrinement:
Stenerud is the only true kicker in the Hall of Fame.
Morten Andersen
and
Gary Anderson
will have to get in first, and the idea of quadrupling the number of kickers (if you consider Vinatieri the next one inducted after Andersen and Anderson) won't be an easy sell to the voters.
Vinatieri has led the NFL in scoring and field goals once and probably won't finish with attractive enough career stats. At 37 years old and showing signs of slowing down -- he played six games for the Colts last season because of hip and knee surgeries -- and he ranks 15th in scoring and 13th in field goals made. Players such as
John Carney
,
Matt Stover
and
John Kasay
have more. Vinatieri has kicked almost 100 fewer field goals than
Jason Elam
. Nobody envisions Canton when they think of those guys.
Parting shot:
Vinatieri provided two of the most indelible memories in Patriots history. As his career stands now, however, two big kicks won't overcome the circumstances of his position.
New York Jets:
Joe Klecko, defensive lineman.
[+] Enlarge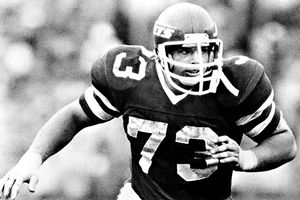 TSN/Icon SMIUnofficially, Joe Klecko recorded 20.5 sacks in 1981 as part of the New York Sack Exchange.
Claim to fame:
Klecko was a key member of the New York Sack Exchange defensive line. Many consider him the greatest Jet not in the Hall of Fame and one of the best sixth-round draft picks of all time.
Case for enshrinement:
Klecko was the first player to make the Pro Bowl at three positions. He went as a defensive end in 1981, a defensive tackle in '83 and '84 and a nose tackle in '85. To illustrate his importance, the Jets made his No. 73 the third number retired in club history after Joe Namath and Don Maynard.
Unlike the Fearsome Foursome or Purple People Eaters, the Sack Exchange doesn't have a single Hall of Fame representative. While Mark Gastineau's histrionics garnered the most attention, Klecko was the most complete player of the four. He was a dangerous pass-rusher and nasty against the run.
Klecko unofficially recorded 20.5 sacks in 1981 and notched at least one sack in 10 straight games, a franchise record.
Case against enshrinement:
What hurts Klecko is that he somehow remained relatively anonymous in New York. He was overlooked because he played thankless positions and was trumped by Gastineau's sack dances.
Klecko also played on some lousy teams. The Jets went to the playoffs only four times during his tenure (1977 through 1987). Once was in the strike-shortened 1982 season and he was hurt for the 1986 postseason.
Parting shot:
Klecko never has made the cut of 15 modern-era finalists. He might need to rely on the senior committee.
February, 3, 2009
2/03/09
1:05
PM ET
Posted by ESPN.com's Kevin Seifert
My AFC East colleague, Tim Graham, has a post detailing the recent formation of the American Football Kicking Hall of Fame -- which exists primarily because only one kicker has been inducted into the more widely-known Pro Football Hall of Fame.
(It's Jan Stenerud, for those who didn't immediately guess.)
We're in early February and there are than two weeks before the next event on the NFL calendar (combine, baby!). So Tim's post got us to thinking: How many kickers and punters from the NFC North would be deserving of induction into the Kicking Hall of Fame?
The best way to identify possibilities is to answer this question: Who is the best punter and kicker in the history of each NFC North team?
I've gone through each team's histories and culled 12 nominations, two for each position on each team. But as many of you have pointed out, I'm still working to perfect my expertise in some corners of the NFC North. So I'd like your help.
| | |
| --- | --- |
| | |
| | Paul Spinelli/Getty Images |
| | Ryan Longwell, now with the Vikings, holds most Packers records for field goals. |
Did I miss anyone? Are any of these names out of place? And who would you pick?
Let me know what you think in the comments section below or in the mailbag. I'll come back later this week with the all-time NFC North kickers and punters team.
Kind of has a nice ring to it, huh?
CHICAGO BEARS
Kickers: Kevin Butler or Robbie Gould
Comment: Butler had 243 career field goals, over a 100 more than the next kicker on the list. Gould's career conversion percentage of 85.9 is by far the best in Bears history.
Punters: Bob Parsons or Brad Maynard
Comment: Maynard ranks second all-time with a 42.3 gross average and first with 194 punts downed inside the 20. Parsons ranked second with 158 inside the 20.
DETROIT LIONS
Kickers: Jason Hanson or Eddie Murray
Comment: Hanson is the Lions' all-time leading scorer, and his 385 career field goals is 141 more than Murray. Hanson's career percentage of 82.2 also bests Murray (75.1).
Punters: Yale Lary or John Jett
Comment: Lary's career gross average of 44.3 yards on 503 punts is amazing. Jett dropped 154 punts inside the 20.
GREEN BAY PACKERS
Kickers: Ryan Longwell or Chris Jacke
Comment: Longwell holds most franchise records for field goals. Jacke is a close second.
Punters: Craig Hentrich or Max McGee
Comment: Hentrich had a team-best 42.8 career gross average. McGee averaged 41.6 yards over 11 seasons while also playing receiver.
MINNESOTA VIKINGS
Kickers: Fred Cox or Gary Anderson
Comment: Cox's 455 career field goals is almost 300 more than the next player. Anderson had a perfect 35-for-35 season in 1998.
Punters: Greg Coleman or Chris Kluwe
Comment: Coleman dropped 154 punts inside the 20-yard line over 10 seasons. Kluwe has the best career gross average (44.8) in team history.

December, 21, 2008
12/21/08
7:52
PM ET
| | |
| --- | --- |
| | |
| | Lecka/Getty Images |
| | Tennessee running back Chris Johnson was part of two agressive fourth-down plays by the Titans en route to a 31-14 win over Pittsburgh. |
Posted by ESPN.com's Paul Kuharsky
NASHVILLE, Tenn. -- For 30 minutes, Jeff Fisher played territorial football, worrying about field position above all else. It was traditional Titans.
But at the half, a coach known for relying on his defense and his willingness to settle for field goals or punt the ball away, saw the need to shape the game differently. It sparked a stunningly complete 31-14 rout of the Pittsburgh Steelers in a game that determined AFC playoff seeding supremacy.
Steelers-Titans featured big hits, sacks and tackles for losses, but it opened up with more scoring opportunities than Fisher anticipated. And when it did, he didn't fight it, he allowed for it.
So twice on fourth downs with his team well in the range of kicker Rob Bironas, Fisher elected to keep his offense on the field. A week after a failed fourth-down play cost the Titans a chance to win in Houston, he gave the green light twice more -- with spectacular results.
The two plays:
With 5:12 on the clock in the third quarter, down four points and facing a fourth-and-1 from the Pittsburgh 21-yard line, Kerry Collins faked an inside handoff to fullback Ahmard Hall, then pitched the ball behind him to the left to Chris Johnson. As the Titans anticipated, a cornerback -- Ike Taylor -- was all that was between the rookie running back and the first down, and Johnson easily juked Taylor. He then chomped up the remaining yards too, scoring a touchdown that put the Titans ahead for good, 17-14.

Next series, with the ball back thanks to the first of two Michael Griffin interceptions with two minutes remaining in the third quarter, Fisher gave the nod again. On fourth-and-3 at Pittsburgh's 30, Collins fired a pass up the right side perfectly fitted between defenders to Justin Gage for 17 yards. The Titans scored another touchdown to complete the drive.
What did Fisher have to say about the aggressiveness?
"I didn't feel like field goals were going to win this ball game," Fisher said. "Because of the way their defense was playing and the way their offense has the potential to play. We get down to the plus territory, we take a shot at it and we got it, it worked for us.
"A lot of it is just a gut reaction. To me, you evaluate the flow of the game, you assess what you anticipate happening. Keep this in mind, before that, they missed a field goal, they fumbled it on the 5-yard line, they were moving the ball. You like to assume that your defense is going to make the stops, and we did. But, still, in a game like this you have to be aggressive. You have to play it to win it. We played our field position game in the first half. The second half was time to go win in."
Some Titans diehards will read and reread those two paragraphs blinking hard and wondering if they are misattributed. Because that's the sort of talk they've wished to hear on so many tense Sundays when they were left to watch Bironas or Joe Nedney or Gary Anderson or Al Del Greco wind up the hero or goat after close, conservative games.
All the bedrocks of Fisher's stability -- the balanced temperament, the ability to endure a bad stretch, the unwavering faith in the organization's philosophy and scheme, the patience -- come intertwined with a default to conservatism.
The field goal has almost always been his friend.
Now, in three huge moments over the course of three weeks, he hasn't pointed to Bironas. The net against the Steelers was eight additional points -- two touchdowns instead of two field goals. The bounce-back win over the Steelers and the No. 1 seed in the playoffs make it feel like significantly more than that.

NFL SCOREBOARD
Sunday, 12/22
Monday, 12/23