NFL Nation:

Gary Zimmerman
February, 1, 2015
Feb 1
7:30
AM ET
PHOENIX --
Denver Broncos
running back Terrell Davis was not among those who got the life-changing news Saturday that is a spot in the Pro Football Hall of Fame.
Davis was a modern-era finalist for the first time this year, in this his ninth year of eligibility. However, he did not make the first reduction Saturday from 15 modern-era finalists to 10.
The 10 were later trimmed to five -- running back Jerome Bettis, wide receiver Tim Brown, defensive end Charles Haley, linebacker Junior Seau and guard Will Shields -- and those five each received the required 80 percent approval from the Hall of Fame's 46-member Board of Selectors to be in the Hall's Class of '15.
[+] Enlarge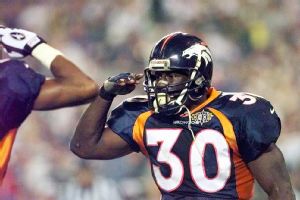 AP Photo/Ed ReinkeTerrell Davis proved to be a postseason force for the Broncos, averaging 142.5 yards rushing per game.
All five deserving to be sure, but it means the Broncos, as one of just four franchises to have played in seven Super Bowls, are certainly still vastly under-represented in the Hall of Fame by any objective measure. And they would still be even if Davis was elected.
They have just four Hall of Famers who played either a substantial part of their careers or all of their careers with the team -- John Elway, Floyd Little, Shannon Sharpe and Gary Zimmerman. And just two of those Hall of Famers -- Elway and Sharpe -- played in more than one Super Bowl for a team that has been to more title games in the Super Bowl era than 28 other franchises.
So, do I think Davis deserves to be in the Hall of Fame? Of course.
Do I think he will eventually be elected to the Hall of Fame? I do. It just may not be at the pace either he or his vast legion of supporters would like.
Yes, Davis did play 78 regular-season games in an injury-shortened career. But there are already six running backs in the Hall of Fame who played fewer games than that and the rest of his body of work positions him as one of the best of the Super Bowl era in the biggest moments.
Davis' 97.5 yards rushing per game in the regular season is the fourth-highest total in league history among running backs who had rushing attempts in at least 75 games, while his 142.5 yards rushing per game in the postseason is the highest average per game in league history for running backs who had rushing attempts in at least five playoff games. He averaged 5.6 yards per carry in the postseason and his team won seven consecutive postseason games in which he rushed for at least 100 yards.
Overall his teams won 91.7 percent of regular-season and postseason games combined when he rushed for at least 100 yards.
And the only two players in league history to average more than 100 yards rushing per game over their careers in regular-season and postseason games combined are Davis and Jim Brown.
The two players in league history who have won the rushing title and the Super Bowl in the same season are Davis and Emmitt Smith. And 12 players have won the league MVP award and the Super Bowl MVP award over the course of their careers and just three of the 12 are not quarterbacks -- Davis, Smith and Marcus Allen.
So, glance at those sentences and see the company Davis keeps, see the Hall of Famers Brown, Allen and Smith. It's why it may not be as quick as folks want it, may not be without the sometimes arduous march of Hall of Fame time.
But it's certainly why, in the end, Davis deserves to wear a gold jacket.
January, 9, 2014
1/09/14
9:50
PM ET
ENGLEWOOD, Colo. -- In the free agency season of 2004, then-Broncos head coach Mike Shanahan wanted leadership, experience and some playoff chops in the locker room.

So, Shanahan traded for
Champ Bailey
and, much like John Elway did last year with
Peyton Manning
, Shanahan took a chance on a guy coming off neck surgery -- a guy named
John Lynch
.
Lynch, who played 11 seasons in Tampa Bay and the final four years of his career with the Broncos, was the only player with Broncos ties to make the cut for the final 15 finalists for the Pro Football Hall of Fame's Class of 2014.
The 15 modern-era finalists will be trimmed at the meeting of the Hall's Board of Selectors the day before the Super Bowl.
Former Broncos linebacker Karl Mecklenberg, former Broncos safety Steve Atwater and former Broncos running back Terrell Davis made the cut to the 25 semifinalists, but none of the three were chosen as finalists.
The Broncos, with four Hall of Famers -- John Elway, Gary Zimmerman, Floyd Little and Shannon Sharpe -- continue to be under-represented in the Hall for the team's success level.
They have six Super Bowl appearances as an organization, yet just the four Hall of Famers. Davis, Atwater and Mecklenberg remain on the modern-era ballot.
February, 23, 2011
2/23/11
6:30
PM ET
INDIANAPOLIS -- I have landed in Indianapolis for the NFL combine and I wanted to further address the
Champ Bailey
signing after discussing his contract extension with Denver and some other folks around the league.

Bailey
Bailey signed a four-year deal that ESPN's John Clayton has reported will pay him a guaranteed $22 million and could pay him between $43 million and 47 million over the course of the four years. But it is clear the deal will be reevaluated after the first two years. Bailey -- who is still considered one of the best cornerbacks in the NFL -- will turn 33 in June.
There is some surprise from around the league that Bailey didn't wait until he could see what he could get on the open market. Many people say it is a direct indication of Bailey's loyalty to Denver and his preference to stay where he is comfortable rather than seeing what a contending team would offer.
Denver, which is going in a new direction for the second time in two years, is not close to being a legitimate contender. It was 4-12 last season and it is rebuilding. Still, Bailey decided to stay in Denver before free agency even started.
A few years ago, when I was working on a story on whether or not Bailey would be a Pro Football Hall of Fame selection, he told me his key to Canton would be to win a Super Bowl ring. He thinks that is the best way of getting into the Hall of Fame. Bailey has to know Denver is not close to being a Super Bowl team, so staying in Denver must mean that much to him.
There is a chance Bailey will end his career elsewhere. I could see him and the Broncos parting ways after the 2012 season under some circumstances. But the point is, Bailey will always be remembered as a Bronco. He is entering his eighth season in Denver after the blockbuster 2004 trade with the Washington Redskins that sent Bailey and a second-round pick (running back
Tatum Bell
) to Denver for running back
Clinton Portis
. Portis has had a nice career with the Redskins, but Bailey is a premier player.
He has long been Denver's best player and he is the face of the franchise. Bailey is truly one of the better players in team history. He will definitely go into the team's Ring of Fame along with the likes of Hall of Famers John Elway, Floyd Little, Gary Zimmerman and Shannon Sharpe.
By signing this deal, Bailey has cemented his legacy in Denver. He could have jumped ship in search of a quick-fix championship. Instead, he has committed to finishing what he started in Denver seven years ago.
February, 5, 2011
2/05/11
7:54
PM ET
Shannon Sharpe
is going to Canton two years too late.
Kudos to the Pro Football Hall of Fame voters who ended Sharpe's surprising wait on his third year of eligibility. Sharpe will truly be a deserving member of the Hall of Fame.
[+] Enlarge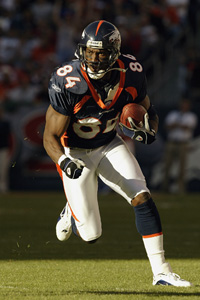 Brian Bahr/Getty ImagesShannon Sharpe ended his career with 815 receptions, 10,060 yards and 62 touchdowns.
I remember being shocked two years ago when Sharpe didn't get elected on his first try. I had the same feeling last year when Sharpe was blocked from Canton. This year, the voters got it right.
Sharpe was a truly special player. He made the
Denver Broncos
unique. He made the team's offense in the 1990s special. He changed the way the tight end was viewed in the NFL. Drafted out of tiny Savannah State in 1990 as a raw, lanky receiver, Sharpe transformed into an elite tight end and paved the way for the likes of
Tony Gonzalez
and
Antonio Gates
.
Sharpe was a great receiver at 6-foot-2 and 225 pounds. He made linebackers and safeties look silly in coverage. He was a pumped-up receiver at tight end. It's ironic that it was his ability as a receiver that kept Sharpe out of the Hall of Fame for two years. Sharpe was considered by many voters as a receiver and there has been a log jam (former Raiders' receiver
Tim Brown
was not elected Saturday for the second straight season because of the glut at the position) of worthy receivers waiting to get in.
But Sharpe was more than simply a receiver. Former Denver quarterback
John Elway
said Sharpe was an underrated blocker and he was a key part of the team's famed zone-blocking scheme that helped pave the way to Super Bowl titles after the 1997 and '98 seasons.
What made Sharpe special was his ability to stretch the field as a big receiver. He had terrific hands and he was incredibly strong, so he was a nightmare for defenses to prepare against. Before Gonzalez broke his records, Sharpe widely considered to be the NFL's best-ever tight end.
Elway said this week
that he still thinks Sharpe was the best tight end to play the game.
Sharpe's election continues a nice Hall of Fame run for Denver. Elway was the team's first Hall of Fame enshrinee in 2004. Left tackle
Gary Zimmerman
was elected in 2008 and running back Floyd Little was elected last year.
Now, Sharpe joins his former teammates Elway and Zimmerman where they all belong.
February, 6, 2010
2/06/10
6:51
PM ET
[+] Enlarge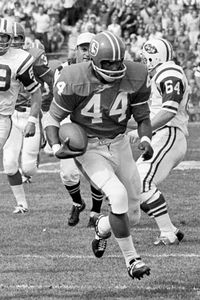 AP Photo/FileFloyd Little was the first star player for the Denver Broncos.
Before
John Elway
became the unofficial governor of Colorado, there was Floyd Little.
He was the face of the
Denver Broncos
long before Elway developed his rocket arm. Now Little joins his Denver successor in Canton, Ohio.
In what was likely his final chance to be immortalized, the former Broncos running back was elected into the Pro Football Hall of Fame as a senior committee nominee after a 30-year wait. Had he not been elected Saturday, there was no guarantee Little would ever be considered for enshrinement again. He joins Elway and tackle
Gary Zimmerman
as Denver players in the Hall of Fame.
While the team's excitement was tempered by the failed candidacy of tight end
Shannon Sharpe
, the franchise was still ecstatic about Little's induction.
Getting Little into the Hall of Fame was a mission for the franchise. Little thanked several members of the organization Saturday for their continual pursuit to get him enshrined.
"Floyd has made immeasurable contributions to this franchise and the NFL, and he deservedly will take his place among the greatest to play this game in the Pro Football Hall of Fame," Denver owner Pat Bowlen said in a statement released by the team.
The bow-legged Little carried the franchise on his back. By far the best player on some bad teams, Little, who played from 1967-75, never made it to the playoffs.
He ranked seventh in the NFL in all-time rushing with 6,323 yards when he retired and trailed only O.J. Simpson in rushing yards in that period. Little was a star for a franchise that didn't truly find its way until several years after he retired and was the first face of the Broncos.
Saturday, he was finally rewarded for it.
May, 8, 2009
5/08/09
11:24
AM ET
Posted by ESPN.com's Mike Sando

Jim Moore of seattlepi.com says Seahawks second-round choice Max Unger was once a "gangly ninth-grader who had never played football." Why hadn't Unger played to that point? Moore: "Unger wanted to play, but his local Pop Warner league wouldn't let him because he was too big and would've crushed kids his age -- his dad said he was 5-10 and 200 pounds in the 6th grade." Unger's line coach at Oregon compared him to Gary Zimmerman. I like Unger's chances of earning a starting job.
Danny O'Neil of the Seattle Times says the Seahawks have not signed any of the nine players who participated in post-draft camps on a tryout basis. Those players helped the Seahwaks conduct practices while others rehabilitated injuries.
Also from O'Neil: Linemen Rob Sims and Chris Spencer face pivotal seasons in 2009.
Eric D. Williams of the Tacoma News Tribune says T.J. Duckett hopes his role in the Seahawks' offense grows as much as the running back's beard. Teammates are calling him Kimbo Slice and the comparison holds up from what I've seen at post-draft practices.
Also from Williams: Matt Hasselbeck is getting comfortable.
John Morgan of Field Gulls heaps praise upon Seahawks president Tim Ruskell for striking a "sweetheart deal" with linebacker Leroy Hill. No doubt, this deal came out in the Seahawks' favor. Instead of paying $8.3 million to Hill for one season or much more on a lucrative long-term deal, Seattle could pay as little as $13 million over two seasons before escaping the deal without negative salary-cap ramifications.
Michael Steffes of Seahawk Addicts likes what he sees from John Clayton, who graded the Seahawks' offseason as the best in the league.
Jason LaCanfora of the Washington Post
checks in with former Seahwaks coach Mike Holmgren, who says the Redskins should be patient with quarterback Jason Campbell. Holmgren was in Washington as Zorn's guest to see off his wife and daughter to Africa, where they plan to continue mission work. Anything Holmgren says publicly about the Redskins' quarterback situation on the matter would dovetail with Zorn's wishes.

David Fucillo of Niners Nation sizes up the 49ers' defensive line, placing Ray McDonald on the bubble for a roster spot. Justin Smith is very good. Aubrayo Franklin finished strong last season. As for the rest of the line? We need to see more. Fucillo: "I'd imagine the one that will draw the most contention is Ray McDonald. I'm pretty sure he'll make the 53-man, but his reconstructive knee surgery moves him temporarily to the bubble watch. One thing that does have me curious is the potential roster battle between McDonald and Ricky Jean-Francois."

Darren Urban of azcardinals.com says the Cardinals will release players before training camp. The team is carrying 84 players, counting unsigned draft choices. Teams can carry no more than 80 signed players at this point in the offseason.
Revenge of the Birds' Hawkwind quotes Mike Lombardi on the Anquan Boldin and Darnell Dockett situations. Lombardi: "I have covered the Boldin trade situation and his contract at length and the fact is clear, the market will not satisfy him or the Cards. As for Dockett, he is very well thought of in the NFL, but he is not going anywhere. They cannot afford to trade him for several reasons."

Kathleen Nelson of the St. Louis Post-Dispatch says the Rams gained depth on their defensive line in the Brian Leonard trade. We'll see if Orien Harris earns a roster spot. Leonard might be the winner in this deal after landing in Cincinnati. Agent Mike McCartney: "This is a great trade for Brian. I give the Rams credit for putting him in a great situation ... where he can be a running back." Also, the Rams released tackle David Oswald.
Posted by ESPN.com's Bill Williamson
Denver
Broncos' owner Pat Bowlen calls Shannon Sharpe's omission from the Hall of Fame a "slap in the face."
My take: I was surprised that Sharpe didn't get elected in his first try. He was a game changer amongst tight ends and he won three Super Bowls. Bowlen's reaction is no surprise. It has long bothered him that the Broncos are not well represented in the Hall of Fame. Only two Denver players, John Elway (2004) and Gary Zimmerman (2008), have been elected into the Hall of Fame.
Kansas City
Will Leslie Frazier decline a chance to interview for the Chiefs' head coaching job?
My take: There have been reports that some minority candidates have declined chances to interview for the job because it is expected that Arizona offensive coordinator Todd Haley is a slam dunk for the job. The problem for the Chiefs is they have to interview at least one minority candidate because of the Rooney Rule.
Oakland

Another Tom Cable to-be-hired soon story.
My take: By all accounts, Oakland will end the charade and officially name Cable the head coach this week. Interestingly, this story points out that Raiders' owner Al Davis wanted to wait to hire his coach in an attempt to improve the assistant coaching staff because he wasn't happy with the staffs of the last two Oakland coaches. Of course, Cable was part of Lane Kiffin's staff so I'm not sure what this all means.
January, 31, 2009
1/31/09
5:51
PM ET
Posted by ESPN.com's Bill Williamson
Saturday, Kansas City outside linebacker Derrick Thomas became the ninth person who spent the majority of his career in the AFC West to be elected into the Pro Football Hall of Fame this decade.
Here is a look at those who preceded him this decade:
Howie Long, defensive line, Oakland Raiders (2000)

Comment: Many people around the league thought he was overrated but Long played an important role in the Raiders' history.
Dave Casper, tight end, Oakland Raiders (2002)

Comment: "The Ghost" was one of the great tight ends of his era and one of the Raiders' legends of the 1970s.
Marcus Allen, running back, Oakland Raiders and Kansas City Chiefs (2003)

Comment: A falling out with owner Al Davis ended Allen's time as a Raider. He finished his career with the hated Chiefs, which still angers many Raiders' fans.
Hank Stram, coach, Kansas City Chiefs (2003)

Comment: He'll always be remembered for roaming the sidelines in Kansas City.
John Elway, quarterback, Denver Broncos (2004)

Comment: The Broncos' first taste of the Hall of Fame came with much style.
John Madden, coach, Oakland Raiders (2006)

Comment: Many thought that Madden's election was long overdue.
Fred Dean, defensive lineman, San Diego Chargers (2008)

Comment: He won a Super Bowl with San Francisco, but Dean was a star with the Chargers early in his career.
Gary Zimmerman, tackle, Denver Broncos (2008)
Comment: Zimmerman spent the first half of his career with the Vikings but he considers himself only as a Bronco. Denver owner Pat Bowlen was his presenter at the induction ceremony.
January, 30, 2009
1/30/09
12:57
PM ET
| | |
| --- | --- |
| | |
| | Scott Boehm/Getty Images |
| | Gaining admittance into the NFL Hall of Fame would be even sweeter for ex-Broncos tight end Shannon Sharpe (right) if former Chiefs adversary Derrick Thomas (left) was voted in as well. |
Posted by ESPN.com's Bill Williamson
There are many reasons why Shannon Sharpe wants to be voted into the Pro Football Hall of Fame on Saturday in his first time on the ballot.
One of those reasons is Derrick Thomas.
Sharpe and Thomas had several memorable battles in the 1990s as AFC West enemies with the Denver Broncos and Kansas City Chiefs. As a tight end, Sharpe worked against Thomas, an outside linebacker, several times. In a famous "Monday Night Football" clash, Sharpe goaded Thomas into losing his cool, resulting in the superstar pass rusher being suspended for a game after three personal fouls. Sharpe was fined for his actions in the game.
More than 10 years after the most famous battle the two had against each other, Sharpe couldn't think of a more fitting player to go into the Canton, Ohio museum with than his former adversary. Thomas died in 2000 at the age of 33 after complications from injuries sustained in an auto accident.
"All of the years I've ever played in the NFL, I don't think I faced a better, tougher, more dominating outside linebacker than Derrick Thomas," Sharpe said this week. "It would be an honor to go into the Pro Football Hall of Fame with him."
Saturday, Sharpe and Thomas' family will find out if the two AFC West legends will become NFL immortals. The two are among 17 finalists for induction. The voting results will be announced Saturday.
"Yes, I hope we both get in," Sharpe said. "It would be very important for my family to see me get in and I'm sure it would be very important to Derrick's family as well. This would be a nice final honor for such a great player who meant so much to the Chiefs."
The Hall of Fame voting can be very unpredictable. Even though Sharpe is remembered as one of the best receiving tight ends ever to play in the NFL and as a game-changing player, he might not be a certain first-time selection. Some voters might lump Sharpe in with other receivers and he could be subject to a logjam. Cris Carter and Andre Reed might get the majority of the votes going to receivers.
Even though many believe Sharpe, who won two Super Bowls with Denver and another while with Baltimore, should be a no-questions-asked first-ballot inductee, he is not sizing himself for the yellow Hall Of Fame jacket quite yet. Last year, he saw Carter not get in on his first chance. Sharpe winced every time his friend and Denver teammate Gary Zimmerman got overlooked. Zimmerman, who retired after the 1997 season, finally was elected last year despite being known as one of the premier left tackles of his era.
"I hope the voters look at my numbers and they can look at it as a tight end or as a receiver, whatever they like, and I want them to look at the teams I played on and the way I played," Sharpe said. "All I know is I put everything I could into my career and I can't put anymore into it. All I can do is what I've done. Hopefully, it is enough."
Thomas has been a finalist before and with Harry Carson and Fred Dean getting in recently, many think Thomas' time could be now.
Thomas certainly has Hall Of Fame worthy numbers.
He was a nine-time Pro Bowl player and a member of the NFL's 1990s All-Decade team. He had an NFL record seven sacks in a game and a league-standard 45 career forced fumbles. He also registered 126.5 career sacks.
Thomas was arguably the most feared pass rusher of the 1990s.
"Derrick was a player that could dominate a game," said Denver Hall of Fame quarterback John Elway in a quote provided from the Chiefs' public relations staff.

"His explosive talents were so great that he could dictate to an offense pass and run blocking schemes as well as the plays that were called. He was such an impact player that you always had to know where he was on the field. His career statistics more than speak to his exceptional career as not only as a pass rusher but also as an overall defensive player."
Added Buffalo Hall Of Fame quarterback Jim Kelly (also provided by the Chiefs): ""Throughout my professional career I played against many Hall of Famers. Derrick Thomas definitely fits that mold. His quickness, his intensity and his love for the game was matched by only a few players. We actually game planned for No. 58. I needed to know where he was lined up at all times, as did my offensive line. Not many teams would actually game plan around one player, but the Buffalo Bills certainly did every time we faced him."
Sharpe was also a player opposing teams game planned for. Saturday, Sharpe hopes his and Thomas' impact on the game will be recognized.
"The best thing about the Hall Of Fame is you can't be voted out of it," Sharpe said. "You are not a reigning Hall Of Famer like you are a reigning Super Bowl champion. You are a Hall Of Famer for forever .... That would be pretty special."
August, 2, 2008
8/02/08
10:56
PM ET
Posted by ESPN.com's James Walker
| | |
| --- | --- |
| | |
| | AP Photo/Mark Duncan |
| | Andre Tippett acknowledges fans as he is introduced at the Pro Football Hall of Fame Saturday in Canton, Ohio. |
CANTON, Ohio -- Saturday obviously was a celebrated day for the Washington Redskins, but there were several highlights from today's other 2008 Hall of Fame inductees.
Here were the notables:
"We had two Hall of Fame quarterbacks in our division in Jim Kelly and Dan Marino, and he completely changed the passing attack of those two teams," Kraft said. "Once [Tippett] joined the joined the team, the New England Patriots improved dramatically."
"Because I know there's a wager waged somewhere [that I would]," Dean said.
"Growing up, I was resentful and angry at other families around us because they seemed fully intact," Thomas said. "I'd often lay awake at night wondering why our family had to be different.
"But I came to the stark realization that the good Lord wanted us to be reared and raised under the guiding hands of my grandfathered, who in his own right was a giant of a man."
August, 2, 2008
8/02/08
10:10
PM ET
| | |
| --- | --- |
| | |
| | Kirby Lee/Image of Sport-US PRESSWIRE |
| | Darrell Green, Emmitt Thomas, Art Monk, Gary Zimmerman, Andre Tippett and Fred Dean pose with their busts at the Pro Football Hall of Fame enshrinement at Fawcett Stadium. |
Posted by ESPN.com's James Walker
CANTON, Ohio -- Darrell Green summed up the 2008 Hall of Fame commencements best on Saturday.
"It's a Redskins day, baby!" Green said.
The sea of burgundy and gold jerseys filled Fawcett Stadium in anticipation of Green and former Washington Redskins teammate Art Monk into the Hall of Fame. Both received lengthy standing ovations before and after their speeches.
Jared Green, Darrell's son, estimated that "95 percent" of the announced crowd of 16,654 were Redskins fans, and his rough guess was pretty close.
There were a wealth of Green jerseys, a wealth of Monk jerseys, and a good mix of jerseys from current Washington players that will take the field Sunday in its preseason debut against the Indianapolis Colts.
Green and Monk didn't disappoint. The pair were never as flashy as their contemporaries but were winners in every sense of the word. Similar to their playing careers, Monk and Green were very consistent in delivering quality speeches.
There were many similarities Saturday.
Both Green and Monk had their sons eloquently introduce them. Both speeches were enlightening and charismatic. Both shared their experience with those that helped them.
And both players went into the Hall as proud Redskins.
"I will always be known as a Redskin," Monk said. "That's right."
Added Green, "To the Redskins faithful, our fans, I share this day with all of you."
Green was the only first-ballot Hall of Famer in the 2008 class. His case was undeniable after 20 stellar seasons, most of which he was the league's fastest man and one of the NFL's best cornerbacks.
But Monk's case was debated over the past several years. His candidacy was rebuked seven times by the Hall of Fame committee, despite Monk statistically ranking among the very best at his position.
Monk had 940 career catches for 12,721 yards. His reception total is right now more than any receiver currently enshrined in Canton. But Monk only was a first-team All-Pro one time, in addition to his three Pro Bowls.
Monk also was never accommodating with the media during his 16-year career, which likely had a hand in his delayed entrance.
Fellow Hall of Famer Paul Warfield, also one of the greatest receivers of all time, believes Monk's case should've never been up for debate.
"Art Monk has had a stellar career," Warfield said. "I saw Art perhaps two weeks ago at an event and congratulated him. It's well deserved. He was statistically a leader until his marks were broken, and he should have been in a long time ago.
"I told Art, 'It doesn't matter, because now you're here.' And that's the most important thing. He deserved to be here and now he's a part of this very prestigious fraternity."
Monk briefly addressed his situation during his commencement speech.
"Now standing next to them, as one of them, is truly an honor,'' Monk said. "Getting here didn't come without consequences. But through it all I'm here with a greater appreciation for something that not every player was able to achieve."
But finally being inducted had to be worth it for Monk, who received the longest-standing ovation of the night.
Redskins fans chanted "Eighty-one!" and "Thank you Monk!" as he smiled and soaked it all in. One sign read "A work of Art" to describe Monk's career as he smiled and enjoyed the elongated appreciation from Redskins fans.
Monk never imagined that football would take him this far, but it did. Saturday, Monk said, was the icing on the cake.
"From the time I picked up a football, I loved this game," Monk said. "It's all I wanted to do."
Overall, this was a day when being long in the tooth was celebrated.
Longevity is the most elusive feat in the National Football League, yet it is the rare common thread that binds the 2008 Pro Football Hall of Fame class together this weekend.
Green, Monk, Gary Zimmerman, Andre Tippett, Emmitt Thomas and Fred Dean combined for an astounding 84 years of NFL experience.
But it was the 36 years played by a pair of Redskins that brought a majority of today's onlookers to Canton, a city rich in football history.
"The Redskin Nation sticks together," Green said.
They sure do.
August, 1, 2008
8/01/08
1:33
PM ET
GREEN BAY, Wis. -- Here at Green Bay Packers training camp, coaches and players alike are hoping they are nearing the end of the Brett Favre saga.
"Everyone wants this resolved," coach Mike McCarthy said Friday after morning practice.
So does the NFL -- and soon.
This weekend, six former players -- Fred Dean, Darrell Green, Art Monk, Emmitt Thomas, Andre Tippett and Gary Zimmerman -- will be enshrined in the Pro Football Hall of Fame in Canton, Ohio. Although training camps have been open for two weeks in some cases, the Hall of Fame festivities represent the ceremonial opening to the NFL year. The league celebrates each man's contribution to the game and then kicks off the preseason with the annual Hall of Fame game.
No one wants an ugly modern-day dispute overshadowing one of the NFL's most revered traditions. That's why Favre is under a bit of pressure either to accept the Packers' offer to remain retired, thereby lifting the story from national headlines, or table the issue until after this weekend's ceremonies.
Commissioner Roger Goodell has yet to act on Favre's reinstatement request, apparently hoping Favre and the Packers would resolve the problem on their own. But even if no resolution occurs Friday, there are some who hope Goodell will continue to delay.
Either way, the NFL's goal is to have all eyes on Canton this weekend.