NFL Nation:

George Catavolos
August, 2, 2010
8/02/10
10:55
AM ET
ESPN.com NFL Power Ranking
(pre-camp): 31
PITTSFORD. N.Y. -- Of any preseason prediction I can make, the one I'm most confident in is that the
Buffalo Bills
will finish fourth in the AFC East.
That slot would be neither general manager Buddy Nix's nor head coach Chan Gailey's fault. The problems they inherited have set the course for 2010.
But they are setting a tone for the long-term future the players can respect.
Gailey is trying to establish a new culture with his first training camp. He wants people to use two adjectives that haven't been associated with the Bills for a long time: tough and disciplined.
"He's very particular about things and how he wants them done," Bills receiver
Lee Evans
said. "We haven't really had that for a while here, with the head man running the show. You understand what he's trying to get done."
Gailey has kept his players in full pads at St. John Fisher College. Previous coach Dick Jauron rarely had his players in complete gear at camp.
Gailey believes players should be in pads and
tested both physically and mentally
. He's in a discovery phase not only about what he'll be able to work with on Sunday afternoons, but also keepers who will help him build a long-term foundation.
"When you actually have those shoulder pads on, mouthpiece in, chinstrap buckled up and you have to get off a block to make a play," safety
George Wilson
said, "that really shows the true testament of a real football player.
"That's what our coaching staff needs, a new staff that's coming in to evaluate this entire team and be able to put the best 53 men together for this 2010 season. I like what we're doing. It's going to make us a lot more physical, a lot tougher, a lot more mentally prepared, and I have a positive outlook about it."
THREE HOT ISSUES
[+] Enlarge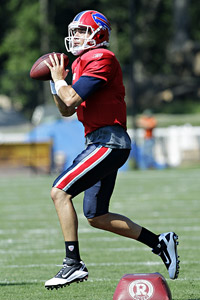 AP Photo/David DupreyTrent Edwards is being given the chance to win the starting quarterback job.
1. Can quarterback Trent Edwards capitalize on another opportunity?
Bills fans seemed to be pulling for
Brian Brohm
to emerge as the favorite to win the starting quarterback job. A major reason is they haven't seen him truly fail yet -- unlike Edwards and
Ryan Fitzpatrick
.
Yet, after several months working with his quarterbacks,
Gailey liked Edwards best and installed him as the No. 1 quarterback
to begin training camp. The battle remains open, but with Fitzpatrick and Brohm sharing reps with the backups and surrendering a few here and there to rookie
Levi Brown
, it's Edwards' job to lose. Based on Edwards' medical chart (combined with Hot Issue No. 2 below), there are no guarantees.
But Edwards has yet to get a fair shot to prove what he can do. He has experienced plenty of chaos since the Bills drafted him in the third round in 2007. Gailey is the first offensive-minded head coach Edwards has played under. Last year, offensive coordinator Turk Schonert got fired 10 days before the season, the Bills jettisoned both starting tackles (two-time Pro Bowl left tackle
Jason Peters
and the most experienced member of the offensive line,
Langston Walker
) from the season before and endured a futile no-huddle experiment.
Gailey has run successful offenses everywhere he has been. This finally could be a legitimate chance for Edwards to show what he can do.
2. How will the Bills survive without proven offensive tackles?
The Bills aren't known for their pass rush, but it was apparent in the early days of practice their offensive tackles were overmatched in pass protection. For their safety, quarterbacks wear red jerseys to remind oncoming defenders not to hit them. Good thing, or else the Bills might have needed to sign some replacements already.
While some front offices believe guards are fungible and tackles vital, the Bills have operated contradictorily in recent years. They've drafted guards within the first two rounds (
Eric Wood
and
Andy Levitre
) and paid big bucks for a free agent (
Derrick Dockery
) while declining to draft a tackle earlier than the fifth round since 2002.
Left tackle
Demetrius Bell
has been limited in 11-on-11 drills because he's recovering from knee surgery. He received his first snaps Sunday. His replacement,
Jamon Meredith
, has been overwhelmed at times. The other tackles likely to make the 53-man roster --
Cornell Green
,
Kirk Chambers
and rookie
Ed Wang
-- have looked ordinary at best.
[+] Enlarge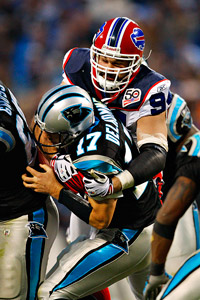 Bob Donnan/US PresswireThe Bills have decided to move forward without linebacker Aaron Schobel.
3. What will happen with vacillating pass-rusher Aaron Schobel?
He spent the entire offseason at his home in Texas, perhaps playing possum. He didn't return to the Bills' facility to collect his roster bonus or participate in offseason workouts. He told some media outlets he was all but retired.
Then, on the verge of camp, the two-time Pro Bowler with a $6 million base salary expressed a change of heart. Schobel might want to play after all. Or maybe he's posturing for a trade, threatening to show up a month before the regular season despite failing to attend so much as a chalk-board session on the team's transition from a 4-3 defense to a 3-4.
On Monday morning, the Bills provided a nebulous answer: In a
news release, Nix announced
the team is moving forward with plans that do not include Schobel.
Nix said: "Aaron has been contemplating retirement for the past seven months, but we are at the point where we are moving forward and have informed his agent of our plans."
Schobel can improve the defense with his talents, but the team is rebuilding and going through a defensive transformation he has demurred from. If they cut him, then they forfeit an asset. A trade appears to be the best option to me.
BIGGEST SURPRISE
Wide receiver
Steve Johnson
was an afterthought when the Bills drafted him in the seventh round three years ago. But the front office was quietly confident he would be a player someday. After getting buried on a depth chart that no longer includes
Terrell Owens
and
Josh Reed
, Johnson might be ready to emerge. Johnson opened camp as the starting No. 2 receiver opposite Evans. That puts
James Hardy
on the spot. The Bills took him in the second round the same year they drafted Johnson.
BIGGEST DISAPPOINTMENT
Rookie running back
C.J. Spiller
, the ninth overall draft choice, still hasn't been signed. Reports indicate it might be a while before he's under contract. The players around him in the draft order have come to terms, but Spiller was the first running back off the board and was considered the most electric playmaker in the draft. His agent, Gary Wichard, certainly is hammering home that point every time he speaks to the Bills. While it's true running backs can afford to miss practice more than other positions because their role is so reactionary, Spiller is more than that. The Bills also consider him a receiver, and that makes practice time more precious for learning the nuances of Gailey's offense.
[+] Enlarge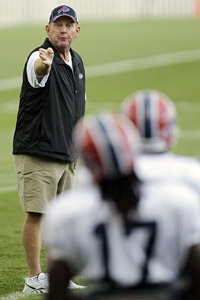 AP Photo/ David DupreyChan Gailey is trying to learn as much about his team by working them out in full gear.
OBSERVATION DECK
The atmosphere at St. John Fisher College has been lifeless. It hasn't mattered whether it's morning, afternoon, night, weekday or weekend. The few fans who have shown up are silent.

Fitzpatrick has been plagued by interceptions through the first few days of camp. Bills defenders seem to have developed a strong read on where he's going to throw.

Gailey has mandated knee braces at practice for the offensive linemen, whether they've had injuries or not. He has been doing that since he began working with O-line coach Joe D'Alessandris at Georgia Tech in 2002. The players can opt out of the knee braces for games if they don't like how they feel.

The Bills' defensive backs have sensational hands. In every drill I watched, it was rare to see a ball hit the ground.

Left cornerback Leodis McKelvin has demonstrated lapses in concentration. He seemed lost in a passing drill Saturday, getting beaten by Hardy for an easy touchdown. Secondary coach George Catavolos had trouble getting McKelvin's attention afterward for some instruction. Soon after, McKelvin was dropping punts in a return drill.

Inside linebacker Kawika Mitchell told me the unit relies on free-agent acquisition Andra Davis' insight when it comes to 3-4 questions. That also goes for inside linebackers coach DeMontie Cross, who hasn't coached an NFL 3-4 before.

Mitchell on the 3-4: "It gives you more freedom. It allows you to showcase your ability a lot more. It's going to be a lot more fun."

Brian Moorman and Rian Lindell are one of the NFL's best punter-kicker combos. The Bills didn't bother to bring in any additional legs.

Wood is a head knocker. His quick return from a shattered left leg and no-nonsense demeanor on the field will make him popular in Buffalo.

After obstructed media views on the opening day, the Bills did a fine job of reorganizing their access areas to allow better viewing of 11-on-11 drills.

Outside linebacker Aaron Maybin has a body shape that stands out the moment you see him. Maybin looks like a Wii character, with a tiny waist that flares upward toward his shoulder pads. He told me his waist is 36 inches, but in pads it seems like a 28.

I focused on the tight ends at the blocking sled Friday morning. I saw why sophomore Shawn Nelson is viewed as more receiver than blocker. He looked considerably less powerful than the rest. While Derek Schouman, Jonathan Stupar and Michael Matthews jacked the sled, Nelson merely budged it. Nelson is listed at 6-foot-5 and 240 pounds. Only Matthews is larger at 6-4 and 270.
March, 24, 2010
3/24/10
11:29
AM ET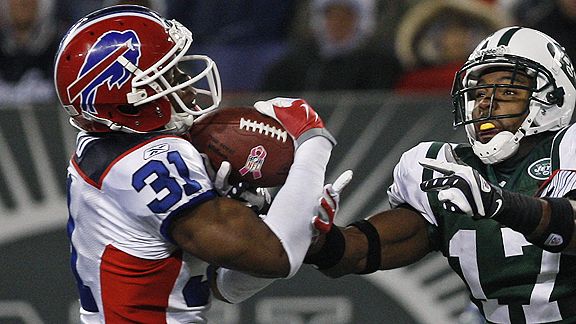 Ed Mulholland/US PresswireLed by rookie Jairus Byrd, the Buffalo secondary was one of the deepest in the league.
ORLANDO, Fla. -- The
Buffalo Bills
are an organization engulfed by uncertainty.
Who will be their quarterback?
What difference will new head coach Chan Gailey and rookie general manager Buddy Nix make?
Will Pro Bowl pass-rusher
Aaron Schobel
play or retire?
Can running back
Marshawn Lynch
bounce back?
How will they transition into their new 3-4 defense?
One area that cannot be questioned is the depth in Buffalo's secondary.
The Bills' defensive backfield isn't loaded with star power, but the quality of depth is remarkable.
The Bills ranked second in pass defense last year despite injuries pushing them to the limit. Ten defensive backs started for them.
Right cornerback
Leodis McKelvin
, the 11th overall pick from 2008, lasted only three games before getting hurt. Free safety
Donte Whitner
, the eighth overall pick from 2006, lost his job to rookie
Jairus Byrd
, who tied for the NFL interception lead and was selected for the Pro Bowl. Left cornerback
Terrence McGee
missed five games with a knee injury. Strong safety
Bryan Scott
started six games at linebacker.
Despite all that, the Bills allowed only 184.2 passing yards a game (second in the NFL) and 14 touchdowns (tied for second).
Now that's depth.
"I've gone to a lot of teams," Gailey said at the NFL owners meetings. "I don't know that I've ever gone to a team that the secondary -- I'm taking corner and safety position -- is as strong as we have right now overall.
"When I went to Dallas, when I went to Miami, when I went to Pittsburgh they were all good. But I'm not so sure that this isn't the strongest group."
Gailey isn't about to compare them player for player. After all, when he was head coach of the
Dallas Cowboys
he had cornerback Deion Sanders and safety Darren Woodson together.
"Those are two pretty good players," Gailey said. "We had a couple of other good players, but we were always trying to fill a hole."
Gailey joined the
Denver Broncos
as a defensive assistant the year safety Dennis Smith and cornerback Louis Wright went to the Pro Bowl. The Broncos later lined up Smith and Steve Atwater at safety while Gailey was there.
Gailey was on the
Pittsburgh Steelers
' offensive staff when they had future Hall of Famer
Rod Woodson
. As offensive coordinator of the
Miami Dolphins
, Gailey practiced against three repeat Pro Bowlers:
Sam Madison
,
Patrick Surtain
and
Brock Marion
.
No, the Bills aren't that good yet. Gailey isn't going to make like
New York Jets
coach Rex Ryan and proclaim they could reach legendary status. On Tuesday, Ryan said his star cornerbacks,
Darrelle Revis
and
Antonio Cromartie
,
remind him of the renowned Los Angeles Raiders tandem
of Mike Haynes and Lester Hayes.
What the Bills do have is a quality starter and backup at every spot. One of only three assistants Gailey retained from Dick Jauron's staff was defensive back coach George Catavolos.
"Even the backups at Buffalo, I'm talking about eight players, your top eight players," Gailey said, "this is as strong a group as I've ever been around."
The importance of depth in the secondary can't be emphasized enough.
As
Detroit Lions
head coach Jim Schwartz explained Wednesday morning, you can't have too many serviceable defensive backs.
"You're going to play more defensive backs than you are at other positions," said Schwartz, known as one of the NFL's brightest defensive minds. "You're not just going to play four. You're going to play five for half the game and you may even have a quarter of the game when you're playing six defensive backs.
"The other thing to look at is defensive backs get hurt at a higher rate than just about every other position on the field. Other positions have gotten bigger and bigger and bigger. Defensive backs have stayed the same, particularly corners. So with everybody else getting bigger and corners staying the same, it's not a matter of if somebody gets hurt and has to miss a game, it's a matter of when."
Five Buffalo defensive backs finished the season on injured reserve, including both of the opening-day starting cornerbacks, McGee and McKelvin.
Schwartz mentioned another important facet of defensive backfield depth.
"One person in the secondary that doesn't play well makes the whole secondary look bad," Schwartz said. "It's how the whole group plays, and if there's one weak link in that chain, then the whole group can look bad, and offenses are real good at finding that one guy and exploiting him."
Nobody can look at the Bills and call their secondary a weak link.
February, 10, 2010
2/10/10
3:45
PM ET
Now that new
Buffalo Bills
coach Chan Gailey has essentially assembled his staff, I thought it would be worthwhile to present a snapshot of who they are.

You'll notice a couple blanks still need to be filled in. The Bills have yet to designate a defensive line or linebackers coach and could have other openings on the staff. For example, they could choose to break up inside and outside linebackers.
The Bills have two defensive assistants who haven't been assigned duties. Bob Sanders and Giff Smith have experience coaching the defensive line. Sanders did it last year, but he also coached linebackers for the
Miami Dolphins
.
What stands out to me is the lack of NFL experience throughout the staff.
Defensive backs coach George Catavolos has banked 26 years in that role. Special-teams coordinator Bruce DeHaven has put in 23 years. But there's a huge drop from there.
Gailey has gathered acquaintances from his days at Georgia Tech and assistants he identified as up-and-comers during his brief stay with the
Kansas City Chiefs
.
Gailey will have at least eight assistants with two or fewer years of NFL experience in the positions they will hold with the Bills. At least four of them will have zero seasons of NFL experience in their given role.
That's not to say they're all neophytes.
One of those first-timers is veteran quarterbacks coach George Cortez, who has spent more than three decades coaching at colleges and in the Canadian Football League.
They might all be fine teachers, but I think it's fair to wonder how these coaches will handle the fast-paced, high-pressure setting of an NFL sideline on Sunday afternoons.
January, 4, 2010
1/04/10
12:30
PM ET
Buffalo Bills general manager Buddy Nix said at his introductory news conference Thursday he wanted a coach who could build a staff, and the new hire apparently will have to do it from scratch.
The Bills resumed heavy internal renovations Monday by firing their entire coaching staff a day after completing a 6-10 season, their 10th straight without the playoffs.
The story was broken by Jay Glazer of Fox Sports and confirmed by Buffalo News reporter Mark Gaughan, who noted
all of the coaches had one year remaining
on their contracts.
The Bills fired offensive coordinator Turk Schonert 10 days before the season opener and head coach Dick Jauron after a Week 10 loss. They named defensive coordinator Perry Fewell interim head coach.
Nix on Thursday said Fewell would be interviewed for the head-coaching vacancy. Other assistants could be re-hired.
Here is a rundown of the coaches who finished the year with the Bills:
Bobby April, assistant head coach/special teams coordinator
Alex Van Pelt, offensive coordinator
Eric Studesville, running game coordinator/running backs
Ray Brown, assistant offensive line
George Catavolos, defensive backs
Charlie Coiner, tight ends
DeMontie Cross assistant linebackers/special teams
Nathaniel Hackett, offensive quality control
Sean Kugler, offensive line
Chuck Lester, assistant to the head coach/special projects
Bob Sanders, defensive line
Matt Sheldon, linebackers
Tyke Tolbert, wide receivers
Adrian White, defensive quality control
John Allaire, strength and conditioning