December, 8, 2013
12/08/13
3:40
PM ET
CINCINNATI -- A hit to the head forced
Cincinnati Bengals
safety
George Iloka
into the locker room during the third quarter of Sunday's game against the
Indianapolis Colts
.
The second-year player left the game when he took a hard hit during a play that resulted in one of two third-quarter Colts touchdowns.

Indianapolis scored for a second time in the quarter with 6:30 remaining when quarterback
Andrew Luck
completed a 19-yard touchdown pass to receiver
LaVon Brazill
. It was Brazill who did most of the heavy lifting on the play, catching the short pass and dodging six attempted Bengals tacklers in order to score. While swept into attempting his own tackle, Iloka suffered an apparent head injury.
Iloka's return was immediately deemed questionable by the Bengals' training staff.
Following the scoring play, several Bengals, including Iloka, remained on the field for a few moments as they collected themselves. They looked like orange and black bowling pins that had just been felled by the power-running bowling ball that was Brazill.
When Iloka left, he was replaced on the next Bengals' defensive series by defensive back
Chris Crocker
. Crocker was among those who missed a tackle on the touchdown reception.
December, 4, 2013
12/04/13
5:50
PM ET
CINCINNATI -- The tropical temperatures that lingered around this city all day Wednesday made it hard to even fathom that before the week was over, ice-box chills and snow-globe scenes would descend upon it once again.
Indeed, a biting breeze is coming. And
Cincinnati Bengals
coach Marvin Lewis is embracing its arrival with open arms.
Welcome to December in the Ohio Valley. Or what Lewis calls "Bengal weather."

This is the time of year when winds can be treacherous, clouds ominous and precipitation perilous. It's the time of year in these parts when Mother Nature can be her own 12th man of sorts. Footballs don't move through the air with the same ease as they may have earlier in the year.
The Bengals like knowing that, and hope their opponents underestimate it.
"That's part of us. That's part of our toughness," Lewis said about playing in such cold weather. "It's just the way we're put together."
It's weather like the below-30s temperatures and freezing rain/sleet/snow wintry mix that's headed to Cincinnati before Sunday's clash with the
Indianapolis Colts
that helps give the AFC North its rugged, smashmouth character. Teams that play in the division have long been known for having solid run-stopping defenses and ground games that like to plow right through the middle of them. The offensive flair and finesse that some West Coast and Southern teams have is foreign to those who call the AFC North their home. Just ask the
San Diego Chargers
.
Three days after practicing through an early afternoon snow shower, the Bengals found themselves in 70-degree Southern California last Sunday. When they took the field, they ran at the Chargers much like they expect to do the rest of the season. Of the Bengals' 61 plays, 38 came on the ground. Those 38 carries resulted in 164 yards, paced by
BenJarvus Green-Ellis
' 92 yards and a touchdown.
Since it can be difficult passing in the harsh conditions that are expected the rest of the year in Southwest Ohio, the Bengals now realize they will have to keep the ball in the hands of their running backs. Consider last week's game in comparative paradise an anomaly. Lewis' "Bengal weather" is here for the remainder of Cincinnati's season.
"We figured the last four games, we have an opportunity for four bad-weather games," offensive coordinator Jay Gruden said. "So establishing some kind of running game is going to be important to keep the clock moving, keep our defense off the field and try to get something."
Safety
George Iloka
, a Houston native, said he and his teammates are ready for the climate change that's on the horizon.
"We're used to it, and I played in Boise, so I'm used to cold games," the Boise State product said. "I don't know how other teams that play indoors or in warmer weather like San Diego [deal with it]. It might get to be too much for them. But for us, it's not really a big deal."
December, 2, 2013
12/02/13
9:00
AM ET
SAN DIEGO -- An examination of four hot issues from the
Cincinnati Bengals
'
17-10 win
over the Chargers:
Dalton's second half:
Paced by a running game that rediscovered itself in the second half, Bengals quarterback
Andy Dalton
had his own resurgence of sorts in the final 30 minutes of Sunday's game. After stumbling to a 5-for-10, 41-yard, 21.2-passer rating performance through the first half, he bounced back in the second, completing nine of his final 13 passes and connecting with receivers for 149 yards. He also threw a key third-quarter touchdown and didn't turn the ball over, helping push his end-of-game passer rating to 83.6 -- his highest in five games. His 44.4 QBR also was his best since his career-high 98.9 that came in Cincinnati's 49-9 win over the
New York Jets
in Week 9. Part of what helped Dalton amass those final numbers was the Bengals' decision to recommit themselves to the run in the last two quarters. Cincinnati rushed for more than 150 yards (164) for the first time since its Week 7 win at Buffalo.
Dalton
Maualuga
Huber's (healed) left leg:
Wednesday, punter
Kevin Huber
sent a chill through the Bengals' fan base when he appeared on the injury report for the first time this season. He barely practiced the rest of the week after being limited for part of the week by an injury to his left ankle. He kicks with his left leg. Apparently it wasn't feeling too badly. Huber had four punts in the game and sent them an average of 55.5 yards from the line of scrimmage. The first two, 75- and 56-yard blasts, set the tone early. He routinely flipped field position in the game, even pushing the Chargers up against their own goal line with his first one. That subsequent series resulted in San Diego's own need to punt. With the ball in decent field position, the Bengals drove 67 yards for a touchdown on their following possession.
Quiet secondary:
It was easy to praise Bengals linebacker
Vontaze Burfict
for his strong 13-tackle, play-through-an-injury performance, but he wasn't the only one on the back end of Cincinnati's defense who had a big day. Linebacker
Rey Maualuga
, who was returning from his own lengthy knee injury, finished with 10 tackles, including a sack. Although he was beaten a couple of times on passes across the middle, he was a run-stopper much of the day, helping plug his share of holes. Along with their linebacker play, the Bengals also had quietly good performances from defensive backs
George Iloka
and
Reggie Nelson
, who each forced fumbles. Iloka's ended up preceding the Bengals' final possession of the game -- a nearly five-minute drive that included four first downs and ended with back-to-back kneel-downs.
Winning without Gresham:
For the first time this year, the Bengals won a game in which tight end
Jermaine Gresham
didn't catch a pass. The only other time they even had a game in which Gresham went reception-less, they lost to the
Baltimore Ravens
. It wasn't as if Cincinnati was trying to completely avoid Gresham, though. He was targeted twice. Since a clear emphasis was being placed on the running game, Gresham ended up factoring in that department instead, helping open holes along the edges for running backs
BenJarvus Green-Ellis
and
Giovani Bernard
to run right through.
November, 12, 2013
11/12/13
12:30
PM ET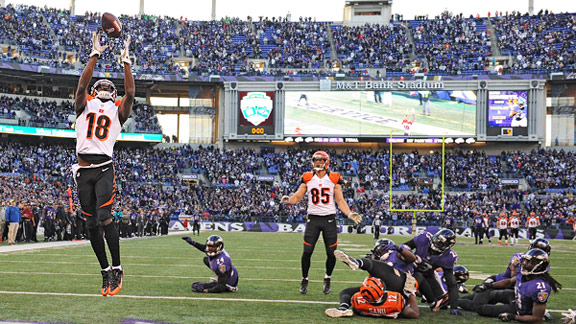 Patrick Smith/Getty ImagesA.J. Green's Hail Mary touchdown reception gave the Cincinnati Bengals new life.
Inspired by my ESPN.com colleague,
Lions reporter Michael Rothstein
, I'm starting a new weekly tradition on the Bengals blog. Following each game, we'll take a deeper look at one key play from the contest just passed, and analyze it with comments from those who had a true front-row seat for it.
Sure, it may be getting a little late in the season to start new traditions, but we're going to give this a shot anyway. As we do, what better play to start off our "Bengals Breakdown" than to explore what quite possibly is Cincinnati's clubhouse leader for play of the year?
With 2 seconds left in Sunday's AFC North showdown between the Bengals and
Baltimore Ravens
, Bengals quarterback
Andy Dalton
spiked the ball, leaving him time for one last valiant try at tying the game at 17, and giving his team a chance to pull off the improbable and win it in overtime.
Since the ball was sitting on the Bengals' own 49-yard line, the only thing Dalton could do was send his receivers racing downfield on straight go routes to the end zone and hope that one of them could catch his towering fly that was likely to get tipped. Hail Marys so seldom work, but if the Bengals were going to salvage their 17-0 deficit they overcame, this one was going to have to.
It did.
By now, you've certainly seen the highlights and maybe even heard the radio call featuring Dan Hoard and a breathless ("Ohh! Ohh man! Ohh my God!") Dave Lapham. When receiver
A.J. Green
grabbed Dalton's pass, which was tipped twice, in the end zone, Lapham's shocked but gleeful take on the play was probably repeated in countless homes of Bengals fans. Inside Baltimore's M&T Bank Stadium, a hush fell over the 70,000-person crowd, stunned the Bengals had actually tied it with the 51-yard score and subsequent point-after attempt.
Of course, as great as that play was for Cincinnati, it was completely negated moments later in the overtime period, when the Bengals failed to convert on a fourth-and-2 from the Ravens' 33, and ended up allowing them to mark into range for
Justin Tucker
's game-winning 46-yard field goal.
The following are snippets from interviews players and coaches have given in the last two days about the play:
Bengals WR A.J. Green
"I was in the right spot at the right time. We talk about that a lot. I was just looking for someone to tap the ball so I could catch it. I stood off to the side and watched. I was thinking about coming back closer to the ball, but I stayed right where I was and the ball found me. It would have been a greater play, though, if we had won."
Bengals QB Andy Dalton
"I did see the whole thing happen. I just threw it up and hoped for the best. I know we did a great job tapping the ball into the air, and I saw A.J. Green sitting there waiting for the ball. In that situation, if you can't make the catch you want to, tip it up and keep the play alive. That's something we never practice, but we do talk about it. When I called the play, I just reminded everybody what to do."
Ravens S James Ihedigbo, who tipped the ball last
"[Ravens safety, and former Bengal] Jeromy Miles, he's the jumper. He's tall, long. He's supposed to jump up, tip the ball. My job's to be back, almost in the back of the end zone. I saw the ball get caught in the wind, so I knew it was going to hit the end zone. I knew it was going to be short, so I moved up. Bone-head move. I moved up a little bit. I just should have stayed back. It probably would have fell right in my lap. I saw it drifting, tried to slap it to the ground. It went up in the air; easy touchdown."
Bengals S George Iloka, who was on the sideline
"We go over that play every Saturday. We don't really throw it, but we just practice what you're supposed to do as a defense and what you're supposed as an offense. When I saw the ball tipped and I saw A.J. near it, I was like, 'He's going to catch it. He just has to out-jump somebody, so he's going to catch it.' What was funny was right before that the [Bengals'] coordinators threw their headsets off and then someone was like, 'He caught it,' and everyone's scrambling. I'm not sure, but I think some of the guys in the [press] box were probably like halfway down. [Laughs] It was crazy. A lot of ups and a lot of downs, just like how the game went."
Bengals offensive coordinator Jay Gruden
"[Bengals receiver] Marvin [Jones] did a hell of a job getting in there and jumping up there and tipping it. A.J. kind of got grabbed and the ball just popped up to him. It was a fluke. Unfortunately, that's how we had to score."
Bengals LB Vontaze Burfict, who was heading into the locker room
"They were about to take me in and check me for a concussion. I saw it on the big board and I thought, 'Man, that was crazy.' It was like a video game. It was a great throw by Dalton. He threw it to the end zone. It was a great heads-up play by A.J. Green."
October, 11, 2013
10/11/13
4:10
PM ET
CINCINNATI --
Cincinnati Bengals
safety
George Iloka
hated to admit it this week, but he felt something had to be said.
Whenever his team has played away from Paul Brown Stadium this season, it has tended to tense up and not play as well as it should.
"I would say I get a sense or a feeling in the room that when things don't go how they're supposed to go right away, I don't want to say we panic, but there is a sense of "Oh [no], here we go,'" Iloka said.
[+] Enlarge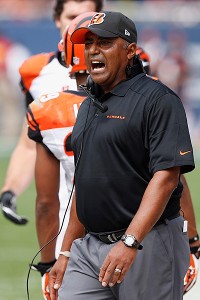 AP Photo/Charles Rex ArbogastMarvin Lewis and the Bengals have three chances in their next four games to get their first road win.
There certainly is evidence of that being the case. In the only two games the Bengals have played on the road this season, a respective confluence of uncharacteristic events have taken place to preserve their winless away-from-home mark. On Sunday, when the Bengals face Buffalo at Ralph Wilson Stadium, they hope to put an immediate end to their road woes.
During the season opener at Chicago, a possible Bengals comeback drive was snuffed out when, at the end of a third-down stop, Cincinnati linebacker
Rey Maualuga
was flagged for unsportsmanlike conduct after shoving a Bears offensive lineman to the ground at the end of the play. The pair had been pushing and jawing from the moment they made contact on the play. The problem, though, was that Maualuga's shove came at a point when officials were looking, and it was bad enough that it caused them to rule he was in the wrong.
The play resulted in the Bears keeping the football instead of punting, and running down the clock.
Three weeks later, a loss at Cleveland came when the Bengals had difficulty establishing any semblance of an offense. Quarterback
Andy Dalton
's season-low 29.7 QBR was in part a product of the offense's inability get in the end zone. For an offense filled with playmaking weapons, the 17-6 showing wasn't indicative of the team the Bengals really can be.
" Just flat-out, offensively, we had a bad day," offensive tackle
Andrew Whitworth
said. "We didn't complete many passes and didn't move the ball much. It happens. It's going to happen."
What has happened this season in Cincinnati has looked much different than what has happened outside of it. The Bengals are 3-0 at home. After beating division rival Pittsburgh on a Monday night, they knocked off tough Green Bay and New England teams. In each game, their defense rose to the challenge and avoided costly late-game penalties, and their offense got production from multiple places. It has been through those wins that the Bengals still are widely considered among the early season playoff locks.
At home this season, Iloka believes the Bengals have best exemplified the type of team they can be. He wants that team to replicate itself this weekend.
"It's just coming out with that same intensity like we do when we play at home, knowing that we're going to win," Iloka said. "When we're home, we expect to win. They have to beat us. On the road, we feel like we have to beat them. That's the feeling."
Even though his team has seen different results depending upon the familiarity of the venue it has played in this season, Whitworth isn't completely sold on the notion that Cincinnati plays differently in those places.
"It's really no different. People make home and away a big deal," Whitworth said. "It's great to have the fans here and to have that environment, but there's really not a situation that changes much of what we do, home or away."
Still, the fact remains that the Bengals haven't yet won a road game. While that reality doesn't have coach Marvin Lewis in panic mode right now, he does know that his team better start winning all of its games, or the season could suddenly grow long. After the Bengals return from Sunday's game, they jump right back on the road next week as they head to Detroit. Two weeks later, they close out October with a trip to Miami. Sandwiched between the Lions and Dolphins is a home contest against the Jets. That makes this arguably the most important stretch of the Bengals' season.
"It's going to be important that we do well on the road coming up," Lewis said in a news conference this week. "I sat here and told you guys that's the way the season broke down. We had five games that were going to be physical and mentally testing, and then we had four out of five on the road. We've got to put our road warrior hats on and go to work."
September, 27, 2013
9/27/13
5:10
PM ET
GREEN BAY, Wis. -- When players are fined for hits that were not penalized during the game, it's essentially an admission of an officiating error.
For the second straight week, that applied to a
Green Bay Packers
' opponent.
Finley
On Friday, the NFL announced it fined
Cincinnati Bengals
safety
George Iloka
$15,000 for his unpenalized hit during the first quarter of Sunday's game that left Packers tight end
Jermichael Finley
with a concussion.
A league spokesman said Iloka was fined for "unnecessarily striking a defenseless player in the head and neck area."
Finley could not return to the game, and his status is unknown for the Packers' next game, following their bye, against Detroit on Oct. 6.
That fine came a week after
Washington Redskins
safety
Brandon Meriweather
was
fined $42,000 for a helmet-to-helmet hit
on Packers running back
Eddie Lacy
, who also was forced to leave the game with a concussion. Lacy did not play against the Bengals. Like in the case with Iloka, the game officials did not call a penalty on Meriweather.
Also on Friday, the league announced that Bengals linebacker
Vontaze Burfict
was fined a total of $31,000 for two infractions against the Packers -- one that was called a penalty and one that was not. He was docked $21,000 for "unnecessarily striking a defenseless player (Packers receiver
James Jones
) in the head and neck area" and another $10,000 for "striking" Packers tight end
Ryan Taylor
in the groin area. Burfict was not flagged for striking Taylor, who was penalized but not fined after he retaliated against Burfict.
Two other Packers players who were called for personal fouls -- linebacker
Nick Perry
and cornerback
Tramon Williams
-- were not fined. Neither was Bengals safety
Reggie Nelson
for his roughing the passer penalty against
Aaron Rodgers
, nor defensive end
Michael Johnson
for hitting Rodgers low, which also wasn't penalized.
September, 27, 2013
9/27/13
3:30
PM ET
CINCINNATI --
Chris Crocker
had barely been in the
Cincinnati Bengals
' locker room a month, and already he was barking orders at his new teammates as if he had been in the building his entire career.
The year was 2008, and Cincinnati was going through another one of its recent abysmal downturns. In the nine weeks before the safety arrived from Miami, the Bengals had lost eight games and were in a race for the league's worst record and the next year's top draft choice.
[+] Enlarge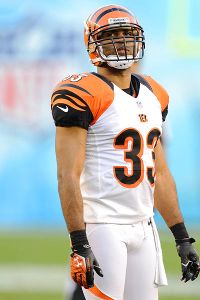 Jake Roth/USA TODAY SportsSafety Chris Crocker, an 11-year veteran, returns to the Bengals -- a team he has played 59 games for over the span of five seasons.
"I can remember walking through here and him challenging guys," said Bengals offensive tackle
Andrew Whitworth
, who was in his third season in the league the year he became Crocker's teammate for the first time. "Here's the new guy, and he's basically walking in and challenging different guys on the team, saying, 'You've got to play better and quit coasting,' and those types of things.
"He came in here and kind of changed this locker room with his attitude."
While the Bengals don't appear in need of an attitude adjustment this time around, they are hopeful that after re-signing him earlier this week, Crocker will bring the same spark and energy that took root in the locker room six seasons ago.
"He's been one of the guys who set the foundation of things here and the foundation is good," coach Marvin Lewis said Friday.
In the seven games Crocker spent with the Bengals at the end of the 2008 season, Cincinnati went 3-3-1. After notching a tie in the safety's first game in a Bengals uniform, he and his teammates dropped three straight before pulling out three victories to close the year. One of those wins was a 14-0 finish that came in Cleveland in front of more than 72,000.
This weekend, Crocker and the Bengals are headed back into that same hostile, northern Ohio territory when they visit the Browns for the first of two division games this season. When he emerges from the visiting team's tunnel at FirstEnergy Stadium on Sunday, Crocker may be carrying a feeling of nostalgia onto the field with him. Cleveland is where he began his career.
"Like Leon [Hall] said, 'You would come back the week we play Cleveland,'" Crocker said. "I've always loved to play in that place. I do. I loved to play in there as a player. I loved to play in there as an opponent because the fans are very familiar with me and they either love me or they hate me. It's just a great place to play."
The former Marshall standout was drafted by the Browns in the third round of the 2003 draft. He spent three seasons with them before playing two in Atlanta. After those, his on-again, off-again relationship with the Bengals began.
This marks the second straight season that he returned to Cincinnati just in time to travel to Cleveland.
Much like last year, Crocker's presence this season is the product of the Bengals needing an extra defensive back's body to lessen the blow of a series of injuries to their secondary. This weekend, they could be without up to three cornerbacks. Hamstring injuries forced cornerbacks Hall,
Dre Kirkpatrick
and safety
Reggie Nelson
into being listed as doubtful for Sunday's game.
Crocker's addition means the Bengals not only have a safety who can take Nelson's spot on the two-deep depth chart, but it means they also have a corner to play in the slot in the event Hall doesn't play and backup
Brandon Ghee
has trouble getting going after returning this week from a concussion.
Lewis calls Crocker Cincinnati's "insurance policy."
"He's able to come in and cover different spots," Lewis said. "If called upon, he'll be ready to go. He'll be up to it."
Crocker said he's also up for fulfilling his standard leadership role.
"I've always had that onus on me where I wanted to help other guys," Crocker said. "Sometimes you need to pull somebody else along with you. I've been that person my whole career so I'm just going to continue to be that person and be a playmaker and lead by example and good things are going to happen; for me and this team."
With three interceptions, including one in his first game, Crocker was one of the Bengals' better playmakers last season. When an injury prevented him from participating in Cincinnati's lone playoff game, his time in a Bengals uniform, he thought, was over. Unsure of what the next step would be, he went back to his home in Atlanta and spent the offseason learning how to be a referee and brushing up on his broadcast skills.
"I've been very, very busy," Crocker said when he arrived in Cincinnati earlier this week. "I kept my mouth shut this whole offseason. You haven't heard much from me, but I have got my hands in some things that are pretty positive. Post-career should be very, very good."
Forget reffing, Crocker might have a future in coaching, if he wants it. In the brief time he has spent with the Bengals' mostly young secondary, he has turned into a mentor for the group.
"This offseason, when the whole safety thing was up for grabs, I learned a lot from Crock,"
George Iloka
, a second-year safety, said. "There's still a lot more things that I can soak and learn from him. He's a real smart guy. I'm like a sponge right now just trying to soak up as much information from guys like him and [veterans] Terence [Newman] and Leon and Reggie; guys who have done it before. "
Crocker has done it all, alright.
Well, maybe there's one thing he hasn't done.
"Obviously, the goal is the Super Bowl. That's unfinished business," Crocker said. "It's not about what you did in your last game, it's about getting to the ultimate game."
If the Bengals' season continues trending in the direction most believe it may, perhaps he finally will.
September, 21, 2013
9/21/13
9:00
AM ET
CINCINNATI -- The question posed to
Cincinnati Bengals
safety
George Iloka
was a serious one.
What makes Randall Cobb be able to do what he does?
[+] Enlarge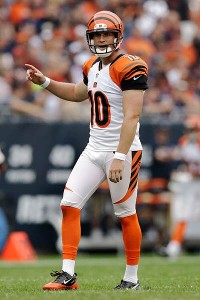 Nam Y. Huh/AP PhotoBengals punter Kevin Huber aims to keep the ball away from Packers return specialist Randall Cobb in their Week 3 game Sunday.
What Cobb, the former Kentucky standout who just four years ago was the Wildcats' version of "Slash," does is cause nightmares for opposing defenses and punt coverage units. In the three years he has spent with the
Green Bay Packers
, the receiver/return specialist and former college quarterback has become a household name around the NFL because of his speed, which features an extra gear of acceleration that most average humans can't muster.
So again,
what makes Randle Cobb be able to do what he does?
"Genetics? Who knows," Iloka eventually answered. "He's a tremendous athlete, so you have to try to neutralize those types of guys and get them out of the game."
When the Bengals host the Packers on Sunday at 1 p.m. ET, they will need to borrow a page from the game plan they used against Chicago two weeks ago: play keep-away from the opponent's most dynamic playmaker. Although the overall scheme may have resulted in a loss, that one part of the plan paid enormous dividends back then, and it definitely could do the same now.
"The first time I saw him was, I'm not sure if it was a kick return or a punt return, but that's kind of when everybody got a glimpse of him," Bengals cornerback
Leon Hall
said. "You could see something special, but you thought about it as far as special teams were concerned. It is pretty amazing to see him do what he's done at the receiver position."
Since bursting on the professional scene as a backup receiver in 2011, Cobb has been one of the league's best in receptions, yards, yards after the catch and yards after contact. Across that stretch, he ranks in the top 10 in the NFL in both yards after the catch (739) and yards after contact among receivers (223). This season alone, he has 103 yards after catch. Only four receivers and one running back have more YAC yards this year. Two of those players, Philadelphia's
DeSean Jackson
and Kansas City's
Jamaal Charles
, already have statistics for three games following Thursday night's Week 3 opener that pitted their teams against one another.
Clearly, Cobb has the ability to make plays in space. But it isn't only in the pass-catching game where the speedster can be a real threat. He can take over in both return games too, turning a routine punt into a score, or a deep kickoff into an even deeper kick return.
With two punt returns for touchdowns in his career so far, Cobb has averaged a score every 29 punt returns.
Bad news too, Bengals fans: He's due. Cobb's last punt return for touchdown came 30 returns ago, when he took back a 75-yard return for touchdown in Green Bay's opener against San Francisco last season.
On Sunday, it will be up to Bengals punter
Kevin Huber
and his coverage team to prevent Cobb from notching punt return touchdown No. 3.
"He's a good returner," Huber said. "He's a big, physical, fast returner. He runs downhill well. We just have to get down there and make him cut and kind of get him around and give him not much room to work with."
Against the Bears' electric return man
Devin Hester
in Week 1, the Bengals did just that. When they weren't playing keep-away and avoiding him altogether, they routinely had him surrounded at the end of Huber's high, long punts. On the two that Hester elected to return, the return team was there so quickly that Hester could only amass 1 yard combined on the punts.
"If you can force a guy to get out of his comfort zone, and if I can get out of a game with a guy like Hester where he had a couple of yards returning, it's a huge win," Huber said.
Like Cincinnati's defensive backs who are eager about taking on the task of slowing Cobb in the pass-catching game, Huber is embracing his role of attempting to keep the ball out of the dynamic playmaker's hands. For the past two weeks he has encountered such challenges, looking for a way to prevent not only Hester, but Pittsburgh's
Antonio Brown
too, from breaking long returns.
"You hear all week how this guy is the best returner there was. He's got X amount of touchdowns," Huber said. "You just want to go out and be like, 'It doesn't matter who's back there. ... I want people to be able to say that he got good enough punts that these guys weren't able to do anything on him."
If Huber and the Bengals' secondary can do a good enough job -- i.e. contain Cobb in the many roles he has played -- they will bring themselves that much closer to winning this key interconference game.
September, 20, 2013
9/20/13
10:50
PM ET
CINCINNATI -- Mike Zimmer has made it a habit in recent years to hand out to his defenders a pair of orange shorts that feature a common logo. The gesture is a subtle attempt by the
Cincinnati Bengals
' defensive coordinator to bring his unit closer together and remind players of their top mission.
This year, the "brotherhood" shorts, as they are nicknamed, feature the phrase "HEET Swarm." According to defensive tackle
Geno Atkins
, the phrase stands for "Heart, Effort, Execution, Technique and swarm to the ball."
[+] Enlarge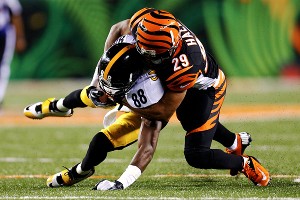 Kirk Irwin/Getty ImagesAs Leon Hall did against Pittsburgh, the Bengals must keep Green Bay's receivers from picking up extra yards after the catch.
When the Bengals face the
Green Bay Packers
at home Sunday afternoon, they will certainly want to heed the latter portion of that motto.
Sure, they want to swarm to the ball every week, but this week the practice takes on added significance because Cincinnati is facing the NFL's top receiving corps at picking up yards after the catch.
"No defense wants to give up big plays, so our goal is to give up no explosive plays over 15 yards," Bengals safety
George Iloka
said. "We definitely want to limit those and try to stop those."
The first two teams the Packers faced this season had trouble doing that.
According to ESPN Stats & Info, of the 965 yards of offense Green Bay amassed against San Francisco and Washington in the first two games of the season, 610 were the product of passes caught by Packers wide receivers. That's the most production of any group of receivers in the NFL. And of those 610 yards, 234 came after contact. That's the second-most of any group of receivers in the entire league.
And if you throw in tight ends and running backs, Green Bay's 439 yards after the catch also leads the NFL.
"In both games, they made the first guy miss and got 20, 30 yards afterwards," Bengals cornerback
Leon Hall
said. "They're dangerous from that aspect."
What else makes the Packers' receivers dangerous?
Their quarterback.
"[Aaron] Rodgers is pretty mobile and his receivers adjust well," Hall added.
One of the league's dominant passers since he took over as the Packers' starter in 2008, Rodgers has put on his share of passing clinics inside Lambeau Field. He's had the type of big-bodied, rangy and athletic receivers to do it, too. This season, in particular, he has enjoyed having the likes of
Jordy Nelson
,
James Jones
and the speedy
Randall Cobb
, not to mention tight end
Jermichael Finley
, on the other end of his throws. Each member of the quartet has already caught 10 or more passes, and all at an average of at least 11 yards per reception.
"The biggest thing when you have a perimeter player come into your program, you want him to be able to play all four positions," Packers coach Mike McCarthy said. "Our tight ends can play on the line, in the backfield or displaced. Our receivers can play all four wide-receiver positions. It definitely does help you when you're game-planning. The biggest challenge is to get the reps with the quarterback to get the timing and the rhythm down with moving those guys around."
Even still, Rodgers has shown that no matter where his pass-catchers line up and no matter the difficulties of mixing up repetitions, he's able to get into a rhythm with them, and he's quite capable of getting the ball in their hands.
Last week against Washington, Rodgers tied a team record when he passed for 480 yards. More than 280 of those came after the catch.
"As a defense, you have to tackle," Iloka said. "Teams are going to catch balls, but you have to tackle and bring them down right there. This week, we have been focusing on open-field tackling. As a secondary, that comes down on us. You can't stop a team from getting zero receptions in a game, but when they catch it, you want to minimize the damage by tackling them right there on the spot."
One reason the Packers are able to spread opposing defenses to the point that safeties, corners and linebackers can't get good angles on their receivers has to do with Rodgers' release time. According to Pro Football Focus, against a strong rush versus Washington, Rodgers got rid of the ball, on average, within 1.95 seconds. If a defender isn't on tight man coverage on his receiver within two seconds of the ball being snapped, he likely won't be getting immediate help bringing that player down once he catches the ball. Chances are, his help wouldn't be in the best position to swarm and make a play.
Still, regardless of how good Rodgers is and regardless of what he may do against the Bengals on Sunday, Cincinnati's defenders have to take the swarm mentality seriously.
"The main thing is they've done a good job so far in yards after catch," Iloka said. "That's going to be our job to neutralize that."
The Bengals do have one statistic in their favor. They currently have the NFL's longest streak of holding quarterbacks below 300 passing yards -- a run of 16 games. That streak will definitely be put to the test this weekend. If they can extend it, 2-1 may well be on the Bengals' horizon.
August, 8, 2013
8/08/13
1:08
PM ET
A look at what to keep an eye on for Thursday night's preseason opener between the
Cincinnati Bengals
and the
Atlanta Falcons
, which will air on ESPN at 8 p.m.:


1. Backup quarterback job
. The Bengals are set with
Andy Dalton
as their starter, and he is expected to go a couple of series. Then, it's time to get a look at who is going to be backing up Dalton.
Josh Johnson
has the edge over
John Skelton
so far in training camp, and that was to be expected. He has a better understanding of the offense, having played under Jay Gruden in Tampa in 2008. Skelton has never played in a West Coast offense, but has more game experience than Johnson. I'm interested to see if Skelton closes the gap tonight.
2. Strong safety competition
. This looks like a three-player race now with
George Iloka
,
Taylor Mays
and rookie
Shawn Williams
. Iloka is currently atop the team's depth chart, and it's assumed that he will get the start. But Williams has looked very good at times in camp and seems to be a better fit at strong safety because of his physical style. I wouldn't be surprised if the third-round pick out of Georgia moves up the depth chart if he can make some plays in the preseason.
3. Wide receiver depth
. There will be plenty of opportunity for the young receivers to impress.
A.J. Green
(knee) and
Andrew Hawkins
(ankle), two of the team's top three receivers, didn't make the trip to Atlanta. Another promising wideout,
Marvin Jones
(hamstring), is doubtful to play.
Mohamed Sanu
, who is expected to start opposite Green in the regular season, is the most experienced receiver who will be suiting up. For most of the game though, expect to see
Dane Sanzenbacher
,
Cobi Hamilton
and
Ryan Whalen
trying to state their case to make the team.
August, 5, 2013
8/05/13
2:00
PM ET
Three of the four AFC North teams released their "unofficial" depth charts because the
Baltimore Ravens
,
Cincinnati Bengals
and
Cleveland Browns
kick off their preseason Thursday. The
Pittsburgh Steelers
, who open their preseason Sunday, haven't put out a depth chart.
Here are some thoughts on how the teams have their players stacked up ...
BALTIMORE RAVENS
CINCINNATI BENGALS
Brandon Ghee. Kirkpatrick, who's had a strong camp, should figure into the team's nickel defense.
The name that stuck out on offense was Orson Charles. The converted tight end is already ahead of John Conner on the fullback depth chart. Charles, who is more of an H-back, has been among the most pleasant surprises this camp. Chris Pressley, last year's starter, is on the Physically Unable to Perform (PUP) list with a knee injury.
On special teams, Adam Jones is ahead of Brandon Tate on punt returns. Jones and Tate split time at this spot last season, but I always thought Jones was the more explosive and dangerous returner.
CLEVELAND BROWNS
Brandon Weeden listed as the starting quarterback. He is followed by Jason Campbell and Brian Hoyer. This is how I foresee the depth chart looking heading into the regular season.
Not a good sign for 2011 fourth-round pick Owen Marecic. Chris Ogbonnaya, a third-down back for his career, is currently the starting fullback. He offers more versatility in Norv Turner's offense than Marecic, who was benched last year by the former coaching staff.
On the offensive line, the Browns have co-starters listed at left guard (John Greco and Jason Pinkston) and right guard (Pinkston and Shawn Lauvao). Given that the Browns signed Greco to a new contract, he is considered the favorite at left guard. Pinkston and Lauvao will compete for the right guard spot.
On defense, Jabaal Sheard is ahead of rookie first-round pick Barkevious Mingo at outside linebacker and Buster Skrine and Chris Owens are listed as co-starters at right cornerback. Rookie third-round pick Leon McFadden is behind Joe Haden at left cornerback. I project Owens and McFadden will continue to split time at right cornerback, and Skrine will get snaps at the slot corner.
July, 26, 2013
7/26/13
12:00
PM ET
»
NFC Eight in the Box:
East
|
West
|
North
|
South
»
AFC:
East
|
West
|
North
|
South
One key positional battle for each AFC North team as training camps get underway.

Baltimore Ravens
: No. 2 wide receiver. The Ravens are hoping
Jacoby Jones
steps up and wins this job. Baltimore named him the No. 2 receiver going into training camp, but there's no guarantee he will remain there. Jones is the most experienced option in a battle that includes
Tandon Doss
,
Deonte Thompson
,
David Reed
,
LaQuan Williams
and
Tommy Streeter
. But Jones has never produced more than 562 receiving yards in any of his six NFL seasons. The Ravens believe Thompson has the talent to develop into a productive receiver at this level, and Doss looks much improved from last season. Thompson is a speed receiver like Jones, but Doss is a better route-runner. David Reed is also in the mix, too.

Cincinnati Bengals
: Strong safety. While there will be competition at the cornerback spot opposite
Leon Hall
, the strong safety position is the most unsettled area on what could be one of the top defenses in the NFL. It's been a trouble spot for years, and the Bengals didn't address it in free agency or in the first two rounds of the draft.
Shawn Williams
, a third-round pick, is considered the early favorite. The Bengals have been impressed with his ability to pick up the defense and feel he has the physical presence needed to excel at this position.
George Iloka
is the dark horse in the competition after having a strong offseason. But he might be a better fit at free safety, where the Bengals already have
Reggie Nelson
.
Taylor Mays
failed to win the job last season, so it's difficult to project him winning it this year.

Cleveland Browns
: Cornerback. The Browns have one of the top young cornerbacks in the NFL in
Joe Haden
on one side and a major question mark on the other. It will come down to rookie
Leon McFadden
,
Chris Owens
and
Buster Skrine
. McFadden, a third-round pick, has been running primarily with the second team during offseason workouts, but he is the most talented defender in this battle. Even though he lacks size, he is extremely confident and competitive. Owens has been getting time with the starters despite struggling with consistency for most of his career. He was benched at times last season, when he was the nickel back for the
Atlanta Falcons
. Skrine has the speed you want at this position. He just doesn't have the technique down. Skrine continually put himself in bad situations last season, committing nine penalties.

Pittsburgh Steelers
: Running back. While the Steelers have yet to name a starter, there's a feeling that this is rookie
Le'Veon Bell
's job to lose. The Steelers used a second-round pick on Bell because they felt
Jonathan Dwyer
and
Isaac Redman
failed to get the job done last season. Bell was a workhorse in college and brings more big-play ability than Dwyer and Redman. His strength is generating yards after contact. This could end up being more of a competition for the backup job. Dwyer and Redman are both similar running backs, and the Steelers likely will only keep one.
LaRod Stephens-Howling
, a free-agent pickup from the
Arizona Cardinals
, will factor in as a third-down back and a returner. He essentially replaces
Chris Rainey
, who was released in January after getting arrested for a second time on a domestic violence incident.
April, 28, 2012
4/28/12
4:44
PM ET
Let's take a quick look at what the division teams did in the fourth and fifth rounds:
BENGALS
: Cincinnati should play a lot more two tight end formations with the addition of Georgia's
Orson Charles
(fourth round). He can get open in the passing game and help out the running game with aggressive blocking. ... Iowa CB
Shaun Prater
(fifth round) is a strong worker who lacks ideal height (5 feet 10). He projects to be a nickel back down the road. ...California's
Marvin Jones
(fifth round) is the second wide receiver taken by Cincinnati (Rutger's
Mohamed Sanu
was the other). He isn't technically sound but he was impressive at the Senior Bowl. ... Boise State FS
George Iloka
(fifth round) has a lot of range in pass coverage but he is an inconsistent tackler.
BROWNS
: Cleveland addressed the need for speed at receiver with Miami's
Travis Benjamin
(fourth round). His other contribution could come as a returner. ... Nevada's
James-Michael Johnson
(fourth round) is listed as an inside linebacker but he could be the eventual replacement for outside linebacker
Scott Fujita
. ... Colorado's
Ryan Miller
(fifth round) is a mauling lineman who is extremely tall (6 feet 7) for a guard. He projects to be a right guard.
RAVENS
: The Ravens found their potential center of the future in Delaware's
Gino Gradkowski
(fourth round). He could also compete for the job at left guard, where
Jah Reid
is currently penciled in as the starter. ... South Carolina State FS
Christian Thompson
(fourth round) adds depth at safety, where the Ravens lost
Tom Zbikowski
and
Haruki Nakamura
in free agency. ... Cal Poly CB
Asa Jackson
(fifth round) shows great burst as a punt returner but he is a raw cornerback prospect.
STEELERS
: Pittsburgh's strong draft continued when the team selected nose tackle
Alameda Ta'amu
from Washington (fourth round). He could be pressed to start right away with
Casey Hampton
(ACL surgery in January) isn't ready at the start of the season. ... Florida RB
Chris Rainey
(fifth round) is an undersized explosive playmaker. He lasted this long because of character concerns.
NFL SCOREBOARD
Sunday, 2/2
WEEKLY LEADERS