NFL Nation:

Gerald Carter
July, 13, 2011
7/13/11
9:26
AM ET
TAMPA, Fla. -- I'm getting ready to head out to One Buccaneer Place for the news conference to formally announce Jimmie Giles into the team's Ring of Honor.
The Bucs did a first-class job of making the announcement of John McKay last year and Lee Roy Selmon the year before that. I'm sure they'll do right by Giles, but I'm more curious to see this announcement than I was the first two.
That's largely because I knew just about everything about Selmon and McKay. Selmon was Tampa Bay's first draft pick, a member of the Pro Football Hall of Fame, a staple in the community and I sometimes eat at his restaurants. McKay was Tampa Bay's colorful first coach and was famous before that as an outstanding college coach at Southern California. He stayed in Tampa Bay after he was done coaching and sometimes stopped by to watch practice back in the mid-1990s when his son, Rich, was general manager and I was covering the Bucs on a daily basis.
[+] Enlarge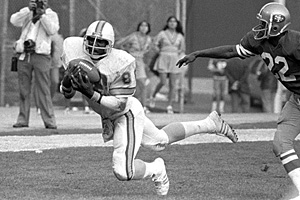 AP Photo/Sal VederJimmie Giles was on the 1979 Buccaneers team that went to the NFC Championship Game.
But Giles is a little different. I don't know nearly as much about him. I remember him a little as a player, but I arrived in the Tampa Bay area for college just as Giles was wrapping up his time with the Bucs. Growing up in Pennsylvania, not many Tampa Bay games were televised locally unless the Bucs happened to be playing the Giants, Eagles or Jets.
Giles also spent time with the Oilers, Lions and Eagles, but the best part of his career came with Tampa Bay. He was with the Bucs from 1978 until 1986 and made four Pro Bowls during that time. He was part of the 1979 team that made an unlikely run to the NFC Championship Game.
In 13 NFL seasons, Giles had 350 catches for 5,084 yards and 41 touchdowns. Those aren't huge numbers for a tight end. But you have to remember Giles was playing in an era when tight ends primarily were used as blockers. Giles did have some big moments as a receiver and none was bigger than Oct. 20, 1985, against the Miami Dolphins. In that game, Giles caught four touchdown passes.
Buccaneers teammate Gerald Carter once was quoted as saying that Giles could have been "one of the best all-time tight ends, if they'd used him more".
But the Bucs used Giles enough that he was one of their best players from an early history that wasn't always pretty. He did enough to earn a spot in the Ring of Honor and a lasting legacy.
I'll be back later with more on Giles.
September, 10, 2009
9/10/09
4:29
PM ET

Posted by ESPN.com's Mike Sando
Questions, answers and observations as the 49ers prepare for their 2009 regular-season opener without first-round draft choice
Michael Crabtree
:
1. Is an agreement in sight?
The evidence suggests not. Players tend to sign before missing regular-season game checks, but by now we would have seen more signs of movement. None is apparent. Crabtree's throwing session with
Trent Dilfer
took place three weeks ago, so I wouldn't read much into that. If Crabtree lets one game slip past without signing, we'll know he's as serious as he appears.
2. What is the holdup?
It's impossible to know without trusting sources with a vested interest in how the arguments are framed. The cliché says the devil is in the details, and that is probably the case here. High-stakes negotiations for drafted rookies are about identifying which incentive terms will allow the player to maximize total value. What if Crabtree fears he could not hit those incentives in the 49ers' conservative offense? More on that in a bit.
3. Does Crabtree want to play for the 49ers?
I'm starting to have doubts. The other first-round picks in this division had a hard time missing training camp practices, let alone exhibition games or the regular season.
Beanie Wells
traveled overnight to reach Cardinals camp without missing any more practices than necessary.
Aaron Curry
told reporters he had reached a breaking point after missing one week of camp. Crabtree? Not so much.
4. Why wouldn't Crabtree want to play for the 49ers?
Perhaps he's been listening to Mike Singletary and Jimmy Raye talking about how they want to run the ball 60 percent of the time, more than any NFL offense ran the ball last season. The way quarterbacks
Shaun Hill
and
Alex Smith
performed during the exhibition season probably didn't help. And if you look at Raye's history as a coordinator -- see the chart below -- he's clearly serious about running the football.
| | | | | |
| --- | --- | --- | --- | --- |
| Season | Offense Coordinated by Jimmy Raye | Receptions Leader | Receptions | Yards |
| 2000 | Chiefs | Derrick Alexander | 78 | 1,391 |
| 2005 | Raiders | Jerry Porter | 76 | 942 |
| 2004 | Raiders | Jerry Porter | 64 | 998 |
| 1991 | Rams | Henry Ellard | 64 | 1,052 |
| 2001 | Redskins | Michael Westbrook | 57 | 664 |
| 1999 | Chiefs | Derrick Alexander | 54 | 832 |
| 1998 | Chiefs | Derrick Alexander | 54 | 992 |
| 1990 | Patriots | Irving Fryar | 54 | 856 |
| 1985 | Bucs | Kevin House | 44 | 803 |
| 1986 | Bucs | Gerald Carter | 42 | 640 |
| 1983 | Rams | George Farmer | 40 | 556 |
| 1984 | Rams | Henry Ellard | 34 | 622 |
| x | x | Averages | 55 | 862 |
The reception leaders in Raye-coordinated offenses averaged 55 catches per season, with only two receivers reaching 65 receptions in 12 seasons. Those same 12 offenses produced 2,105- and 1,808-yard rushing seasons for Eric Dickerson, a 1,432-yard season for Stephen Davis, a 1,300-yard season for James Wilder and a 1,025-yard season for
LaMont Jordan
.
5. Will the 49ers cave?
I do not think so. Crabtree was a value pick, not a need pick. The 49ers knew they wanted to be a power running team. They weren't going to build the offense around a rookie receiver who missed minicamps while rehabbing a foot injury. More broadly, the 49ers and the rest of the NFL have too much at stake to be perceived as altering the informal slotting system teams use to determine value for draft choices.
6. Who is advising Crabtree?
Eugene Parker is the agent of record. We also should not underestimate Deion Sanders' sway as a mentor and opinionated adviser. Sanders suggested on NFL Network that other teams would be willing to acquire Crabtree from the 49ers and meet his contract demands. Sounds to me as though Crabtree would welcome a trade. Sanders is 42 years old, hardened by the league and bottom-line oriented in his assessments. I think he could influence Crabtree's thinking.
7. Is a trade likely?
The likelihood increases if Crabtree stays away through the season. The 49ers cannot appear to be acquiescing, but they also need to get value in the end. If the 49ers enjoy a season and Crabtree stays away, a trade becomes more palatable.
8. Who has more at stake?
Crabtree. The 49ers do not need a rookie receiver to accomplish what Singletary has set out to accomplish. Crabtree needs the 49ers to get what he wants in the short term. And if he does sit out the season with an eye toward re-entering a future draft, he will have lost money in the short term while possibly alienating other teams. There's no guarantee another team would draft him high enough to offset the compensation Crabtree would have bypassed in the interim.