NFL Nation:

Gerris Wilkinson
August, 3, 2010
8/03/10
1:00
PM ET
By
Matt Mosley
| ESPN.com
ESPN.com NFL Power Ranking
(pre-camp): 16
ALBANY, N.Y. -- The
New York Giants
are going through an identity crisis. Just when we had them pegged as a perennial playoff team, they went out and lost eight games in one season.
There are plenty of players on the roster who own Super Bowl rings from the '07 season, but some of them also took the field in disgraceful losses to the Panthers and Vikings to close out '09. Coach Tom Coughlin seemed invincible two years ago, but it's not a stretch to say that his job's on the line heading into this season. Co-owner John Mara has suggested that's not the case, but it's hard to envision Coughlin surviving another .500 season.
The good news for Giants fans is that Coughlin's been here before, and he's come out on the other side. He told me Monday that two books he read over the summer -- a biography of Harry Truman and a remarkable story involving four Navy SEALs -- have had a profound effect on him. He'll spend the next three weeks in training camp attempting to inspire his players to be "uncommonly good."
"I don't remember anyone saying I was on the hot seat when we were 5-0," he said Monday. "But believe me, the most intense pressure comes from within. The outside stuff doesn't affect me."
Coughlin has personally challenged veteran players such as defensive end
Justin Tuck
to get out of their comfort zones and take larger leadership roles. He also brought in fiery defensive coordinator Perry Fewell to create more energy on the practice field. The former Bills assistant can be heard from across the University at Albany campus shouting at his players and he even tried to throw a block for cornerback
Corey Webster
during an interception return Monday.
"With our group of players, a coach has to do something phenomenal for us to wholeheartedly follow you," Tuck told me Monday. "[Fewell] had to win our trust. But every day, he shows us how much he loves the game with his actions. And when you see a guy with that much energy, it's hard not to get behind him."
Shortly after Fewell was hired, Tuck stopped by his office to say hello. When he walked into the room, he said Fewell grabbed a marker and started drawing plays on the board.
"He went through a bunch of different scenarios and then asked me how I thought they might work this season," said Tuck. "I got more and more excited as he talked about all the possibilities."
Tuck didn't want to give too much away, but he did disclose that one of the scenarios involved him and
Osi Umenyiora
both playing linebacker at the same time. But keep that confidential if you would.
THREE HOT ISSUES
[+] Enlarge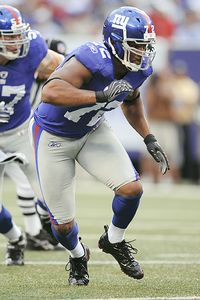 Rich Kane/Icon SMIOsi Umenyiora is in a battle to regain his job as a starter.
1.
What happens if Osi Umenyiora doesn't win back his starting job?
For the first two days of camp, Umenyiora was all smiles. He's only practicing once a day in order to manage his hip injury, but he doesn't think the injury will keep him out of any games. Umenyiora's a prideful player who felt humiliated by losing his job to
Mathias Kiwanuka
last season.
The good thing is that Fewell's going to be up front with all of his players and let them know where they stand. Coughlin remembers how the Giants came at teams with waves of pass-rushers in '07 and '08. Tuck, Umenyiora, Kiwanuka and first-round rookie
Jason Pierre-Paul
have the talent to be a special group. But last year players along the defensive line started trying to do too much individually and didn't play as a unit. I don't see any circumstance where Umenyiora embraces a reserve role, so that will put the coaching staff in an interesting situation. My guess is that Umenyiora meets the challenge and wins back his job.
"Osi's in for a fight because Kiwi's not going to back down," said Tuck. "Those two are going to push each other and I think that's a good thing."
2. Is former second-round pick Will Beatty ready to take over at left tackle?
Coughlin and general manager Jerry Reese love creating competition and it's going to be interesting to see if
David Diehl
can hold onto his left tackle spot. The good news for Diehl is that he's going to end up starting on the offensive line no matter what happens in that competition. Coughlin's going to do whatever's best for the team, and I think that will ultimately be Beatty at left tackle and Diehl at left guard. Beatty, a second-year player, has shown a lot of quickness in the first three practices of training camp.
It won't be a completely smooth transition, but I believe he has the athletic ability and size to succeed at left tackle. The Giants have had a lot of continuity along the offensive line, but that won't keep Coughlin from pulling the trigger on a move. In talking to Reese, I get the feeling he's enjoying this competition quite a bit.
3. Can the Giants re-establish the running game?
[+] Enlarge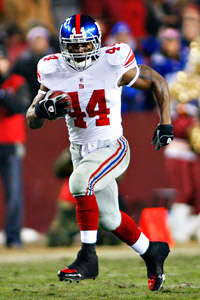 Geoff Burke/US PresswireA healthy Ahmad Bradshaw could see more carries in 2010.
Of all the things that went wrong last season, the lack of a consistent running game might have been the thing that disappointed Coughlin the most.
The Giants went from the No. 1 rushing team in the league in '08 to a No. 17 ranking in '09. They averaged almost a full yard less per carry in '09, which put too much pressure on
Eli Manning
and the passing game.
Tiki Barber told me early last season that he'd advised
Brandon Jacobs
to learn how to protect his body more on runs. It may have been solid advice, but Jacobs appeared tentative in '09 and began to doubt himself as the season unfolded. If he looks tentative early in this season, I believe a healthy
Ahmad Bradshaw
will be prepared to take over as the featured back.
I've been impressed with how quick and decisive he's looked in camp. And
Andre Brown
appears to have regained his speed after missing last season with a ruptured Achilles tendon. Brown should be a good change-of-pace back and he has soft hands that could make him a decent option on third down.
BIGGEST SURPRISE
I think the most pleasant surprise so far is the Giants appear to have a ton of competition at cornerback.
Aaron Ross
missed so much time last year because of hamstring issues that he sort of faded out of the picture. Now, he's getting his hands on lots of footballs and he's regained that quickness that we saw a couple seasons ago. The problem for him is that
Terrell Thomas
and Webster have both been excellent in this camp. Webster was a disappointment last season, but he's been one of the best players in camp through three practices.
BIGGEST DISAPPOINTMENT
It's hard to give up on someone after three practices, so I'll go with an injured player in safety
Kenny Phillips
. He has an excellent attitude, but the fact that he's on the physically unable to perform list isn't a great sign. He was on the verge of stardom before a serious knee condition required microfracture surgery. The Giants brought in plenty of insurance for Phillips this season, but it would be really disappointing if he's not able to make a full recovery.
OBSERVATION DECK
[+] Enlarge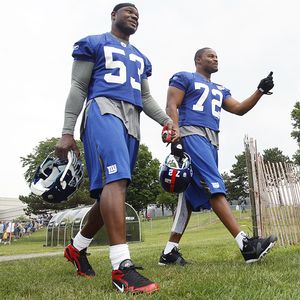 AP Photo/Mike GrollLinebacker Keith Bulluck (53) has looked comfortable in the early stages of camp.
May, 11, 2010
5/11/10
1:00
PM ET
By
Matt Mosley
| ESPN.com
»
NFC Big Question
:
East
|
West
|
North
|
South
»
AFC
:
East
|
West
|
North
|
South
Is Phillip Dillard a viable candidate to start at middle linebacker?
[+] Enlarge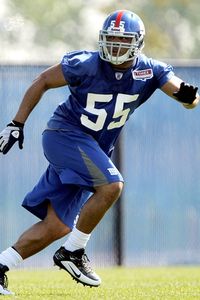 John Munson/US Presswire Phillip Dillard, a fourth-rounder in this year's draft, looks like a front-runner to start at middle linebacker for the Giants.
Something strange has taken place since the
New York Giants
' first rookie minicamp a couple weeks ago. It's almost like we're assuming that Phillip Dillard, a fourth-round pick out of Nebraska, should be the starter at middle linebacker. So does that say more about the team's shaky status at that position or Dillard's upside?
Antonio Pierce
is gone because of injuries and declining play. But the Giants certainly will miss his leadership at middle linebacker. It's the job of new defensive coordinator Perry Fewell to identify someone who's not afraid to be vocal while getting the front seven in the right spots. The good news for Fewell is that rookie linebackers have flourished as starters over the last few years in the league. I think of the impact
DeMeco Ryans
had as a rookie with the Texans. And you immediately knew that
Patrick Willis
would be Pro Bowler when he stepped on the field for the 49ers.
Dillard has a long way to go, but there are signs that he has the type of ability to take over the position. And honestly, I don't think
Jonathan Goff
,
Bryan Kehl
and
Gerris Wilkinson
are viable alternatives. I'm not sure there's a fourth-round pick in the league who faces more pressure than Dillard. Ohm Youngmisuk of ESPNNewYork.com caught up with Redskins middle linebacker
London Fletcher
to
ask him about rookies in the starting lineup
. Fletcher played for Fewell with the Bills, so he knows what the defensive coordinator's trying to accomplish.
"If the rookie comes in and is a great talent and they can live with the growing pains that come with the rookie, and that rookie learns from his mistakes and doesn't repeat the same mistakes, he can excel in that defense," said Fletcher.
April, 8, 2010
4/08/10
3:11
PM ET
By
Matt Mosley
| ESPN.com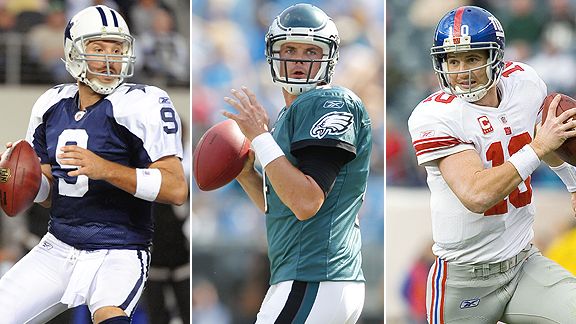 US PresswireWill Tony Romo, Kevin Kolb or Eli Manning be leading the NFC East's top team in 2010? Matt Mosley takes an early look.
One of the most important things to do when overreacting to a blockbuster trade within a division is to suggest one of the teams will leapfrog pretty much everyone in the league. And although I'm wired to have knee-jerk reactions in most phases of life, I've so far resisted the urge to elevate the Redskins to playoff contender status. Do they have a much better chance? Absolutely.
But in the spirit of wild, reactionary behavior, let's now handicap the most compelling division in football heading into this month's draft. I have analyzed all the free-agency moves and have looked at several of Mike Sando's NFL databases in my attempt to determine the early bird power rankings in the Beast. Now, here are the fruits of my labor:
My NFC East post-Easter, pre-draft power rankings:

1. Dallas Cowboys:
The releases of left tackle
Flozell Adams
and
Ken Hamlin
, which may have been predicted in this space, caused shockwaves in the division -- until the move was trumped by Sunday evening's events. It's rare to see a legitimate Super Bowl contender release a perennial Pro Bowl left tackle and a veteran starter at safety. Jerry Jones looked me in the eye recently (for an awkwardly long time) and insisted that
Doug Free
was capable of starting at left tackle in this league. I took this to mean that Jones would release Adams, but it happened sooner than most of us thought.
I don't think Friday's moves did serious damage to the Cowboys' hopes of winning another division title, but it puts enormous pressure on Free and whomever replaces Hamlin at safety. Right now, the candidates are
Alan Ball
,
Michael Hamlin
and a player to be drafted later. The Cowboys are still the most stable team in the division heading into the draft, but I'm a bit concerned wide receiver
Miles Austin
has chosen to work out in Los Angeles rather than Valley Ranch. Hey, I realize the recent trip to Hugh Hefner's mansion had to be an eye-opening experience, but Austin should come on home at some point.
This may be a ploy to get Jones' attention since Austin's a restricted free agent set to make roughly $3.6 million while fellow starter
Roy Williams
will collect somewhere in the neighborhood of $13 million this season. And honestly, Austin and his agent, David Dunn, who showed nice separation skills from reporters at the recent owners meetings, have a pretty good point. But ultimately, I don't think staying away from
Tony Romo
and his other teammates will improve Austin's standing.
With that said, the NFC East title still goes through Dallas. Just ask
Keith Brooking
if you don't believe me.
Cowboys win prediction in April:
12

2. New York Giants:
Our old friends from the New Jersey swamps have managed to fly under the radar this offseason -- other than that coin flip. General manager Jerry Reese has told me on three separate occasions this offseason the play at safety last season was unacceptable -- and I'm sure Giants fans would agree with that assessment. He's responded by signing former Cardinals safety
Antrel Rolle
to an enormous contract and then bringing in journeyman
Deon Grant
, who's a definite upgrade over
C.C. Brown
.
With Rolle,
Kenny Phillips
,
Michael Johnson
and Grant, the Giants have some much-needed depth at the position. But don't be shocked to see them draft another safety in two weeks. It's hard to say how much of the Giants' failures on defense had to do with all the injuries and how much of it hinged on poor play. I'd lean toward the former, but Tom Coughlin and Reese aren't going to sit around and find out. They need to replace
Antonio Pierce
at middle linebacker. And you can't simply hope that
Jonathan Goff
or
Gerris Wilkinson
will get the job done. If the Giants land Alabama linebacker
Rolando McClain
at No. 15, they'll have an immediate starter and one of the most intelligent players in this draft.
It's just hard for me to imagine the Giants going through another awful stretch, as they did last season. Wide receiver
Hakeem Nicks
is poised to become an electric player and
Steve Smith
proved that he can be a front-line receiver. Mix in
Mario Manningham
and
Ramses Barden
and you have the makings of an elite receiving corps. Right now, you'd have to say the Eagles and Giants are neck in neck at that position.
I also think the arrival of fiery defensive coordinator Perry Fewell will solve some issues. He'll be more aggressive with the pass rush and he'll attempt to use
Osi Umenyiora
's unease to his advantage. I also think you'll see a much healthier
Justin Tuck
. He was limited for most of last season after being tripped by Flozell Adams in the Week 2 game at Cowboys Stadium. I think Tuck's poised to have a huge bounce-back season. That's a big reason why the Giants will return to the playoffs.
Giants win prediction in April:
10

3. Philadelphia Eagles:
First of all, I think
Kevin Kolb
is going to win a lot of games with the Eagles. But there will be bumps along the way. No one really knows how he'll look as the full-time starter, but he's shown signs he can get the job done. I think he'll immediately be a more accurate passer than McNabb, but I also know that opposing defensive coordinators will go to great lengths to confuse him in coverage.
Kolb will reach out to fellow Texan
Drew Brees
this offseason for advice on dealing with all the adversity he's sure to face. I think that's an excellent move. The Eagles will surround Kolb with some potent weapons at receiver and tight end. But what Andy Reid truly needs to do is commit to the running game. That will help an inexperienced quarterback more than anything. Will Reid do that? I have my doubts.
The Eagles need to add more depth in the secondary during the draft. You can't depend on
Marlin Jackson
, owner of two surgically repaired knees, to be the answer. I think the Eagles have to draft a safety and a cornerback in the early rounds. Of course, that No. 37 pick should really help. If someone like South Florida safety
Nate Allen
begins to slip a little bit, the Eagles should be ready to take him. I think defensive coordinator Sean McDermott will be much more comfortable in his second season. But with the Redskins becoming more of a force and the Giants likely bouncing back, finding 10 wins will be tough. Kolb will one day lead this team on a deep playoff run. But that won't happen in 2010.
Eagles win prediction in April:
9

4. Washington Redskins:
No, it didn't slip my mind that Washington landed an elite-level quarterback. But count me among the skeptics who think playing behind an offensive line that could feature
Mike Williams
and
Stephon Heyer
isn't a recipe for a huge turnaround. When the Dolphins had a remarkable turnaround two seasons ago, they benefited from the rest of the division wilting down the stretch. I don't think the Redskins can count on any help from their division rivals this season.
McNabb will make the Redskins better, but he'll need to make them at least six wins better to have a shot at the playoffs. He's still an excellent quarterback and leader, but I don't see him making a six-win difference.
Brett Favre
inherited a 10-win team and the best running back in the game last season. McNabb inherits a four-win team and a collection of fading stars at running back.
I know McNabb took a jab at the Eagles when he said the Redskins
will
run the ball, but it's not like a young
Brian Westbrook
's walking through that door. Mike Shanahan won Super Bowls with a young
Terrell Davis
. He then put up huge numbers with backs such as Mike Anderson, who was the offensive rookie of the year in 2000. But most of the running backs who put up big numbers for Shanahan were young and hungry.
Clinton Portis
,
Larry Johnson
and
Willie Parker
are just holding on to their careers for another two or three seasons. McNabb needs to win nine games (or go to the Pro Bowl) in order for the Eagles to receive a third-round pick in the 2011 draft. I don't see it happening at this point. This team will be much improved, but it''ll need more than that in the rugged NFC East.
Redskins win prediction in April:
8
Editor's note:
Mosley reserves the right to completely change his mind following the draft.
March, 4, 2010
3/04/10
9:49
AM ET
By
Scouts Inc.'s Matt Williamson
| ESPN.com

Dallas Cowboys
Potential unrestricted free agents
: G
Montrae Holland
Potential restricted free agents
: NT
Junior Siavii
, WR
Miles Austin
, DE
Stephen Bowen
, CB
Cletis Gordon
, DE
Jason Hatcher
, WR
Sam Hurd
, T
Pat McQuistan
, C
Duke Preston
, G
Cory Procter
, S
Gerald Sensabaugh
, DE
Marcus Spears
, S
Pat Watkins
, K
Shaun Suisham
.
What to expect
: Anything is possible with Jerry Jones in charge, and the Cowboys could make a big splash after an underwhelming offseason a year ago. But in terms of team needs and what is required to take the next step, Dallas really doesn't need much. A big-time impact safety makes some sense and could make a very good defense great, but that might be a project for the draft in a trade-up scenario for someone like Earl Thomas. But
Darren Sharper
might pique their interest. They also need to get younger along the offensive line, particularly at tackle, but that seems like a draft-day project, too. Maybe Jones gets real aggressive in the wide receiver market, as
Roy Williams
certainly is not living up to his billing, but the Cowboys are still rather stacked with pass-catchers. All in all, this is a team that is sitting pretty and doesn't have a prominent unrestricted free agent who is poised to leave.

New York Giants
Potential unrestricted free agents
: QB
David Carr
, LB
Danny Clark
, P
Jeff Feagles
, DT
Fred Robbins
Potential restricted free agents
: WR
Domenik Hixon
, TE
Darcy Johnson
, DE
Dave Tollefson
, G
Kevin Boothe
, S
C.C. Brown
, DT
Barry Cofield
, CB
Kevin Dockery
, WR
Derek Hagan
, WR
Sinorice Moss
, T
Guy Whimper
, LB
Gerris Wilkinson
.
What to expect
: Big things could be in the works here, as there are already rumors swirling that New York could be a prime suitor for linebacker
Karlos Dansby
. An impact linebacker is certainly near the top of their wish list and Dansby fits the bill. Plus, he is extremely versatile. Getting faster on defense is a huge priority with new coordinator Perry Fewell stressing the ability to cover a lot of ground. However, Dansby isn't really the thumper they need in the middle and is more of an outside linebacker for this system, although he would be great on passing downs. This is a group of decision-makers who might be starting to feel some heat, so do not rule out a big move or two.

Philadelphia Eagles
Potential unrestricted free agents
: DE
Jason Babin
, S
Sean Jones
, LB
Jeremiah Trotter
, LB
Tracy White
Potential restricted free agents
: LB
Akeem Jordan
, P
Saverio Rocca
, WR
Jason Avant
, C
Nick Cole
, LB
Omar Gaither
, LB
Chris Gocong
, CB
Ellis Hobbs
, G
Max Jean-Gilles
, TE
Alex Smith
, FB
Leonard Weaver
.
What to expect
: There are questions on the offensive line, but overall, the Eagles are in a prime situation to improve their defense, particularly up front and at safety. Remember, they have quarterbacks to dangle as trade bait and really do not have any unrestricted guys that they need to bring back. This is a possible landing spot for
Julius Peppers
and he would be terrific on the opposite side of
Trent Cole
, who is among the most underrated players in the game and could blow up with someone taking pass protection attention away from his side. Count on the Eagles being aggressive in the free-agent and/or trade market. It might just be enough to get them that ever elusive Lombardi trophy. Stranger things have happened.

Washington Redskins
Potential unrestricted free agents
: LS
Ethan Albright
, DE
Phillip Daniels
, T
Levi Jones
, C
Casey Rabach
,
P
Hunter Smith
, T
Mike Williams
, DE
Renaldo Wynn
, TE
Todd Yoder
.
Potential restricted free agents
: DE
Lorenzo Alexander
, T
Stephon Heyer
, LB
Chris Wilson
, QB
Jason Campbell
, S
Reed Doughty
, DT
Kedric Golston
, LB
Rocky McIntosh
, DT
Anthony Montgomery
, C
Will Montgomery
, CB
Carlos Rogers
.
What to expect
: This is a difficult team to get a grasp on in terms of what they might do in free agency, but I think it is safe to say that ownership will not hold Mike Shanahan and company back from opening up the check book and signing (and even overpaying) players whom they desire. It would be wise for Washington to have an excellent idea of what they are going to do with the fourth overall draft pick in terms of going quarterback or offensive tackle before really devising a free-agency plan. Rebuilding the offensive line is a must and Shanahan needs lighter, quicker (and younger) linemen than are on the roster. A running back they can trust wouldn't hurt either, although it looks as though
Clinton Portis
will return, which they may regret. But don't forget, this is a team that -- unwisely in my opinion -- is switching to a 3-4 scheme, so inside linebacker help is required, as are defensive linemen who fit the new scheme. The Redskins have a long wish list, but also have the ownership to endorse big spending when free agency opens.
August, 2, 2009
8/02/09
7:15
PM ET
Posted by ESPN.com's Matt Mosley
The fact that defensive tackle Fred Robbins and linebacker Michael Boley are starting training camp on the physically unable to perform (PUP) list shouldn't catch anyone by surprise. But Rocky Bernard's listing on the non-football injury list caught everyone by surprise.
According to Tom Coughlin on Sunday, Bernard finished up the club's offseason program with a banged up shoulder and hamstring. Most people thought, though, that Bernard would be ready to go at the start of camp. Apparently it's the hamstring that is keeping Bernard off the field early in camp.
"The surprise is Bernard," Coughlin said Sunday in his state-of-the-team address. "I didn't expect this. He left [after the offseason program] with a hamstring [injury] and a shoulder (injury). The shoulder seems to be feeling okay, but he does have an issue with his hamstring."
Not a good sign that two key players from free agency, Boley and Bernard, will both miss time during training camp. We already knew Boley would miss camp because of hip surgery. Without those players, defensive tackle Chris Canty and Barry Cofield should get a lot of reps in practice. And at linebacker, expect Bryan Kehl, Chase Blackburn and Gerris Wilkinson to see even more work than usual. It's imperative that Wilkinson stays healthy throughout training camp. He has always been a talented player, but the Giants are going to lose patience with him at some point. And that time may be sooner rather than later.
By the way, the "non-football" injury status means that Bernard suffered an injury while not under supervision of team officials.
July, 22, 2009
7/22/09
11:31
AM ET
Posted by ESPN.com's Matt Mosley
Dallas Cowboys
Training camp site: San Antonio
Campfires: The one legitimate camp battle that will take place features second-year cornerbacks Orlando Scandrick and Mike Jenkins. Terence Newman's the obvious starter, but Scandrick, a fifth-round choice, will challenge Jenkins, a first-round pick. Scandrick was the more complete player his rookie season, but Jenkins has vowed to win the job -- via his blog.
| | |
| --- | --- |
| | |
| | Al Bello/Getty Images |
| | Dallas needs Roy Williams to improve upon his first season with the Cowboys. |
It might be interesting to keep your eye on the situation at left guard, where Kyle Kosier will try to hold off Montrae Holland and last year's fill-in, Cory Procter. Kosier has more experience, but Holland might have more athletic ability.
The running back rotation also will be intriguing to watch. The Cowboys have hinted about starting Felix Jones and returning Marion Barber to his cleanup role. I'm not sure it's the right way to go, but the Cowboys will certainly take a long look at it. Also take a look at the competition for the No. 2 receiver spot. Miles Austin appears to have the inside track, but Patrick Crayton's not ready to concede.
Camp will be a downer if ... Tony Romo and Roy Williams can't get on the same page. They had their moments during offseason workouts, but they didn't wow anyone. Perhaps Williams' dedication to weightlifting and conditioning will pay off.
I think the Cowboys also need Anthony Spencer to make a strong move at outside linebacker. If he doesn't take the next step or he ends up with another injury, it would certainly be a downer.
Camp will be a success if ... Offensive coordinator Jason Garrett's able to implement a more balanced offense that utilizes the Cowboys' depth at running back. Garrett's under a lot of pressure to live up to his immense paycheck.
Success also means strong performances from free-agent additions Igor Olshansky and Keith Brooking. The Cowboys need Brooking to be an upgrade over Zach Thomas, who never looked totally comfortable at his inside linebacker spot in the vaunted Wade Phillips 3-4. One more thing: The Cowboys need to agree to an extension with DeMarcus Ware. That would help alleviate any potential tension with the team's best player.
Surprise, surprise: I think Sam Hurd will have an outstanding camp and could actually challenge for the No. 2 receiver role. He really impressed me during OTAs -- when he wasn't working with the trainers.
---
New York Giants
Training camp site: Albany, N.Y. (University at Albany)

Campfires: I'll have my eye on the running back competition from the start. Danny Ware wants to battle Ahmad Bradshaw for the right to replace Derrick Ward. But he has a long way to go to win the trust of the Giants' coaches. Rookie Andre Brown could emerge during camp as a key contributor. The rookie running back has won universal praise early in his time in the Meadowlands.
| | |
| --- | --- |
| | |
| | William Perlman/US Presswire |
| | Defensive lineman Chris Canty is one of the new faces the Giants are counting on. |
At linebacker, free agent Michael Boley was supposed to shore up some of the deficiencies in coverage. Now he's banged up and will serve a one-game suspension. The Giants will have some strong competition at linebacker with players such as Chase Blackburn, Bryan Kehl, Danny Clark and the talented but oft-injured Gerris Wilkinson.
Of course, we'll all be watching the competition at receiver. Can Hakeem Nicks break into the starting lineup in training camp? We're about to find out.
Camp will be a downer if ... The Giants don't see some of their young receivers take the next step. Domenik Hixon and Steve Smith should be serviceable as the starting duo. But the team would love for either Sinorice Moss or Mario Manningham (or both) to emerge as a viable threat. That would free up Nicks and Ramses Barden to sort of ease their way into the regular season.
Oh, and we can't forget Super Bowl hero David Tyree. He's looking for another book deal.
Camp will be a success if ... All of the new additions on defense (Rocky Bernard, Chris Canty, Boley, etc.) mesh early. I think Canty will flourish from the defensive tackle spot and he'll still be able to slip outside and rush in some situations. Those players should make Justin Tuck and Osi Umenyiora even more effective.
I also think it's time for Kenny Phillips to have a breakthrough season. If he has a strong camp, I think he'll be headed for Pro Bowl consideration.
Surprise, surprise: Give me Brown at running back. The Giants were thrilled to land him in the fourth round and Jerry Reese thinks he'll be in the mix for the No. 2 role behind Brandon Jacobs.
---
March, 24, 2009
3/24/09
11:00
AM ET
Posted by ESPN.com's Matt Mosley
DANA POINT, Calif. -- When we bumped into the Jerry Reese family last night at a league reception, he was surprised to hear that the Beast had broken his interview into two parts. Reese doesn't belief in cliffhangers when it comes to blog interviews, but he eventually came around on the idea.
In case you missed the critically acclaimed Part 1, it's been preserved in this non-print format. Part 2 begins now:
Beast: Would you be open to trading for a receiver this offseason (wink wink Anquan Boldin)?
Reese: We leave all our options open. All of our options are open and anything can happen.
Beast: How is Osi Umenyiora's recovery coming along?
Reese: He's in the offseason program working hard. I'm not sure when we'll see him at full speed. He'll be ready to go in the fall. I know he's going to be chomping at the bit to get back out there.
Beast: You don't appear to have a lot of spots to fill. Do you prepare any different for a draft when your team is set at pretty much every position?
Reese: We like to create competition. Everyone has to come in and earn the job. We like that. We have to keep creating that.
Beast: What does Michael Boley bring to this team?
Reese: He gives us more speed. He covers really well for a linebacker and he just brings a lot to the table. He'll compete with guys like [Bryan] Kehl, Chase Blackburn and Gerris Wilkinson.
Beast: Which player on your team is set to make a big move this offseason?
Reese: I think it was Barry Cofield last year. Who will it be this year? I expect Kenny Phillips to compete for the starting job and Michael Johnson is an exciting young safety. You can look to some of the young linebackers such as Kehl and Goff.
Beast: Is Danny Ware one of those guys?
Reese: He's an interesting guy. We like him a lot.
I'll have full coverage from the AFC coaches' breakfast in a little while. Not sure we'll come up with a lot for the Beast, but Tony Sparano has promised to share his pancakes.
OK, let's do this again soon.
Posted by ESPN.com's Matt Mosley
The top issues facing each team in the division:
Primary issue: Trying to repair what has become the most toxic locker room in the league. The problem is that owner Jerry Jones thinks cohesiveness is overrated and doesn't seem eager to address the problem. The closest thing he did to acknowledging the issue was his attempt to hire former NFL head coach Dan Reeves as a consultant. But the deal fell apart over a clause in the contract that Reeves wasn't comfortable with.
Solution: Like it or not, Terrell Owens is the most prominent (and divisive) voice in the locker room. Releasing him wouldn't solve everything, but it would certainly help. The best solution would be quarterback Tony Romo taking control of the locker room, but it's hard to tell if he's capable of that at this point.
| | |
| --- | --- |
| | |
| | Matthew Emmons/US Presswire |
| | One way or another, T.O. will play a major role in the future of the Cowboys. |
Secondary concern: Figuring out what went wrong with the offense. The numbers might not look awful, but they don't tell the whole story. T.O. couldn't get off the line of scrimmage and midseason acquisition Roy E. Williams didn't make any impact. Offensive coordinator Jason Garrett appeared to lose the confidence of his players late in the season. He could win them back by orchestrating a dynamic passing game. And the return of running back Felix Jones should help the offense.
Solution: Garrett has to take advantage of having three talented running backs. Marion Barber, Felix Jones and Tashard Choice could become the Cowboys' answer to the Giants' version of Earth, Wind and Fire. Garrett also has to stop worrying about keeping T.O. happy. The 10 games the Cowboys had with Williams were pretty much a wash. Garrett has to find a way to play to the receiver's strengths. Williams is supposed to be your No. 1 receiver for the next few years. Might as well see what he has to offer.
---
| | |
| --- | --- |
| | |
| | Paul Spinelli/Getty Images |
| | Donovan McNabb's turnaround this season earned him some renewed respect. |
Primary issue: Is there any doubt? Quarterback Donovan McNabb has been the primary issue since 2005. He's hoping to receive a contract extension after he helped engineer the team's improbable turnaround. Some people are calling it a "contract apology" for his November benching.
His pride was wounded, but you have to respect him for bouncing back and taking the team to the NFC title game. The Eagles need to make sure McNabb's happy heading into training camp -- and that's not an easy task.
Solution: Go ahead and give the man some money. Let him know how much you appreciate him with a nice signing bonus and offer him a little security. He wants to be told that the starting job is his for at least the next two seasons. I don't think Andy Reid will have any trouble telling him that. And it's not like Kevin Kolb's breathing down his neck.
Secondary concern: The Eagles have some aging free agents in safety Brian Dawkins and offensive tackles Tra Thomas and Jon Runyan. Fans will want to see Dawkins back on the roster, but there's a good chance we've seen the last of Runyan. He's one of Andy Reid's favorites, but microfracture surgery at age 35 doesn't sound promising. Thomas has a shot at being re-signed.
Solution: The Eagles have to build through the draft. They could use both of those first-rounders on offensive tackles. At some point, you may see a run on offensive tackles. The Eagles better be involved. They can't afford to enter '09 with no solutions at the tackle spots. They need to decide if Ole Miss left tackle Michael Oher's the real deal. He's a talented player, but he disappeared for stretches during his college career.
---
Primary concern: You have to find a receiver to replace Plaxico Burress. Sure, there's a chance Burress returns, but there's also a chance he ends up behind bars.
| | |
| --- | --- |
| | |
| | Al Bello/Getty Images |
| | The future of star receiver Plaxico Burress is unclear. |
The Giants have to proceed as if they won't have Burress in 2009. His level of immaturity is stunning -- even by NFL receiver standards. But he's an immensely talented player. Domenik Hixon is a nice third receiver, but he's not ready to replace Burress.
Solution: You have to take a long look at Cardinals wide receiver Anquan Boldin. His star faded a bit down the stretch this season because of his sideline meltdown during the NFC title game, but he could be a solid No. 1 receiver. Boldin's fearless -- as evidenced by returning soon after having his face rearranged against the Jets. I think he'd actually be a good fit for the Giants. Do I think Jerry Reese will package several draft picks for Boldin? Not really. I think it's more likely he goes after someone like North Carolina's Hakeem Nicks in the draft.
Secondary concern: The Giants could use some help at linebacker. Danny Clark's a little long in the tooth and Gerris Wilkinson has been a disappointment because of injuries. If the Giants could land Cardinals free-agent Karlos Dansby, it would be quite a coup.
Solution: With the return of Osi Umenyiora, the pass rush should get a much-needed boost. We'll have to see how much the loss of defensive coordinator Steve Spagnuolo hurts the team. If you can bring in someone like Dansby and then leave Mathias Kiwanuka at defensive end, the defense will be as strong as ever. Even with the releases of Sam Madison and Sammy Knight, the Giants have plenty of firepower in the secondary.
---
| | |
| --- | --- |
| | |
| | Larry French/Getty Images |
| | The Redskins will need more consistency from Jason Campbell. |
Primary concern:
Last year, Dan Snyder went out and hired Jim Zorn because he thought he had a shot at getting quarterback
Jason Campbell
to the next level. Campbell was superb in the first half of the season, but he fell back into some of his old habits down the stretch. His growth will be a key to the team's success and Zorn's future as a head coach.
Solution: The Redskins thought they were bringing in several weapons for Campbell when they took a tight end and two wide receivers in the second round of the 2008 draft. No one has emerged from that group, so Campbell's forced to rely on Pro Bowl tight end Chris Cooley and the same mighty mite receivers. The Redskins have to reload along the offensive line because they've gotten old there. If Campbell doesn't have enough time in the pocket, he'll never be successful.
Secondary concern: This team desperately needs to improve its pass rush.
| | |
| --- | --- |
| | |
| | NFL.com Video |
| | Check out highlights of the best moments from Clinton Portis in 2008. |
Greg Blache's group didn't play poorly, but defensive end
Jason Taylor
was a huge disappointment. He never felt comfortable in the defense and he was banged up for most of the year. And the solution isn't 36-year-old
Phillip Daniels
, although he could help the team.
Solution: The Redskins need to identify a talented young pass-rusher in the draft such as Brian Orakpo of Texas and latch onto him. If the Redskins don't improve both their offensive and defensive lines, they won't be a factor in the NFC East next season. Clinton Portis was brilliant in the first half of the season, but he didn't have anywhere to go down the stretch. The Redskins have to invest in the offensive and defensive lines. The club doesn't have many picks, so it needs to be smart on draft day.

NFL SCOREBOARD
Thursday, 9/18
Sunday, 9/21
Monday, 9/22
WEEKLY LEADERS