NFL Nation:

Giants-Broncos 112609
November, 27, 2009
11/27/09
2:04
AM ET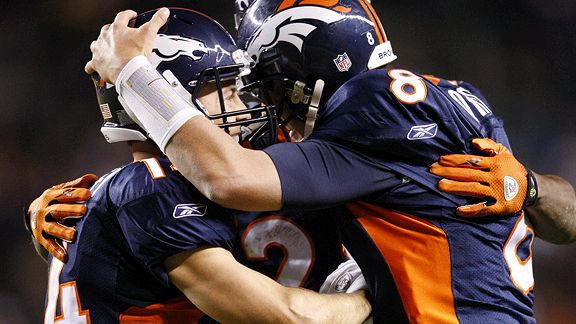 AP Photo/Jack DempseyThe Broncos got back on track with a victory over the Giants Thursday night.
DENVER --
Brandon Marshall
and
Knowshon Moreno
had it all planned out.
Had they been on the field together when one of them scored, they were going to celebrate -- by pushing each other in the end zone. The two were going to remake "Rocky II."
The two skill-position players provided the nadir of Denver's four-game free fall when they engaged in a sideline shoving match after Moreno had a key fumble against San Diego on Sunday in a game that left Denver out of first place in the AFC West.
Moreno did score Thursday night in a
26-6 win
over the
New York Giants
that may have saved the Broncos' season.
However, Marshall wasn't on the field. Still, Marshall is hopeful that the two former combatants can still display their celebration when Denver next plays, Dec. 6 at Kansas City.
"Maybe we'll kiss," said Marshall, hamming it up in a suddenly joyous Denver locker room on a late holiday evening.
Does one night cure all of Denver's ills? No, but it's all the team has and it welcomed the dose of good football and good cheer.
Against the Giants, the Broncos looked like the impressive, balanced bunch that started the season 6-0 and shocked the NFL world. The team played terrific in every phase of the game, and made big, timely plays when it needed to.
The result was Denver's first victory in 38 days.
After looking like they were incapable of ever winning again during a four-game losing streak in which they were outscored 117-37, the Broncos came alive Thursday. They really had no choice.
The Broncos would have been cooked had they lost to the Giants. Now, though, the team is 7-4 heading into the stretch run of December and January. The Broncos have two games remaining against the 3-7 Chiefs and a home game against the 3-8 Raiders. Denver's other two games are on the road against Indianapolis and Philadelphia. Still, the Broncos, who trail the 7-3
San Diego Chargers
by a half game in the AFC West, are still very much alive in the playoff chase.
The complete win ends a trying period for the Broncos, who struggled badly on both sides of the ball and dealt with off-field issues.
Tuesday, veteran safety
Brian Dawkins
called a players-only meeting to help stop the bleeding and to squash any tension that lingered after the Marshall-Moreno incident.
The meeting clearly played a role in re-energizing the Broncos.
"We have a lot of good leaders on this team," said veteran receiver
Brandon Stokley
, who had a 17-yard touchdown catch with 10:15 to go in the game to give Denver a commanding 23-6 lead. "We got back together. Most importantly, we played good football again."
For the first time since Denver beat San Diego on Oct. 19, it enjoyed a dominant performance.
The key was the play of quarterback
Kyle Orton
. Orton showed no signs of a badly sprained ankle that kept him out of about three quarters the past two games. Orton, who struggled in Denver's first two losses of the season, far outplayed Giants quarterback
Eli Manning
.
Orton completed 18 of 28 passes for 245 yards. He had one touchdown. The Broncos moved the ball at ease all game. They also broke out of their two-plus-game red zone funk by scoring two touchdowns from inside New York's 20-yard line.
Orton had plenty of help from an inspired Denver offense that entered the game with just three points in its previous six quarters. Marshall had a fabulous game with six catches for 86 yards.
Moreno also has a big bounce-back game. He had 88 yards on 19 carries and he often carved up the Giants' defense.
"It was just a good overall game by the offense," Marshall said. "We have to continue to play this way."
Defensively, Denver also stepped up. The Broncos' defense carried the team in the first six games. Thursday, it looked like that unit.
Denver went back to the blitz after straying from it in recent games. Manning was uncomfortable all game. Linebacker
Elvis Dumervil
had two of Denver's three sacks and he now leads the NFL with 14. He is in striking distance of Michael Strahan's single-season sack record of 22.5.
Perhaps most encouraging was that Denver played strong run defense. The Giants had 57 yards on 16 carries. Denver was ravaged against the run in the past three games. San Diego had 203 yards on the ground Sunday.
"We made the plays that we needed to make," Denver defensive end
Vonnie Holliday
said. "That's what we did in the early season. It was good to see."
All is well in Denver again. If only for a night.
November, 26, 2009
11/26/09
11:28
PM ET
DENVER -- The
Denver Broncos
are not dead.


They are
still alive
in the AFC West race and in the AFC wild-card chase.
Had Denver lost to visiting New York on Thursday night, the season would be all but lost. There would have been little chance Denver could have been able to recover from a 6-5 record and a fifth straight loss.
Denver entered the Thanksgiving night game fully aware of that fact. The Broncos played with desperation and had one of their best games of the season. The Broncos looked like a 6-0 team, not a 6-4 team.
The Broncos made the big play at the right time on both sides of the ball, just as they did in the first six games. They looked dominant against the befuddled Giants.
One game doesn't make everything right. But it definitely keeps Denver alive and feeling great about itself heading into the final five games of the season.
November, 26, 2009
11/26/09
10:01
PM ET
DENVER -- Notes from halftime where Denver leads the Giants, 16-0.
Denver quarterback Kyle Orton looks very good. He completed 12 of 19 passes for 159 yards in the first half.
Denver is playing very aggressively. It went for it on fourth-and-5 from New York's 29. On the play, Orton hit tight end Tony Scheffler for a 22-yard catch to the 7.
Denver running Knowshon Moreno has 40 yards on nine carries. He is running with great purpose.
Denver receiver Jabar Gaffney made great catch in the first quarter for 28 yards, but he dropped a pass for what would have been a big pass play early in the second quarter.
Denver star cornerback Champ Bailey is working on kick coverage and the punt return unit.
Denver safety Brian Dawkins started despite having a neck injury. He had a very good first half. He made several hard hits.
New Denver punter Mitch Berger continued to improve. He is in his fifth game with Denver.
Denver linebacker Elvis Dumervil got his 13th sack of the season. He leads the NFL in sacks. It is a career high for the four-year veteran.
Denver receiver Eddie Royal is out with a thigh injury. He is questionable to return.
Denver receiver Brandon Marshall had a great, I mean, great leaping, one-handed catch at the Giants' 10 in the second quarter. After the play, Marshall ran over to Denver coach Josh McDaniels and celebrated with him before running back to the huddle.
The NFL Network apologized for an expletive McDaniels said on the air Thursday night. He was wearing a microphone.
November, 25, 2009
11/25/09
4:30
PM ET
Here are some keys to Denver's Thursday night matchup with the visiting
New York Giants
as the Broncos try to end a four-game losing streak:


Orton's health:
Unless there is an unexpected change of events, quarterback
Kyle Orton
will start against the Giants. He needs to stay healthy. Orton missed the second half of a loss at Washington on Nov. 15 and the first quarter last week against San Diego before playing on a gimpy ankle for the final three quarters. Orton played pretty well despite the injury. He seems to have made strides since the game. Still, Denver needs Orton to play the entire game, so his health is paramount.
Run defense:
Denver's run defense has been ravaged during the four-game losing streak. The problem hit a zenith when San Diego, one of the worst rushing offenses in the NFL this season, ran for 203 yards. The Giants have the seventh-best run offense in the NFL. So the Broncos are going to be tested in this game even if
Ahmad Bradshaw
can't play because of an injury.
Simply play better:
After the Broncos lost to San Diego in a game for first place in the AFC West on Sunday, Broncos defensive end
Vonnie Holliday
said they had to start making the plays they made when they started 6-0. The Broncos are no longer making timely plays on either side of the ball. The only way they are going to snap out of this free-fall is to make plays.
Ball security:
Denver would have been in the game against the Chargers if it weren't for two fumbles inside San Diego's red zone in the first half. That killed the team's chances in an eventual 32-3 loss. To beat the Giants, Denver, which has scored a total of three points in the past six quarters, can't continue to squander opportunities.
Control their emotions:
Some Broncos players and coach Josh McDaniels
have had issues controlling their feelings
recently. There was a players-only meeting this week to try to eliminate any issues. Surely, the pressure is on Denver after its unexpected tumble. But everyone has to remain composed against the Giants.
November, 25, 2009
11/25/09
4:30
PM ET
By
Matt Mosley
| ESPN.com
The Broncos are reeling and the Giants are finally coming off a win. I think the Giants will hand the Broncos another loss, but they need to apply some pressure to quarterback
Kyle Orton
in order to get it done. Here are a few things I'll be watching during tomorrow night's game:


Hopefully some of the Giants were watching what Bears defensive back Charles Tillman was doing to the Eagles on Sunday night. I think Knowshon Moreno is susceptible to the strip and that's why players such as Michael Boley and Aaron Rouse should be punching at the ball while someone else is wrapping up. If the Giants can cause a turnover early in this game, they can get out to another quick start. And the Broncos have shown a tendency to fight each other when things go south.
I could see Danny Ware having a big game for the Giants. If offensive coordinator Kevin Gilbride will stick with the running game, the Giants can lean on an undersized Broncos defensive line. I would not be surprised at all to see the Giants go for over 150 yards rushing. And that will help control the clock and keep Brandon Marshall off the field.
Speaking of Brandon Marshall, you have to stay alert at all times. For some reason, the Redskins busted coverage twice on him, allowing long touchdowns. Rouse and Michael Johnson can't let Marshall get over the top of them. I'm sure defensive coordinator Bill Sheridan will have someone shaded to Marshall's side. Marshall also hurt the Cowboys with his ability to run after the catch. The Giants can't get caught gambling for an interception. If you have to let the guy make a 15-yard catch, so be it. Make the Broncos put together a 15-play drive to score. Don't give up the deep ball.
If this one's tight in the fourth quarter, Sheridan has to do a better job of calling plays. This team's attention to detail (communication) has been disturbing at times. The Giants can't get caught in the wrong coverage against the Broncos because Orton will make them pay. And by all means, get some shots on the quarterback early. He has a gimpy ankle, so it's not like he's going to be moving around much in the pocket. This is a game where one of the defensive tackles needs to collapse the pocket. We haven't seen enough of that.
Rotate, rotate, rotate. The Giants are playing on a short week and as CEO John Mara complained about, they're making a tough road trip. In this type of altitude, the Giants have to use their depth. Why don't we see if Rocky Bernard can actually earn his free-agency money? I haven't seen much production out of him this season. This is a game where players such as Jon Goff and Clint Sintim need to see significant snaps. Turn those young guys loose.

NFL SCOREBOARD
Sunday, 2/2
WEEKLY LEADERS