NFL Nation:

Gibran Hamdan
April, 22, 2011
4/22/11
2:01
PM ET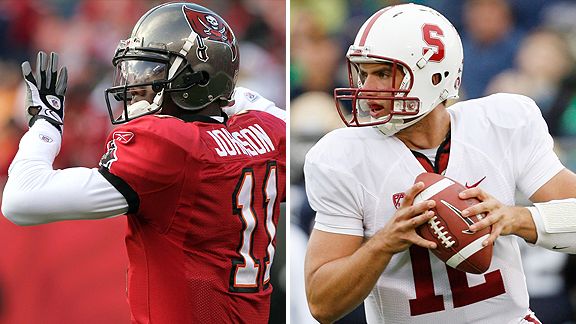 US PresswireCoach Jim Harbaugh (not pictured) is likely to seek brainy, athletic QBs such as Josh Johnson, left, and Andrew Luck, whom he coached in the college ranks.
SANTA CLARA, Calif. -- Less than a week before the 2011 NFL draft, no team in the league has a greater need at quarterback than the
San Francisco 49ers
.
No amount of pre-draft smoke can obscure that reality, so why even try?
"It is a need here with the 49ers," general manager Trent Baalke said Wednesday.
David Carr
, who fell behind
Troy Smith
on the depth chart in 2010, is the only 49ers quarterback under contract. And no one expects him to return.
Three questions persist. What type of quarterback will the 49ers seek for new coach Jim Harbaugh? What is the likelihood they'll find a future starter in this draft? And where does 2010 starter
Alex Smith
fit into the picture?
The profile
Any prospect Harbaugh likes for the position will be smart, athletic enough to move well and wired like a quarterback as opposed to being just a raw athlete.
That is the word from some of the people who would know best, including Harbaugh himself. Harbaugh sought those qualities when he recruited current
Tampa Bay Buccaneers
backup
Josh Johnson
to the University of San Diego. More recently, Harbaugh sought them in the quarterbacks he brought to Stanford, where the relative smarts were pretty much required, anyway.
"You have to be able to learn, taking what you learned in the meeting room on the field the next day or that day and being a quick learner," former Stanford quarterback Alex Loukas said. "We call it a 'one-rep guy' -- taking one rep and getting that rep correct the first time. Being focused every rep, attention to detail is very big. If somebody is lined up wrong, you have to make sure they are right."
Loukas was among 15 former Stanford players attending the 49ers' pro day Wednesday for athletes with Bay Area ties. Receiver
Ryan Whalen
was another.
"I do think they will make the right decision in what they do," Whalen said, "and it's going to need to be a smart quarterback, a quarterback that can stay in the pocket and can move, and a tough guy who is a good leader."
Harbaugh, who started 140 regular-season games and won twice in the playoffs during a 14-year NFL career, is bringing a run-heavy West Coast system to the 49ers from Stanford. It's a pro-style offense all the way, but Harbaugh says he's open to certain quarterbacks from spread-oriented offenses.
"If they have it in their DNA to be a quarterback, they'll figure out how to go from the shotgun to under center," Harbaugh said. "I hope that paints a picture. If you got the DNA to be a quarterback, you have the ability to figure things out [in general]."
Drafting a quarterback
Pre-draft expectations can be notoriously off-base.
A year ago,
Jimmy Clausen
was supposedly the hot prospect and even a consideration for the
Seattle Seahawks
with the sixth overall pick. He went 48th to Carolina.
It's tough to know, then, which quarterbacks will be available to the 49ers in the first two rounds. But if conventional wisdom is even remotely accurate,
Cam Newton
and
Blaine Gabbert
will not be considerations for San Francisco with the seventh overall choice. Taking another quarterback that early would also defy expectations.
What about the second round?
Even if we set aside the
second round's status as a quarterback wasteland
, there is this: The 49ers, though picking seventh in the first round, are scheduled to select only 13th in the second. The gap stems from the NFL's system of rotating selections by round among teams with identical records the previous season.
Eight teams with potential quarterback needs select before the 49ers in the second round.
Throw in the 49ers' confidence in Harbaugh's ability to coach quarterbacks and it's easier to fathom San Francisco fighting off the urge to address such an obvious and critical need in the first two rounds. And if they draft one later than that, they're investing in more of a developmental player, not a near-term starter.
"You can't, because you need something, misevaluate, or you are back to square one," said Baalke, who was not yet with the 49ers when they arguably did just that in selecting Smith first overall.
Baalke then pointed to the draft, free agency and the not-yet-open trade market as options the team will consider.
"I am confident our plan is such that we will figure it out, and I've got tremendous confidence in Jim and the coaching staff to win football games with whoever we bring in here," he said.
Re-evaluating Alex Smith
The 49ers have told Smith they want him back and are awaiting word from him on a decision once the lockout ends and communication is restored.
All the qualities that Harbaugh wants in a quarterback line up with the advertised traits that attracted the 49ers' previous leadership to Smith in the first place.
At the very least, those traits weren't strong enough to transcend the well-documented coaching- and injury-related issues Smith has encountered as a professional. At most, they did not exist. But it's obvious Harbaugh, a coach with few other viable options at the moment, wouldn't mind finding out for himself.
As
Harbaugh told KNBR radio
in February, "I like Alex and I like being around him and I like what I see on tape. ... I'm not going to hide my feelings. I like Alex Smith. I like him as a football player, as a person. ... Some people say Alex Smith needs a fresh start, needs a new place to be. I say, 'Let that place be here.' "
The ultimate decision
Baalke holds the power over personnel decisions in the 49ers' power structure. His teams over the years have drafted five quarterbacks:
Chad Pennington
and
Patrick Ramsey
in the first round,
Sage Rosenfels
in the fourth,
Nate Davis
in the fifth and
Gibran Hamdan
in the seventh.
While this is the first time Baalke has entered a draft with the GM title, Harbaugh's background as a quarterback will influence the team's thinking significantly.
"It's a critical decision," Baalke said. "Jim and I had a great conversation about it [Tuesday]. ... We feel we have it evaluated right and placed on the board accordingly."
March, 4, 2010
3/04/10
8:26
AM ET

Buffalo Bills
Potential unrestricted free agents:
DE
Ryan Denney
, LB
Chris Draft
, DB
Todd Johnson
, G
Seth McKinney
, WR
Terrell Owens
, WR
Josh Reed
, S
Bryan Scott
, G
Kendall Simmons
, LB
Josh Stamer
.
Potential restricted free agents:
LB
Keith Ellison
, QB
Gibran Hamdan
, G
Richie Incognito
, TE
Joe Klopfenstein
, TE
Derek Schouman
, T
Jonathan Scott
, S
George Wilson
, CB
Ashton Youboty
.
Franchise player:
None.
What to expect:
The Bills are in a rebuilding mode and shouldn't be in too much of a hurry to sign their free agents. In fact, they took the unusual step of publicly announcing they wouldn't offer Owens, Reed or Denney contracts. The most attractive players are Incognito and Wilson. Most of the rest were bit players and injury replacements.

Miami Dolphins
Potential unrestricted free agents:
NT
Jason Ferguson
, CB
Nate Jones
, QB
Chad Pennington
, OLB
Jason Taylor
.
Potential restricted free agents:
RB
Ronnie Brown
, TE
Anthony Fasano
, OLB
Quentin Moses
.
Franchise player:
None.
What to expect:
The Dolphins have a tough decision to make on Ferguson. He'll turn 36 during the 2010 season and is coming off a serious quadriceps injury. Without him, however, the Dolphins have a massive void in their 3-4 defense at a position that's difficult to replace. Pennington, Jones and Taylor all could be gone.

New England Patriots
Potential unrestricted free agents:
OLB
Tully Banta-Cain
, CB
Leigh Bodden
, OLB
Derrick Burgess
, RB
Kevin Faulk
, DE
Jarvis Green
, P
Chris Hanson
, G
Stephen Neal
, ILB
Junior Seau
, TE
Benjamin Watson
.
Potential restricted free agents:
K
Stephen Gostkowski
, G
Logan Mankins
, OLB
Pierre Woods
.
Franchise player:
NT
Vince Wilfork
.
What to expect:
Several starters are about to go up for bids, and the Patriots can't keep them all. Expect Faulk to be re-signed without much fuss. Neal, Bodden and Banta-Cain comprise a group they'd have trouble replacing. All three could fetch offers the Patriots would rather not match. Don't count on Watson coming back.

New York Jets
Potential unrestricted free agents:
LS
James Dearth
, DE
Marques Douglas
, K
Jay Feely
, LB
Ryan Fowler
, TE
Ben Hartsock
, LB
Larry Izzo
, FB
Tony Richardson
.
Potential restricted free agents:
QB
Kellen Clemens
, CB
Drew Coleman
, WR
Braylon Edwards
, DT
Howard Green
, T
Wayne Hunter
, WR
Brad Smith
, S
Eric Smith
, RB
Leon Washington
.
Franchise player:
None.
What to expect:
As a "final eight" team, the Jets have to window shop until one of their UFAs sign elsewhere. General manager Mike Tannenbaum is creative. Don't be surprised if the Jets use trades to upgrade. The key restricted free agent to monitor will be Washington, who received a second-round tender. His agent has been tweeting alarms the Pro Bowler could sign an offer sheet and dare the Jets to match.
November, 12, 2009
11/12/09
4:58
PM ET
Nobody relies on the double formation more than
Tom Brady
and
Peyton Manning
.
ESPN Stats & Information tracks every snap and notes the
New England Patriots
and
Indianapolis Colts
favor the formation -- single back, two receivers to each side -- more than any other NFL team.
[+] Enlarge
t: Greg M. Cooper/US PresswireTom Brady and the Patriots operate out of the double formation 49 percent of the time.
A standard look from the double formation would be a wideout and slot receiver to one side and the tight end and a wideout to the other side.
The Patriots have operated out of the double formation 268 times, or 49 percent of their 552 plays from scrimmage. They're averaging 6.4 yards a play.
The Colts have gone double an NFL-high 354 times on 47 fewer snaps, or 70 percent of the time. They have amassed 2,323 yards out of double, an average of 6.6 yards per play.
But Indy's average doesn't lead the league. The
Dallas Cowboys
have averaged 9.1 yards on their 144 plays in the double formation. The
San Diego Chargers
have averaged 7.5 yards on their 104 plays.
The
Arizona Cardinals
are a distant third with 189 plays out of the double formation.
I was in the
Buffalo Bills
' locker room on Wednesday, so I stopped by backup quarterback
Gibran Hamdan
's stall to get his take on why the double formation suits Brady and Manning.
The Patriots visit the Colts on Sunday night in Lucas Oil Stadium.
"It's about being blessed enough to keep a system in place for a long period of time," Hamdan said. "They've built a whole package around the formation."
Hamdan, who took part in the NFL's Broadcast Boot Camp over the summer, has a bright future as an analyst. He's one of those guys who makes you feel smarter for speaking with him.
"You can ask a lot of quarterbacks, and they feel good about certain formations," Hamdan said. "The key to it is those two guys like it. They know the intricacies of that formation, and they've seen pretty much everything a defense can do to them.
"Once you've seen all the looks, now you're just letting the players' ability to take over. Then you get into a feel and a rapport between the quarterback and receiver that happens when you play for a long period of time and run a formation like double over and over and over."
Hamdan noted the Bills' double formation often has
Lee Evans
split out and slot receiver
Josh Reed
to the left, with tight end
Derek Fine
and receiver
Terrell Owens
on the right.
New England's version might have
Randy Moss
and
Wes Welker
on the weak side,
Chris Baker
and
Sam Aiken
on the strong side.
"There's versatility," Hamdan said. "You can create things on both sides of the field, so symmetry definitely creates a versatility that maybe a three-by-one formation would lack."
It also comes down to precision. Hamdan pointed out neither team offers much variety out of the double formation.
"Turn on their film," Hamdan said. "They're not running that many plays out of that formation. They just know what they're doing and execute it."
In case you were curious what formations are popular with the other AFC East teams, the
Miami Dolphins
and
New York Jets
rank third and fifth in most plays out of a backfield set (two running backs). The Dolphins have used two backs on 48 percent of their snaps. The Jets have done so on 47 percent.
The Dolphins, of course, lead the league in Wildcat (any player other than a quarterback takes the snap). They've made 76 Wildcat attempts, more than three times as often as the next team on the list, the
Philadelphia Eagles
.
The Bills most frequently operate out of a trips formation (single back with three receivers to one side). They've run it 191 times, third-most in the NFL. They also rank 11th in the double formation with 160 plays.
The Patriots have run an empty set (only a quarterback in the backfield) 45 times, three fewer than the league-leading
Houston Texans
.
September, 3, 2009
9/03/09
10:32
PM ET

Posted by ESPN.com's Tim Graham
ORCHARD PARK, N.Y. -- Some random thoughts from Thursday night's
preseason finale
in Ralph Wilson Stadium, where the
Detroit Lions
beat the
Buffalo Bills
17-6.
The Bills' first-team offense didn't play, ensuring it finishes the preseason without a touchdown.
The first-unit offensive line went a few series, but none of the skill players did.
Trent Edwards
,
Marshawn Lynch
,
Fred Jackson
,
Terrell Owens
and
Lee Evans
all got the night off.
For the record, the Bills' first unit played 16 series. It ran 78 plays for 269 net yards. The possessions ended in nine punts, three interceptions, two fumbles, one field goal and halftime.
Matthew Stafford and Calvin Johnson looked like Montana and Rice.
Of course, it must be noted the Bills opened with their second-string defense. But it sure was fun to watch Johnson perform. He had two catches for 46 yards and had a 34-yard touchdown nullified by a holding call.
The Bills' second-team defense showed flashes against the Lions' first-team offense.
Rookie pass-rusher
Aaron Maybin
got to Stafford for a strip sack the Bills recovered. Defensive tackle
John McCargo
also notched a sack in the first quarter.
Reggie Corner
intercepted Stafford on the opening play of the second quarter.
Rookie guards Eric Wood and Andy Levitre played the entire first half.
The rest of the starting line came out a few series earlier, but head coach Dick Jauron wanted the newbies to get as many game reps as possible. Before they exited, left tackle
Langston Walker
was flagged for holding and center
Geoff Hangartner
committed a false start.
Steve Johnson shook off a rough start to make a couple of sensational plays.
Johnson dropped a pass and was whistled for a false start in the first half. But he played most of the game and became
Gibran Hamdan
's favorite target in the second half. Johnson made a pair of phenomenal catches for 27 and 33 yards despite tight coverage in the third quarter.
Rough night for tight ends Derek Schouman and Jonathan Stupar.
Schouman fumbled the ball on consecutive receptions in the first quarter. He gathered the first one himself, but lost the second. Stupar dropped two passes in the first half.
Rookie defensive back Ellis Lankster is fun to watch.
The seventh-round draft pick keeps standing out. He made some mental mistakes, but there's a crackle about him. The stat team credited Lankster with three tackles, including one for a 1-yard loss. He had a 23-yard punt return.
The Bills' punt return team burnt by another fake.
In the Hall of Fame Game, the
Tennessee Titans
ran a brilliant fake that sprung punter
A.J. Trapasso
for a 40-yard touchdown. The Lions ripped off a 20-yarder at the end of the third quarter Thursday night.
September, 1, 2009
9/01/09
12:08
PM ET

Posted by ESPN.com's Tim Graham

Buffalo Bills:
If
Trent Edwards
is unavailable, their situation is standard operating procedure.

The only track record Edwards has established is that he gets hurt every year. Shoulder, foot, wrist, concussion, groin ... They've all caused Edwards to miss games either at Stanford or for the Bills. To back him up, the Bills signed free agent
Ryan Fitzpatrick
, a clear No. 2 with game experience. Fitzpatrick has 15 NFL starts, including a dozen last year for the
Cincinnati Bengals
. Fitzpatrick looked deficient early in training camp, but he perked up in preseason games, completing 39 of 54 passes for 381 yards and one touchdown with an interception.
Gibran Hamdan
should be the third-string quarterback again this year.

Miami Dolphins:
If
Chad Pennington
is unavailable, their situation is uneasy.

Before Pennington arrived a week into camp last year, rookie
Chad Henne
was pushing to be the starter straight out of Michigan. He was holding his own against
Josh McCown
and
John Beck
and had the front office excited. Enthusiasm has been muted somewhat this year. Henne still is considered the club's future quarterback, but he has struggled in practices and exhibitions. He has completed 19 of 35 passes for 224 yards and two touchdowns with two interceptions. Speedy rookie
Pat White
, a second-round pick out of West Virginia, has looked mostly uncomfortable in an NFL setting. He was drafted in part because of his Wildcat skills, but his arm has been unimpressive.

New England Patriots:
If
Tom Brady
is unavailable, their situation is tenuous for now.

Two days ago, the Patriots waived
Kevin O'Connell
, the player many expected to be their primary backup. It was a curious move. The Patriots spent a third-round draft pick on O'Connell last year. He entered his rookie season as the third quarterback, but handled the No. 2 duties for
Matt Cassel
after Brady went down with a knee injury on opening day. In training camp, the Patriots cut
Matt Gutierrez
and signed free agent
Andrew Walter
, formerly of the
Oakland Raiders
. The Patriots are said to be on the lookout for another veteran, but the depth chart for now features Brady, Walter and undrafted rookie
Brian Hoyer
.

New York Jets:
If
Mark Sanchez
is unavailable, their situation is more manageable than most.

The Jets are the only AFC East club with a backup quarterback who lost an open competition for the No. 1 job. The Jets should be at least a little comfortable knowing their insurance policy at least had a shot -- OK, maybe not a
great
shot -- to win the gig.
Kellen Clemens
has been undistinguished in the opportunities he has been given since the Jets drafted him in the second round out of Oregon in 2006. He started eight games in his second season. He completed 52 percent of his passes, threw five touchdowns and 10 interceptions and finished with a 60.9 passer rating. One of the real surprises since camp opened has been the play of sophomore
Erik Ainge
. He will be the third quarterback, but showed signs of life after a worthless rookie season that included a suspension for violating the league's policy on performance-enhancing drugs. In the preseason, Ainge is 18-of-32 for 275 yards and two touchdowns with no interceptions.
August, 9, 2009
8/09/09
7:25
PM ET
Posted by ESPN.com's Tim Graham
CANTON, Ohio -- Stifling is the best word I can come up with.
The Buffalo Bills and Tennessee Titans broke a sweat just thinking about playing tonight's Pro Football Hall of Fame Game at Fawcett Stadium.
Temperatures reached the mid-90s this afternoon in Northeast Ohio. While the heat has eased a tad as shadows have gotten longer, it's still a sauna here.
Both teams are on the field, showing off their AFL throwback uniforms. The Bills are in their white-on-white duds and white helmets with the red buffalo. The Titans are honoring their origins in Houston Oilers gear. They're wearing blue jerseys, white pants and blue helmets with the derrick.
Only things missing are kickers in single-bar facemasks.
Here are a few pregame notes and storylines to follow for tonight's game:
Terrell Owens will be making his Bills debut. Don't expect him to play long, though.
The Bills will operate their no-huddle offense against a live opponent for the first time.
New left tackle Langston Walker will get to face right end Kyle Vanden Bosch.

Gibran Hamdan, not Ryan Fitzpatrick, is listed as the No. 2 quarterback on Buffalo's pregame depth chart.
Marshawn Lynch, who will be suspended for the first three games, is listed as the starting running back.
Rookie guards Eric Wood and Andy Levitre are in the starting lineup.
Bills cornerback Reggie Corner is a Canton native and played high school games at Fawcett Stadium.

July, 30, 2009
7/30/09
1:00
PM ET
| | |
| --- | --- |
| | |
| | Icon SMI |
| | Terrell Owens, the celebrity headliner on the first day of training camp, serves as a distraction from the numerous issues facing the Bills. |
Posted by ESPN.com's Tim Graham
PITTSFORD, N.Y. -- On the first day of Buffalo Bills training camp, fans pressed their torsos up against the metal railing at St. John Fisher College to get the best possible look at a local attraction that, for the past few months, has been surpassed only by Niagara Falls.
Camp Confidential: AFC East
• Bills: Thurs., July 30
• Jets: Sat., Aug. 1
• Patriots: Wed., Aug. 5
• Dolphins: Sun., Aug. 16
For the first time since he signed in March, fans were able to behold the wonders of Terrell Owens in a Bills uniform. His every move was cheered. Each time he touched the ball -- even during casual warmup tosses on the sideline -- drew applause. They pleaded for autographs. They barked out chants, supplementing a popular refrain: "Let's go, Buf-fa-lo! Let's go, T.O.!"
The other 70 or so players were rendered afterthoughts. Owens, on the first day of camp, WAS the Buffalo Bills. He hadn't scored a touchdown, caught a pass, run a route or said something inflammatory yet. Owens, running around in chrome-bottomed Nike cleats, was all that existed.
And for the rest of the Bills, that should be a pleasant distraction.
Fantasy Football: 32 Questions

Christopher Harris looks at the possibility that Trent Edwards could have a breakout season with T.O. in the fold. Story
The future Hall of Famer has diverted so much attention from myriad question marks surrounding his team.
The Bills have gone nine straight years without a playoff appearance. They went 0-6 against the AFC East last year. They have an injury-prone quarterback. Their miscreant Pro Bowl running back has been suspended the first three games. The fans generally loathe head coach Dick Jauron. The offensive line has been rearranged more than Tex Cobb's face. Rookie defensive end Aaron Maybin, the 11th overall pick, probably won't sign a contract any time soon.
Still, this year's season-ticket base will be the largest since Buffalo's Super Bowl years. The Bills have been able to market perennial hope, and this year's dreams are hitched to Owens, a player who makes the team nationally relevant for the first time since Doug Flutie was around.
But let's look deeper than the obvious storyline from Bills camp. Owens can't possibly fix everything.
Key questions
| | |
| --- | --- |
| | |
| | Joe Robbins/Getty Images |
| | Langston Walker's transition from right tackle to left could be a key to the offensive line's performance. |
1. How will the Bills' reconstituted offensive line perform?
In the afternoon practice on the first day of training camp, Buffalo's offensive linemen conducted drills 10 feet in front of the railing that separated the most boisterous fans from the field. The throng gazed right past the most important players on the team so they could gawk at Owens and yell to him about how good his new toasted-oats cereal product is.
Buffalo will be as successful this year as its offensive line will allow.
The Bills had no choice but to trade Pro Bowl left tackle Jason Peters, who held out right up until the regular-season opener last year. They were convinced the still-disgruntled Peters would boycott the team into the season, maybe miss several games, to make his point again. They dealt their best player to the Philadelphia Eagles.
Rather than look for veteran help to replace Peters, the Bills flopped right tackle Langston Walker, a career right tackle of no particular acclaim, to the left side. Right guard Brad Butler slid to right tackle. They signed Geoff Hangartner to play center. They drafted Eric Wood in the first round and Andy Levitre in the second round to be their guards.
All five linemen projected to start on opening day will be in different positions than last year, when they gave up the fifth-most sacks in the NFL.
2. Will the pass rush be significantly better this year?
Only three teams had fewer than Buffao's 28 sacks last year.
The Bills selected Maybin to bolster its anemic pass rush. Many were skeptical he would make an immediate impact because he was a one-year starter at Penn State who entered the draft a year early. His chances of being a significant contributor are lessening with each day he's not under contract.
But the main character here is two-time Pro Bowl end Aaron Schobel
. He played in only five games last year because of a foot injury. Schobel collected 26 sacks in 2005 and 2006, but dropped to 6.5 sacks in 2007 and 1.5 in his limited time last year.
3. What kind of impact will the no-huddle offense make?
| | |
| --- | --- |
| | |
| | John David Mercer/US Presswire |
| | Early on, Trent Edwards has looked good directing Buffalo's new no-huddle offense. |
If the first few days of training camp were any indication, the Bills' offense will be fun to watch -- win or lose. To maximize their weaponry both at receiver and in the backfield and perhaps mitigate the line's limitations, offensive coordinator Turk Schonert, a former Sam Wyche pupil, has gone no-huddle.
The Bills' first-team defense has had trouble keeping Owens and Lee Evans from getting behind them. Trent Edwards, criticized for his inability or unwillingness to go deep, has been hurling rainbows that are going for touchdowns.
Some close to the team, however, aren't convinced the Bills will use it throughout a game. The belief is that they'll start out in the no-huddle and use it as long as it works. If defenses don't cave in the first half, the conservative-minded Jauron might be prone to get more conventional.
Market watch
Fred Jackson sounds like an everyman name. But there's a decent chance you'll know who he is, especially if you're a fantasy football enthusiast, a few weeks into the season. NFL commissioner Roger Goodell suspended running back Marshawn Lynch for the first three games. That will cede backfield duties to Jackson and Dominic Rhodes.
Jackson emerged from football oblivion. Undrafted out of Division III Coe College, he went to the arena bush leagues, then to NFL Europa and the Bills' practice squad. He has become one of the NFL's most underrated backs. He rushed for 571 yards last year with a 5.0 average, racking up 136 yards in place of an injured Lynch in the season finale. He caught 37 passes for 317 yards.
Newcomer to watch
Is there anybody else to consider other than Owens? We don't need to discuss the obvious, so let's pick the next in line.
Wood, a dominant center at Louisville, was drafted with the top pick the Bills received from the Eagles in the Peters trade. He will be learning a new position, but is confident it will be an easier transition from center to guard than any other position-to-position switch on the line.
Observation deck
Some consider the Bills a dark horse in the AFC East. They have the offensive firepower to make some noise, but have they improved enough to overcome their 0-6 division record last year? The Bills have gone 7-9 each season since Jauron arrived. It's foreseeable they could go 7-9 a fourth year in a row, but be much better than they've been. … Bills fans should hope second-year cornerback Leodis McKelvin is keeping his early camp performances in perspective. He has been getting flambéed by Owens and Evans on deep balls and getting his ankles broken by Owens' post-catch cuts on the underneath stuff. McKelvin's confidence probably is bruised, but he's squaring up against two of the game's best every day. … Edwards hasn't been able to stay healthy through his first two NFL seasons, which puts an emphasis on the backup. The Bills signed Cincinnati Bengals reserve Ryan Fitzpatrick to fill that role, but the Harvard grad has struggled. The no-huddle offense hums under Edwards, but when Fitzpatrick takes over, passes frequently don't find their mark. Third quarterback Gibran Hamdan has a chance to make a push for the No. 2 job. … The Bills are one of the NFL's deepest teams at receiver, but a rash of seemingly minor injuries has them trying out even more receivers. Steve Johnson, James Hardy, Felton Huggins and P.K. Sam have been sidelined. … The Demetrius Bell project continues to evolve. The son of former NBA great Karl Malone, drafted out of Northwestern State in the seventh round last year, didn't play a down last year. He has been seeing a healthy amount of reps at second-team left tackle and guard.
February, 26, 2009
2/26/09
8:42
PM ET
Posted by ESPN.com's Tim Graham
The Buffalo Bills' most significant revelations Thursday dealt with two players they didn't want any more: Guard Derrick Dockery and tight end Robert Royal.
But they had a lot of assets they preferred to keep.
BuffaloBills.com writer Chris Brown wraps up all the moves they made Thursday.
The Bills re-signed third-string quarterback Gibran Hamdan, fullback Corey McIntyre and defensive back Dustin Fox.
Brown also reports the Bills extended low tenders to linebacker Keith Ellison and safety George Wilson.
The low tender is for one year at $1.01 million and gives the Bills the opportunity to match any offer sheet those players might sign. If the Bills decline to match, they would receive a draft pick commensurate with where that player was drafted -- in Ellison's case a sixth-round pick, and in Wilson's case nothing because he wasn't drafted.
The Bills also retained the rights to several exclusive-rights players: Quarterback Matt Baker, running back Fred Jackson, running back Bruce Hall, tight ends Derek Schouman and Jonathan Stupar, defensive end Copeland Bryan, linebacker Blake Costanzo and long snapper Ryan Neill.
One move not listed in Brown's report is tackle Kirk Chambers. My sources tell me terms have been reached on a multiyear deal. Chambers would have been an unrestricted free agent at 12:01 a.m. Friday.
February, 21, 2009
2/21/09
2:40
PM ET
Posted by ESPN.com's Tim Graham
INDIANAPOLIS -- With quarterback J.P. Losman gladly leaving as a free agent, many have wondered how the Buffalo Bills will address their need for a backup.
The Bills have two quarterbacks on their depth chart, starter Trent Edwards and third-stringer Gibran Hamdan, who could get promoted. But Hamdan is 28 years old and has two career pass attempts, and those came six seasons ago.
A day after Bills offensive coordinator Turk Schonert spoke about acquiring a veteran backup who's comfortable with the role, vice president of college scouting Tom Modrak on Saturday afternoon said the Bills would be open to drafting a quarterback.
"Nothing's off the board for us," Modrak said. "We have not stopped evaluating any position."
If the Bills bring in a veteran (as Schonert mentioned) and draft a quarterback (as Modrak mentioned), then Hamdan's days would appear numbered. But Hamdan and Edwards are close friends, and that could save Hamdan's job.
The Bills own the No. 11 pick in the first round and could have a shot at Mark Sanchez or Josh Freeman, but Modrak reaffirmed the Bills' belief in Edwards, who has been injury prone and endured an erratic 2008.
Modrak suggested the team could grab a quarterback on the second day of the draft.
"The easy and truthful answer to that is if you have a real good value at a spot, you probably won't pass it by," Modrak said. "I know we have things that I'm sure you guys know about with all the needs we have, but you don't pass up a good player.
"If you have your starter, a veteran quarterback in place, there's something good about picking up a young guy who doesn't have to get into the fire right away and you can develop it and see how it goes. A lot of teams use that as their philosophy."
December, 18, 2008
12/18/08
8:55
PM ET
Posted by ESPN.com's Tim Graham
When making the rounds for my story on Matt Cassel's soaring value, I asked about another AFC East quarterback whose stock is plummeting.
| | |
| --- | --- |
| | |
| | Evan Pinkus/Getty Images |
| | J.P. Losman has thrown two touchdown passes and five interceptions this season. |
J.P. Losman found himself back on the field when Buffalo Bills starter Trent Edwards aggravated a groin injury in Week 13. Losman's return to the huddle was tantamount to a 31-team tryout because he'll be a free agent after the season.
Losman groused over the Bills' decision to go with Edwards over him. But every time Losman has had a shot this year, he has failed to demonstrate he's worthy of starting in the NFL.
This week he was demoted to third string behind Gibran Hamdan.
"He was a first-round pick, but he wasn't able to perform in this league," former NFL personnel executive Michael Lombardi said. "He's not going to be in a bonanza situation. If he signs somewhere it will be based on experience and not on his production.
"He's at a crossroads. He's going to have to go somewhere and rehabilitate his career rather than accelerate his career. If you're his agent, you need to put him in a situation where he's a backup with good coaching in an offense that fits his style of movement and running around."
Charley Casserly, the former Washington Redskins and Houston Texans general manager, doesn't think Losman is starter material.
"He got beaten out in Buffalo because of inconsistency," Casserly said. "He has raw skills. He has arm strength. He has mobility. But his decision making and accuracy all feeds the inconsistency. I don't know that people are looking at him to fill their starting quarterback needs. He will be on a roster, though."
Losman's stat line while filling in for the frequently injured Edwards:
Four games, all losses.
63 completions on 104 attempts (60.6 percent).
584 yards.
Two touchdowns.
Five interceptions.
15 sacks.
Three fumbles, one lost.
12 rushes for 70 yards and a touchdown.
62.3 passer rating.
Given the general malaise of Losman's career, would his options be different had he capitalized on his chances this year?
"It would have piqued people's interest," Lombardi replied. "The quarterback position is the most coveted in the league and when you play well -- like Todd Collins last year -- people are always in search of that answer at quarterback.
"If he would have played well, he would have enhanced his stock. Everybody has a chance to re-invent themselves at quarterback."
December, 17, 2008
12/17/08
12:29
PM ET
Posted by ESPN.com's Tim Graham
Buffalo Bills
Miami Dolphins
New England Patriots
New York Jets

December, 12, 2008
12/12/08
8:47
AM ET
Posted by ESPN.com's Tim Graham
New York Jets
Buffalo Bills
Miami Dolphins
New England Patriots
November, 4, 2008
11/04/08
3:38
PM ET
| | |
| --- | --- |
| | |
| | Rick Stewart/Getty Images |
| | After a hot start, Trent Edwards and the Buffalo Bills have dropped three of their past four games. |
Posted by ESPN.com's Tim Graham
ORCHARD PARK, N.Y. -- Trent Edwards had to be smart just to get into Stanford.
Edwards studied political science there. He's adept at deciphering any question before the words tumble out of his mouth, acutely aware of how others will receive his answer before he's finished giving it.
Some might even wonder if the Buffalo Bills' quarterback has been programmed to deliver pat responses on tough topics, which he has been addressing lately.
Maybe in that regard he's more robot than politician.
Like a CD sliding into a computer, he smoothly accepts a question, quickly processes it and then talks unemotionally about executing the system.
"We just need to go out and execute, honestly," Edwards said Monday, a day after stumbling at home to the New York Jets, giving the Bills three losses in their past four games. "We can't lose confidence in ourselves, our coaches and our system."
Edwards' past two games have been filled with pop-up warnings of unexecutable code. Or, for you old-school Mac users, a bomb with the fuse lit.
Confidence has been corrupted.
Fans on message boards and radio call-in shows are wondering if the Bills are frauds -- Edwards included.
They're praying that cool, methodical quarterback they've heartily embraced as the real deal truly is as reliable as they thought he was. After all, this is only his second NFL season. He has started all of 17 games.
"This is football," Edwards said moments after the Jets loss, which created a three-way tie for first place in the AFC East. "That's the quarterback position in this league. You're going to have your highs and have your lows.
"I realize that people need to make a big deal when we're doing well and when we're not doing well. You're going to find individuals on those teams when you're doing well and call them out and give them publicity and you're going to do the same thing when things aren't going great. That's the nature of the territory. I wouldn't say it's humbling by any means."

NFL SCOREBOARD
Thursday, 9/4
Sunday, 9/7
Monday, 9/8