NFL Nation:

Gino Gradkowski
June, 10, 2014
Jun 10
7:30
AM ET
Veteran center
Jeremy Zuttah
went from being the odd man out in Tampa Bay to becoming one of the most welcomed additions on the Baltimore Ravens.
Zuttah was traded to the Ravens for a 2015 fifth-round draft pick in March after the Buccaneers signed his replacement, Evan Dietrich-Smith, in free agency. Through the first two weeks of offseason practices, Zuttah has been among the more impressive players on the field.
Zuttah
Zuttah's athleticism and intelligence significantly boosts the weakest position on the team last season.
Gino Gradkowski
, a first-year starter, ranked last among centers in 2013, according to Pro Football Focus.
The Ravens don't expect Zuttah to a be a Pro Bowl center. They're not envisioning a dominant one, either. What they need is someone who is solid in the middle of the offensive line, which was lacking last season with Gradkowski.
Zuttah, who was No. 22 on PFF's center rankings, could end up being better than he was in Tampa Bay because Gary Kubiak's zone-blocking scheme suits his strengths. While no one knows how he'll hold up physically until the pads come on at training camp, Zuttah has stood out for his quickness and his ability to get to the second level.
Offensive tackle
Eugene Monroe
said Zuttah has fit in "perfectly."
"You've got to be able to move, you've got to be able to run to do what we do," Monroe said. "He excels at that."
Zuttah, 27, has started 76 games in his six-year career, although only 31 came at center. Last season was his first full one as a starting center.
The Ravens, though, have been impressed with how Zuttah has carried himself at that position.
"Jeremy Zuttah is doing a great job," Ravens coach John Harbaugh said. "He's smart, really smart, really mature, goes about his business in a mature way. I'm just very impressed with how smart he is."
The Ravens signed Zuttah to a five-year, $18 million contract upon trading for him. The hope is Zuttah is a long-term solution like Matt Birk, who started for the Ravens for four seasons (2009-12).
If Zuttah works out, they are getting a good value for a starting center (an average salary of $3.6 million). If he isn't as much of an upgrade as expected, the Ravens can part ways with him after the 2015 season.
"He's taking command of what we're doing on the O-line and doing his best to give us the direction that he has to," Monroe said. "And he's going to grind. He's going to work. So, I'm glad to have him."
May, 8, 2014
May 8
1:30
PM ET
The
Baltimore Ravens
have traded back in the first round in 2008, 2010 and 2012. Could they do it again in 2014?

The Ravens will likely have the opportunity to do so. In the past, teams have wanted to trade up in the draft because of quarterbacks. This year, teams will be looking to move up to the Ravens' No. 17 spot for a wide receiver, especially if LSU's
Odell Beckham Jr.
is sitting there.
The
Philadelphia Eagles
(No. 22),
New Orleans Saints
(No. 27) and
San Francisco 49ers
(No. 30) are potential trade partners with the Ravens. What could the Ravens expect to get in return? The Eagles would need to give up a third-round pick to move up five spots, and the Saints and 49ers may need to hand over second-rounders.
Still, is trading back worth it for the Ravens? Let's look at the three previous times they moved back in the first round:
2008 DRAFT
The Ravens dropped from No. 8 to No. 26 and received two third-round picks (Nos. 71 and 89) and a fourth-round one (No. 125) from the
Jacksonville Jaguars
. The Ravens needed to trade one of those third-round picks (No. 89) to move back up to No. 18 to make sure they got quarterback
Joe Flacco
.
The net result of moving back was linebacker
Tavares Gooden
(No. 71 pick overall) and cornerback
Fabian Washington
(acquired for the No. 125 pick from the
Oakland Raiders
). Gooden started 12 games in three injury-filled seasons with the Ravens, and Washington started three seasons before being benched.
2010 DRAFT
The Ravens moved out of the first round, going from No. 25 overall to No. 43. In return, the Ravens got a third-round pick (No. 70) and a fourth-round one (No. 114) from the
Denver Broncos
.
Those extra picks became tight ends
Ed Dickson
and
Dennis Pitta
, both of whom were fixtures in the offense for the past three seasons. While Dickson is considered a disappointment, Pitta has become one of Flacco's go-to receivers.
But the top picks didn't work out for the Ravens or the Broncos. Denver traded up to get quarterback
Tim Tebow
, and the Ravens selected linebacker
Sergio Kindle
in the second round. Kindle was the worst top pick in Ravens' history.
Still, the Ravens likely wouldn't have fared much better if they stayed in the first round. The Ravens were eyeing pass rusher
Jerry Hughes
, who struggled his first three seasons before recording 10 sacks last season.
2012 DRAFT
Like the Ravens did in 2010, they moved out of the first round. This time, the Ravens fell just six spots from No. 29 to No. 35 and received a fourth-round pick (No. 98) in return.
The Ravens were still able to get linebacker
Courtney Upshaw
, their possible selection in the first round, even though they dropped into the second round. That fourth-round pick became center
Gino Gradkowski
, who started last season but is expected to be a backup this year.
March, 23, 2014
Mar 23
4:50
PM ET
The
Baltimore Ravens
weren't going to get back to the playoffs without fixing their offensive line, and the Ravens weren't going to get better on the line without upgrading at center.
Zuttah
This is why the Ravens' trade for
Tampa Bay Buccaneers
center
Jeremy Zuttah
on Sunday is so significant.
Zuttah, who turns 28 in June, isn't a Pro Bowl center and is coming off a below-average season. But what's important to the Ravens is that he's an upgrade over
Gino Gradkowski
, who struggled mightily in his first season as a starter.
At 6-foot-4, 308 pounds, Zuttah adds more size on the interior, which was a priority for the Ravens. Gradkowski got pushed around too often.
He brings more experience and stability than Gradkowski. In his six-year career, he has 76 starts including 32 the past two seasons.
Zuttah is also athletic and quick, which makes him a great fit for offensive coordinator Gary Kubiak's zone-blocking scheme.
This was a creative way for the Ravens to fix their dilemma on the offensive line.
General manager Ozzie Newsome wanted to get bigger on the interior of the line, but the free-agent class for centers was underwhelming. So, instead of overpaying for someone, the Ravens traded a mid-round pick for Zuttah.
The Ravens truly made the best of a bad situation. They could've paid more than they wanted for journeyman Brian de la Puente or gambled with a stopgap like banged-up
David Baas
. And it was unlikely that they were going to pry
Alex Mack
away from the Browns because of the transition tag.
Zuttah was the best possible option, which is why it cost the Ravens a draft pick.
The Ravens still need to make another move on the offensive line. They have to add either a left guard (which moves
Kelechi Osemele
to right tackle) or a right tackle (which allows Osemele to stay at left guard).
Still, the Ravens solidified themselves at left tackle by re-signing
Eugene Monroe
and improved themselves at center by trading for Zuttah. They're moving in the right direction.
November, 1, 2013
11/01/13
12:00
PM ET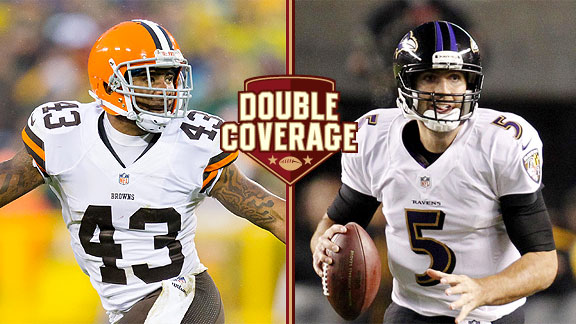 USA Today SportsThe Browns and T.J. Ward will try to snap an 11-game series slide against the Ravens and Joe Flacco.
.
The
Baltimore Ravens
have won 11 games in a row over the
Cleveland Browns
. That number is a measure not only of how good the Ravens have been since 2007 — the last time the Browns won in this series — but also how badly the Browns have struggled.
That 11-game win streak also is the longest current streak of regular-season wins by one team against another, according to the Elias Sports Bureau.
By ending that streak, the Browns would make a statement about themselves and their status in the AFC North. But the Ravens realize they will need to start righting themselves if they wish to have a chance to defend their Super Bowl title. Let's look ahead to the game with ESPN.com Ravens reporter Jamison Hensley and Browns reporter Pat McManamon.
Pat McManamon:
The Ravens won the first game between these teams this season, in Week 2, and since then the Browns have started three different quarterbacks. What about the Ravens has changed since the first time these teams met?
Jamison Hensley:
Pat, the problem for the Ravens is what
hasn't
changed. A big reason Baltimore is sitting at 3-4 is its inability to run the ball. The Ravens averaged 2.8 yards per rush against the Browns in Week 2, and they have averaged a league-worst 2.8 yards per rush for the season.
Ray Rice
injured his hip in the fourth quarter against the Browns, and he really hasn't looked healthy since. But Rice has a great track record when playing in Cleveland. It's like his home turf, based on the results. In five games there, Rice has averaged 127.4 yards rushing. His worst game was 89 yards.
Is there any shot of Rice getting back on track against the Browns?
McManamon:
The Browns are pretty good against the run. They give up 103.6 yards per game, good for 12th in the league. Three opponents have rushed for fewer than 100 yards, and last week they held the Chiefs'
Jamaal Charles
, second in the NFL in rushing yards this season, to 74 yards. That being said, if anyone is going to bust loose against the Browns, it would be Rice. He seems to salivate when he plays the Browns, especially in Cleveland -- where he's had games of 154, 89, 92, 204 and 98 yards in the last five seasons.
Let's flip to the passing game, Jamison. In his first start,
Jason Campbell
was surprisingly effective against the Chiefs' pass rush. He was able to make his reads and get rid of the ball in a hurry. Do you anticipate the Ravens coming up with anything to take advantage of Campbell, who is on his fourth team in eight seasons?
Hensley:
The Ravens were impressed by Campbell, but they were more impressed by the Browns' offensive line, which allowed just one sack against the Chiefs. Baltimore will find out if Cleveland's pass protection will hold up for a second week. The Ravens will likely use the same aggressive game plan that resulted in five sacks of
Brandon Weeden
in the earlier meeting with the Browns.
In addition to
Terrell Suggs
and
Elvis Dumervil
coming off the edges, the Ravens generated pressure by blitzing up the middle. Where the Ravens will really test Campbell is on third down. Baltimore has recorded 10 sacks on third down this season, fifth-most in the NFL. The last time the Ravens faced Campbell as a starter was 2008, but only two Ravens defensive starters from that game (Suggs and defensive tackle
Haloti Ngata
) remain on the team.
The bigger concern for the Ravens has been their inability to protect
Joe Flacco
. Has the Browns' pass rush lived up to expectations so far?
McManamon:
In general, no, but last Sunday, yes. The Browns got six sacks against a pretty mobile quarterback in
Alex Smith
. The catch is that whereas defensive coordinator Ray Horton went after Smith, he dialed back the blitzes the previous two weeks when he faced
Matthew Stafford
and
Aaron Rodgers
. The Browns have guys who can bring pressure in
Jabaal Sheard
,
Phil Taylor
,
Paul Kruger
(even with his low sack total) and rookie
Barkevious Mingo
. But against Green Bay and Detroit, Horton played coverage. Flacco isn't mobile, but he is smart and he's won a Super Bowl. It will be intriguing to see whether the Browns go after him or sit back.
Kruger is one of the departed Ravens from last season's Super Bowl champs. Which of those guys who left -- including the retired
Ray Lewis
-- do they miss the most?
Hensley:
The Ravens haven't really missed Lewis on the field.
Daryl Smith
, who replaced the longtime face of the franchise, has been the defense's top playmaker. The top four players that the Ravens miss the most (in no particular order) are wide receiver
Anquan Boldin
, safety
Ed Reed
, safety
Bernard Pollard
and center
Matt Birk
.
Boldin was a difference-maker on third down and in the red zone, two areas where the offense has struggled this season. Teams would likely take fewer deep shots if Reed were playing center field, and there's less of an intimidation factor on defense without Pollard. The biggest surprise is how much the Ravens have struggled without Birk. In his first season as the starting center,
Gino Gradkowski
is getting pushed back too often.
Speaking of changes, the Ravens didn't have to face wide receiver
Josh Gordon
last month because he was serving his two-game suspension. Can his impact change the Browns' fortunes against the Ravens?
McManamon:
Of course. Gordon is a talent. A big-time talent. At just 22, he's second in the league in yards per catch, and every touchdown pass in his career has been for at least 20 yards. It's no secret that the offense opened up for
Brian Hoyer
, in part because Hoyer played but also because he had Gordon back. That said, not even Gordon can overcome bad quarterbacking. He struggled when Weeden had his second chance because Weeden struggled. Campbell got him back in the offense. Baltimore must respect him.
.
September, 30, 2013
9/30/13
6:40
PM ET
Baltimore Ravens
coach John Harbaugh made two things clear in the aftermath of the 23-20 loss at the
Buffalo Bills
:
It was his decision to abandon the run, and he would do it again in the same situation. The Ravens' plodding running game was the hot topic at Harbaugh's news conference Monday -- eight of the 17 questions asked had something to do with the ground attack -- and he did not back down from the decision to run the ball a franchise-low nine times, including twice in the second half.
"That's my call all the way," Harbaugh said. "I just felt like we weren't running the ball well enough to win the game running the ball. Looking back on it, I feel the same way. After watching the tape, I feel we did exactly the right thing to try to win that game. No second-guessing myself on that. That was my decision. That's the way we went with it. If you feel like we should have run the ball more in the second half, I definitely respect that opinion. But it didn't look that way to me. So, that's what we did."
[+] Enlarge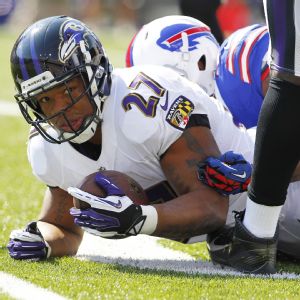 AP Photo/Bill WippertRay Rice has just 89 rushing yards so far this season.
I do not fault Harbaugh's decision because the run game was going nowhere (the team was averaging 2.6 yards per carry). The Ravens also were 15 yards away from kicking the potential game-tying field goal late in the fourth quarter, so the pass-heavy attack put Baltimore in position to pull off the comeback.
Where I differ with Harbaugh is the Ravens' ability to turn this ground game around. The Ravens are averaging 64 yards rushing per game, which ranks 28th in the NFL. There have been no signs of life from the Ravens' running game and that includes Sunday's game against the second-worst run defense in the NFL.
It's a strange turn of events for the Ravens because this is essentially the same offensive line that helped the Ravens average 134.8 yards rushing in the playoffs. The Ravens have not cracked 100 yards rushing as a team this season.
The only change on the offensive line has been second-year center
Gino Gradkowski
replacing 15-year veteran
Matt Birk
.
"He's done a good job physically," Harbaugh said of Gradkowski. "It hasn't been too often where Gino has been pushed around. He's done a good of job of holding the point. I talk to him all the time, I think he can come off the ball better. I think sometimes he's a little tentative with his footwork and wants to stay in front of people. Go ahead and come off the ball and move people a little bit. He's capable of doing that."
Harbaugh added, "It's a difference between Gino and Matt with the calls. I think we're feeling that in there right now. Gino is a really smart guy but Matt had been at it a lot of years. So, that's something that we're working through."
The other big change was adding Juan Castillo, the former offensive line coach and defensive coordinator for the
Philadelphia Eagles
, to be the Ravens' run game coordinator. Harbaugh, though, said the Ravens aren't doing much different blocking-wise with Castillo.
"It's the same offense," Harbaugh said. "We still run the same plays. We still have the same philosophy. There's always a few wrinkles and that's why I brought Juan in because I was excited about things I knew he was going to bring to the table and bring into our program. And those things are part of what we're doing. We're not the same team we were two months ago, and we're going to be a different team two months from now. I'm most interested in what kind of team we are six days from now when we go down to Miami."
Harbaugh dismissed the notion that the health of running back
Ray Rice
, who returned after missing one game with a hip injury, was a factor in the Ravens struggling to run the ball against the Bills.
"The issue is what it always is. We just got to get better," he said. "We have to go to work and improve the things we can improve and make good decisions on what we choose to do and how we choose to scheme it. So, yes, we can game plan better and we can set formations up better to put our guys in position. I think our running backs can do a better job of running to the right sopt and trusting the offensive line."
Harbaugh added, "But the bottom line is it has nothing to do with style or technique. It's finding what our guys can do well with this group and doing it well. I'm very confident in every one of our coaches. We'll find a way to work it out. It's a process. It's going to be a year-long process."
September, 18, 2013
9/18/13
7:30
PM ET
EDEN PRAIRIE, Minn. -- The
Minnesota Vikings
will play the
Cleveland Browns
at Mall of America Field on Sunday, and they spent the first two days of the week preparing for a team that likely would start
Jason Campbell
at quarterback and
Trent Richardson
at running back.
The team they face in actuality will use neither player.
The Browns announced Wednesday morning they would start third-stringer
Brian Hoyer
, not Campbell, in place of the injured
Brandon Weeden
, a move that had a grateful Leslie Frazier chuckling about how he'd rather find out now than at game time on Sunday. Then, on Wednesday evening, Cleveland traded Richardson to Indianapolis for a first-round pick, as ESPN NFL Insider Adam Schefter reported.
Not only does the latter move take the Browns' top playmaker off the field on Sunday, it adds another interesting wrinkle to one of Vikings general manager Rick Spielman's biggest trades.
It was Cleveland, you'll recall, that sent three additional picks to the Vikings last year to swap first-rounders with Minnesota, moving up one spot from No. 4 to No. 3 overall. The Browns drafted Richardson, and the Vikings got the player they were targeting anyway (USC offensive tackle
Matt Kalil
). The trade gave the Vikings an extra fourth-rounder, making it easier for them to part with their own fourth-round selection to move back into the first round and take Notre Dame safety
Harrison Smith
. Kalil reached the Pro Bowl last year, and Smith looks like he could be headed in that direction.
The Browns, meanwhile, gave up three picks for a running back they decided to deal 17 games into his career. Richardson scored 11 touchdowns as a rookie, and it's not the Vikings' business what the Browns did with him after they took him, but the Browns-Colts trade does speak again to Spielman's ability to create a market for his assets. The Browns likely believed they had to move up to No. 3 to take Richardson, and in return the Vikings got the flexibility to deal back into the first round and pick up a starting safety in addition to the tackle they wanted. It's similar to what Spielman did in March, landing three picks for
Percy Harvin
(a receiver it seemed obvious the Vikings would trade at some point) and moving back into the first round to draft
Cordarrelle Patterson
after taking
Sharrif Floyd
and
Xavier Rhodes
with Minnesota's other two first-rounders.
With Harvin out for at least the first six weeks of the season, and Richardson gone to Indianapolis, the ledger looks like this: From the Cleveland trade, the Vikings got picks to take receiver
Jarius Wright
and safety
Robert Blanton
(who are still on the team), and had an extra fourth-rounder to help them move up and get Smith. From the Seattle trade, they got Rhodes and offensive guard Travis Bond (who is currently on their practice squad). In exchange for all that, the Vikings gave up Harvin and the rights to two picks that became Ravens linebacker
Courtney Upshaw
and offensive guard
Gino Gradkowski
.
Again, Spielman couldn't control anything that happened to the pieces he parted with in trades, but the fragility of the NFL so often rewards teams that are more willing to assemble pieces than pay dearly for one player. The Richardson trade was a reminder of that, and the fact the Browns won't have him on Sunday probably shouldn't be the only reason for Spielman to smile today.
August, 31, 2013
8/31/13
9:00
AM ET
Baltimore Ravens
first-round pick
Matt Elam
is athletic and physical. He's been picking up the defense fast in offseason workouts and training camp, according to the coaches.
Ihedigbo
So why isn't Elam starting immediately at safety for the Ravens? Because coach John Harbaugh is smart. You don't start a rookie in his first game if he's going against
Peyton Manning
, especially if he's in the secondary. It's like an unwritten rule in the NFL.
James Ihedigbo
will start the season, but I expect Elam to be starting by the end of it. Right now, Ihedigbo has more experience (15 starts the past two seasons), which is vital when you're going against a quarterback who is constantly trying to find the weak link when he stands at the line. Ihedigbo also held up well when he started against Denver in December, making six tackles.
"James [Ihedigbo] has been running with the 'Number Ones' (in the preseason), and he'll continue to do that," Harbaugh said Friday. "Matt [rotates] in and plays a lot. He'll continue to do that whether it's in the regular package or the other packages that we have. Both of those guys are going to play a lot of football -- just like our corners."
Harbaugh also announced that
Gino Gradkowski
will replace
Matt Birk
as the team's starting center. He beat out
A.Q. Shipley
.
August, 29, 2013
8/29/13
11:26
PM ET
Running back
Bobby Rainey
made the strongest case for one of the final roster spots in the
Baltimore Ravens
'
24-21 loss
at St. Louis in Thursday's preseason finale.

Rainey showed great determination in two first-half touchdowns, which could give him the edge over
Anthony Allen
and
Delone Carter
for the third tailback spot. In a busy night for the undrafted player out of Western Kentucky, he finished with 13 carries for 39 yards, one punt return for 16 yards, two kickoff returns for 25 yards and one special-teams tackle.
Those numbers didn't accurately reflect Rainey's toughness or the countless tackles he broke. On the first touchdown, he was stopped by the pile at the goal line but got the ball across on a second effort. On his second score, Rainey was bottled up at the 5-yard line and bounced to his left to reach the end zone.
Last season, Rainey spent the first six weeks on the practice squad before being promoted to the active roster. He was inactive for three games before going on injured reserve with a knee injury.
His scores were magnified when Allen and Carter failed to punch the ball in the end zone with carries inside the 10-yard line; Allen made it worse by fumbling at the 1. Allen and Carter combined for 3 yards on 13 carries. This will be a tough roster decision because Allen does so much on special teams, especially as the lead blocker on kickoffs.
Here are my other thoughts on the final preseason game for the Ravens, who finished 2-2:
The Ravens' top two draft picks were impressive. Safety Matt Elam, the first-round pick, made four first-quarter tackles and punched the ball out of Tavon Austin's grasp for a forced fumble. Linebacker Arthur Brown, the second-round pick, hit Kellen Clemens so hard that he made the Rams' backup quarterback's nose bleed and made a nice open-field tackle. The rookies both won't start right away, but these performances provide glimpses of the future.
There was a Tandon Doss sighting. For the first time this preseason, Doss did what the Ravens had envisioned, catching passes over the middle and beating defenders straight down the field out of the slot. He had five catches for 75 yards. But Marlon Brown didn't give up any ground in the wide receiver battle. The undrafted rookie scored on a 50-yard touchdown in the fourth quarter. I will provide more thoughts on the wide receiver situation on Friday.
Omar Brown made the roster last year because he made big plays in the preseason. He came up big Thursday night as he looks to become the team's fourth safety. Brown forced a fumble over the middle of the field in the first quarter and nearly picked off a pass in the third quarter. The Ravens' top three safety spots are set with Elam, Michael Huff and James Ihedigbo.
The center battle appears to be over. Gino Gradkowski didn't play in the finale, which suggests that the Ravens didn't need to see any more from him. A.Q. Shipley started, but he hasn't done enough in the preseason to push Gradkowski for the job.
Joe Flacco didn't play, and Tyrod Taylor received the night off after suffering a head injury in the last preseason game. Third-stringer Caleb Hanie got to play the entire game, and it wasn't pretty. He was 20-of-39 for 272 yards, and he didn't receive much support. Hanie was pressured repeatedly and was charged with a fumble after Reggie Stephens (who also had a critical false start late in the fourth quarter) delivered a shotgun snap wide right. Hanie's final pass was intercepted in the final minute of the game.
April, 28, 2012
4/28/12
4:44
PM ET
Let's take a quick look at what the division teams did in the fourth and fifth rounds:
BENGALS
: Cincinnati should play a lot more two tight end formations with the addition of Georgia's
Orson Charles
(fourth round). He can get open in the passing game and help out the running game with aggressive blocking. ... Iowa CB
Shaun Prater
(fifth round) is a strong worker who lacks ideal height (5 feet 10). He projects to be a nickel back down the road. ...California's
Marvin Jones
(fifth round) is the second wide receiver taken by Cincinnati (Rutger's
Mohamed Sanu
was the other). He isn't technically sound but he was impressive at the Senior Bowl. ... Boise State FS
George Iloka
(fifth round) has a lot of range in pass coverage but he is an inconsistent tackler.
BROWNS
: Cleveland addressed the need for speed at receiver with Miami's
Travis Benjamin
(fourth round). His other contribution could come as a returner. ... Nevada's
James-Michael Johnson
(fourth round) is listed as an inside linebacker but he could be the eventual replacement for outside linebacker
Scott Fujita
. ... Colorado's
Ryan Miller
(fifth round) is a mauling lineman who is extremely tall (6 feet 7) for a guard. He projects to be a right guard.
RAVENS
: The Ravens found their potential center of the future in Delaware's
Gino Gradkowski
(fourth round). He could also compete for the job at left guard, where
Jah Reid
is currently penciled in as the starter. ... South Carolina State FS
Christian Thompson
(fourth round) adds depth at safety, where the Ravens lost
Tom Zbikowski
and
Haruki Nakamura
in free agency. ... Cal Poly CB
Asa Jackson
(fifth round) shows great burst as a punt returner but he is a raw cornerback prospect.
STEELERS
: Pittsburgh's strong draft continued when the team selected nose tackle
Alameda Ta'amu
from Washington (fourth round). He could be pressed to start right away with
Casey Hampton
(ACL surgery in January) isn't ready at the start of the season. ... Florida RB
Chris Rainey
(fifth round) is an undersized explosive playmaker. He lasted this long because of character concerns.
April, 28, 2012
4/28/12
12:35
PM ET
The
Baltimore Ravens
are hoping they found their center of the future when they selected Delaware's
Gino Gradkowski
early in the fourth round.
At 6-foot-2, 300 pounds, Gradkowski is the younger but bigger brother of Bengals quarterback
Bruce Gradkowski
. He was a two-time All-Colonial Athletic Association selection after transferring from West Virginia.
Gradkowski, who drew heavy interest from the Ravens during the pre-draft process, said he patterns his game after
Matt Birk
. There's a chance that Gradkowski could eventually replace Birk, who turns 36 in July.
The Ravens-Steelers rivalry should be interesting for Gradkowski, who is a Pittsburgh native.