NFL Nation:

Gino Marchetti
June, 4, 2013
6/04/13
12:37
PM ET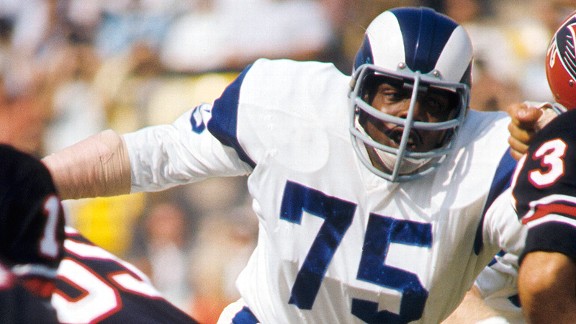 Long Photography/USA TODAY SportsDeacon Jones, a Hall of Fame defensive end, was the leader of the L.A. Rams' left side from 1961-71.
Quarterback Johnny Unitas and receiver Raymond Berry had been tormenting NFL Western Conference defenses with the deep ball when along came David "Deacon" Jones and a new wave of defensive linemen to spoil the fun.
"The main pattern we were using took three and a half seconds to throw it," Berry recalled during a 2008 interview. "I could run down 10 yards and break square in and three steps and I'd plant and take off back to the corner."
Unitas-to-Berry had set apart the Baltimore Colts for years. But life was changing for them in the early 1960s. Vince Lombardi began assembling the
Green Bay Packers
' championship defense. Jones,
who died Monday at age 74
, combined with Merlin Olsen to give the Los Angeles Rams arguably the most dominant left side in NFL history. In Detroit, meanwhile, the Lions had the great Alex Karras.
"What happened in our division is those three-and-a-half-second routes became history," Berry said. "In order to get the ball off when we played those people, and it represented six games, we would throw the ball in 1.8, 1.9 or 2.1 seconds at the most. Get it out of there. Because you couldn't keep people out of there."
At the time, rules governing holding prevented offensive linemen from slowing the rush by grabbing onto opponents' jerseys. Defensive linemen could slap offensive linemen on the side of the helmet to facilitate their rushes.
Jones, at 6-foot-5 and 272 pounds, refined the head-slap to a martial art.
"The head-slap was not my invention, but Rembrandt, of course, did not invent painting,"
Jones once said
.
The NFL would eventually legislate some of Jones' preferred tactics out of the game to promote passing and spare quarterbacks.
"

"Deacon Jones was a game changer."

"

-- Rams DE Chris Long
"The league has legalized what was considered holding when we played," Berry said. "I did a several-years study on how much time you had against a great pass-rush team. You had to get that ball out of there. Today, that has totally changed, giving quarterbacks one or two seconds of additional time."
Jack Patera played on the Baltimore Colts' defense with Hall of Fame defensive end Gino Marchetti before serving as a defensive line coach for the Rams beginning in 1963, Jones' second season. Patera coached the Rams' famed "Fearsome Foursome" line for five seasons. He later coached the "Purple People Eaters" line under Bud Grant in Minnesota.
Patera, now 79, knows defensive linemen, in other words. He's also honest and direct in his assessments. Carl Eller was as talented as they came, but didn't apply himself consistently. Jim Marshall was stronger, pound for pound, than just about anyone, and more consistent, too. Olsen was nearly perfect in everything he did -- an "A" student at his craft.
Then there was Deacon Jones.
"Gino Marchetti was the superb defensive end of my playing time and for David Jones, he was probably the best I had ever seen, consistently," Patera said Tuesday. "Jim Marshall was the most consistent player, but Deacon had him by a step or two in his overall performance."
Patera recalled Jones as a raw 14th-round draft choice and a player the Rams had initially considered at offensive tackle.
"He had all the speed and strength, but he had a stance like those 1920 pictures you see, guys squatting like a frog with their hand between their legs," Patera recalled with a laugh. "He didn't know anything about playing defense, but all he had to do was get his butt up in the air and let him take off. Once we got him in a stance where he could get off the ball, there wasn't a whole lot to teach him. Everything was very simple to him."
Jones played a great game and talked one, too. Former
Dallas Cowboys
tackle Rayfield Wright, a Hall of Famer, shared
a classic story
with Sports Illustrated about a 1969 matchup against Jones.
"As an offensive lineman, you're taught only to hear the quarterback's voice, nothing else," Wright told the magazine. "I'm listening in case there's an audible, and in the pause between 'Huts!' I hear a deep, heavy voice say, 'Does yo' mama know you're out here?' It was Deacon Jones."
Jones, an eight-time Pro Bowl choice, coined and popularized the term "sack" before the NFL tracked the stat officially. He laid the foundation for a rich tradition of Los Angeles and
St. Louis Rams
defensive ends and outside pass-rushers. Jack Youngblood,
Kevin Greene
,
Kevin Carter
,
Leonard Little
,
Chris Long
and all the others know the history and know Jones' founding role in it.
"Yes, there is a fairly strong brotherhood, especially Deacon and I and when Merlin was still with us -- a real strong bond," Youngblood said in an interview last year.
Youngblood and Jones were on the Rams together before the team traded Jones, clearing the way for Youngblood.
"Those were awfully big shoes to fill," Youngblood said. "Deacon had been All-Pro and the sack leader and the whole nine yards for so many years. I'm thinking, this is going to be a leap here."
Chuck Knox, the Rams' steely head coach, called Youngblood into his office.
"He looked me down and gave me that Chuck Knox look and said, 'All right, it's your job, don't let me down.' It's my second year in the business and he's going, 'Don't let me down.' That was significant for me. That said he thought enough of my ability that I was going to be able to do the job for him."
Jones went into the Hall of Fame with the 1980 class. Youngblood followed in 2001.
"All those guys are awesome," Long said last season. "I was lucky enough to play with Leonard Little, who was just a great player. And when I changed my number to 91, I told him I was just renting the number. Greene was a 100-plus sack guy, Kevin Carter a 100-plus sack guy. Jack Youngblood and his legacy is his toughness along with his skill. I mean, it's just legendary. And Deacon Jones was a game changer.
"All those guys, just to be playing left end for the St. Louis Rams is a pretty cool history, especially when you put all the names together. It's impressive."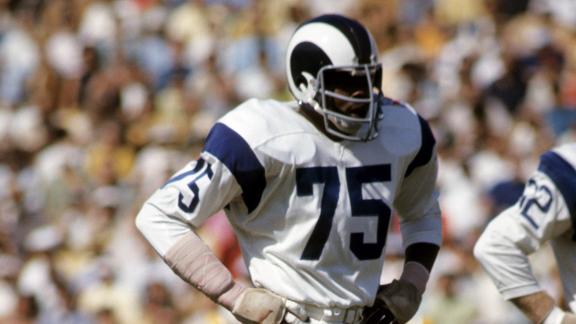 June, 29, 2010
6/29/10
11:00
AM ET
[+] Enlarge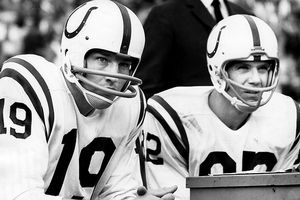 NFL/Getty ImagesJohn Unitas and Raymond Berry led the 1958 Colts to victory in "The Greatest Game Ever Played."
Notable players:
QB John Unitas, WR Raymond Berry, LT Jim Parker, HB Lenny Moore, RB Alan Ameche, DT Gene Lipscomb, DE Don Joyce, DE Gino Marchetti, DT Art Donovan.
Analysis:
It's very difficult to choose against the 1958 NFL champions, who took the crown with an overtime win in "The Greatest Game Ever Played." That win over the Giants at Yankee Stadium avenged a regular-season road loss to New York and did much to propel the NFL and football to prominence.
It's prompted books with subtitles like "The Birth of the Modern NFL" and "How the 1958 NFL Championship Changed Football Forever."
And Baltimore's lineup featured six players -- Berry, Donovan, Marchetti, Moore, Parker and Unitas -- who are in the Pro Football Hall of Fame, as is their coach, Weeb Ewbank.
These Colts were 6-0 at home and finished 10-3. Before the title tilt, they'd won by an average of 17 points and only once by a margin as small as seven. Their three losses were by 14 points. While Unitas threw 19 touchdowns against seven interceptions, the offense was really run-based with 24 rushing touchdowns and an average of 177.3 ground yards per game.
The defense posted even more impressive numbers, allowing only nine touchdown passes while intercepting 35 passes. Safeties Andy Nelson and Ray Brown had eight interceptions each.
And, before you fire off that e-mail: Sorry if Indy folks don't like it, but yes, Baltimore and Indianapolis are the same franchise. Check the nickname, check the record books, check with the league. We're following its lead. This is what happens with relocated teams, with only the Browns/Ravens exception.
Most impressive win:
Did we mention "The Greatest Game Ever Played?"
Research room:
The 1958 Colts were the first team in league history to win a game in overtime, regular season or postseason.
Honorable mentions:
1959:
These Baltimore Colts finished 9-3 and beat the Giants for the title again, with the same core of eventual Hall of Famers the 1958 team had.
1968
: The famous clip of Joe Namath running off the field, his raised index finger wagging, overshadows these Baltimore Colts. They outscored opponents 402-144 and won the NFL title but lost Super Bowl III to the
New York Jets
in another game crucial to the league's growth.
2006:
Peyton Manning
and the
Indianapolis Colts
went 16-4 and their four-game playoff run produced a Super Bowl title. Yes, 2005 may have been a better team, but this one gets the nod because it got the trophy.
1970:
In the last five seconds of Super Bowl V, rookie kicker Jim O'Brien's 32-yard field goal lifted the Baltimore Colts to victory over the Dallas Cowboys.

NFL SCOREBOARD
Thursday, 12/18
Saturday, 12/20
Sunday, 12/21
Monday, 12/22
WEEKLY LEADERS