February, 25, 2014
2/25/14
12:30
PM ET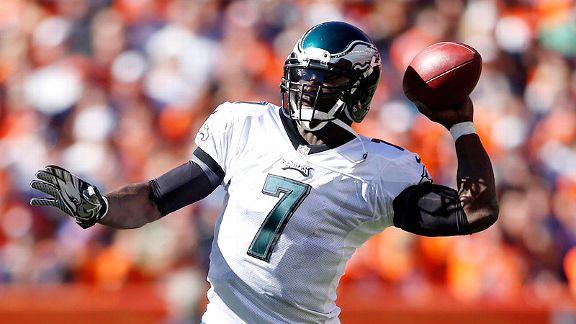 Chris Humphreys/USA TODAY SportsQuarterback Michael Vick could be just what the New York Jets need as a backup to Geno Smith.
It's 1998, and the
New York Jets
have a young quarterback they like a lot but aren't willing to marry. They're intrigued by a mid-30s free agent, a former No. 1 overall pick who lost his starting job the previous year with his second franchise. They decide to sign him, ostensibly as the backup, thinking he still has enough left if he has to play.
That's how the Jets landed
Vinny Testaverde
, who was 35 when he replaced
Glenn Foley
after a few games and led them to the AFC Championship Game. It was one of their smartest personnel moves ever.
Pardon the time travel, but the Testaverde story is relevant because the Jets are faced with a similar situation at quarterback -- not identical, but similar.
This time, the Testaverde role could be played by
Michael Vick
, who fits the same profile. He is a former top pick, turns 34 in June and will be looking for a third team after losing his job last season to
Nick Foles
, the new prince of the
Philadelphia Eagles
. The Jets are intrigued by Vick, and there's already rampant speculation they will pursue him when free agency begins March 11.
Do it.
Vick would be a nice fit for the Jets, assuming they part ways with
Mark Sanchez
. They need a seasoned backup who can fill a two-pronged job description: still good enough to pose a threat to
Geno Smith
(and win games, if called upon) and willing to serve as a mentor to the young quarterback.
This isn't to suggest that Vick will pull a Testaverde, who lasted four-plus years as the Jets' starter and became one of the most beloved players in franchise history, but he would fill the current void. He would be a short-term answer for a team that has to start thinking short term. The full-scale rebuilding project is over.
Make no mistake, the Jets still want Smith to succeed and believe he can, but they're still not willing to commit to him -- wisely so. Even though they have more invested in Smith than they did in Foley all those years ago, the Jets still have questions. A player like Vick would be solid insurance for 2014. If Smith regresses, if he crumbles under the pressure of having Vick over his shoulder, it's time to move on. You start over in 2015.
It's one of the toughest commodities to find, a quarterback willing to be a good-soldier backup but capable of becoming captain of the platoon if called upon. Vick was a model teammate last season, handling the quarterback change with aplomb, but he still wants to be a starter. There's no telling if he would be amenable to the Jets' situation. The Jets need to find out.
"A lot depends on the makeup of the No. 2 quarterback," said an AFC personnel executive, speaking on the condition of anonymity. "If you're grooming a young starter, there needs to be a healthy balance of competitor and mentor but also a good resource on the sideline and during game prep. I certainly think [Vick] can still start in the short term."
Another reason this could work is Vick's familiarity with Marty Mornhinweg's system. They spent four years together in Philadelphia, 2009 to 2012, with Vick making the Pro Bowl in 2010 after rebooting his career in the aftermath of a 21-month prison sentence for dogfighting. In 2010, he posted a career-high 100.2 passer rating.
A healthy and rejuvenated Vick, armed with his knowledge of Mornhinweg's offense, would pose a serious threat to Smith in training camp. General manager John Idzik always talks about competition; this would be real competition. You would have to think it would be Smith's job to lose. And if he does, so be it.
Obviously, Vick isn't the same player he was in 2010. Undermined by injuries and turnovers, his production has deteriorated -- with a touchdown-interception ratio of 35-27 over the past three seasons. He has played a full season only once in his career, but the beauty of the Jets' situation is that he probably wouldn't have to.
Because of his background with Mornhinweg, Vick is a better option than any of the other free-agent quarterbacks.
Josh McCown
, 34, is interesting, but he did nothing noteworthy in his career until a five-start hot streak last season with the
Chicago Bears
. He would be a good insurance policy -- until he had to play.
The way to go is Vick -- as long as he's cool with the conditions: Help the kid as much as you can, knowing that you'll play if you give us the best chance to win.
If the Jets decide to chase Vick, they might want to include the Testaverde story in their recruiting pitch.
September, 8, 2011
9/08/11
11:09
AM ET
Cool note from ESPN Stats & Information: First-year
San Francisco 49ers
coach Jim Harbaugh is the last quarterback other than
Peyton Manning
to start a regular-season game for the
Indianapolis Colts
.
That will change when
Kerry Collins
replaces an injured Manning in the Colts' lineup for Week 1.
The first preseason game I covered as an NFL beat reporter featured Manning making his first start against the
Seattle Seahawks
in the Kingdome. His very first pass found
Marvin Harrison
for a 49-yard touchdown. Preseason games are generally without much meaning, but could there have been a more fitting beginning for Manning?
For a fuller appreciation of Manning's durability and consistency in starting 227 consecutive games, I went through Pro Football Reference counting how many quarterbacks had started for current NFC West teams since Manning made his regular-season debut. There have been 48. That figure includes 14 for the
St. Louis Rams
, 13 for the 49ers, 11 for the
Arizona Cardinals
and 10 for the Seahawks.
A few notes on the 48 players to start for current NFC West teams since 1998:
There have been two Brocks (Berlin, Huard), two Charlies (Frye, Whitehurst), two named Chris (Chandler, Weinke), two Jeffs (Plummer, Martin), three Johns (Friesz, Navarre, Skelton), one Jon (Kitna), two Matts (Hasselbeck, Leinart), two Shauns (Hill, King), three Steves (Young, Bono, Stenstrom) and two Trents (Dilfer, Green).
Two, Young and Warren Moon, have been enshrined in the Pro Football Hall of Fame since Manning's streak began.
Dilfer and Warner started for more than one current NFC West team since Manning's streak began. Warner started 57 games for Arizona and 50 for St. Louis. Dilfer started 12 for Seattle and six for San Francisco.
Hasselbeck has the most total starts for current NFC West teams with 131, followed by Marc Bulger (95 for St. Louis), Jake Plummer (73 for the Cardinals) and Jeff Garcia (71 for the 49ers).
Smith -- Alex, not Troy -- owns the most starts among current NFC West players with 50, all for San Francisco.
Eight of the 48 were one-and-done as starters: Berlin, Scott Covington, Ty Detmer, Glenn Foley, Friesz, Frye, Navarre and Weinke. Nineteen have made at least 10 starts.
The NFC West will have two starters new to the division in Week 1:
Tarvaris Jackson
and
Kevin Kolb
.
The chart shows start totals by team for the 48. The NFC West changed membership with realignment in 2002. I'm going back to 1998 for the four teams currently in the division.