November, 21, 2012
11/21/12
10:12
AM ET
»
Final Word
:
Texans-Lions
|
Redskins-Cowboys
|
Patriots-Jets
Three things to watch Thursday in the Texans' game at Detroit:


Covering Megatron:
Calvin Johnson
averages 16.2 yards per catch and is as threatening as anyone in the NFL. Typically the Texans would feel good about matching up with a player like Johnson, because cornerback
Johnathan Joseph
tracks a team's top receiver all over the field. But Joseph is a game-time decision with a hamstring injury. He played through a groin injury earlier in the season but had a couple of poor performances. If he plays with this injury, how will he fare? If he's a scratch,
Alan Ball
will start in his place, but the Texans won't put one defender on Johnson. A week after a terrible coverage game against Jacksonville, corners
Kareem Jackson
, Ball and
Brice McCain
and safeties
Danieal Manning
and
Glover Quin
will have to collectively hold down Johnson and the NFL's No. 1 passing offense.
Riley Reiff:
The Lions first-round draft pick is likely to start at left tackle in place of Lions stalwart
Jeff Backus
, who's dealing with a hamstring injury. Texans defensive coordinator Wade Phillips will surely scheme and move people around to challenge and attack Reiff. The best way to do that in the base defense is to get end
J.J. Watt
going against Reiff. The defensive player of the year candidate's effort hasn't changed, but he has been limited to two sacks in his past four games. Weakside linebacker
Connor Barwin
can also be expected to get chances to rush against Reiff. Odds are the rookie blocker will also get help from tight ends and running backs chipping and trying to help slow pursuit of
Matthew Stafford
.
Special teams:
Rookie returner
Keshawn Martin
made some big plays last week against the Jaguars, with a 71-yard punt return and a 54-yard kickoff return. The Texans have been better overall on special teams since their Oct. 28 bye, when they emphasized getting things cleaned up. Detroit's had some miserable special-teams performances this season and the Lions are 28th in defending punt returns. Houston should be able to ensure the Lions have to drive a long field, as Detroit is the NFL's worst team in the league on kickoff returns. And the Texans could get some good starting field position as the Lions have the worst punting average in the NFL.
September, 30, 2012
9/30/12
7:50
PM ET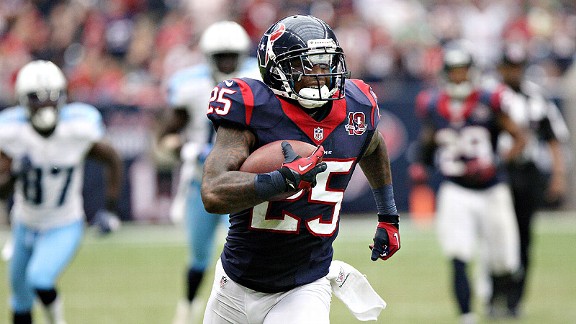 Troy Taormina/US PresswireTexans defensive back Kareem Jackson returns an interception for a touchdown against the Titans.
HOUSTON --
J.J. Watt
is the attention-grabber, the show-stealer. With two sacks and a fumble recovery, the defensive end continued a torrid production pace in the Texans'
38-14 beat down
of the
Tennessee Titans
on Sunday at Reliant Stadium.
"We joke around now on defense," outside linebacker
Connor Barwin
said. "It's a race to the ball to see if you can get there before he gets there."
In this win, though, it wasn't all about the front seven. The secondary jumped in at decisive moments, reminding us all that while the Texans have remarkable talent up front, the defensive backfield has serious playmaking potential as well.
"We can play back there and we knew that," defensive coordinator Wade Phillips said.
Three plays helped set the tone and alter the scoreboard.
1. Safety
Glover Quin
jolted
Jake Locker
and knocked him out of the game with a left shoulder injury on a first-quarter sack off a blitz where he went untouched.
Phillips said the Titans were sliding toward inside linebacker
Brian Cushing
. Locker said he didn't see Quin at all. Quin said he plays a lot of man-to-man on tight ends so it was easy to miss him and the Titans never pointed him out.
Locker will have an MRI and we'll see what his status is. But it's the same shoulder he separated in the opener and he was already wearing a harness. He will likely need some time to heal and be ready to land hard on it again. So it's a play that may affect the Titans' huddle for some time.
Matt Hasselbeck
said he was somewhat tentative in some situations knowing he couldn't get hurt as the Titans didn't have another quarterback. (Receiver
Damian Williams
is the Titans' emergency option. Third quarterback
Rusty Smith
was not active.) How much that contributed to poor play is hard to say.
Hasselbeck was sacked three times, threw the two picks that were returned for scores and lost a fumble. All in all, an awful showing.
2. With the Texans only up 14-7 and the Titans hanging around and looking like they'd challenge, Hasselbeck threw a first-down pass for rookie tight end
Taylor Thompson
. Thompson reached back and got a hand on it, popping the ball in the air. Safety
Danieal Manning
pounced on it, then went on a nifty 55-yard cross-field sprint for a score that effectively broke the game open.
"That pick was timely," Manning said. "It was great coverage by GQ, we had a great call. They actually ran a great route but we had great coverage and it forced the quarterback to throw the ball high. Tipped ball and I was able to make the play."
In what hardly amounted to a vote of confidence for the rookie Thompson, Hasselbeck said he thought
Jared Cook
was in the game. The quarterback said he wouldn't have made the throw had he realized who was running the route. No matter the intended receiver, it was an off-target toss that asked for trouble.
"That changed the game a ton," Manning said. "Those guys were never able to get back in the game from that point. It changed."
3. In the fourth quarter, cornerback
Kareem Jackson
jumped Williams' route on the left side, brushing or bumping the receiver's shoulder as he snatched Hasselbeck's pass and took it 63 yards, high-stepping at least the last 10 on the score that made it 38-7.
Jackson is routinely seen as the weak link on the defense. He's improved a lot and is fulltime now, not getting replaced in certain situations. And while "weak-link" may still fit, it's increasingly because of how good everyone else is, not his deficiencies.
He understandably scoffs at that stuff.
In this instance, he said homework paid off.
"I got a pretty good read on it and it's something I saw all week on film," Jackson said. "I just kind of jumped in there and was able to make a play."
So there are the three big plays.
Looking at the bigger picture ...
With
Darrelle Revis
out for the year for the Jets,
Johnathan Joseph
can stake a claim to playing as well as any cornerback in the league. Among the decisions made while putting the Texans together, the one where they chose to sign Joseph and Manning in 2011 rather than continuing to pursue cornerback
Nnamdi Asomugha
was a key.
The free-agent half of the starting secondary gets better and better in Phillips' system and shouldn't be forgotten while we're marveling at Watt, who Joseph has taken to calling Megawatt.
"You know we're all brothers back there," Joseph said. "We all like each other, love each other, care about each other, want to see each other have success. So to see those guys go out and make those plays, it's just like I made the plays. I'm just as happy for those guys.
"It speaks volumes about this defense. Anybody can do it."
In building a 3-0 record, the Texans had three picks -- one each for starting corners Joseph and Jackson and one for Cushing.
But the group wasn't happy with the total and felt it botched a couple chances last week in Denver.
A fine system is in place, Joseph said. Drop a pick in practice and you pay $20. Boot one in a game and it's $100.
"It can get pretty pricey if you happen to get your hands on a couple and don't make the play," Joseph said. "We're on each other hard. It's about turnovers in this league and making a play when the opportunity comes. Today was a prime example. Those two guys capitalized."
Search for a soft spot in the Texans' defense at your own peril. It will take a good while to find even something small, and the odds you can attack it effectively while holding up defensively aren't great.
Of course bigger challenges named the Packers, the Ravens and the Patriots await.
In the meantime, Phillips will have to do what he can to find stuff to harp on in meetings.
"Our second team didn't do very well (at the end)," he said. "I'm a little disappointed there."

NFL SCOREBOARD
Thursday, 9/18
Sunday, 9/21
Monday, 9/22
WEEKLY LEADERS